Overall Comparison: MasterClass or Udemy
Platform
Pros
Cons
Pricing
Udemy provides various free lessons on different subjects.
Courses can be hit or miss because normal individuals give them.

Udemy courses will cost anywhere from $20 to $200. The courses vary and depend on the instructor for that course.

The cost of premium courses on Udemy ranges from $10 to $200; there is a 30-day money-back guarantee if you are unhappy with the course.

Quality can vary significantly.

Everyone who has acquired a lecture from Udemy will get lifetime access.

It could provide less value for money.

For paid courses, Udemy will allow customers to access content completion certificates.

The subscription costs are irregular.

The instructor's approaches and tactics make each lesson special.
No 1v1 interaction.

MasterClass affords its users a $15 per month subscription, or they can make it an annual subscription for $180.

The MasterClass app platform is a good resource.
The classes aren't live.

The duo and family plans for $240 and $276, respectively.

A-list teachers and a great community.

It doesn't do well to replace traditional education.

Logically organized courses.

No accredited certificates were handed out.
"The more you read, the more things you will know. The more you learn, the more places you'll go." – Dr. Seuss.
Before the coronavirus pandemic, there was a sizable market for people who wanted to acquire new skills from the convenience of their own homes.
However, the inability to socialize in traditional ways during the pandemic led to the relevance of online learning platforms to soar as people had much more free time to put to good use.
The web has made remote learning far more available than imagined. Users may now have educational material from actual experts that they would not have gotten previously.
In this MasterClass vs. Udemy review, I will discuss the two learning platforms and their offerings. Although I have already put up individual reviews on both, I make some comparisons between both sites, trying to match them up to help you in your quest to pick the better option for your online learning.
This Udemy vs. MasterClass review will highlight their differences, but here is a quick overview of the two platforms' accounts.
Beginners would have a great time on Udemy as courses are available for all levels; MasterClass is better suited to an audience with some understanding of the topic they are learning
The instructors on Udemy come from all over, while MasterClass features celebrity instructors.
You will find that Udemy offers more professional courses.
Beyond MasterClass and Udemy, there's a world of online learning platforms awaiting discovery. Don't miss out on the Teachable reviews on our blog, offering in-depth insights into its course offerings, platform features, and overall value proposition.
Now that you have a brief understanding of what the two platforms do let us go into the review properly.
Udemy and MasterClass Features
"Man's mind, once stretched by a new idea, never regains its original dimensions." – Oliver Wendell Holmes.
Since both apps are learning platforms, they have a lot attached to them regarding features. From my findings, the features go in two ways: the ones for the students and the ones for the teachers. Without these features, both platforms offer less than they normally would.
In the realm of online learning, there are numerous platforms to consider. If Udemy and MasterClass are on your list, you might also be interested in our comprehensive Skillshare review. We cover everything from course variety to teaching quality, offering you a holistic view of what Skillshare brings to the table.
Now, I will explain the various features, and how they work on these platforms, so you can easily choose Udemy or MasterClass.
Udemy

Courses Availability;
Site Navigation;
Course Exams;
Certificates.
If you are looking for online opportunities and skills, Udemy is the ideal platform for online learning. The term "Udemy" is derived from the words "you" plus "academy"; as you can see, Udemy focuses on your education.

This is achievable thanks to the construction of courses by competent and knowledgeable instructors worldwide. Instructors create high-quality audio and video courses that students can use for a fee or even for free.
Course Availability
This online learning platform is crammed with courses. They are divided into several groups. There is something for everyone from commerce, designing, photography, marketing, IT & software, and personal development.
It's crucial to realize that most of the material you'll see on the site's web pages is affected by past behavior (scouring the site in search of courses).
As you explore the nuances of Udemy vs MasterClass, you may also find it useful to check out our thorough Codeacademy reviews. They delve into the ins and outs of the platform, its offerings, and user experiences, providing you with a well-rounded understanding of another fantastic learning option.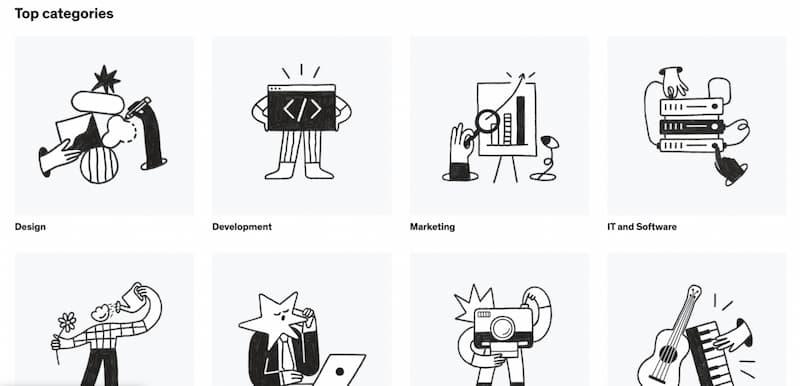 While this may appear a difficult task, it is all part of establishing an environment where students can explore information to their hearts' desire and select the best path.
Site Navigation
It was simple to look for a course. All their courses were navigable from the search bar on the site's account top navigation menu.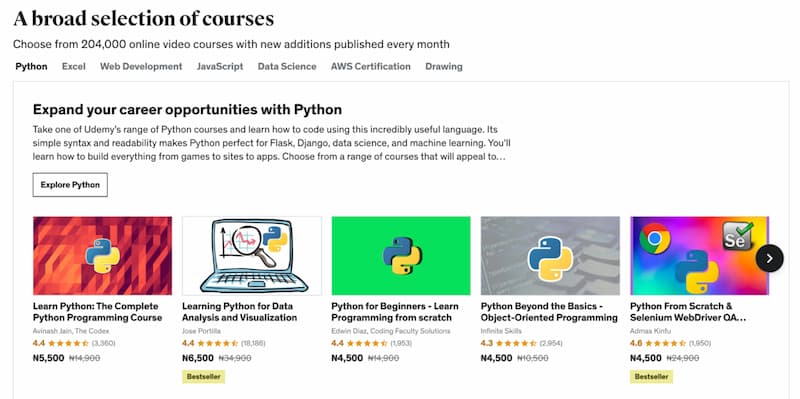 When you enter a course of interest, the Udemy platform will provide predictive search queries.
The instructor's bio is also included on the course pages.
Just underneath each instructor's profile, course pages provide ratings and feedback. Students provide feedback which is a great way to know what to expect from these courses.
Course Examination
Undoubtedly, one beneficial thing Udemy platform provided me was the ability to preview a course. Sometimes, you could be interested in a topic but are unsure about the accuracy of the information, how it is presented, or its depth.
Udemy assists students in making the best buying selections by providing a detailed page description of what the online course offers and a video sample.
Certificates
When comparing Udemy and MasterClass, certificates are another attribute The certificates are handed out to your account upon the completion of courses.
Still, they are not as valuable because no standard accreditation body for handing out accredited documents has accredited Udemy certificates.
They are still a good thing to have, at least; no one would reject the certificates they got from completing a course they paid for.
As you explore the nuances of Udemy vs MasterClass, you may also find it useful to check out our thorough Codeacademy reviews. They delve into the ins and outs of the platform, its offerings, and user experiences, providing you with a well-rounded understanding of another fantastic learning option.
MasterClass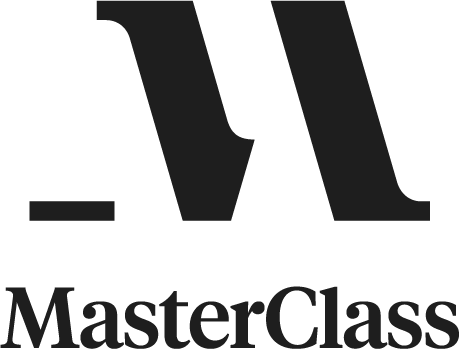 Amazing Videos;
Workbooks;
Community Access;
Work with Well-Known Experts.
MasterClass, on the other hand, offers a less traditional approach to education. There is no traditional academic or classroom-style instruction.

From what I could deduce, you receive master classes, which are complicated topics segmented by subject matter experts with extensive real-world experience.

Unlike other e-learning companies, MasterClass highly values the quality of its courses and the teachers who teach them.

MasterClass has fascinating features you can only get at a top online learning site. Some of them are:
The Videos
The quality of the production and the clear amount of effort that went into every video is evident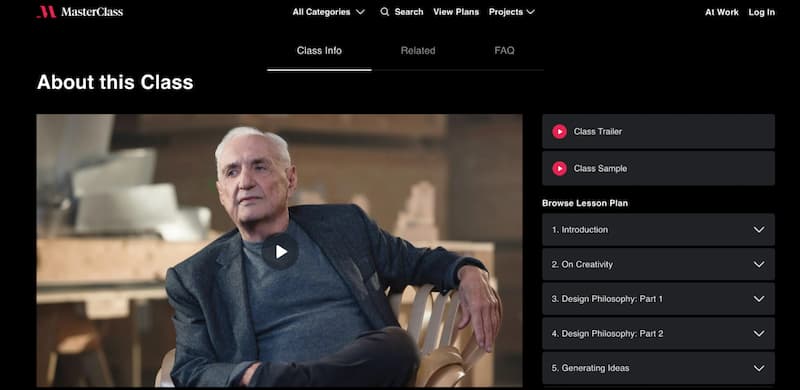 The movies were a complete delight to watch thanks to the excellent camerawork, illumination, music, and obviously, the teachers themselves; I mean, Samuel is not every day. L. Jackson takes you on an acting class.
It was straightforward to fit one in during my commute or around lunch because the films are typically between five and twenty minutes long. Every time I moved from my laptop to my phone, my progress was instantly stored.
Workbooks
The lesson workbooks are complete and accessible as a PDF you download from your account after classes.
They contain a description of everything spoken in the lectures and additional sources, so you are not required to keep notes while watching. Some included exercises to practice what had just been taught, such as literature reviews, procuring ingredients, and attempting to replicate another author's voice.
In the worksheets, there were connections to several helpful sites. The fact that these go far beyond being mere reading material truly pleased me.
For instance, Christina Aguilera suggests a vocal full test business app, demonstrating how to use it to track your development experience throughout the online course.
Community Access
If you want a learning community, this attribute is necessary to help you choose MasterClass or Udemy.
MasterClass has an area called The Hub where students may connect (and sometimes even collaborate) with one another from their accounts as a community.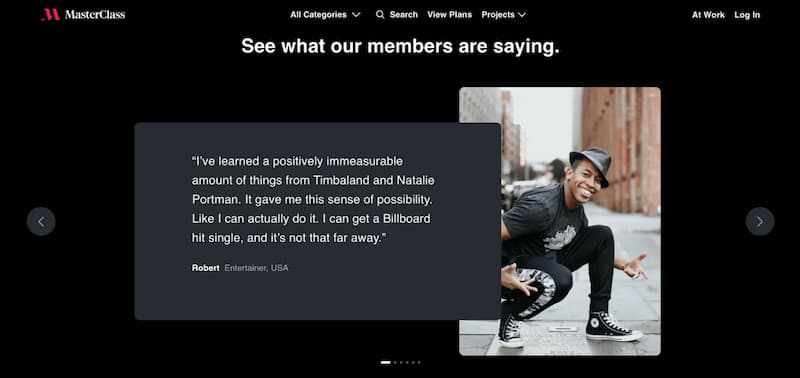 I found the feedback in the journalism classes to be intelligent and useful in general. The other individuals were passionate about improving and tried their best to give meaningful criticism.
The features I encountered on the MasterClass platform were top-tier and highly engaging.
Pricing Comparison
Comparing MasterClass and Udemy requires a dive into the pricing models of both learning platforms. You'll need to know both platforms' costs and packages' pricing to choose one for your use.
We'll look at my findings on the pricing of both sites and if there were free trials and offers.
Udemy
One of the major questions people usually ask is," Is MasterClass better than Udemy?"
The first thing to look at is Udemy's complete course cost. The site is a marketplace for courses online that use a peer-to-peer business model.
As a result, anybody may design and advertise their programs on the site, which other consumers can enroll in.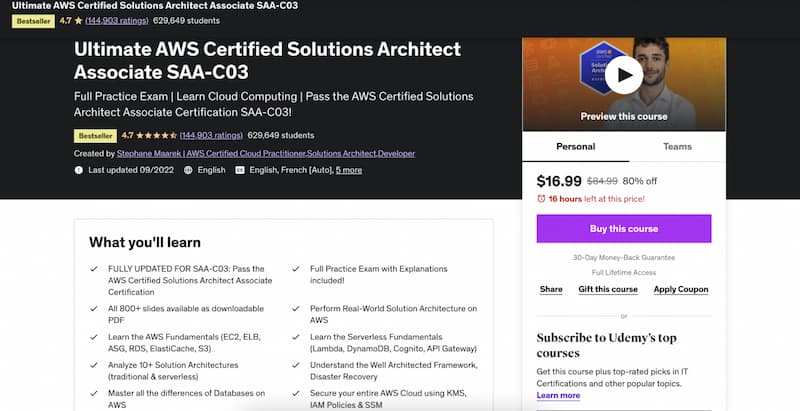 You can anticipate significantly lower course costs because online course markets avoid the expense of paying for rent or other operational costs.
Prices vary based on what is taught, but an Udemy course will likely cost you from $9.99 to $199.99.
You can spend a one-time cost and are given lifetime access to any course you choose to take because Udemy does not operate on a subscription basis. Discounts are also a major feature on the platform so you can look forward to deals and huge slashes.
MasterClass
MasterClass provides learning services with an annual subscription. Users must be prepared to make one-time payments to access all available courses on the platform.
The payments on this platform are split into three: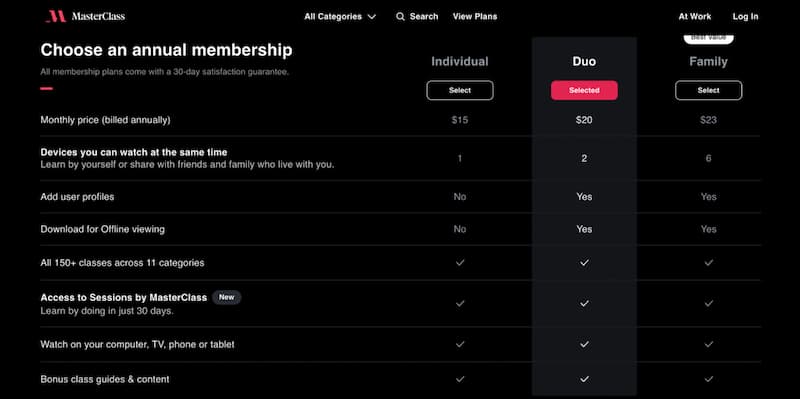 Individual: $15 monthly billed annually ($180). This plan allows you to view courses on only one device at a time, and you cannot download any for offline viewing.
Duo: $20 monthly billed annually ($240). This plan allows you to view courses on only two devices simultaneously and get full functionality across all courses.
Family: $23 monthly billed annually ($276). This plan lets you view courses on six devices simultaneously and get full functionality across all courses.
If MasterClass doesn't suit your needs, there is a 30-day cash refund window you can use to obtain a complete refund.
Quality of Courses and Value for Money
"Learning is not attained by chance; it must be sought for with ardor and attended to with diligence." – Abigail Adams.
You must have gone through this phase at some point and are probably going through that phase now. In this phase, you're confused about which site to use for your learning.
Luckily this review has the insight you'll need to make a choice. To select an option, you must look out for the quality of its content and how much value you can get for your money.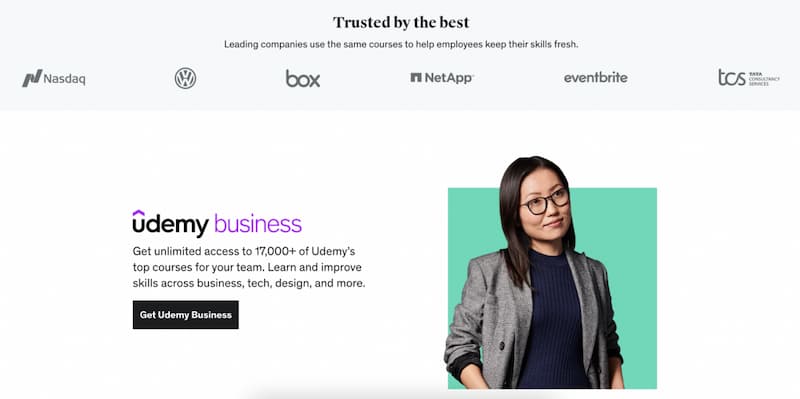 "Udemy or MasterClass, Master Class or Udemy?"
The write-up below on online MasterClass and Udemy answers just that.
Udemy
In comparison to MasterClass, Udemy offers distinct courses. In essence, it presents itself as a marketplace for courses.
Udemy operates virtually from peer to peer, allowing instructors to develop and advertise their courses for consumers to access and purchase separately through Udemy. Through a 5-star ranking system used by online students, the finest and most complete courses advance to the peak of their sector.
The Udemy method is open, so there is a vast library of courses to choose from—over 100,000 classes in total—that may be studied. The disciplines you may study range greatly; among many others, you can learn computing, coding, copywriting, graphic design, and business development.
Each course is self-paced with a different learning style, and consumers may search for the one approach that best suits their requirements. Finding the best one requires rigorous study of the program's content and reviews. You also get lifetime access and a certificate of completion.
MasterClass
MasterClass classes often provide an outline of topics before delving into further detail. Their courses are more than courses.
For example, Hadfield's space travel lesson, which I sampled, provides an overview of what space exploration appears from the inside.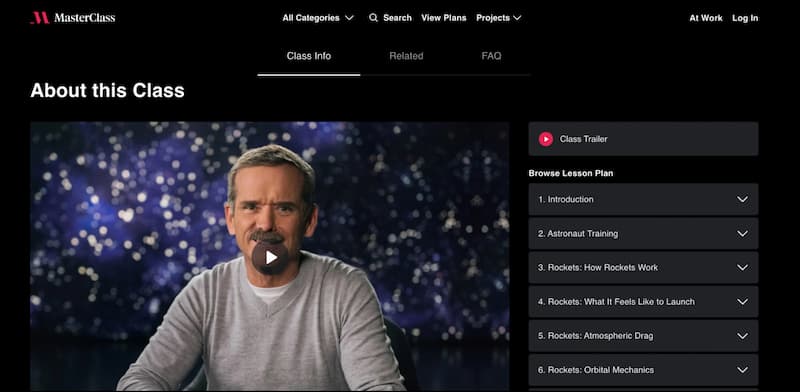 It gives you enough information to assist you in expanding your understanding of the profession and business, but not sufficient to make a profession. To be fair, space travel entails rocket science, so it wouldn't be simple to explain it in seven hours.
The MasterClass curriculum frequently exudes an aura of inspiration. After finishing a lesson platform, you should do something else.
Although MasterClass courses are recorded in advance, tutors occasionally offer live video sessions. This event provides a unique opportunity to speak with business leaders who serve as educators on the platform.
When you mention value for money, MasterClass is complete. The quality of their courses is so high that other sites would struggle to keep up with the platform's level.
Main Disadvantages of the Platforms
MasterClass and Udemy have remained in the online sector. People have adopted the two platforms to begin their online skill acquisition journeys. This consistency in patronage is because of how good their services are.
But as much as they have done so well, there are still some inherent downsides to their services.
The pros and cons of using those services come with every platform and service. Here, I will detail the disadvantages of using Udemy or MasterClass.
Udemy
Courses can be hit or miss because normal individuals give them.
Quality on the platforms can vary significantly.
It could provide less value for money.
The subscription costs to get access to the classes are irregular.
Certificates in the platform are not accredited.
MasterClass
No one-to-one interaction.
The classes aren't live.
It doesn't do well to replace traditional education.
No certificates are handed out on completion of classes.
Free Courses at Udemy and MasterClass
Udemy and MasterClass offer some free course content. Still, they aren't as encompassing as the paid ones.
Udemy
Undoubtedly, Udemy's pricing is one of its most alluring selling features. The site is often sought after by students looking for cheap tuition and lucrative sales because it offers options for all budget sizes.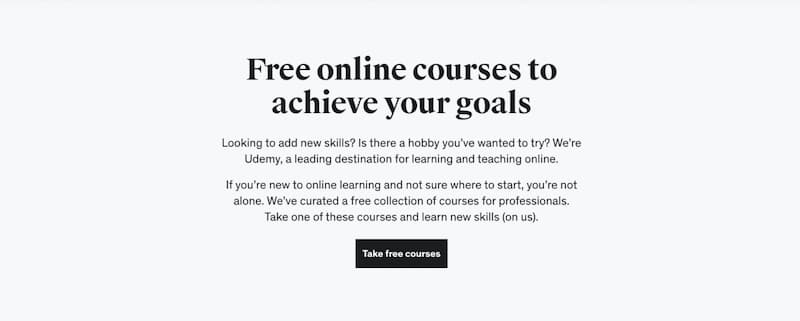 The free courses on Udemy offer a similar experience to what you can find with paid ones; however, the functionalities accessible in a free course instead of a premium course are constrained.
For instance, no certificate of completion is provided for free courses, and registration in free content courses does not grant access to extra services like direct chat.
You can access up to 600+ free courses on the platform, and if you want more functionality, you can look out for the heavily discounted courses on the platform.
MasterClass
Before purchasing, MasterClass offers prospective students a possible experience using lesson trailers. You can access the whole course for one session during the free trial period to get a sense of the teaching approach and see whether the course is a good fit for you.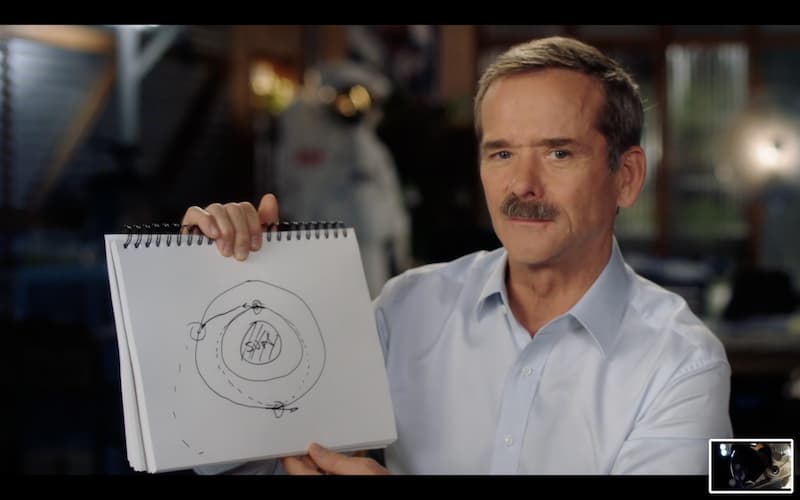 Create a profile on MasterClass' website, choose the course you want to try out for free, and then log in.
You may watch a sample of the first lesson after selecting a course before joining. You can then buy the entire course if you feel you like what you're seeing.
Verdict
Udemy covers a broader range of content courses and has a peer-to-peer course model. You can also access free courses and lifetime access to courses you have paid for. The platform also gives users a certificate for completing popular paid courses.
MasterClass, on the other hand, is more exotic and celebrity-like but with fewer courses. It features courses on popular interests taught by popular people, though these popular courses have no certificates attached to their completion.
The platform also offers a learning community that will aid your journey to upskilling.
Both are good for different purposes; it'd be left to the user to choose which one is suitable and attend their classes accordingly.
FAQ
Which is better MasterClass or Udemy?
The MasterClass platform has better quality business content from top celebrity professionals, but they don't have the range Udemy possesses. I cannot pick one platform for you as your preferences may differ.
If you want a certificate that proves you took a course, you should stick with Udemy; you will also have access to quality courses that will upscale your skills at a more affordable rate. MasterClass, on the other hand, offers course content backed up by the experience of skilled industry leaders.
Which is cheaper Udemy or MasterClass?
I would say Udemy is a cheaper online learning platform for multiple reasons. The courses you purchase offer lifetime access, and you can access incredible discounts every day. With MasterClass, you must pay a membership fee annually to access your courses.