Online tutoring is more popular than ever. A study from 2016 found that up to 64% of tutors now offer their services online, and this number has only increased since. Online tuition is cheaper than other forms of private tutoring and allows you to receive one-to-one tuition from the comfort of your bedroom.
Most students seek out online tutors for learning a foreign language (including English), with test preparation and reading/ writing skills as a close second. These reflect skills that students cannot find support within their peer group or social circles. Many different guidance websites claim to offer a premium service, making it difficult to know which one to choose.
Also, before we start we want you to check our MyGuru Tutoring reviews and review of the Classroom Door.
These MyTutor.com reviews will aim to give you as much information as possible about MyTutor.co.uk to help you decide if it is the online tuition website for you.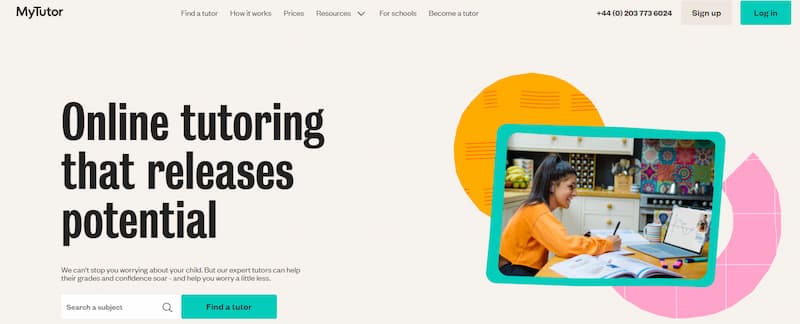 This MyTutor.co.uk review will give you a comprehensive, expert breakdown of the online tutoring website MyTutor UK. Five criteria need to be considered when evaluating an online tuition service, they are as follows:
Qualification: Are the tutors sufficiently qualified, and does the website have strict enough procedures in place when picking and verifying tutors?
Curriculum: How many subjects the site offers, and how many syllabuses do they cover for each subject?
Pricing: Does the site offer hourly, monthly, or yearly payment schemes?  How much does the site charge, and do they offer better value for longer packages or subscriptions?
Learning tools: Does the service provide inbuilt tools to maximize efficiency and help students learn quickly and easily?
Platform: How complicated or easy to use is the website? Is it easy to navigate, and are the help/ FAQ sections detailed and useful?
This MyTutor review will analyze how well the website meets these five criteria. We will evaluate the claims and promises they make on their site and compare them to MyTutor reviews from customers who have used the service to see if MyTutor really offers the quality tuition it claims to provide.
If you are looking for the best math tutors, check our page, where we list the best online math tutoring sites with top teachers.
MyTutor UK Overview
What is My Tutor? 
MyTutor is a UK based website that offers various online tutor websites across a wide range of subjects.

How does My Tutor work?
It works by hiring student tutors from top universities across the country, aiming to double as high-quality educational service and a way for students to make money at university. It boasts many features, such as an interactive classroom with whiteboard space for demonstrations, a wide array of tutors, and the opportunity to meet tutors via video call for free before you hire them for lessons.
Does MyTutor have good tutors? Does MyTutor help at all?
MyTutor guarantees its tutors are handpicked from ivy league universities and that only one in eight applicants is successful under their stringent selection process. Positive MyTutor reviews make it clear that many parents, students, and partner schools have found MyTutor to be a helpful, reliable service.
Are MyTutor online lessons good?
According to numerous negative MyTutor reviews, online learning tools are very dependent on a stable internet connection. Many users claim that the service has many technical and customer support issues that make it difficult to use without a fibre-optic internet connection.

Is My Tutor legit? Is MyTutor a scam?
From the number of positive reviews, it is apparent that while MyTutor has its faults, it is not a scam.
Does MyTutor have the best online tutors out there?
MyTutor does not provide the best possible tutors for your money; most of them are undergraduate university students trying to earn money in their free time.
Story of MyTutor
MyTutor was founded by three men with a shared passion for improving education with wider access to private online tutoring. Robert Grabiner was a struggling father trying to find reliable tuition for his daughters; Bertie Hubbard was an analyst looking to use his knowledge to solve crucial education problems; finally, James Grant was a philanthropic entrepreneur who wanted to help disadvantaged kids in schools.

That's all the information one can find on the story of MyTutor. The 'About Us' section is very sparse and is more about reminding you of their mission statement, to bring 'life-changing tuition to all, than it is about telling you the origins of the company. If you click on any of the staff photos in the 'about us' section, you will only find empty, grey boxes that look like they should probably have text in them.
Services of MyTutor co uk
MyTutor offers private tutoring to students sitting GCSE, A-Level, or university entrance exams. They also offer language courses for various languages; however, you can only learn a language as part of a curriculum, rather than learning it to a conversational or fluent standard.
At the time of writing, they do not offer tutors for learning English as a second language, which is one of the most popular subjects that students seek online tutors for. So, check our list of learn English websites online.

They also cover some subjects for Scottish higher and IGCSE. However, not all subjects have tutors for these syllabuses. Overall, the range of subjects is very focused on the English education system. If you are enrolled in the Scottish or Irish systems, it may be better to find a tutoring service specializing in these syllabuses, as customer reviews indicate support for these curricula is limited.
MyTutor also works with partner schools to help students struggling in their studies but may not seek out one-to-one tutoring independently. A case study on their website details how the service was integrated into Langely school with very positive results.
Teachers identified struggling students and directed them to MyTutor, who reported that their service greatly improved students' confidence and engagement in a class by giving them the freedom to ask questions they felt uncomfortable asking in a full classroom. It all sounds great, although being singled out by your teacher for private tutoring could be very awkward for the student and could risk attracting derision from other students who might feel that others are receiving preferential treatment.
As well as the above, MyTutor offers fairly standard interactive classroom software, along with the ability to record lessons for future reference. Their site also has a few study resources, such as 10,000 free study notes to aid with revision and a helpful blog for parents containing articles about helping their teens through exam stress.

The most versatile tutoring company is Wyzant. You can find tutors on almost any subject there. All of these tutors are real professionals. Please find more information in the Wyzant tutoring review our team made for you.
MyTutor Prices
MyTutor UK offers a pay-as-you-go subscription model and promises that you will only pay for what you use. It offers three categories of the tutor at incrementally increasing prices:
New tutors who are fresh to the site at £18-22 per hour.
Tutors working for up to 6 months have had mostly positive reviews at £22-30 per hour.
The most accomplished and well-reviewed tutors on the site at £30-40 per hour.

All prices are set by the tutors themselves, and many My Tutor UK reviews from people who have worked for the website claim that MyTutor takes a hefty amount of their pay as commission to keep the site running. This might serve as a disincentive for university students looking to work for them.
Furthermore, there are numerous My Tutor reviews that report customers struggling to get refunded for missed lessons. According to MyTutor, this is because it is up to the tutor to authorize a refund, not the site itself, which is obviously a trust-based system prone to abuse by dishonest tutors.
To save a little more money on tutors, you can try Transtutors. They have tutors starting at $9.99 per hour. See how their customers are happy about their pricing model in the TransTutors reviews on our blog.
Quality of MyTutor.co.uk
MyTutor proudly boasts that it hires tutors from Ivy league universities and that only one out of every eight applicants is selected to work for their site. The logic behind this is that university undergraduates were teenagers themselves not so long ago.
As such, they are surely the best people to help coach teenagers through GCSEs and A-levels. As some negative MyTutor reviews point out, this system comes with many issues. University students are not qualified tutors and, as such, are not always aware of changing curricula.
MyTutor claims that it keeps all its tutors up to date with changes to the syllabuses they teach. This does not help because many of the tutors on the site have only done the subjects they are tutoring up to A-level, which is not helpful for students seeking a more advanced understanding of their subjects or for students trying to learn a second language.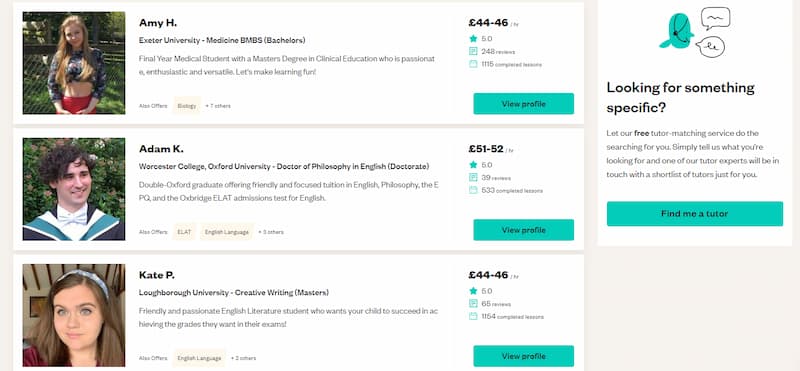 Lastly, in numerous MyTutor UK reviews, people complain of tutors being rude, dishonest, or simply unhelpful. The problem with hiring tutors who are university students is that getting 6 A*'s at A-level doesn't mean you will be a good teacher.
Qualified tutors are experienced at explaining difficult problems to students. However, with the tutors from this site, it is touch and go whether you will receive knowledgeable and good at explaining things. If you get a good tutor, then great, but it could be enough to put you off online tutoring altogether if you are not so lucky.
Customer Service
Reviews on MyTutor's customer service are mixed. Many of the schools they have partnered with the claim that the site has excellent customer service and is quick to solve any problems.
Many of the negative reviews about the website on Trustpilot and Looking Glass have responses under them from MyTutor themselves, offering apologies and numbers to call where they can try and resolve their issues. On the surface, this looks like dedicated and helpful customer service.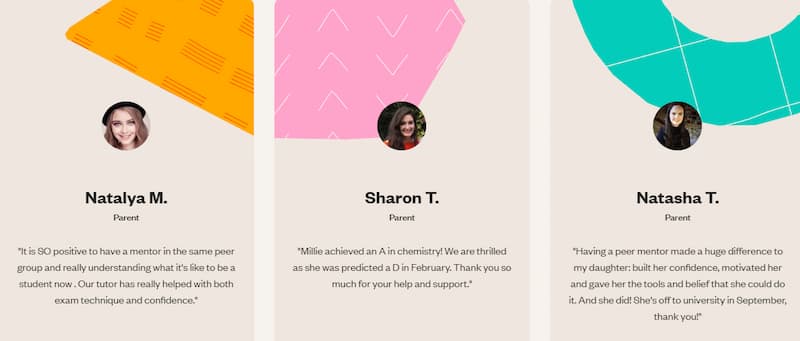 However, numerous My Tutor UK reviews suggest the website's customer service is not quick to offer help but slow actually to provide it. There are complaints of customers being left endlessly on hold when phoning the helplines, and that even when they do get through, MyTutor is limited in how much they can help. As mentioned above, refunds have to be authorized by the tutors themselves and can take up to two weeks to come through if this is not done.
The site is also plagued by technical issues that can only be solved by having fibre-optic internet, which everyone can afford.
Website / Mobile App Usability
The website for MyTutor is nicely laid out with colourful pictures and short, quippy paragraphs of text. Although some sections, such as the about us page, are oddly barren, it is reasonably easy to navigate, with a few buttons that lead to nowhere.

Unfortunately, many reviews claim that the messaging system is notoriously buggy. One customer discovered to their horror that any message sent by a parent or student could be seen by every tutor on the site, not just the one they were messaging. This led to the customer receiving unsolicited messages and offers from tutors they had no interest in contacting.
There is no mobile app for customers, just for tutors, and the virtual classroom is reportedly very band-width hungry, requiring you to have an excellent internet connection if you want to avoid lag and dropped calls. This wouldn't be such a problem if the technical support weren't ineffective at helping customers overcome these issues.
Many MyTutor reviews tell frustrating tales of half lessons interrupted by failing tech with no immediate support or refund being made available.
Pros
You can meet tutors for free before booking lessons with them.
Wide variety of tutors offering help with A-levels, GCSE, and University entrance exams.
Young tutors who can better relate to teenagers and the struggle of GCSE/A-level exams.
No subscription or sign-up fees.
School partnership program to help students struggling with their academic studies.
Large pools of study notes, guides, and a parent's blog with helpful info on handling exam stress and supporting children sitting crucial exams.
Cons
Refunds are difficult to claim unless the tutor is honest enough to authorize one within two days.
Most courses are focused on the English education system with limited support for other UK syllabuses.
Tutors are often undergraduate university students and are therefore not qualified tutors with experience explaining difficult concepts.
Some tutors are prone to rudeness, condescension, and sometimes dishonesty.
Service is potentially unusable if you do not have a fibre-optic internet connection due to technical issues.
If you are looking to become a tutor, according to MyTutor tutor reviews, it takes a sizable portion of your fees as commission.