You need to study carefully every investment you make, especially when you are about to hire an academic service.
We know how important it is to choose a tutoring service. That is why we tell you everything you need to know about Growing Stars in this review.
Why should you take into account our Growing Stars review?
If you are looking for GrowingStars reviews because you are cautious, why should you trust ours?
Mainly because we use strict criteria that help us assess the services precisely. Let us tell you about those criteria.
The legitimacy of the service. First, we ensure that the company offering the service is legit and does not have scam accusations.
Tutor's profile. The best services offer professional tutors with the right training to teach. Services with informal training aren't the most recommendable.
Quality of the services. Reviews from previous clients are the best indicator of a service's quality.
The most popular kinds of tutoring lessons
You can receive lessons from tutors in several different ways and from different platforms. To be able to choose the best, you need to know what your options are. Here we'll tell you.
In-person lessons: these are classes that require the physical presence of the students and teachers. They are done in classrooms and can be private or group lessons.
Online lessons: these are classes done through online platforms. They can also be private or in a group, although private lessons are more recommendable.
Why is it better to choose an online tutor?
The Internet facilitates many tasks and makes the study more effective. There are many reasons to take online lessons. Here we tell you about:
Classes online save money and time.
Your tutor can be a native speaker.
You can receive lessons from the comfort of your home.
It is easier to schedule online tutoring.
Countless platforms make this tutoring easy.
Please, take a good look at what we have to say about these companies and their services Rosetta Stone App reviews and Classroom Door review . Are they one of the best available?
Growing Stars Overview
We have told you how we do our assessment process to achieve a thorough review, and now we will give you our Growing Stars review. We hope this information will guide you in your quest for a great service and help you figure out if this is the best platform for you.

What is GrowingStars?
Growing Stars is one of the American online tutoring companies with several years of experience in the market. Their focus is on offering online tutoring services for students. They work with elementary, high, and middle school students and have tutors for math, English, science, and IT.
Also, they offer tutors for students interested in learning different languages.
Aside from those services, they have prep programs for admission tests like SAT, ACT, and AP.
How does GrowingStars work?
This service has a simple workflow. All its processes are done online, so all the information you need is on its website. You need to sign up on their site to hire their services, indicate the areas you need to work with, and choose between one of the two plans they offer.
After this, an automated system pairs you with a tutor adequate for you and gives you a timetable with his free hours. This way, you can put together a schedule that fits your convenience. The tutoring lessons are done through the website.

Does GrowingStars offer any guarantees?
Yes, they do! Growing Stars is a company with great services, and they know it. That's why they have a satisfaction-guaranteed policy in which they commit to giving you back 100 % of the money if you are not happy with the results of their services.
This guarantee is valid for the first 4 sessions or within the first 2 weeks, whatever comes first. For Growing Stars, the guarantee is not just a figure of speech they use in advertising. They will give you back your money if unsatisfied with their services.
Is Growing Stars.com helpful in the learning process?
The GrowingStars is a platform focused on helping students of different ages to advance rapidly in their learning process. With this, they can reinforce knowledge with tailored tutoring, and to do so, they're a great platform in which students can feel comfortable.
So, it is safe to say that Growing Stars tutoring in a student's academic life can help them get better results and learn effectively.
Is GrowingStars safe or a scam?
To do a thorough GrowingStars review, we have checked the background of this company, including many Growing Stars reviews from previous clients and former workers.
The result of our research points out that Growing Stars is a legit company founded several years ago. There are complaints, though no suspicious denounces about this service's legitimacy.

Does GrowingStars.com have the best online tutors out there?
It is risky to affirm that one platform has the best tutors, but Growing Stars surely has some of the best. They use a strict evaluation process to assess aspirants that want to become tutors.
In this process, they evaluated both the training to impart lessons and the mastering of the area the aspirant wants to teach.
In Growing Stars online tutoring reviews, previous clients show their satisfaction with the performance of their tutors. They say this platform's tutors have professional behavior, a great master of the subjects, and have good teaching skills.
Story of GrowingStars
Growing Stars is a company founded in 2004, so it has over 15 years of experience in the tutoring service business. They have their headquarters in California, US.
In all its years in the market, this company has standout for being innovative and having a wide range of programs available for its clients. There is not much information about their story and the circumstances of their creation.
Services at Growing Stars
Growing Stars has a wide offer of courses and one-on-one tutoring programs to serve students of different ages, covering 34 areas. Their most hired service is for K 12 students, including high school, Middle School, and Elementary school.
They have tutors to guide students in almost every area they study, and tutors even use the same books that student schools recommend to create their teaching programs.
Here are the programs they offer on their website for K12:
High School and Middle School, tutoring for:
Pre-Algebra;
Algebra 1 & 2;
Trigonometry;
Geometry;
Precalculus;
Calculus;
Statistics;
Integrated math 1, 2 & 3;
Biology;
Chemistry;
Earth science;
Life science;
Physical Science;
Physics;
Science;
Creative writing;
Reading comprehension;
Writing & grammar.
Elementary:
Math tutoring;
Science tutoring;
Grammar & writing tutoring;
Reading comprehension tutoring.
Languages:
Hindi tutoring;
Malayalam tutoring;
Spanish tutoring.
They also have programs to study subjects from the AP (Advance Placement programs), IB (International Baccalaureate®), GCSE (General Certificate of Secondary Education), and IGCSE (International General Certificate of Secondary Education).
These are different programs with one thing in common: students can feel a little out of place in these programs.

Growing Stars' tutors help them fit perfectly with these programs:
AP, test prep for:
Calculus AB;
Calculus BC;
Statistics;
Physics 1 & 2.
AP tutoring for:
Biology;
Chemistry;
Physics C Electricity & Magnetism;
Physics C Mechanics;
Environmental Science;
English & Composition;
Computer Science A;
Spanish Language.
IB, exam prep for:
Math HL & SL;
Biology HL & SL;
Chemistry HL & SL;
Physics HL & SL;
English HL & SL;
MYP.
IGCSE, exam prep for:
Math;
Biology;
Chemistry;
Physics;
English.
GCSE, exam prep for:
Math;
Biology;
Chemistry;
Physics.
Growing Stars tutoring also offers test prep programs for admission tests. Students can get help preparing for their SAT, PSAT, ACT, and other tests.
Students can opt to take the prep program for the entire test or just for a section.

For example, if you master all the test content except for the math section, you take only the math program. For the best math tutoring, check our website's list of the best math tutoring centers.
Also, Growing Stars has prep programs for these tests:
AMC 10;
AMC 8;
CAASPP;
FSAHSPT;
MATHCOUNTS;
MCAT;
PARCC;
REGENTS;
SSAT;
STAAR;
TERRANOVA;
TOEFL.
Also, students exploring computer sciences can get help from tutors and specialists in concepts related to programming. These are great because, with them, students have the chance to learn C#, C++ programming, graphic design, HTML & Web Development, Java, and Python.
Their college programs are less numerous but as good in quality as any other they offer. Students can receive preparation for many different areas but at a basic level.

Take a look at the offers for college tutoring they have:
Math;
Differential Equation;
Discrete Math;
Statistics;
Multivariable Calculus;
Linear Algebra;
Biology;
Molecular Biology;
Genetics;
Anatomy & Physiology;
Chemistry;
Organic Chemistry;
Physics;
English.
Check our list of the best English learning websites for beginners, where you can find only the top online options.
Growing Stars Prices
When it comes to Growing Stars' prices, the platform has some advantages, and one of the most important is the affordability of its prices. They charge per tutoring hour, and the cost depends on your chosen plan.

Students can have the plan with 8 hours of tutoring per month (2 hours weekly) for 120 USD. With this plan, each hour costs 15 USD, or they can subscribe to 4 hours per month (1 hour weekly) for 80 USD; with this plan, each tutoring hour costs 20 USD.
Quality
Growing Stars is a company that offers services of outstanding quality. They have great tutors, a good online platform, a wide range of courses, and even offer a guarantee of satisfaction.
These are all things that make the learning experience satisfactory and effective. Many students have increased their grades and enhanced their learning process thanks to Growing Stars' tutors.

For the best online tutors, you should go to Varsity Tutors. Please find more details about this company in the Varsity Tutoring reviews on our blog.
Customer Service
This company's customer service is available through the website 24/7 and by phone during working hours.
Growing Stars reviews affirm that the staff is very polite and helpful and takes care of resolving your issues as soon as possible.
GrowingStars.com Website Usability
Growing Stars' website is straightforward to use, and it has a simple yet complete design. You can find all the necessary information and set your contract in detail.
Tutoring sessions are conducted through the website, and the platform offers many useful tools for video calls, like shared screens, whiteboards, recordings of the sessions, and more.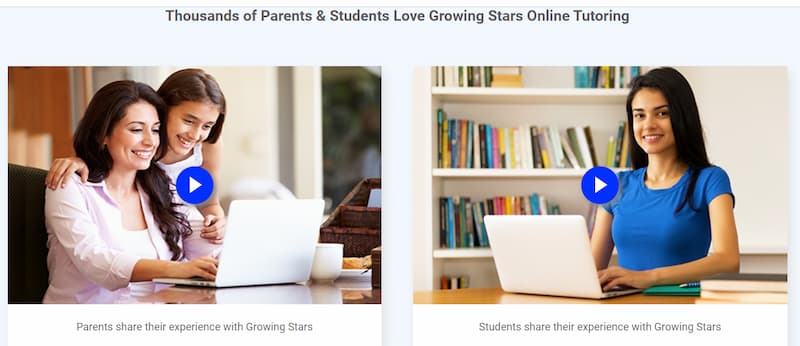 Pros
It helps students from various academic levels.
They offer tutoring for several areas of knowledge.
Affordable prices.
Tutors help reinforce the knowledge students get in school.
They also have prep programs for several admission tests.
They have many years of experience in the market.
They offer tailored lessons for each student.
Cons
They don't have a mobile app.
It doesn't have tutoring for students under third grade.
There aren't many programs for college students.
Students don't choose their tutors.
It only offers scheduled lessons, and no "emergency sessions" exist.