TutorHouse is considered to be one of the top tutoring companies in the UK. If you have, at one time, searching for online learning, you might have come across it. They offer classes for students of all ages, levels, and abilities. The company claims to have the best education facilities, but is it as good as it claims? We embarked on a comprehensive Tutor House review to understand how they work.

Why you need to take into account our peer Tutor House reviews
We are industry experts who have reviewed hundreds of writing and tutoring services. We not only create accounts to experience the operation but also look at the experiences of other users. Our reviews are detailed, looking at everything from the company's history, the options offered, customer support, security and data protection, and the overall quality of education, among others.
Criteria to evaluate online education services
It takes us between a few days to a week to review a digital learning platform. For starters, we create an account with the service. This is the easiest way to experience their services. We also search for TutorHouse reviews to see what other users have to say. After opening the account, we check pricing, check for tutors' availability and professionalism, and check customer support.
We also assess:
Subjects offered;
Security of payments;
Data protection;
Guarantees.
Popular digital classes
Mathematics, languages, art, music, and science, are the most common digital classes for students in elementary school through the A levels. Maths and languages make the bulk of most general digital classes. In most cases, art and music appear on specialized learning websites. If you want to hire the best math tutor, check our list of top math tutoring services.

Students in colleges seek help in technology, business studies, advanced calculus, and writing (especially writing term papers). Languages lessons are also common among college students.
What to consider when choosing an online tutor 
When choosing a tutor, review their qualifications, certification, and experience. If a tutor lacks in any of the three, move on to the next best tutor. However, the platform also matters – it needs to be trustworthy, offer all the subjects you need, and charge affordable prices.
Why shouldn't we find out about ELSA app reviews?
Why should you take online lessons?
Digital classes complement conventional classes. If you, for instance, want to excel in an upcoming exam, the easiest way to revise is to do it on the internet. Unlike classwork, where you tackle the syllabus, you can concentrate on concepts or subjects that challenge you with digital lessons. Better yet, the personalized learning environment allows you to make the best of your revision hour. The tutor concentrates on you alone.
TutorHouse Overview
Below is an in-depth TutorHouse Review created to assist you in making the right decision when choosing a learning platform. We have also answered frequently asked questions that might be bothering you.

What is TutorHouse?
TutorHouse operates from London since 2013.
As a digital learning platform, it serves students of all levels from KS1 to university. The site claims to have hundreds of expert teachers, all of who have at least a bachelor's degree.
How does TutorHouse work?
Although not everything is as good as TutorHouse claims (as seen in Tutor House reviews from customers), their sign-up process is pretty straightforward. After creating an account, an administrator will send you an email requesting help you find a tutor – a gesture that makes the site great for those who are just starting with learning.
To begin using TutorHouse, you need to create an account using the process below:
Click the "Get Started" button on the top right corner of the home page.
You will be taken to a screen that asks you to register as a teacher or a student. Select register as a student and click "Next."
Choose your subject(s) and levels of education.
Pick your preferred price bracket. Prices range from £20 to £60+ per hour, depending on the tutor you choose.
Confirm your availability throughout the week from the table provided. You can choose morning, afternoon, or evening lessons any day of the week.
Confirm the details of your account and write any additional notes or views you might have.
You will now need to provide your personal details to complete the account. On the next page, the system prompts you to:
Choose between entering your email and logging in with your LinkedIn account.
If you choose to enter your email, you will need to enter your name, country, telephone, email address, and password.
Your account will be complete, and you can proceed to payment and start to look for a tutor. Payment can only be made through the digital payment system, Stripe, which is limiting especially if you need to access the services from another country.
If you want to start your tutoring career or looking for a legit service, check VIPKid. Why is it a good choice for both tutors and students? See more in the VIP Kid review.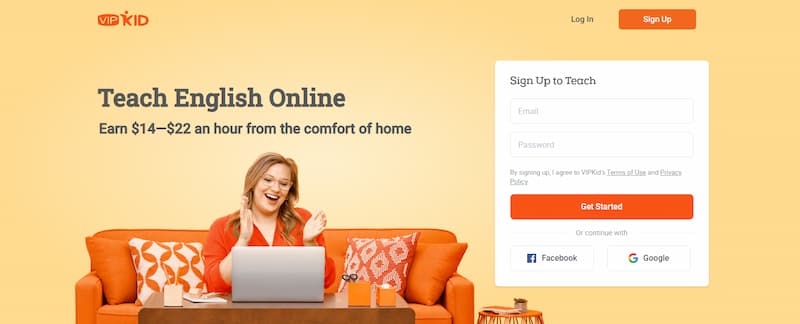 Does TutorHouse have good teachers? Does TutorHouse help at all?
TutorHouse claims to have experienced instructors. According to the site, only 20 percent of all teachers who apply are selected. The instructors undergo a rigorous vetting process before they are allowed to teach. Nevertheless, the stringent vetting process does not filter out all inexperienced instructors as some users still complain of the lack of professionalism by some of them.
Other users claim the tutors were great, but TutorHouse does not have a streamlined communication system; this makes it challenging for teachers to follow up with their students.
Are TutorHouse online lessons as effective as they say?
There are as many complaints as there are compliments for TutorHouse. According to the platform administrators, the average student improves three grades up after a few months of working with the professional tutors at the site.
Some parents have witnessed the results of the claim, but others have not noticed any change. If anything, come parents claim that their children came out worse than they went in beside the high fees per hour. The system is not as effective as claimed.
Is TutorHouse safe? Is TutorHouse a scam? 
TutorHouse is safe. All information you send to the site is encrypted for security. When creating an account, the site insists that your password contain at least eight characters; one upper case letter, at least one number, and one special character. This protects you from anyone who might try to access your account.
So far, there are no users who have been scammed by TutorHouse. Most complain of poor services but never scam.
Is TutorHouse has the best online tutors out there?
Unfortunately, TutorHouse reviews show that it does not have the best educators. Some tutors are good, but most are not. For starters, the quality of their educators is seen with the different payment brackets where users can choose an inexperienced educator at a cheaper charge.
If you need the best online teachers, you will have to pay more than three times the price of the average teacher. Even then, you are not guaranteed quality learning.
Story of the TutorHouse
Alex Dyer founded TutorHouse in 2013. According to the former Psychology teacher, starting TutorHouse was fuelled by dissatisfaction in the education system. He wanted to create a system that could accord all students a chance at top-quality education from the most qualified teachers.
Over the years, the system has received hundreds of negative reviews, upgraded its systems, and gone through much more. Today, the system has more than 50 instructors handling students of all ages, levels, abilities, and budgets.

Services of TutorHosue.co.uk
TutorHouse offers the following subjects:
To get a tutor, log into the system and click "Subjects" on the menu. Click on the subject of your choice, and a list of educators will appear. From that list, you can view the tutor's profile, send them a message, see their charge per hour, their experience, and much more.
Pricing of the Lessons at TutorHouse
There are three price brackets offered on Tutor House:
New Educators with no experience at a charge of between £20 and £40 per hour.
Intermediate Educators who have only taught for a few short years. These tutors charge between £40 and £60 per hour.
Expert Educators with many years of experience. The tutors cost more than £60 per hour.

All the teachers are certified and have at least a bachelor's degree.
To get the best learning experience, we recommend checking the Wyzant tutoring service. This is a top choice among customers. You can see it yourself, find in reviews for Wyzant tutoring services how their former clients are happy about their tutors.
Quality of the Lessons
From the tutor's profile, you can see the academic qualification and the number of students a tutor has taught. According to TutorHouse, all the teachers hired have at least a bachelor's degree and are certified. Most of the teachers are experienced, as is seen on their profiles. Even inexperienced teachers have specialized in the subject they take.


Users are allowed to leave reviews after a lesson. Most of the user reviews on the site are positive, which points to satisfaction. There are a few negative reviews outside the site, which means not all teachers on the site deliver quality work.
Besides that, there is no specific way to confirm whether a teacher is qualified.
Customer Service
Tutor House offers four communication channels for all users:
Send a "Call Back" request;
Book a call;
Live Chat;
Email.
Even with all the communication channels above, users still complain that it takes so long to reach customer support. The site promises to get back to you within 24 hours, but that does not always happen. When it does, the support may not solve your problem amicably. Most of the users seek support from tutors who fail to show up.

Website and Mobile App Usability
While Tutor House is accessible on mobile devices, the education service has no mobile app. The website is responsive on mobile devices allowing you to access all features on the desktop version on a mobile device. You can request a teacher, talk to customer support, and ask a question through a mobile device.
The website layout is user-friendly, and pupils in elementary school will find their way from one section to the next with no hassle. The homepage has a few menu items, including Tutoring, How It Works, Tutors, login, and get started. The same home page also has several testimonials and how the service works. You can find more links at the bottom of the homepage.
Pros
Affordable plans are available.
Classes cater to students of all levels and ages.
More than 50 instructors available for a one-on-one lesson.
Tutors available any time of the day, all days of the week.
The website is easy to navigate and find a tutor.
Variety of communication channels.
Cons
The single payment method limits most users.
Customer support will not always get back to you on time.
You will need more than £60 per hour to hire an expert instructor.
There is no mobile app for students who need to access lessons on the go.
Most tutors are inexperienced.
Lacks a variety of teaching methods.