Once you start looking for a new job, you always think about creating person writing a perfect resume for your job title by yourself.
And, of course, not everybody knows how to make this part perfect without any help, especially if you've just finished studying in college or university and trying to find your first-ever workplace.
It's not a shame to look for help in real life and online when there are so many CV writing services like TopCV.
You need to remember to be safe when you work with online form of paid service and not fall into a terrible scam. Reading feedback and trying out several most popular ones is a way to go. That's exactly why we're here to provide you with this TopCV review and allow you to get a professionally written CV without any worries.
Your existing CV may not be capturing your full potential, leading many individuals to seek the expertise of a professional CV writing service.
With experienced CV writers offering an initial free CV review, you can gain insights into the strengths and weaknesses of your document before having the first draft of your CV written and optimized by professionals.
We'll look into the most important pros and cons, try out great and free review of service and their customer service, read all TopCV.co.uk reviews and describe so much more to look forward to in this customer-driven review. Keep reading to find out more.
You can always check our best CV writing services reviews, TopResume vs Zipjob and ResumeCorner review.
TopCV Overview

Top CV was founded by Jeff Berger, and this company is claimed to be experienced in the CV-writing business since the CEO's mother was also indulged in it.
The workers of this company are also known for their skills in Human Resources, the job applications, job search strategy, and recruiting, so they can make your CV a lot more effective and give you something to find the job of your dreams, making your chances quickly increase.
Many Top CV reviews are positive when it comes to this particular company. We were extremely excited to dig deeper into professional service and try them out by ourselves, seeking the truth about professionals working this terrible service in the sphere of resume writing.
So we quickly accessed the website and started working on it to prove to you why you should or shouldn't try this service when you're trying to find a new job successfully.
The CV Writing Process
The journey of crafting a compelling CV is not merely about stringing together professional experiences and qualifications.
Instead, it's an intricate process that requires a keen understanding of one's career history and trajectory, future aspirations, and the nuances of the job market. This is where the CV writing process becomes paramount, especially as implemented by TopCV.
At the outset, TopCV adopts a consultative approach. Before any writing begins, there's a comprehensive consultation phase.
This initial step serves two primary purposes: first, to understand the client's background, strengths, and career goals in detail; second, to strategise on the best approach to position the client in their desired industry or role. Such a beginning ensures that the foundation of the CV is rooted in clarity and direction.
Following the consultation, the drafting phase commences. Leveraging the insights from the initial discussion, the assigned professional writer then meticulously crafts a CV that mirrors the individual's professional story while also aligning with industry standards and trends. The focus of professional writer here is on creating a narrative that showcases qualifications and resonates with potential employers.
But the process doesn't end at the first draft. One of the hallmarks of TopCV's service is the emphasis on revisions. Clients are encouraged to provide feedback, ensuring that the final document truly reflects their aspirations key skills and strengths.
This iterative process guarantees no stone is left unturned and every detail is perfected. Through a structured, multi-step approach, they ensure that every CV is not just a document but a powerful tool that can pave the way for professional success.
Top CV Services & Pricing
As soon as you access TopCV.com, you can find a button "CV Services" to see the pricing of the services this company can provide you with. All the services come in different packages, three listed on the webpage you access, giving you something to choose from depending on your goals and budget.
The first package is called "Professional Growth" with a price of €129 that includes professional writing your CV, which is the cheapest one. You can have three payments for this one. The second option is "Career Evolution", which is labeled as the most popular at the price of €189 and includes your CV, and cover letter written with two revisions.
You can get it in two payments, too. And the last, most expensive, is €349, called "Executive Priority", which also includes a LinkedIn profile and 48-hour delivery. You can pay for it in 4 parts.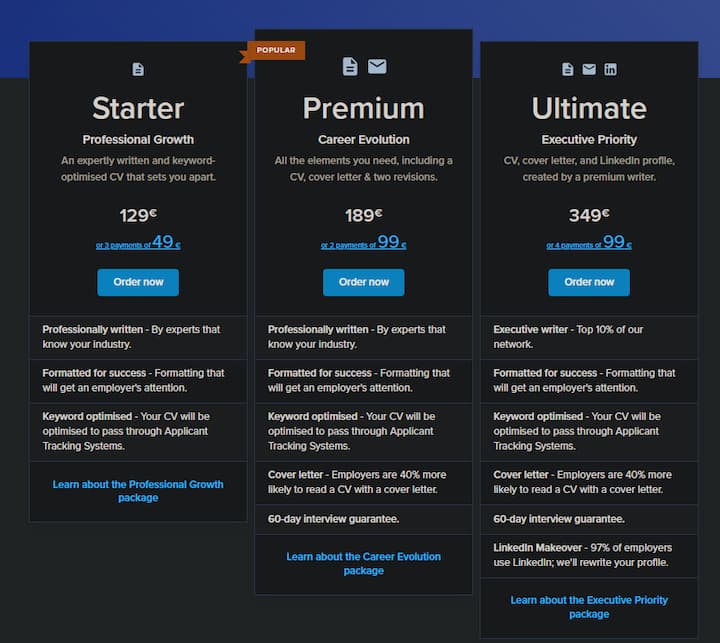 As much as a good resume is important to find a job, we concluded that this service has too little to offer for their prices, especially the minimal one being €189 for just a CV. If you think that these prices are a little too much for you, check our list of cheap resume services we compiled for people like you. We can guarantee that these services have the best value for money.
Fortunately, they have an incredible free offer for those who need it – a CV review by TopCV, which you can complete scam submit right on the website. There are many positive Top CV customer reviews about this free service. Yet, we still decided to order the cheapest package to try it out.
TopCV.co.uk Payment
While other websites and services can provide you with a list of information about payments, even a free CV review from TopCV can't save this website from the vague payment details and return policy. As soon as you place an order, you can pay for it via PayPal, Visa, MasterCard, and American Express, making it a wide list to choose credit card company from.
While doing this TopCV.co.uk review, we found nothing said about the return policy clearly, but we were told that our writer will always check up on the progress and do all the revisions we ask for.
Another guarantee said that they would write another CV if their customer doesn't get a job in 60 days, which they proved to be true, according to many TopCV UK reviews. We tried it out after 60 days, and they were more than willing to give us another CV, so we were extremely pleased with it.
We recommend checking out the best military resume writing service on our list for veterans who have the military to civilian transition.
TopCV.com Quality
We didn't trust TopCV too much at first, doubting the quality control of the CV that will come out after some time and not believing the professionalism of their writers.
TopCV Writers' Expertise
After presenting an initial CV, a project manager or executive writer might find that working with a professional CV writer can make a significant difference in showcasing their expertise. If the CV review qualifies for enhancement, the result is a new CV that is professionally written to highlight their specific skills and experiences in the best light.
Our initial reservations centred largely around the proclaimed proficiency of TopCV's writers. Could a service, especially one operating at such a large scale, truly offer a tailored, industry-specific approach to each CV? The answer, as we found out, is a nuanced one.
Digging deeper into the qualifications and background of senior writer on TopCV's team, it was evident that they host a diverse group of writers well-versed in various industries. From finance and tech to arts and academia, the breadth of their expertise is genuinely commendable.
But it's unclear whether each writer understands the nuances of their respective fields and the dynamics of the UK job market, which plays a critical role in crafting an outstanding CV.
While our initial apprehensions about TopCV were not completely unfounded, a deeper dive revealed a more complex picture. Like all services, they have areas of improvement.
Is TopCV legit?
After receiving the final document, all the skepticism went away, and we knew the answer to that question. The writer we got was a real professional, and we found zero grammatical mistakes or spelling errors in the document, yet, the writer offered to check it as many times as needed.
Is Top CV any good? In the end, we realized that only several details were wrong or missing from the document, but they were not that much of a big deal, and it would be fair to submit it to any position in that form.
Once again, the second we contacted our prescript writer, he considered it and prepared an almost perfect CV for one person from our team, greatly surprising us after all. The result made us happier than the process, as we got everything reviewed and checked for the money we paid.
How Does TopCV Compare?
In the UK's bustling marketplace of professional CV writing services, distinguishing the diamond from the rough can be challenging. When it comes to TopCV, many wonder: how does it stack up against its peers?
For starters, in terms of sheer volume and visibility, Top CV has managed to carve a significant niche. Its digital footprint, marked by a robust online presence, is testimony to its widespread acceptance. Yet, it's not just about popularity; it's the quality of service that truly defines a brand.
One of the distinguishing features of TopCV is its industry-specific tailoring. While many services offer generic CV templates, TopCV prides itself on its bespoke approach, curating CVs to align seamlessly with varied industry norms and expectations. This level of customisation, backed by a team of writers with diverse expertise, sets it a notch above several competitors.
Yet, no service is without its challenges. Some competitors may offer faster turnaround times or lower pricing tiers.
However, what TopCV might occasionally lack in speed or cost, it compensates for in-depth and precision.
Feedback and reviews across platforms also indicate a generally positive trend for Top CV. While some competitors might boast similar praise, a recurrent theme in TopCV's feedback positive reviews is the emphasis on its client-centric approach.
Thus, while the landscape of CV writing services in the UK is vast and varied, TopCV, with its blend of quality, customisation, and client engagement, comfortably holds its ground among the top contenders.
Top CV Customer Service
Even if customer service wasn't needed, it was important to check its responsiveness and how well it can help in a serious situation. You can contact the TopCV team in several ways: with the contact form on their website, via e-mail, and by contact number. They reply every day from 7:00 to 16:00 GMT.
Their team is also available on such platforms as Instagram, Facebook, Linked In, and Twitter, so any other users can give it a try if these ways are more comfortable for anybody.
Comparing TopCV vs Zipjob, we would have to go with Zipjob. This is the most impressive resume and CV writing service we have ever seen online. And believe us, we have seen many such such writing services before.
There are more than 40 reviews on resume and CV writing services on our website already. And many more to come. We tried to call and mail customer service, and both times they responded, yet, the phone call was more complicated due to the time we were waiting in line. The 60 days guarantee was quickly activated as advertised services soon as 60 days passed.
The staff in the customer service helped us with the issue perfectly, with no harsh words or cursing, only calming us down when we started worrying about a future career.
Success Stories & Testimonials
In an age where consumer opinions shape the reputation of services, success stories and testimonials are powerful credibility markers. For potential customers considering TopCV, these narratives provide more than just feedback; they offer a genuine glimpse into the efficacy of the service.
TopCV's vast pool of testimonials paints a vivid picture of individuals who've experienced transformational changes in their career journeys. These aren't mere accounts of satisfaction with the service but profound stories of professionals who, with the support of TopCV, have their career path and accessed doors previously shut or unseen.
One compelling story comes from a finance professional, Sarah, who struggled to secure interviews despite having a strong educational background and years of experience.
After engaging with TopCV, her CV underwent a significant overhaul, and she received a stream of interview invitations from major financial institutions. Her testimonial beautifully encapsulates the role of TopCV in her career evolution, bridging the gap between her potential and the opportunities available.
Another testimony from a fresh graduate named Liam sheds light on how TopCV crafted a CV that emphasised his internships and academic achievements, allowing him to land a coveted position in a leading tech firm. For him, success wasn't just about getting a job but securing one aligned with his passion and expertise.
Beyond individual stories, a common thread in most testimonials is the appreciation for the personalised approach, industry-specific knowledge, and promptness of the TopCV team. Clients frequently highlight the tangible difference in their job search before and after engaging with the service.
TopCV UK Website Usability
All the TopCV reviews need to include Website Usability in them as you can't work with the website when you can't find something you need.
We were pleased with the simple design when we first got onto the main page, and the gliding animation made it fun to read about the service itself.
If you want to know about all the important buttons – they are on the top, and it's easy to find anything you need as this website has little to no features to browse. There are pages like CV Services, About, Testimonials, and Career Advice on the top panel, and all the needed information about the products, company and customers is at the bottom of the page.
You can see the pricing and FAQ that are most important for the new customer between those panels. We rate the usability of their website 5 out of 5.
When you think about a general review of anything – the pros and cons are what make it interesting. These are points you clearly outline at the end of any review article. We wanted to give you those before we concluded, so read away.
Don't forget to compare services, have a look at CraftResumes.com CV writing service, for example, and see all the differences. You can read Craft Resume reviews from customers on our platform too.
Final Verdict
After delving deep into the offerings, processes, and outcomes of TopCV, it's time to distil our findings into a succinct verdict. TopCV has cemented its place in the UK market as a CV writing service and a holistic career partner.
Their emphasis on tailoring each CV to the individual's professional narrative, backed by industry-specific expertise, is commendable. The additional resources, from cover letter crafting to LinkedIn enhancement, showcase their comprehensive approach to job-seeking support.
Also, if you want a all-in-one experience, check their new service called Career.io. We have also recently featured a Career.io review on our blog.
Pros
It is an excellent, accessible website that doesn't make it hard to find any information you need on the pages.
Writers tolerate all the changes you want to make to your resume and include all the details you give them.
A final product has almost no mistakes, and you find it perfect for the place you want to work in.
Even if you don't get the job, the 60 days guarantee works with no problems as the service allows you to get another resume for free.
The customer support team is responsive at times, they stated, gently helping you.
There are several packages to choose from depending on your budget and goals.
Cons
You will wait in line for some amount of time before getting connected to the customer support team if you call them.
There were personal mistakes in the text after the CV was already done and needed another revision, even we gave the writer all the details they needed.
You can't get some services apart from the packages for reasonable prices.
Vague return policy that can scare the customers away.
Not a lot of payment methods to choose from.