Every full-time writer knows that editing and proofreading are tougher than coming up with your initial draft for the job. Editing and proofreading become much harder when you have to keep up with other daily activities, such as house chores, school, and family events. However, if you fail to go through your work and edit it for errors properly, you will have a written piece that may be filled with errors.
Whether you are a native speaker, it's impossible to write a long stretch of words without committing any mistakes, like spelling errors, bad grammar, and poor formatting. All of these little mistakes will affect the quality of the work that you offer to your clients. Therefore, all your work must be edited by yourself – or by another professional.
Scribendi is one of the most trusted editing and proofreading services you will find on the internet. They have been in the market for more than 20 years now. As a result, you can be certain that they are experts and are capable of offering you the best type of service. But what is Scribendi really about? Is Scribendi good? Keep reading to find out. This Scribendi review will reveal all the essential information about the service provider.
Please, take a good look at what we have to say about this company and its services. Is it one of the best EssayEdge review available?
Scribendi Overview
What Is Scribendi?
Scribendi is renowned Canadian proofreading and editing, service provider. They have helped numerous clients in editing and proofreading several types of documents, including business plans, personal documents, books, resumes, etc. This service provider has been in the business for quite some time and is familiar with different ways to eliminate errors from your work. Due to the premium nature of the services that they offer, they charge a high fee for their work.

Founded in 1997, this service provider has been servicing clients for more than 20 years. Their list of clients includes; students, authors, individuals, academics, professionals, and anyone who needs premium proofreading and editing services. Since its inception, they have successfully delivered more than 400,000 orders. As a result, they have a wealth of experience handling future projects.
How Does It Work?
As mentioned earlier, Scribendi is a renowned proofreading and editing service. Asides from editing and proofreading, the platform also offers other services, including; student services, author services, English as a language (ESL) services, etc. They allow people from different parts of the world to submit their documents for a proper check.
What's more? They can even help you keep to tight deadlines, but at an extra cost. However, you can take advantage of a Scribendi promo to reduce the final price that you will pay. All you have to do is input your Scribendi discount code when completing payment for your order.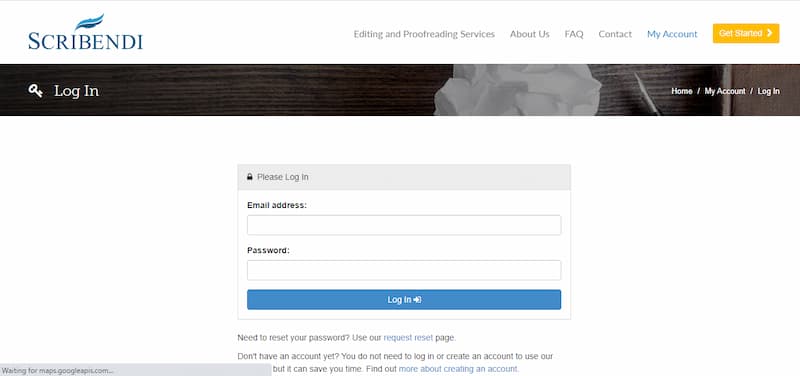 Placing an order on Scribendi can be split into three different stages. To start with, you have to choose the type of service you intend to book. There are six options on the Scribendi website. You would be required to specify the document's word count that you intend to review on the platform. Then, set your expected deadline. You may even set the deadline for the proofreading to be a few hours after submission. Instantly, you will get a quote on the price of your order.
The second stage of the project is where you will outline the particular needs or services that you intend to book. Here, you'll lay out specific instructions on the type of editing or service you are looking for. The final stage is where you'll be asked to pay to complete your order. Once you have finalized all the details in the previous two methods, you can select a payment method and input it.
If you have a Scribendi coupon or Scribendi promo code, you can input it here for additional benefits.
Is Scribendi Legit?
If this is your first time using or hearing about this service provider, you may ask yourself; is Scribendi legit? Yes, it is. This platform stands as a ray of hope for writers who have been able to create content but lack time to check through it for errors.
Today, it can be difficult to locate a reliable proofreading service because the writing industry has grown larger. There are now many writing platforms that offer low-quality services to their clients. These platforms provide a lot of promise at the initial stage but end up disappointing the nature of the final result. Scribendi stands out from the rest of the competition by giving customers the highest quality of service that money can buy.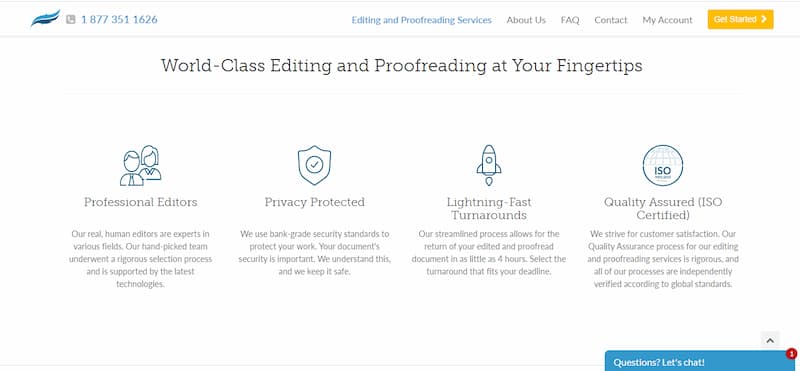 Short Story On Scribendi
Scribendi is one of the oldest and most popular names around the world. They were founded to ensure that writers in different parts of the world can receive quality service at their disposal. When you look at the nature of what they offer, it's quite clear that they have employed only educated and experienced editors to do their work for them.
Most of the editors you will find in their employ are professionals with various certifications. As a result, they are experts at what they do. They can also handle different types of formatting, such as APA, MLA, and Chicago, and work on several subjects.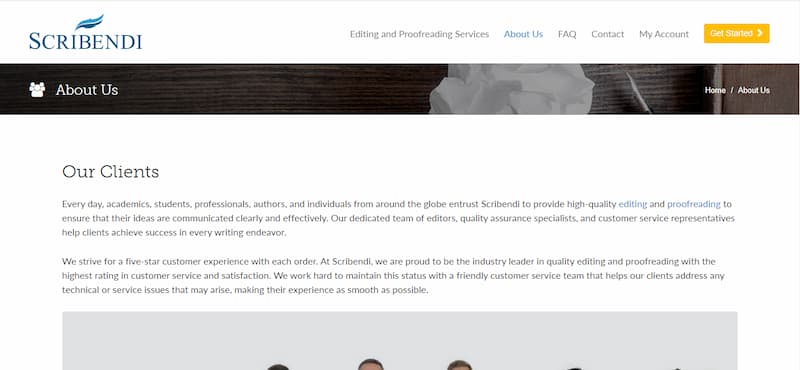 Presently, there are more than 400 editors that work with this platform. However, you will not find any list of editors with their personal information and qualifications. You don't get to choose the writer that you work with. When you book the platform's service, it will automatically match you with an editor with the best skills and qualifications to handle your order.
Services at Scribendi.com
As mentioned earlier, Scribendi has a list of services that it performs to help users maintain the quality of their work. They include;
1. English As A Second Language (ESL Services)
If you are not a native speaker and intend to submit a document as one, there's no need to panic. This service provider will help you go through the paper and make it appear as a native speaker wrote it. There are numerous native speakers on the Scribendi editing team, and they are experienced in editing and proofreading documents from your niche. As a result, they know what to change or what's missing from your work.
2. Academic Services
Scribendi is also capable of handling academic services. This means they can help you edit journals, publications, dissertations, admission essays, proposals, etc. If you have an educational document and are looking to edit it for consistency, tone, organizational structure, and so on, Scribendi is the right service to hire. They would also help you check for clarity in your work, references, spelling, grammar, organization, typographical errors, etc.
3. Author Services
The author services offered at Scribendi include copy editing, proofreading, critiquing, or editing of your written work. They can perform this service on any type of work, including a novel, manuscript, play, eBook, etc. Scribendi helps authors to also cater to screenplays, poetry, and fiction. Most authors don't like editors tampering too much with their work, and we will do our best to respect the uniqueness of your creation. They will only help you achieve clarity and conciseness with your reader.
4. Business or Corporate
This service provider can also handle proofreading and editing services for business. You require a white paper, press release, report, marketing materials, and other essential documents. If you run a business or an entire organization, you would have busy days filled with words, memos, presentations, and manual work.
When you have so many things to do simultaneously, chances are higher that you may make a mistake in your document. If you don't have the entire document checked, the errors may go unnoticed and lead to serious consequences. Scribendi aims to help you save your reputation and save you the time that you will spend going through or proofreading the entire document. They will eliminate typography, spelling, and grammar errors from your record.
5. Student Services
Scribendi also helps students proofread their assignments, project, report, term paper, essays, and other types of academic work. They will check your choice of words, typographical errors, and grammar. They aim to help you improve the structure, clarity, tone, and flow. Furthermore, they will also look at your references to confirm that they comply with the style guide.
6. Personal Editing and Proofreading Services
The personal editing and proofreading services on this platform include checking resumes, letters, emails, and so on. Their professional editors will scan through the content of the work to ensure that everything is in order. They understand the importance of making a good first impression, and that's what they intend to help you with.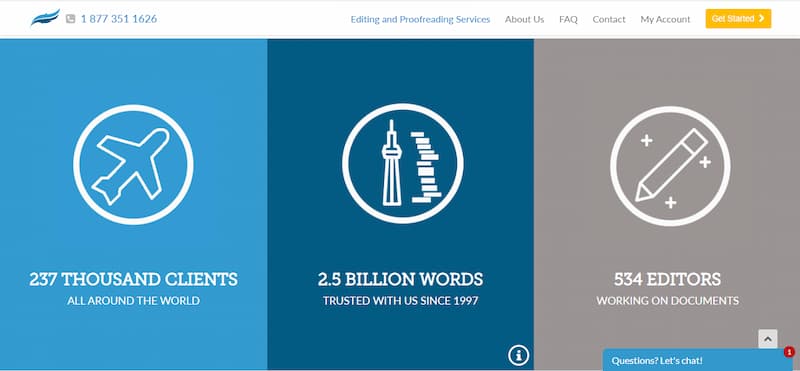 All the services offered on Scribendi are done in a complementary role. This means they will only support the final output of the writer. It would help if you kept in mind that this platform's services are designed for those who don't have enough time to check through their work themselves.
How Much Does it Cost?
So, is Scribendi cheap and easily affordable? The answer is no! Many people have complained about the relatively high cost of using the services on the platform. However, these are the rates you should expect for outsourcing your document to a professional service provider.
The pricing on the Scribendi platform is pretty simple, and calculations are done based on predetermined criteria. On the platform, they will calculate the cost of your order by reviewing the word count and turnaround time. For instance, if you want to proofread a 1000-word document within 40 hours, you must pay as much as $40. You can visit their website to get a quote for your order.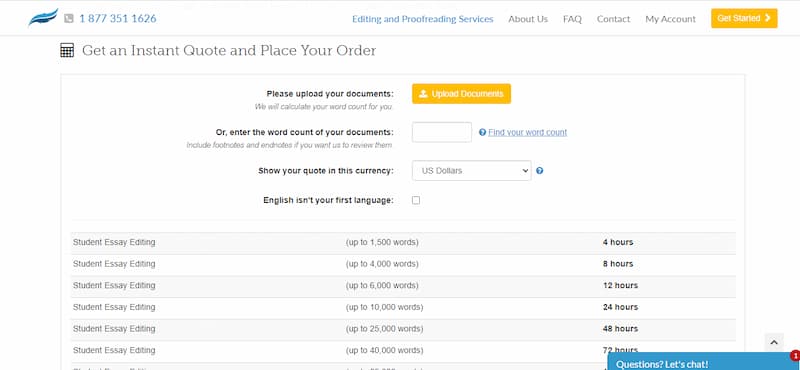 You may also enjoy a Scribendi discount. To get the discount, you need to input a Scribendi coupon code. This discount code for Scribendi would reduce the overall amount charged for the service. The Scribendi discount coupon is offered as promotional offers or as gifts to loyal clients.
For increased convenience, Scribendi offers users a variety of payment options. Users are free to select the platform of their preference based on their access to it. Anyone who wants to pay on the Scribendi website would need to get a credit card from any of the following providers, American Express, Discover, Union Pay, Master Card, Visa, JCB Card, and Diners. They also accept Maestro cards through PayPal.
Quality of Services
The quality of service that is available on the Scribendi website is remarkable. When you hire them to do a job for you, it's obvious that the job is handled by professionals who know exactly what to do. Yes, they only offer one free revision, but the chances that you would even need it are minimal. They will proofread all parts of your work and ensure that you have little or nothing to complain about. What more could you ask for?
They've been an editing and proofreading service provider for 25 years. As a result, they have a wealth of unmatched experience in different parts of the world. The chances are high that they have come across a similar project like yours before and know exactly how to handle it. You should expect something good when you sign up to use their service.
They have stayed relevant for this period and served different clientele. To do this, they have constantly redefined the type of service they offer and ensured that they can maintain it at a top level. They also ensure that all their editors and writers are well-treated and receive the best training on the latest editing techniques and practices. While they have also had their bad days, they are nothing compared to the quality that awaits you when you hire them to work on your document.
User Feedback & Online Reputation
If you are a brand that offers high-quality or premium services, the chances are high that you will also have a positive reputation. That's the case with Scribendi. When you check on the internet to find what people are saying about this editing and proofreading service provider, you will only find positive Scribendi service reviews.
The Scribendi website is also filled with numerous positive reviews from satisfied customers who have patronized the business. You don't have to take their word for it. You can try your hands at the service and place an order on their website.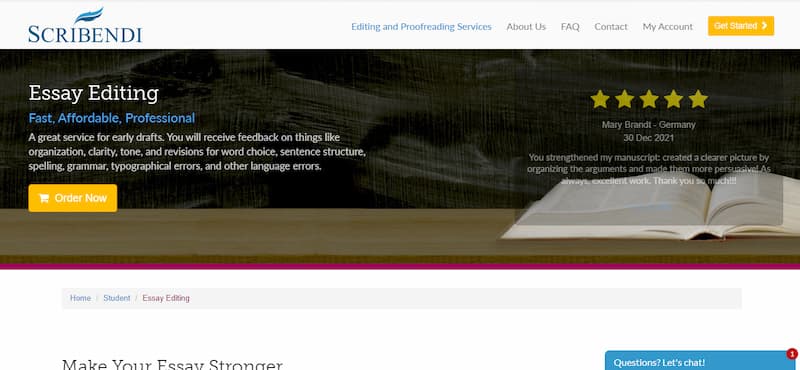 While you may expect the reviews on their website to say only positive things about them, you will find other positive Scribendi reviews about the nature of their service on other platforms. The majority of the studies have positive things about how Scribendi helped improve the document's quality.
You may find a few claims from previous clients about difficulties in the order process, but this cannot overshadow the great reports about their service.
Website Usability
From all indications, Scribendi has put a lot of work into its website. When you navigate their platform, you can immediately notice the attractive interface. It has a good blend of colors and design features that stand out properly. One great thing about this website is that it has a well-designed layout and is free from any content cluster.
On the landing page, you will also find basic information about the brand, including achievements, primary benefits, awards, etc. There's also an FAQ section that answers most of the inquiries that you could have for the platform's customer service team. Many new users are likely to find this website user-friendly.
What's even better? The website complies with modern-day standards with its mobile compatibility. As a result, the website can be opened on various smartphones and tablets.
Pros
They have over 20 years of experience in handling proofreading and editing orders.
They have an organized team of professional writers and editors.
They do not miss deadlines; either short or long.
The entire ordering process is straightforward and can be completed in a few simple steps.
There are numerous positive reviews and testimonials about this service provider.
Cons
The cost of their service is relatively expensive.
They offer only one free revision of their work.
Our Final Opinion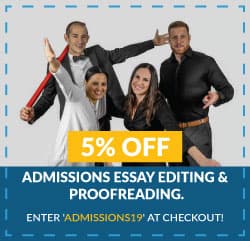 Finally, we have gotten to the end of the Scribendi Service reviews. From the information in this piece, it's quite clear that editing and proofreading services are essential to boost the writing quality of any writer.
It doesn't matter whether you are a native speaker or not; mistakes are bound to happen. Scribendi is one of the most trusted service providers to help you mop up mistakes in writing documents.
In this review, we have taken a look at what makes this writing service special. We have also reviewed other important details, including their pricing, list of services, quality of their service, etc.
If you are looking for professional writers for hire, check our list of the best writing companies.