Based on my expertise in interview coaching, one might say I understand the importance of informed choices in selecting an interview prepper.
Hence, I'm thrilled to present my detailed review of TopInterview. Experts at TopInterview assist users in exploring the best interview coaching services available.

To assess online test prep courses like TopInterview, I use specific criteria for a comprehensive analysis. Quality, features, prices, website ease, value, feedback, and guarantees are considered.
This approach ensures that readers gain a well-rounded perspective from my review:
Quality: I delve into the expertise and qualifications of the TopInterview coaches. I examine their track record in helping individuals succeed in interviews.
Features: The range of services offered by TopInterview are all factors considered. These include personalized coaching sessions, extensive and professional resume writing aid.
Value for Money: I determine whether the services provided align with the price paid. This is to ensure users receive a worthwhile investment.
Feedback: I incorporate user feedback and testimonials. This sheds light on the satisfaction levels of those who have used the services before.
By considering these criteria, my TopInterview.com review will equip users with useful information. Prospective clients can bank on this knowledge to decide on their coaching needs. Join me as we explore TopInterview's services and user experience.
TopInterview Features that Stand Out from Other Courses
When it comes to Top Interviews features, several specific aspects set it apart from other interview coaching courses.
Here are some standout facts about TopInterview that make it unique:

Personalized Coaching: TopInterview offers one-on-one coaching sessions with experienced interview coaches. These experts tailor their guidance to address each individual's specific needs. This approach ensures that users receive targeted support to enhance their interview skills.
Expert Interview Coaches: TopInterview's coaches are highly qualified professionals. They generally have a vast knowledge of various interview techniques. They bring a wealth of experience and insights. Users get valuable advice and strategies to excel in interviews.
Extensive Question Library: TopInterview boasts an extensive library of interview questions and answers. This collection covers a wide range of industries and job levels. Users get to practice and familiarize themselves with different interview scenarios.
Professional Resume Writing: Asides from interview coaching, TopInterview offers professional resume writing services. Their expert resume writers understand industry trends. They also know how to create impactful resumes. These typically triumph at highlighting users' skills and accomplishments.
Mock Interviews: TopInterview provides the opportunity for users to take part in mock interviews. These interviews succeed at simulating real-life interview scenarios. This practice helps users build confidence. Clients also get to refine their responses with time. They also receive valuable feedback from experienced coaches.
Accessible Online Platform: TopInterview's website offers easy navigation and an easy-to-use interface. This makes it convenient for users to access coaching sessions and other features.
Customer Satisfaction: TopInterview has a track record of positive user feedback. Many individuals report improved interview performance. They also reported job search success after using their services.
Quality
TopInterview takes pride in delivering exceptional service. Its team is composed of experienced interview mentors who have vast industry knowledge. Users receive tailored guidance that enhances their interview skills from these mentors. These dedicated tutors specialize in providing effective strategies for success.
A standout feature of TopInterview is its commitment to customer satisfaction. The platform offers guarantees, including a money-back assurance, instilling confidence in users' investments.
Additionally, TopInterview places a high priority on user privacy. This serves to ensure a secure environment for clients. This aids significantly in improving their interview performance.
What distinguishes TopInterview is its unique approach to interview preparation. Unlike other programs, TopInterview goes beyond generic content by providing personalized coaching sessions. Through these one-on-one interactions, mentors address individual strengths and weaknesses. Clients often report significant skill enhancement upon completion.
The platform also offers an extensive collection of interview questions and answers. About all, you need to practice effectively.
Furthermore, TopInterview goes the extra mile by offering professional resume writing services. This support aids users in creating impactful resumes. These often effectively boost their interview performance. Such a comprehensive approach ensures individuals are prepared to excel in job interviews.
Specific ownership details are not available. The quality of service at TopInterview shines through its expert mentors. Users can trust TopInterview's dedication to their success in the job market.
Pricing
We'll explore the different coaching plans offered by TopInterview. The plans include Essential Coaching, Standard Coaching, and Professional Coaching.
Each plan consists of coaching sessions covering various topics, such as Elevator Pitches. Others include Unstructured Interviews as well as Behavioral Interviews.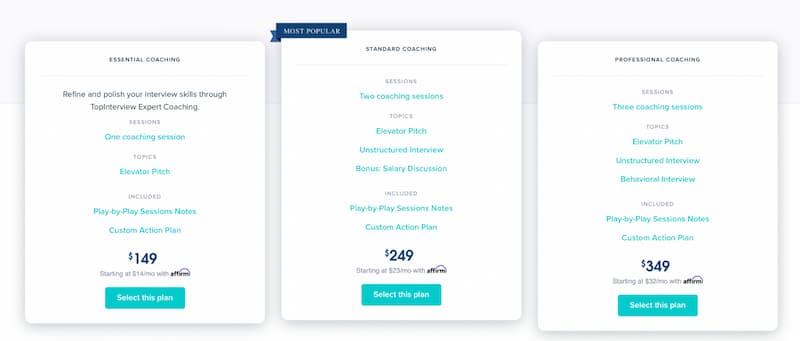 Additionally, extras like Play-By-Play Sessions Notes and a Custom Action Plan are included. Pricing ranges from $149 for the Essential Coaching plan to $349 for the Professional Coaching plan. Users can also enjoy flexible monthly payment options.
Plan
Essential Coaching
Standard Coaching
Professional Coaching
Coaching Type
Video Call
Video Call
Video Call + In-person
Sessions
One Coaching Session
Two Coaching Sessions
Three Coaching Sessions
Topics
Elevator Pitch

Elevator Pitch
Unstructured Interview
Bonus: Salary Discussion

Elevator Pitch
Unstructured Interview
Behavioral Interview

Extras

Play-By-Play Sessions Notes
Custom Action Plan

Play-By-Play Sessions Notes
Custom Action Plan

Play-By-Play Sessions Notes
Custom Action Plan

Pricing
$149
$249
$349
Value for Money
TopInterview's service offers exceptional value for the money paid. It provides users with personalized coaching, extensive resources, and professional resume writing services.
All these contribute to its high-value proposition. TopInterview enhances your interview skills. They boost your job prospects, as well as increase your confidence. Without a doubt, it's a valuable investment for individuals seeking employment success.
The platform's comprehensive approach goes beyond generic advice. It offers expert guidance as well as tailored strategies that assist users in securing employment. With TopInterview's assistance, individuals gain a competitive edge in the job market, significantly improving their chances of getting hired.
Throughout the job search process, the service provides invaluable support. Rest assured your transition into employment will be super smooth.
Users consistently find TopInterview's service instrumental in improving their interview performance. This ultimately leads to the achievement of their desired jobs. Moreover, the value extends beyond interview skills. TopInterview equips individuals with the necessary tools for career advancement.
Jobseekers' Feedback & Reputation
As a one-time job seeker, I've noticed that the opinions shared by other jobseekers best reveal the quality of their services. The staff at TopInterview are well-known for their supportive nature. They make it a priority to address any queries or concerns promptly and efficiently.
You may choose to submit your inquiries online or reach out to them directly through phone or email. The TopInterview team is always there to help customers along on their journey.

The majority of feedback I've come across on Trustpilot has been positive. This only serves to affirm the trustworthiness of this platform. Currently, TopInterview has an impressive rating of 4.5 out of 5 stars on Trustpilot. Plus, this is based on more than 180 reviews.
Based on the experiences shared by fellow jobseekers, it's super clear that working with a TopInterview coach is a total steal. One coach in particular, Nick D, has received countless accolades for his outstanding coaching skills.
Jobseekers have praised his ability to adapt to their schedules. He is just as lauded for offering valuable feedback during practice interviews. It'd seem that these positive encounters boost the confidence of job seekers a great deal.

The feedback demonstrates how effective TopInterview's services are in supercharging your confidence. These testimonials emphasize the impact of the support provided by the coaches. This only serves to render it a highly recommended tool for all job seekers.
Pros
TopInterview offers tailored coaching sessions to address individual strengths and weaknesses.
Boosts job prospects: TopInterview's services enhance interview skills and increase job opportunities.
Money-back guarantee: The platform offers a money-back guarantee, ensuring customer satisfaction.
Comprehensive approach: TopInterview goes beyond generic advice. It provides a holistic approach to interview preparation.
Expert guidance: Users enjoy the expertise of experienced interview coaches. These coaches often have industry experience.
Extensive resources: The platform provides a wide range of resources. These include interview question libraries and professional resume writing services.
Cons
Reliance on an online platform: TopInterview operates solely through an online platform. This may not suit everyone's learning preferences.
Lack of ownership details: Specific ownership information about TopInterview is not readily available.
Limited pricing transparency: The platform's pricing options may not be clearly outlined. This may lead to uncertainty for potential users.
The Recap: Is TopInterview Good?
TopInterview provides excellent value for your money. They offer personalized coaching and professional resume writing. With their service, you stand a better chance of getting hired for your dream job.
Clients consistently report improvements in their interview outcomes. I've covered in detail how feedback from satisfied clients reflects the service's commitment to your career success.
FAQ
1. Is TopInterview really good?
TopInterview provides top-notch interview coaching services with customized support. You'd also find knowledgeable mentors whose expertise you can bank on. Its ability to improve interview skills makes it a highly recommended option.
2. Is TopInterview worth it?
TopInterview is absolutely a great investment. The platform provides valuable coaching, expert advice, and enough helpful resources. Users periodically report notable enhancements in their interview abilities. This serves to confirm their value and worth.
3. Are any TopInterview courses worth it?
Absolutely, TopInterview courses are worth every penny. The valuable material, alongside favorable user reviews, makes them helpful for improving interview skills. You can equally expect more employment opportunities.
4. How much does TopInterview cost?
TopInterview provides diverse pricing choices, granting flexibility to suit a range of budgets. The expenses are contingent upon the selected package, guaranteeing affordability for every individual. You also keep the option to customize your own budget.