There are always so many things to bear in mind when you start writing a CV. This document often makes people feel frustrated and have no clue where to start and how to make their CV effective. In such a situation, it may seem that there is no chance of success. However, that's when resume writing services come into play!
Even if you are not keen on using used such services, you have to bear in mind that choosing to hire a professional writer to create a unique CV for you is always a smart choice because it saves you lots of time and nerves but, most importantly, it ensures you the best results!
However, it is a challenge to pick the right company. This isn't a choice you can make spontaneously. First, you have to look at all of these criteria to ensure the company's reliability:
Pricing policy and payment methods;
Guarantees and quality of work;
Support service;
User-friendliness;
Advantages and disadvantages;
Customer feedback, etc.
These are the main criteria that should matter to you.
Choosing the needed style and type of CV and writing a good one by yourself can be rather challenging, and this is why we are here to help you! Check the best resume writing services review website – EduReviewer. All our reviews are comprehensive and based on valid facts. We never cooperate with the services we review in advance so that you can be confident in their transparency and objectiveness.
Check our ResumeHelp.com review before picking any service. Yet, how reliable are they? Is it legal to use them, and do they help get things done affordably?
ResumesGuaranteed.com Overview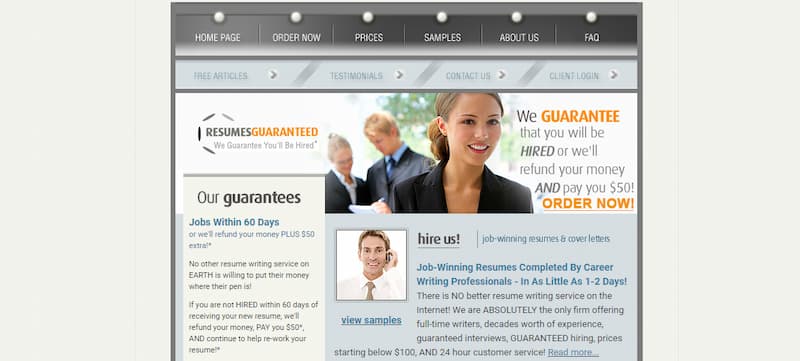 Resume Guaranteed is one of the old-timers in this field. The company was started in 1997, so it has been around for quite a long time. During this time, the company has not grown and enhanced. Their mission is to help all job seekers obtain effective resumes and get the jobs of their dreams. But considering that they have not changed anything since 1997, they are not effective for modern jobseekers.
Writing our Resumes Guaranteed review, we have carefully studied this website and all services it provides to give you a clear assessment of the company's reliability and quality. It seems like this company employs highly unqualified CV writers. They do not have an individual and detail-oriented approach to every customer, which allows them to create low-quality CVs and other documents that are not focused on the specific needs of every client.
The writers conduct a weak analysis of the client's background to make a poor CV that does not highlight their strong sides and skills. Most importantly, the team of Resumes Guaranteed does not believe in the effectiveness of "one size fits all" resumes. But, they really don't do their best to create authentic and customized CVs for all of their customers.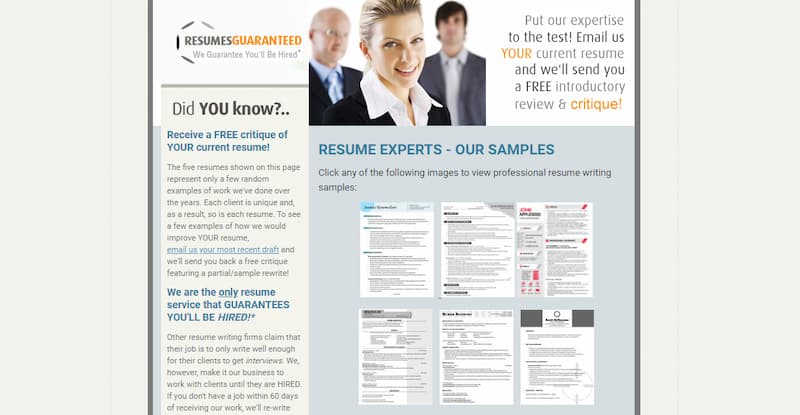 This is a service with a few real benefits and average prices. The company can boast many negative ResumesGuaranteed.com reviews, so let's learn why thousands of customers no longer prefer to use this site.
ResumesGuaranteed.com Pricing
Resumes Guaranteed is a good choice for all looking for average writing help who can't afford expensive services. The company has lost all the necessary features and benefits a modern job seeker can look for. Still, the pricing policy at this service is pretty affordable than at some services we've reviewed. But considering the quality, it is not a benefit at all.
Here's what this site has to offer:
LinkedIn Profile ($89.95). The company's writers promise to develop a fully completed and attention-grabbing LinkedIn profile from scratch or improve the one you already have to help you enhance your job search.
Resume Writing. The company offers several forms of writing help, including the writing of job-winning professional resumes ($109.95), resumes of the executive level ($199.95), federal and government summaries (check our federal resume writing service reviews to pick the best option) ($189.95).
Letter Writing. Additionally, customers can order the writing of a follow-up letter ($59.95) or a high-quality cover letter ($59.95). With any writing service, a customer receives an individual approach, a complete analysis of their strengths and skills, strategic planning, and a guarantee of obtaining the desired job.
Coaching. There are two options available – Lite ($69.95) and Pro (189.95) packages. The company will find a suitable career coach who will be guiding you in your job search to help you get the desired job faster.

There are also a few extra services offered by the company. For example, you can order a "Job Hunter" service for $69.95 and get 30 leads in the specific industry and region you choose. Customers can also request help with Internet posting for $49.95, and the specialists from Resumes Guaranteed will post your poor CV instead of you! And even this is not all!
ResumesGuaranteed also lacks professional military resume writers, so if you are a military seeking a civilian transition, check resume writing services for veterans on our website.
Although the company guarantees fast delivery of every order within 3-5 days, there is an additional Rush service for clients who need to get their CVs faster. Thus, at only $39.95, you can get a completed document in just 2-3 days! But with ResumeWriters.com, you get a resume in 24 hours. In case you need a quicker, we recommend Resume Writers! Find if there are any ResumeWriters.com complaints in our review.
ResumesGuaranteed Payment
In many Resumes Guaranteed reviews, you can read that payment options at this writing service are flexible, and here we can agree with the reviews. The company does accept all the main types of credit cards.
Here you can pay with Discover, Visa, American Express, and MasterCard. However, this is all they offer. Today, with such a huge amount of payment options, featuring only a few of them is not too smart.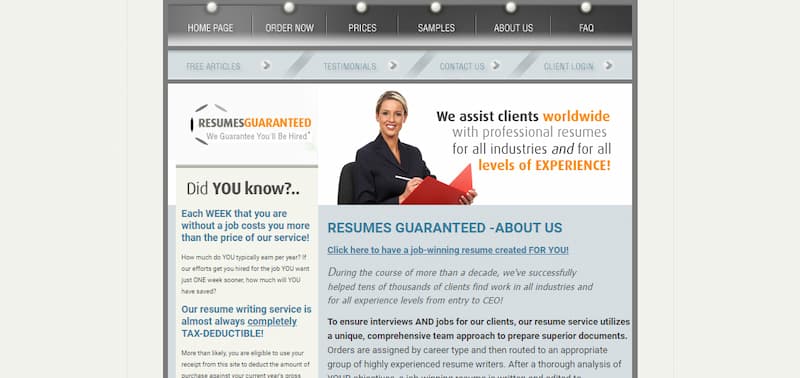 ResumesGuaranteed.com Quality
The company mainly offers resume writing services. They can write government, federal, professional, and executive resumes, follow-up, and cover letters. In addition, they offer to review the CV you already have. You can attach your file and get their advice on how it can be improved for increased effectiveness, or after they review it, and you can order editing help.
If you need a professional resume review, the best option would be the Zip job resume review. Please read our review and see why we believe so. These guys are a modern version of all top resume writing services.
That's not all. In addition, the company can post your resumes online for you. The last type of service is coaching. They have two different coaching packages and guarantee that with the help of their career specialists, you will not get employed much faster and easier.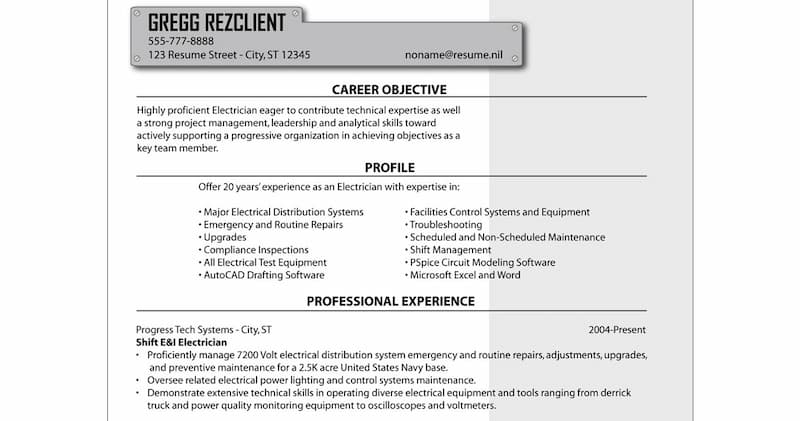 As for the quality of the documents they deliver, it is low and can't outdo the quality of documents provided by better resume services, which is a con. Furthermore, they stick to an old-fashioned style of resumes.
Therefore, it is not a website where you can buy a fancy and creative CV. However, if a poor standard and simple CV is what you have been looking for, then Resumes Guaranteed can easily provide you with one!
There is one more thing to keep in mind. The company is confident in the professionalism of its writers. Therefore, they guarantee that each customer will get hired in 60 days or less, or they will give their money back and even add an extra $50! We haven't found any real evidence of that statement in the ResumesGuaranteed.com reviews online. Even though there are some reviews are saying that they did not get any interviews with resumes from Resumes Guaranteed.
ResumesGuaranteed.com Customer Service
Customer support at Resumes Guaranteed is bad. There is no phone or Skype number. Nor do they have an online chat with a support team. The only way to reach the support group is to go to the Contact section on the website and fill in a special form to create a ticket.
They claim that their team will answer quickly. However, as you can imagine, it is quite hard to process email requests quickly enough, which is why the answer normally arrives within a few hours, and this is not what you expect from good customer service.
The only benefit in terms of customer support is that it is available 24/7. They answer slowly, but it is good to know that you can get assistance or answers whenever you need them. There is one more thing worth your attention.
Along with the contact form, any user can attach a copy of their resume, and the company promises to review it for free to give you a general idea of what can be improved. This is not a unique feature that we have seen at almost all other CV writing services.
This is odd, but we think this feature will not save your time on long consultations – you send the document right away and get no clear reflection on it. Instead, you receive emails calling you to buy a new resume from them.
Resume Guaranteed Website Usability
There are a few things worth special attention to in this section of our review. First of all, it is the website's design, which looks outdated and amateurish. In our age of modern technologies and fast progress, such outdated designs look at least unaesthetic, not to say that websites with such poor design do not inspire confidence. The webpage is not adapted to different screen sizes.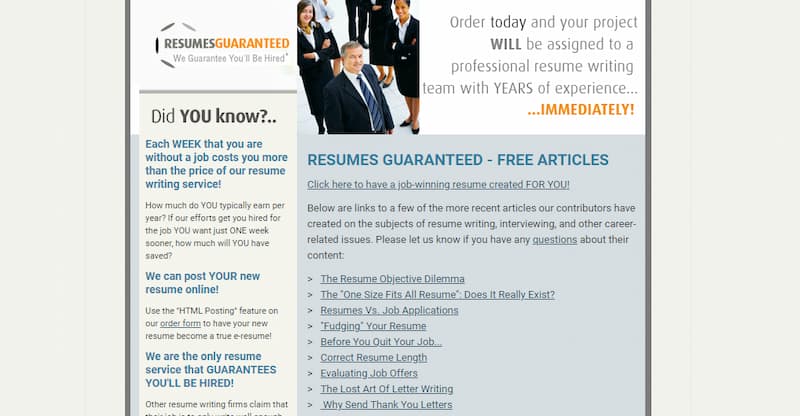 Therefore, it looks absurdly from the big screen. The colour scheme is also not attractive, so if we had to assess this service solely on its appearance, we would've given it the lowest grade.
User-friendliness and usability are crap too. There is not too much information, all sections are located on one menu, so it is easy to find exactly what you are looking for. In general, the website contains all the important information, but this doesn't compensate for its terrible design.
It is easy to evaluate the website's functionality because it doesn't really have many features. There is even no support chat. If we talk about placing an order, it is inconvenient – there are too many fields to fill in, which takes quite a while.
Pros
A wide range of services – Internet posting and career coaching are also available upon the customer's request.
One of the lowest prices on the market for resume writing help.
Decent quality – the company mainly delivers simple resumes but, without a doubt, they are quite effective and high-quality.
There is some sample CVs presented on the website to help clients see what exactly the company offers.
The company guarantees excellent quality and employment within 60 days, or they will give your money back with an additional $50.
Individual approach to every customer and fast delivery of each order.
Cons
The most out-of-date website design we have seen.
The company delivers mainly simple standard CVs.
Compared to modern resume writing services, Resumes Guaranteed offers only a small range of payment methods (although they all are safe and time-tested).
Customer support service is too inconvenient for a modern person.
The website lacks information about the writers employed at this company – from the good quality and positive feedback, you can tell they employ professionals, but there are no specific facts.
The price of executive-level resumes is a bit high.