The digital era we live in presents us with a myriad of options when it comes to choosing online services. Resume-writing services are crucial tools for many job seekers, are no exception. So why should you consider our review of Let's Eat Grandma resume services?
Simply put, in the vast sea of choices, it becomes immensely challenging for users to discern which services offer genuine value and which might fall short. By examining the Let's Eat Grandma resume service, we aim to guide you in making an informed decision tailored to your needs.
Our evaluation criteria of the best legal resume writing services hinge on six pillars: quality, features, prices, website usability, value for money, and feedback. Additionally, we take a close look at essential guarantees, including money-back provisions and privacy assurances.
In my experience, a great resume-writing service should seamlessly combine utility, affordability, and efficiency. Let's delve into how Let's Eat Grandma measures up.
My experiments have shown that Let's Eat Grandma consistently delivers high-quality resumes. Their executive resume writers are well-versed in various industries and know how to tailor a resume to appeal to specific job markets.
What stood out to me was their comprehensive approach. Beyond just resume writing, they offer LinkedIn profile optimization, cover letter services, and even interview with career coaching.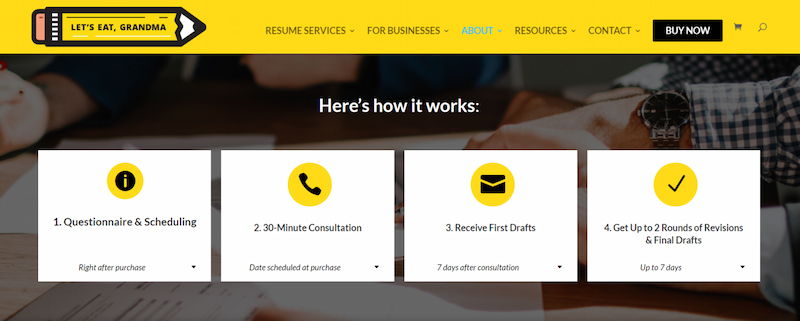 Discovering the Magic Behind Let's Eat Grandma Resume Services
Diving deep into the features of the Let's Eat, Grandma resume service reveals a treasure trove of tools for job seekers. If you've been wondering about the unique selling points of this service and who it's truly meant for, you're about to find out.
The main point of the service is to craft a resume tailored to your experience and career goals. Not all CVs are and must be the same. This is important to express your personality but also to adapt to the industry you'd like to work in. The company realizes this by focusing on getting to know its clients and constant communication.
In my trial, I started with filling a questionnaire and sending my current resume. A writer contacted me via email and got some extra questions for our phone interview. Then, we discussed the career objectives and drafted a strategy together.
Within a week, I received the first draft of the CV from their writing services and cover letter, which can be revised twice before getting the final version. The whole process was as smooth as it sounds.
Who's It For?
Are you a fresh graduate looking to make a striking entry into the job market? Or perhaps a seasoned professional aiming to pivot into a new industry?
Let's Eat Grandma has tailored solutions for a broad spectrum of job seekers. Their services cater to different levels of experience, ensuring everyone gets a resume that not only stands out but also resonates with their career journey.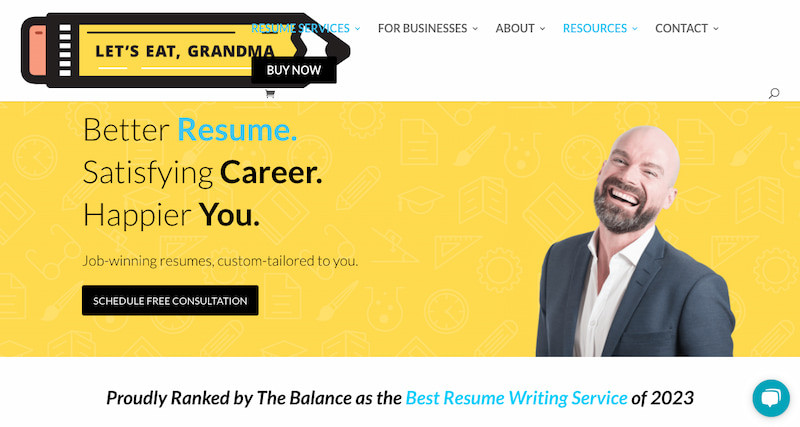 Exceptional Features That Elevate Your Job Hunt
In a nutshell, these are the main features of the service:
Tailored resume crafting: Beyond just restructuring your achievements, the team works diligently to capture the essence of your career, offering a personalized touch that many platforms miss.
LinkedIn makeover: In today's digital age, LinkedIn is your online professional persona. Let's Eat Grandma ensures that your profile doesn't just mirror your resume but also engages potential employers and networks effectively.
Cover letter composition: A compelling cover letter can be the gateway to capturing a recruiter's attention. Their service ensures that your cover letter isn't generic but rather a narrative that complements your resume.
Interview coaching: This feature is a gem, especially for those who might be re-entering the job market after a hiatus or new entrants uncertain about interview dynamics. Their coaching sessions aim to equip you with the confidence and strategy to face any interview.
Still on the fence about the platform? In our next sections, we dive into user testimonials and success stories that might change your mind. Stay tuned as we reveal how real users transformed their job-hunting journey with Let's Eat Grandma.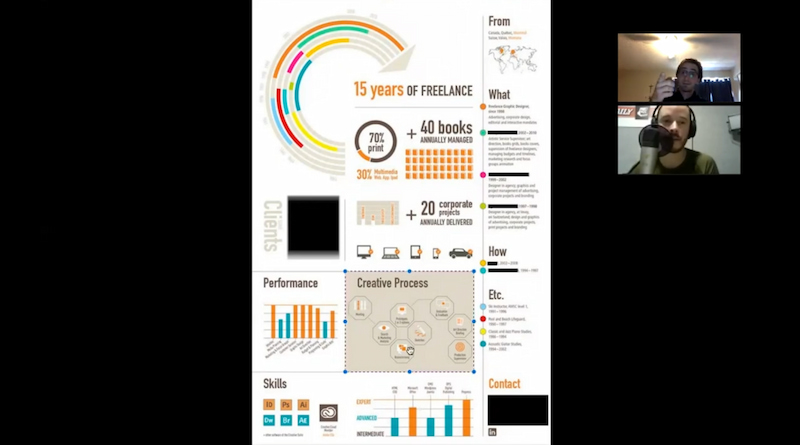 Unlocking the High Standards of Let's Eat Grandma
When determining the effectiveness of a resume service, quality reigns supreme. But what elements contribute to Let's Eat Grandma's exceptional quality? Let's delve into the intricacies.
Meet the Masterminds
Who's behind the curtain? Let's Eat Grandma isn't just an impersonal machine churning out resumes. The platform boasts a team of dedicated professionals spanning diverse industries. Their combined expertise ensures that every resume they craft resonates with the industry's current demands.
Sealing the Deal with Guarantees
Rest easy knowing that your investment isn't in vain. Let's Eat Grandma offers a 60-day interview guarantee. If you aren't landing interviews within two months, they step in, revisiting and refining your documents until they meet your expectations.
Unique Selling Points
Unlike generic courses that offer a one-size-fits-all solution, Let's Eat Grandma adopts a holistic and tailored approach. They not only refine your resume but also offer ancillary services like LinkedIn optimization and interview coaching, ensuring all facets of your job hunt are polished.
Stacking Up Against the Competition
To further elucidate the distinctions, here's a comparative table:
Feature/Platform
Let's Eat Grandma
TopResume
ResumeSpice
Prices
Mid-High Range:
$439-1899
Low-Mid Range:
$149–349
Mid Range:
$479-699
Value Proposition
Comprehensive Service
Basic Resume Writing
Resume & Cover Letter
Quality
High – Tailored
Medium – Standardized
High – Customizable
When juxtaposed with platforms like TopResume, Zipjob, and ResumeSpice, Let's Eat Grandma shines with its unparalleled commitment to delivering a tailored experience.
Though it might be on the pricier side, the holistic approach and unmatched quality make it a worthy investment for anyone serious about elevating their professional representation.
Navigating the Financial Aspects of Let's Eat Grandma
Let's Eat Grandma offers a variety of packages to cater to diverse needs. They have ranged from mid-tier to premium, reflecting the comprehensive nature of their services.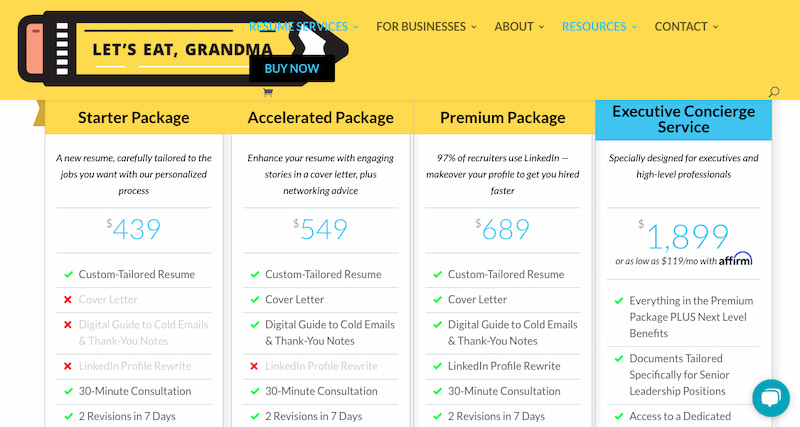 Payment Pathways
Understanding the importance of seamless transactions, Let's Eat Grandma offers multiple payment options for their clientele. Traditionally, credit cards and Affirm are accepted.
When considering leveraging the service for your resume needs, always keep an eye out for a Let's Eat Grandma resume promo code or bundled offers they might run periodically. These can offer significant savings and added value. As you navigate your job-seeking journey, remember that the right investment in a polished resume could translate into a fulfilling career leap sooner than you expect.
Assessing the ROI with Let's Eat Grandma
In the intricate dance of job hunting, ensuring that your resume doesn't just blend into the crowd is crucial. But is the cost justified? Let's break down what each package brings to the table.
Starter Package ($439)
A meticulously tailored resume sculpted for the jobs you're eyeing, supplemented with a 30-minute consultation and two revisions within a week. It is perfect for those who have a clear direction in their job hunt and need a solid base to commence their journey.
Accelerated Package ($549)
Everything in the Starter package is complemented by a compelling cover letter and a digital guide that delves into the art of cold emails and thank-you notes. It is ideal for professionals who understand the power of a holistic approach, encompassing not just the resume but the conversations that follow.
Premium Package ($689)
All the offerings of the Accelerated package come with the added allure of a LinkedIn profile overhaul. A comprehensive package is designed for those who want to leave no stone unturned, especially given that a whopping 97% of recruiters use LinkedIn.
Executive Concierge Service ($1,899)
It is tailored for the crème de la crème of professionals; this package boasts all the premium offerings and some more perks, from documents finely tuned for senior leadership roles to quadrupled interaction time with your writer to an in-depth 60-minute executive career coaching session and a luxurious 10 days of unlimited revisions.
This plan is tailor-made for high-caliber professionals who seek a bespoke experience. An investment that, for the right executive, could yield dividends in the form of prestigious job offers.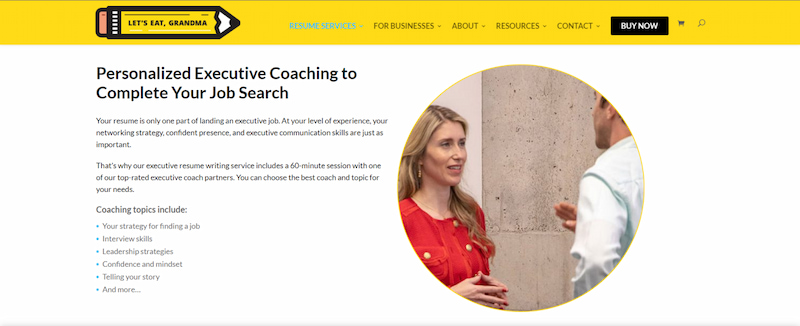 So, Does It Pave the Path to Employment?
Considering the meticulousness with which Let's Eat Grandma approaches each package, the odds are in your favor. By opting for a service that isn't just about transcribing your experience but rather about branding you as an ideal candidate, you significantly enhance your chances of catching a recruiter's eye.
While the upfront costs might seem hefty to some, the potential ROI in the form of job offers, salary increments, and career trajectory could well justify the investment. Especially when considering the saturation of the job market, having a competitive edge might just be invaluable.
Tuning In to the Chorus of Let's Eat Grandma Users
The hallmark of a great service isn't just the end product but the journey to get there. From the accounts of numerous jobseekers, Let's Eat Grandma seems to shine in this department.
Navigating the Customer Service
Their support staff is often lauded for not just their professionalism but also their genuine politeness, understanding, and eagerness to assist. It's clear that beyond crafting stellar resumes, the team's ethos revolves around a client-first approach, ensuring that every interaction adds value to the user's journey.
Review Spectrum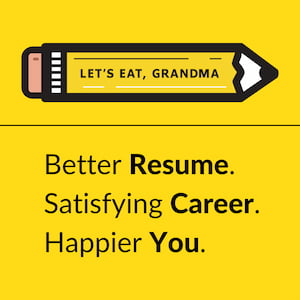 Diving into the sea of Let's Eat Grandma Resume reviews, several consistent themes emerge:
Empathy in Action: Users consistently feel seen and heard. A recurring point of appreciation is the patience the support staff showed, particularly towards job seekers going through difficult transitions.
Guidance Beyond the Sale: Many note that the support didn't just end post-purchase. The staff seems invested in the broader career trajectory of their clients, often going above and beyond to offer advice and assistance.
Quick Turnarounds: Despite the detailed, tailored nature of their services, the responsiveness and efficiency of the Let's Eat Grandma team have garnered acclaim. Clients value the balance struck between speed and quality.
Of course, like any service, there are areas where Let's Eat Grandma can refine their approach. A few users have suggested expanded consultation times, while others yearn for more iterative feedback cycles. Yet, even in these constructive critiques, there's a sense of underlying satisfaction with the overarching service.
Platform-Specific Feedback Insights
Trustpilot - A Beacon of Praise
Diving into Trustpilot, one finds that Let's Eat Grandma is a crowd favorite. The platform buzzes with commendations, as the majority of users laud the impeccable service quality, thereby contributing to an impressive overall rating.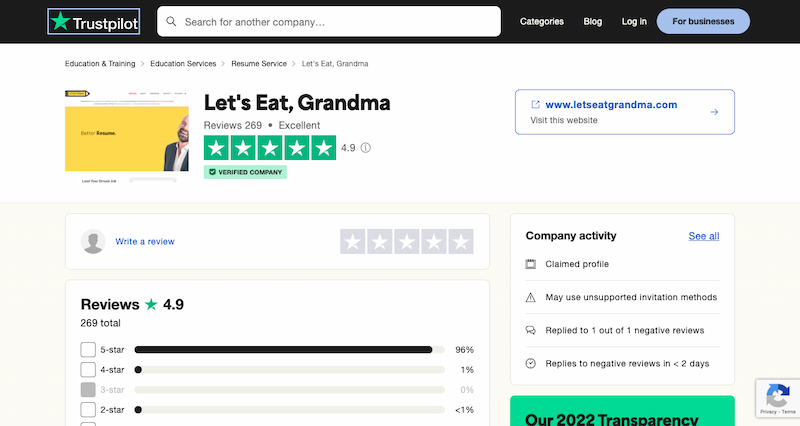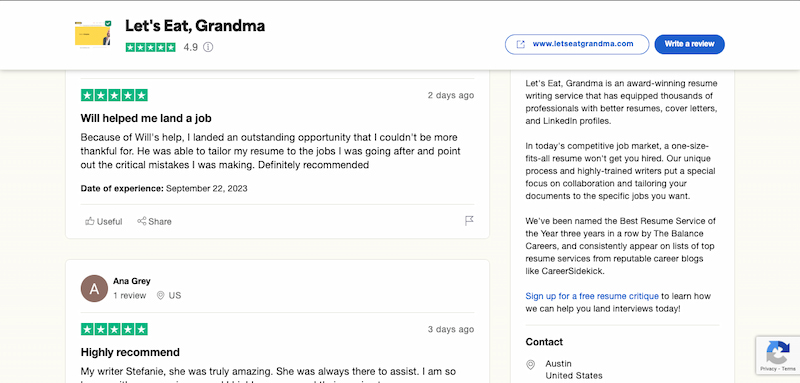 Yelp - A Mixed Bag
Over on Yelp, the narrative is more nuanced. While there's certainly a strong contingent of satisfied clients praising the tailored resumes and professionalism, there's also a sprinkling of critiques.
These range from desired process improvements to more detailed feedback sessions. The overall rating here sits at a more moderate level.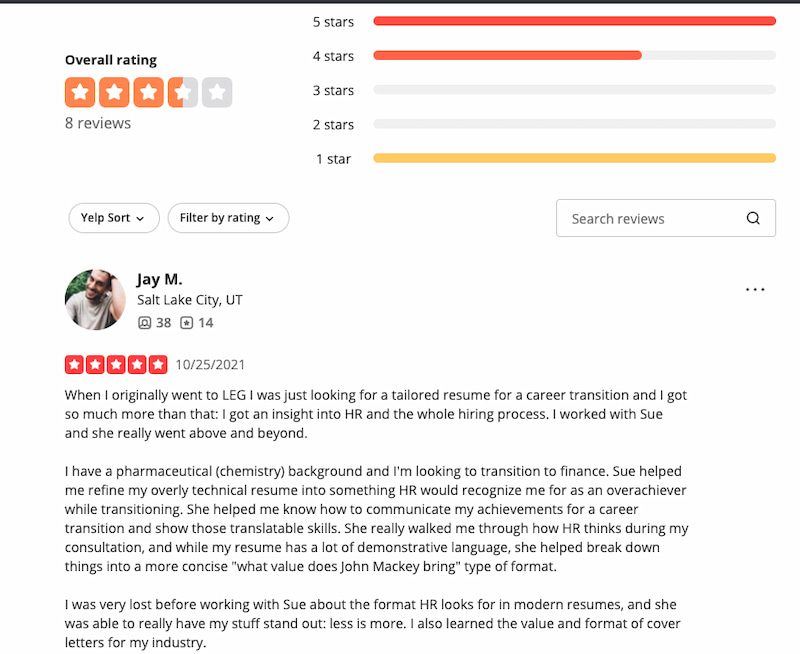 Reddit - The Community's Thumbs Up
Reddit, the platform renowned for its candid discussions and discerning user base, seems to have a favorable tilt towards Let's Eat Grandma. Threads and comments lean positively, with many users endorsing the service and often recommending it to peers.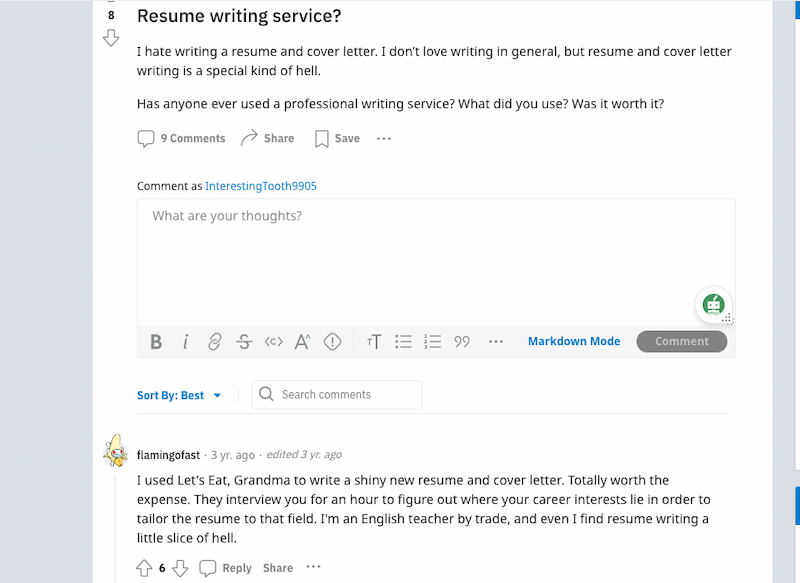 Striking the Balance
While the positive feedback on Trustpilot and Reddit is heartening, it's equally valuable to absorb the mixed feedback on Yelp. It paints a fuller picture of what prospective users might expect. Even in the more tempered Let's Eat Grandma resume reviews online, there's an undertone of appreciation for the company's core offerings.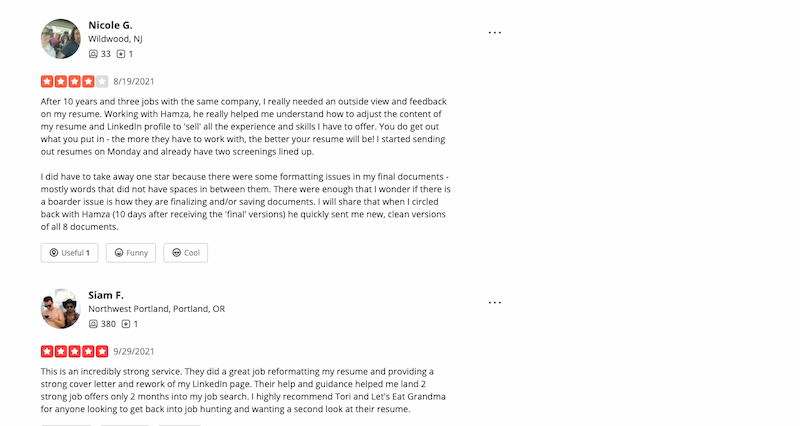 The multi-faceted feedback, when pieced together, showcases a company that's largely successful in its mission but always has room to refine and enhance. If you're contemplating partnering with Let's Eat Grandma, the overarching sentiment suggests you're likely to find value, support, and expertise.
Pros
Highly personalized and tailored resume crafting process.
Supportive and attentive customer service team.
Comprehensive packages cater to varied professional levels.
Quick response times and efficient turnaround for services.
Positive reputation on multiple platforms, such as Trustpilot and Reddit.
Cons
Pricing can be steep for some users.
Mixed feedback on Yelp indicates room for improvement.
Some users desire longer consultation sessions.
Limited iterative feedback cycles, as noted by a few clients.
More niche offerings could be beneficial for certain industries or roles.
FAQs
Is Let's Eat Grandma resume worth it?
Yes, their tailored approach and comprehensive services offer significant value for job seekers.
How much does Let's Eat Grandma resume cost?
Prices range from $439 for the starter package to $1,899 for the executive concierge service.