Resume writing services aren't always ready to deliver an application of proper quality. Our task is to help readers to find a reliable one. Today, we are going to review The Resume Place. This review doesn't have any commercial purpose. We know what challenges job seekers face. We also know how it feels to waste time and money on a bad result.
To begin with, there are five common resume types:
Chronological – starts with a recent position;
Functional – focuses on experiences and skills;
Combination – a mix of two previous types;
Targeted – customized to highlight your value for a particular job position, like government resume writers do;
Nontraditional – like infographics, etc.
We pay attention to pricing, payment procedures, quality, customer service, website usability, and the company's positioning in general. These are the things you should take into account, together with legitimacy and security.
Numerous Resume Place reviews by customers make it difficult to get a correct impression of this service, so we focused on both feedback and personal experience. So, let's find out if ResumePlace is among the top professional resume writing services or a scam.
Resume Place Overview

Resume Place is a service that assists in building careers in the US government. The company claims to be the industry leader in federal job searching. Their document format is recognized and accepted by federal Human Resources.
Besides preparing resumes for applicants interested in federal jobs and SES Core Qualifications, this service provides government agency training, offers an acclaimed certification program for becoming a Ten Steps Trainer, and teaches local and international workshops.
ResumePlace Story
The very idea of The Resume Place arose in 1971 when Kathryn Troutman (company founder) decided to provide resume writing support for George Washington (GW) University graduates. She studied there and volunteered for the directory. Two years later, her initiative turned into a company with a real office and a team growing within a couple of the following years.
Today, Kathryn Troutman is an author of several books, an in-demand career trainer, a creator of the Certified Federal Job Search Trainer program, and a Federal Career Coach. Her company is the first and leading American federal resume writing service, now available online.
ResumePlace.com Pricing
The cost depends on how much time an author spends working on your order. However, the minimum fee implies 4+ hours, whether we speak about documents created from scratch or updates and editing.

Types, Prices, Timing & Details:
GS 5/7/9/11 Target Position costs $140/hour, where 4 hours for writing + 2 hours for markup, keywords, consulting, and two reviews.
GS 12/13 Target Position costs $175/hour, where 5 to 8 hours of writing by a Senior Writer is expected.
GS 14/15 and SES Target Position costs $190/hour, where 7 to 12 hours of writing by Senior Writer is expected.
Federal Resume Review costs $99, including a detailed expert report (against one target) with recommendations for content and format.
Federal Career Consultation costs $190 and includes a detailed expert report (against one target) with recommendations for content and format and 30-minute consultation. We recommend checking our federal resume writer reviews, where you can find the best services for government resume writing.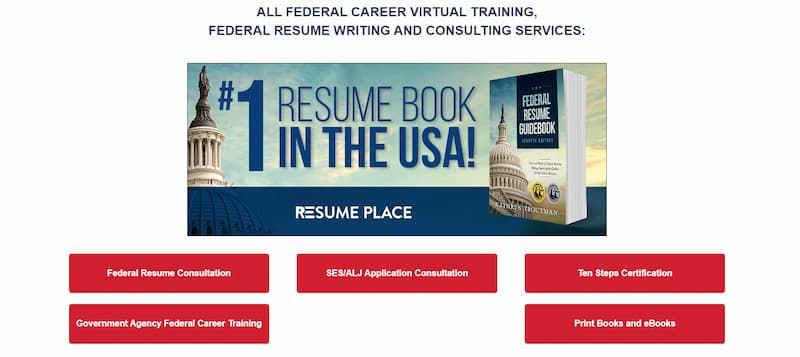 Resume Place Payment
This is a tax-deductible service, so there won't be any surprises when you receive a final bill. Nevertheless, it is recommended to ask for a quote if you want to know the exact price. Writers start working after you make a 60% deposit. Users enter credit card details when making an order, and the rest is charged automatically after a document is finished and delivered.
If you are an attorney looking for a new place or connected to a law industry, you should read a page of top law resume writers to find the best legal resume service online.
ResumePlace Quality

This is probably the most important part of our Resume Place review. A document you receive is 4 to 5 pages long, paper-formatted, and complying with federal resume standards. You can upload it to the job search system or copy and paste the content to corresponding fields on a website. You will be informed about the completion schedule by a writer.
The writing flow includes several stages:
Briefing – a writer learns about your objectives, specific vacancy, grade level, past experiences, etc.
Adding keywords – 7 to 10 words and phrases critical for success.
Document review of your previous resumes, performance evaluations, position descriptions, and awards for consideration.
Accomplishments and experiences review to define relevant skills and challenges.
The writing process itself.
It seems that writers understand their responsibility, and every resume is a result of fundamental work. According to the 2016 survey, 74% of users have been hired (almost 50% of all respondents), interviewed, referred, or best qualified. Some users, however, report that writers don't meet deadlines or deliver final versions with grammar mistakes.

In general, the feedback is positive. If you check The Resume Place reviews left by users on other websites, you will notice that it is rated either 5 stars or 1 star – it seems that every ResumePlace review is quite subjective and written when the emotions are still running high.
Customer Service
Consultants don't answer instantly, and sometimes it takes quite a long time to get an answer. Often, they are overbooked and too busy. On the one hand, it might be a sign of high expertise. On the other hand, that is not a convincing reason for users who expect to get resumes within the shortest possible time.

ResumePlace.com Website Usability
The website design is a bit outdated. The navigation is simple; it will not be challenging to find the information you need. However, the division into sections doesn't seem logical sometimes – there are too many of them, too many abbreviations, and some pages with different link names and duplicated content – such an abundance of information tires users.
Some fonts are challenging to read, while the text of red color puts a strain on your eyes. The FAQ page is not user-friendly either. Website usability is average – it is not the worst resource to deal with, but it is far from perfect. If you need to check top resume writing services, you can read a ResumeWriters.com review or a review for CraftResumes written by our experts and find real reviews from customers below.

Pros
High level of expertise.
Wide range of services as for a niche service.
Writers help to choose the relevant information.
Training and personal consultations are available.
You can find a blog, interesting articles, and books on the website.
This service is tax-deductible.
Cons
High prices ($560 for the basic version without keywords or reviews).
Unclear pricing policy (two pages with slightly different information).
Overbooked consultants don't reply in time.
Low quality of samples uploaded as images.
Outdated website design.
No refunds are provided in case of low resume quality.