We, the team of EduReviewer, always aim to shed light on the most convenient and prominent services. One of the most frequently requested reviews relates to Paragon Resumes.
Having received enough feedback from the users who contacted their services, we are now ready to voice our commentaries over this website. Paragon Resumes received both positive and negative reviews recently, so it's now our competency to express a definite conclusion.
So, read on to get acquainted with everything you might ever need to know about Paragon Resumes. We are here to review the platform in more detail and find out whether Paragon Resume is the best resume writing service or the worst.
Main Criteria
We use a wide range of criteria for assessing each particular website. Its specialization is considered, but also numerous other factors, including quality, price, simplicity, and legality. Regarding the legal frames of our reviews, we aim to examine how each particular platform operates.
The common parameters include:
Legality and Registration;
Basically, we aim to ensure that the website is properly registered, whereas all possible disputes can solve in the legal domain.
Presence of Representatives and Officials;
Only credible and trustworthy services have public bodies, which stand up for the reputation of a certain resource.
We review under this criterion the negligence of the reviews, which are usually written on demand. So, we prefer ordering some trial versions of the resume or a free resume review from the federal resume writing services for veterans using fake accounts.
Apparently, the interview section is almost impossible to conduct; however, if we have such an opportunity, we definitely utilize it to provide you with all related data concerning this particular service.
Resume Types
We want to reveal that a wide range of resume types exist, so let's briefly cover them all!
This type focuses merely on the skills, experiences, and competencies. While using it, you shouldn't worry too much about prior work experience or other elements you miss in your resume. The only precaution is that your potential employer might be alarmed by the insufficient work experience while scheming through your functional-themed resume. Choose it if your skills and competencies exceed the expectations of your employers.
This one is the most widespread nowadays. It aims to unveil all related work experience and respective achievements in chronological order. By being a perfect suit for almost all job vacancies, a chronological resume seems to be a decent option for enlisting your responsibilities, achievements, and accomplishments.
This type of resume merges the strong sides of the previous two modes. It commonly reveals all details of your work experience, work accomplishments, and abilities, at the same time mentioning your competitive advantages. So, if you're struggling to stick to one of the mentioned types above, a hybrid type might be your panacea.
This is the most rarely seen type of resume, which is designed for a particular position within a specific company. Conventionally, this type of resume omits all the data inapplicable to the demanded position by concentrating on the skills and competencies on the only vacancy. So, be sure to transform your common CV to meet this specific type of resume requirement.
ParagonResumes.com Overview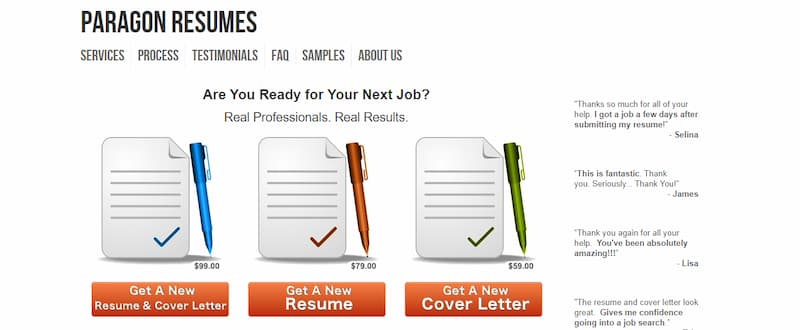 Now, we're approaching closer to the infamous Paragon website. Basically, the website offers only three options for ordering, including a resume, cover letter, and the discounted offer of both the resume and a cover letter. At first glance, the website has a somewhat old-fashioned design and navigation issues.
The only element that forces to count on the website is its long presence in the industry. So, the Paragon Resumes review demonstrates that the website provides some interesting information to those looking for professional assistance in resume writing.
ZipJob has caught the attention of many job seekers, but how does it fare under scrutiny? Dive into our ZipJob reviews, where we break down their service offerings, quality, and overall customer satisfaction.
ParagonResumes.com Story
We explicitly see in our Paragon Resumes reviews that the website intentionally omits any numbers related to customer satisfaction, years on the market, and other measurable data. The "About Us" section on their website sheds light on the company's essential values, which are professionalism, guaranteed quality, and the proper attention to everyone. Sounds promising. Let's review what waits for us in the pricing section.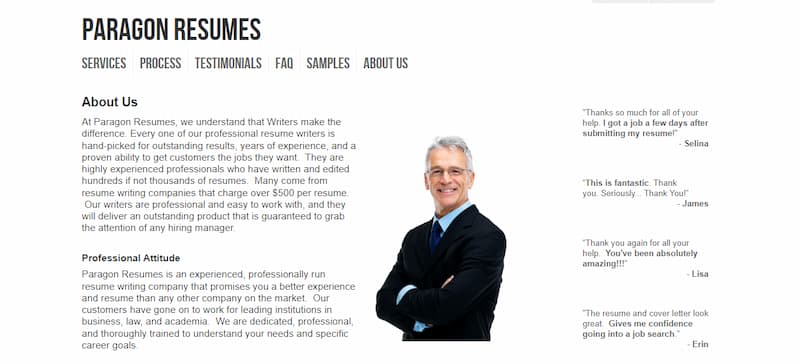 ParagonResumes.com Pricing
Speaking of prices, we commonly advise emphasizing quality over quantity. If you're fully confident in the website that assists approximately $300, go ahead and make your resume look just as you demand. Basically, pricing varies from one website to another, so we should review how Paragon Resumes promote its services through the lens of pricing.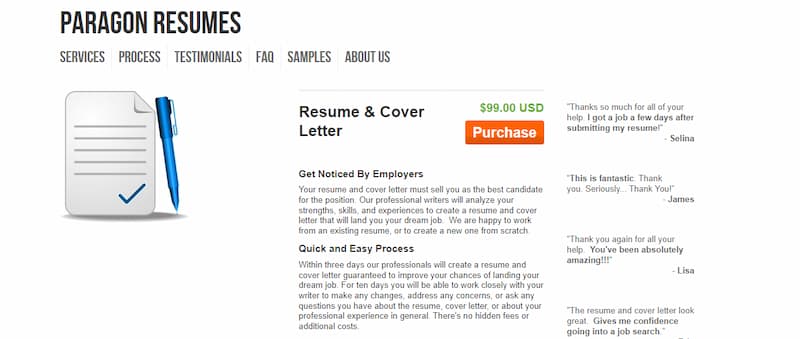 As revealed on the main page of their domain, the specialists can craft a resume for a total of $79. You might also order a cover letter for $59. If you're willing to order both options, the joint selection is provided, and it costs $99. The website review showed no signs of discounts, so the only offer for the customers is to save by ordering both a resume and a cover letter at once.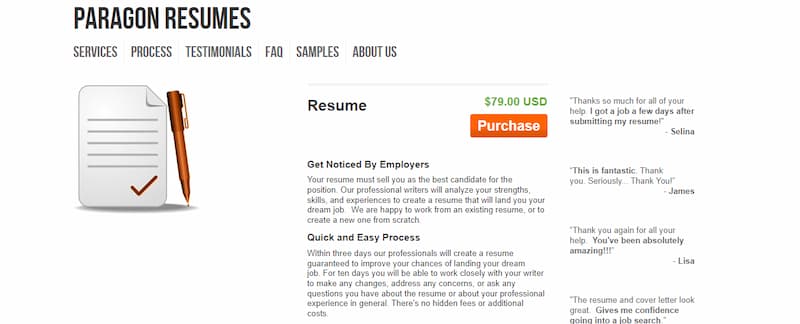 Comparing Paragon Resumes and Resumeble writers, we would definitely pick Resumeble.com. These guys have top resume writers. And their packages are interesting too.
ParagonResumes.com Payment
Right on the bottom of the website, Paragon Resumes enlist all possible payment options. They are AmericanExpress, Discover, Visa, MasterCard, and PayPal. Overall, this list is no different than on dozens of other websites.
But let's be honest, these modes of payment suit almost every customer. So, the order page is quite simple, with no extra interruptions. Just proceed with your payment and be sure that the website professionals will start work on the resume shortly.

ParagonResumes Quality
Here comes a thing that we came here for! The website is a precarious platform for ordering either resume or the cover letter; or both, ultimately. We've reviewed a couple of web reviews, which did not recommend this service. Surprisingly, almost all of them had screenshots of the received pieces. They were a real mess.
We commonly agree to associate the quality with a total of 50% of the website's efficacy. We compared the quality of the website with more expensive services. We prefer services other than Paragon Resumes. The resume we ordered from the website had a few typos, illogical constructions for the requested type of work, and an overall messy structure.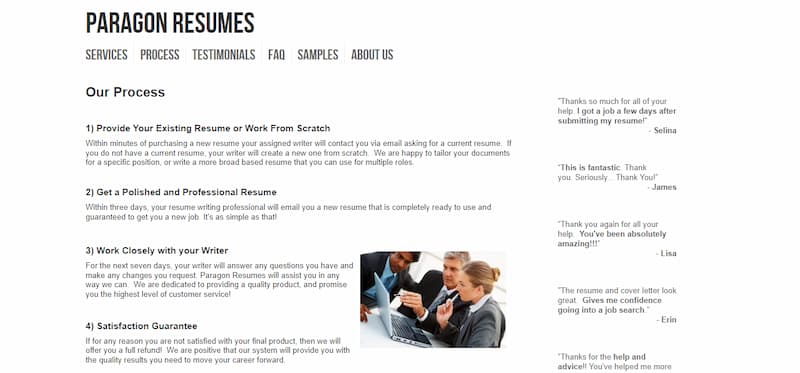 So, we wouldn't say that Paragon Resumes offers the highest possible quality, really. If you genuinely demand to receive the resume, which would exceed all your expectations, don't be too hesitant to consult our reviews of other platforms, which conventionally have higher quality-related standards.
Customer Service
What wholeheartedly amazed us while reviewing Paragon is the attention to customer service essentially. All of us have probably thought about pop-up windows, live chats, and other relevant means of guiding the customer.
E-mail of their support department hidden in the "Services" section! Notwithstanding, we could accept it as a valid option; however, we've already reviewed the quality of this platform. Seriously, Paragon Resume' customer service approaches require a solid revision, the sooner, the better.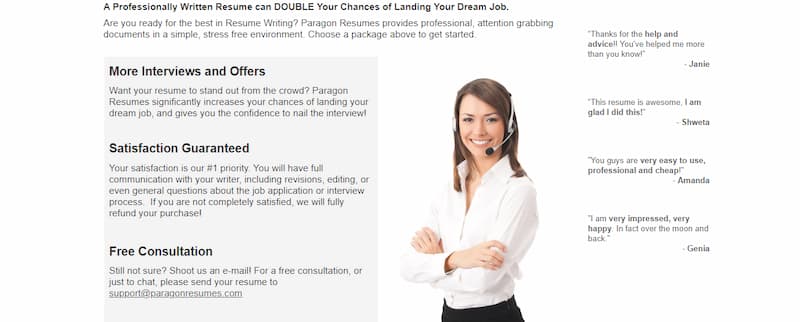 If you are looking for the top customer support, check the list of the best software engineering resume writing services reviews on our blog. These fellas will not disappoint.
Website Usability
We've already mentioned that Paragon Resumes consumer reviews commonly underline the navigation as troublesome. Our team also experienced specific issues while navigating through the website. It seems that the design is out-fashioned, whereas the navigation certainly lacks the user-centered approach at its core.
Definitely, you might order resume guidance there, yet be sure that you'll take a long road to fight through all those sections and messy structures. But have a look at ResumeWriters com review and see some differences for making the right choice.

Pros
The overall price isn't the highest on the market, whereas the price for both the resume and cover letter may surprise you.
During our experience, we received the resume a day after it was ordered on the website.
From what we've learned about Paragon, its presence on the market is considerable.
Speaking of the pre-ordering process, the consultation was executed smoothly and accurately.
Merely by consulting with this block on the website, the customers would know all the details regarding the operations of Paragon Resumes.
The website offers payment methods common for resume writing platforms; however, these options are both widely accessible and secure.
Cons
The received resume contained types and grammatical errors. It seems that other review websites also had similar issues with a website.
Really, Paragon Resumes should update the design of their website ASAP to make it more customer-friendly.
E-mail consultation in 2021, really?
We don't usually rely upon Web reviews, yet Paragon Resumes negatively affect Internet users.
It took us nearly five minutes to understand how the ordering options work. This is too long for an average user.
Considering all these parameters, Paragon Resume isn't the best platform for resume writing assistance.