In the realm of LSAT preparation, two major players come to the forefront: Princeton Review and PowerScore. Selecting the right prepper can significantly impact your success in the test. Aspiring law school candidates often decide between these options, each offering distinct advantages.
Princeton Review boasts a wide array of comprehensive courses and practice materials. Collaborating with experienced tutors and educators, they cover various aspects of LSAT content and strategy.
Conversely, PowerScore focuses intensely on LSAT preparation, refining logical reasoning, analytical thinking, and reading skills. Their courses provide in-depth strategies for tackling LSAT question types.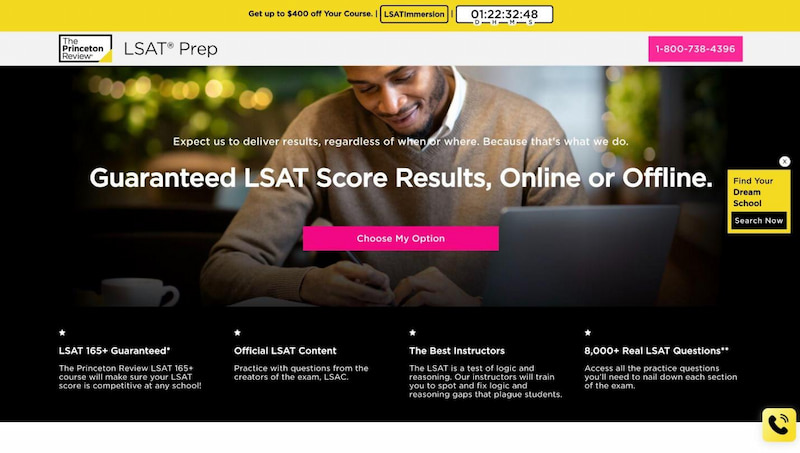 Princeton Review supports an extensive course variety with PowerScore hugging a specialized LSAT-centric approach. For a more in-depth understanding, consult our detailed reviews of both options. By the end of this Princeton Review vs PowerScore comparison, you'll possess the insights necessary to make a solid pick. Here's a concise contrast of both platforms:
Princeton Review: Comprehensive LSAT courses covering various test aspects. PowerScore: Specialized LSAT-centric courses refining specific skills.
Princeton Review: Extensive content, diverse question-type strategies. PowerScore: In-depth techniques, meticulous focus on intricacies.
Princeton Review: Collaborates with diverse, experienced tutors. PowerScore: 170+ scoring experts are only engaged as tutors.
Princeton Review: Offers practice tests and simulated exam conditions. PowerScore: Fine-tuned practice materials and skill enhancement.
Overall Comparison Right Off the Bat
| | | |
| --- | --- | --- |
| | Princeton | PowerScore |
| FOCUS | Broad test prep for various courses. | Specializes in LSAT preparation. |
| LSAT EMPHASIS | Limited emphasis on LSAT. | Sole focus on the exam… |
| COURSE MATERIAL | Generic resources. | LSAT-specific study materials. |
| INSTRUCTORS | May have varying expertise levels. | Experienced instructors. |
| PRACTICE TESTS | Offers practice tests. | Effective conductors of tests. |
| STRATEGIES | Basic strategies for multiple exams. | LSAT-specific strategies taught. |
| COURSE OPTIONS | Various course lengths and formats. | Flexible course options. |
| REPUTATION | Known for diverse test prep. | Recommended for their expertise. |
Key Features of Platforms For Your LSAT Prep
Explore the LSAT world by comparing PowerScore or Princeton Review. Uncover key features shaping your learning journey. Access top-notch study materials and interactive lessons. Seeking diverse prep? Princeton Review. LSAT focus? PowerScore. These platforms offer specialized programs – just like LSAT prep courses. Let's begin!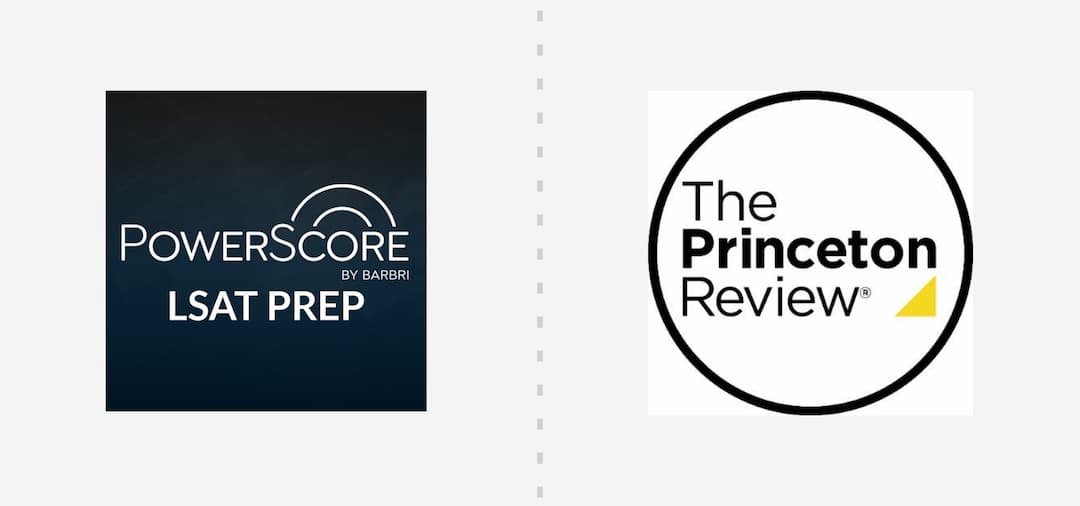 PowerScore: How Is it Better Than Princeton Review?
PowerScore offers different courses: In Person, Live Online, and On Demand. These courses last 1–3 months, helping you prepare well. They cover all LSAT question types, sections, and strategies. Live Online and In-person courses provide over 70 hours of instruction. You'll find 30+ hours of video lectures in the On-Demand Prep Course.
Specialized LSAT Expertise
PowerScore exclusively specializes in LSAT preparation, offering in-depth insights and strategies tailored specifically for the exam. This focused approach ensures a deeper understanding of the test's nuances, resulting in more effective preparation.
Experienced Instructors
PowerScore employs experienced instructors who are well-versed in the intricacies of the exam. Their expertise and familiarity with the test's content and structure enable them to provide targeted guidance and support to you.
Extensive LSAT Materials
PowerScore offers a comprehensive collection of practice tests, study guides, and resources. This vast reservoir of LSAT-specific materials enables you to practice and refine your skills thoroughly, gaining confidence for the exam.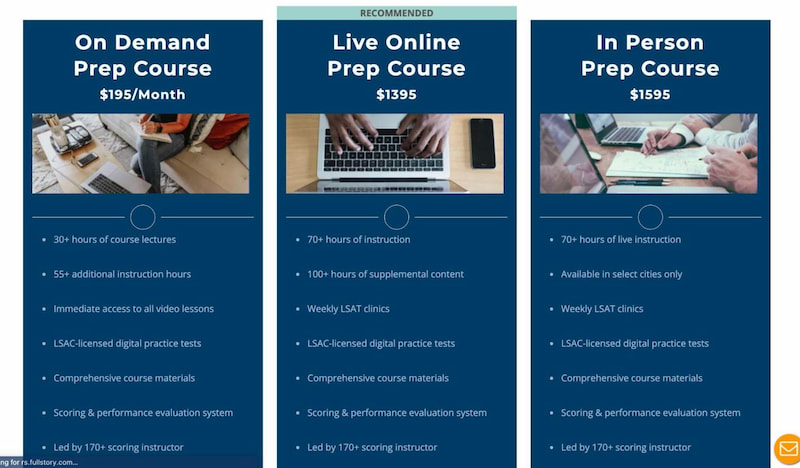 Princeton Review: How Is it Better Than PowerScore?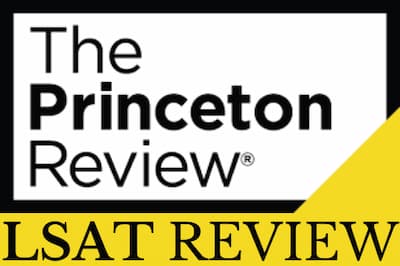 Diverse test prep options.
General study resources.
Variety of course lengths and formats.
Diverse Test Prep Options
Princeton Review provides a wide range of test prep options, catering to various exams beyond just the LSAT. This diversity can benefit those preparing for multiple standardized tests, offering them flexibility and convenience.
General Study Resources
With its broad approach, Princeton Review offers general study resources that cover multiple subjects and exams. This can be advantageous for you seeking a comprehensive understanding across different areas, making it a suitable choice for those with broader academic goals.
Variety of Course Lengths and Formats
Princeton Review offers different course lengths and formats, accommodating various schedules and preferences. This adaptability allows you to choose a course that aligns with your availability and learning style, potentially leading to a more personalized and effective learning experience.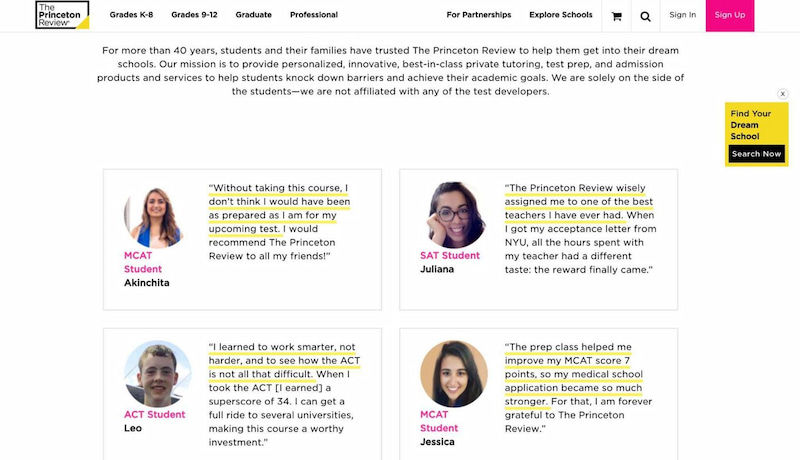 Pricing Comparison
PowerScore's pricing structure is pretty straightforward – you pay the more demanding your schedules are. With Princeton Review they have a unique pricing plan, and you might've to review each plan in detail to get a solid grip.
PowerScore
PowerScore provides three basic pricing structures. Each has its distinct set of perks and benefits. We've outlined the basics to expect should subscribe to any below:
On-Demand Prep Course: Charged monthly. On-Demand Prep Course goes for $195/month. Offers 30+ hours of video lectures. 55+ additional instruction hours. Immediate Access to Video Lectures.
Live Online Prep Course: Charged on a one-time basis at $1,395.00. Offers 70+ hours of instruction. 100+ hours of supplemental content. Weekly clinics and more.
In-Person Prep Course: Charged on a one-time basis at $1,595.00. Offers 70+ hours of live instruction: weekly prep clinics and more.
Princeton Review
Comparably with PowerScore, Princeton offers tons of pricing plans. We recommend that you check Princeton's website to stay abreast of changes to the pricing plan.
Self-Paced: Available Online. Charged at $799.
LSAT 165+: Available Online and In-Person. 84 hours of live instruction. Charged at $2,099.
Immersion 165+: Available Online. 145 hours of live instruction. Charged at $3,999.
Fundamentals: Available Online and In-Person. 30 hours of classroom time. Charged at $1,099.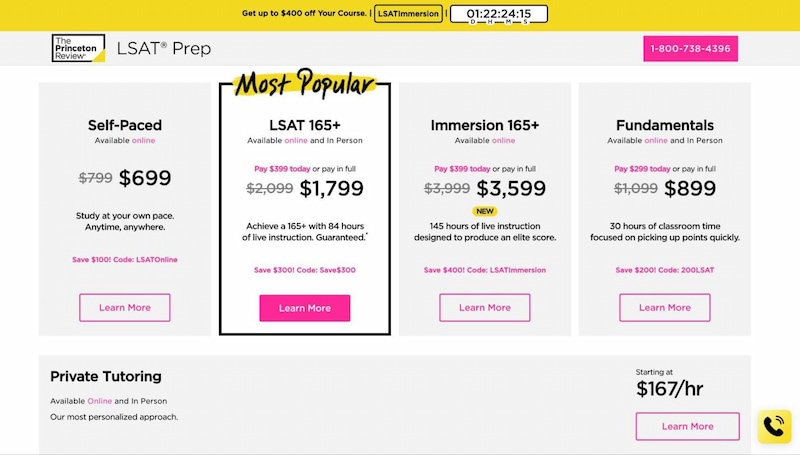 Quality of Learning and Value for Money
When looking at Princeton Review versus PowerScore for exam prep, it's your interest to focus on learning quality and value. Do interactive lessons engage you, or prefer a traditional classroom feel?
Knowing how they teach helps you find your style. Plus, evaluating what you get for your investment is key. Here, we compare how Princeton Review or PowerScore approach this, helping you make a choice that fits. Let's break it down for you.
PowerScore
PowerScore's Online Student Center has lots of homework with explanations. For practice tests, you'll need "Official LSAT Prep Plus" or enrol in PowerScore courses. Instructors are qualified, with scores of 170+. You can even get financing and discounts. Here are more reasons why PowerScore offers better quality for money.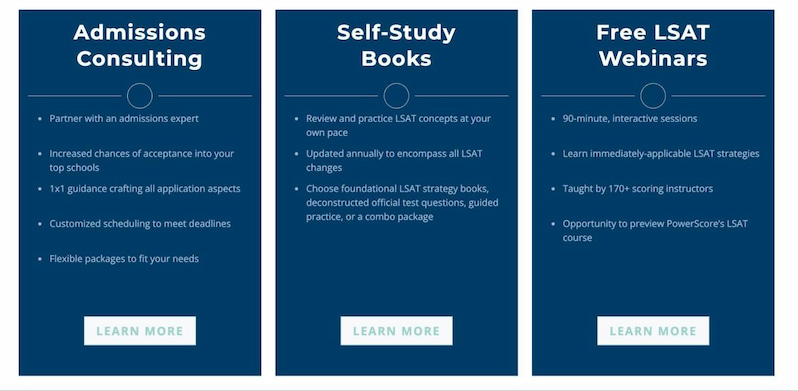 Course Content and Structure:
PowerScore's course content and structure—it's impressive. They cover all question types, sections, and strategies in well-organized lessons. This comprehensive approach helps you understand the concepts better.
Teaching Methods:
PowerScore excels in teaching methods. Lessons are engaging, interactive, and supported by practice problems and clear explanations. These methods boost your understanding and retention, making preparation more efficient.
Qualified Instructors:
PowerScore boasts highly qualified instructors with extensive experience. Many tutors have achieved exceptional scores on the exam, bringing valuable insights to the courses. Their expertise enhances your understanding and mastery of exam concepts.
Practice Materials:
PowerScore offers diverse practice materials. They provide a range of practice tests and questions that closely replicate the actual exam.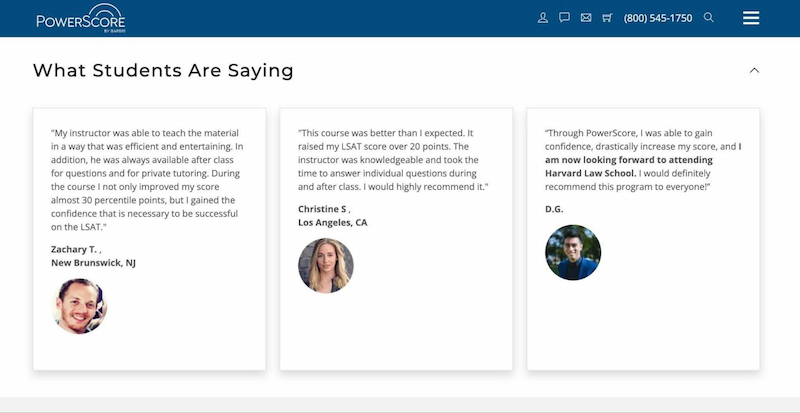 Princeton Review
Princeton Review offers extensive online resources, books, and rankings. They also have Tutor.com for online tutoring. They're in NYC, not linked to Princeton University, and owned by Primavera Capital. Their divisions cover College, Business, Law, Grad, and Med schools.
Course Content and Structure:
Princeton Review's course content and structure are solid. In organized lessons, they cover topics well, including question types and sections. This setup helps you learn exam concepts effectively.
Teaching Methods:
Princeton Review's teaching methods are top-notch. Lessons are interactive, engaging, and supported by practice problems and clear explanations. These methods improve your learning and memory, making prep more effective.
Qualified Instructors:
Princeton Review has skilled instructors with vast experience. Many have scored well in the exam, giving valuable insights. Their knowledge boosts your understanding.
Practice Materials:
Princeton Review has diverse practice materials, offering various practice tests and questions similar to the real exam.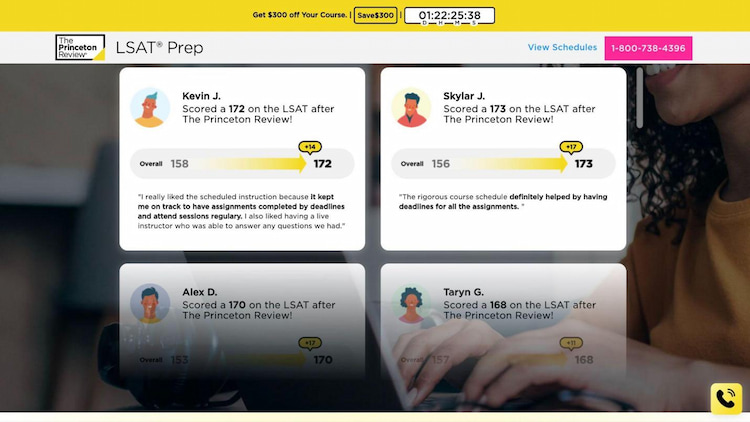 LSAT Books Comparison
PowerScore
Through the efforts of independent renowned authors, PowerScore annually publishes books on sections including Preparation Packages, Prep Guides, Workbooks and Law School Admission Bibles. Refer to the test prepper's website for a comprehensive outline of what to expect from each book, alongside the individual affiliated prices. Here's a concise overview of popular books:
The PowerScore LSAT Bible Trilogy" (Logic Games, Logical Reasoning, Reading Comprehension): Covers core concepts, strategies, and practice questions for each section.
"The PowerScore LSAT Logic Games Bible Workbook": Additional practice exercises and drills for logic games. Provides focused practice to reinforce logic game skills.
"The PowerScore LSAT Logical Reasoning Bible Workbook": Exercises focused on logical reasoning. Offers supplementary practice for improving logical reasoning abilities.
"The PowerScore LSAT Reading Comprehension Bible Workbook": Extra practice passages targeted at reading comprehension. Provides more reading comprehension practice to enhance skills in this section.
"10 Actual, Official LSAT PrepTests Volume VI": Compilation of actual, official LSAT exams. Offers authentic practice tests to simulate real LSAT exam conditions.
"The PowerScore LSAT Logic Games Bible: Workbook 2023 Edition": Additional practice exercises and explanations for logic games. Provides practice to reinforce logic game skills.
Princeton Review
With 40+ years of experience in LSAT tutoring, be assured Princeton Review sure packs a punch with its books. Here are six top Princeton Review publications we recommend you take a look at:
"LSAT Premium Prep, 2023": Comprehensive LSAT preparation with practice questions and detailed explanations.
"Cracking the LSAT Premium with 3 Real Practice Tests, 2023": Provides strategies for tackling LSAT questions and includes real practice tests for test simulation.
"1,007 Practice Questions for the New LSAT": Over a thousand LSAT practice questions covering different sections.
"LSAT Unlocked 2021-2023": Provides insights into LSAT question types and strategies.
"LSAT Logic Games Unlocked 2021-2023": Focuses specifically on logic games, with explanations and practice questions. Offers specialized preparation for the logic games section of the actual exam.
"LSAT Reading Comprehension Unlocked 2021-2023": Concentrates on improving reading comprehension skills, featuring explanations and practice passages. Provides targeted preparation for the reading comprehension section.
Main Disadvantages of the Platforms
Let's look at the main disadvantages of both PowerScore and Princeton Review. While these platforms offer LSAT preparation with their benefits, it's important to understand their drawbacks too. Knowing these downsides, you can make choices that suit your learning needs for the PowerScore LSAT vs Princeton Review stand-off. Consider these points to pick the right prep that works best for you.
PowerScore
For the most part, PowerScore's services are largely satisfactory – more than backed by a solid 4.8 rating of 5 stars on Trustpilot. Yet, the service is not without its drawbacks. Here's a description of the more significant ones:
Specialization Focus: PowerScore mostly focuses on test prep, so it might not help you with other subjects. While it's great for LSAT, it might not cover other things like math or science or other study platforms that cover many subjects.
Complexity: Some people find PowerScore's strategies challenging to understand. It might take more time and effort to get them right. This could be tricky for some and might make learning confusing or frustrating.
Limited Format Diversity: PowerScore mostly focuses on LSAT practice, which is good for LSAT. But, they might not cover different types of tests. This could mean you miss out on practicing other test formats you might need for school or other exams. It's important to learn a variety of formats to be ready for different subjects and tests.
Cost: PowerScore's prep programs and materials can be relatively expensive compared to other options. While the quality of their materials might justify the cost for serious LSAT aspirants, it could be a turn-off for those on a tighter budget.
Princeton Review
Princeton Review is a recommended choice for LSAT preps. However, some downsides to their offerings we recommend that you be familiar with before registering with them include:
Broad Focus: Princeton Review offers many types of courses, not just for LSAT. While this is good for different subjects, they might not focus as much on LSAT. Other places that only do LSAT could have more study stuff just for that test.
Less Personalized: Princeton Review has lots of you, so you might not get much special attention. They might have less of you in other places, so they can help you more personally.
Teachers' Skills Can Differ: Princeton Review has different teachers; some might be better than others. This means you might get a good teacher or one who's not as good at explaining things.
Cost Consideration: Princeton Review's extensive offerings can sometimes lead to higher costs. You might pay for features they don't need if they focus only on test preparation.
FAQ
Is Princeton Review better than PowerScore?
In the classic Power Score vs Princeton Review, PowerScore is better for LSAT prep. Their specialized focus on LSAT gives you more targeted help. Their services are like having a tutor who knows exactly what you need for the LSAT test, strengthening your preparation.
Should I use Princeton Review or Princeton?
Consider aligning with PowerScore for LSAT prep. They focus only on LSAT and employ dedicated tutors with history acing LSAT exams. They give you exactly what you need for the LSAT test, making your preparation better.
Is PowerScore good for LSAT?
Yes, PowerScore is a top recommendation for LSAT. 170+ scoring instructors teach their courses. They also offer specialized problem sets and give you advanced performance feedback. You may also get in touch with their law school admissions consultants to demystify the process of crafting effective applications.
Is Princeton Review the best LSAT prep?
Princeton Review is good for LSAT prep, but there are other options like PowerScore that you may prefer. We recommend that you compare their offerings and select your preferred choice in line with your pocket size.