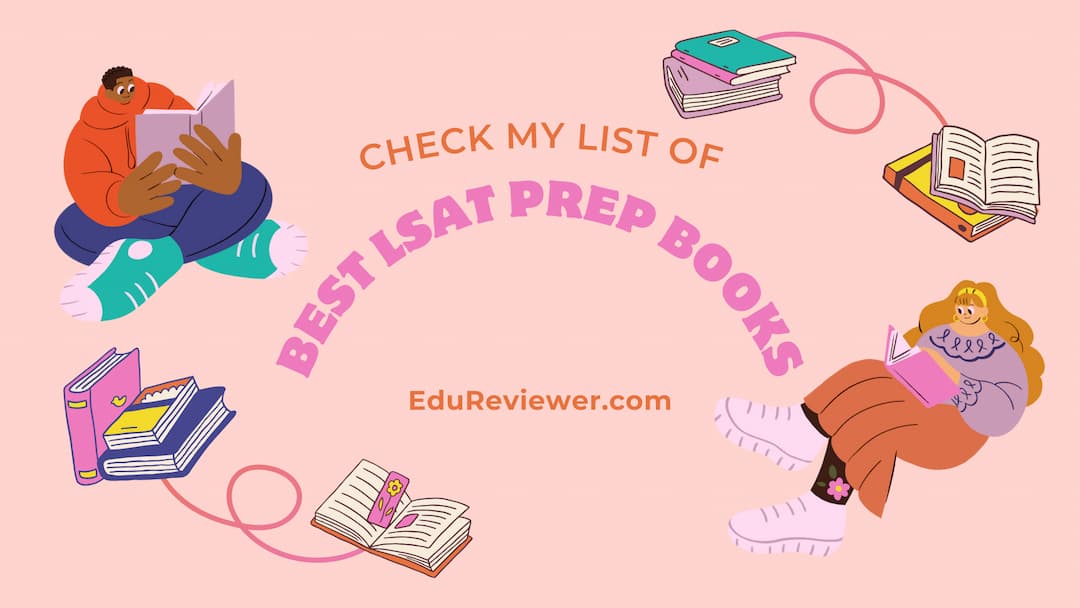 When diving into the intricate world of LSAT preparation, it's crucial to find the right resources. The difference between a good and a great score can often be traced back to the quality of the prep material. For those determined to make a mark, understanding the nuances of each guidebook available is invaluable.
In this article, I'll share my experiences, analysis, and insights into some of the best LSAT prep books on the market. Let's uncover which book might become your guiding star in this endeavor!
| | | | | |
| --- | --- | --- | --- | --- |
| Book Title | Course Included | Price | Included Books | Rating |
| Mometrix LSAT Test Prep Books | No | $29.99 | 3 comprehensive books | 4.5 |
| Kaplan | Yes | $41.80 | Interactive platform, 7 prep books | 4.5 |
| Princeton Review | Yes | $34.95 | 6 practice tests, LSAT Unlocked book | 4.6 |
| The LSAT Trainer | No | $52.99 | The LSAT Trainer book | 4.7 |
| The PowerScore LSAT Bible Trilogy | No | $151.59 | 3 strategy guides | 4.7 |
| Manhattan Prep | Yes | $153 | Interactive resources, 10 prep books | 4.6 |
| 10 Actual, Official LSAT PrepTests | No | $10.69-21.33 | 10 official LSAT PrepTests | 4.7 |
Analytical Book Overview
All of my choices have some special perks that make them stand out from other options. Let's examine all of them in detail and find out which is best for you.
Our Choice – The LSAT Trainer
Best Value – 10 Actual, Official LSAT PrepTests
Best for Beginners – Princeton Review
Most Compact – The PowerScore LSAT Bible Trilogy
Best LSAT Trylogy – Manhattan Prep
Included Online Workshops – Kaplan
Most Up to Date – Mometrix LSAT Test Prep Books
Mometrix LSAT Test Prep Books
The Mometrix LSAT Test Prep Book serves as a comprehensive guide for LSAT aspirants. It systematically breaks down each section of the LSAT—Logical Reasoning, Reading Comprehension, and Analytical Reasoning—offering in-depth explanations and tips. The book comes with practice questions that mirror the actual test, ensuring students are well-acquainted with the types of questions they'll face.
Moreover, each practice question is supplemented with detailed answer explanations to help students understand their mistakes and the logic behind each answer.
With an online rating of 4.5/5, the Mometrix LSAT Test Prep Book is widely appreciated in the prep community and considered the best LSAT prep book. Students often commend its clear, concise explanations and well-structured content, which aid in efficient learning.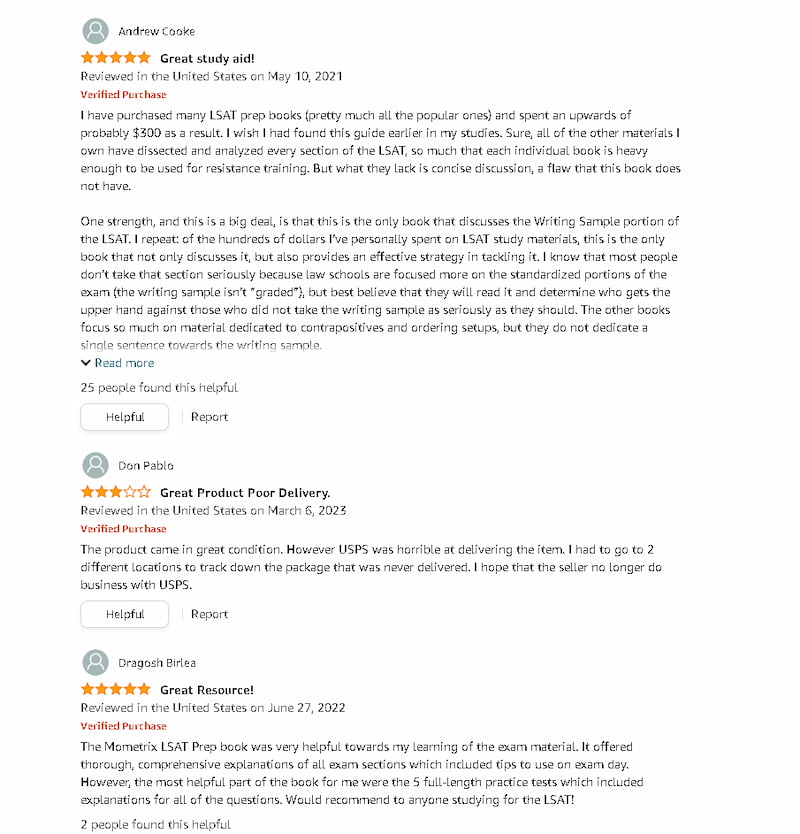 While specific prices can fluctuate based on retailer and current promotions, the Mometrix LSAT Test Prep Book is generally priced in the mid-range compared to other similar prep materials. Given its comprehensive coverage of the test's topics and the quality of the practice questions, many find it to offer excellent value for money.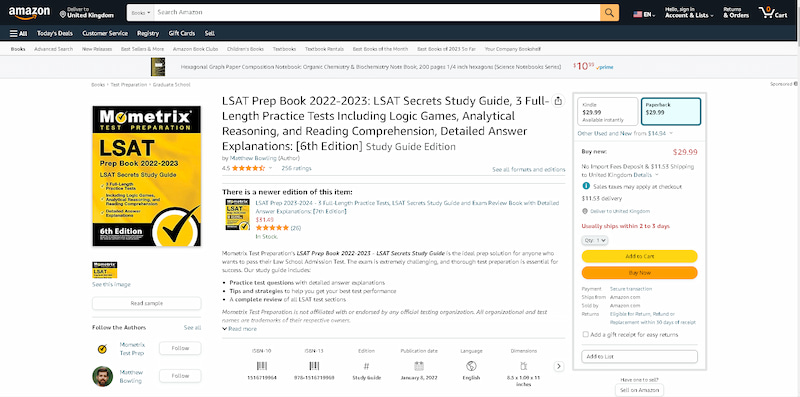 Several experts and tutors have given positive reviews about Mometrix. They often highlight its methodical approach, which makes it particularly suitable for beginners or those who are just starting their prep journey.
Mometrix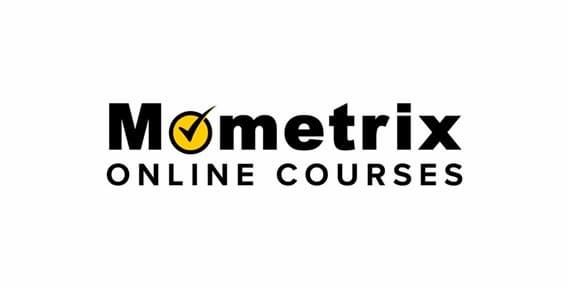 Comprehensive yet Clear
Detailed Answer Explanations
Structured Layout
Might Lack Advanced Strategies
Not Many Full-Length Tests.
One feature that sets the Mometrix LSAT Test Prep Book apart is its structured modules that cater to different competency levels. This allows both beginners and intermediate learners to gain immense value from the book, ensuring a versatile prep experience. This is what takes Mometrix to the top of the best LSAT study books available on the market today.
Kaplan LSAT Prep
What LSAT book is the best to study? It depends on your preferences and ways of learning that are most effective for you. I recommend you pay attention to the next option. Kaplan's LSAT prep materials are renowned for their comprehensive coverage and a blend of theoretical knowledge with practical insights.
Their LSAT Prep Plus book, for instance, delves deep into each section of the LSAT—Logical Reasoning, Reading Comprehension, and Analytical Reasoning. It provides not only detailed explanations for every concept but also strategic insights that Kaplan has developed over the years. The book typically comes with practice tests, both in print and online, ensuring students get a realistic LSAT exam experience.
Kaplan maintains a strong reputation with an average online rating of 4.5/5. It's a trusted brand in the world of standardized test prep, and its materials, in particular, have been praised for their depth, clarity, and attention to detail.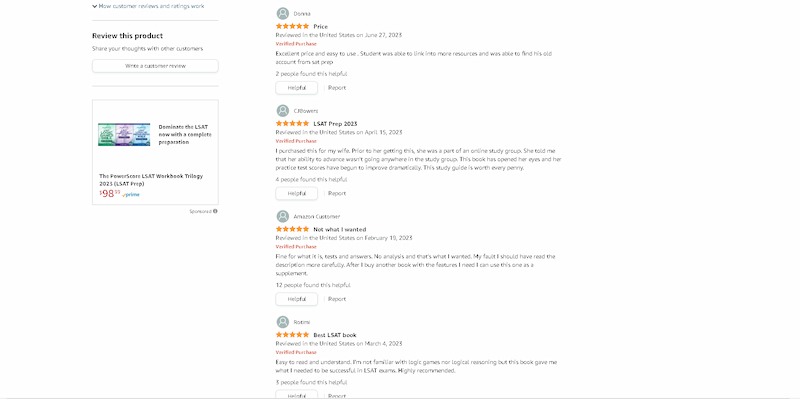 Kaplan's materials can be on the pricier side, but they justify the price tag with their exhaustive content and the addition of online resources. With its mix of printed materials, online practice tests, and proprietary strategies, many students and tutors find Kaplan to be of solid value for the investment.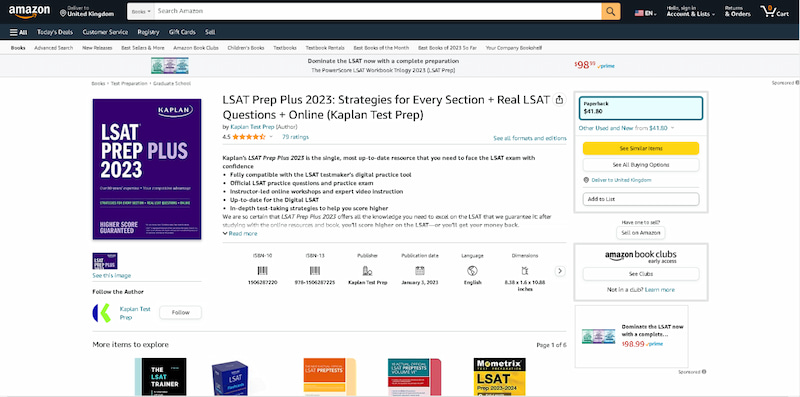 Several tutors and experts frequently recommend Kaplan, citing its in-depth approach as well-suited for comprehensive LSAT prep. Especially for students who prefer having every detail covered and appreciate the backing of a large, established test prep institution, Kaplan's materials get the nod.
Kaplan

In-depth Coverage.
Online Resources.
Proprietary Strategies.
Overwhelming for Some.
Price Point.
One standout feature of Kaplan's LSAT prep is its adaptive Qbank. This online tool adapts to each student's level, challenging them appropriately based on their performance. It's a dynamic way of ensuring students continually progress and address their weak areas effectively.
Princeton Review LSAT Prep
Still looking for the best LSAT self study books? Princeton Review's LSAT prep materials are known for their well-structured content and actionable strategies. Their offering, "LSAT Premium Prep", encapsulates a blend of theoretical lessons and real-life questions. This ensures students not only understand the core concepts but also know how to apply them in the test. The book comes packed with drills, practice questions, and full-length simulated tests to give learners a full-fledged experience.
Princeton Review holds a steady reputation in the LSAT community, with an average online rating of around 4.6/5. It's appreciated for its user-friendly explanations, actionable strategies, and the quality of its practice questions.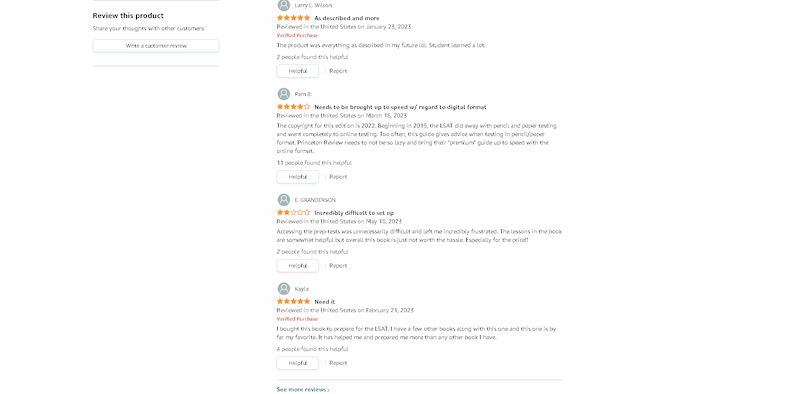 Princeton Review's LSAT prep materials are priced competitively, making them accessible to a wide range of students. Given the rich content, the integration of strategies with core concepts, and the provision of online resources, many find the Princeton Review's offerings to deliver strong value for the price point.
LSAT tutors and experts often have favorable assessments of Princeton Review, highlighting its balanced approach that combines robust theoretical content with real-world application through strategies. It's particularly recommended for students who appreciate a straightforward and actionable style of learning.
Princeton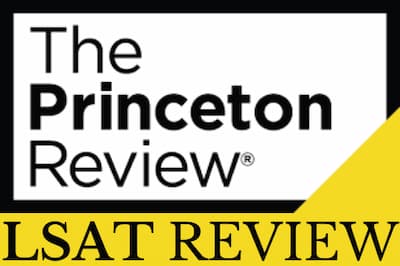 User-Friendly Explanations.
Comprehensive Practice Resources
Actionable Strategies
Might Skim Some Advanced Concepts
Online Platform Integration
Princeton Review's "Drill Smart" feature stands out. It's a tool that gauges a student's performance and then offers custom-tailored drills based on areas they need to focus on. This adaptive technology ensures that students spend time on what truly matters for their personal prep journey.
The LSAT Trainer
The LSAT Trainer by Mike Kim is a standout LSAT prep book, offering an innovative approach to the test's preparation. It's one of the best LSAT books for self study. Why?
It's a self-study guide designed to address every section of the examination. Instead of just providing a mere explanation of concepts, it offers a holistic journey, steering students from foundational LSAT concepts to advanced strategies. The LSAT Trainer includes over 200 official questions and real-time solutions, ensuring students get both the theoretical and practical exposure they need.
The LSAT Trainer has garnered an impressive online rating, frequently hovering around 4.7/5. It's lauded for its unique approach to LSAT prep and its ability to instill confidence in students, especially those who prefer self-study.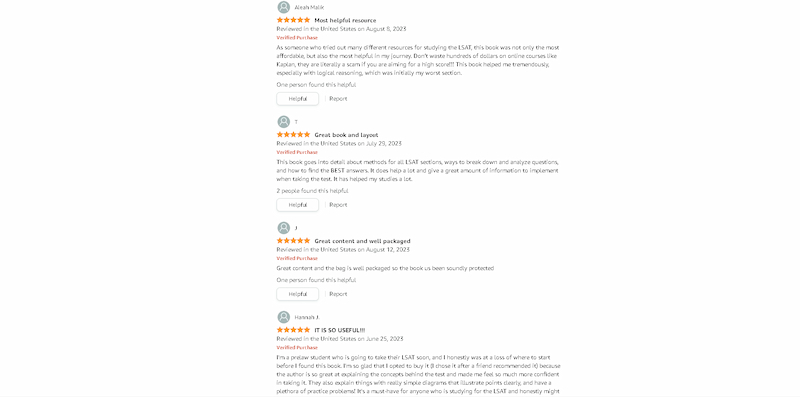 Price-wise, The LSAT Trainer tends to be in the moderate range, making it a budget-friendly choice for many aspirants. Given its comprehensive nature, the sheer depth of its content, and its innovative approach, it's often touted as offering exceptional value for its price.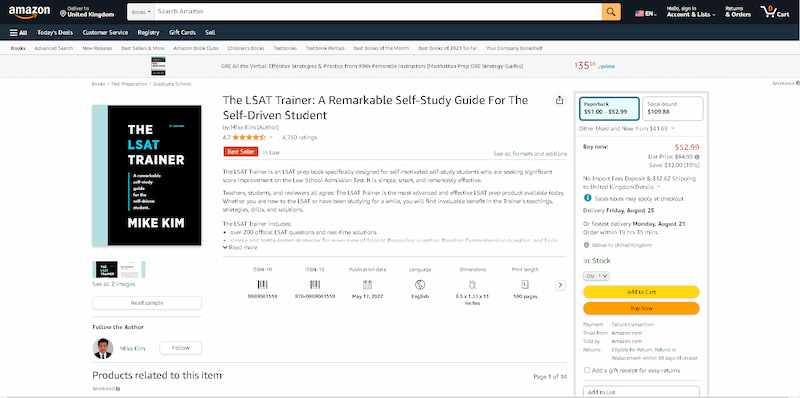 Many tutors and prep experts have high regard for The LSAT Trainer. They frequently highlight its intuitive design, which flows seamlessly from one topic to another. Its ability to make students think like test-makers is often emphasized, making it a top recommendation for those aiming for high scores.
What People Will Like:
Holistic Approach.
Focus on Thinking Patterns.
Self-Study Friendly.
Disadvantages:
Lack of Full-Length Tests.
Might Require Supplementary Materials.
The LSAT Trainer's most distinct feature is its emphasis on developing the right "thinking patterns". It's not just about knowing the right answer; it's about understanding the underlying logic deeply and intuitively. Mike Kim's approach trains students to think like LSAT test-makers, a skill that's invaluable come test day.
PowerScore LSAT Bible Trilogy
The PowerScore LSAT Bible Trilogy is a comprehensive set of three books, each focusing on a specific section of the test: the Logical Reasoning Bible, the Logic Games Bible, and the Reading Comprehension Bible.
The best LSAT test prep books are detailed, strategy-driven, and designed to provide a deep dive into each section's complexities. They contain real questions, detailed explanations, drills, and various strategies to tackle each type of question.
PowerScore's trilogy has established itself as a staple in LSAT prep, with consistent online ratings usually around 4.7/5. Users often praise the depth of content, clarity of explanations, and strategic insights the best LSAT practice books provide.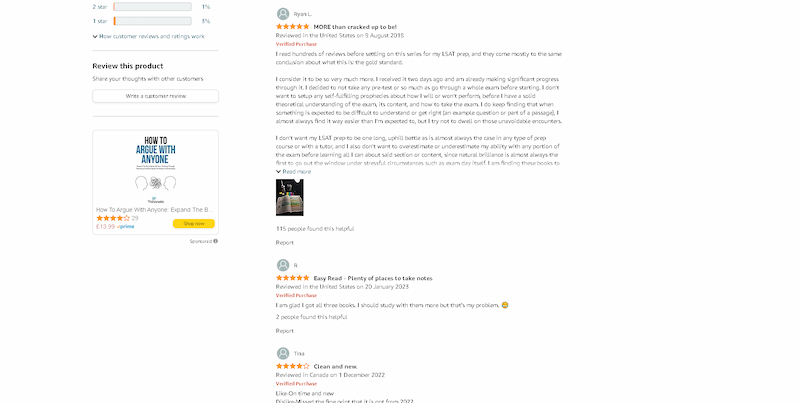 The trilogy, when purchased as a set, often comes at a more favorable price point than when buying the books individually. Given the comprehensive nature of the set and the extensive strategies and drills provided, most students and experts believe it offers excellent value for money.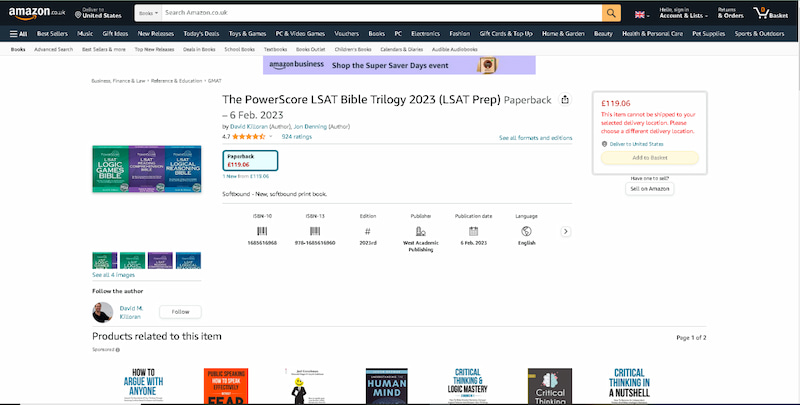 PowerScore LSAT Bible Trilogy is kept in high regard among experts and students. It's frequently recommended for its methodical breakdown of each section, making even the most challenging concepts accessible to students.
PowerScore's specific techniques and diagramming strategies, especially in the Logic Games Bible, stand out. These methods have been refined over the years and are specifically designed to help students tackle some of the test's most challenging questions with confidence.
Manhattan Prep LSAT Strategy Guide
What is the best LSAT book? Pay attention to my next position. Manhattan Prep's LSAT Strategy Guide offers a deep dive into the intricacies of this examination.
The materials are comprehensive, covering every aspect of the test: Logical Reasoning, Logic Games, and Reading Comprehension. Designed with a clear and methodical approach, the guide provides strategic techniques, extensive practice questions, and detailed explanations to help students grasp the concepts and refine their test-taking abilities.
Manhattan Prep is a well-established name in the test prep industry. Its materials usually garner an online rating of around 4.6/5. Many students and tutors appreciate the structured approach and clarity of explanations provided by the strategy guide.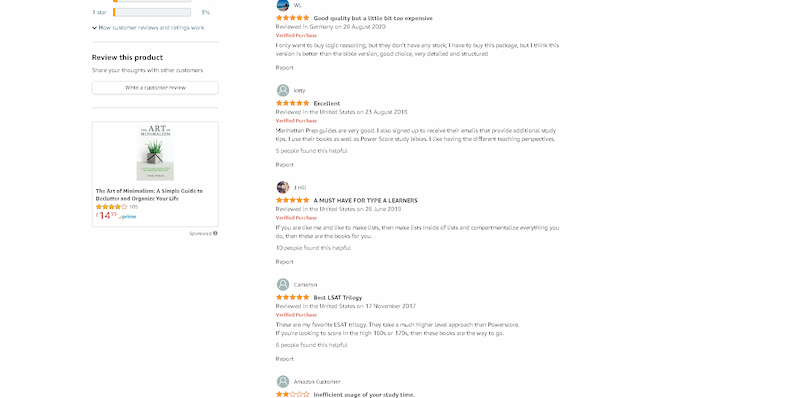 Manhattan Prep's LSAT materials sit in the mid-to-high price range, but the quality of content, depth of strategy, and the sheer volume of practice materials provided often justify the cost. For many, the comprehensive nature of the materials makes it an excellent value for money.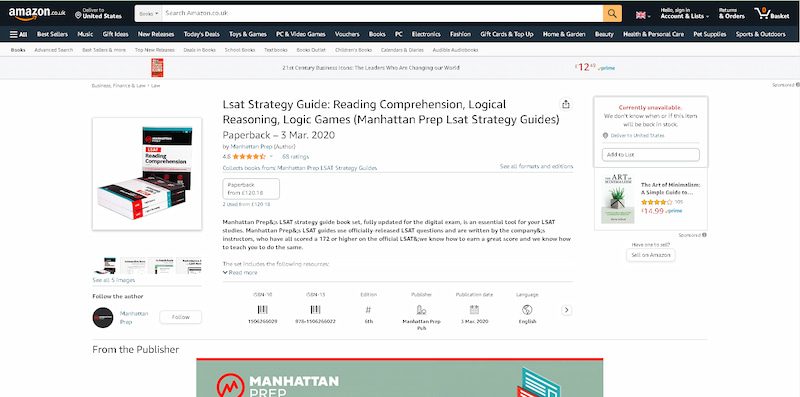 LSAT tutors and experts praise Manhattan Prep, frequently noting its meticulous approach to breaking down the test's intricacies. The detailed strategies and the emphasis on understanding the test's underlying logic make it a top recommendation for many.
Manhattan Prep

Thoroughness
Practice Questions
Strategic Techniques
Manhattan Prep's focus on teaching students to think like the test-makers is noteworthy. It's not just about understanding the content; it's about adopting the right mindset to dissect and understand any LSAT question. This approach, coupled with their specific diagramming techniques, sets them apart.
10 Actual, Official LSAT PrepTests
The "10 Actual, Official LSAT PrepTests" series is produced by the Law School Admission Council (LSAC), the very body that administers the LSAT. This series offers actual tests from previous years, ensuring that students are practicing with real, previously-administered tests. Each volume provides ten full-length tests, making them invaluable resources for simulating the test-day experience. They are among the best books to study for the LSAT. And here is why.
Given the authenticity of these PrepTests, they are almost universally recommended and often hold online ratings around 4.7/5. The credibility of these tests, coupled with the insights they offer into the real LSAT, makes them popular among both students and tutors.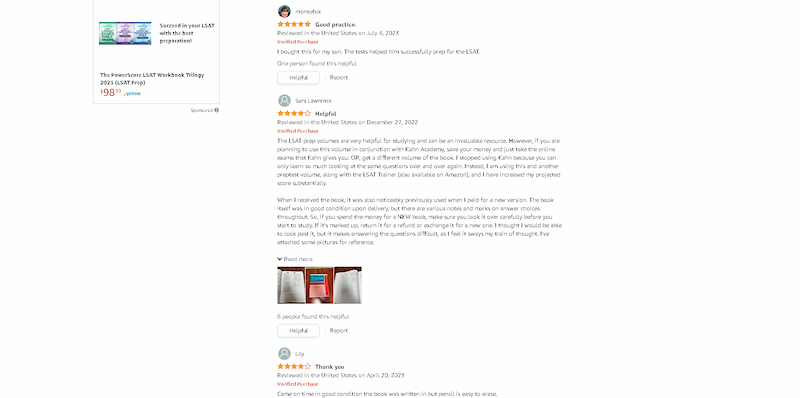 Typically, the "10 Actual, Official LSAT PrepTests" books are priced quite reasonably, considering you're getting ten tests in each volume. Given the authenticity and sheer volume of real test questions, they offer exceptional value for money.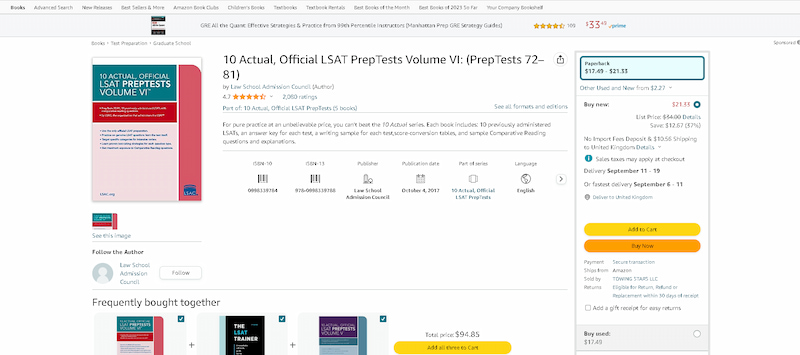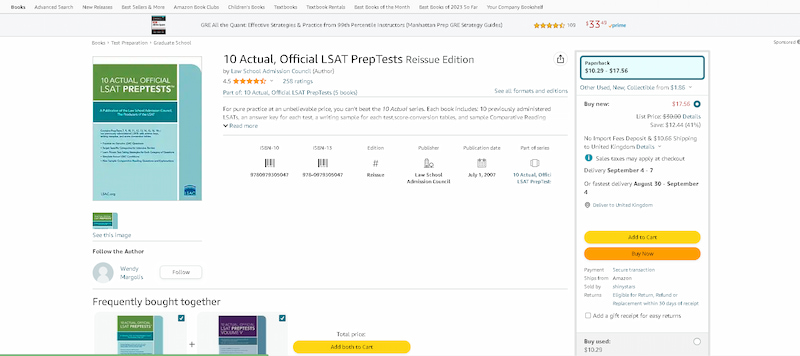 LSAT tutors and prep experts frequently advise students to use official PrepTests in their study regimen. They emphasize the unparalleled authenticity these tests offer, making them foundational resources for LSAT prep.
The very fact that these are actual, official LSATs makes them unique. Students can confidently know they're practicing with the same level of difficulty, nuance, and question style they'll encounter on test day. It's the closest one can get to the LSAT without actually taking the official exam.
FAQ
What are the best books to study for LSAT?
In my experience, The PowerScore LSAT Bible Trilogy, The LSAT Trainer, and the 10 Actual, Official LSAT PrepTests offer the most comprehensive preparation.
Are LSAT prep books worth it?
Absolutely! Investing in a good LSAT book can offer structured guidance, strategies, and practice, enhancing your chances of a high score.
How many LSAT books should I study?
It varies by individual, but typically 2-3 comprehensive books, including one for strategies and another for practice tests, should suffice.
How long should I study for the LSAT?
Plan for 3-6 months of dedicated study, devoting 20-25 hours per week for thorough preparation.