Navigating through the labyrinth of LSAT prep options, my experiments have shown that Blueprint or TestMasters stand out. When considering your study journey, factors like cost, accessibility, and educational value are paramount.
My experience with both platforms has enabled me to compile this concise yet informative guide to aid your decision-making process. Before getting to the end of this review, you'll be armed with the insights needed to select the ideal LSAT prep companion for your journey toward a top-tier score and a coveted law school admission.
Overall Comparison: Detailed Verdict Right Off the Start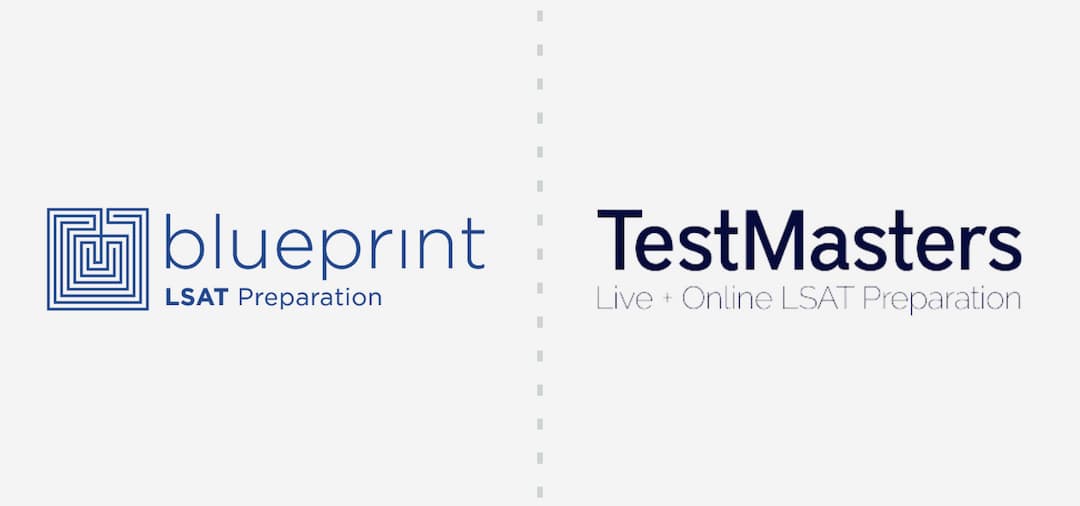 Deciding on the best LSAT prep course can be daunting, yet crucial for your legal career aspirations. From the outset, I want you to know that I've dug deep into both platforms. For those who prefer individual evaluations, we have detailed reviews of both Blueprint and TestMasters.
Our detailed reviews are here to guide you through this crucial decision. I've put these platforms under the microscope. From pricing comparison to the quality of learning, I have dissected these platforms to provide you with an easy-to-digest analysis.
Additionally, a head-to-head evaluation of LSAT books ensures you have the best resources for success. But as with any choice, some downsides deserve attention. This review uncovers the main disadvantages of Blueprint and TestMasters, rounding out a well-rounded perspective.
As a discerning student, you're likely seeking an immediate verdict. But don't worry; I'm offering a crystal-clear overall assessment right from the start.
The main differentiator between TestMasters vs Blueprint LSAT are:
Blueprint uses a more self-paced environment approach to learning, whereas TestMasters uses a more structured environment approach.
Test Masters LSAT offers Video and Written Explanations, while Blueprint relies on video explanations.
While TestMasters provides a diagnostic score tool and an LSAT search engine, Blueprint provides personalized study programmes, interactive modules, and adaptive assignments.
Test Masters' courses cost $1,275 to $1,875, while Blueprint's start at $299 monthly and run up to $5,399.
Key Features of Platforms for Students
Comparison table of Blueprint vs TestMasters
| | | |
| --- | --- | --- |
| Key Features | TestMasters | |
| Practice Exams | 20 digital exams in Private Tutoring | Over 85 digital exams |
| Official Questions | 9,500+ questions | 9,000+ questions and explanations |
| Explanations | Video and Written Explanations | 300+ hours of video explanations. |
| Search Engine | Search engine for specific subjects | – |
| Personalized Study Plan | Provides Private Tutoring | Offers a Personalized Study Planner |
| Live Review Sessions | – | Offers additional hours of live review |
| Academic support | 24/7 Academic support from a network of instructors | – |
TestMasters offers live online and in-person classes, plus private tutoring, but lacks self-paced learning, which is popular now. It packs 9,500+ practice questions, 20 digital LSAT-style tests, and top-tier instructors. They provide lessons, written explanations, videos, and a helpful LSAT search engine. Their 24/7 academic support and score improvement guarantee of 10 points is impressive.
Blueprint stands out with its engaging approach, using animations to explain tricky concepts creatively. With 98th percentile instructors, it crafts personalized study plans and offers intelligent analytics, tailored tests, interactive modules, and free live reviews. Game features add a unique touch.
Blueprint's options include live online and in-person classes, private tutoring, self-paced prep, and single-section tutoring. Their 11-point increase guarantee applies to classroom courses, relying on the group dynamic.
Both platforms have robust features. TestMasters' extensive resources and remedial classes for score guarantees provide a comprehensive approach. Blueprint's animation-based, engaging style and various instructional modes offer a dynamic learning experience.
Blueprint: How Is it Better Than TestMasters?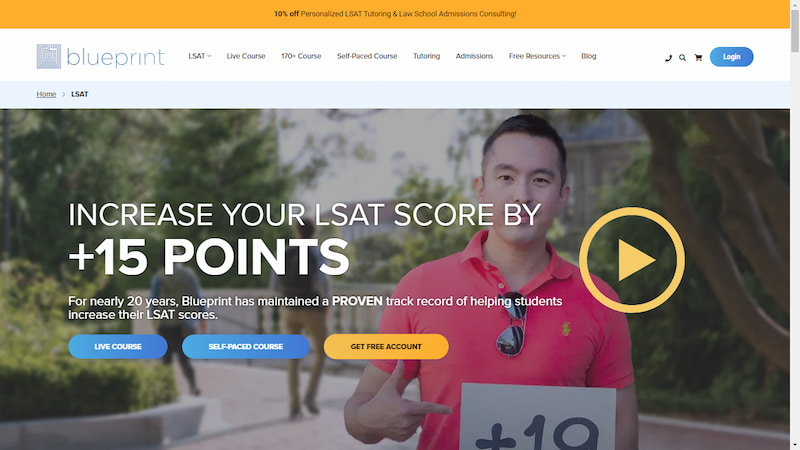 Having delved into both TestMasters vs Blueprint LSAT offerings, my experiences highlight distinct advantages of Blueprint that make it a preferable choice. With over 85 practice LSAT exams housing a whopping 9,000+ questions, Blueprint ensures ample material to sharpen skills.
Personalized study plans provide tailored guidance, a game-changer compared to TestMasters. Interactivity is paramount; Blueprint's modules offer assessments to gauge your progress, optimizing learning. Adaptive homework caters to my level, streamlining preparation effectively.
Live online review sessions and unlimited access to proctored exams stand out. This sets Blueprint ahead in practicality – crucial for honing exam-taking skills. In contrast, TestMasters falls short in these aspects, lacking Blueprint's dynamic approach. Blueprint's dedication to interactive, personalized, and practical learning makes it my preferred choice. My journey with both revealed Blueprint's edge in optimizing LSAT readiness with its comprehensive features.
In hindsight, Blueprint's comprehensive resources, personalized approach, and practical exam simulations stood out as unbeatable. My experience has demonstrated that Blueprint is better poised to empower LSAT aspirants like me to excel and achieve their goals.
TestMasters: How Is it Better Than Blueprint?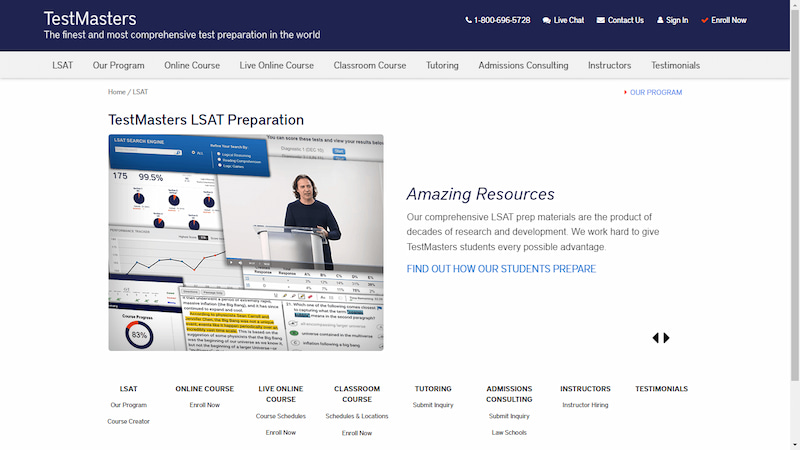 In my experience comparing Blueprint vs Testmasters case, I found that TestMasters offers diverse advantages for LSAT test preparation. With 20 digital practice exams, it's easy to pinpoint weak areas and strategize improvement. The treasure trove of over 9,500 official LSAT questions is indispensable for mastering the test format. What sets TestMasters apart is their written explanations—detailed insights into LSAT questions and practice tests that enhance understanding.
Their diagnostic scoring tool is a game-changer, simulating actual exam conditions for better results. The LSAT search engine is helpful, letting you find questions by topic. Plus, the round-the-clock academic support is a lifeline when you need guidance.
While Blueprint LSAT also has strong features, TestMasters shines. With TestMasters, I accessed a wealth of practice material, analyzed my progress, and received personalized guidance. The interactive modules and adaptive homework ensure tailored learning, boosting my confidence. The access to live online review sessions and proctored exams with automated scoring sealed the deal for me.
In my opinion, TestMasters' comprehensive resources, personalized approach, and expert support make it the go-to choice for anyone aiming to ace the LSAT.
Pricing Comparison
Having assessed both platforms, I find scrutinizing their pricing options vital. It aids in making a well-informed choice that aligns with my budget and needs. My experiments have shown that while Blueprint LSAT might offer certain features, Test Masters has a more controlled pricing structure.
In my experience, evaluating the costs lets me avoid overspending and ensures I invest in a course that provides excellent value without straining my finances. Pricing emerged as a major criterion influencing my choice between TestMasters vs Blueprint LSAT prep course during my tests.
Blueprint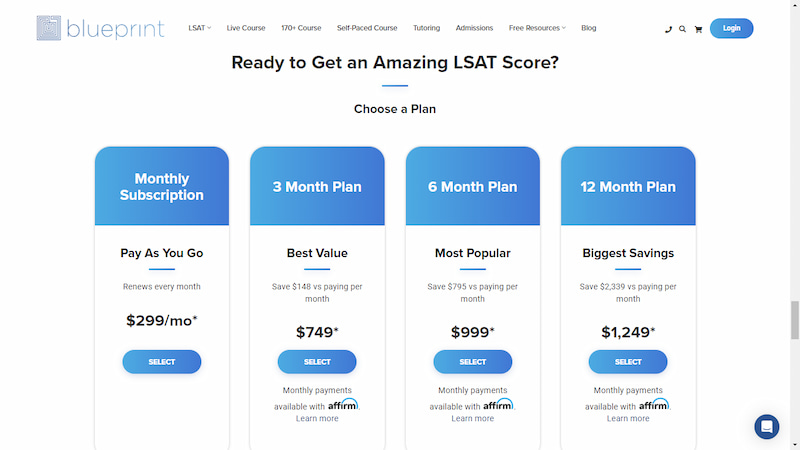 When comparing TestMasters vs Blueprint LSAT Prep, I found that Blueprint offers a comprehensive range of content but comes with a matching high price. The Blueprint subscription model starts at $299 a month (Self-Paced Course), which might be expensive if you plan to study for the LSAT over a more extended period. The access duration ranges from 6 to 12 months, with discounts available for those who pay for several months upfront.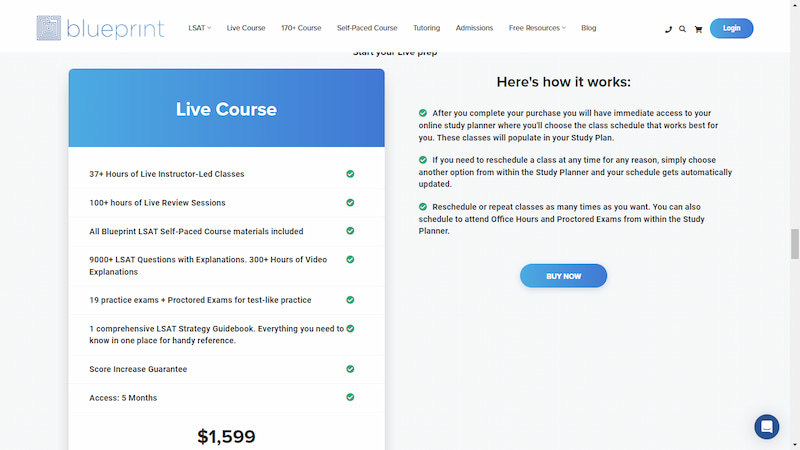 Moving up the tiers, Blueprint's Live course is quite pricey at $1,599, and their tutoring package starts at $2,299 for the Single Section. However, both of these higher-tier options include the initial Self-Paced Course.
Considering different budget ranges, Blueprint aims to cater to diverse needs. While the costs can be high, the quality of the material justifies the price. It's essential to weigh the benefits against personal finances and the LSAT timeline before deciding.
TestMasters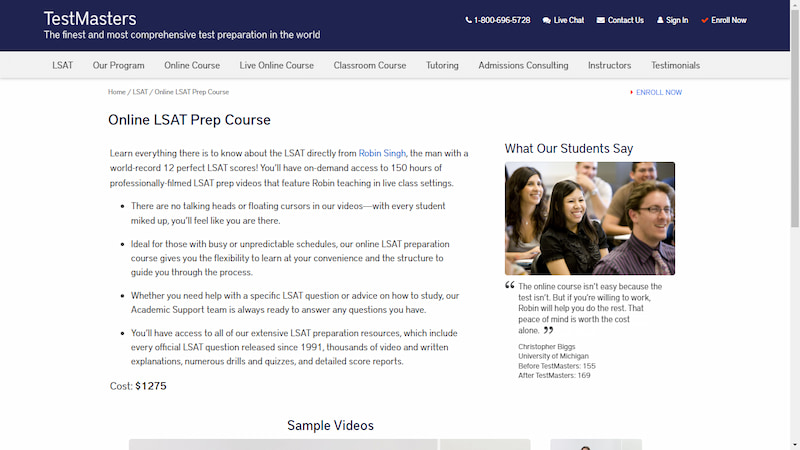 I've been looking into Testmasters LSAT prep options, and let me break down the pricing for you. They offer different packages, each with its own cost. The Online Course starts at $1,275.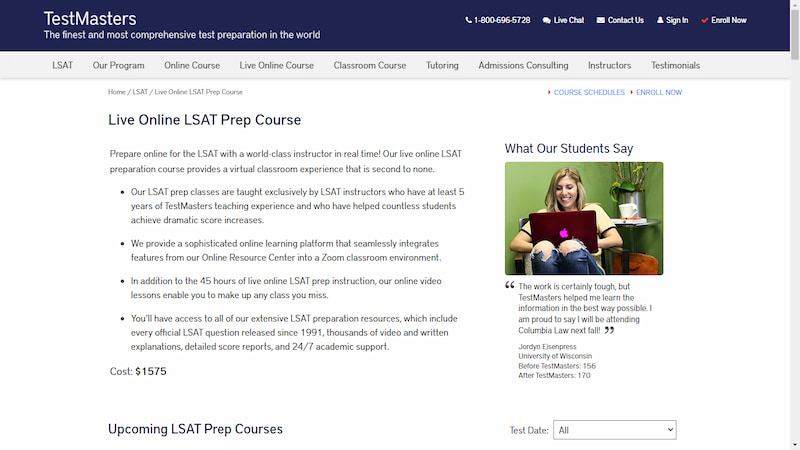 If you're looking for more interaction, there's the Live Online Course, priced at $1,575, which is close to what Blueprint charges for their Live course.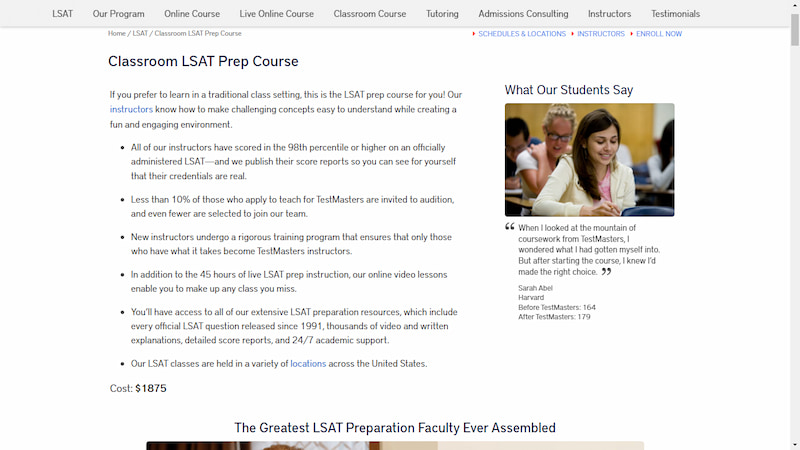 But here's the exciting part: Testmasters offers a Live Classroom Prep Course for $1,875. This is pretty affordable compared to personal LSAT tutoring. It's great to have an in-person option without breaking the bank.
The pricing structure might challenge some students since there's no lower-priced entry point. Yet, if you're willing to invest, the Live Classroom option seems like a solid deal. Remember, different courses suit different folks.
Based on my research, Test Masters controls their prices, especially for a classroom-style experience. If you're ready to prepare for the LSAT, their pricing choices give you the flexibility to choose what works best for you.
Verdict On Pricing Options
After comparing TestMasters and Blueprint LSAT Prep, I've found that Blueprint offers an extensive content range but at a high cost. With Blueprint, prices start at $299 monthly for Self-Paced Course, which might be pricey for a longer LSAT study.
On the other hand, Test Masters provides various packages: Online Course at $1,275, Live Online at $1,575, and an affordable Live Classroom at $1,875.
While Blueprint offers quality, TestMasters keeps prices controlled, giving flexible options. Different courses suit different people, so that the Live Classroom could be a solid deal. In my experience, considering budgets and preferences is vital before deciding.
LSAT Material Quality and Value for Money
Through my trials, I discerned the paramount significance of scrutinizing quality and value before committing. Alas, value extends beyond cost. It entails the fusion of robust learning experiences and cost-effectiveness. Pursuing educational excellence requires an astute evaluation of these facets to ensure an enriching and prudent investment.
TestMasters LSAT
In my experience, TestMasters LSAT offers top-quality learning and great value for money. Their incorporation of full-length digital practice tests in LSAT-style formats gives real test exposure.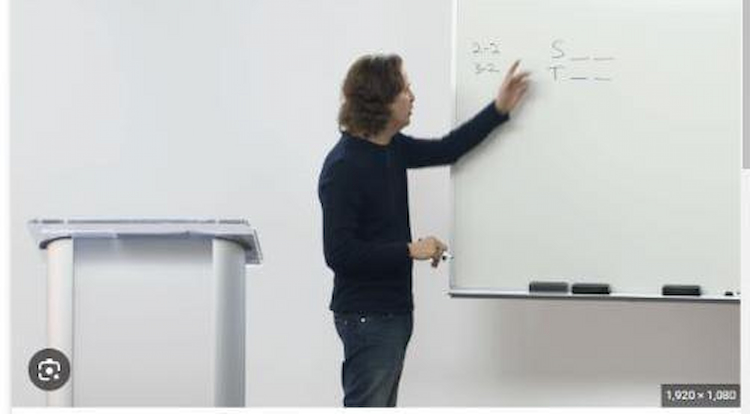 The 20 diagnostic practice tests are gold, pinpointing strengths and weaknesses through detailed score reports. The curriculum's breakdown of question types and practical problem-solving diagrams are highly effective. Notably, Robin Singh, an LSAT expert with 12 perfect scores, teaches many video lessons, sharing his winning strategies.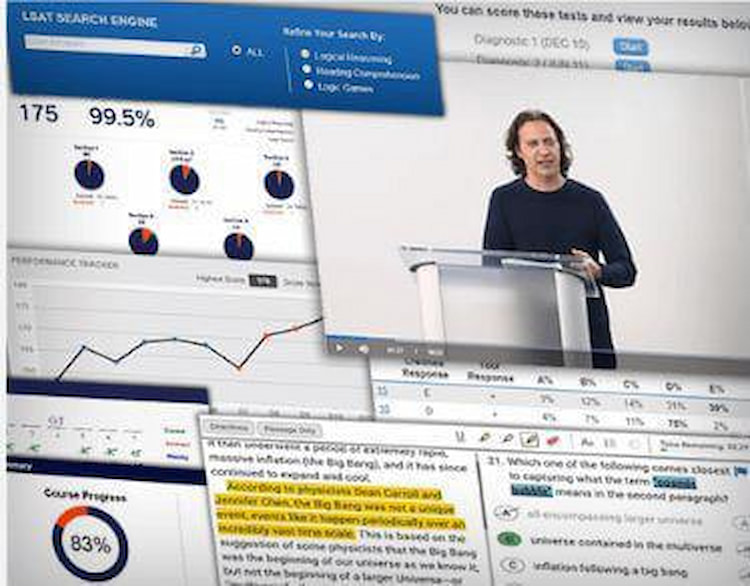 At TestMasters, lessons are engaging and practical. The digital practice tests align with the LSAT's new format, enhancing familiarity. The diagnostic tests provide immediate insights, enhancing focused study. The curriculum's detailed breakdown helps understand diverse question types.
The hands-on approach through diagrams demystifies solving methods. Robin Singh's presence brings expert techniques to your screen, giving you a competitive edge. Test Masters provides a comprehensive, strategic, and valuable LSAT preparation experience.
Blueprint LSAT
In my exploration, Blueprint LSAT emerged as a standout choice for quality learning and value for money. With a remarkable array of 85 LSAT-style practice exams and over 8,500 questions, it's a treasure trove for honing skills. The customizable practice sets proved indispensable for effectively targeting weaknesses.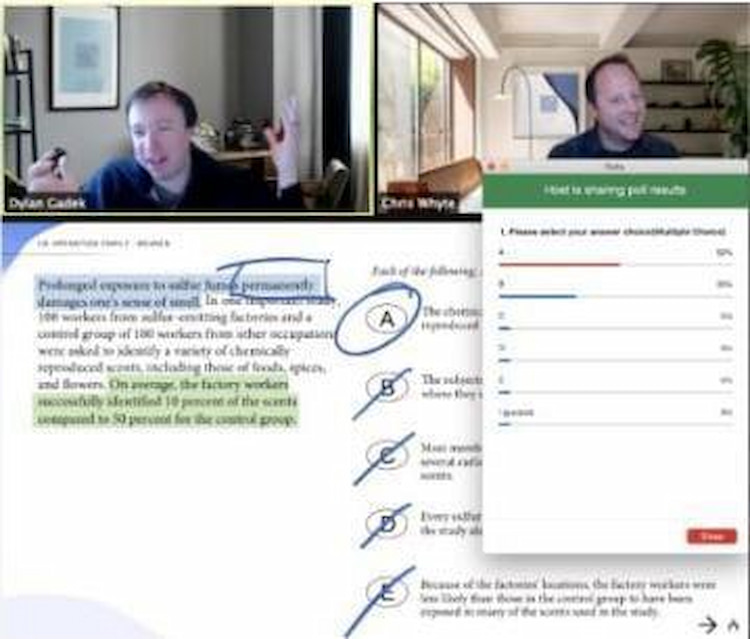 Engaging videos rich in visuals form a core part of their strategy-building approach. The free online review sessions, guided by expert instructors, adeptly dissect concepts and tackle test obstacles. The adaptive smart homework analytics and interactive modules bolster learning retention.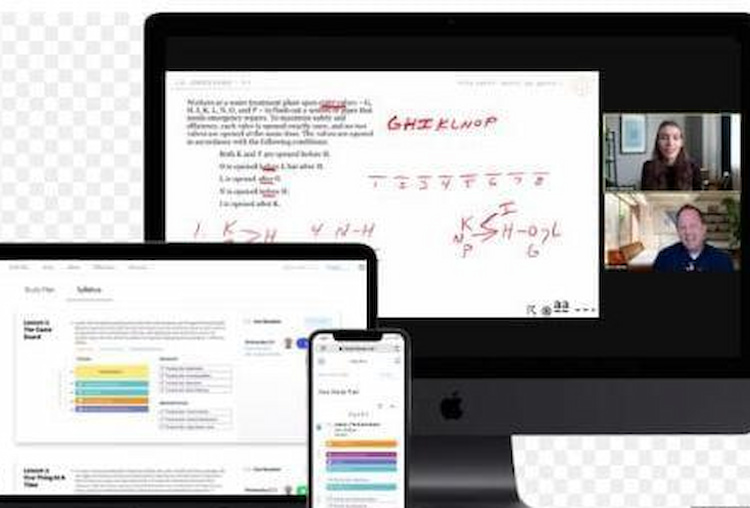 Blueprint LSAT's instructional approach shines with top-tier instructors and specialized tutors, ushering students with essential tips and tricks. Exclusive private tutoring, detailed explanations, performance tracking, and proctored exams add substantial value.
Despite potential improvements like a mobile app and pricing adjustments, the platform offers unmatched learning cohesion. Lessons are skillfully presented through immersive videos, expert-guided reviews, adaptive homework analytics, and interactive modules, paving the way for LSAT success.
Who's Better?
TestMasters excels with LSAT-style practice tests, detailed diagnostics, and practical video lessons from LSAT expert Robin Singh. The hands-on approach and helpful diagrams demystify problem-solving. On the other hand, Blueprint LSAT stands out with a vast array of practice exams and questions, customizable sets to target weaknesses, engaging visuals, and expert-guided review sessions.
Their adaptive homework analytics and interactive modules enhance learning retention. While both have strengths, Blueprint LSAT's comprehensive approach with top-tier instructors, specialized tutoring, and performance tracking offers remarkable value. However, potential improvements in pricing and a mobile app could further enhance the experience.
LSAT Books Comparison
When I compared LSAT books from TestMasters and Blueprint LSAT, my experiments revealed crucial insights. During my tests, I observed that a detailed LSAT book comparison is vital before choosing. It ensures a tailored fit for one's learning preferences and goals. In my opinion, delving into these options helped me make an informed decision, aligning my studies with the resources that resonated best for me.
Blueprint LSAT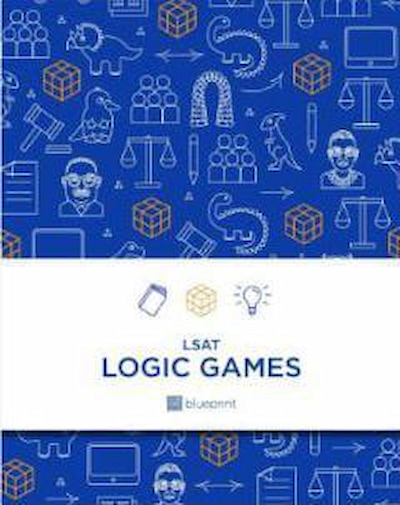 In my experience, comparing LSAT prep books from Blueprint has been quite insightful.
I've found their Logic Games eBook to be a powerful resource for conquering the challenging Logic Games section. It's evident that Blueprint understands students' apprehensions towards these games and has crafted a guide that simplifies the learning process.
Their LSAT Strategy Book complements their live courses, offering concise explanations and expert approaches. This resource is like a trusty companion, reinforcing strategies and being a handy reference. The connection between Blueprint's various resources is remarkable, ensuring a holistic approach to LSAT preparation.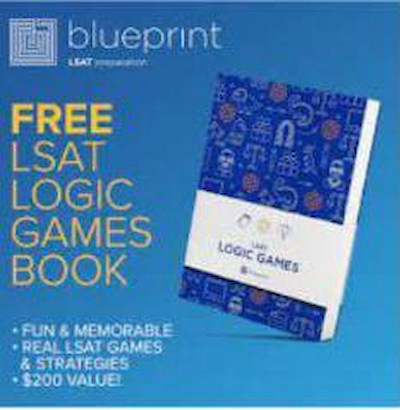 Including actual LSAT questions, expert insights, and Blueprint's unique methodology makes their materials effective. Whether it's Logic Games, Logical Reasoning, or Reading Comprehension, Blueprint provides the tools to excel.
I found their approach valuable as a student and test taker aiming for a high LSAT score. Blueprint's comprehensive materials and method can significantly enhance LSAT readiness.
TestMasters LSAT
The Test Masters LSAT Course Manual is priced at $299.99. This manual covers all LSAT sections, including Critical Reading, Logical Reasoning, and the challenging Logic Games.
It also includes a thorough Writing Strategy Review for enhancing essay scores. This manual complements Test Masters Classroom, Private 1-on-1, or Online courses. Buying it separately offers benefits but lacks support. Yet, Test Masters offers extra tutoring for covered areas at an additional cost.
Enrolling in a related course within six months of manual purchase earns a $200 credit. Comparing this manual to others, it stands out for its comprehensive coverage and tie-ins with live courses. I found its structured approach helpful in grasping LSAT concepts effectively. The option for additional tutoring adds flexibility.
Verdict
In my journey to conquer the LSAT, I've explored different prep books. Blueprint LSAT Logic Games eBook simplifies challenging games, while the LSAT Strategy Book offers expert approaches. Actual LSAT questions and Blueprint's unique methodology make their materials effective.
From Logic Games to Reading Comprehension, Blueprint equips you for success. I've found their approach invaluable as a student aiming for a high score. Blueprint's comprehensive materials and method enhance LSAT readiness significantly. In my experience, Blueprint LSAT is the best choice, paving the way to success.
Main Disadvantages of the Platforms
I've uncovered notable drawbacks after testing both Testmasters LSAT and Blueprint LSAT platforms. To make an informed choice, checking user reviews is crucial. Reviews provide insights into real users' experiences and highlight recurring issues.
Whether Testmasters' confusing layout or Blueprint LSAT's high costs, these firsthand accounts help you sidestep potential pitfalls. Before committing, my advice is clear: consult those who've tread this path before for a smoother journey towards LSAT success.
Blueprint LSAT
Based on my experiences, I've found several critical drawbacks to the Blueprint LSAT prep platform. One significant issue is the absence of a dedicated mobile app, limiting on-the-go accessibility. Moreover, the pricing is notably higher compared to other options.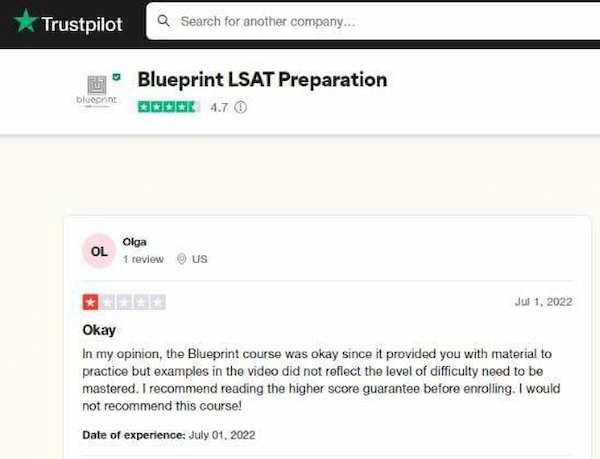 Feedback on Trustpilot also echoes concerns. One user highlighted that video examples lack the required difficulty level, and the course's humorous approach can overshadow content delivery.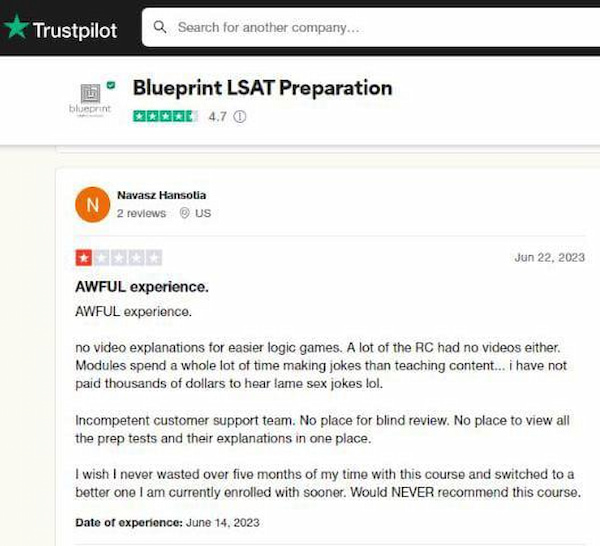 Another user criticized the lack of video explanations for more accessible logic games and reading comprehension segments. The customer support was seen as lacking competence, and the absence of anonymous reviews and a centralized platform for all prep tests and explanations was disappointing. Blueprint LSAT needs to improve mobile support, pricing, content quality, customer support, and review features, making it less appealing to prospective users.
TestMasters LSAT
In my experience with TestMasters LSAT, I found several notable drawbacks. The platform needs more user-friendly navigation and often feels cluttered, making it challenging to find what you need. Another downside is the limited course access duration, which might not suit those who want to start early or need more time to study.
TestMasters lacks a dedicated mobile app, reducing flexibility and portability compared to some competitors. It's disappointing that there needs to be an option to preview online features before purchasing the course.

I've also received feedback from a Yelp user who mentioned TestMasters' inflexibility during extraordinary circumstances, like the pandemic, by refusing an extension without an additional cost. This approach contrasts with companies that prioritize customer support during challenging times.
FAQ
Is TestMasters better than Blueprint?
In comparing TestMasters and Blueprint LSAT, my experience has shown that both options have merits. I found TestMasters to provide comprehensive materials and personalized support during my tests. On the other hand, Blueprint LSAT impressed me with its engaging online platform and interactive lessons. Deciding between them depends on individual learning preferences and goals. While TestMasters focuses on in-depth content, Blueprint LSAT offers a tech-savvy approach.
Is Blueprint worth it for LSAT?
When I considered whether Blueprint LSAT was worth it, I embarked on a journey of discovery. My experiments have shown that Blueprint offers a refreshing approach to LSAT prep. With engaging lessons and personalized support, I realized my skills were improving. Its interactive methods kept me engaged during my tests, making learning smoother. The investment in Blueprint LSAT proved valuable in enhancing my LSAT performance.
Is TestMasters good for LSAT?
TestMasters has proven to be effective for LSAT preparation. During my tests, it showed positive results. The program offers comprehensive materials and strategies that helped me grasp key concepts. The guidance and practice exams were valuable. My experiments have shown that TestMasters is a solid choice to enhance LSAT performance.
Which test prep is best for LSAT?
In my experience, comparing TestMasters and Blueprint LSAT, the best test prep depends on your learning style and preferences. Through my experiments, I realized that TestMasters offers a structured approach with extensive materials. On the other hand, Blueprint LSAT focuses on interactive online learning, engaging content and personalized support. Your choice should be based on what suits your studying style and goals.