A lot of students consider looking online for prep courses. This is how most of us learn in today's world. But they often question whether they are worth the time and effort.
There are even a lot of fraudulent companies out there. Our answer would be yes; online prep courses are worth your time and effort if you find a good one.
Online prep courses are an excellent way to study before tests to ensure you feel confident and know the subject well.
They provide you with all the materials and practice questions you need to achieve a good score. This is a great way to learn if you want to boost your grades or find you do not have much help at school.
Looking for a comprehensive platform to connect with investors and raise capital for your business? Don't miss out on the opportunity to bring your vision to life – check out EquityNet review today and see how crowdfunding can help you achieve your business goals.
If you have already searched for online prep courses, you have probably noticed that there are hundreds. Of course, some are better than others. That is why we are here.
We have performed an in-depth review of popular companies so that you do not have to waste your time and money.
This includes looking at every aspect of the organization to get started on learning straight away and making short overview videos like the one below:
You may be thinking, is Kaplan legit? Do they offer good test prep materials? Does Kaptest have the best online GRE prep course online?
Well, we are going to answer this. We have performed Kaplan reviews and comparisons with other companies to learn more about this organization and what you can expect from its materials.
Also, read this Kaplan Schweser vs Wiley CFA comparison if you are interested in CFA prep courses.
From Kaplan MCAT reviews to analyzing their customer service response times, we have all the details you need right here.
So, let's get started with these Kaptest reviews right now.
Kaplan Overview
Kaplan is one of the biggest companies when it comes to online prep courses. You may have heard of them already.
They have a long-standing reputation, and certainly, we see a lot of positive feedback from students on this one. For example, the Kaplan ACT prep course reviews are trendy.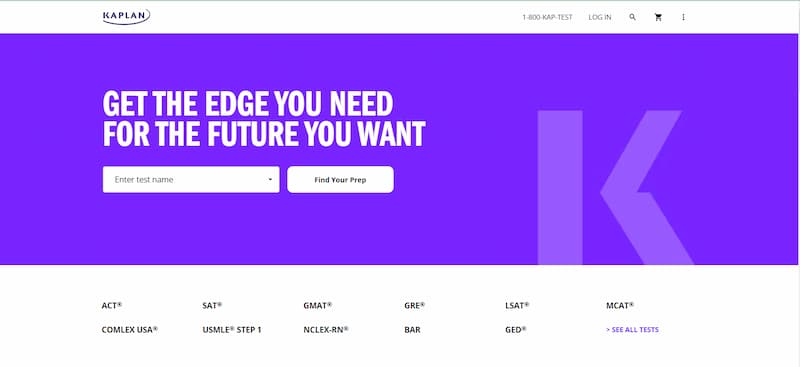 The way the company works is simple. You choose the course that you want to study, and you pay for the content.
You are given a certain amount of time to access it before your exam. You work through it as instructed by the guide or by a teacher.
There is a good range of services offered by Kaplan. This includes SAT, GRE, ACT, and even college admission services.
You can enjoy over 90 different exams in a variety of formats. Kaplan offers instructor-led courses to their students. These are called Live Online courses.
There is also the Self-Prep course, which means that you work through the materials at your own pace and independently. This includes videos on demand and materials you can view online and offline.

An interesting aspect to know is that Kaplan guarantees a better score for its courses. Their money-back guarantee means that they will give you your money back if you do not improve your score after completing their courses.
This means they have faith in their materials and that they are designed to improve your score. A lot of students will feel this is a good sign about a company if they offer this.
With many fraudulent websites out there, many students worry that this company is not legit or safe. The good news is that Kaplan is very safe to use.
They are a well-known company, and we have tested their website. There is nothing to download, and since you are viewing the content online, there is no risk of malware or other computer issues.
During our ACT Kaplan online prep live reviews, we experienced no problems, and our other course reviews were good too.
So, you should have nothing to worry about when it comes to computer viruses or other technological problems.
Story of Kaplan
Kaplan was founded in 1938 and has expanded to be one of the most popular online prep course companies. They have services in over 36 countries and help 2.1 million people with their education every year. They believe in providing education around the world.
They want to grow knowledge, create opportunities, and encourage empowerment. The company was created by Stanley Kaplan, who used to tutor students before he started providing prep courses online.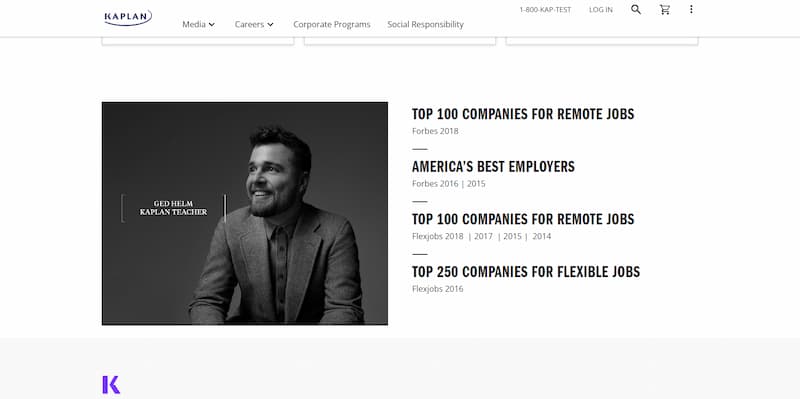 Kaplan Courses
There are a lot of courses offered online. This is great and can provide various students with the help they need to succeed.
We have conducted everything from Kaplan SAT prep course reviews and Kaplan NCLEA review reviews to Kaplan LSAT prep reviews. Are you trying to decide between PrincetonReview vs. Kaplan LSAT test prep? Our in-depth comparison will help you make the right choice.
We will share some of the most popular ones with you so that you can know what to expect.
Then we have our Kaplan ACT prep reviews. We looked forward to this one since this course has good student reviews.
Our ACT Kaplan online prep live review found that you could get the guidance you need at a price. You can choose to prep with a teacher or on your own.
With a teacher, you can learn from class live streams and even online tutoring; you can choose the best way to learn. Of course, learning on your own also has its advantages.

For example, you can work at your own pace. Our Kaplan ACT prep reviews suggest the independent course if you watch the money.
If you have more to learn, you can select the teacher. Again, our Kaplan ACT prep review was a success.
Kaplan GRE Prep Course Review
Let's start with our Kaplan GRE test prep reviews. We wanted to see if the value of this course matched the quality. We were impressed with what we found.
In our Kaplan GRE reviews, there were lots of archived videos you could watch to learn. There were 1809 hours of video on the self-paced course.
When you chose that package, there were also seven full-length practice exams and live tutoring five days a week.
If you pay extra, you can access the Qbank. This is full of quizzes with 2500 practice questions. You can test yourself in timed mode or learn in tutor mode.
Overall, our Kaplan GRE course reviews were a success, but comparing Magoosh vs. Kaplan GRE, Magoosh wins here. Check our Magoosh review if you need more clarification.
The Kaplan GMAT test prep reviews found that the material can help to boost your score. A study plan and resources were available as a GMAT channel and the adaptive Qbank.
Please read our detailed comparison of Kaplan GMAT and Manhattan Prep courses.
The courses mean you can enjoy nine full-length practice tests, over 140 hours of online instruction, and 5,000 practice questions. That is a lot of good material, and we are convinced you can improve your score by studying with it.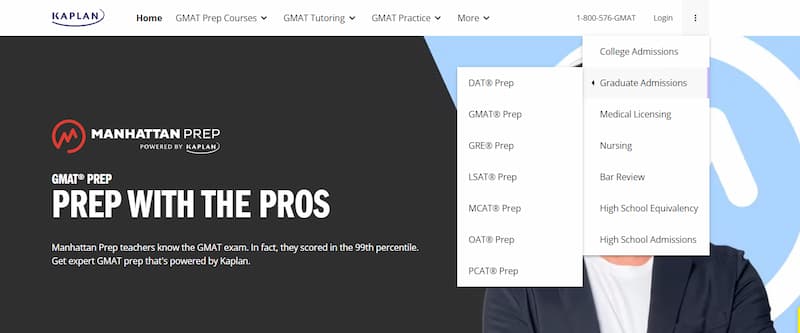 We also completed the Kaplan LSAT prep course reviews. We like the fact that you can enjoy personalized study plans. This will give you everything you need to get started.
Our Kaplan LAST test prep reviews found you can work through a vast content library. We are talking about 7,500 questions, 775 quizzes, and 70 hours of video.
You can enjoy live instructors if you want to learn this way and have one-on-one support.
You will benefit from reading our Kaplan NCLEX reviews if you want to be a nurse. Students can use the study plans to organize their work and watch over 300 videos discussing essential nursing topics. There are even a 500-page eBook and 2,1000 questions if you choose Qbank.
Moreover, there are three full-length computer-adaptive tests and live channel lessons. This is everything you need to pass your exams.
Our Kaplan NCLEX prep reviews did not reveal anything we did not like. We were impressed with the wealth of information, and after our Kaplan NCLEX course reviews, we would recommend it.
Last but not least, we have our Kaplan MCAT test prep reviews. With the help of MCAT experts, you can improve your score or receive your money back.
There were up to 700 hours of instruction available. There were even 16 full-length practice tests. This is the most we have seen compared to other companies.
Using all of this material can help you feel more confident and know you can pass your exams. Everyone learns differently, but a mix of material offers everyone something.
Next was our SAT Course review. We also compared SAT prep Kaplan vs. Princeton Review, and Kaplan came out on top.
They offered a lot more material for learning students. This includes eight full-length practice tests, video tutorials, and 1000 practice questions.
Our Kaplan SAT prep reviews revealed this is one of their most popular courses. When you choose the live review sessions, you can be taught by teachers who have scored in or above 90t percentile on the exam.
Thus, our team thought Kaplan came out on top regarding Kaplan vs. Princeton Review SAT.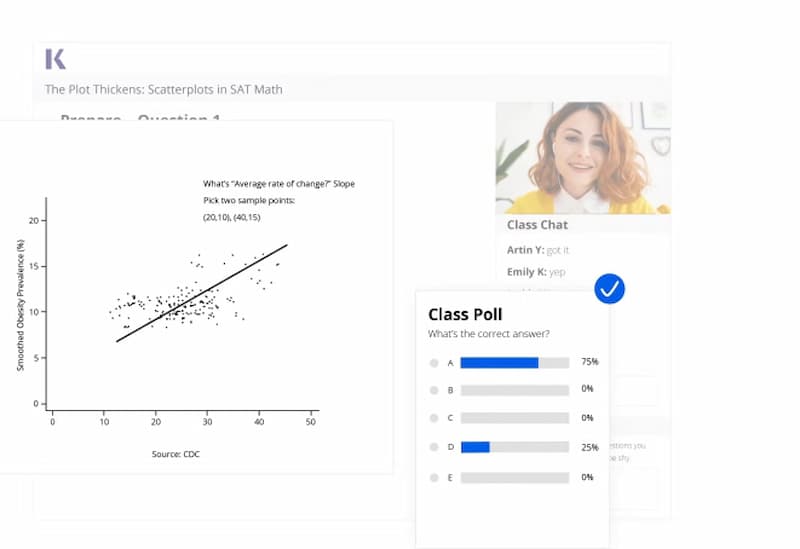 Kaplan also has FRM courses, so we've compared Schweser and BionicTurtle regarding FRM prep.
Pricing of Kaplan's Courses
During our Kaplan test prep reviews, we had to take a look at the price. This is often a big factor for students that are on a budget. It is also about value for money too.
We found that the company charges quite high prices for their services. For example, in our Kaplan vs Princeton Review MCAT comparison, we concluded that the courses were very different.
We noticed a big difference between the prices of courses online at this company. For example, during our Kaplan MCAT prep course reviews, we noticed a $700 jump from the Self-Prep course to the Live Online course.
While you can expect more of an individualized experience, this is quite a price jump, and not many students will be able to afford this.
One way you can cut the price down is to purchase individual materials. This is an option for students and means they do not have to pay for the whole course if they do not need it.
Not many other competitors offer this, and we think it is good for students who have weak spots they want to work on. Read more in our Kaplan vs Manhattan Prep GRE comparison.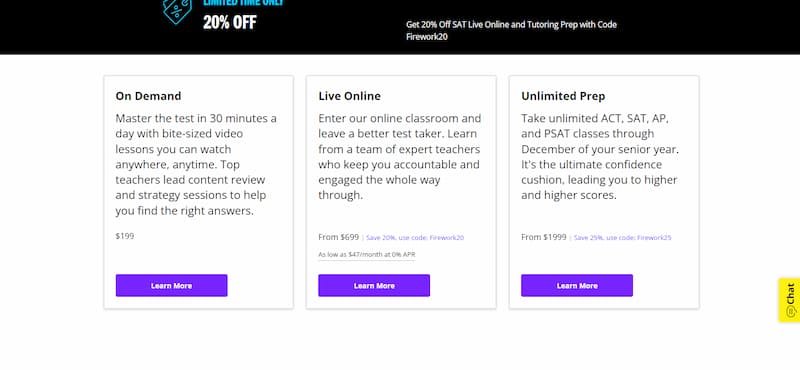 In addition, there can be special coupons and discounts available during the holidays. Watch out for them, and you can reduce the price of a course.
Here are some prices for courses you may be interested in:
ACT self-guided from $25-$299 and instructor-led from $899-$1999;
GRE tutoring is from $2299-$4899, and courses vary from $449-$999;
GMAT tutoring is from $2499-$4999, and courses vary from $599 to $1249;
LSAT tutoring is from $2399-$4999, and courses vary from $799 to $1799;
MCAT tutoring is from $3699-$6899, and courses vary from $1799-$2499;
SAT tutoring is from $1999-$4599, self-guided from $25-$299, and other choices from $599-$1599;
TOEFL iBT self-paced course is $349;
The IELTS Online prep course costs $60, and the IELTS Live prep course costs $190.
We like that Kaplan offers a money-back guarantee for students. This is something that we like to see since it demonstrates they have faith in their materials, and it can give you peace of mind at the same time. To benefit from the money-back guarantee, you have to complete a test before you begin the course.
If you do not achieve a higher score than this, you will be able to receive your money back in full later on. This means you will not pay because you have experienced a score increase like they believe you should.
Quality of Courses at Kaplan
One of the most important things to look at during Kaplan online test prep reviews is the quality of the materials. This is essential so that students can pass on their examples.

Overall, we were impressed with the quality of the materials on offer. It was easy to read for all skill levels, which is an advantage over their competitors. They break down complicated ideas so that you can understand the concepts.
They also show examples of how to apply these concepts in different scenarios. This all contributes to a better understanding.
A lot of the practice tests are based on real ones. So, you can practice questions ahead of time and build your confidence. You can also get used to the time it takes to complete a paper and receive a good grade.
Although it is interesting to note that some students believe the practice tests are more complex than the official ones. While this could lead to better performance, it could also negatively affect your score.

It is believed that instructors at Kaplan are experts in their fields. The admissions process is said to be strict and selective. This includes receiving a lot of training if they are successfully chosen and vetted.
They say that only 10% of candidates who apply become instructors. For example, ACT Kaplan online prep live reviews noted that it was only the best experts you would learn from.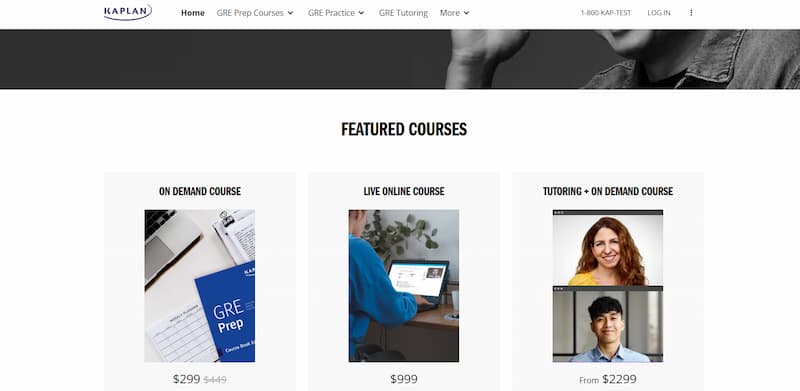 Kaplan has a lot of positive reviews from students. We struggled to find any real negative ones out there on independent review and rating websites.
They were impressed by the quantity and quality of the topics available, boasting about how they had helped them achieve academic success.
Customer Service at Kaplan
Fast and friendly customer service is essential for any company. During our Kaplan SAT prep reviews, we wanted to see if they were responsive. There are a lot of ways you can contact them if you have a question.
For example, you can speak to someone over the live chat function and send an email, message on Facebook, and a number you can call.
There is also the option to visit the Help Centre. Here you can find articles and FAQs to quickly find the answer to your query.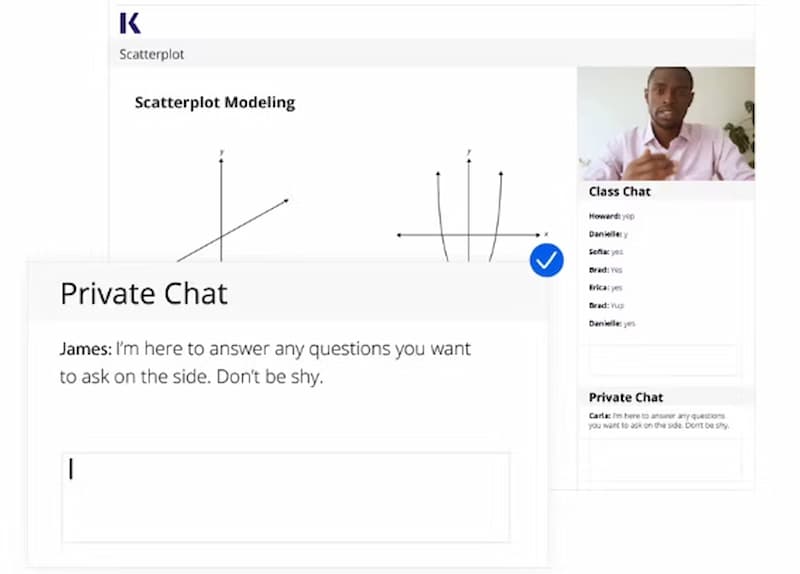 It is great to have so many ways to contact and speak to a team member at the company.
But despite our Kaplan SAT prep review, we noticed that many students were complaining about the customer service. They said they were slow to respond and, in some cases, did not receive an answer.
In addition, students reported that customer service representatives were not always helpful, especially regarding the guarantee. This is something to remember if you want to use Kaplan for online prep courses.
Kaplan's Website and Mobile App Usability
Every website that provides online prep courses has to be easy to use. Otherwise, students will struggle to learn and not enjoy their experiences. During our Kaplan SAT reviews, we analyzed the website.
We found it quite simple and a variety of ages will use it without encountering problems.
The main page is attractive, with moving images and a search bar being the first thing you see. There is an option to log in, and you can search through the different services but hover over the menu button.
We noticed that it was difficult to find out where the customer service was as if you were new and had a question you wanted to ask.
Kaplan does provide an app for students that are on the go. It is called the Brightspace Pulse App. But it does not appear that you can take tests. It seems that it is for viewing content offline, as well as a notification center.
For example, you can know when your test results are available or when there is news about your course. You can also see deadlines and key dates that you should know but needed to be reminded of.
It is free to download and available for iOS and Android devices. This includes mobile phones and tablets.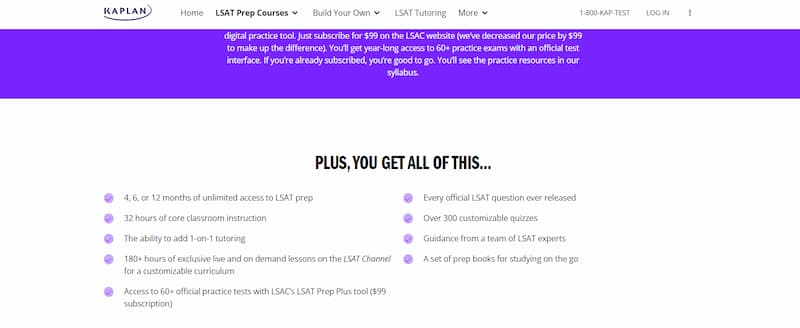 So, Is Kaplan Legit?

Is Kaplan worth it? Let's break it down. We will demonstrate some of the main pros and cons associated with Kaplan courses so that you can quickly see what to expect.
We have gathered these pros and cons from during our analysis, for example, during researching the Kaplan NCLEX review course reviews. So, is Kaplan good?
Pros
You can pay for individual components of a test prep course rather than the whole thing.
Extensive and quality materials are available for a variety of courses.
Instructors are vetted and go through a lot of training.
Easy to understand materials compared to competitors.
They offer more full practice tests than other companies – seven to eight compared to three or four.
They offer a score increase guarantee with their courses.
Cons
There is a big price jump between Live Online and Self-Prep courses.
Some of the practice tests may be harder than what you can expect on the official exam.
Large class sizes mean your questions might not be answered.
Some students say you cannot review what you got correct or wrong on a practice test.
Some complaints of outdated material.
Customer service is not responsive enough.