The Law School Admission Test (LSAT) is the surest route to prospective lawyers' ambitions in the intensely competitive field of law school admissions. A sharp intellect and a solid test-prep plan are necessary for acing the LSAT to kick start your career. With my experience, I present two titans of exam preparation: Kaplan vs. Princeton Review LSAT.
Unlike Magoosh and LSATMax, both Kaplan and Princeton Review are recognized for their academic excellence and LSAT prep knowledge, as they have guided many students through the challenging seas of this standardized test. You would find interesting learning options and comprehensive study materials from our independent reviews of the Princeton Review and Kaplan packages.
With similar test prep and packages composed of self-prep courses, live-online courses, boot camps, and book sets, you can ace your tests by getting any of the preparatory packages.
However, each has its approach, strategy, and strengths – this guide will compare Kaplan vs. Princeton Review LSAT to help you make a predetermined decision.
In case you are unsure which preparatory package to choose for your LSAT practice questions and classes, I am sure this guide has exposed the key features to help you make better decisions.
Nevertheless, a comparison table showcases the critical attributes of both Princeton Review and Kaplan LSAT prep courses.
Kaplan vs. Princeton Review LSAT: Overall Comparison
| | | |
| --- | --- | --- |
|  Feature | The Princeton Review | Kaplan |
| Score Guarantee | Present for 615 + | Score improvement guarantee: If your final score was lower than your starting point |
| Preparatory Course Offerings | Live online,  Self-paced, LSAT 615+, and LSAT 615+ Immersion | On-Demand, Live online, Bootcamp, Private LSAT Tutoring, and In-person classes |
| Physical Books | Yes | Yes |
| Personalized Study Plan | Present | Present |
Kaplan vs Princeton LSAT Courses
Now, I will distinguish between Kaplan and Princeton Review's two prep courses that share remarkable similarities.
Brand
Princeton Review
Kaplan
Course
Self-Paced LSAT Course
Fundamentals LSAT Course
On-Demand LSAT Course
LSAT Live Online Course
Price
$800
$1,100
$800
$1,200
Subscription Length
1 Year
1 Year
4 Months
4 Months
Videos
150 Hours
150 Hours
180 Hours
180 Hours
Practice Questions
8,000+
8,000+
2,000+
2,000+
Live Online Hours
Absent
30 Hours
Absent
32
Practice Tests
70
70
60
60
Books
Present
Present
Present
Present
Key Features of Platforms
Both education and how we learn have changed in the digital era, with different resources like Princeton Review vs. Kaplan striving to make learning easier for students. Adaptive learning is a remarkable quality that the Kaplan vs. Princeton Review LSAT systems provide.
These platforms streamline their courses to meet students' particular strengths and limitations because they embrace the idea that every student's path is unique. Their systems take every possible measure to make studying exciting and efficient, from thorough subject-by-subject breakdowns to thrilling video lectures that vividly illustrate complex ideas.
Here are some key features that can help you and other prospective law academy students choose either Kaplan or Princeton Review as your go-to option for LSAT prep and study materials.
Princeton Review: How Is It Better Than Kaplan?
I have explored several diagnostic test preparation resources, but some key features offered by Princeton Review LSAT make it eye-catching.
Course Content
The Princeton Review's LSAT preparation curriculum is awesome! Their study guides cover all the key subjects of the LSAT exam and are well-researched and professionally written. In my experience, the information in Princeton Review LSAT prep content was understandable, concise, and still sufficiently thorough to meet the exam's challenge.
I found an impressive number of videos covering live online and self-paced courses. Hence, Princeton Review's platform remains one of the best LSAT prep courses for students. While these videos may seem shorter, I have found them to be one of the most engaging preparatory courses.
The Princeton Review LSAT is unique in its ability to convey complex scientific ideas interestingly and understandably. The curriculum simplifies complicated subjects into manageable chunks rather than overloading students with jargon and complexities, making the learning experience more pleasurable and less daunting.
Again, the course arrangements of Princeton Review includes before and after class activities, which are outstanding – especially the practice tests. While studying, you can practice for the actual LSAT questions, as Princeton Review offers over 8,000 practice test questions that mimic the original exam you have ahead.
Books
Princeton's LSAT review and prep courses have books that are, undoubtedly, a treasure. Their well-chosen study materials provide a fluid flow of information, enabling students to establish a strong foundation and progressively move on to increasingly difficult ideas. The 5-book set is customized to a particular LSAT review portion, enabling thorough preparation for every part of the test.
These books' user-friendly layout is their strength – illustrational charts, diagrams, and graphs are added to the information to aid conceptual understanding further. Again, the writing style perfectly juggles being informed and conversational, transforming learning from drudgery into an engaging voyage of discovery.
Within the course software, these books are implemented to inform learners about the specific areas to read and when to do so. This undoubtedly helps people who choose Princeton Review LSAT to mark their progress.
User Interface
The platform of Princeton Review offers an impressive user experience. I love the fact that one can navigate through their online tools and course materials easily. Although some people may see it as "old school," it is straightforward to access specific study materials, monitor progress, and revisit subjects that have already been covered thanks to the clear structure and well-organized sections.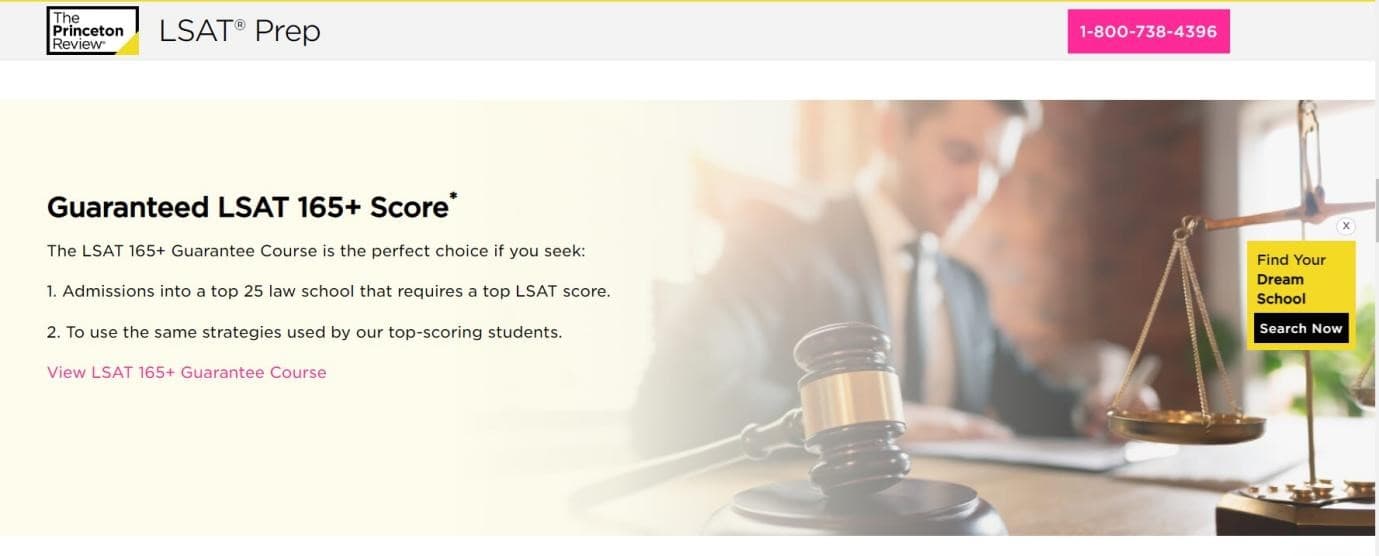 With interactive practice tests/mock examinations that mirror the genuine LSAT experience, Princeton Review's contents offer learners much ease. The user interface also offers a variety of customization choices, allowing students to adjust their study strategy according to their strengths and shortcomings.
Test Preparation Strategies
The brilliant test-preparation techniques the Princeton Review LSAT uses are its true gold. They employ novel strategies in addition to the customary drill of countless practice tests and questions to improve performance.
For instance, Princeton Review's curriculum strongly emphasizes ongoing self-evaluation and reflective learning. Students may efficiently focus on their areas of weakness by being encouraged to discover areas for improvement, leading to more focused and efficient study sessions.
Princeton Review's package comes with an LASC subscription (worth $99) that gets you official past LSAT problems. The Princeton Review also acknowledges the value of time management throughout the test. Hence, this resource focuses on developing time-saving procedures so students can get through the exam's difficult portions without feeling pressured.
Score Reports/Analytics
Princeton Review LSAT is a major game-changer in scoring student reports and statistics. Each practice test includes a thorough performance analysis that is quite helpful. It highlights advantages and disadvantages and pinpoints particular question kinds that are challenging. The analytics function gives students the power to fine-tune their study strategy and the assurance they need to face challenges head-on.
Students may track their development and celebrate their successes as they see their progress over time, encouraging them to work hard to achieve their objectives. Comparing Kaplan vs. Princeton Review LSAT, I felt the latter had a clearer reporting system that's easy to use.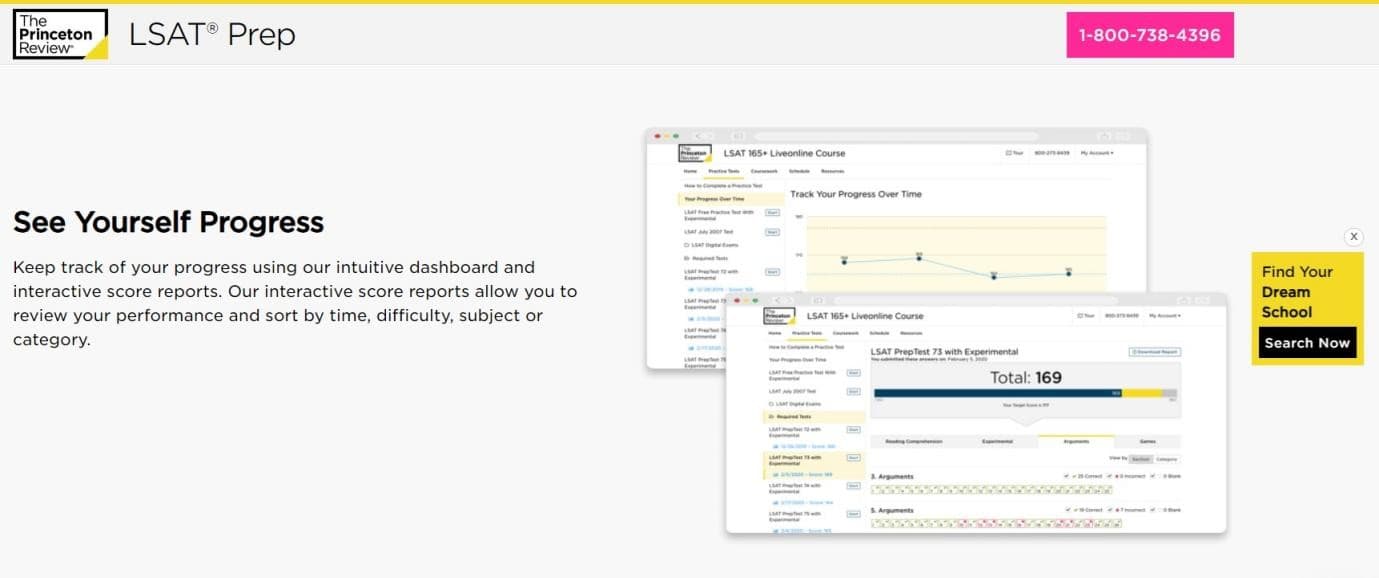 Kaplan: How Is It Better Than Princeton Review?
The following are some key features of Kaplan that make it one of the best LSAT test resources.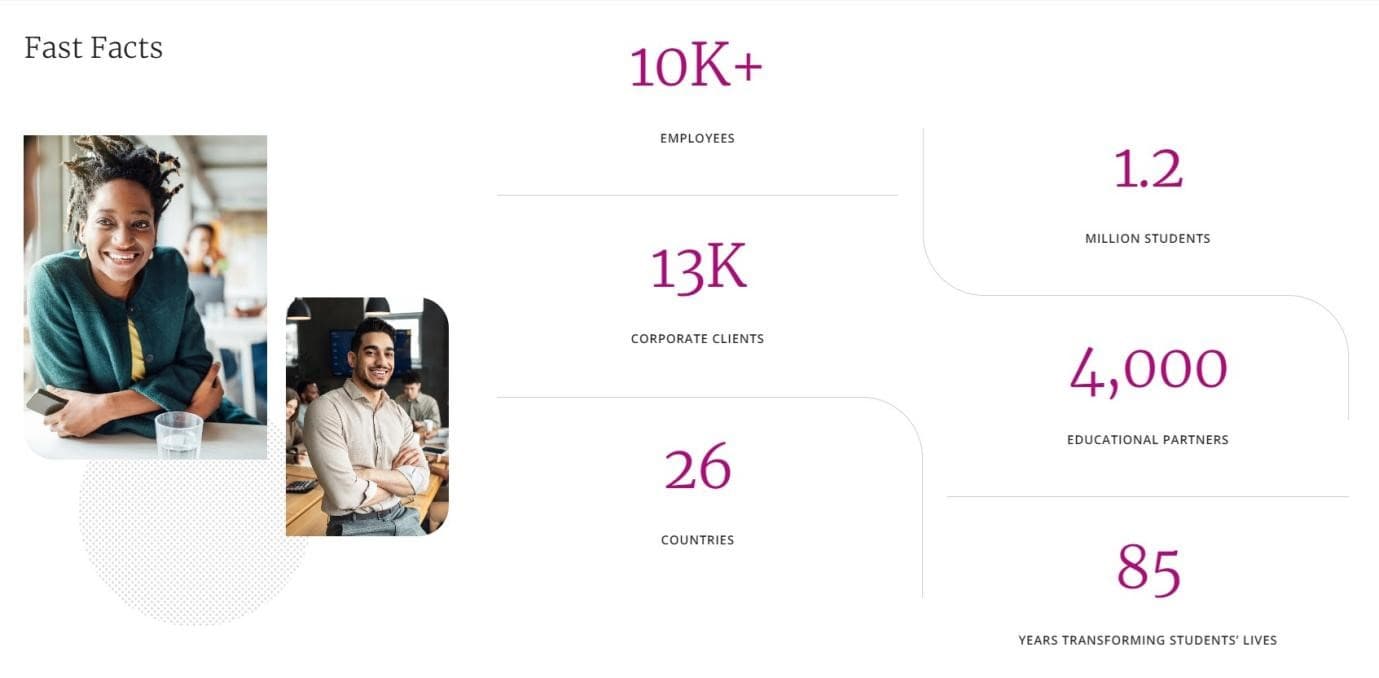 Course Content
I found amazing library materials that address all the crucial subjects needed for a law school test during my Kaplan LSAT study materials review. The wide variety of disciplines would meet the different learning demands of students. Also, complex topics were made more approachable by the content's straightforward presentation.
Based on my experience, Kaplan's video lessons seem better than Princeton Review LSAT, and there are on-screen instructors that help explain highlighted notes and make it easier to comprehend practice questions.
Regarding the practice test offered by Kaplan, there are over 9,000 questions available. Like Princeton Review LSAT, these mock examinations mimic the actual design and layout of the LSAT exams. This feature keeps students prepared to attain a higher score in the main exam.
Books
The physical books published by Kaplan are an invaluable tool for students, including thorough topic study, professional exam-winning tactics, and relevant practice questions. This resource offers a set of books for their LSAT prep courses – these books are also very informative.
Thorough content evaluation portions are one of these books' strongest points; every vital subject that students need to be familiar with for their particular exams is covered in each book. Students may easily learn and retain the information because of the content's clear and planned organization. The books also provide beneficial diagrams, pictures, and examples to enhance comprehension further.
User Interface
The user-friendly design of Kaplan LSAT was among its best qualities. I had no trouble navigating the many resources and sections, which helped me make the most of my study time. The user-friendly interface simplifies obtaining review materials, full-length tests, or practice tests of various questions.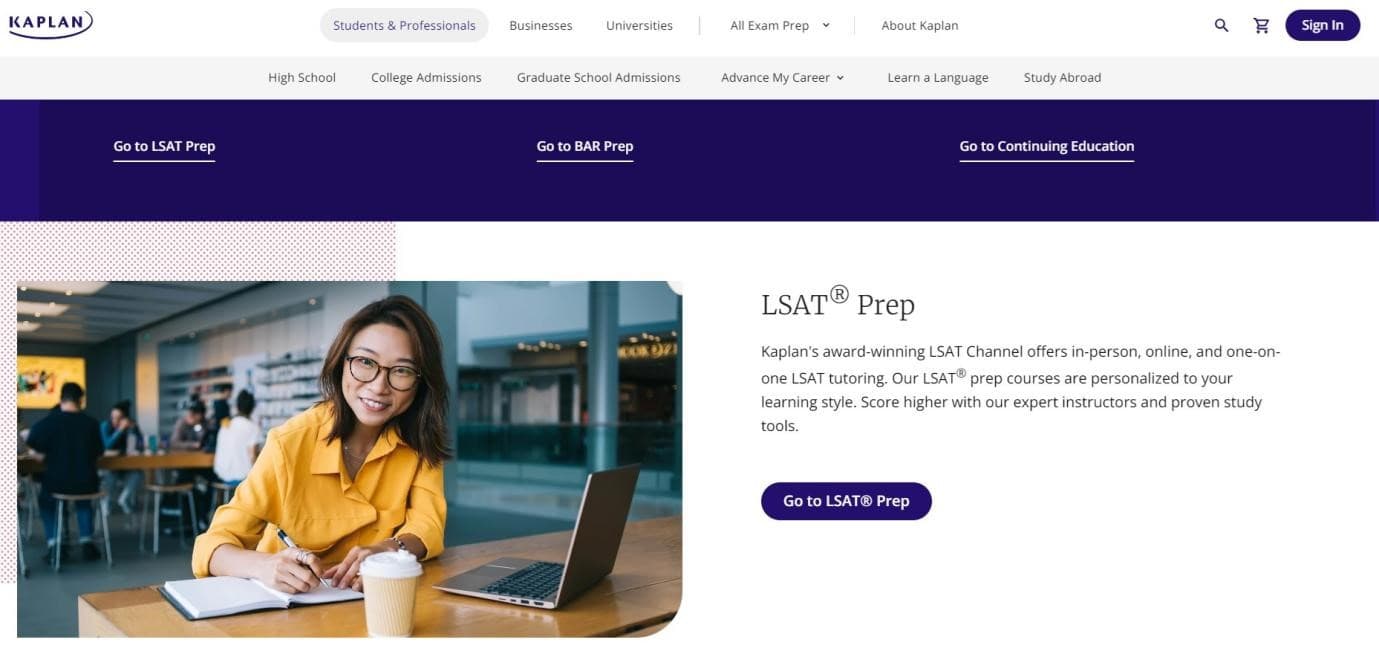 Undoubtedly, Kaplan helps customize students' experiences to meet their unique needs thanks to the platform's adaptive nature. This resource has the "new school" feel, with its modern interface that seems more updated than Princeton.
The pattern in which the course videos are laid out gives this platform an edge, as they hold added details and offer more control. While hovering though my screen, I found a "topics" button that reveals a summary of the topic discussed in the video once clicked.
Test Preparation Strategies
The LSAT preparation process might be challenging, but Kaplan's carefully thought-out test preparation tactics provided helpful direction. This resource strongly emphasizes the value of practice in raising test scores.
They provide a variety of practice questions and comprehensive practice exams that mirror the actual test environment. However, you must purchase a separate subscription (LSAC LawHub) that costs $99/year to access past official law school problems, such as LSAT practice questions.
You can get a taste of the questions you'll encounter and enhance your time and accuracy by practicing with genuine exam material. Students would remain in control of assessing their progress and identifying areas that required improvement because of the emphasis on persistent practice and frequent self-assessment.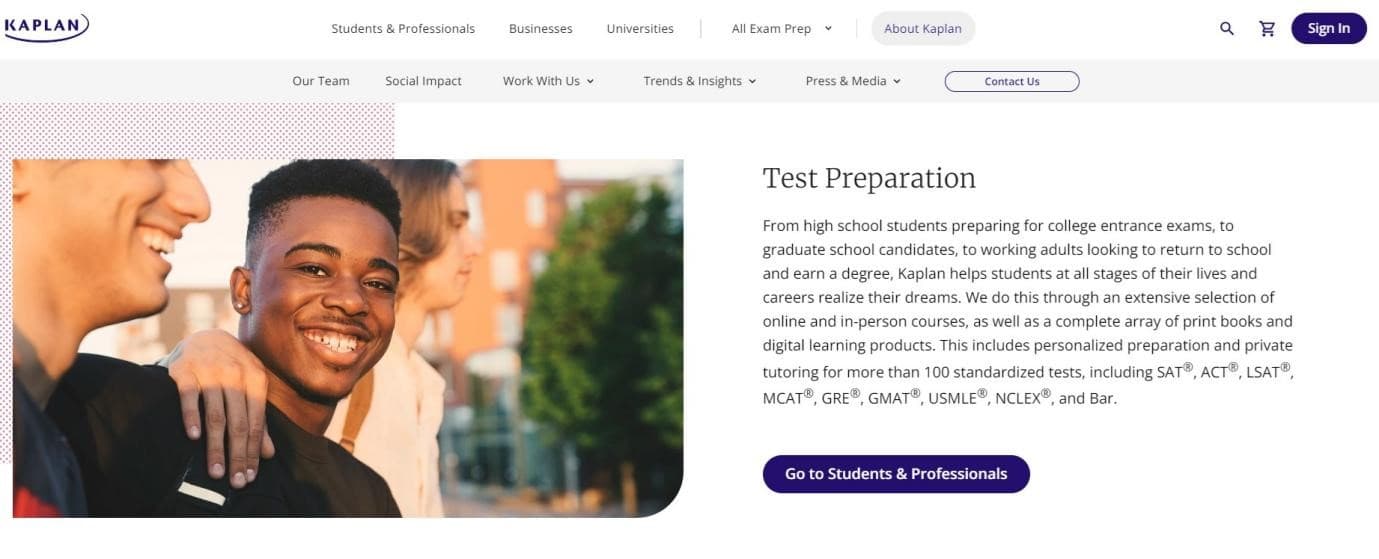 Score Reports/Analytics
The score reports and analytics Kaplan provided were crucial in the practice journey. Like Princeton, Kaplan also allowed a breakdown of every section of the full LSAT score review – I could view the questions I got wrong.
The in-depth score breakdowns now offer students insightful information about their performance, highlighting their strengths and areas that need more work. With such support, you can successfully focus on weaker subject areas and fine-tune your study strategy after reviewing your progress using data-driven analytics.
Pricing Comparison
Let me quickly cover the cost of both Princeton and Kaplan course packages, as this is a critical factor you must consider to help you pick a suitable option.
Cost of Princeton Review LSAT Courses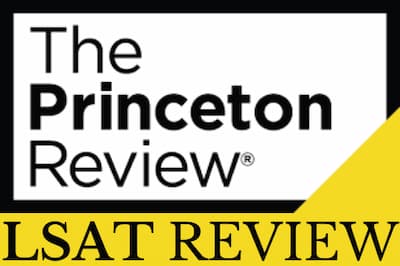 Self-Paced Course costs roughly $800.
Live Online Course is an excellent flagship offering which costs $1,100.
LSAT 165+ and the LSAT 165+ Immersion. Price for the 165+ is around $2,100, while that of 165+ Immersion is slated at $4,000.
There are four-course options available on this platform.

Self-Paced Course

Princeton Review provide this valuable course option for students who prefer the advantages of flexible, self-paced study. It costs roughly $800, keeping it on par with Kaplan's on-demand course, which appears to be a direct substitute.

Fundamentals

The Princeton Review's Live Online Course is an excellent flagship offering. This option generally costs roughly $1,100. The remaining two Princeton Review LSAT prep courses offered are the LSAT 165+ and the LSAT 165+ Immersion. These study guides differ from other courses in that they provide score guarantees in addition to training, content, and access.

Kaplan LSAT course does not offer these two specialized courses, so there's no way to compare their prices. But, the regular price for the 165+ Princeton Review courses on LSAT is around $2,100, while that of 165+ Immersion is slated at $4,000.
Kaplan LSAT Prep Pricing

The Live Online Course costs around $1,200.
The On-Demand Course from Kaplan LSAT runs around $800.
The remaining three-course options offered by Kaplan LSAT have increased prices, much more if you prefer private tutoring.
Kaplan's courses are relatively cheaper than Princeton Review, as it tends to beat it by a few hundred dollars. First, you should know that this resource offers five preparatory course packages in different formats. These courses include:
Live Online Course
The Live Online Course costs around $1,200; on this package, you can learn from experienced teachers on the platform. These tutors keep you engaged throughout, which is pretty impressive.
On-Demand Course
The On-Demand Course from Kaplan LSAT runs around $800, which is fairly more affordable than Princeton Review. This option works well for learners who prefer online test prep sessions that run based on their speed. Thus, you would find no classroom components, as only online course works, videos, and a few physical books exist.
The remaining three-course options offered by Kaplan LSAT have increased prices, much more if you prefer private tutoring. These other courses include:


In-Person Course


Bootcamp


Private Tutoring and Live Online.


Princeton Review and Kaplan LSAT: Value for Money
Regarding the quality of both the Princeton Review and Kaplan LSAT, I will say that they are both top-quality options. They both also offer coupon codes to attract students; the details of such incentives vary, depending on the course you pick.
Similarly, Kaplan and Princeton Review requires test takers to be time-conscious for their courses. Still, learners can work through them to see how much time they have to take advantage of the LSAT prep information. Nevertheless, here are a few things you should know about the quality of the Princeton Review and Kaplan courses offered.
Princeton Review
One thing that makes Princeton LSAT stand out is its extended time for live classes; students can access 123 hours. This platform's on-demand classes cover up to 500 hours, and you can comfortably pair these LSAT prep videos with other prep courses (like Khan Academy), as many students do.
Like Kaplan LSAT prep, you can get some well-detailed hard copy books, which helps through the prep. However, Princeton Review LSAT combined courses cost slightly higher than Kaplan's. The price may be an issue for individuals looking for a cost-effective solution or students on a limited budget.
To ease worries about value for money, Princeton Review frequently provides satisfaction guarantees or the choice to repeat the course if a student is dissatisfied with their performance.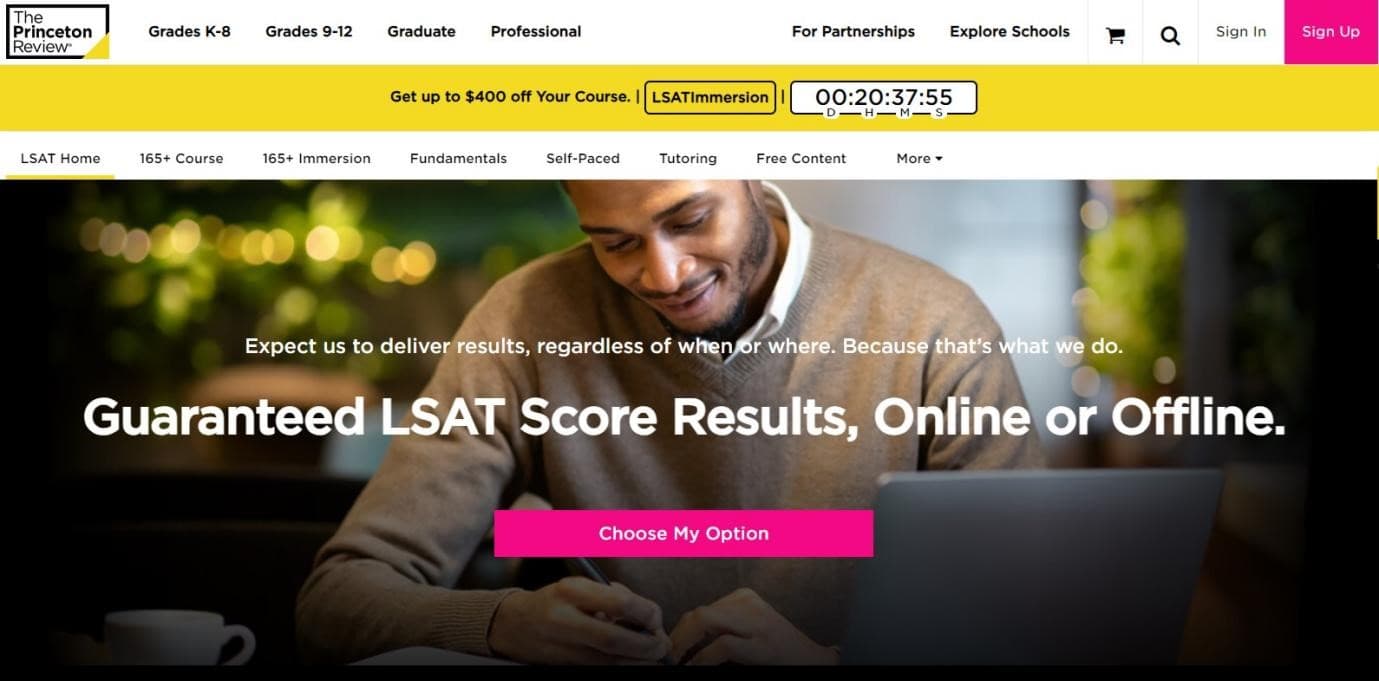 Thanks to these assurances, students who invest a lot of money in their exam preparation might feel more secure.
Kaplan LSAT Prep Courses
Kaplan offers a combined video lesson duration of 180 hours; this includes the LSAT Channel videos. While this is a huge difference, learners can cover up with other features this resource offers. Nevertheless, most of the full-length practice tests and exams in Kaplan's courses are designed to replicate the exam setting.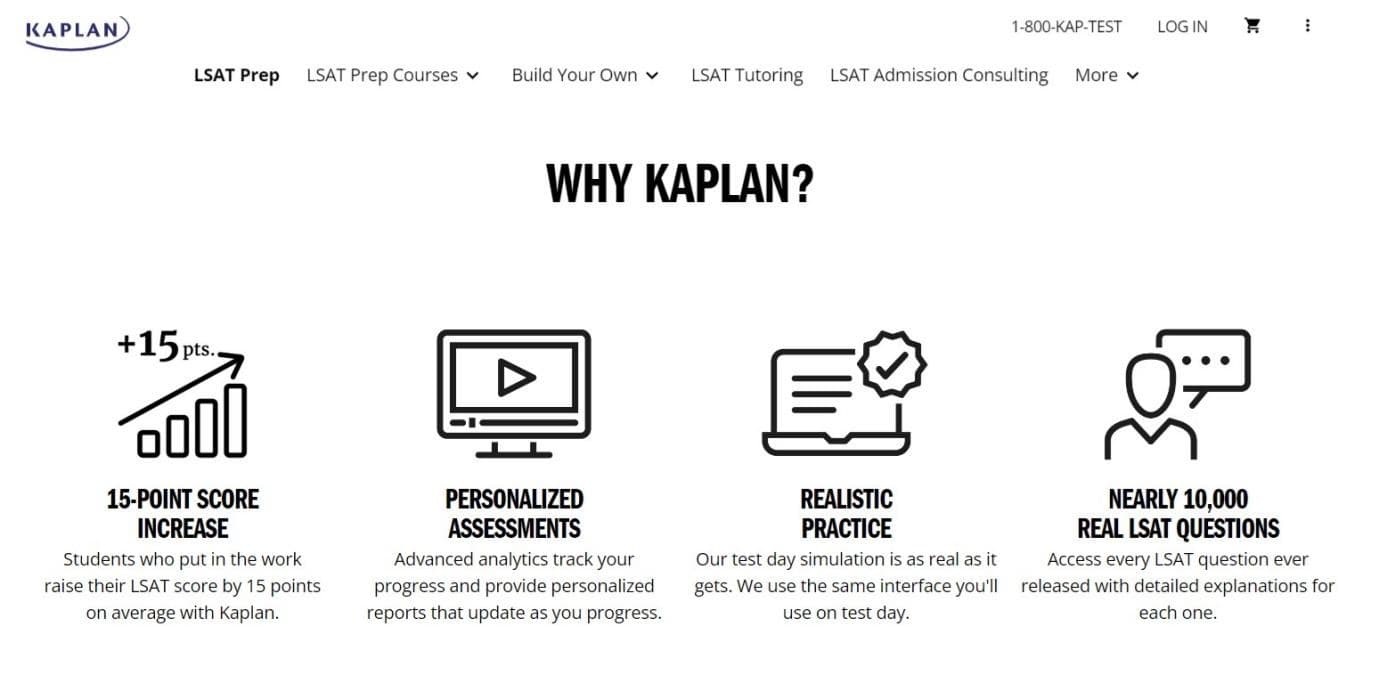 Unlike Princeton Review, Kaplan LSAT only offers a score increase guarantee; it implies that you won't be eligible for a refund if your score increases by only one point. There is one point that leaps out right away in favor of Kaplan. You may physically attend hundreds of their educational facilities spread around the USA and Canada to take an LSAT prep course in person.
LSAT Books Comparison
One aspect of the LSAT prep package is the books both Kaplan and Princeton offer. Upon purchasing the prep package, both resources provide students with printed books.
Princeton Review
Princeton Review prep course offers five hard copy books – Core Concepts, Master the Approach, Patterns, and Pacing, Raising the Bar, and Diagnostic Exams. These books are well-detailed, and I love how they are analytical and thorough. While reading these books alone isn't enough, you can ace your test by combining this knowledge with the online content.
Kaplan
Kaplan LSAT channel also offers a set of hard-copy prep books that go through key ideas like vocabulary and logical reasoning techniques to assist students in strengthening their knowledge and abilities. With an emphasis on the capacity for problem-solving and critical thinking needed for the higher score guarantee, these prep books will assist students in understanding fundamental ideas and their applications.
Disadvantages of the Kaplan and Princeton
Comparing Kaplan vs. Princeton Review LSAT, you would find these two courses with their merits and demerits.
Princeton Review
I'm sure you must have read a lot of Princeton Review LSAT pros. While Princeton Review is a good place to get prepped for your law school admission test, you may find a few downsides to this course package. First, Princeton Review LSAT prep is concise; some may feel it provides surface-level understanding and need something better.
Another thing is the user interface – compared to Kaplan, Princeton Review LSAT prep has an old-school interface that students may find less thrilling. Finally, the cost of Princeton Review LSAT courses is quite higher than other options, which may be troubling for folks on a budget.
Kaplan
From my experience with the Kaplan LSAT review, there's no doubt that the package is outstanding. But despite the Kaplan LSAT pros, there are a few demerits. The downsides to this other test prep company and course package include its feedback on their full-length practice tests – the explanations are usually too brief.
I feel more explanation of the outcomes of students' LSAT practice tests would help them better understand their strengths and shortcomings. Aside from this, another demerit of the Kaplan LSAT prep course is its shorter time window. From my Kaplan LSAT review, this session lasts for 4 months.
FAQs
Is Kaplan better than Princeton Review?
Kaplan and Princeton Review are two top test preparatory resources, and the one you pick depends on your preferences. You have to think about your learning style: I'd recommend Princeton Review for folks who prefer a concise but clear explanation. Kaplan LSAT appears more suitable for complex/problem-solving learning patterns. Another critical aspect is your budget. Kaplan has a slight edge over the Princeton Review in terms of pricing and a higher score guarantee.
Should I use Kaplan or Princeton Review?
Choosing the best LSAT prep course depends on your preferences. When you compare Kaplan and Princeton Review courses, you will find that both are reputable, providing thorough study guides and sample tests for various examinations. To learn more about other students' experiences using these materials, you can also think about reading their reviews.
Is the Princeton Review good for LSAT?
Princeton Review is one of the most well-known and trustworthy test preparation businesses offering effective test prep course and classes. Princeton Review LSAT courses offer different classes and study styles to suit learners' varying needs, alongside satisfaction guarantees that offer great value for your money.
Is Kaplan the best for LSAT Prep?
The teachers on the Kaplan platform are quite knowledgeable about the test and may offer helpful tips and techniques to aid students in raising their results. Kaplan LSAT channel provides various study tools, such as books, sample exams, and online resources. These are often updated to match the most recent exam style and content, and they cover every portion of the LSAT.