Passing the Law School Admission Test needs a great deal of preparation and consistent reviewing of various practice questions and tutoring. However, a lot of students struggle when they are looking for the best LSAT prep courses. LSAT prep courses are a good way to throw in some extra practice before it's time to sit for the actual exam.
Top-rated LSAT prep courses should provide reliable materials to help you prepare, but some are not as good enough for students who are not confident enough to pass the test. The good news is that EduReviewer can help you go through the rigors of getting the best LSAT prep courses online for your level.
Why Should You Go Through EduReviewer's Reviews?
Before selecting the Best LSAT Prep Course Online, there are things you need to consider that we look at during our reviews.
Is the material available on the phone for easy access?
Does the course cost an arm and a leg?
How is the pace of the course, and how well does it measure up to real-life expectations when sitting the actual exam?
Are the study sessions customizable, and do you get personalized coaching?
These are all the things that EduReviewer looks into when putting together the best LSAT classes online. The review is all-around because each of these factors is considered.
LSAT Prep Course Rankings and Evaluation Process
Quick fact: the best online LSAT prep courses can improve a student's score by an average of 20 points, and so it pays to take a few things in mind when selecting a prep course. Some of the things EduReviewer considers essential include:
Does the course cover enough to be considered adequate for SATs? The best way to capture this is by surveying previous classes for their feedback. The results from previous sittings also tell how well the prep worked for those who did it.
User Friendliness of Material
These days, it is not enough to be able to access reading material from a PC. It is even better if you can get it from your phone to have access at any time and place.
A comprehensive course will last between two and three months to give the student enough time with the program, material, and scheduling.
While the most expensive prep program isn't necessarily the best, extremely cheap or free courses aren't comprehensive either. To get the best-rated LSAT prep course, you want to strike a balance.
How to Choose the Best LSAT Prep Sites
Here is a checklist for selecting the best LSAT test prep course sites.
The best LSAT review course and feedback from past clients will provide you with an overall idea regarding the quality of the site and the experience to expect. Where possible, seek the results of previous students to confirm the claims of the site.
Look to see the structures in place that allow you to raise concerns or seek information. Consider the time you get responses, especially when enquiring about the course. The best online LSAT courses support teams should also be available 24/7 for responding to queries the moment they arise.
Expensive programs are not necessarily the best unless they offer extras; you cannot get anywhere else, which you feel would add value to your training. However, it would help if you are aware of the cheap and free courses since they cut costs and services most of the time. Often low prices are their only selling point as they lack other essential aspects.
The best LSAT prep sites do not limit their services on the website but instead allow you to access them on your mobile devices too. The design and structure of the classes are also user-friendly, and you can easily access all the resources you need.
Finally, the best LSAT online course that offers refund guarantees should you fail to get the score they promise having followed the whole prep program. Guarantees are a sign of the sites being confident in the services they offer.
Best LSAT Prep Courses: LSAT Prep Course Rankings
The best prep course for LSAT is the one that has great tutors, and it is balanced and well-rated by previous users. Here are the LSAT prep course rankings and LSAT prep courses review, which you should consider.
Magoosh

The best self-paced LSAT prep.
They have a seven-day money-back guarantee.
Have over 650 videos with every topic being allocated its video.
It has an extensive library with all the material you need to pass the LSAT.
Their prices are among the best when compared with competitors offering similar resources.
There is no full refund should you not attain the expected score.
Magoosh is easily one of the best online LSAT prep companies around, and its regular top rank in LSAT rankings backs their claims. The company was founded in 2009 by Pejman Pour-Moezz, Hansoo Lee, and Bhavin Parikh. The aim was to create quality and affordable educational material, reflected in their prices.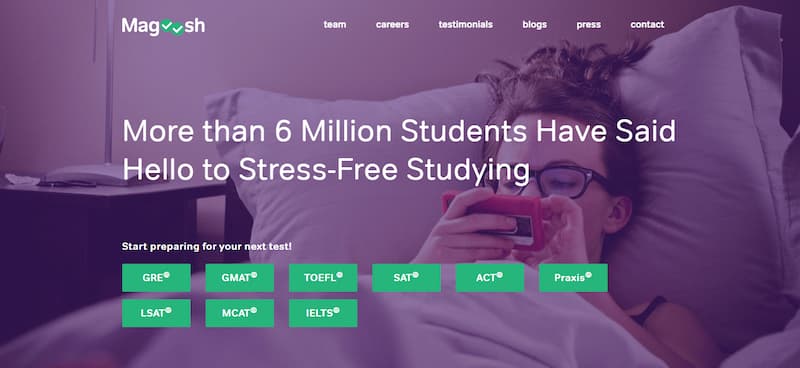 This best LSAT test prep course is self-paced, backed by printed books and other learning material. The company has a range of educational products, explicitly targeting preparations for higher learning exams. Read the full 
Magoosh LSAT review
and customers' reviews.
Kaplan

The tutors are well-known LSAT experts.
Extensive enough to guarantee a high score.
You have options for in-person or online classes.
A bit expensive, especially for private tutoring.
Kaplan's LSAT program is also a good choice for those students who don't have much time to do one course. It is one of the best online LSAT courses meant for those who do not have time to study or go through eBooks and sift for information.
The law school boot camp takes the student through a rigorous 150 hours of practice. It includes three practice tests and some 8 hours of private tutoring. Read the
Kaplan LSAT prep reviews
and our detailed review.
Manhattan Prep

In-person sessions.
Comprehensive reading material.
A course that seeks to prepare you for tests in the least time possible.
Easy to miss core concepts because of the course's fast pace.
The Manhattan Prep relies on a curriculum that gives video tutorials to students before letting them step into a classroom. The In-person classroom time is usually spent sharing more problem sets and discussing some of the most challenging parts. The concepts that are difficult to understand are given more focus. A lot of the time, drilling and breaking into smaller groups to focus on the core concepts. The Manhattan prep course is truly streamlined as it does not waste time on the basics that students are likely to know already. Out of the services listed, Manhattan Prep is probably the only real crush-course.
One downside is that a student will miss a core concept without the proper progress trackers, thinking it is too basic. In reality, what is essential to one person may be too advanced for another person. Read the full 
Manhattan Prep LSAT review
and customers' reviews.
The Princeton Review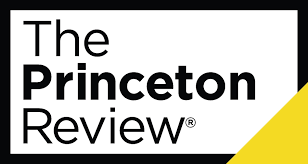 Has a full refund policy.
The students can customize their learning.
It supports all forms of learning, including having a personal onsite tutor.
The cost of private tutoring is high and can be prohibitive to most students.
The Princeton Review is one of the oldest LSAT prep companies in the industry, established in 1981 by John Katzman and Adam Robinson. The long years in the business have allowed the company to perfect its programs and courses while covering almost all entrance exams. The company offers a comprehensive package that includes onsite tutoring. It has one of the best LSAT prep courses that consists of 150 hours of video content online and 84 hours of live teaching.
These are backed up by numerous practice questions and six full-length exams in the format and standard of the LSAT tests. The company is also among the few that offer full refund guarantees. Please read the full
Princeton Review LSAT reviews
by customers and the review made by us.
How to Choose The Best Online LSAT Prep Course
Extensive Coverage – You want the best LSAT prep course covering everything you expect to find in your test. All your efforts for finding the top LSAT prep courses are geared towards gaining skills that will be handy when doing your test and nothing more.
Works on Weaknesses – You have your strengths and areas that need improving, which the best LSAT prep companies should offer. If live tutors are what you believe you need to succeed, then choose a course with the best tutors.
Online Ranking – Chances are the top 5 LSAT prep courses are actually some of the best since the assessment will be based on unbiased reviews by users. While the best online LSAT prep courses may cost more, they are of much better quality than their cheaper counterparts.
Smaller is Better – Your tutors pay you more attention when you are fewer. You want to go for classes of between 15 t0 20 whenever you can because they will provide more value.
What LSAT prep course is the best for first-time entrants? The more responsive contacts usually give more hope that you can get a lot of value if you select them. For example, a company like TestMaxPrep can give you a lot of help while you are not yet a student. You can very well expect them to deliver quality service when you actually pay for the best LSAT prep online. So, check our LSATMax review and see if they can assist you with your LSAT test preparation.
What is the Best LSAT Prep Course to Take?
It is challenging to pick which LSAT prep course is the best because most top courses cover the basic requirements adequately and employ different approaches. On the other hand, students have different needs in terms of learning, budget, and time available. If you don't know what the best LSAT prep course is, you want one that offers the most coverage of the LSAT test needs. LSAT prep best works with extra practice questions, enough books, and reading material, as well as sample tests.
The course should also be suitable for your needs in terms of duration, the form of instruction, and the platform where it is offered. If you need personal instruction, then the best course is the one offered by a personal tutor. The ideal course is the one that meets your needs as a student with the best coverage at a cost you can afford.
Best Online LSAT Prep Course: How to Find the One
Search for the best LSAT prep course productively and more shortly by using the following tips.
Do not pick the first prep course you find or one which appeals to you. Instead, conduct a broad search using the best LSAT preparation courses review sites and articles that evaluate different courses using credible criteria.
Look for courses that cover all the subjects you will get on the LSAT test. Do not go for courses with other topics or skills you will not need in your test, as that only wastes your time and money.
You can consider specialized classes, which will help you improve your weak areas by focusing much time and practice on them. Even then, the LSAT best prep specialized course should still have classes related to the other LSAT areas.
Use best LSAT prep courses that keep their material and information up to date. The curriculum should cover the subjects and reflect the standard of the current year's tests.
Where possible, choose classes with few students if you opt for an in-person learning option. Big classes deny the teacher a chance to focus on individual students. The ideal class size is from fifteen to twenty students.
Where to Find the Best LSAT Prep Course?

There are different options for studying for the LSAT test. The best way is to check our LSAT prep courses reviews above and see which company is on the top. The main difference is whether you will be studying online or offline and whether you will be having a tutor or not. One option is for live prep classes conducted by a tutor in a physical class and supplemented by books and online material.
You also have the best LSAT online courses similar to the live chat, only that the learning environment here is online but with real-time chat. Another option is the one-on-one LSAT tutor, where you are the only one in class. It can be done online or in person. Finally, there is the self-study LSAT option where you have no instructor but rely on online learning content, including videos and books.
Online sources offer more options and variety, which is vital if you pick the best prep course. You can also readily compare and find real LSAT prep reviews of the different programs.
If you are unsure which test to take, check our LSAT or GRE comparison and get to know more about which test is easier.
When is the Best Time to Take LSAT Prep Class?
There is no rule set in stone defining when you can take the best prep for an LSAT class. Ideally, it should be any time you need to take one. However, you will have to be practical about it to boost your chances of a good score on the tests themselves. While top-rated LSAT prep courses will be flexible and tailored to your needs, you should not postpone attending class until it is too late.
For some best test prep for LSAT guidelines, use the following tips:
Take classes for a whole year before doing the test.
If you are pressed for time or in emergencies, the minimum amount of time recommended for the study is two months.
Over the last month leading to the test, fit much of the study work in the first three weeks to allow yourself to reduce the log in the last one week. Doing this prevents you from being saturated and burnt out before the test.
What Programs Are Best for LSAT Prep?
The best LSAT prep programs are the ones that have the highest ratings across reputable review sites online. Using this method is the quickest method to determine the best LSAT prep to help you get ready. Review sites can get the information you may not obtain on your own and save you time.
In many instances, the programs that employ a hybrid mix of an online classroom and self-learning resources are the best. You have the benefit of an instructor whenever you need one, while you can catch up on the other material by simply accessing the resources. Most of these programs also offer custom options to plan your study hours to fit your daily schedule. The best programs also offer plenty of video support tutorials.
How Do You Know Which Company is The Best Test Prep for LSAT?
Finding the right LSAT test prep company, among many options, is a challenge. Fortunately, there are qualities that you can use to determine if you have made the right choice.
If you are using a self-paced program, it should be a simple process and straightforward program you can use on your own without needing constant help and support.
The right company should have a comprehensive collection of resources easily available online, whether it is a live or self-paced program. Such material includes videos, study material, flashcards, practical exercises, etc. The material should also be regularly updated.
Find out if the course offers guaranteed results. The best online LSAT prep course that guarantees results or a full refund if you fail means the program developers have catered to all your needs and even more to secure the promised scores.
Finally, the best company is the one which places the needs of the students first. In this regard, they should offer flexibility and have the best teachers genuinely concerned with your development.
Would You Pay for Online LSAT Courses or Use Free Courses?
Paying for the best LSAT prep programs is the best decision. There are many free LSAT courses online. To a significant extent, they provide excellent material that will give one an idea of what to expect in the LSAT test. However, that is their biggest letdown. They do not have the extensive resources you need to prepare for the test fully.
If you need an instructor, you will not find a reputable one from the free courses. You will also have to contend with large classes competing for the attention of a few teachers. The self-paced option largely relies on plenty of resources designed to take the place of an instructor. There are plenty of exercises, video instructions, and guides, as well as books.
Which Company is the Best for LSAT Prep? Conclusion
In our best evaluation and based on the information we have given, Magoosh is the best LSAT prep company for students who want to get value for the time and money they spend taking a course. Their courses have the best structure and supporting study materials to ensure that a student is ready for the exam and, secondly, able to score better than they last did.
Interested students need to follow all the discussed facts to choose the best LSAT test prep course and a proper learning environment.