We still live in a world where everything has been given a number and a rating. For this reason, tests like LSAT still have a crucial role in young people's lives. What is LSAT? It is simply a standardized test that is required for admission to law school. And it's not easy at all.
Many students opt for these options to guide them through this challenging experience. In this article, we will discuss what are the best affordable LSAT prep courses. We will compare different courses based on their main characteristics. Hopefully, they will help you make the right choice!
Choose the Best LSAT Test Prep Option
| | | | | | |
| --- | --- | --- | --- | --- | --- |
| | | | | | |
| Course | Yes | Yes | Yes | Yes | No |
| Price | From $249 | From $299 | From $680 | From $699 | From $86/h |
| In-person classes | No | No | Yes | Yes | No |
| Tutoring | Yes | Yes | Yes | Yes | Yes |
The Cheapest LSAT Prep Courses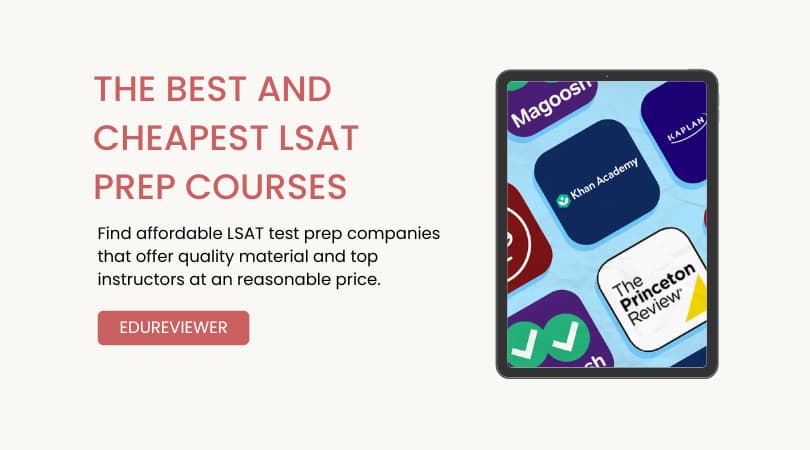 LSATMax
LSATMax is one of the best cheap LSAT prep courses online. There are many reasons why aspiring law students choose it as their favorite prep course.
It offers a comprehensive array of study materials, practice tests, and resources to equip students for LSAT success. Plus, it presents a variety of pricing options and features, making sure there's something for everyone.
Features
Based on our experience, LSATMax is particularly indicated for those who want to study at their own pace. No strict classes, no obligations. Just the complete freedom to learn the way you prefer.
What are the resources on LSATMax, then? First, a meticulously curated collection of over 8,000 practice questions. They are designed to emulate the intricacies of the actual LSAT. As a matter of fact, they are usually extrapolated from original tests.
Complementing this are more than 1000 hours of video lessons delivered by experienced LSAT instructors, live online classes, and personalized 1-on-1 tutoring sessions.
Online Rating and Reputation
We have already reviewed LSATMax, and we gave it a 4.5 rating, which is pretty high. But we know it, user reviews count more than anything else. That's why we visited platforms like Trustpilot, Reddit, and Quora to see what actual users thought of this service.
On Trustpilot, reviews are quite positive. There is a rating of 4.7 and a lot of praise for the work. Although the website promotes an increase of even 18 points with LSTMax, many are content with way less.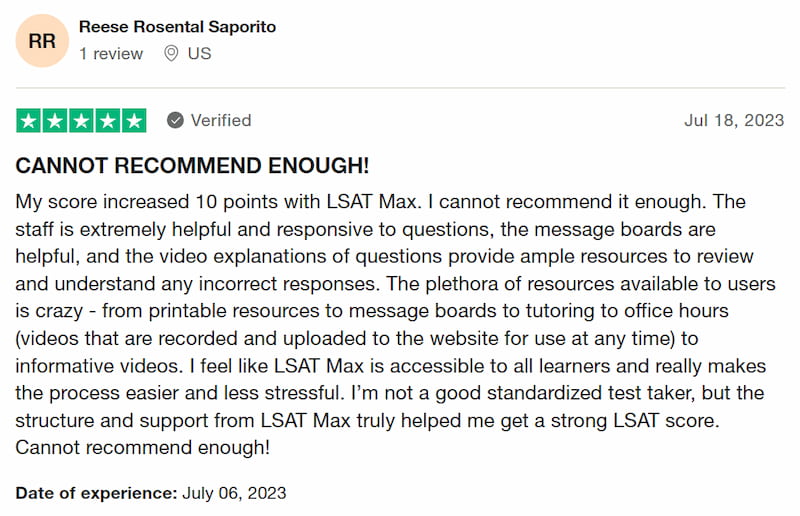 Overall, users appreciate the course's efficacy in preparing for the LSAT, attributing this to its user-friendly interface and robust question bank. Some have reported sporadic technical glitches, which slightly mar the otherwise enriching learning experience.
Pricing and Value for Money
It is not so easy to understand precisely the price of LSATMax services. We delved into all the options and found out there is a tiered approach. This ensures accessibility for a wide range of budgets and study needs.
At the moment, LSATMax offers three types of subscriptions. One costs $249 and offers access for one month. It's for those who are in a hurry and includes one single hour of tutoring for free. Not that much. The creators of this service, however, admit that this option does not guarantee a higher LSAT score.
The most popular option, on the other hand, is LSATMax 180. It costs $895 to be paid all at once and offers full access for six months. A similar option, for those who want to take it even slower, is LSATMax 365. Intuitively, it lasts a whole year and costs $995.
All of these options include access to everything the website has to offer: 1000 hours of videos, 92 prep tests to train on, and the best instructors in the world. What changes is only the time one has to access all of this, This makes it a good investment for those embarking on this journey.
Mind that there is a $115 LawHub Advantage subscription fee to pay whatever option you choose.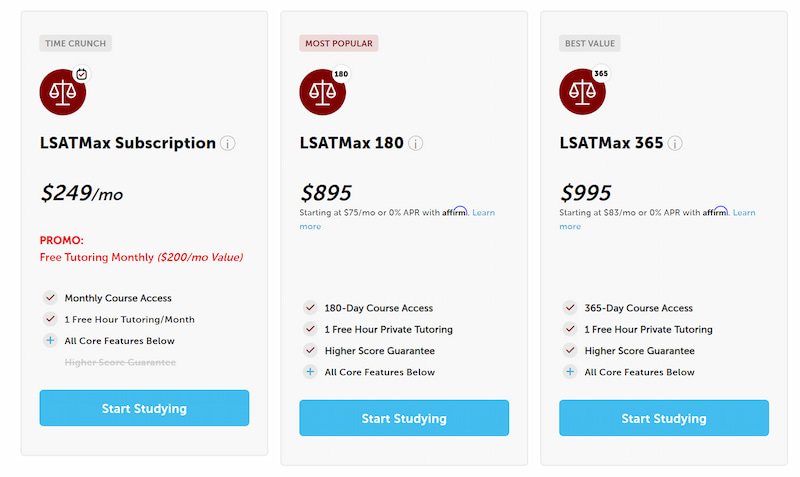 LSATMax Pros and Cons

High flexibility.
Great availability in terms of LSAT questions.
High-quality instructors.
Almost no free content.
The app doesn't work that well.
Too much flexibility can be harmful.
Like all test preparation platforms, LSATMax garners both accolades and criticisms from its user community. To better understand them, we decided to make a pros and cons table. This way, it'll be easier to realize whether this is the best option for you.
Princeton Review
Princeton Review is a venerable name in test preparation. Indeed, it has some of the most severe and comprehensive cheap LSAT courses to date.
This section delves into a meticulous analysis of its offerings. Through our research, we will illuminate the breadth and depth of Princeton Review's approach to LSAT readiness.
Features of TPR
The most popular option available on Princeton Review is called LSAT 165+. It means the goal is to produce students that can reach a score of 165 or more, while the average score of all LSAT test takers is 152. It does so through 82 hours of class with an LSAT expert and a lot of study materials available, including the usual 10,000 questions and more.
It is available both online and in person. For perfectionists, there is also a more immersive option with 145 hours of classes. Truly impressive! There are also other interesting options, though.
For example, Fundamentals include 30 hours of classroom time to learn the basics of the LSAT. Of course, one can choose to study at their own pace as well.
Princeton's Online Rating and Reputation
On Trustpilot, The Princeton Review has a lower score compared to its competitors: 4.4. But don't be mistaken. This score is for the Princeton Review as a whole and not only for their LSAT section, which is widely appreciated in online reviews on Reddit, Quora, and elsewhere. In our review, we gave it a 4.6.
Students particularly love the strict schedule and the fact that instructors on The Princeton Review give food for thought to their students: it is not just about learning things by heart. It's about bolstering analytical thinking, logical reasoning, and reading comprehension skills.
Courses Pricing and Value for Money
When it comes to pricing, the "Fundamentals" option is very interesting. Starting from $899, students can get 30 hours of classroom where they can learn the basics of LSAT tests. This is way less than other cheap LSAT classes. The Immersion 165+ option is also exciting: for $3,599, it provides invaluable instruction that really can turn anyone into an LSAT pro. The self-paced option starts at $699, which is quite expensive.

TPR Pros and Cons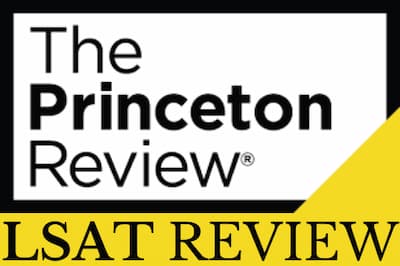 Several options available.
Seriousness and strictness in terms of schedule.
Interesting options such as "Fundamentals", with a great value for money.
In-person classes.
The self-paced option is too expensive.
Not recommended to those who prefer to be flexible.
As with any test preparation platform, Princeton Review invites a spectrum of feedback from its user base. Let's dig more into that.
Blueprint LSAT Prep
Blueprint Prep LSAT is an online LSAT preparation course that stands as a versatile and accessible resource for aspiring legal scholars.
The course has several options for students and is suitable for a wide range of motivated people. It may not be affordable for everyone, but the value here is one of the highest in the market.
Blueprint's Features
Central to Blueprint Prep LSAT's offerings is the possibility to choose. Aspiring law students can decide to learn at their own pace. This is similar to what is offered by LSATMax: access for one, three, six, or twelve months to a wide array of 9000+ LSAT questions and 300+ hours of video explanations.
Yet, you can also choose to actually follow a live course that lasts 37+ hours with the best instructors available, with 100+ hours of live review classes included. Blueprint is quite bold in promising an increase of 15 points in LSAT results, but it does seem realistic, considering the quality of the teaching.
Blueprint Prep Online Rating and Reputation
Blueprint Prep LSAT is rated very highly on Trustpilot, reaching 4.7. In our review, we gave the same exact rating, showing how much we trust this service.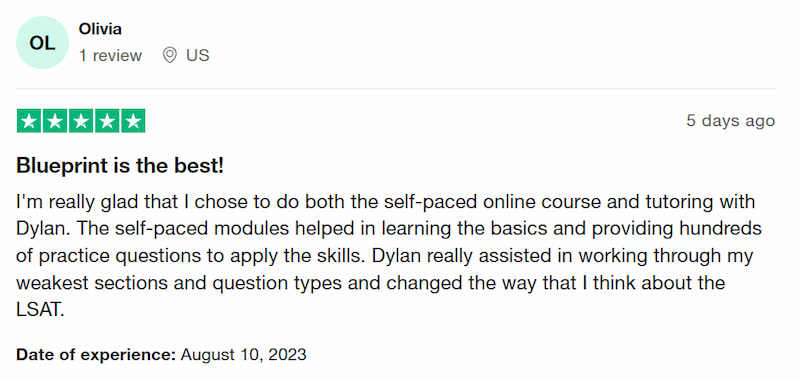 One of the things we noticed in our research was that students valued the possibility of having a live course but also the amount of material available on the website.
Plus, the interactive transcripts accompanying video lessons empower them to pause, rewind, and take detailed notes. The learning experience is virtually perfect also thanks to the small class sizes, which allow students to build positive interaction with the instructors.
Pricing and Value for Money
Considering the great number of options, there are a lot of different pricing categories. We want to start with something that we thought is important for a service of this kind: a free trial for those who are not sure whether Blueprint is for them or not. Among other things, the free trial includes 8 Learning Modules from the course and a free practice LSAT exam.
For those who decide to continue, there are several options. The self-paced course is a bit more expensive than LSATMax. While the quality may be higher, this is the reason why many students opt for the live course instead.
As a matter of fact, the live course costs a bit more than the 12-month plan ($1,599 instead of $1,249), but it also allows you to consult all the material of the self-paced course for 5 months.
It's pricey, that's for sure. Yet, it really allows you to fully immerse yourself in the world of LSAT and to really be sure of your abilities and knowledge upon taking the test for real.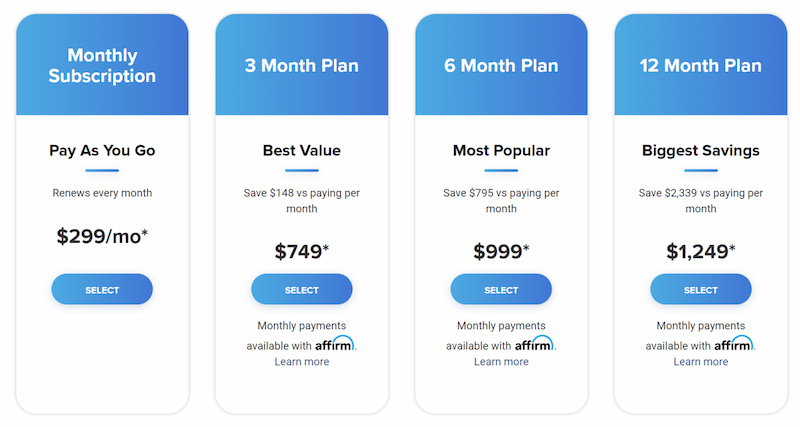 Pros and Cons of Blueprint's LSAT Prep

Several learning options, including a live course.
Some of the best instructors available.
Great value for money.
The lack of an app.
The high price.
To sum it up, here is a table of pros and cons. It can be useful to make a thoughtful choice and better compare this service with similar ones.
Kaplan
Kaplan LSAT Prep offers students the chance to increase their LSAT score by 15 points and thus to have more chances to study law. It is a trusted name in the sphere of education, which also offers professional and language training. LSAT preparation, as we will see, offers an expansive array of options for aspiring legal scholars, including in-person classes.
Kaplan's Features
Are you one of those students who still can't adapt to online classes? Kaplan got you covered. 32 hours of in-person classes are available in several cities in the States. For example, New York, Boston, Los Angeles, Houston, and more. Besides that, it offers an on-demand course where you can study at your own speed, live online courses (32 hours, as well), and private tutoring.
The choice is not lacking. Every student has his or her own unique way of studying. Kaplan has realized this and has managed to please everyone. There are nearly 10,000 official LSAT questions available to those who sign up, more than 200 quizzes, and 70 comprehensive tests to try.
Online Rating and Reputation of Kaptest
On our Kaplan review, we gave the LSAT Prep section of this website a solid 4.6. It means it is not perfect, but it's not that far from it. On Trustpilot, the service gained a 4.7 rating. Reviews consistently emphasize the platform's efficacy in bolstering skills and nurturing confidence. However, a minority of users have reported sporadic instances of inconsistent customer service. This may have marginally impacted their overall experience.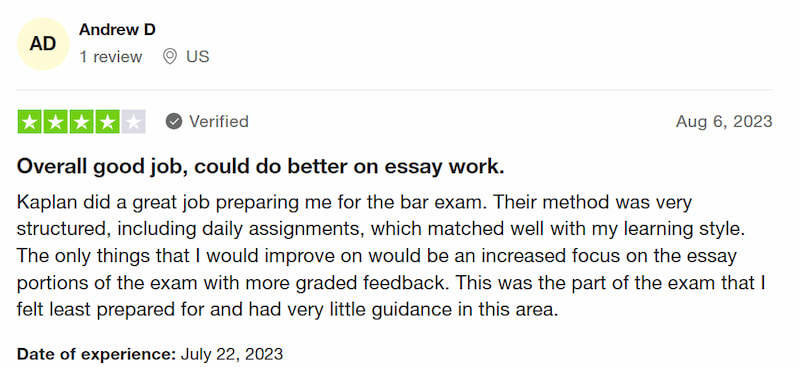 Kaptest.com Prices and Value for Money
Kaplan adopts a transparent pricing model. It furnishes students with a detailed breakdown of its pricing tiers. These tiers cater to a variety of study timelines. The flexible access goes from $680 for four months to $1020 for twelve months. Live online and in-person courses are more expensive, starting from $1020 and $1275, respectively.
The most expensive option is the Premium LSAT Tutoring, which can go up to $7999. It includes 10 to 40 hours of private tutoring (the amount we mentioned is for the 40 hours) with 99th percentile tutors who have 10+ years of experience.
As a matter of fact, Kaplan LSAT Prep Courses might be a bit too expensive compared to other options that are available on the market. Still, the affordable LSAT tutoring option is interesting. Have 1 to 1 classes is a whole different thing and can be a game-changer in many cases. Those who have the financial availability we are talking about should consider it.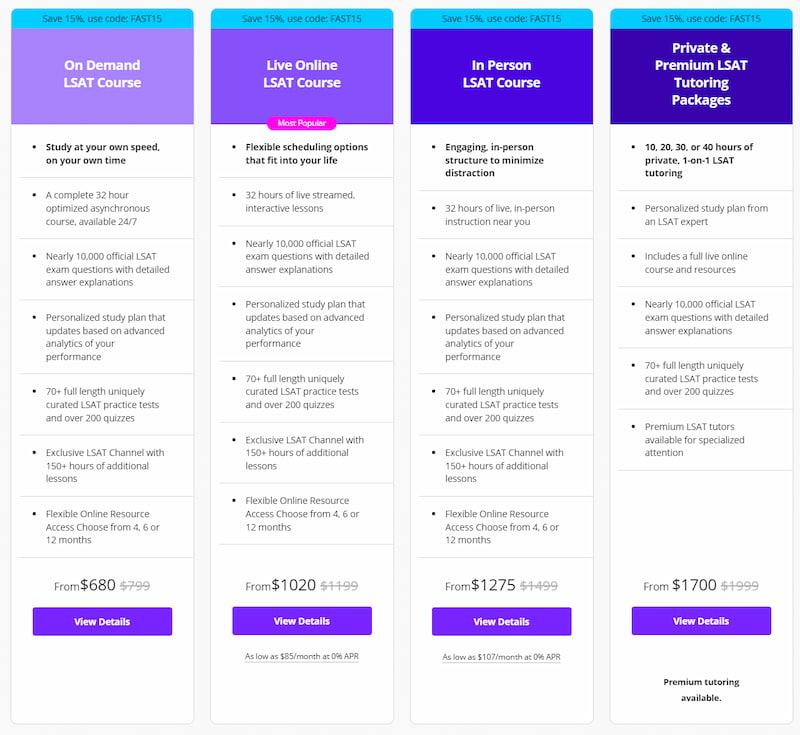 Kaplan LSAT Prep Pros and Cons

Massive choice in terms of types of courses.
1 to 1 tutoring is very interesting.
Trusted company and transparent pricing framework.
In-person classes.
Extremely expensive.
Some options are not worth the money.
More than any other service, Kaplan has some very positive and very negative aspects to consider. Let's sum them up.
Additional Tutoring: Varsity Tutors
You thought we were over? Think again! Within the realm of LSAT preparation, Varsity Tutors is something different. It offers affordable tutoring for LSAT test with services tailored to enhance students' skills and strategies for the LSAT examination.
Varsity Tutors' Features
Central to Varsity Tutors' LSAT prep is its personalized tutoring, connecting students with a network of over 50,000 expert tutors, with many of them being well-versed in the LSAT. These tutors guide students through every facet of the test.
Add to that the fact that Varsity Tutors also offer 500+ LSAT practice questions of different difficulties, several full-length practice tests, and a fantastic mobile app.
Online Rating and Reputation of VarsityTutors
In our review, we gave Varsity Tutors a rating of 5.0. That's right, we believe this is basically a perfect tutoring service overall, and it can be applied very well also to LSAT preparation.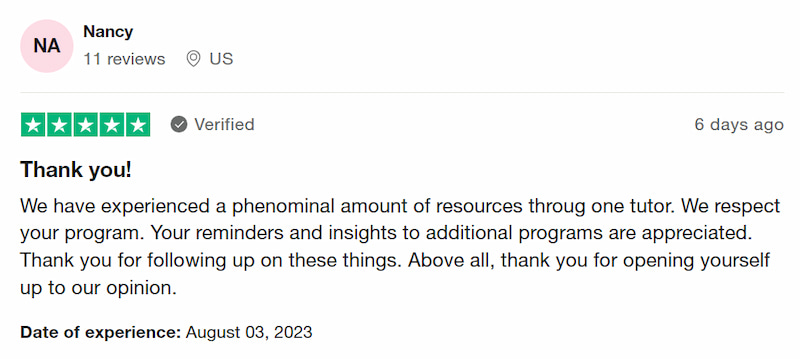 Praise often revolves around tailored attention and customized study plans. This contributes to an impactful and dynamic learning experience. However, some users have noted variations in tutor quality and session availability.
VarsityTutors.com Prices and Value for Money
On Varsity Tutors, you can find some cheap LSAT tutoring courses. The price per hour goes from $102 per hour (in case you choose to do only 12 hours) to $86/hour (for those who want to be followed for 48 hours).
There are also other cheaper options, though. For example, for $799, you can get 20 hours of lessons in a small class with 6-9 students total. That makes for a great interaction with your instructor, although it doesn't reach the levels of having an instructor just for you.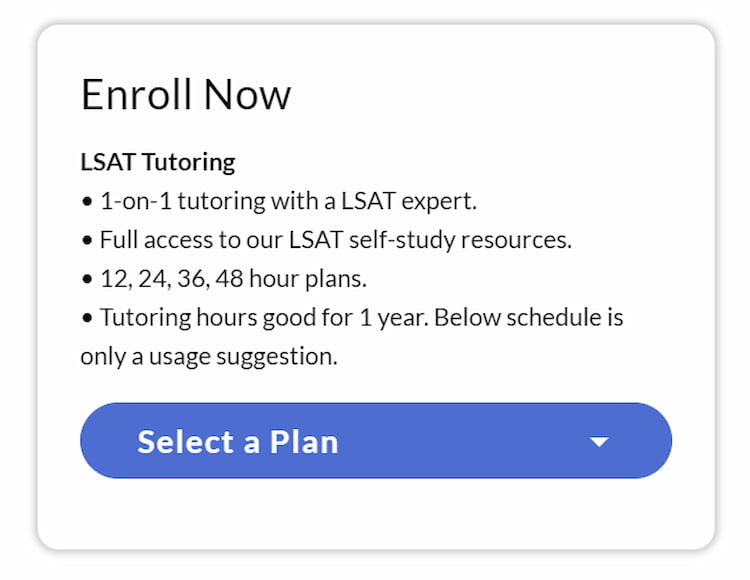 Pros and Cons of Varsity Tutors

Both 1 to 1 low cost LSAT tutoring options and small classes are available.
High-quality instructors fully dedicated to one student.
Some options are very expensive.
The study materials besides the tutoring are scarce.
It's hard to compare Varsity Tutors with the others, even if some of them have a tutoring section as well.
FAQ
What is the cheapest LSAT prep course?
Those wondering how to study for LSAT on cheap budget should definitely consider LSATMax. It offers comprehensive study materials and practice resources at an affordable price. Still, the best value might be found elsewhere.
How can I get free LSAT prep?
Among the services we analyzed, Blueprint offers some of its study materials for free. It might not be enough to really increase your LSAT test, though.
What is the best LSAT prep course to take?
The "best" course depends on your preferences. LSATMax, Blueprint LSAT Prep, and Kaplan are reputable options. The Princeton Review is probably the most trusted and safe service for those who want to improve their score.
Are 2 months enough for LSAT prep?
Individual readiness varies, but two months can yield positive results with a dedicated study. Yet, a range between 3 and 6 months might be ideal.