Certainly, there is a need to help people, especially young ones, to excel in their academics by giving them a quality education at an affordable price. This purpose can be achieved by taking classes beyond physical classrooms. In this article, we will discuss a tutoring platform for every young people out there in detail.
So, is Skooli legit? Is it one of the best tutoring services online? In this overview, let's find out a complete analysis of Skooli tutoring reviews by former customers and our own experience with this company.
Skooli Overview

Skooli online tutoring is known for its affordability and quality of education. What makes this platform outstanding is that seasoned and certified tutors are employed to take these classes or tutorials in a more friendly way and still ensure the price is as minimal as possible.
According to Skooli.com reviews by students, this is one of the worst places in the world to find qualified teachers online while still in limited number but providing a 24/7 service for its subscribers. There are much better options available online for everyone.

Though, Skooli has a mobile app to make teaching and learning easy for both parties (teachers and students). However, these appointments have to be confirmed and approved by the tutors before they can hold.
Skooli Story (What is Skooli?)
Skooli was created out of the need to reduce unemployment and at the same time reduce difficult coursework. In a credential rating, they had the highest possible score, which makes them the best out of every other online tutorial.
The platform employs young people, graduates, and seasoned lecturers to take various classes at a very reasonable price while still on the same standard with several online tutorials.

Skooli.com Services
The use of Skooli is risk-free, and it has 5 basic branches for tutorials: Math, Languages, Humanities, Business, and Science. They also have tutors for different grade levels.
For each of these branches or classes, there are different teachers available to take students conveniently. It operates as an intuitive and digital classroom where difficult coursework can be solved. For the best math tutors, see our list of the top math tutoring programs online.
As a part of their services between students and tutors, a student can be placed to have a class at an appointed time, which will be convenient for the tutor. The most important thing here is hearing back from the teacher and paying beforehand for the services.
People gain access to a tutor's profile on Skooli, review them, and then pay for services. Local teachers are available on the site to help people who attend public schools.
Also, one feature associated with Skooli is the availability of video tutorials that are quite helpful in learning. All sketches, designs, and charts made during a class can be tried out in one's leisure time to foster progress in learning.
All classes taken will be recorded and kept for records' sake until when you need them again.

One important thing to note is that: tutors on this platform have been tested and trusted, and there is a guarantee that they will do a great job at teaching.
A background check test has to be taken by these tutors, which certainly needs to be passed to get a job or be a tutor on the platform.
Please, take a good look at what we have to say about these companies and their services Quiz Plus review and English Class 101 review . Are they one of the best available?
Skooli.com Pricing
Signing up is free on Skooli, but students pay for each class they take on the platform. Based on Skooli reviews, the highest price a student will pay per hour for a class is $49. The price looks good for a platform that has the best-qualified teachers ready to take students 24/7.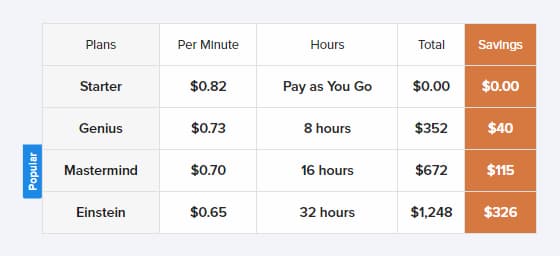 For top-quality tutors for hire, you should check Preply. Not sure? Read Preply tutoring reviews on our blog and see why we are sure that this is one of the best platforms for tutoring online.
Skooli Payment
Payment for taking classes on Skooli is in different packages concerning the number of hours taken. For instance, there is a 5-hour package, a 6-hour package 8-hour package, etc.
However, they all take the same payment system called Pay-as-you-go, i.e., after a session is over, payment can be made for the number of hours used rather than paying at once or in bulk. This system ensures consistent patronage and good use of the platform when necessary.
Also, this factor makes them distinct from every other online classroom available.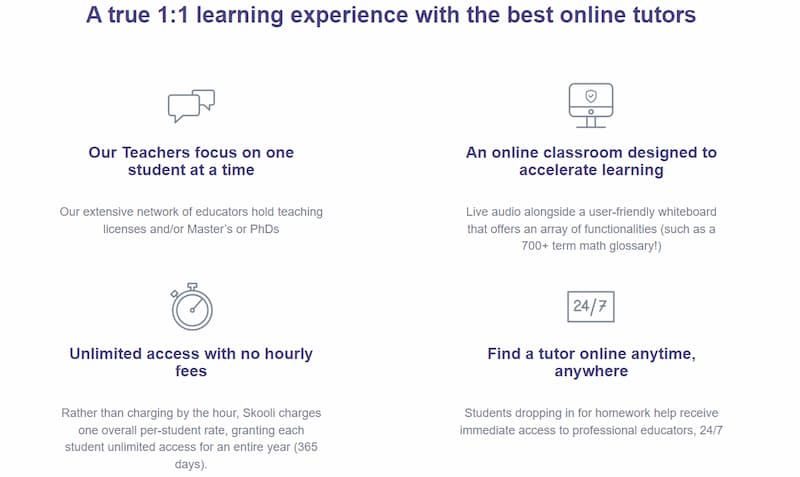 Skooli Quality
The quality of learning on the platform is not top-notch. But they have some nice features. They have:
All teachers on the platform are credible and have been known fully to hold a degree of education in the best way. They have also been put through a background check, and passing them means they have the opportunity of taking any class.
Skooli holds several packages that will be comfortable and convenient for the student. For any of these packages, payment can be made after each class, and whatever way is comfortable.
More socially, they foster a tutor-student relationship with the kind of way teaching is done.
But you should also analyze other tutoring companies. For example, Wyzant has a much better pricing system and quality of tutors compared to Skooli. Have a look at Wyzant reviews for more understanding of what every tutoring service should have.
Skooli Customer Service
Another thing Skooli is known for its fantastic customer service. They make sure tutorials can be taken any time of the day and any day of the week, i.e., offering a 24/7 tutorial service.
Students can also book appointments on when they would love to have a class, and if convenient and approved by the tutor, the class will hold at whatever desired time.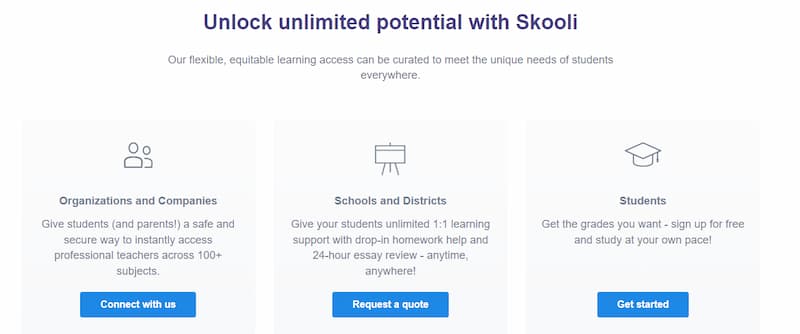 It simply means students are at liberty to fix their classes. Also, they make sure teachers relate with students in a more casual way to foster good relations.
Skooli Website Usability
Website usability is in great use, with quite a several students present on daily use. However, to improve the quality of their services, a mobile application has been developed.
This application makes things easy and ensures easy access to certain features that may not be possible via the web.

Pros
A virtual classroom for easy learning.
Tutors have an undergrad degree with a certification to teach.
Payment is easy with a pay-as-you-go system.
Filters chat as a part of its feature.
Enables tutor-student relationship.
An extensive curriculum.
Cons
Teachers are limited in number.
Learning conditions may not be convenient.
Although termed affordable it is still quite expensive.
The on-demand sessions are unavailable.
Only 3 classes are available.
Requires constant internet connection.