Do you hate typos and other grammatical mistakes that make you feel less confident when writing? You can improve your texts through tools that help you with writing.
Because there are lots of them, you can trust EduReviewer.com for the software reviews we provide for you. Don't have time? Check our list of the best plagiarism checker & proofreader reviews.
Our genuine Ginger Software review will assess things that matter in software. You can trust us with your time because we will be detailing information about:
Pricing: some tools offer free service, which mainly provides basic help. We will review Ginger Software according to its pricing and how you can pay for the packages. If there is no premium version, we will also check this and cover what is included in this plan.
Quality: nothing is most frustrating than learning that you spent your time on something that is a total waste of time.
So, is Ginger Software good? Does it catch the mistakes you wouldn't have noted on your own? We will review that for you and give you our unbiased opinion.
Customer service: we will tell you if services are dominated and delivered by bots or real humans. Imagine getting an automated response even after personalizing your request. Gross, right? We will tell you how Ginger Software treats you and what comments from other customers say.
About Ginger Software: you need to acquaint yourself with your service provider. Enjoy learning about Ginger Software with us, why it offers its services, and how long it has been doing so.
Mobile app and website: we are happy to share our insights about Ginger Software's website usability. Is it something you can use on your own? We will also review its App usability, ease of installation, and the type of operating system it is compatible with.
GingerSoftware Overview
What is Ginger?
Ginger is software that assists you while writing and editing. The tool is handy when you want to make an impressive impression through writing. It helps you catch grammatical mistakes, spelling, and punctuation mistakes.
It is helpful to students for writing their academic and admission essays (check our reviews on websites to help college students with homework if you need help), businesses for their websites and social media accounts, and personal uses.
You can also use Ginger Software to learn English based on your writing's common mistakes over a certain period.
How Does Ginger Work?
To use Ginger, you have to log in to access its features. There is also an option to download a chrome extension that helps you edit as you work. This option is convenient because you do not have a lot of work left when you are done.
Sign up for a Ginger Software account using Facebook, or your email address to get started. After that, you can proceed with the basic version or proceed with a premium if you want advanced checks for your content.
A basic account only catches a few errors, but an advanced account detects more and provides you with suggestions.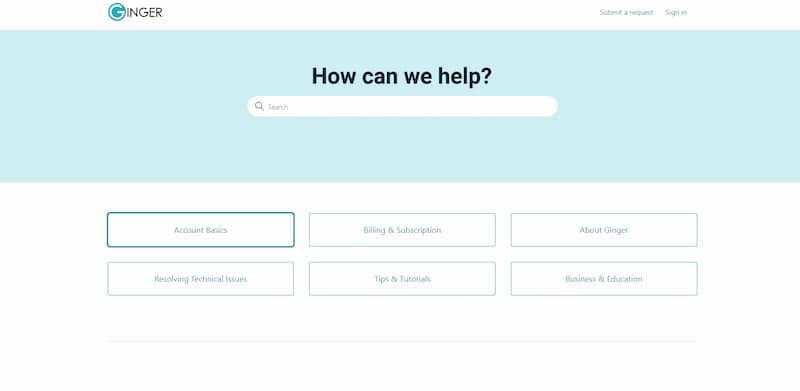 A premium account has packages that you can pay monthly, annually, or bi-annually depending on your budget.
Does Ginger Software Have Guarantees? Does Ginger Software Help?
Absolutely! Nothing brings more confidence than assurance. The service provider offers a money-back guarantee for premium users in 7 days, should the tool disappoint them.
Based on reviews for Ginger Software, we consider the guarantee an excellent way of building trust. Most users' feedback is from happy experiences, making it unnecessary to demand their money back.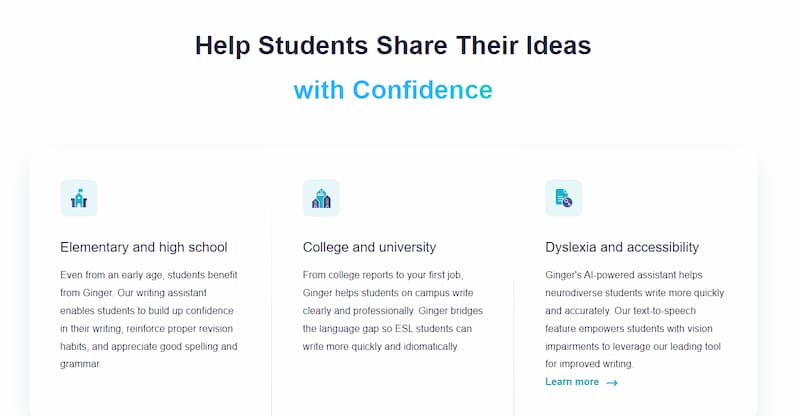 The software is super helpful to professionals, students, and businesses alike. Some users of the Ginger professional translation software reviews show the tool is incredible. They say that the tool helps them to deliver flawless work when translating documents for their clients.
People that are focused on grammar have also found the tool helpful. Reviews on Ginger Software indicate that they have had lovely comments from companies and institutions they were reaching.
Is Ginger Software Grammar Checker as Effective as they Say?
Our Ginger Grammar Software review is based on our experience with the tool. We found it helpful in our documents, although we noticed it could miss some errors. The basic version felt limited when checking content.
So, how good is Ginger Software? Although it can allow some errors to pass, we think the software is outstanding. Picture this: you want to send a pitch to a vast business executive but have little knowledge of grammar rules.
You are likely to send a pitch that has so many mistakes, making you look like a joker. But, Ginger Software can help you eliminate these mistakes and look like a professional.
Additionally, you can edit your work before sending it. Some words and phrases are irrelevant and make texts difficult to understand.
We have a Ginger Software editing review for this option. Although most users leave reviews for Ginger Software grammar, the editing option is as effective. Get rid of the fluff and make your content understandable to a large audience.
Is Ginger Software Safe to Use? Is Ginger Software a Scam?
Ginger Software has been in service for over a decade and has delivered its services to millions of users.
So, is Ginger Software legit? Yes. We find Ginger Software legit from the way the service provider works and the services you get after signing in.
The payment methods are safe since they are verified, and you can easily reach the team through an active contact form or social media.
We have not encountered scam-related Ginger Software reviews, and our experience has been good so far, which is why we approve of its authenticity.
Check our Fixgerald.com review and Copywritely plagiarism checker reviews before picking any service. Yet, how reliable are they? Is it legal to use them, and do they help get things done affordably?
Story of Ginger Software
Ginger Software was created in 2007 by Yael Karov. She was assisted by her husband, Avner Zangvil, and other investors, who later became interested in the project.
Yael is a Hebrew native with a keen eye for mistakes. She could notice grammatical errors other non-natives could make when writing their application letters and resumes.
When writing in English, she realized the same applied to her, and it made her miss great opportunities because mistakes devalued her proficiency.
Yael is an M.Sc. in Mathematics and Computer science. Her background significantly contributed to this project because it runs on an algorithm. Her passion for helping people proofread their work with little time became successful, and she also acquired a patent for the business.
When building the software, Yael and her team used her house for the work. But, after the company became patented, they set up an office that currently has 35 employees.
You can download the Ginger App for free to your mobile device or browser today. Yael feels excited that people can save a lot of time browsing for the proper phrasing of sentences and punctuation using this tool.
Services of GingerSoftware
We cannot forget to do a GingerSoftware review of the services. Here is what we think about some of its superior services:
Ginger Grammar API:
It is a super helpful service that Ginger Software provides. You can use it as a team or alone. The service allows proofreading as you write and offers suggestions for words that can be more useful than those you have used.
Alternatively, you can write your document and proofread it later in full. The tool can fix the entire document for you or replace the words and phrases with the suggested ones manually.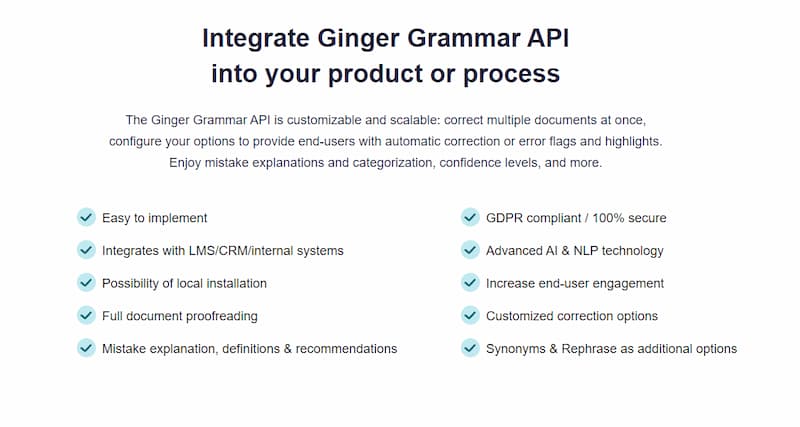 Ginger for business:
The service aims at helping businesses. Your business is judged by conveying ideas through its social sites, website, newsletters, and emails.
We think this service can help improve your business's credibility if you run your content through it before sharing. AI powers its grammar checks for better results.

Ginger for schools (EDU):
It is a helpful service to students globally. Since the service knows no borders, students from all over can submit papers with better clarity. They get rephrasing suggestions to complex phrases, which we think is pretty cool while writing academic content.
Pricing of the Tools
The software has different features that you enjoy after signing up for the services. It has other packages that we shall review shortly. Each of the packages is priced differently to ensure it caters to customers with various budgets.
Browser extensions, mobile apps, and basic Ginger Software accounts are free to use. However, you get limited features. The "Word Definitions" is the only feature that is not limited to this option.
Premium packages are charged as follows:
$14.98 monthly;
$6.24 per month when you choose a yearly plan. However, you pay a total of $74.88;
$4.99 per month when you select a bi-annual method. The total amount payable is $119.76;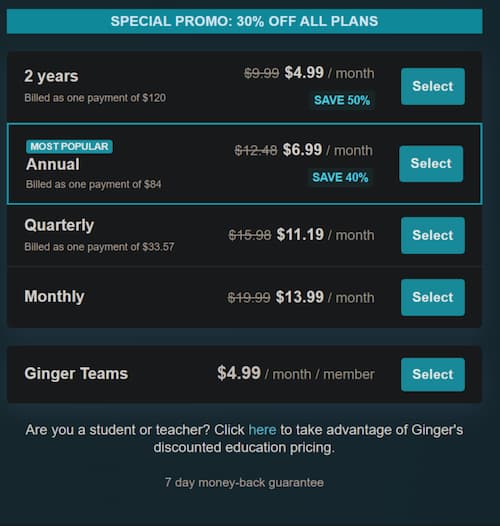 The features you get on premium packages are:
Unlimited AI-Powered Grammar Corrections
A premium Ginger account helps you correct all grammar-related mistakes. They include tenses, adjectives, typos, wordiness, repetition, synonyms suggestion, nouns, contextual spellings, subject-verb agreement, and punctuation.
There is no limitation to the words you can check to ensure your final copy is clear.
Definitions
The software has a dictionary that allows you to find definitions of words you are not sure about their meaning.
We find this feature useful because it makes you confident about your words without fearing using words that give your content a different meaning. It is an excellent way of showing off your prowess.
Sentence Rephraser
Some phrases can sound awkward when read aloud. Ginger's sentence rephraser helps in getting rid of this awkwardness by suggesting alternative sentences. It helps you fix sentence fragments, missing words, and spelling mistakes.
You can automatically rephrase the entire content or fix it manually on the section you need to be reworded.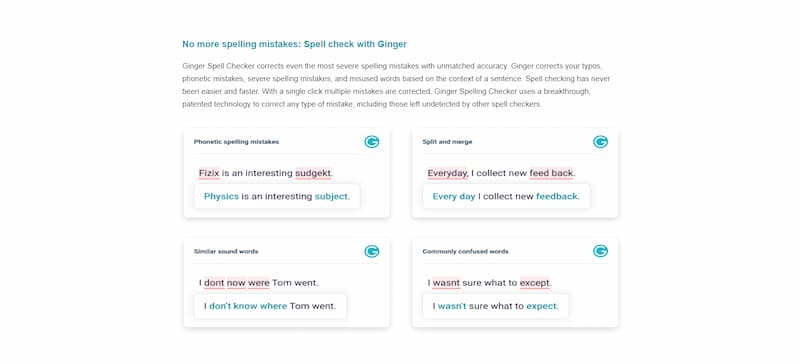 Translation
This premium feature allows you to translate content into over 40 languages. Reviews of the Ginger translation software from premium users show that it is worth the subscription.
You can translate into languages that are commonly used worldwide to reach a greater audience. It is also ideal for translating documents that are only available in a language you cannot understand.
Text to speech
It can be challenging to pronounce some words correctly when English is your second language. This tool allows you to convert your text to high-quality speech. You can listen to the pronunciation of different terms from this feature that emulates human speech.
It has the option to choose from UK or US accents. Depending on which you intend to grasp, you have a choice. You can also select from a male or female voice, whichever gives you more clarity.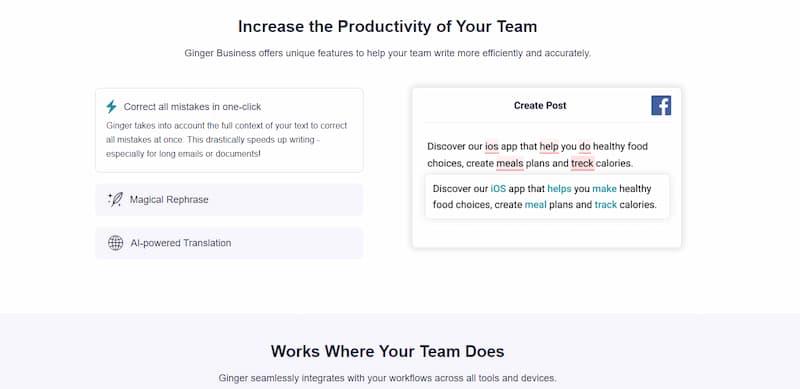 Personal Trainer
The software checks the consistency in your writing and then picks the common mistakes you keep repeating. We think this feature is impressive because you receive personalized training online.
That is, instead of generalizing errors from its users, it picks yours and teaches you to improve on those areas. Training is thorough and includes practicing.
This feature is crucial because it helps you save time. Instead of taking a whole semester to improve a small section of your English or read an entire book, you can do it through your Trainer.
You can compare all these tools and their pricing with what Grammarly offers. Check it in the detailed and comprehensive Grammarly.com review we have.
Quality of Tools
The quality of the software service is good, but we think it can still be improved. However, it serves most of its intended purposes, which is pretty outstanding. GingerSoftware reviews from clients can attest that the service is helpful in their writing.
Besides writing, it provides quality services for text-to-speech. It is excellent for people that prefer audio content.
Millions of students and businesses have also used tools from this service, and the majority seem to be happy with what the provider delivers.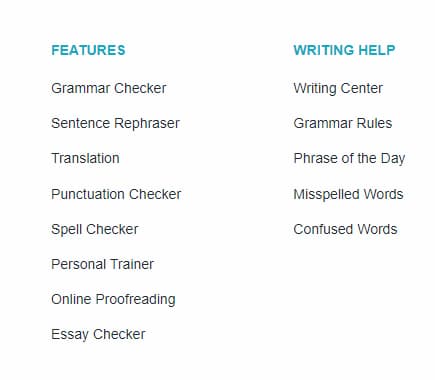 Is Ginger good software? We can recommend this software's quality, and we are confident that it will serve you what you need.
However, we advise using a premium subscription so you can experience the full potential of the software.
Or you can check other options like Copyleaks, read Copyleaks review and find out which company will be better for you.
Customer Service
Do you feel stuck, or is something not working out for you? Ginger Software has an elaborate help center. Before deciding to contact them, you can check a few tutorials available in this section.
They help you understand the software and show you how to use each feature.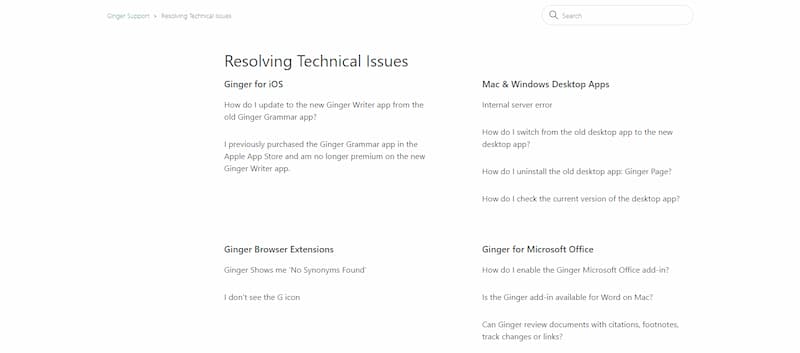 Besides tutorials, a detailed FAQ section is categorized into general, Android, iOS, and desktop help sections. They address most concerns that you will likely have.
We think this order is super awesome because you do not have to dig through lots of unclassified information.
If you do not find answers relevant to your problem, you can fill out a contact form and wait for the team members to respond.
The team is so customer-centric that we think it is worth a thumbs up. They handle your concerns so well that you are contented.
Also read: popular homework-help websites.
Website & Mobile App Usability
Ginger Software is downloadable for mobile devices and is compatible with Android and iOS. The App is easy to install, and you barely need extra hands in doing so.
The website is friendly and does not require you to hassle too much to enjoy its convenience. For a better experience, the provider has prepared some tutorials for you to enjoy using without a fuss.
At first, it can feel a bit technical, but we think it gets easier as you get used to the interface.
Pros
The software has so many incredible features.
You can use the premium versions without limits.
It is affordable.
A basic account is available for people that are only interested in essential services.
The software is easy to use.
You can translate multiple languages without wasting time.
Cons
The software provider does not have a plagiarism checking tool.
They do not have a phone number on their website, which can be challenging when you want instant feedback.
The software can miss some mistakes in your content.
Although there is a translator tool, we did not see the difference from Google translator.
Browser extensions are annoyingly slow.
The free version is too limited.