Seeking help with CV or resume writing is a smart idea if you dream about landing an interview for a good and well-paid job. This can help you in many ways. However, finding the right company might be not as simple as you expect.
We are here to help you distinguish legit services from those, which are an absolute Scam by evaluating them from the point of view of typical user's criteria and comparing them with other similar ones.
Why do we highly recommend taking our Resume Plus review into account?
First of all, it is our job to write resume writing services reviews and share our honest appraisals with job seekers.
Secondly, our reviewers have huge expertise in working with recruiters and are aware of "last century" tendencies and modern requirements.
Finally, it is in our favour to provide customers with current and relevant data. We take into consideration all the details provided by the web page of this or that resume writing services, including prices, acceptable ways of payment, variety of the services offered by companies (interview coaching, cover letter writing, creation of a LinkedIn profile, finding a recruiter, etc.) and the quality of the results obtained. We become customers ourselves to see how resume writing services work in reality and to discover all the pros and cons of each of them.
There are many resume writing companies, and each of them sticks to its own way of providing the services. As a rule, there are several types of resumes: Entry-Level, Professional, Executive, Technical, Federal (check our federal resume services list if you are looking for one), and others, so be aware of which one you need beforehand. Some companies are ready to prepare a Cover Letter for free and customized Resume, while others consider it a separate service. Usually, resume writing companies can also provide you with a CV, LinkedIn Profile, and sometimes even job searching consultation.
Not all companies are available 24/7, so be careful to contact them by email, phone, or live chat. Despite having common payment systems, not all resume writing services put it clearly on their websites which one they accept, so contact the company not to be confused with it.
Undoubtedly, prices may differ greatly, depending on many factors like level of difficulty, writer's professionalism, the time needed to get the document ready, discuss it primarily with consulters.
One can argue that there are too many details, which one has to pay attention to while choosing the company to get the assistance. But bear in mind that you will get the professional help of a certified writer who is aware of all pitfalls of the modern labour market by customising your CV or resume. It is always easier to present your best achievements and hide weak sides when analyzed by somebody else, not by yourself.
A qualitative resume will show a recruiter that you can solve or even prevent the problems that might occur in their organization, find creative ways of developing the company or use your background to achieve high productivity in this or that department.
For sure, with a good resume in your hands, you have more chances to achieve your career goals and realize your own job ambitions. It is not easy to create a relevant resume in a short period of time. That is why nowadays you can resort to specialized companies' assistance and be sure of the high results achieved.
✓ You can minimize the time spent on writing a high-level, professional resume or CV.
✓ A professional writer will pay attention to current tendencies and recruiters' requirements.
✓ You will be presented as a leader in the field you have worked in, which will increase your chances to be noticed among tons of job seekers.
✓ You will not have a resume written according to a strict template, and it will be individualized, taking into account your own situation.
✓ There are lots of chances to receive a job searching consultation right after having customized a resume.
✓ Usually, resume writing companies can provide you with additional services for free or at a good discount if you are their client already.
× It takes time and patience to find a really professional resume writing service.
× High-level resume writing company is not cheap.
× You will have to provide other people with personal information about yourself.
× You may forget something speaking with the writer, so it will not be included.
× There is a handful of free books, master classes, and advice you can use to write a high-level resume or CV.
× Not all companies can help you if you are in a hurry (fixed hours of operation, the time needed to deliver documents, etc.).
ResumePlus.com Overview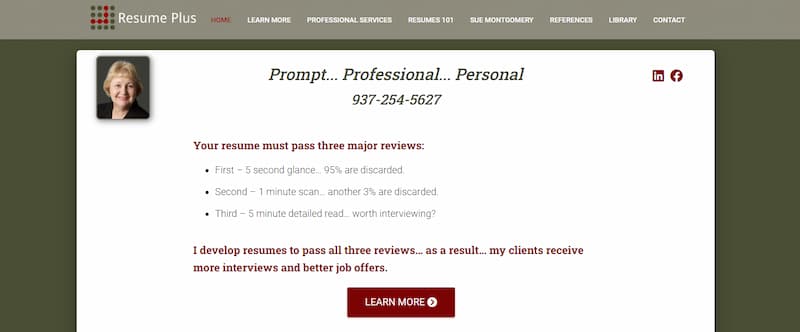 Sue Montgomery, the founder of Resume Plus, has been a marketing professional at the Fortune 500 company and then decided to start her own company to start marketing people instead of products. Her service has many years of experience in writing all sorts of CVs and other documents.
Sue herself is a member of the National Association of Resume Writers and Professional Association of Resume Writers and Career Coaches. Her works have been numerously published.
Today, she guarantees the uniqueness of the work and its validity among recruiters in the US labour market, and hundreds of positive Plus Resumes reviews confirm this. This company is ready to help you with a new college graduate, non-management, mid-level, senior, or C-level executive.
ResumePlus.com Pricing

Though Resumes Plus writing prices always differ depending on the customer's requirements, goals, and other aspects, it can't be called a cheap service. What we didn't like is that a new user can't find any information about the prices and packages available at this service. This is quite inconvenient. It is good that the price is calculated individually, but it would be even better if a customer could have an idea of how much it costs before making an order.
If you are looking for top legal resume writers, check attorney resume writing services on our website to find yourself a good option.
ResumePlus.com Payment

It is not that easy to find information on the website about which online payment services are acceptable. However, with some time and patience, you can find the answer. Unfortunately, Resume Plus offers a limited number of payment methods. As for a company with a big name and years of experience, they should've accepted more options than only Discover, Visa, and MasterCard.
ResumePlus.com Quality
Working with some certified writers, the company has achieved a few clients' satisfaction, and it can make a resume according to your individual situation. The company offers a great variety of services. It promises that if you get employed within a month or less with the resume provided by this company, you will recover all your investment many times over. But that is not the truth in accordance with clients' reviews.
ResumePlus Customer Service
The most convenient and fastest way to contact the company is by phone call, which would take you personally to the founder, Sue Montgomery. However, this is not too convenient since reaching her can be quite hard.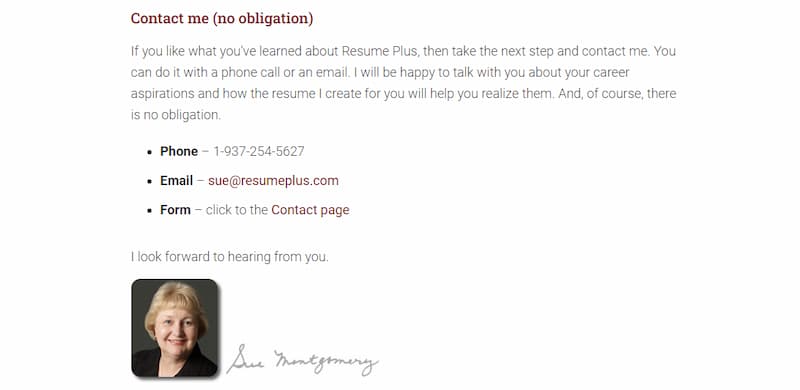 There is also an online form and email address for contact. However, they should improve the way their customer service works. While at ResumeZest, there are no such issues, so read Resume Zest reviews on our website and see yourself.
ResumePlus.com Website Usability
The Resume Plus website is rather user-friendly. Though the layout may not impress you, it works well with a computer, laptop or mobile phone. You can find all the necessary details about the company's foundation and the services they can provide and contact information.

Online Support can be used for immediate inquiries. Not all the information is systemized decently, so be ready to look through each website chapter. But have a look at Resumeble reviews and see some differences for making the right choice.
Pros
Resume Plus service can provide you with all the necessary documents to help you achieve your career goals.
The company never uses resume templates, paying attention to your own background and career ambitions.
The system of price establishment and payment is flexible, meaning that you can get discounts.
You do not need to fill out any questionnaires to order a resume – you will have a telephone consultation to make everything clear and clarify the career goals.
There are many recommendations given for this service by recruiters of economically strong companies and organizations.
Resume Plus is a perfect service for those who are looking for the average quality.
Cons
No live chat support.
They do not work with customers who need basic resumes.
Despite a flexible pricing policy, it is still one of the most expensive resumes writing services in the USA.
They do not accept walk-ins, so you have to call for a consultation, even if you live nearby the company's office.
The minimum time for the company to have your resume or CV ready is 5-7 business days.
Minor resume updates will cost you a minimum of $50, but if more than four years passed after the last updating, you will have to use the regular pricing.