Preparing for an examination is hard, but it becomes even more daunting when it comes to an important standardized test like the GMAT. It takes grit, hard work, and consistency. Even at that, you can't do it alone.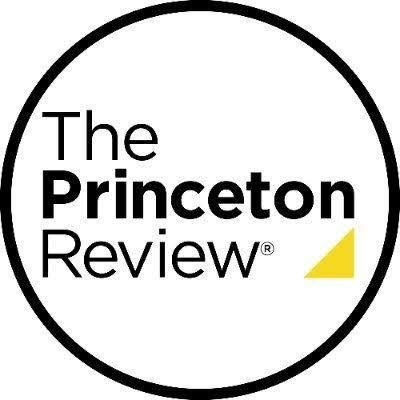 For so many years, parents, tutors, and even students have depended on the prep courses offered by The Princeton Review, and there are so many reasons why.
Since 1981, this tutoring service has offered various exam prep courses to help students pass their tests and get into their dream schools.
We have a detailed analysis of The Princeton Review and its services here. Still, this particular article would be dedicated to thoroughly addressing their GMAT prep courses, tuition, and other important factors.
If you want to know about Princeton Review's SAT or ACT prep courses and GRE prep, you can find that on our blog too.
As students, you know it's not easy to get into one of the top programs in the US without a high GMAT score. Are you going to take chances by failing to prepare effectively? TargetTestPrep vs Magoosh GMAT:  the necessary stuff that will adequately equip you for your GMAT.
If you want to work smart, then check this out. Let's dive into this The Princeton Review GMAT review:
Princeton Review GMAT Course Reviews
The Princeton Review stands out amidst other educational services, one essential reason is its detailed and analytical teaching method.
They have three major course types, which are still broken down into bits to make sure that students can find a plan that works for them without stress about it.
These three major courses include:
GMAT 700+
Fundamentals
Self Paced
Are you wondering which one would be perfect for you? Let's check it out:
GMAT 700+
MBA experts would say that a GMAT score is good when it's between 600 to 690, but to stand out from all the thousands of candidates seeking admission into the same program, you have to aim for a score of 700 and above.
That is literally what this course means. A score of 700+ and above. Want to know how this works? Well, read on.
With the GMAT 700+ course, you would be getting:
In-depth tutoring from GMAT professionals for about 47+ hours
An official GMAT course bundle to help you organize, plus structured GMAT questions up to 4,480+
Live videos and interactive one-on-one sessions help you physically and mentally prepare for the exams.
GMAT is a test that will specifically analyze your verbal and mathematical knowledge. In this vein, the GMAT 700+ will also provide you with more than 10 hours of verbal and mathematical tutoring sessions.
During this session, your tutor would explore every topic you find challenging and give detailed explanations on overcoming those challenges.
Plus, you'd also get another 10 hours in which your instructor would give you training on how to solve advanced GMAT qualitative and mathematical questions.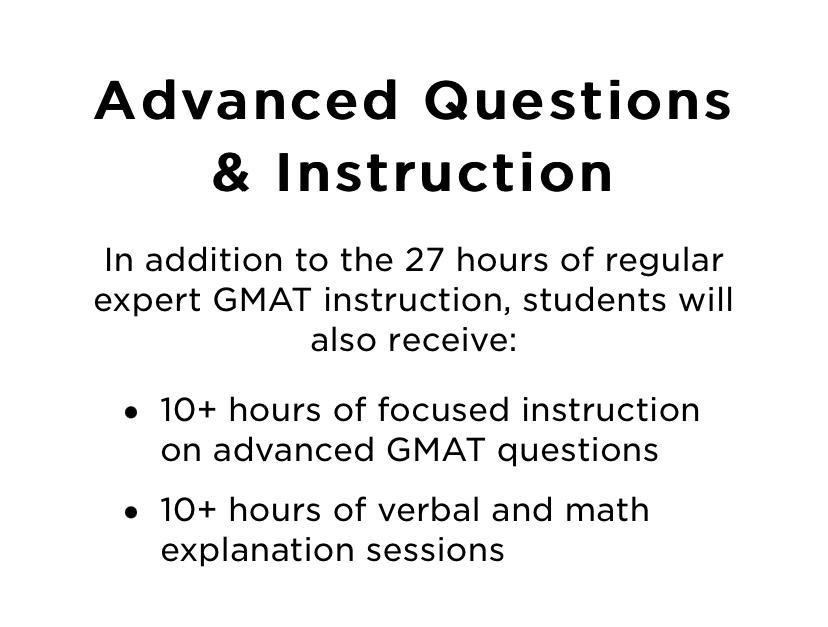 Another amazing thing is that you can perform live adaptative drills in this course.
These drills would simulate the real GMAT exams, and it works in helping you increase your confidence and not panic when the real day comes.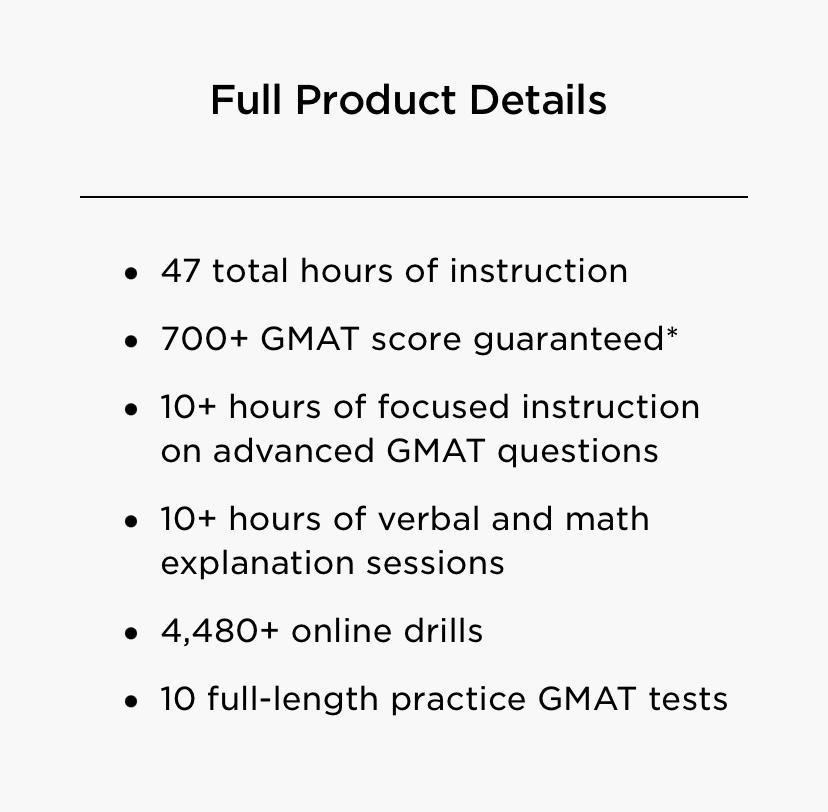 Here is what a student had to say about GMAT 700+: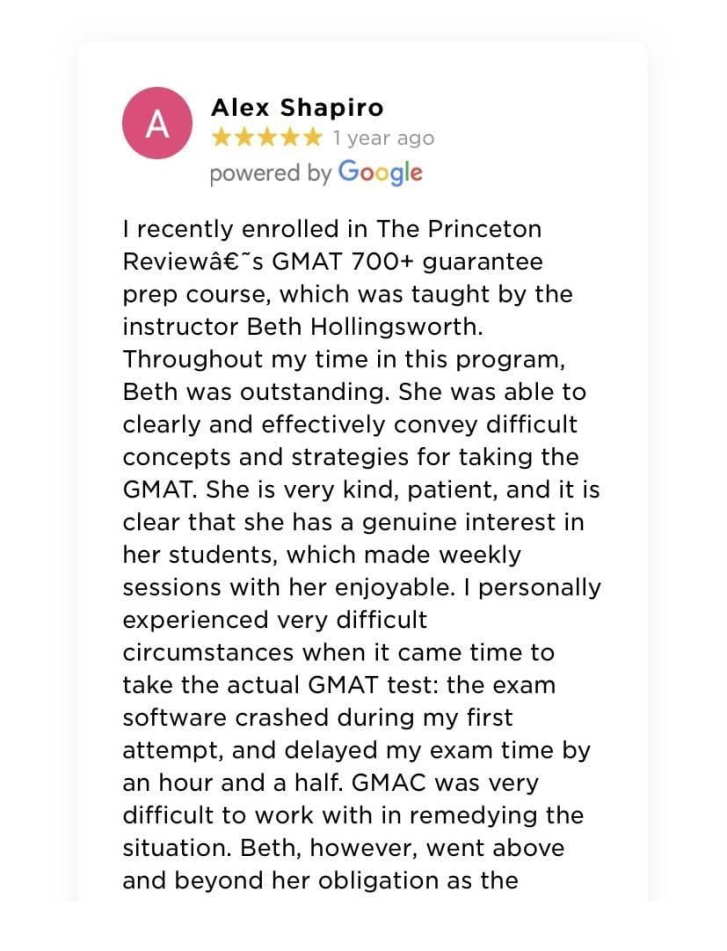 Fundamentals
We've discussed the GMAT 700+, now let's move on to another course for the GMAT test. This is a little pricey, and you'll find out why very soon.
Most applicants usually seek out this course, and even tutors highly recommend it because it offers an enabling environment that would push you to work very hard and be very smart.
In a brief outline, here's what you'd be getting:
Live tutoring worth 27+ hours spread over about three months
10 Full-length GMAT test simulations and 60+ online drills.
Live interactive sessions with industry experts and experienced professionals.
With the test drills, you will have ample time to find your weak points and address them. Most times, you will be dealing with past GMAT assessment questions, so you'd already have an idea of what to expect.
Sometimes, despite great preparations, students lose their confidence when the test day comes. But with GMAT practice tests and drills, you have nothing to worry about. Why is that?
The DrillBuilder is why.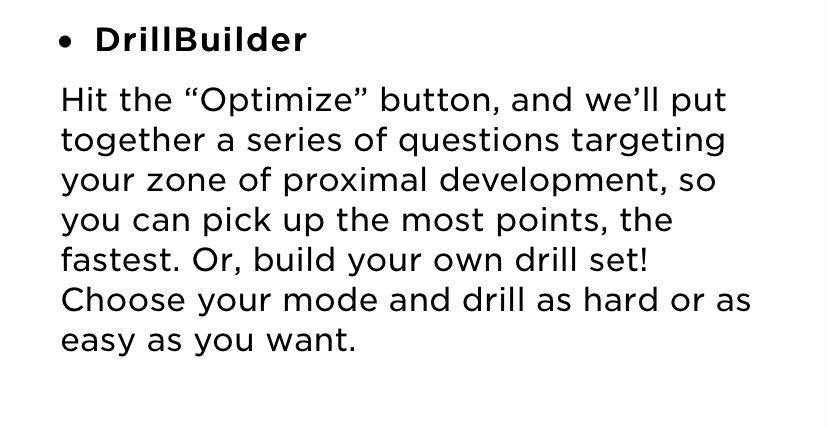 Usually, when you sit for the exam, you notice that the more correct answers you answer, the harder the questions get.
The more incorrect choices you make, the more difficulty eases. With the above software, you get to simulate this exact experience. You can also add your choice questions manually by clicking the "optimize" button.
In this course, you get to study in a group of six to fifteen, depending on your choice. The clause is the bigger your class, the better.
While you think studying alone might be great for you, it's not the best option at the moment. There is a self-paced option for that, but if you choose this course, decide always to speak up and interact.
You can always take some hours to study alone and make progress, but it is great to be a part of a team to get the extra push and motivation it would take you to study successfully.
Even though this course lasts about two months, your access to the materials remains valid for up to 4 months. Each class is almost 3 hours long, and you have one once a week.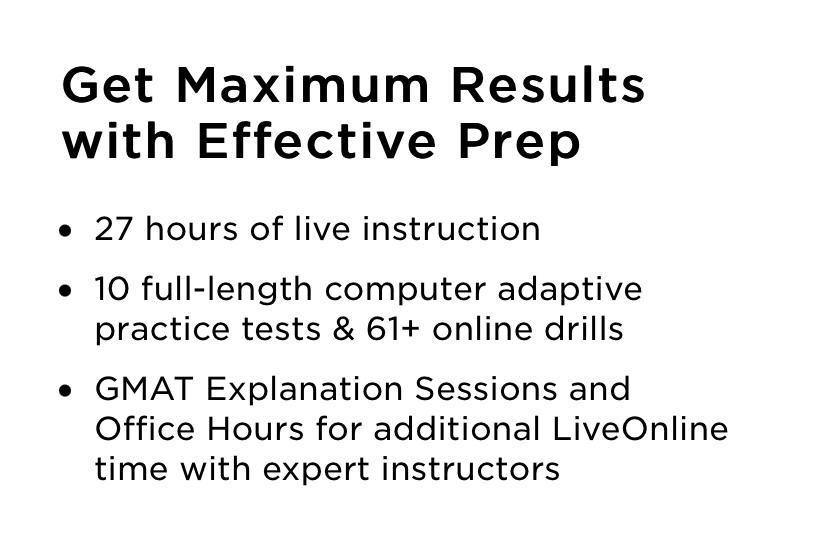 Self Paced
If you're looking to study at your own pace, time, and schedule, then this course is for you. Let's take a closer look at why it is so.
Maybe you're a full-time worker, a busy mom, or someone who can not keep up with the strict schedule of the other courses. It's okay. You can opt for the self-paced course.
All the materials are adapted according to your needs, and you would have access to experts and professionals just when you need them.
Of course, you'll get up to 83 adaptive drills and 3000 questions, about ten prep tests, and instant access to 100+ video lessons; you won't be missing anything at all!
With these live video lessons, self-paced teaching has been made easier. If you come across any topic that seems a little challenging, then play it back and get an extensive breakdown of how to solve those challenges. If you're not clear, a simple click will bring you a live expert to show you the way.
Now that we've seen what each of these entails, let's take a look at each Princeton Review GMAT course cost in the following paragraphs.
Princeton Review GMAT Fees
The prices are quite reasonable for courses that give you hours' worth of materials, live videos, exam simulations, and even access to the best GMAT prep experts.
While the GMAT fee is only $250, it is surely not an exam that any student would want to sit for more than once. This is why you should not be frugal when spending money on getting the best course.
Knowledge comes with a price, and if you're prepared to pay it, then you should see this:
GMAT 700+
This is the most expensive course on the list, and it costs $1899. However, there's a "Save $250" ongoing promo that lets you buy it at $1649 right now.
You might want to go cop yours immediately since this promo is ending soon.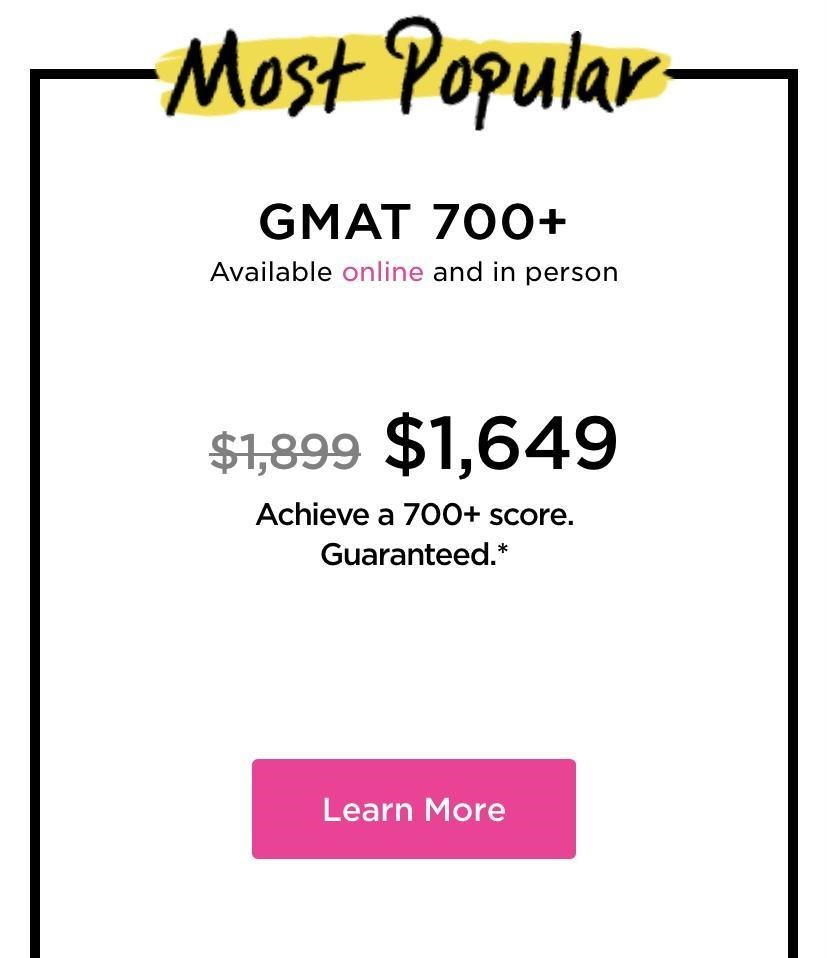 After payments, you'd get immediate access to: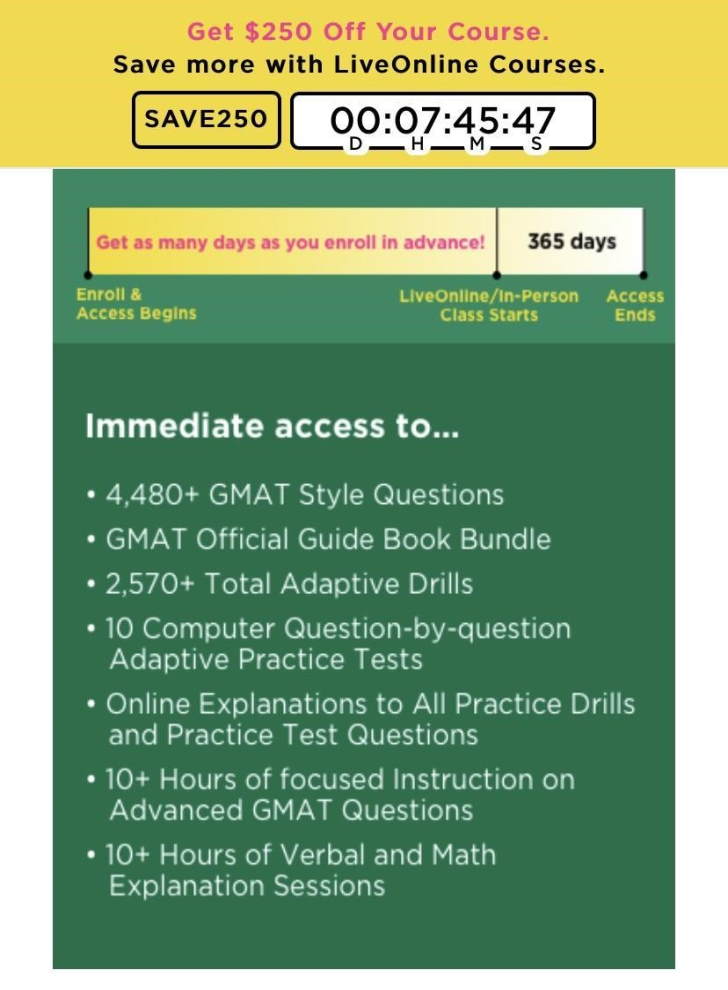 This is a course you want to take advantage of. According to Princeton Review GMAT online course reviews, this one is best for high performers looking to fit into the highest percentile.
Fundamentals
There is also a "Save $100" bonus for the Fundamentals course. This means that instead of paying the usual $1399, you get to pay $1299. This would not last forever, so you better take advantage of it now while it's still on!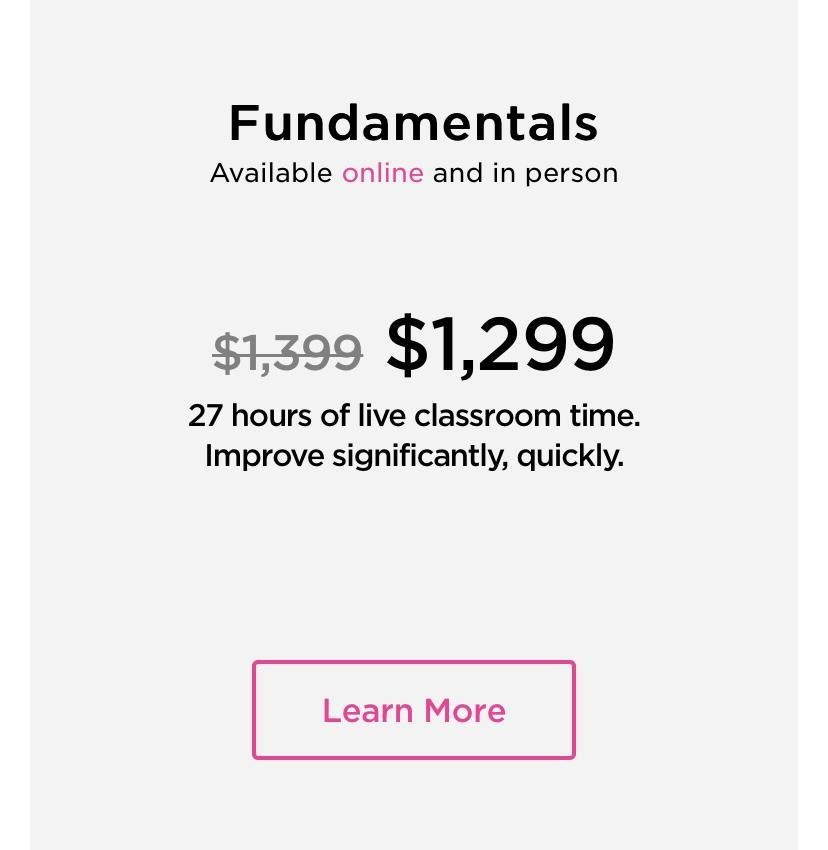 If you love to work in a team, or you need extra push and motivation from experts and other students alike, then pay for this course right now!
Also, if you are a non-native English speaker, you might want to take this up because the tutors do spend a lot of hours teaching the verbal aspect of the exam to their students.
Self Paced
The price is reasonable for the flexibility of the particular course's schedule. You get to save $100 due to the ongoing promo, so instead of paying $799, you get to pay $699.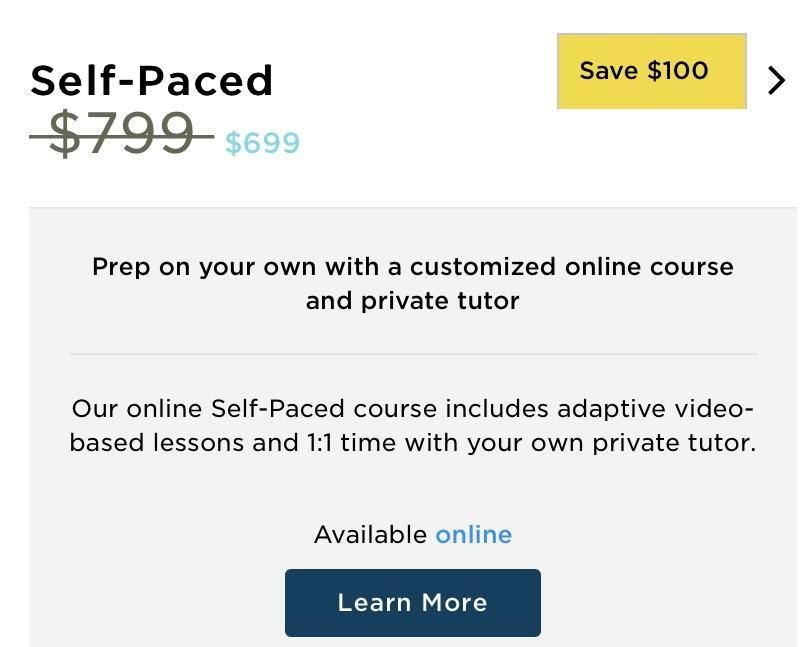 When you pay for this course, you get access to:
Quantitative module
Integral reasoning
Verbal module
There's an option to pick each study module separately, but that's a more expensive option if you ask. Each module comes at $299, and if you pick each separately, you might spend about $897 instead of $699.
Our advice? Buy the package, and then study at your own pace. After all, that's the entire essence of this course. You'll also get:
A GMAT bible guide
GMAT adaptive drills with up to 3000+ questions.
Video Lessons
Practice tests
Access to experts.
And the best part? You're getting all these at your own convenient time!
Tutoring
The Princeton Review offers tutoring sessions if you think that's what you need. This particular option wasn't listed as a course because it isn't typical. Here, a top private tutor will help you learn, and this tutoring can happen either in person or online.
They have two packages for this option, and they are:
GMAT Comprehensive, which lasts 18 hours with a price of $167/hr. That makes it a total of $3000.
GMAT Targeted, which lasts 10 hours with a price of $180/hr. That makes a total of $1800.
Your fees have to be paid upfront for the other courses before lessons can begin. With tutoring, however, payments can be spread through the duration of the class.
For a more detailed outline of all the courses and their prices, here's a table:
Courses
What To Expect
Prices
GMAT 700+
●     A guaranteed score of above 700+

●     47 hours of instructions

●     Interactive video lessons

●     Use of supportive software

●     Adaptive skill tests

$1899
Fundamentals
●     A guaranteed score of up to 650+

●     27+ hours of instructions

●     10+ hours of verbal and hard math explanations

●     Interactive video lessons

●     Adaptive skill tests

$1399
Self Paced
●     Video lessons

●     Up to 83+ skill tests and 3000+ questions

●     Access to experts

●     GMAT bible guide

$799
Quality of the Courses
According to Princeton Review GMAT reviews given by satisfied clients, the courses listed above are effective. Here are some of the comments and feedback: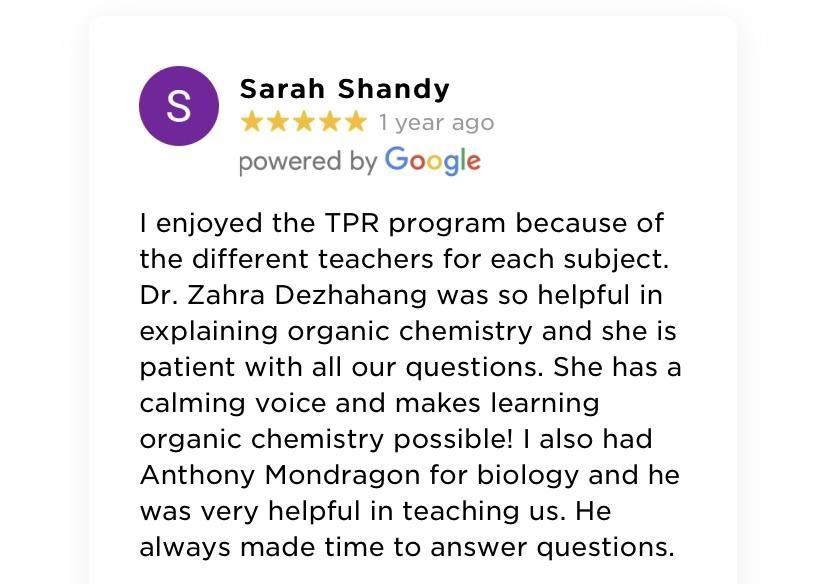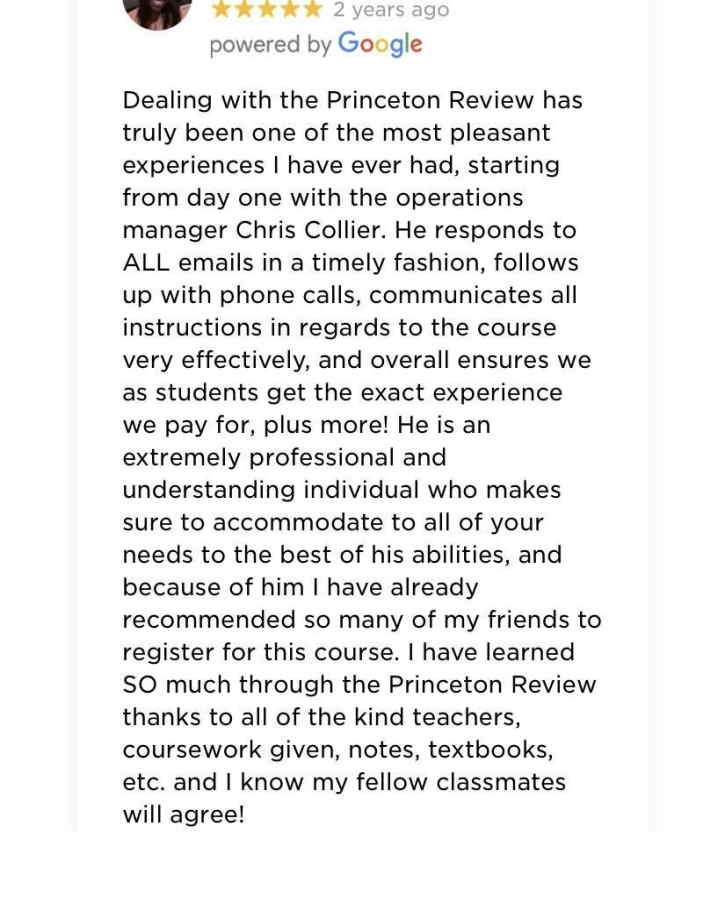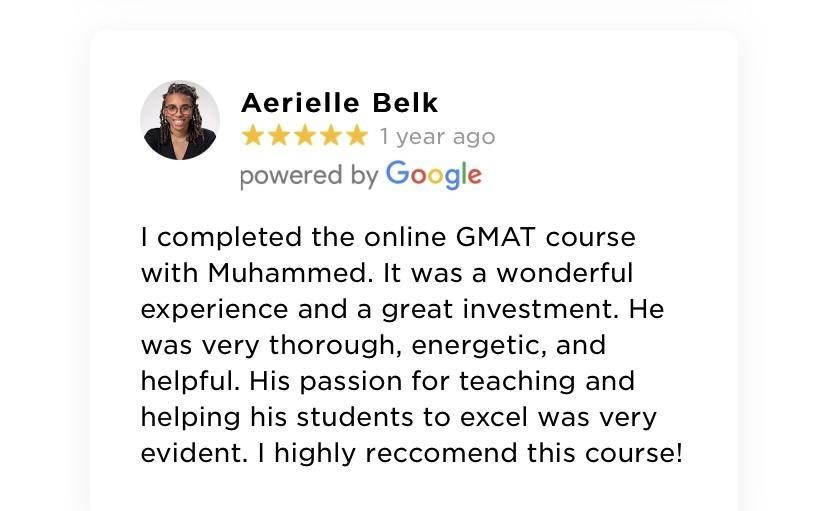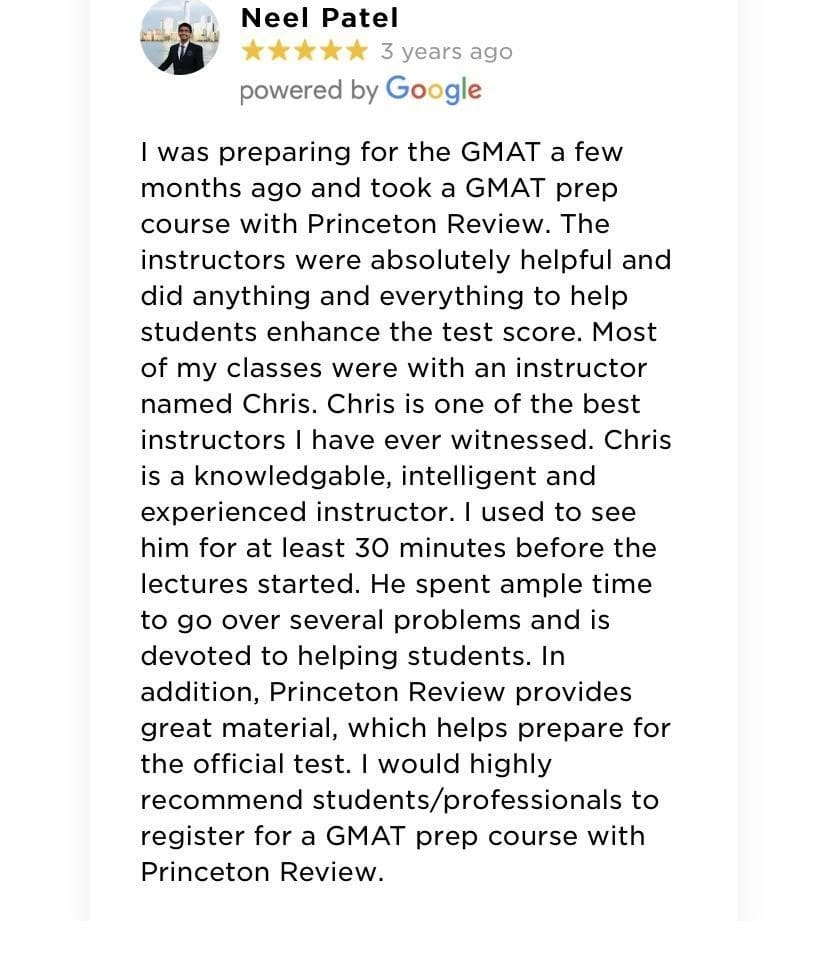 One important factor to note is that there are different packages for a reason.
As students, you have to find the one that is the most beneficial or affordable to you and at the same time convenient for your schedule. That is the only way to make the most of these courses.
On this exam, Lindsay Badeaux, a senior assistant director of admissions at the University of Chicago's Booth School of Business and an MBA admissions counselor at the IvyWise admissions consulting firm, said, "While most business schools utilize a holistic review process and consider all parts of an application to paint a well-rounded picture of each applicant, the test score does play an important role."
Whichever course you decide to choose, success is guaranteed based on the following methods:
Goal Setting
As students, you've probably noticed that you don't aim for anything when you don't set goals. The Princeton Review is not a Center for students who do not have ambitions.
After making your payments, the first thing you do as a customer is to enter your set goal for the program. They offer this in SAT prep courses too.
You enter your target scores for each module of the GMAT exams. As you take more adaptive drills and tests, you get to see how well you're doing about how well you're prepared for the actual exams.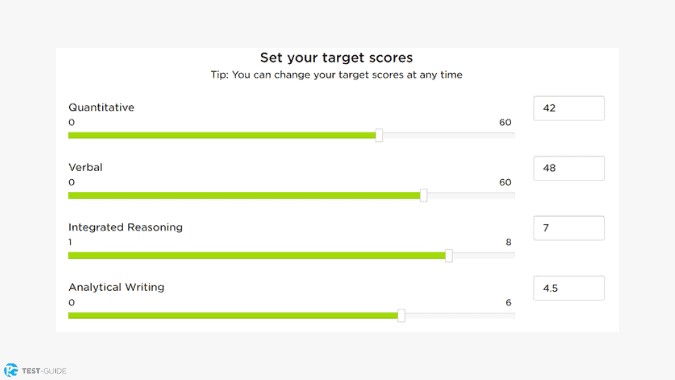 Coursework
For each package, the coursework is so comprehensive. You have several materials to choose from, video lessons, live interactive sessions, a GMAT book guide, and even access to an expert. These materials are also available in case you want to self-study.
If you are not sure how good their books are, check our Barron's and Princeton Review GMAT books comparison first.
All the categories are carefully detailed and broken down so every student can have a chance to learn and understand.
GMAT Simulation Tests
This is an important one. No matter how well you prepare a student, it's easy for them to lose their confidence when the real day comes without these practice tests.
Thankfully, The Princeton Review knows this, and they have taken steps to make it right. They have software that can simulate the exact GMAT experience, allowing them to answer questions in order of difficulty or ease.
You can either take the exam timed or untimed, but it is advisable to take the timed option.
Records
Records are essential because it helps you keep track of your progress and tell you where you need to work. After every practice test you take, you will get a score sheet.
These sheets will contain all your correct and incorrect choices.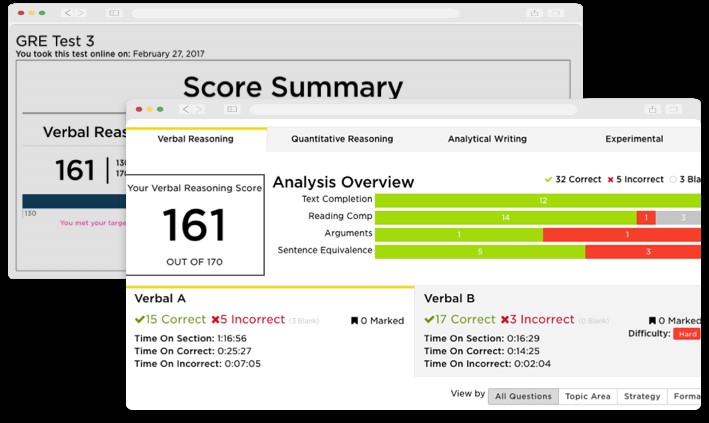 You will get in-depth explanations on why it was incorrect, how to solve it, and what you need to work on for the incorrect choices.
You would also get to see the time it took you to finish and how to do better. With these reports, you can take as many tests as you want until you get it right.
Live Sessions
There's no way you would miss this session because it conveniently holds at night, mostly from 08:30 to 10:00 PM. Different instructors would go live on different days of the week to address certain topics that students might find difficult.
Problem areas are broken down into:
Reading comprehension
Sentence correction
Data sufficiency approach
Algebra
Identify your problem area and try to be available for these online classes.
Vineet Chhabra, senior director of product management at the Graduate Management Admission Council, said, "The GMAT is consciously designed to assess skills that are most relevant for business school. It's a test of applied reasoning. It's not just about knowing stuff; it's about what you can do with your knowledge and how you can apply that in a thoughtful way during business school. It hits closer to what business people do on a daily basis."
Guarantees
The Princeton Review has two essential guarantees. Before we list these out, we must mention that students under the GMAT targeted tutoring are not eligible for this.
The reason is that the package does not cover all areas of the GMAT specialization. Applicants believe they know some areas well and decided only to target specific areas.
The guarantees are:
If your GMAT score does not increase, or (for students of GMAT 700+) you didn't get a score of 700>/=, then you are eligible for a full refund.
If you are not satisfied with the entire program after the end of your course, you are liable to retake the course for free. However, you would be required to pay $50 for your physical test materials.
You already know who is not eligible for this deal. Now the real question is: who exactly is eligible?
Here is the thing: As amazing as the guarantee sounds, you are only eligible if:
You attended all your classes for the duration of your program;
You attended all your life and private tutoring sessions;
Finished all your assignments;
Took all your practice tests and personal coaching time (For self-paced students).
Private Tutoring Features
For about $167 to $180 per hour, their private tutoring session is a reasonable price. With this method, you have a one-on-one session with an expert. It is usually divided into two, and they are:
Comprehensive;
Targeted.
In the comprehensive method, your tutor goes over the entire material with you. It is a generalized session that includes study planning and many other interesting teaching procedures. It comes at $167 per hour and lasts for 18 hours.
If you need professional private tutors to prep for GMAT, check our comparison of Princeton Review and VarsityTutors to see which company is better in terms of tutoring.
The targeted method is just like the name implies. For ten hours, your tutor only hammers on a specific problem area.
If you think you're so good at verbal and reasoning, but suck in maths, then you can take a targeted tutoring session on only the math course. It costs 180 per hour and lasts for ten hours.
Also, check our detailed one-to-one comparison of Manhattan Prep and Princeton Review GMAT prep courses.
The Tutors
Based on the importance and seriousness of this exam, the Princeton Review does not just pick their tutors without credibility.
All tutors are expected to pass a qualifying exam before being accepted. GMAT tutors must have taken a 27-hour ultimate course, which would be broken down into 9 different lectures of 3 hours.
The professional requirements are: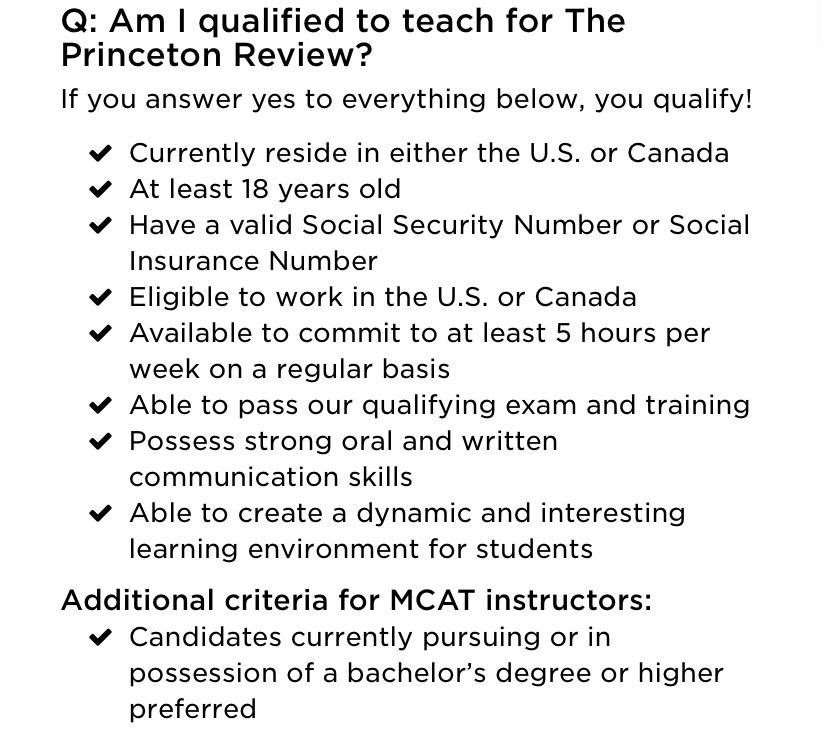 You must also have a system with a minimum RAM of 4GB, free space of about 2MB, fast internet access, a webcam, a headset, and a microphone.
FAQs
Are Princeton Review GMAT practice tests accurate?
Like with every prep course, take your practice test scores as a general guideline for what is expected. The courses are comprehensive, and the tutors are great, but the algorithm might change and alter the results. Keep working on yourself, no matter your test scores.
Is Princeton Review good for GMAT?
Yes. The center is the best one available for all your GMAT preparation.
Which GMAT practice test is the most accurate?
That depends on you as the subscriber. Every test is essential to your study plan and development.
Is the Princeton Review GMAT good?
Yes, it is a great center for ambitious minds to grow in an enabling and supportive environment. Choose the best platform today!
Pros
Guarantee of a score of 700+.
Realistic practice tests.
Comprehensive course materials.
Live sessions.
Hard Math sessions.
Expert feedback.
Access to GMAT professionals.
Cons
No mobile app.
In-person tutoring is extremely limited.