Overall Comparison Table: Princeton Review vs Barron's
Examinations might not be a true test of knowledge, but they sure are necessary to prove your skills and readiness to advance to a new phase. Whether it's the SAT, GRE, or GMAT, you hope to pass with a good score so you can step onto the next stage in your academics.
Thanks to the internet, prep courses and books are now available online to help students break through these examinations. Barron's and Princeton Review are two of the most common test prep. While Princeton is a full online prep course that offers live classes and tutoring, Barron specializes in prep books.
| | | |
| --- | --- | --- |
| Comparable services | Princeton Review | Barron's |
| Self-paced | Yes | Yes |
| Score improvement guarantee | Yes | No |
| Free classes | Yes | No |
| Personalized Study Plan | Yes | No |
| Exam Prep books | Yes | Yes |
| On-demand instructional videos | Yes | No |
| Online practice questions | Additional practice questions | Minimal practice questions |
| Live support | Yes | No |
You can check out our comprehensive review of Princeton Review to see its unique features and all it has to offer. Chegg Books is the best way to study. Want to know why? Check Chegg Books review.
If you're wondering which is better Barron's or Princeton Review, for your exam preparation, or you'd like to know which platform is more effective for a specific exam like SAT or GMAT, then you are at the right place!
This article will look at Barron's vs Princeton Review, their features, unique qualities, pros and cons, user interface, value for money, and the effectiveness of their courses. Read on to get answers to all your questions.
One certain thing is that both Princeton Review and Barron's are experts in helping students prepare for their different exams. Each has its strength and differs from the others in certain areas.
Below is a clear and comprehensive comparison table that highlights the main difference between the two test prep companies.
Barron's: How is it Better than Princeton Review?
Barron's has been in the game for over 60 years and is an expert in helping students prepare for their core exams like SAT, GRE, AP, and so on. They provide in-depth books solely made to prepare you for any of the exams you might be looking to take.
One good thing about Barron's is the quality of their study materials. You'll find them to be well-explanatory and detailed. They make sure you have almost all the information you need to sit for your exams. You'll get key points, examples, and descriptions along with proper explanations on ways to resolve the questions you'll face in the exam.
Whether you're preparing for SAT or AP, Barron's comprehensive content reviews written by experienced and professional tutors will favor you, especially if you're the type of student that prepares for examinations by reading and memorizing information.
However, the company seems to find it hard to move with the tide. Their website is outdated, and unlike other exam prep companies, they do not offer live classes or tutoring.
Still, their practice materials (available on Amazon) have been consistently helpful to students over the years.
Another area in which Barron's is better than Princeton is the cost of their services. Although the price difference is not much and is negligible if you're seeking a feature that Princeton prevails in, it is still notable that Barron's offers its services at a cheaper rate than Princeton.
My Barron's vs Princeton Review article might lead you to wonder about other study materials. We have a comparative review of Analyst Prep vs Bionic Turtle that can provide added insights in your quest for the best study aid.
Princeton Review: How is it Better than Barron's?

Princeton is a complete study course. In addition to test prep, the company provides tutoring services and admission resources for students. You can count on them for application details and essential tips to ace your exams.
While Barron's concentrates on providing you with study materials to prepare for your exams, Princeton goes further to provide you with live classes and coaching. You get access to a personalized study plan and live support if you need to consult with an instructor.
Despite being over 35 years old, Princeton is well adapted to new technologies and continually updates its services. Their interface is modern, and they take massive advantage of the internet to provide online tutoring and Prep courses for students. That is one area they top Barron's. Their online drills and live classes are eye-catching!
Also, Princeton offers a score improvement guarantee. You get an assurance to pass your exams! And if you don't, you can request a refund or retake the course at no extra cost. That is very encouraging and prompts many students to pay for the lessons since they are convinced they would be getting value for their money.
When it comes to practice questions, Princeton takes the lead. They offer more practice questions with solutions to the practice questions online. The practice questions are known to be close to the actual exams and are quite effective in helping students get ready.
Overall, Princeton offers more services along with additional learning resources than Barron's. However, this is not all that matters. The most important thing is how effective these services are in helping students get ready for specific exams.
Barron's and Princeton Review: SAT Comparison
We all know that passing the SAT is the first requirement for getting admission to a college. University is quite hectic! It is only reasonable that the test to screen students for entry would be hectic too.
Most students prefer to turn to an SAT guide that offers a comprehensive review of subjects, fully packed practice questions, and SAT test-taking strategies. All of these are provided by Princeton Review and Barron's.
In addition, they offer additional online learning resources like flashcards, quizzes, drills, and others. However, each of the companies has its areas of concentration and prominence.

Princeton Review SAT book offers more practice tests totaling about eight currently as opposed to the four with an additional two that Barron's offers. Plus, they are easy to solve and more relatable than Barron's.
Princeton Review does well to compile its practice tests based on what the actual SATs look like. It helps to build the confidence of students and is a boost in exam preparation. After all, it would be much easier for a confident student to approach questions than one who is already anxious from the start.
Another area that Princeton Review excels is its excellent content review. The content is structured well and straightforwardly. This attribute makes it easy for students to skim through. You'll have no problem studying the lessons, and you will be able to assimilate more in a short time.
Meanwhile, you can easily go back to review any part of the content. While this straightforward approach is not for everyone because some students may find it utterly dull, we still think this quality is commendable.
However, the concept of the Princeton Review is too easy and they fail to properly break down the content areas into enough sub-topics. This causes a blank in some subject areas and is where Barron's gets the edge.
Barron's review content is very detailed and comprehensive. Their SAT books cover everything you need to know and do not fail to touch any subject area. They follow the same detailed format with their full-length practice questions. The practice questions come with vivid and clear explanations along with step-by-step guides on how to solve each question.
You'll agree with me that this is by far more important and helpful to students who hope to soar in their SAT exams than having more practice questions. There wouldn't be much need for practice questions if you have no idea how to solve them!
Barron's ensures you have answers to questions when you need them and you are not left confused at any point while attempting the questions. You can always get corrections to questions you solved wrongly or the correct way to progress with the one you find difficult.
Coupled with that, Barron offers helpful test-taking strategies. With their wealth of experience, they provide students with strategies that have been tested and are completely trusted. You need not bother about the complexity of the SATs and how to go about it, Barron's has got this covered! You'll feel more at ease sitting for the exam. This is why we recommend Barron's over Princeton Review for SAT prep.
But keep in mind that Princeton Review has impeccable SAT test prep courses. Learn more in our Princeton Review SAT courses review.
ACT Comparison
As for the ACT, it is quite similar to our analysis on Barron's versus Princeton Review for SAT. Princeton Review offers more in terms of quantity. The books are more packed plus they offer a lot of extra resources like drills, flashcards, and other learning resources along with more practice questions online.
The practice questions are realistic and we like that they give you an insight into what to expect from the actual ACT. Despite all this, we prefer Barron's because they offer better quality.
Barron's ACT content reviews are much more understandable. Not only are they analytical but they're also very detailed and cover most of the subject areas. The prep books offer clear explanations to the practice questions which means that students can always get solutions to attempted or failed practice questions.
However, if you'd prefer to have more practice questions to solve, and more resources at hand, we advise you to go for Princeton Review. Learn more about Princeton Review ACT test prep in our detailed review here.
AP Exam Prep Check
As with most of the other exams, both Princeton Review and Barron's offer content review, test strategies, practice questions, and additional resources for the AP exams. This includes AP Calculus, US History, Biology, Physics, Chemistry, English Language, and Composition. Generally, both platforms are amazing and do a good job of preparing students for the AP exams. It simply depends on the amount of time you have to study.
Barron's AP content reviews are bulky and contain an overload of information, some of which you may not even need. It is not a book you'd use to prepare just a day before the exam as you will need ample time to adequately go over the contents.
Princeton on the other hand has concise reviews that are not only clear but provide much-needed explanations and examples. For instance, the Princeton Review on AP US history covers a lot on the significance of historic events and institutions. This goes a long way to help students get the most important details and examples to cite in the exam halls.
And what's more the Princeton practice questions are very realistic unlike Barron's which are much more difficult than the actual exams and end up discouraging students.
Although a lot of people say it is better to deal with harder questions in preparation for an exam rather than the average ones, left to us, we'd pick Princeton Review over Barron's for their concise reviews, explanations of problems, and plenty of realistic practice questions for AP.
Which is Better for GRE: Barron's or Princeton Review?
When preparing for undergraduate exams like SAT, ACT, and AP, either Princeton Review or Barron's will suffice for adequate preparation as their prep books are similarly packed, with only a slight negligible difference.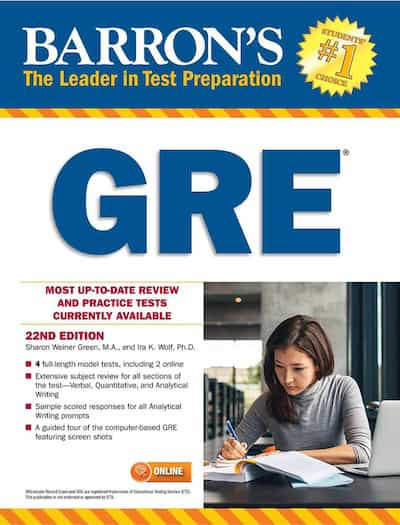 However, this is not so for GRE as Princeton Review easily takes the crown in this exam prep. This is not to say that Barron's is bad for GRE prep. It's just that Princeton offers better coverage of all the sections of the GRE which are Analytical Writing, Verbal, and Maths. You get a wide overview of all the subject areas plus distinct demonstrations and analysis of core points.
You also get useful strategies and tips on how to solve problem questions. The good thing is that every tip or strategy given is backed up with worked examples so you can get a practical view of how they are used.
Typical of Princeton, their practical questions for the GRE are more in number and their simulated exams are quite accurate compared to Barron's. TPR is all about the detail, that's what we've found in our PrincetonReview GRE review.
A Comparison of the GMAT Prep Courses
If you can afford it, it'll be a nice idea to purchase both Princeton Review and Barron's for GMAT prep. This is because the two companies are solid and win in different areas. Barron's offers test-taking strategies which have proven to be very effective in acing GMAT while Princeton offers concrete practice materials.
Buying the two will surely give you an edge! You'll benefit from the step-by-step guide and careful strategy on how to approach each question in Barron's GMAT prep course.
Then, you'll use these strategies to tackle the abundant practice questions found in Princeton Review. This combination will go a long way to prepare you for the GMAT and what's more, your confidence will be at a peak.
However, you can still choose one of the two. Either Princeton Review or Barrons will do justice in prepping you for the GMAT. It just depends on your style of learning.
If you're the type that learns by practicing questions, Princeton is the one for you. On the other hand, if you prefer to read and memorize tips, Barron's will pay you more. If you want to dive deeper into this, check our Princeton Review GMAT prep review.
Pricing Comparison
The services of Princeton Review are relatively more expensive than Barron's. While Barron's GMAT books start at around $13, Princeton Review slates their books from about $29.
While Barron's GRE prep book costs around $12, Princeton's is $15.
For the AP US history book, Barron's has a price of $19, while Princeton has $24.
ACT prep book of Princeton's costs around $20, and Barron's book costs $27.
For Barron's SAT prep book, you'll have to pay around $28, while Princeton's SAT book costs something around $30.
Also, the prep books of Princeton mostly come at a higher price than those of Barron's.
However, if your method of learning aligns better with Princeton Reviews, you might want to overlook the slight topping in price.
Value For Money
Considering the services each company renders, it is easy to see that both Princeton Review and Barron's work hard to ensure learners get absolute value for their money. Both platforms offer comprehensive test prep books, self-paced courses, in-depth study materials, on-demand instructional videos, and online practice questions.
When it comes to online services and resources, Princeton is way ahead of Barron's. For one, they hold live classes from time to time, then there is the personalized study plan. And let's not forget that you can seek help from a live instructor at any time.
Princeton also offers a score improvement guarantee on their courses. Students can get a refund if their scores do not improve or choose to retake the cost at no cost. This is not so with Barron's. However, they try to make up for it with their free trials.
Overall, Princeton offers better quality online tutoring but then you have to pay for it.
Beyond Barron's and Princeton Review, there are other options you might want to consider. My Princeton Review College Counseling reviews could offer a unique perspective on preparing for college admissions.
Main Disadvantages of the Platforms
PrincetonReview
Princeton Review is a bit pricey compared to other platforms.
The customer service isn't as prompt as it should be.
Princeton study materials are sometimes a lot easier than they should be.
The content reviews are rushed for some of the courses. They fail to critically review some subject areas hence a few important points are left out.
Barron's
The website is outdated, dry, and lacks crucial information
Barron's isn't a complete test prep course. There's no online coaching, live classes, or any offer of personal tutoring or study guide.
You cannot get information on admission requirements or application procedures at Barron's
Barron's lacks good customer service.
The practice questions are usually harder than the actual tests.
The content reviews of Barron's prep books are too long. You might find it hard to read through the whole content plus some of the information turns out to be unnecessary.
There's no score improvement guarantee.
Summary: Barron vs Princeton Review, Who Wins the Race?
At the end of the day, it is clear that both companies have done the work and deserve due accolades. Although they both have their faults that can be improved, students can trust them for optimal exam preparation.
Princeton wins the race since they offer live tutoring, online classes, and a variety of key learning resources in addition to the prep books that Barron's offers.
However, you still need to consider the type of learner you are, and the exam you're studying for before picking a choice. We hope this review has been helpful in steering you to the right one to go with.
FAQ
Is Barron's or Princeton Review better?
It depends on what you're looking for. Your study style and the particular exam you intend to study for will determine the prep that is better for you. While Barron's offers comprehensive books that are great for students who prefer to read and assimilate information, Princeton is generally better at practice questions and is perfect for students who learn by solving practice questions.
Which contains better AP tests, Barron's or Princeton Reviews?
From our analysis and reviews, Princeton Review takes the crown in AP tests. The practice questions are more realistic and straight to the point while Barron's is quite bulky and unnecessarily harder than it should be.
Is Barron's or Princeton Review better for AP US history?
Princeton is better for US history because it gives you exactly the amount of information you need. Not too much and not too little. It also contains explicit details and examples of important facts.