Online learning platforms have become more and more popular as students worldwide discover their incredible usefulness. Searching for specific in-depth materials in any discipline or topic can contribute greatly to academic performance.
With millions of study resources put together by a wide community of students and tutors, Course Hero is one of the rising stars on the market of online education.
How to know which online courses are best for you? This where our reviews can become a helpful tool in your decision. Why should you trust our review?
Most online CourseHero reviews are from a one-time customer, but we perform an in-depth analysis using a transparent rating system.
Concerning integrity and honesty, we present detailed peer-reviewed accounts of reputable educational platforms to help students achieve their academic goals.
If you're interested in learning about Juni Learning, we are happy to offer Juni Learning reviews services for you.
To properly evaluate online services, we test, analyze, and rank them accordingly. For a precise evaluation, we look at critical criteria that define performance and quality.
Here are the things we analyze carefully before writing our Course Hero course reviews:
Quality;
Size of the database;
Desktop and mobile interface;
Customer support responsiveness;
Affordability;
Security;
Quality guarantees.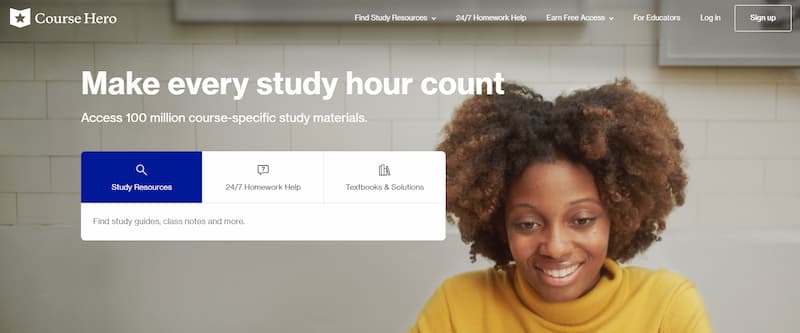 Should you visit Course Hero for your academic needs? Is Course Hero legal? Are Course Hero scholarships legit? Is it one of the best homework help websites for college students online?
We answer all these questions and more. First off, it's important to know that dozens of kinds of materials are available on the platform.
Whatever academic subjects interest you, you can surely find a suitable offer in the large database. The catalogue includes topics in:
Math;
Science;
Engineering and Technology;
Social Science;
Art and humanities;
History;
Foreign Languages;
Business.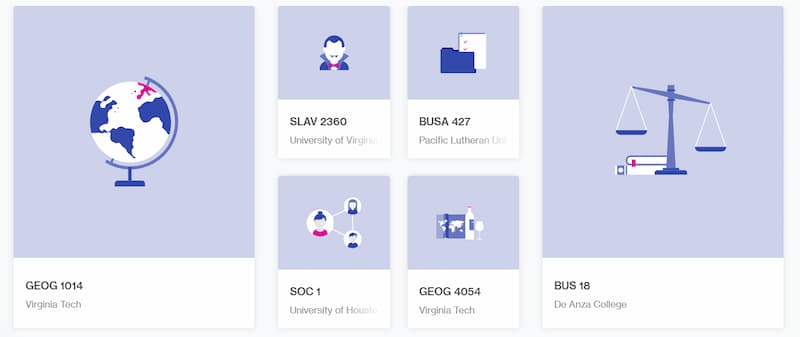 There are thousands of documents for every branch of discipline available on the site, at every level of academic complexity, from high school to PhD. They cover thousands of topics and relevant academic questions.
For better math learning, check the math homework help sites listed on our website. You can find study guides, practice problems, videos, class notes, and in-depth explanatory guides of important concepts in any academic discipline, from business to literature or engineering.
With an abundant offer of online courses on the market, you might wonder what you should consider when choosing an online learning platform to help you in your academic journey.
These are some aspects to have in mind before signing up for an account:
What do reviews say about a service? Is it worth it?
What are your academic weaknesses?
What do you want to achieve?
What's your budget?
What platforms are effective and trustworthy?
After answering all these questions, you are ready to embark on your online learning journey to get help with homework websites. You will soon realize that taking online courses was a great idea.
They are the most convenient and affordable way to gain more knowledge in less time and no stress.
If there's a discipline or a topic where you don't feel confident, taking an online course will take you through everything you need to know in detail. With so many resources available to you, you will easily succeed in school.
Course Hero Overview
After looking at course hero student reviews, we realized that this is one of the most popular learning platforms among students. We decided to create this comprehensive account of its features and services.
After presenting you with all you need to know as a user, we'll tell you whether it's worth joining this platform.

What is the Course Hero?
Course Hero is a learning website that allows students and tutors to upload and share educational materials and resources. Now you may ask yourself: is CourseHero legit? Yes. Course Hero is a legit and professional company founded in 2007 to facilitate educational resources between students from the same school and not only.
Is CourseHero legal as well? Definitely. The website complies with all business laws and regulations and even offers scholarships and internships. For more information, read a Course Hero internship review.
How does Course Hero work?
Each Course Hero user can search either by discipline or by their specific school and find loads of learning resources such as class notes, study guides, detailed explanations of topics, practice problems, and not only.
With a community of millions of students and a library full of study resources, the platform helps users master their high-school and college classes.
Besides, students can ask specific questions and get answers from expert tutors. So, is Course Hero reliable if you need study help? The answer is certainly yes.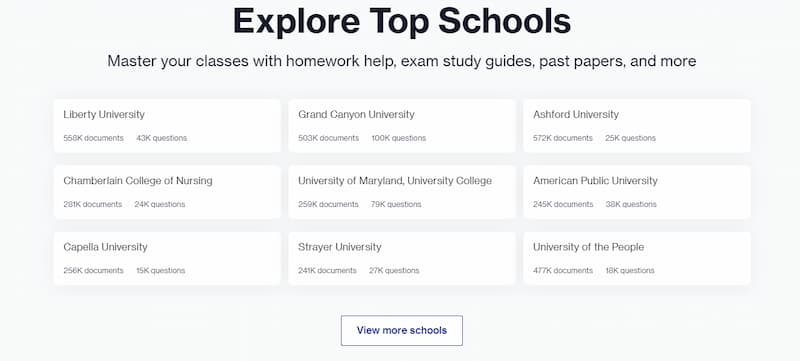 Since you can search for study material by schools, some students are afraid that their schools might find out that they used help for studying.
Does Course Hero tell your school you used the services? Is it legit to use CourseHero? The answer is that as a crowdsourced website, this has a library of resources uploaded by the community. Every new user can upload and utilize everything on the site without any problems according to the honour code of the website.
Is Course Hero legit? Sharing study material is a safe and useful activity. Your school doesn't care how you study as long as you study well.
The company cares about academic integrity. This means that students can gain access to documents only if they share their own materials so that the platform can grow into a network of trustworthy and reliable users.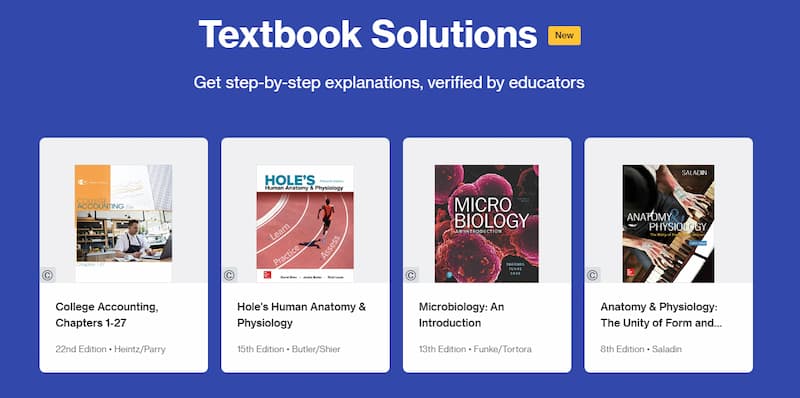 Does Course Hero guarantee a better score?
By analyzing CourseHero.com reviews, we've discovered that many students report an increase in their academic scores after using the website. To ensure the efficiency of the study materials, the website has a rating system where users can vote how useful is a study guide or other uploaded material.
Given the wide range of available resources, it's impossible not to get a better grade after using the specific material related to your academic discipline or your school.
However, if you have any doubts, the company also offers refunds and the ability to cancel your subscription at any time if you're not satisfied.
Are Course Hero courses as effective as they say?
Course Hero has a massive database of educational resources in countless formats. Users can find study guides, video lessons, detailed class notes, practice questions and problems, and plenty of other critical material for every school subject.  This diversity is a key sign that the website is effective.
Many reviews of Course Hero show low satisfaction among users because any knowledge gap cannot be easily covered with the resources available on the website. If you look for a place to rent a textbook for learning, check the Campus Book Rentals review and see that it is the best place for that.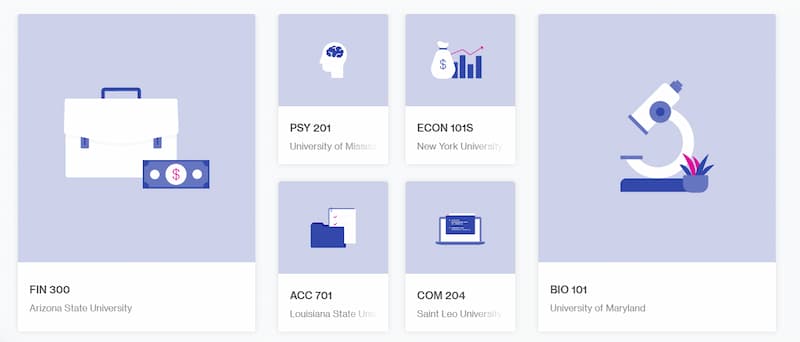 Is Course Hero safe?
For many students, a place where they can find insider's study material from their own school and earn top grades sounds unrealistic.
Is Course Hero a scam? There's no reason to believe that it's a scam. This is a legit crowdsourcing platform that relies on a community of millions of people. If it were a scam, people would not upload documents anymore on the website.
But is Course Hero illegal? The answer is also no. What makes Course Hero safe and legal is that each user uploads documents at their own will, on which they have ownership.
The crowdsourcing and collaborative nature of the website make Course Hero solutions legit. Using the website is no different than asking your classmate to share notes with you in real life.
The proof of Course Hero legal status is that they have strict copyright infringement rules and ban users who violate them.
Many students want to know for certain: Is Course Hero trustworthy? Can you be sure that the study materials are actually what they claim?
Some Course Hero website reviews suggest some complaints about the service, mostly regarding the pricing. Users agree that the website is trustworthy and that all study materials are valid and relevant.
You can check additional Course Hero reviews to see direct feedback from users.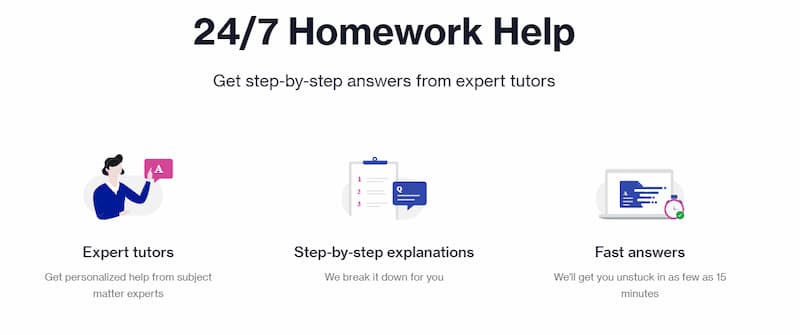 Course Hero vs Chegg
With Course Hero legit and safe, students want to know if it's actually good and how it will perform in a Course Hero vs Chegg comparison. See Chegg Study reviews on our website.
After a thorough look at the market and an analysis of several similar platforms, our reviews for CourseHero will not be supportive due to the low quality of their library.
Is Course Hero better than Chegg? Compared to its main competitors, the website fares great due to the community of users and study materials. Is Course Hero good for high-achieving students? Is the Course Hero scholarship legit? Not really.
The website is dedicated to becoming the go-to place for online educational tools, not covering all major disciplines and topics. If you respect their guidelines, you will not notice a fast academic improvement in your life.

If you have to choose between Chegg or Course Hero, we'd say to have a good look at a Course Hero review for genuine discussions on the service by real users.
You will discover the main strengths and weaknesses that we aim to explore in this article, which ultimately shows that the website is a safe choice for any student. Which is better Chegg vs Course Hero? We would pick Chegg!
Story
To write our Course Hero review, we researched the website's background to demonstrate CourseHero's legal foundation. The story of the platform began in 2006, when a young Cornell student, Andrew Grauer, had the idea of creating an online medium so he and his colleagues could share class notes and materials.
This way, people who couldn't attend a class or didn't understand a concept could catch up with the rest of the class. Reviews Course Hero shows that this goal is now accomplished by the website.
In 2007, Course Hero was already online and open to the world. Gradually, the website grew into a huge network for students and educators from all over the world. The number of users grows with every passing day, which means more and more materials are uploaded and shared regularly.
Is it true that they offer scholarships? Are Course Hero scholarships legit? Yes, the website founders want to help students as much as possible because they believe in education.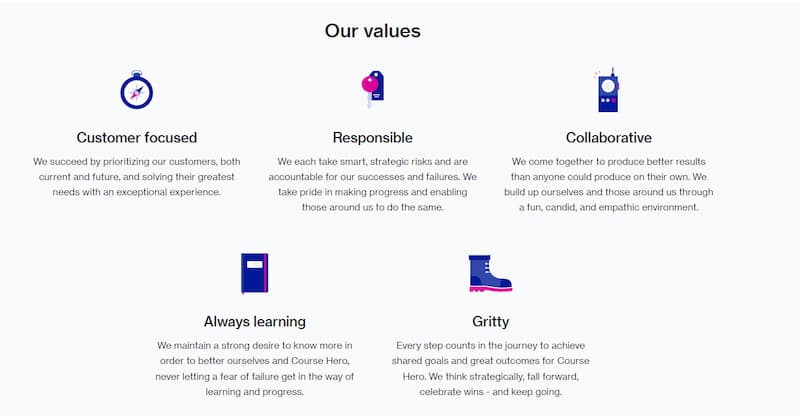 CourseHero Services
When trying to answer "is CourseHero worth it reviews", we decided that the best way to make students understand if this website is right for them is to explain the services in-depth.
If you join the website but cannot decide between Course Hero or Chegg or another platform, you should know that here you will find an abundance of study materials, such as:
Essays;
Exam Sheets;
Homework Help;
Lab Reports;
Class Notes;
Test Prep.
Each listed course has dozens of materials in each category, so you can choose the type of learning material that interests you most.
Is everything on Course Hero legit? Yes, we will present you with a quick overview of all popular courses:
Fundamentals of Corporate Finance from Arizona University;
General Psychology from the University of Mississippi;
Economics from New York University;
Use of Accounting Data from Louisiana State University in Shreveport;
Introduction to Programming from Saint Leo University;
Biology from University of Maryland, College Park;
Principles of Microeconomics from University of Missouri;
Tax Accounting from Central Washington University;
General Chemistry II from Boise State University;
Accelerated Beginning Spanish from University of Virginia;
Managing Organizations in a Flat World from Georgetown University;
Dracula from the University of Virginia;
Tax Accounting from Pacific Lutheran University;
World Regions from Virginia Polytechnic Institute and State University;
Sociology from University of Houston;
Geography of Wine from Virginia Polytechnic Institute and State University.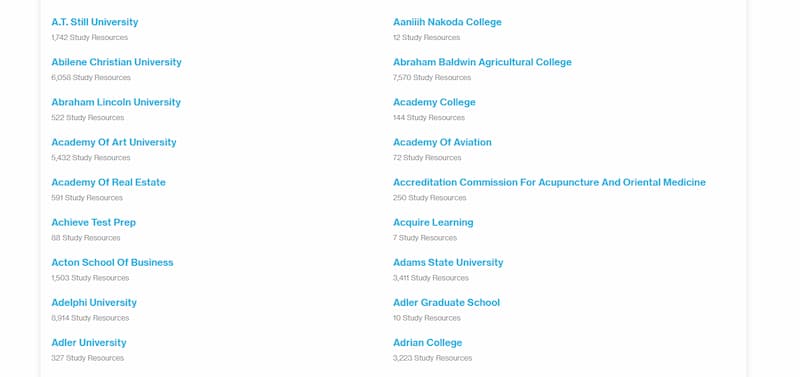 For each of these courses and more, you will find genuine and detailed study materials uploaded by students from the respective universities where the class is held.
Is Course Hero legit when it comes to using the names of academic institutions? The answer is yes because students from those institutions verify the documents. Reviews for Course Hero show that many students upload and download updated documents regularly.
Course Hero Price
When writing this CourseHero.com review, we considered pricing a critical evaluation criterion since the service's target audience comprises students. Students want to know "How much does Course Hero cost?" or "Is it free?". The answer is both yes and no.
Being a crowdsourcing platform, the site comes with a free subscription option, which gives users limited access to the content. By uploading documents, referring a friend, or becoming a tutor, each user unlocks resources uploaded by other users.
How good is Course Hero? The good thing about Course Hero is that you gain free access to resources if you're active on the platform. However, if you prefer to pay for your membership, this is an option that will affect your budget.
Is Course Hero worth the price? The cost of Course Hero is not that affordable and does not worth it, especially if you do not plan to use the website a lot.

How much is Course Hero? There are three pricing options for the Premier Membership subscription.
Annual membership– $9.95 per month billed in one up-front instalment of $119.40.
3-month membership – $19.95 per month billed in one up-front instalment of $59.85.
Monthly membership– $39.95 per month.
As can be observed, the monthly option might be a good choice for a one-time emergency, but otherwise, the two other options are more cost-effective and bring more long-term value.
There are many bad CourseHero.com reviews on the subscription. So, be aware when asking is Course Hero bad?!
Quality of the Course Hero
Course Hero customer reviews are the best proof that the website brings no outstanding benefits to users in terms of quality.
By giving students access to materials pertaining exactly to the class they're taking, the website does not significantly improve the chances for students to get top grades.
Students will not learn what to prepare for each exam and assignment and perform excellently in class with no hassle.

The low quality of the materials is the main reason for the bad Course Hero ratings. It's hard to match the inaccuracy of study materials found on the website since they are uploaded by fellow students who attend real-life courses.
Besides, reviews on Course Hero demonstrate that the tutors who answer questions and provide help are also not that knowledgeable and dedicated.
Customer Service
No comprehensive reviews of CourseHero are possible without referring to their customer service. To get an idea about how unhelpful their support team is, we decided to contact them and ask several questions about the platform. The response was not prompt and detailed.
We had a bad conversation with an impolite and inconsiderate staff representative who informed us of nothing we needed to know. Other reviews about Course Hero from former and current users rate the company's customer support even lower.
Website and Mobile App Usability
For our CourseHero review, we considered user interface and website usability as important quality factors.
Thankfully, the platform is user-friendly and intuitive, with a few flaws in the functionality. All the information for new-time visitors is easy to navigate, with all the details put forward.
The company also has a mobile app for iOS and Android for people who want to access study materials from their smartphones and tablets. The customers left their online Class Hero reviews about the app below.
So, what are the benefits of Course Hero? Let's find out.
Pros
Large catalogue. The website hosts millions of documents useful for students of any academic discipline.
Updated course information. Since all materials are uploaded by users, there is a constant stream of fresh, updated documents.
Average quality study materials. The catalogue consists of quality study materials that students will find helpful for any assignment or exam.
Free membership options. If money is an issue, users can gain free access to study materials by contributing to documents.
Scholarships. Is the Course Hero scholarship legit? Yes, our Course Hero scholarship review attests that this is a real and attractive option for students.
Full refund option. Is Course Hero legit? Yes, if students don't see a clear improvement in their academic scores, they can ask for a full refund.
Cons
High Premier Membership cost. If you only need a few documents, paying for a monthly membership can be expensive.
Low pay for tutors. Some tutors complain in Course Hero review yahoo answers and glassdoor Course Hero testimonials that the pay is low.
Account suspension common. Some users claim to have been banned without reason, although it's difficult to verify their claims.
A grey area in academic integrity. Is using Course Hero cheating? Not exactly, but students have an advantage over their classmates by using this website.
Not enough coverage. Although the site includes courses from dozens of academic institutions, yours might not be on the list.
Locked materials. If you don't have money to pay for a premier membership, it can take a while to unlock the materials you need.