Wanting to do well in school, I decided to investigate the tremendous contest between different online learning platforms: Chegg vs Quizlet. These two sites have separate utilities that assist students with their schoolwork. Based on what I found, I can now tell you the primary selling points, the price wars, and the amount of knowledge you will get.
In this article, I will reveal the secret of what all students need to know before selecting any of these platforms. So, let's plunge into Chegg and Quizlet and discover the ideal sidekick for your academic pursuit.
Overall Comparison: Key Features of Quizlet and Chegg
Features
Chegg
Quizlet
Online Learning Platform
Offers live online learning with real-time tutor help.
Provides instant feedback on practice questions.
Learning Management System (LMS)
Offers solutions for textbook questions and eTextbooks.
Allows step-by-step learning and creation of flashcards.
Tools
Offers an Online Math Solver and Paper Check for assignments. Also offers a Plagiarism and Grammar Checker.
Ensures smart grading and expert-written textbook solutions. Offers Magic Notes and Q-Chat (an AI tutor).
Test preparations
Provides personalized assistance and textbook solutions.
Offers practice tests to prepare for exams.
Personalized Learning
Supports personalized learning through real-time tutor help.
Facilitates step-by-step learning for better understanding.
Textbook Solutions
Chegg offers solutions for all the questions in the textbook for students.

Students can place their books on rent or get books on rent through Chegg.

Each textbook solution is carefully written and double-checked by a team of experts.
In-Depth Judgment Up Front
Quizlet vs Chegg differ in the central objective. Chegg focuses on full-service learning resources, such as textbooks, tutoring, and grading assistance. Quizlet, however, specializes in interactive learning: they feature several study modes and options, such as flashcards. While the purview of Chegg is much larger, Quizlet excels as a platform for self-evaluation & exam prep.
Sailing the Chegg and Quizlet seas to navigate the boundless ocean of online learning platforms is quite an adventure. You might be drowning in assignments or sailing smoothly through classes, but the ultimate question remains: Which of the two will fit better for you throughout your academic journey?
If you're curious about which is better before we go ahead and answer that question, I want to inform you that we've got in-depth reviews of both Quizlet and Chegg. These in-depth reviews can be useful if you want to learn more about any of these platforms individually.
But for those in search of rapid enlightenment, here's the essence: With an emphasis on giving you answers, Chegg will be a valuable addition to your quest. While Quizlet, on the other hand, is the secret manual of memory and comprehension.
Let's examine the main difference between Quizlet and Chegg as study tools to determine which one is better.
Quizlet is geared towards self-study or group study, whereas Chegg is a platform where you ask for help from a tutor.
Chegg offers review content and expert advice, and Quizlet facilitates active learning and test-taking skills.
Quizlet, however, is free (with premium options available), while Chegg is a subscription-based service.
Quizlet provides some sort of game-activity style teaching where Chegg doesn't.
Quizlet: How Is it Better than Chegg?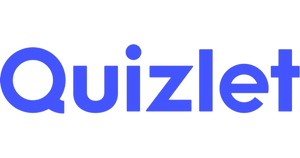 Practice with Learn provides immediate feedback on different test formats.
Quizlet's smart assessment.
Quizlet allows you to easily create flashcards (and have access to) a huge collection of crowdsourced decks.
Quizlet's textbook solutions don't have the same depth and comprehensiveness as Chegg's.
Quizlet doesn't have the variety of support that Chegg offers.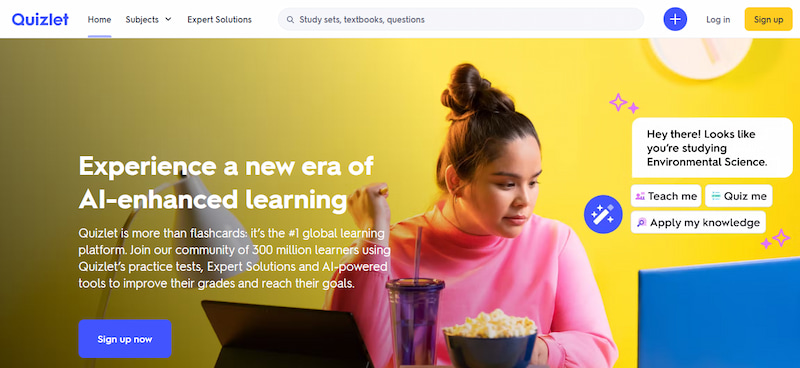 This is what I observed when comparing Chegg vs. Quizlet. Quizlet is much better in several regards. Most importantly, Practice with Learn provides immediate feedback on different quiz formats to reinforce concepts in Quizlet. Chegg provides a live learning option, but the adaptive learning tools of Quizlet are more flexible.
With smart grading from Quizlet, you won't be punished for small mistakes and will get a fair evaluation. While they're good tools on Chegg, they don't focus on teaching you to know as opposed to just plugging in the right numbers.
Quizlet allows for easy flashcard generation (and access) to a huge collection of crowd-sourced decks — making it the comprehensive study tool of choice. While there are definitely benefits to using Chegg, Quizlet takes the edge in various situations due to its focus on learning techniques and availability.
Chegg: How Is it Better Than Quizlet?

Access live online learning sessions.
Provides step-by-step answers to textbook questions.
Allows students to rent textbooks, saving them money and hassle.
Check your work for plagiarism and grammar with Chegg Writing
Chegg adaptive learning tools are not as flexible as Quizlet.
Tools on Chegg, they don't focus on teaching you to know as opposed to just plugging in the right numbers.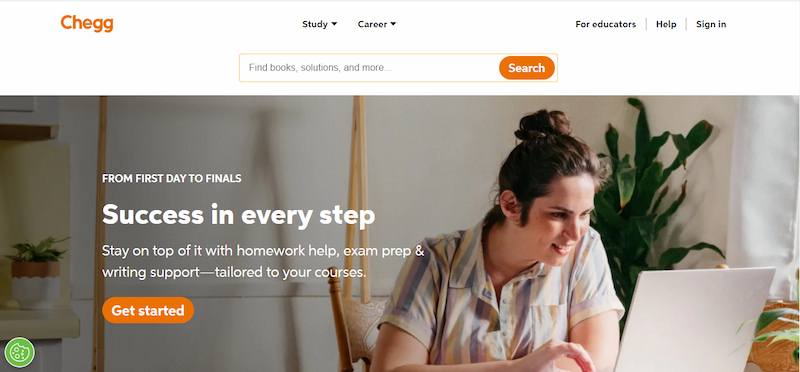 In the Quizlet vs. Chegg case, I have found that Chegg also has its perks that edge Quizlet in many ways. First and foremost, Chegg provides a comprehensive array of educational services and covers a wide spectrum of academic needs.
Students can access live online learning sessions to clear doubts, utilize an online math solver for timely guidance, and even have their assignment papers checked for plagiarism and grammar using Chegg Writing. Quizlet, on the other hand, primarily focuses on flashcards and practice tests, lacking the diverse support that Chegg offers.
Chegg provides step-by-step answers to textbook questions, ensuring a deeper understanding of the material. In contrast, Quizlet's textbook solutions lack the same depth and comprehensiveness, making Chegg a better choice for students who want to truly grasp the subject matter.
Furthermore, Chegg allows students to rent textbooks, saving them money and hassle. Quizlet doesn't offer this feature, leaving students with fewer options when it comes to accessing course materials.
A Quick Look at Chegg and Quizlet's Pricing
Comparing Quizlet vs Chegg pricing is like choosing between a buffet and à la carte. Quizlet's free version provides basic study tools, but if you're a dedicated learner, Quizlet Plus at $7.99/month or $35.99/year is a tasty deal. You'll savor ad-free studying, offline access, Quizlet Learn, and more.
Now, Chegg offers a diverse menu. Chegg Study kicks off at $7.99/month, and math enthusiasts can spice things up with Math Solver at $9.95/month for unlimited solutions. If you're a wordsmith, Chegg Writing starts at $9.95/month. The Study Pack combo at $19.95/month blends study and math-solving.
Chegg works with a 4-week free Chegg Study trial, but you'll need a coupon. While it's appetizing, remember extra expenses for learning materials. Chegg's textbook discounts (up to 90% off), 7-day e-book access, and 21-day refunds add extra flavors. For e-books, it's $6.99/month with a 400,000+ library.
Quizlet Pricing in Details
In my experience with Quizlet, their pricing structure offers both free and paid options. The free version, while limited, provides basic study tools.
But if you're serious about your learning game, the Quizlet Plus Plan is worth considering. It's around $7.99 per month, but here's the twist – if you go for the yearly option, it's only $35.99, which breaks down to roughly $2.99 per month, quite a steal.
So, what do you get with Quizlet Plus? No more annoying ads popping up, the ability to study offline – perfect for those Wi-Fi-free moments, and access to Quizlet Learn, a handy feature. Plus, you get to enjoy all seven study modes, create unlimited sets, and tap into step-by-step explanations for thousands of textbooks.
The learning assistant personalizes your study path, and you can even add custom images, audio, and diagrams. And let's not forget, it's all accessible on their mobile app.
Chegg Pricing in Details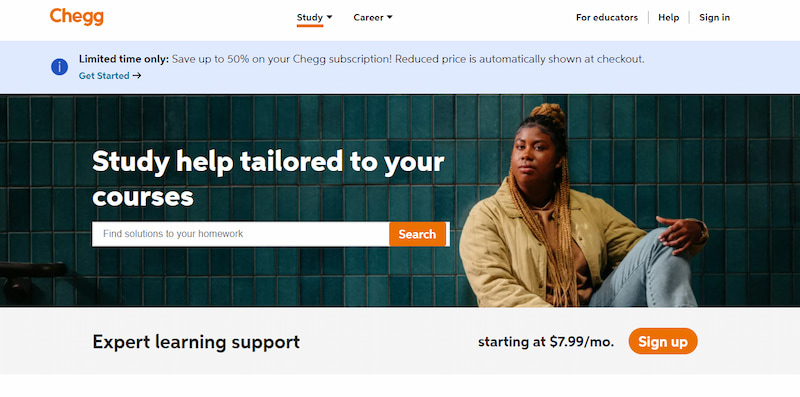 Chegg offers a variety of subscription plans to cater to different academic needs. Chegg Study starts at $7.99 per month, providing access to a wealth of study materials.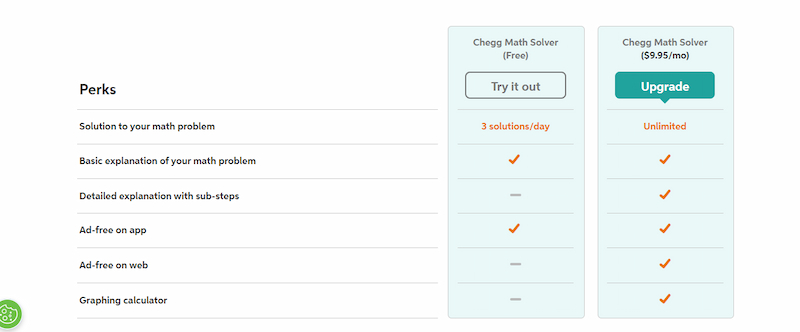 If you're a math whiz, Chegg Math Solver has a free mode with some basic perks, but the premium version at $9.95 per month unlocks unlimited solutions and a graphing calculator.
For the wordsmiths, Chegg Writing also starts at $9.95/month, offering plagiarism checks, proofreading, and grammar scans. The Chegg Study Pack combines study and math-solving for $19.95 per month, which might be appealing if you're tackling both subjects.
They sweeten the deal with a 4-week free trial for Chegg Study, though you'll need a coupon. Keep in mind that you'll likely need to buy additional learning materials. Chegg offers textbooks at up to 90% off, 7-day access to e-books while you wait for physical books and a 21-day refund policy.
Plus, they've got a library of over 400,000 e-books for $6.99/month and tools to link books to your Chegg Study subscription.
Quality of Learning and Value for Money
Regarding learning quality and bang for your buck, you get different things from Quizlet versus Chegg. These things should be considered before you opt to use such products.
Reliability of learning means you receive a quality education, whereas cost-effectiveness or value for money will help you save money. This depends on what you need to learn as well as your values at play.
Quizlet's Quality Value for Money
My expert opinion about Quizlet is that, in all honesty, the quality of learning they provide is decent for the price you pay. There's an enormous collection of materials from Quizlet, including material to match GCSE and A-level curricula (plus some additional benefits if you upgrade to Quizlet Plus).

Personalization is where the platform's true power comes into play. Build your very own deck of flashcards, quizzes, or even study sets to learn around your learning preference. It's useful when you have to face content-oriented exams.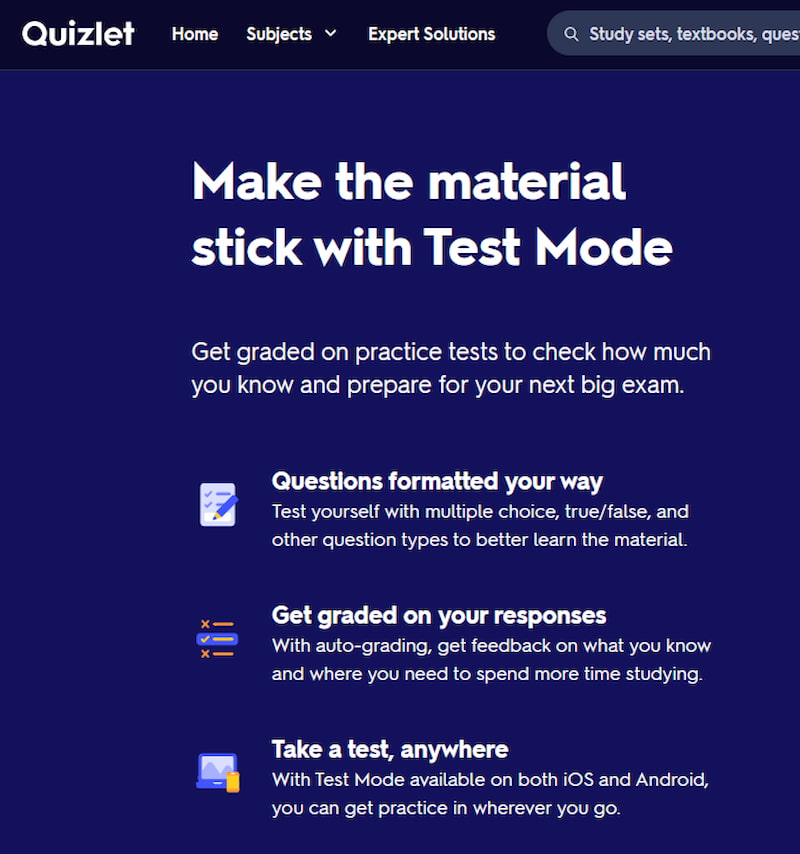 What's interesting about Quizlet is its interactive elements, such as in "Learn" or "Test" mode. They randomize their content to avoid rote learning. "Learn" mode even adapts based on how well you're doing by ramping up question difficulty over time.
Collaboration is its other benefit. Groups — share resources, play games, and take quizzes together. It's a victory for the crowd learners out there.
So, according to my experience so far, Quizlet is worth the study and not going to burn a hole through your pockets. This is an excellent option for the student wanting to score high on his or her exams and have some play along with it.
Chegg's Quality Value for Money
In my experience, Chegg offers a mixed bag when it comes to quality of learning and value for money.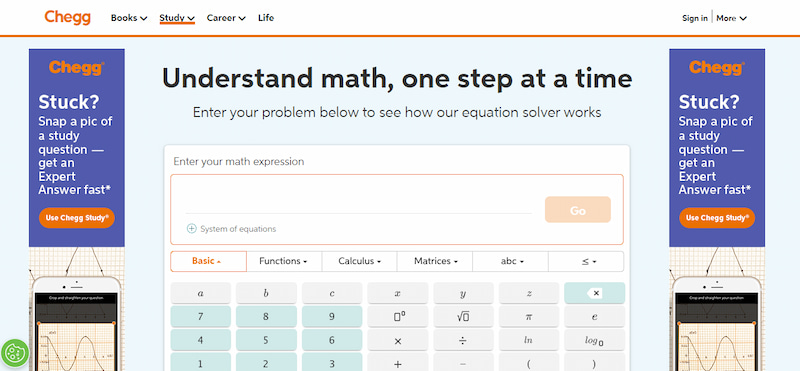 Services like Chegg Study and Chegg Math Solver provide helpful resources for students. They offer step-by-step solutions, which can be quite insightful for understanding complex concepts.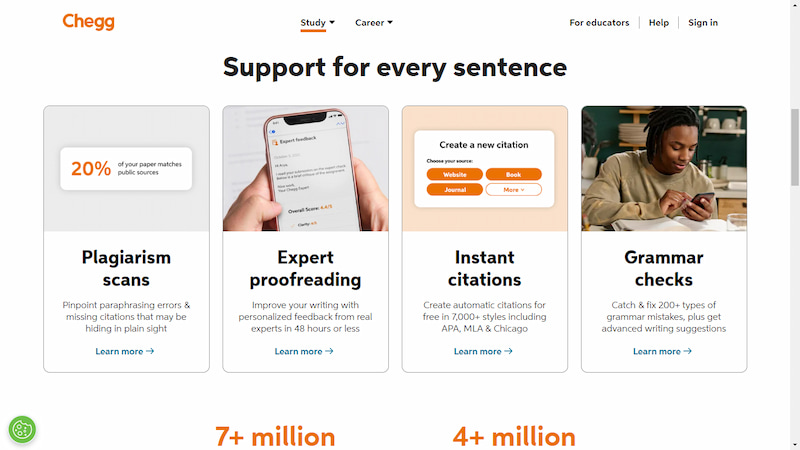 The Chegg Writing service also aids in improving writing skills. You get several tools that make the process very seamless.
However, the value-for-money aspect can be a bit tricky. Chegg's subscription fees can add up, especially if you opt for multiple services like Chegg Study, Math Solver, and Chegg Writing. While they do offer some free features, the full potential comes with a price tag.
Moreover, the controversy surrounding Chegg's role in academic dishonesty raises ethical concerns. Some students misuse it to find answers instead of learning, which can compromise the quality of education.
Chegg provides valuable learning resources, but its value for money depends on how extensively you use its services. As with any tool, using it ethically and as a supplement to your learning journey is crucial.
What Every Student Should Know
Before choosing, there's essential info students need to know about Quizlet and Chegg. In my expert experience, knowing this can be a game-changer. Chegg and Quizlet can tempt you to take shortcuts. Remember, learning is about understanding, not just finding answers.
The Essentials of Quizlet
In my testing, I've found that the changes to Quizlet of late are major. Features such as "unlimited learn" and "test" modes no longer come standard with the free version (some of which are now exclusive to Quizlet Plus). This change would pose difficulties for students who depend largely on Quizlet as a study tool.
Moreover, Quizlet also removed the "Gravity" game-based learning tool, which attracted criticism from those who enjoyed playing it as being an enjoyable educational tool as well.
All of this makes Quizlet still a great resource for students, even though some things have changed. It enables students to prepare for tests with multiple personalized question sets. It features fun gaming formats to enhance the learning experience.
Especially beneficial for remote and blended learning solutions, it increases the level of interaction with course content. The live version fosters collaboration and competitiveness in students in face-to-face classes. Moreover, the Quizlet app enables studying in motion.
Quizlet's new changes might bother some users, but the flexibility of the site and the possibility for good studying make it an attractive tool. Students may adjust and use Quizlet as a tool in which they succeed in their learning.
Chegg: What You Need to Know
From my experience with Chegg being used as a good tool for students where you can have E-learning services, textbooks on ren, etc. You can rent textbooks, take online tutoring or homework help, scholarship and internship searching.
Chegg's answers are generally reliable up to sophomore-level courses. But here's the twist: junior and senior-level courses may fall short, as these subjects often require more in-depth solutions.
Is it cheating to use Chegg for homework? Well, not really. Homework is usually open for discussion unless your professor insists on original work. So, go ahead and use Chegg as a resource for learning and understanding.
But remember, while Chegg can be a valuable tool, it's essential to strike a balance between using it for assistance and making sure you genuinely grasp the material. Don't rely solely on Chegg; use it as a supplement to your learning journey.
Chegg can be your academic sidekick, but like any superhero, it has its limits. So, wield its powers wisely, young scholar, and conquer your educational challenges with a mix of Chegg's wisdom and your own hard work.
Main Disadvantages of the Platforms
I've personally found it important to know the cons before even getting into Quizlet or Chegg. There are drawbacks, even though these tools may prove to be enticing for students. Knowing these drawbacks is vital. It allows you to opt-in based on convenience as well as real value creation.
Main Drawbacks of Quizlet
Here are several main downsides to Quizlet that I discovered in my testing.
The first was when Quizlet began restricting their free services. "Learn" and "Test" became premium-only features in this update, stripping out more study modes from Quizlet's free users.
There's also the fact that there's a huge dependence on user-generated content in Quizlet. It has an enormous database, but the quality and effectiveness of study materials differ greatly. This inconsistency affects the quality of your study sessions.
However, one of its downsides is the risk of cheating. With the ability to share their material with others thanks to Quizlet's easy sharing tool, students are opening up opportunities for cheating on tests and exams.
Additionally, Quizlet is limited to surface learning. It's great for helping you remember things, however, it's not sufficient when you reach higher education and need more analysis and depth in your coursework.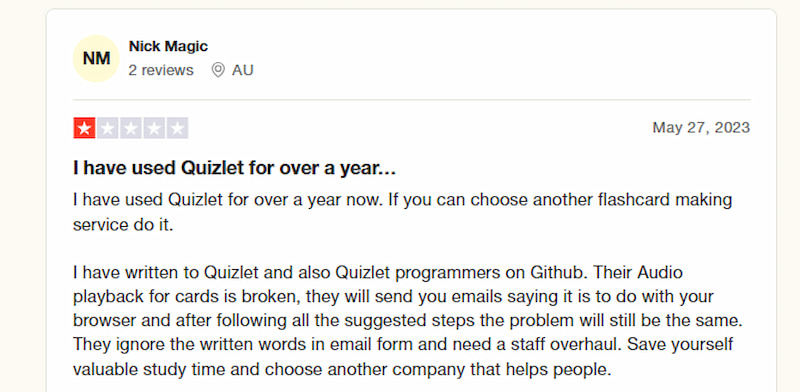 To heap onto this pile of worry, Trustpilot reviews reflect the same. Nick Magic said he also experienced broken audio playback and bad customer service.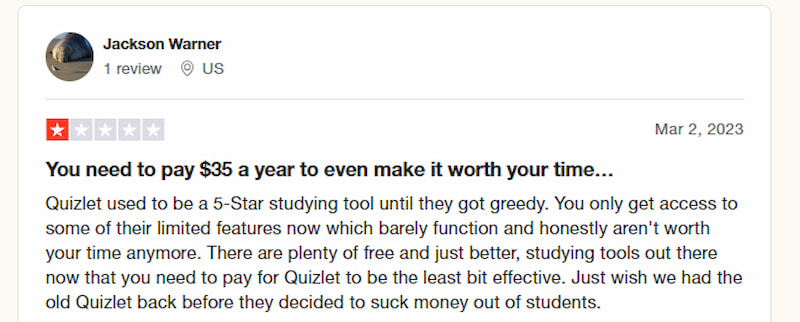 Jaxson Warner complained of a lack of features that never worked properly anyway.
Main Drawbacks of Chegg
My experience with Chegg unveiled a multitude of drawbacks that may make you think twice before diving in.
First and foremost, the confirmation email ordeal left me hanging in uncertainty, with Chegg's sluggish system taking its sweet time to send it – a real exercise in patience, let me tell you.
For those fortunate enough to attain "expert" status, the grass isn't necessarily greener. Moderating questions turned out to be far from a walk in the park. Why? Well, you're pitted against experts from all corners of the globe, creating fierce competition for those elusive easy-to-moderate questions. The result? Some experts feast, while others go home with empty plates.
Now, let's talk about the quantity of questions. It's disappointingly low. Only a fraction of the day provides a shot at snagging a question, and it's not as abundant as you'd hope.
But what truly sent my skepticism skyrocketing were the Trustpilot reviews. Tasha's experience, where she paid for a month but couldn't access anything, felt like a financial rollercoaster.

Charity McFarland's nightmare scenario, with drained bank accounts, sounded like a financial horror story.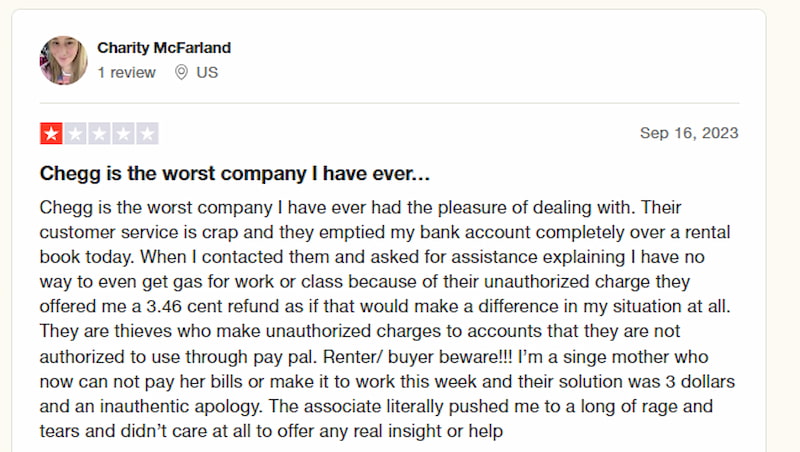 FAQ
Is Chegg and Quizlet the same?
Chegg and Quizlet may seem similar, but they serve different purposes. My experiments have shown that Chegg is more about getting answers to specific questions, whereas Quizlet helps with memorization and self-testing. So, it depends on your study needs.
Is Chegg more reliable than Quizlet?
Chegg and Quizlet serve different purposes. Chegg is reliable for textbook solutions and study help, but Quizlet shines for flashcards and user-generated content. It all depends on your needs. So, before you decide, consider what you're looking for in terms of study resources.
Is Chegg a good study tool?
Chegg can be a handy study tool. It offers access to textbooks, solutions, and expert help. However, it's essential to use it wisely. Relying solely on Chegg might hinder true understanding. Use it to supplement your learning, not replace it. It's a good tool, but like any tool, how effective it is depends on how you use it.
Is Course Hero better than Quizlet?
Course Hero offers study resources and materials from students and educators, making it useful for in-depth learning. On the other hand, Quizlet is great for quick, interactive flashcards and quizzes. For deep dives, Course Hero's got your back; for snappy study sessions, Quizlet's the way to go.