Better grades lead to an entrance into a prestigious academic college, and academic success at the best universities leads to a well-paying career that will meet your and your family's needs, such as a large bank account, social standing, a big house, exotic vacations, and so on.
However, with exams becoming increasingly difficult students require assistance. Online preparation courses can bring a great deal of help to someone who wishes to work on difficult topics, study lengthy material, and ace practice tests. Ultimately, providing you with the sound knowledge and confidence to perform well on the real exam.
Of course, finding the right preparation websites or any other prep firm can be a tedious task. This is mainly because there are a handful of options out there. However, today I am going to be providing you with some insight on Princeton Review homework help. It aims to provide you with an understanding of what it is all about and why it may be a good choice for you.
As this review is solely on Princeton homework help services, If you wish to check out a more detailed review on Princeton Review, check out this blog here.
Princeton Review Homework Help Services Overview
Online preparation classes are becoming increasingly popular, which is hardly surprising as it is particularly effective when it comes to improving not only a student's academic grades but also their practical understanding regarding a variety of subjects.
While it is true that tutoring has become the most effective way for students to get all the help they need with their homework, it certainly comes at a high cost with The Princeton Review.
However, that shouldn't bother you because: "An investment in knowledge pays the best interest" – Benjamin Franklin.
The Princeton Review has been helping students in achieving better grades for nearly three decades. In addition to 80 disciplines, the Princeton Review offers homework help services.
However, these services do not come with free self-help resources. This means students don't have the ability to access a free library of study material in order to complete projects and tasks independently.
Furthermore, while many may argue about Princeton Review being expensive, I believe the pricing meets the level of service provided to each student. They provide highly recommended courses for students to prepare themselves for tests and increase their grades.
Other than this, you can receive one-on-one personalized tutoring for homework-related concerns regardless of how easy or complex they may be, which is definitely a plus point for me.
As you navigate the vast online learning landscape, you might ask, are edX microbachelors worth it? It's important to consider factors like course quality, the value they add to your resume, and their recognition in the industry.
Princeton Review Homework Help Services Cost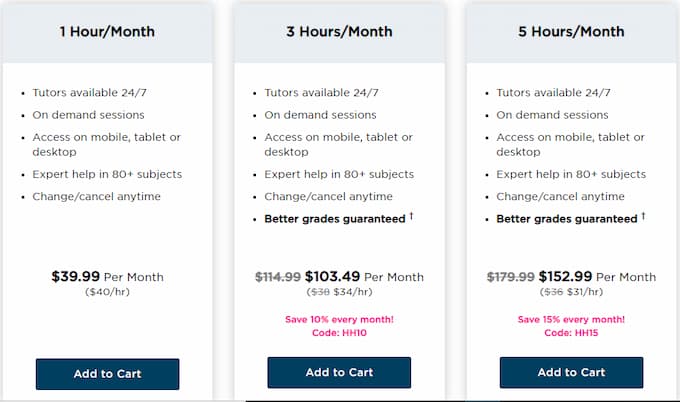 What are the Princeton Review homework help rates? Well, there are variants available for one to choose. To begin with, it is good knowing that you can start your subscription with a 7-day free trial. This trial provides you with the opportunity of obtaining 30 minutes of free tutoring. In this time frame, one can easily determine whether or not the learning style is according to your preferences.
Now, Princeton Review homework help cost depends on the package you proceed with. You have 3 subscription options if you're someone who requires regular tutoring every month to tackle complex homework assignments or prepare for a big test: 1/hour per month for $39.99, 3/hour per month for $103.49, and 5/hour per month for $152.99.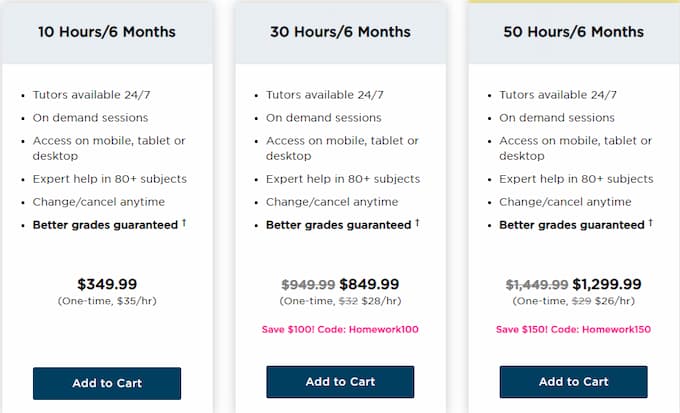 Other than this, there are 3 more options for those students that prefer more flexibility when it comes to allocating tutoring hours with longer access periods: 10/hour per month for $349.99, 30/hour per month for $849.99, 50/hour per month for  $1,299.99
There have been some arguments regarding Princeton Review being too pricey. Well, I went ahead and took a look at two other homework service options and their rates to make a final judgment.
Chegg
Wyzant
Cost of subscription $19.95/mo.
Cost of subscription $35-$65/hour

 

Textbook Solutions Step by step solutions for thousands of textbooks

Unlimited Expert Q&A Archive

25 million thoroughly explained homework questions

Post New Questions 20 new questions per month, professional responses in 30 minutes

A nationwide network of 65,000 teachers covering 275 courses and more than 12,000 topics.

No money is necessary to message tutors at any time to learn more about their experience or to discuss your needs.

Who you collaborate with on Wyzant is entirely up to you.
Keeping the comparison above in mind, I find it quite unnecessary to make a "which one is better" judgment solely based on the pricing. This is because everyone has a different learning style and learning preferences.
Ultimately, you really can't pin down which one is the best based on a pricing factor. I believe it is what's being offered and to what level it's being offered that counts. Whether or not that offering is something you can gain value from is what matters.
In this case, Princeton Review brings great value to students with various homework-related concerns, and the reviews I came across prove my point.
Accreditation is crucial for any learning platform as it ensures high educational standards. If you're wondering, is Skillshare accredited, a detailed exploration of their certification and course quality is recommended.
Main Features of Princeton Review & Quality
During my analysis of Princeton Review, I came across multiple, countless reviews praising the quality of Princeton Review. Here are just a few of those reviews that piqued my interest in wanting to research more about Princeton Review.

While some students may have left behind a few negative Princeton Review homework help reviews, there are far more students who have praised the services delivered to them. Furthermore, during my research on Princeton Review homework help review, I found the following qualities that surely work in favor of this online preparation firm.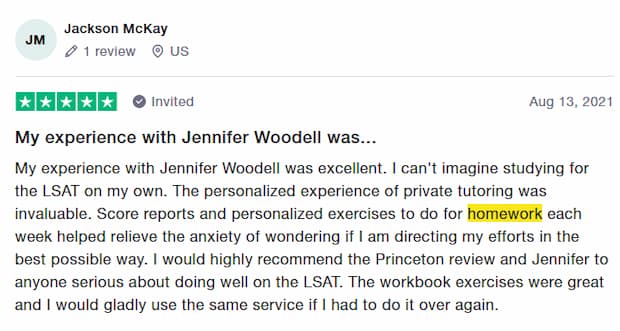 Tutors
I believe one of the best qualities of Princeton Review is that they have really made an effort towards carefully vetting the best tutors.
Due to the rigorous screening process such as mock tutoring, sessions, mentor review, and 3rd party background check, Princeton Review allows students to connect with teachers that have sound knowledge and experience to help students in getting a good grade.
What is most praise about Princeton Review tutors is that they provide extensive explanations for each test question. This allows you to understand the reasoning behind each answer and then apply the same pattern to a problem you'll face in the real-world exam.
Guarantees
Ultimately, knowing that they have the right tutors to assist students, it has encouraged them to confidently guarantee that the student's hard work plus help from expert tutors will increase the student's grade.
With that being said, Princeton Review proudly claims 96% of its users have improved their grades which does not come as a surprise. In fact, they even encourage students to leave feedback about Princeton Review homework help. Ultimately, allowing others to know what they have to offer is truly worth their time and money.
How do they differ from others?
The Princeton Review homework help services provide students the ability to connect with tutors 24/7 who are going through rigorous training in order to maintain high teaching standards that benefit the student's grade.
Additionally, Princeton Review smartly invests in cutting-edge technology. What this means is that they have an innovative approach when it comes to delivering effective tools that students can benefit from with ease. Your preparation will be more efficient and productive with their real-time adaptive practice exams and drills.
What makes Princeton Review different from other options is its choice. You are never bound when it comes to connecting with a tutor. There is great flexibility that allows you to obtain personalized help.
FAQs
How much does Princeton Review homework help cost?
The cost varies depending on your needs and the subscription you choose. Here are the basic homework help costs: 1/hour per month for $39.99, 3/hour per month for $103.49, 5/hour per month for $152.99, 10/hour per month for $349.99, 30/hour per month for $849.99, and 50/hour per month for  $1,299.99.
How does Princeton Review homework help work?
The Princeton Review helps students in connecting with a tutor that can help them with homework-related issues and concerns. The homework help service covers more than 40 subjects. Hence, one can easily find the right tutor online.
Pros
Money-back guarantee as long as you follow their program criteria, you can get your money back if you don't get the desired help or result.
Thousands of practice questions and practice tests are available to assist with exam preparation.
A variety of smartphone apps, including portals for students and parents to track their progress.
The option to watch live - online content while learning interactively with a tutor is included.
A website that is simple and easy to use – makes the user experience joyful and interactive.
From elementary through professional education, diverse skill levels are accommodated.
Cons
Some areas were not thoroughly covered, and some students felt that additional information on certain issues should have been provided.
Several students who used the self-paced prep courses said their results dropped.
Some students protested that classes were being canceled and that they would be rescheduled.
Some of the courses are more expensive than those offered by other educational institutions.
Customer support was not attentive enough, and some students were unable to get answers to their questions.
Some teachers are inexperienced, and you may lack confidence in their teaching abilities.