If there is any course worth learning this year, it is WordPress. Last year, statistics showed that it powered about 43% of websites on the internet. This year, we are told that this figure has risen to about 6%. As a website developer, you don't want to sleep on this course.
If you're seeking to learn PHP, look no further than the best PHP course on Udemy, crafted by top instructors to help you build a strong foundation in this versatile programming language.  Due to the popularity and high demand, I have made this review for people looking for where to learn this course.
Thankfully, you don't have to stress about going to physical classrooms because you will find the best WordPress courses on Udemy. You're probably wondering if learning this course on Udemy is a great idea. Well, yes. It is.
Looking to enhance your JavaScript skills? Look no further than the best JS course on Udemy, designed and taught by industry experts to help you master the ins and outs of this powerful programming language.
As a virtual learning app, Udemy has helped millions of students gain mastery and professional certifications in all courses, ranging from STEM subjects to programming, English, and any course you can think of. There is a detailed review of Udemy on our site; you can check that out later.
For now, this review will take you through ten of the best WP courses on Udemy, their tutors, and the value they would provide you. Let's get into it.
WordPress for Beginners - Master WordPress Quickly
Just as the name implies, this course was solely created to help you advance from beginners to master when building a website with WordPress.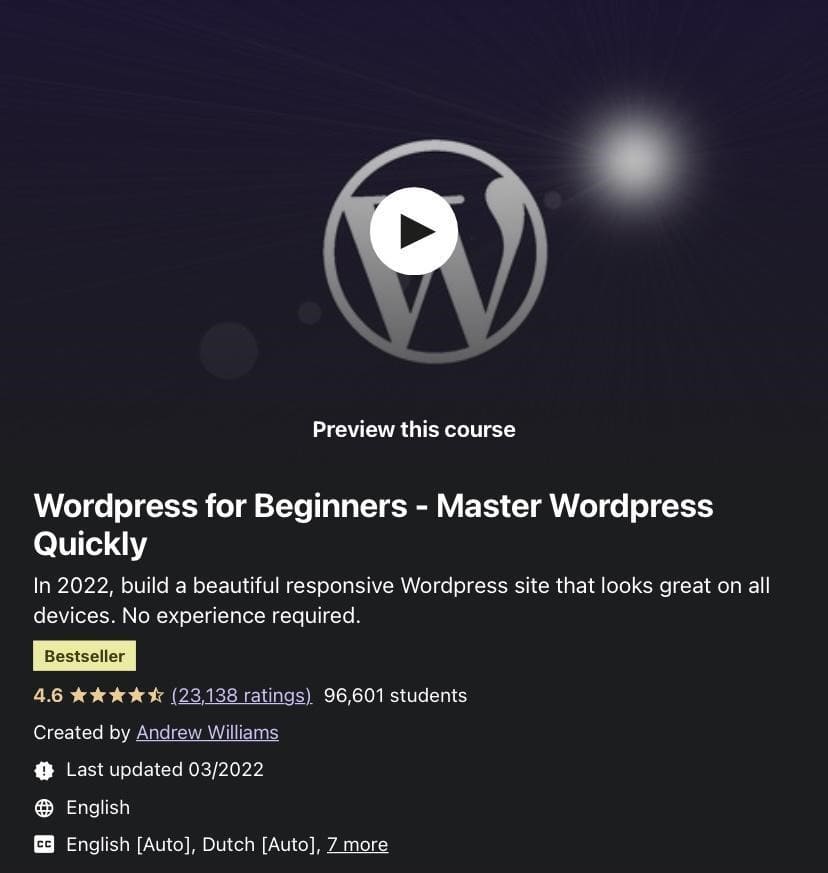 This course was created by Andrew Williams, an instructor with a 4.6 rating on Udemy, which should say a lot. This class is taken by over 96,000 students across the world and has a rating of 4.6 with lots of good reviews, which I will show you later.
Back to this course, it costs only $13, and trust me, you'd be getting a lot of value for that price. Firstly, the entire lessons are divided into 20 sections and 108 lectures for a time length of 9hours and 27 minutes
During this time, you would learn:
Introduction to WordPress
Its main features
How to create pages and posts
WordPress configuration
How to protect your website from scams and hackers
How to create a responsive website
This course is extremely suitable for beginners, and you don't need any prior knowledge of coding or programming to join. Just get a computer with an internet connection, and you're good to go.
Here's what other students had to say about this: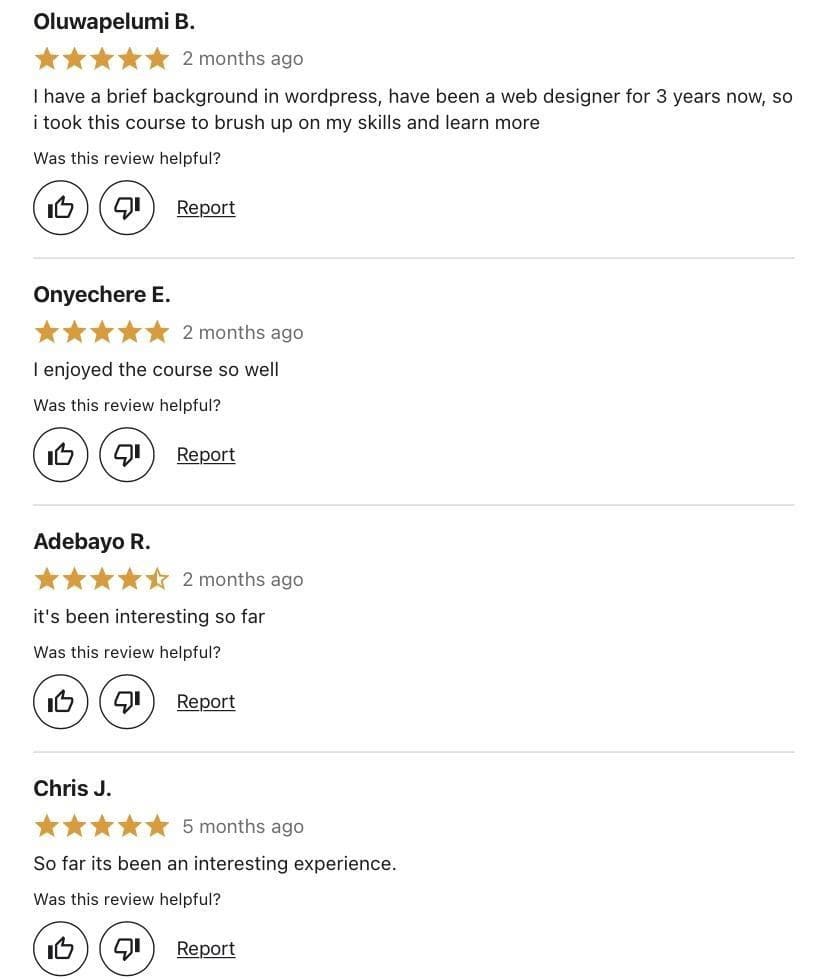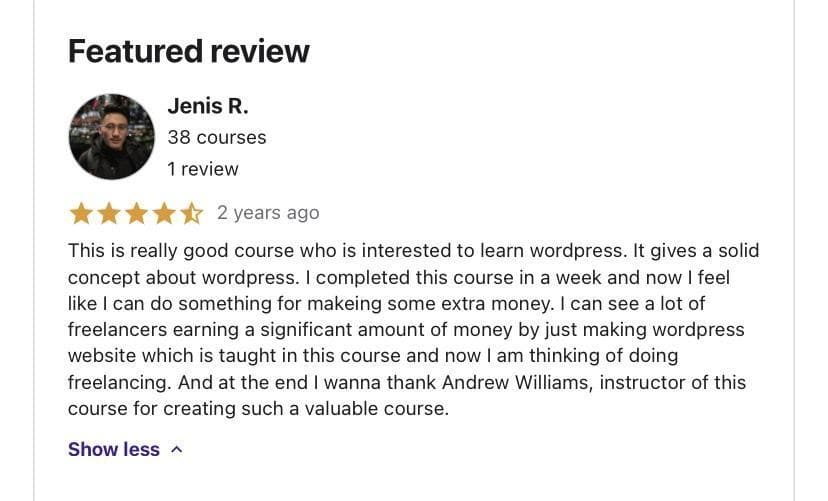 What people like: People were excited by the tutor's teaching approach and praised how explicit he was in his explanations.
What people dislike: Some found it repetitive.
Comparing e-learning platforms can be a daunting task. Our e-learning platforms comparison can help you find the right platform for your needs.
Become a WordPress Developer: Unlocking Power With Code
This one was created by Brad Schiff and is on sale for $18. Brad is a web developer with a 4.7 rating and over 189 thousand students, which means he is an expert and is extremely knowledgeable about this topic.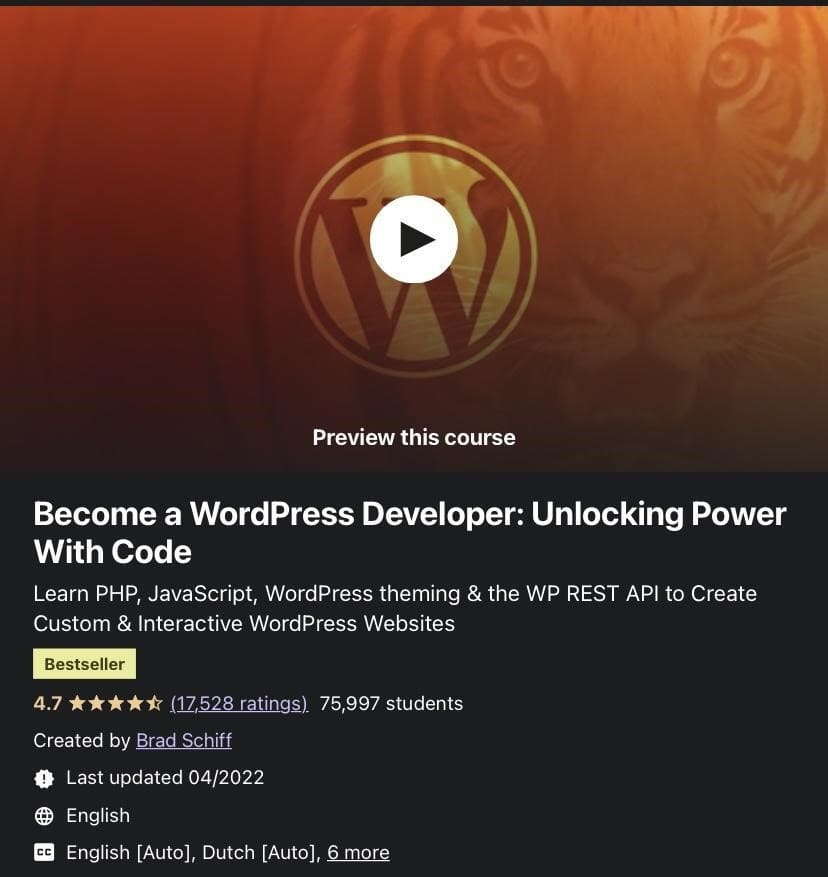 Before joining this class, you need previous experience with WordPress and basic knowledge of HTML. JavaScript and HTML aren't important for this one. If this sounds like you, then what are you waiting for? Get this course right now.
I know you're asking what value this would bring to you if you purchase. Well, here's the deal:
You would get 41.5 hours of on-demand video, 23 articles, and 160 downloadable resources.
If you have been serious about learning WordPress, you would know how difficult it is to get educational materials on this. Now imagine getting 160 free resources for just $18.
Here's a sneak peek of what you'll learn:
How to write PHP and use code as a key to website building
How to write JavaScript and tweak data to build a WordPress website
Professionalism and skill as a WordPress developer, etc.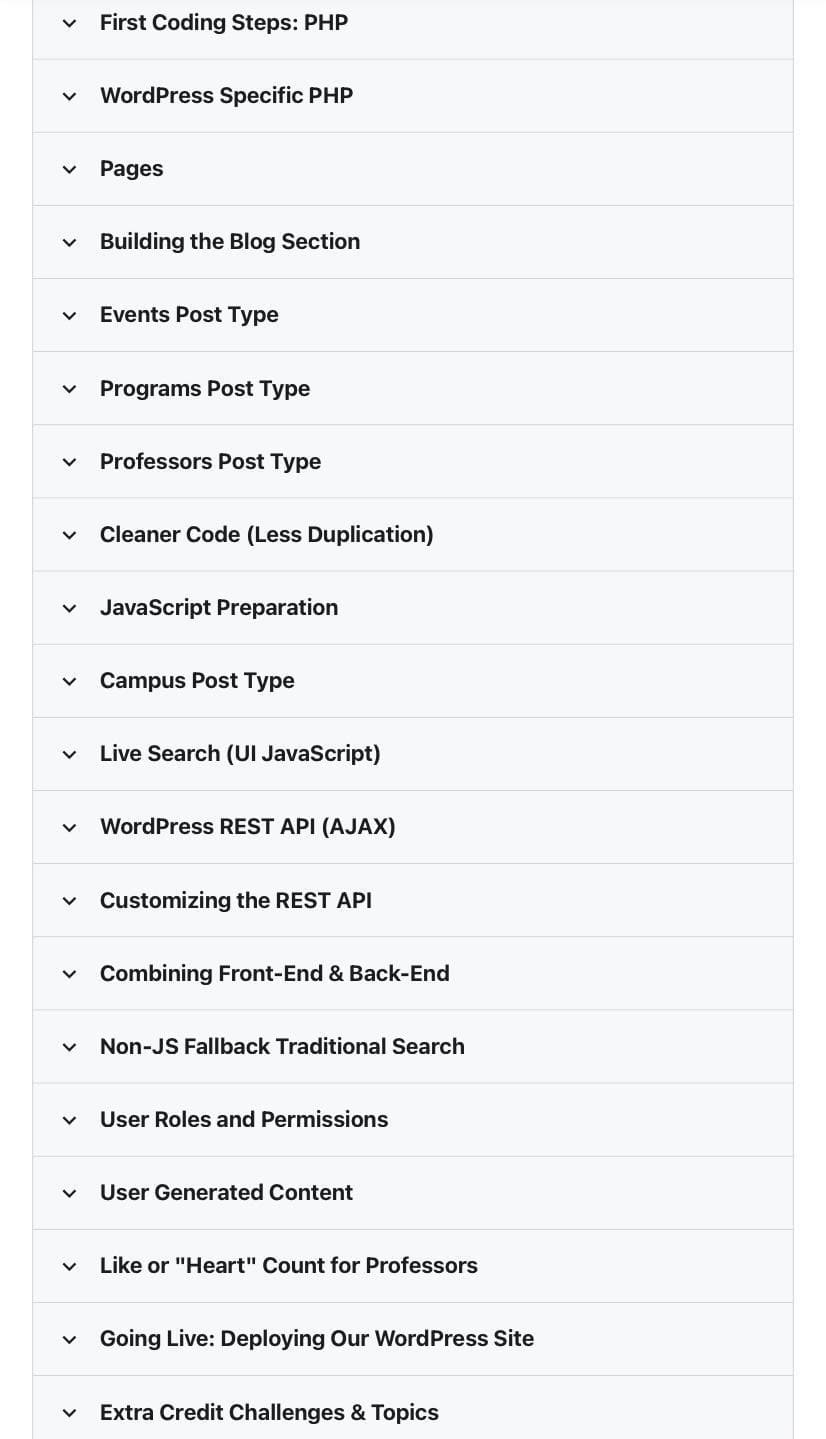 As you'll find on the site, there's some feedback, but it's all positive. Here are a few: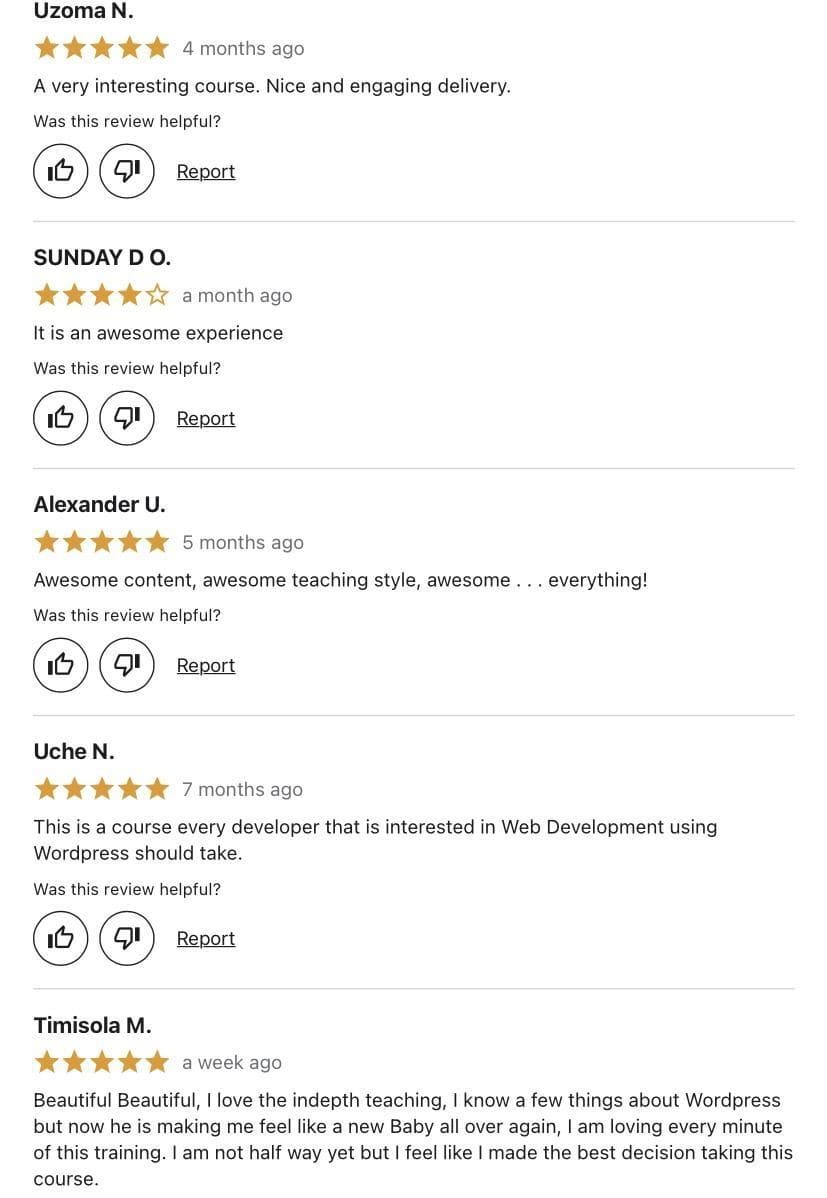 What people like: Nice and engaging course.
What people dislike: It's quite lengthy.
WordPress Development with Bootstrap: The Complete Course
This is one of the best Udemy WordPress courses right now. With a rating of 4.4 and a class size of about 51,000 students, you should know that you are in for a good ride.
Brad Hussey created this lesson plan, and here's how the syllabus would look: 22.5 hours of demand video, three articles, three downloadable resources, and 133 lectures. As an expert tutor, Brad takes his time to explain a certain concept to his students. Even though WordPress is considered an easy aspect of coding, it doesn't make it as simple as ABC.
Here is what you will learn from this syllabus:
How to build responsive WordPress themes in PHP
How to install WordPress on your computer with Flywheel
Create dynamic templates
How to use Gutenberg and Elementor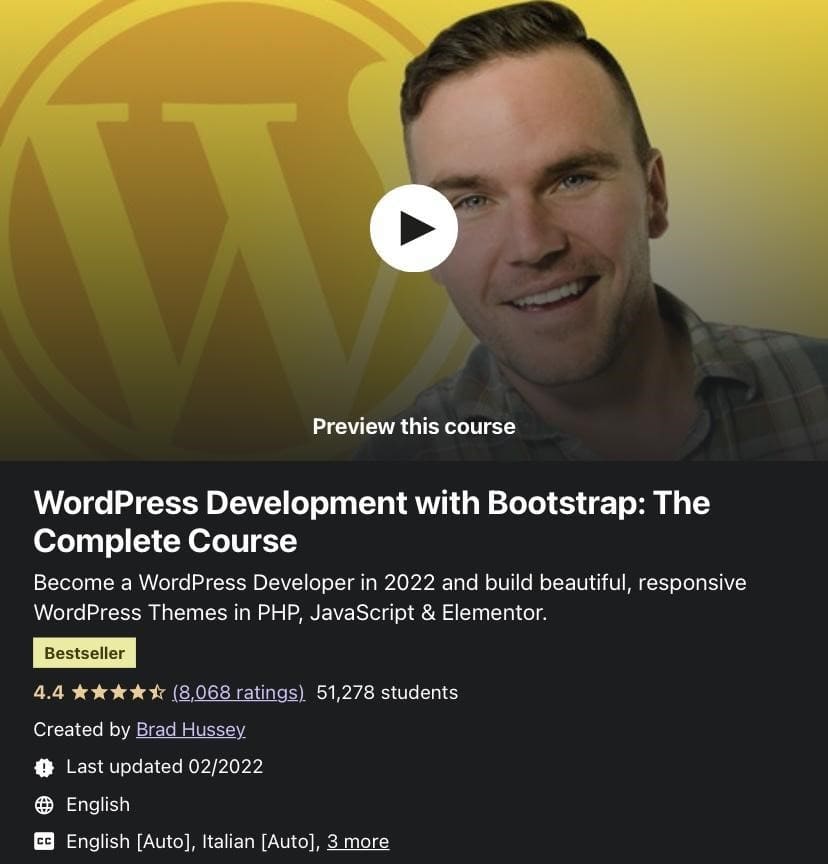 According to my assessment of this course, it is not for complete beginners. You need a basic understanding of HTML and CSS, which is not a difficult requirement. As a web developer looking to charge your skills using this WordPress online training, you are expected to know HTML and CSS.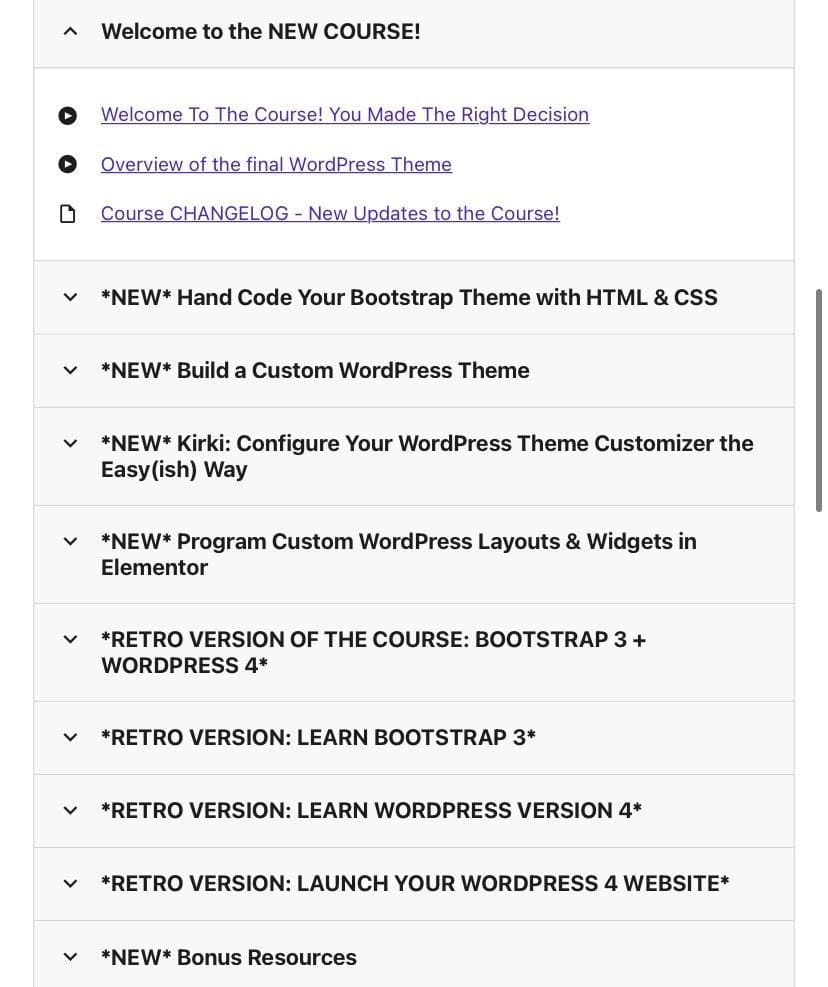 I can tell you for free that Brad Hussey outdid himself with this one. As an expert web designer and creator, he has put this course together in a way that would build up your understanding gradually until you are on the advanced level.
His previous and current students have left comments on his page, and I think you should see some of these: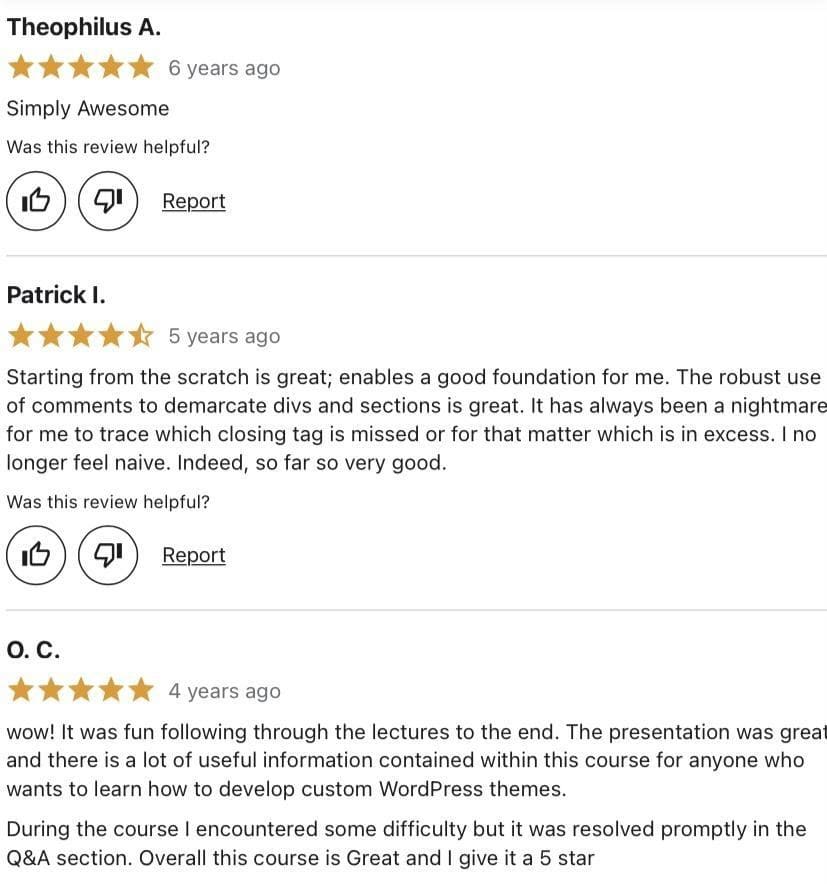 What people like: Fun, exciting, and engaging.
What people dislike: Some contents are outdated.
Complete WordPress Theme & Plugin Development Course
If you have used WordPress before, then you know what plugins are. As a web developer in 2022, not only should you know how to incorporate it into your website, you should also learn how to build your own.
When it comes to creating custom themes and plugins, this is the best WP course on Udemy right now.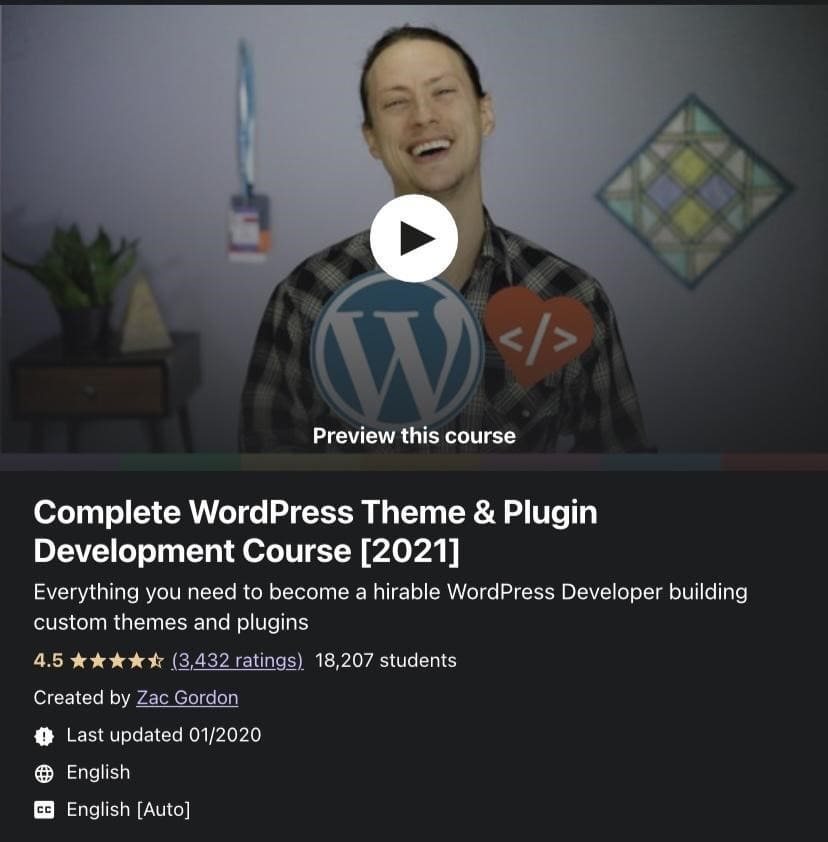 Created by Zac Gordon, you can get this course for $13 and enjoy a lifetime benefit. Due to the importance of plugins when it comes to WordPress, you need someone who is a teacher, not just an expert. I have made a careful analysis of this program, and here's what I found:
As soon as you make payment, you will be provided with two articles to prepare you for the classes. The entire syllabus is broken into 16 hours of on-demand video, 176 lectures, and seven different sections. See these below: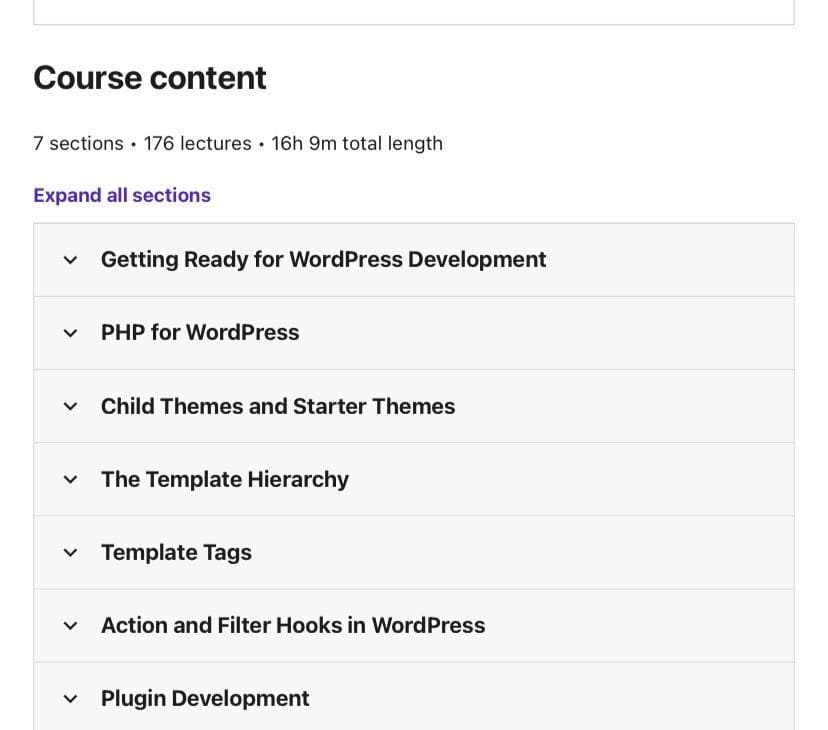 You need advanced knowledge of HTML and CSS before grasping anything from this experience. Remember that you will take a mock exam before getting your certification, which is one great way to ensure that you have grasped everything taught in class.
Here are some comments on the course: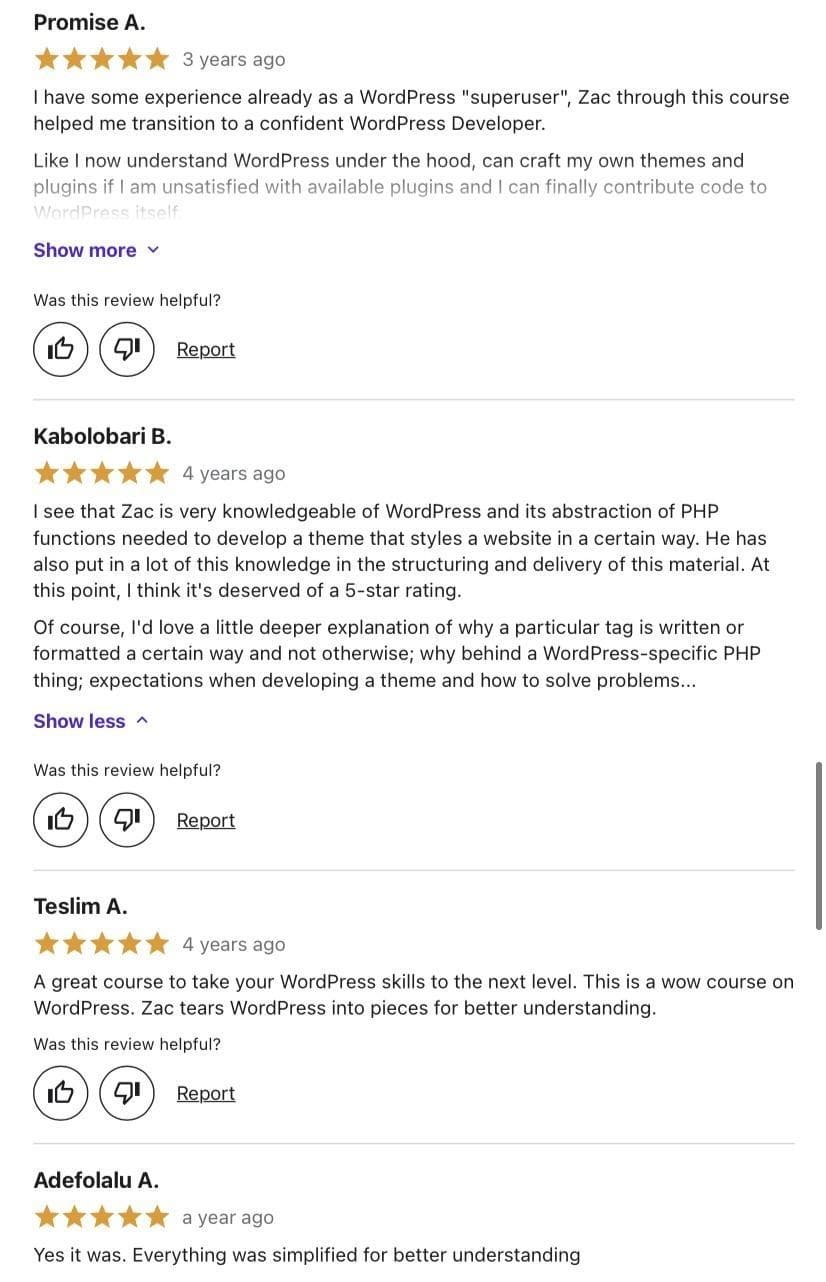 What people like: How difficult concepts were simplified did a better understanding.
What people dislike: The tutor isn't very engaging.
The Ultimate SEO Training + SEO For WordPress Websites
This bestseller was created by Joshua George of ClickService Ltd, an SEO agency in the UK headlined by Joshua himself. Personally, he has put out 18 different courses and has amassed a 4.8 rating from over 56 thousand students. This should explain his integrity as a tutor.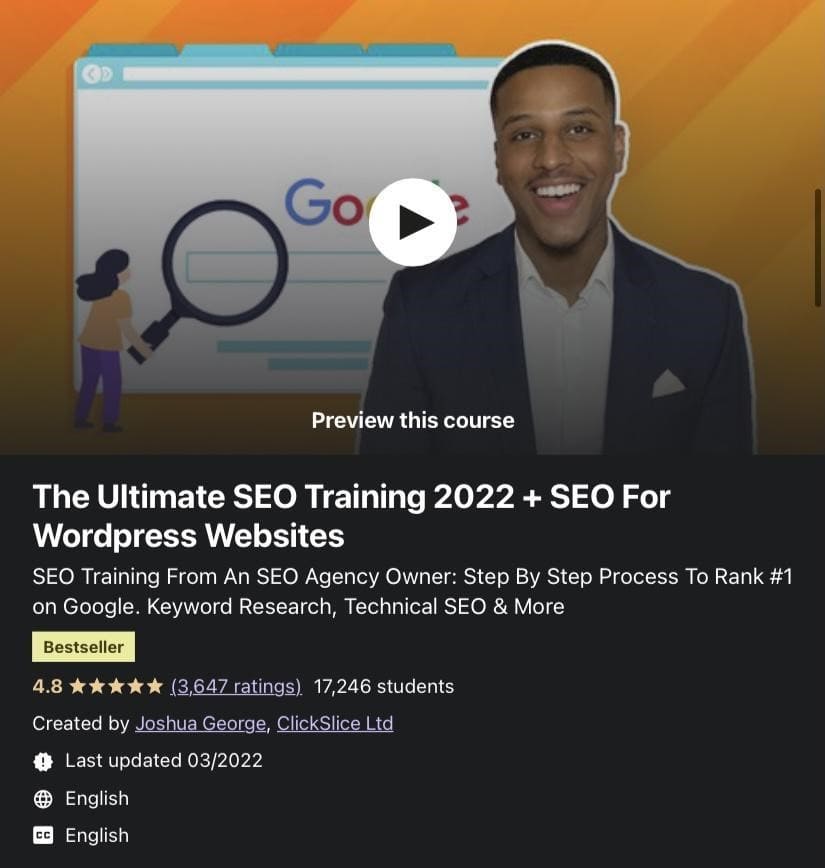 For those looking for an advanced career in WordPress, be prepared to keep up with SEO because it provides maximum results. It lets you reach a wider audience with meta titles and descriptions. At $16, this best udemy WP course would teach you:
Keywords targeting
How SEO works
How to curate interim links to run your website
Master technical SEO content and outsmart the competitors in your niche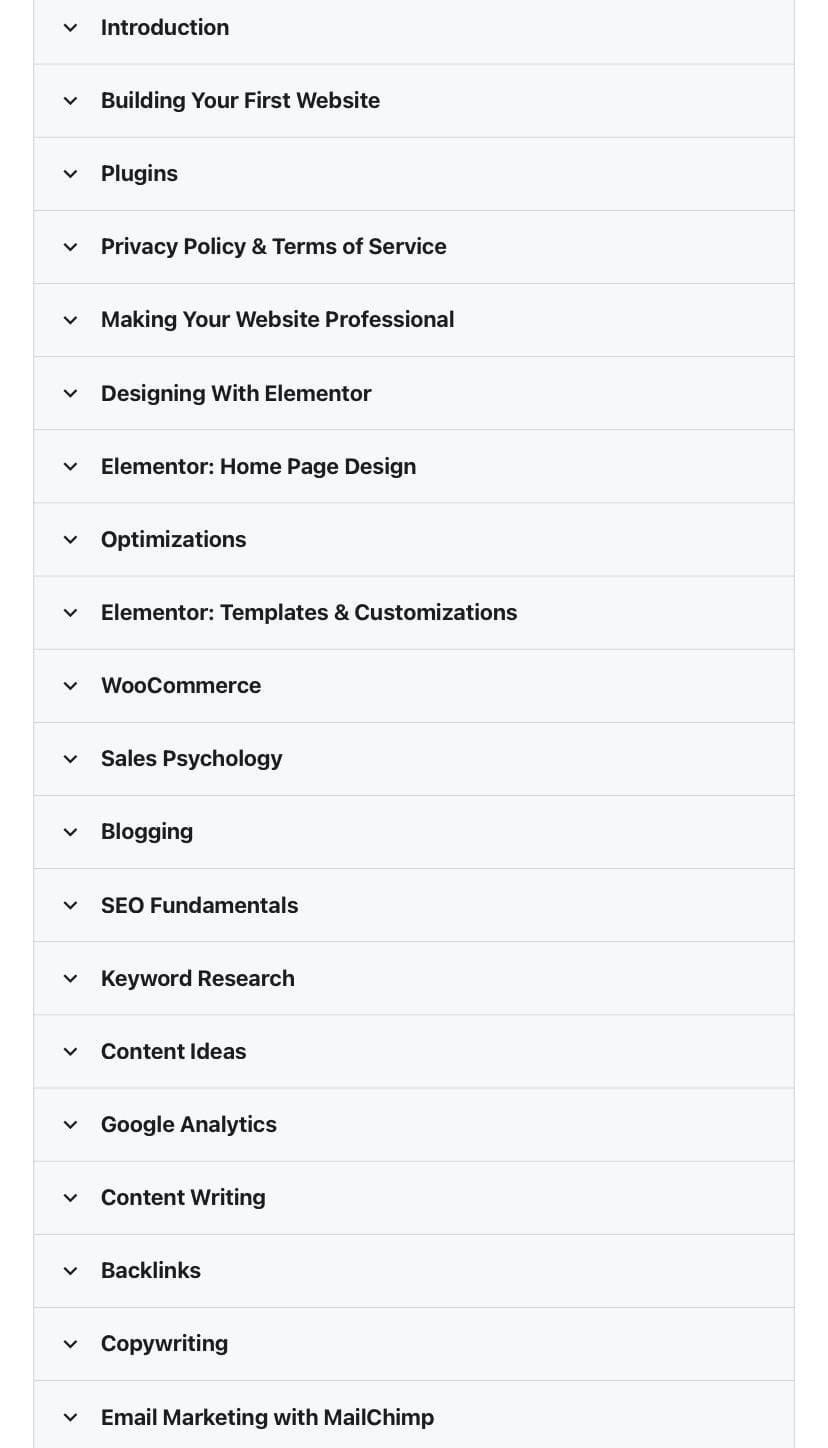 To make the entire syllabus educative, Joshua divided the plan into 18 sections and 136 lectures that would last for about 14 hours. You don't need any prior knowledge of SEO before you can take this class. It is one of the best courses for beginners and would transform you from novice to professional before the lecture ends.
There are so many new Google algorithm rules you have to be aware of. In 2022, a good skill is learning on-page and off-page SEO so your WordPress website can rank high in Google and keyword mastery to ensure that traffic is driven to your website.
Here are a few positive comments students made about the course: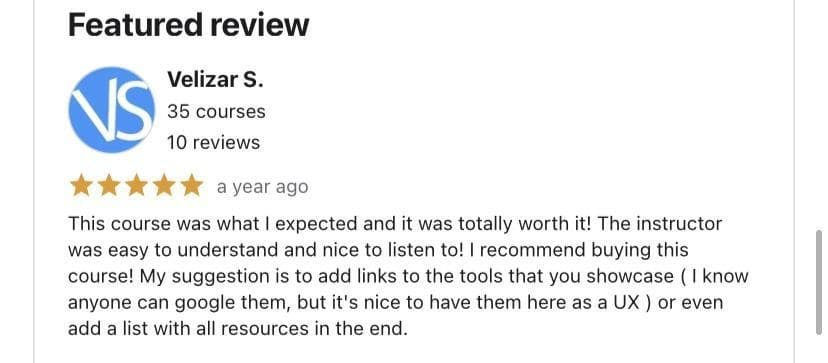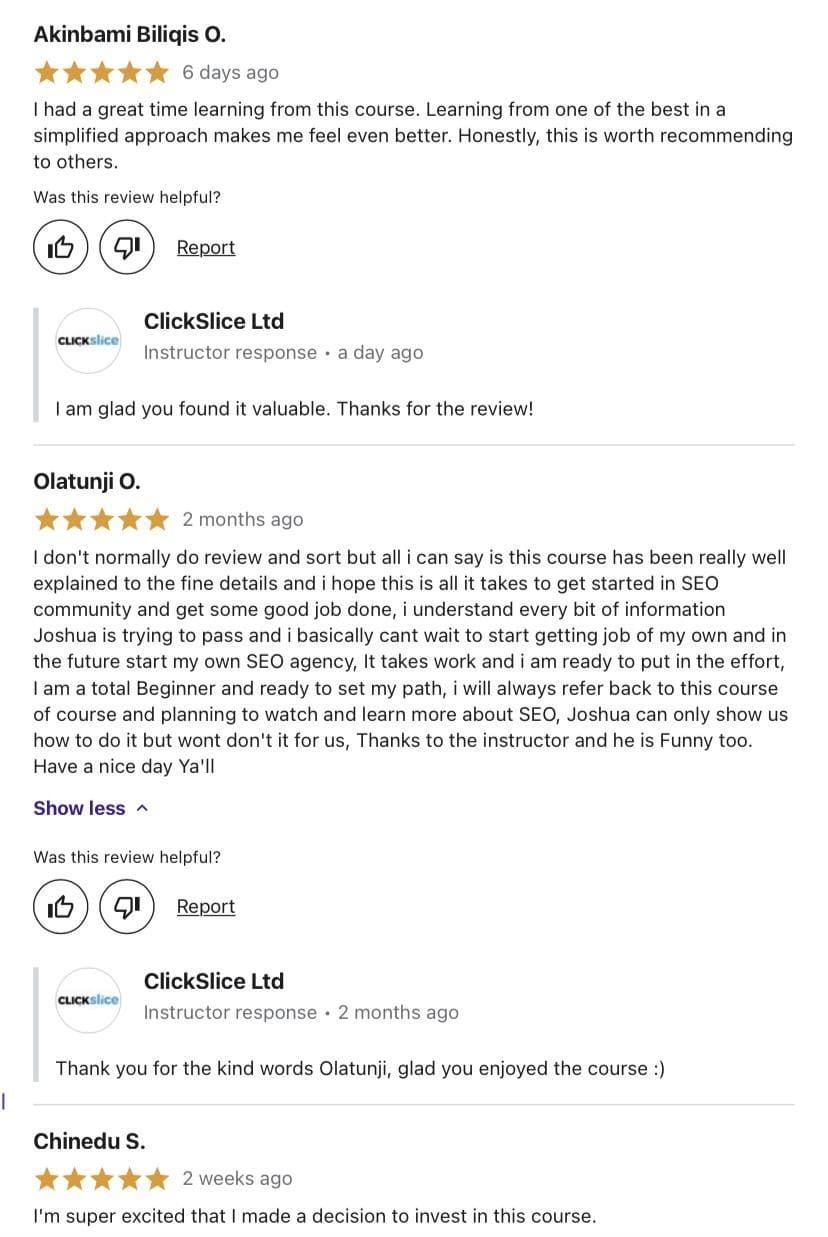 What people like: Extreme value for money.
What people dislike: Knowledge of plugins is needed.
WordPress for Beginners: Create Your Own WordPress Website
If you are looking for the best Udemy WP courses where you don't need prior knowledge to go from beginner to master, this is the one. In this program, you don't need any knowledge of HTML or CSS to join. Phil Ebiner will take you through everything you need to know on how to create a website using WordPress, all for $11.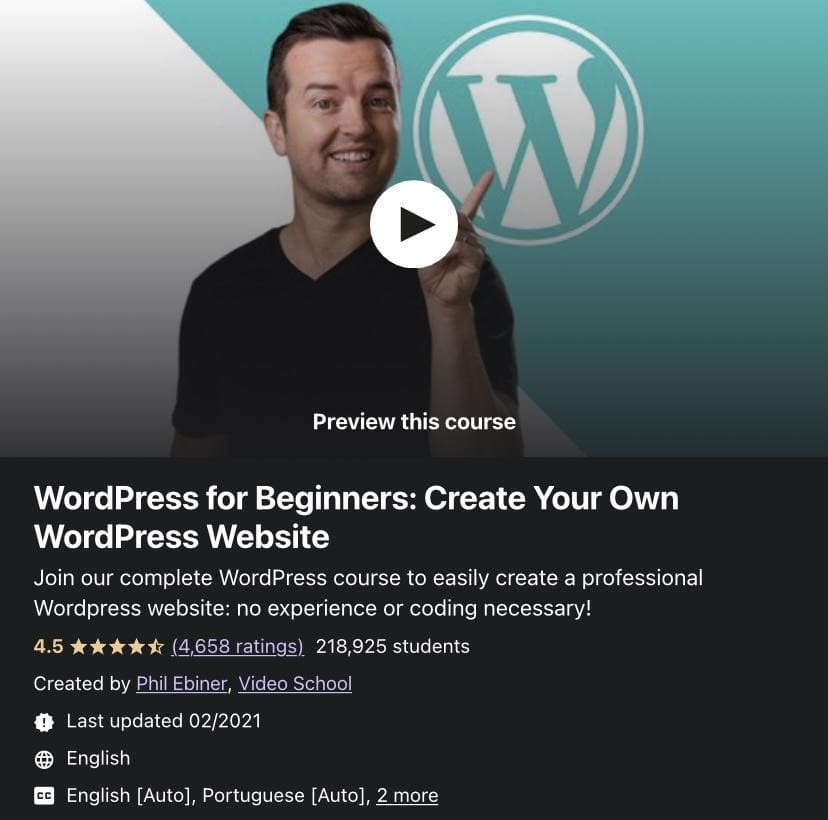 The entire syllabus is broken down into 7.5 hours of on-demand video, 12 articles, and three downloadable resources. When you're offline, you can always study the extra materials for a better grasp and understanding.
You will learn many things from this program, especially since you have 102 virtual lectures to attend. Unlike other classes where you need to buy a domain, Phil will teach you how to create a WordPress website for free. As I said, you don't need any previous knowledge of this. The tutor would handle all of that.
Here's what you'll learn:
How to build your website
Design your site anyhow you want
Customize your site for any purpose
Secure and inexpensive way of hosting your website
Find and install plugins and themes
Block spam and set up contact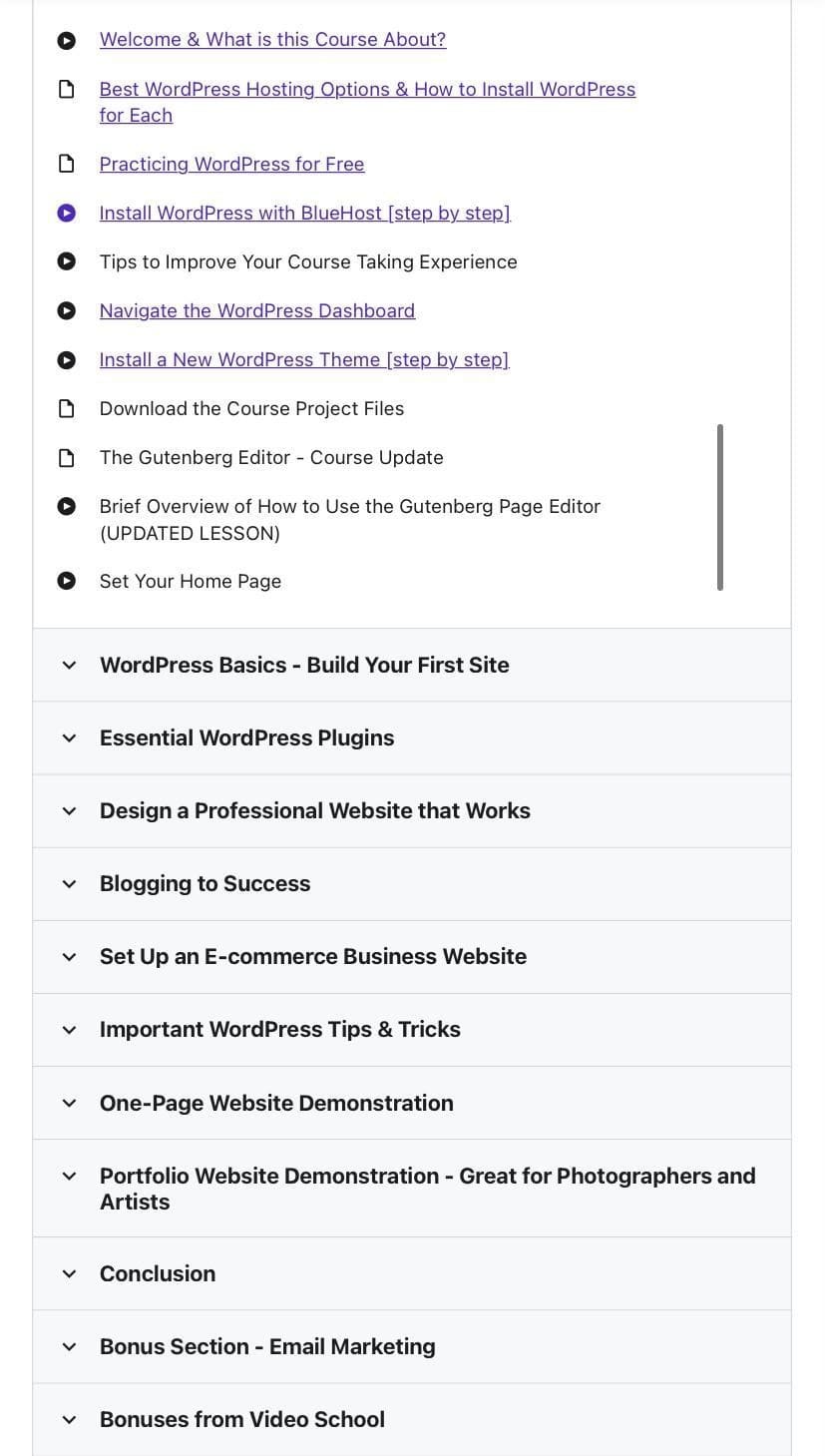 Here is some positive feedback from the class: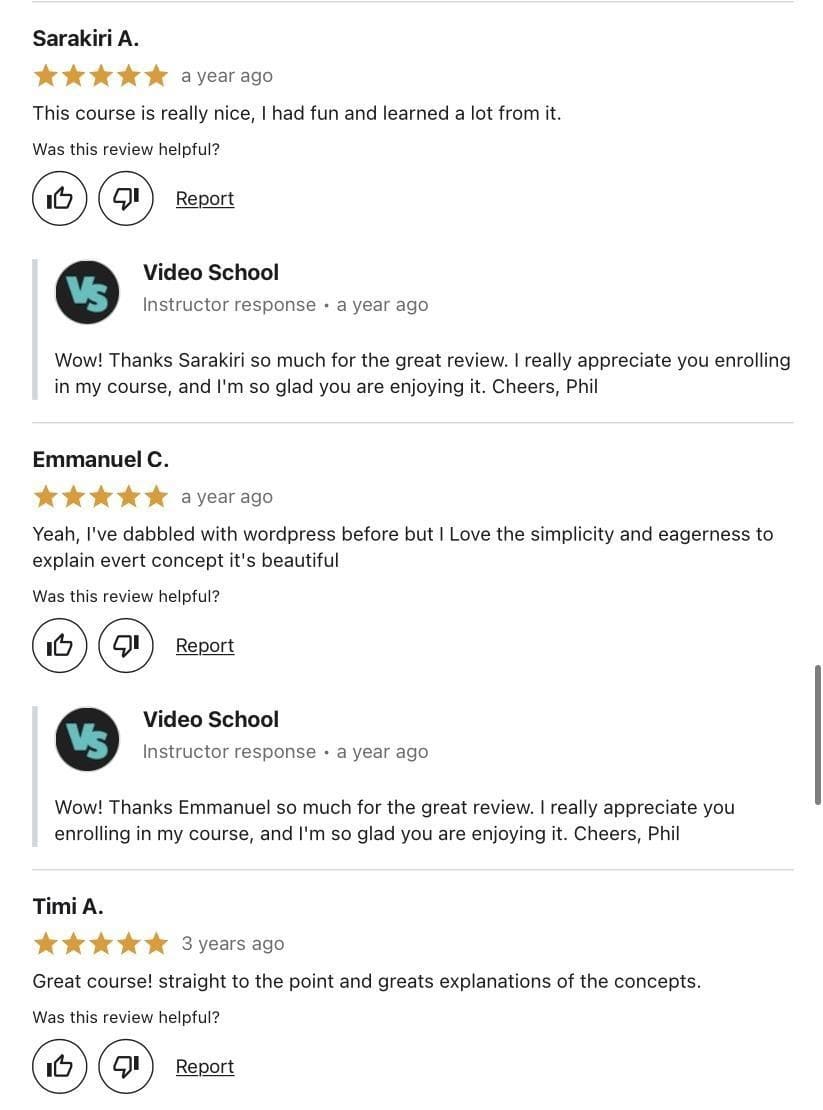 What people like: Great instructor; Detailed course.
What people don't like: Some sections were fast-paced.
WordPress for Beginners: Create a Website Step by Step
If you prefer to learn step-by-step, then this class is for you. Brad Schiff created it, and if you are a regular student of Udemy programming and coding, you will know this tutor. Brad is a popular web development instructor with a 4.7-star rating.
Impressively, he has held training sessions for several Fortune 100 companies and has gainfully employed students in Tesla, Linkedin, etc.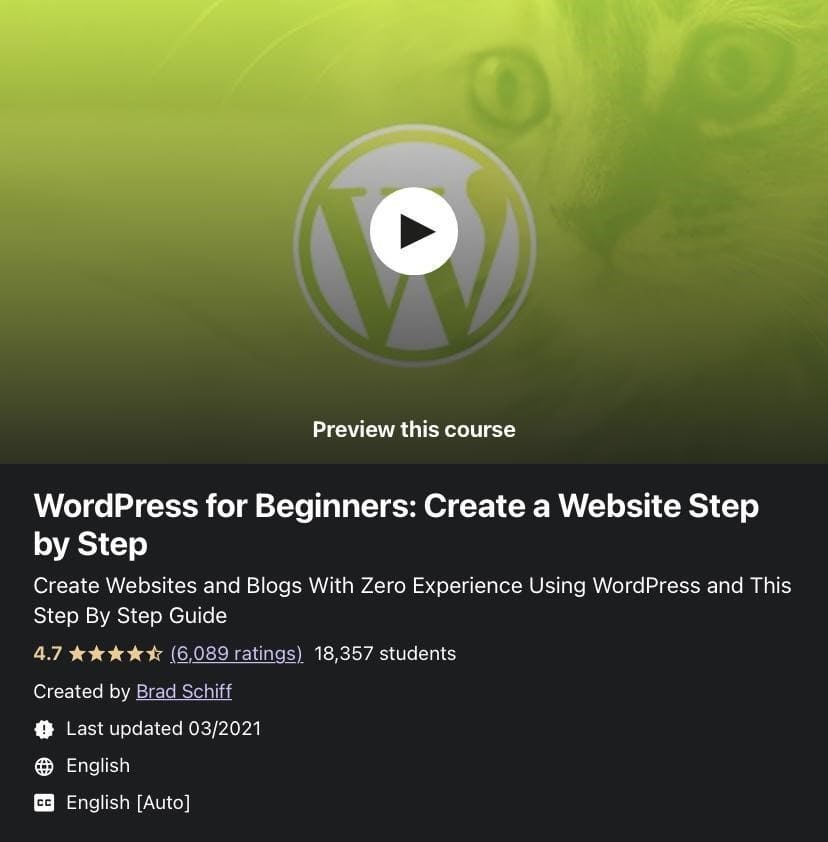 You will get this for $13, and I guarantee it's for a lot of value. The class population is over 18,000 students, and it has a rating of 4.7. After payment, you will get 4.5 lecture hours, 1 article, and one downloadable resource. There is a lot of knowledge to be gained from this course. You will learn:
To create blogs and sites using WordPress
Tutorial on how to update websites
How to make blog posts and widgets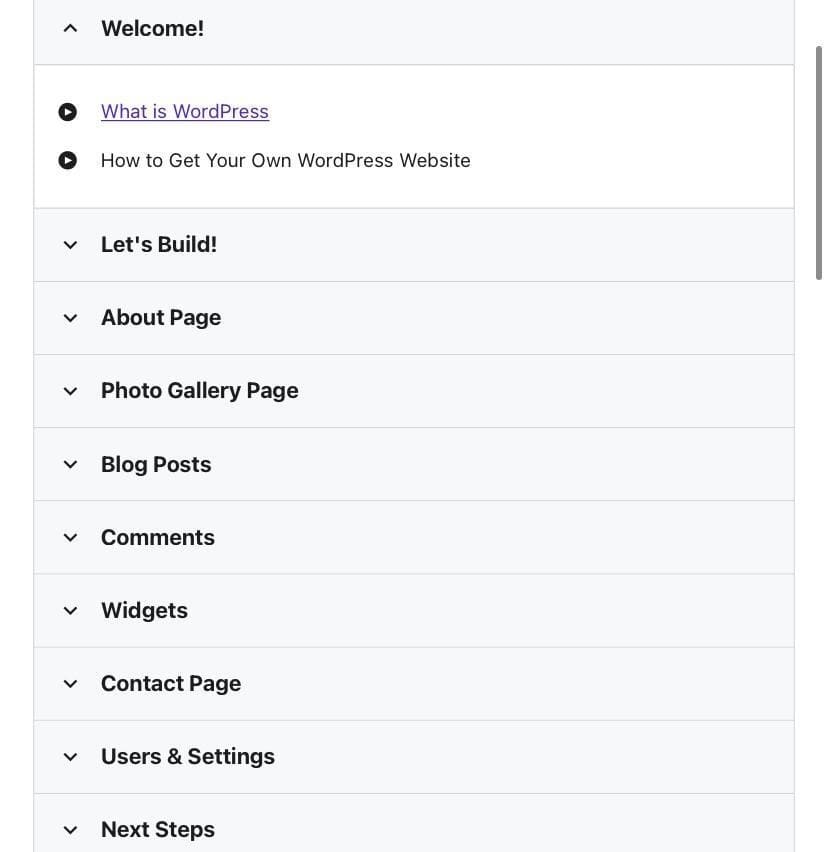 If you're someone who wants to create websites without learning to code, then this is for you. Brad will take you through a tutorial on the vocabulary and creation of WordPress websites. Here are some positive comments on the site: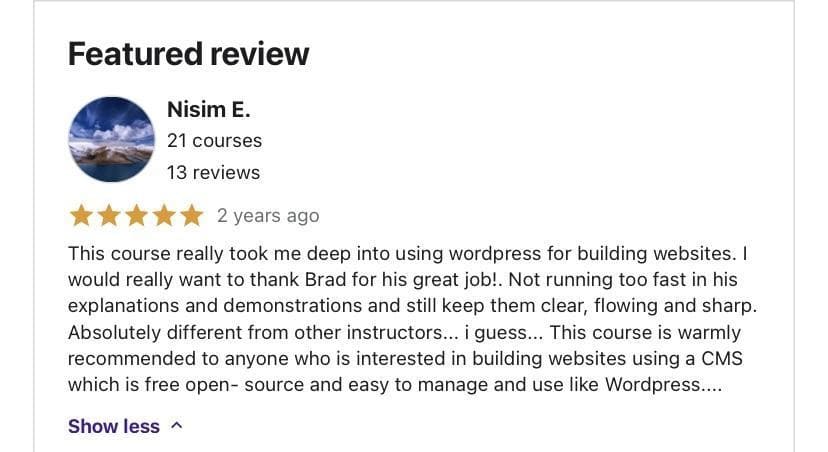 Learn Elementor - WordPress Front-End Development Course
As a front-end developer, WordPress Elementor is a great skill you should have. It would add to your credibility and help you make tons of changes and add features without code. If this sounds like something you are interested in, why not check out this course created by Andrew Williams.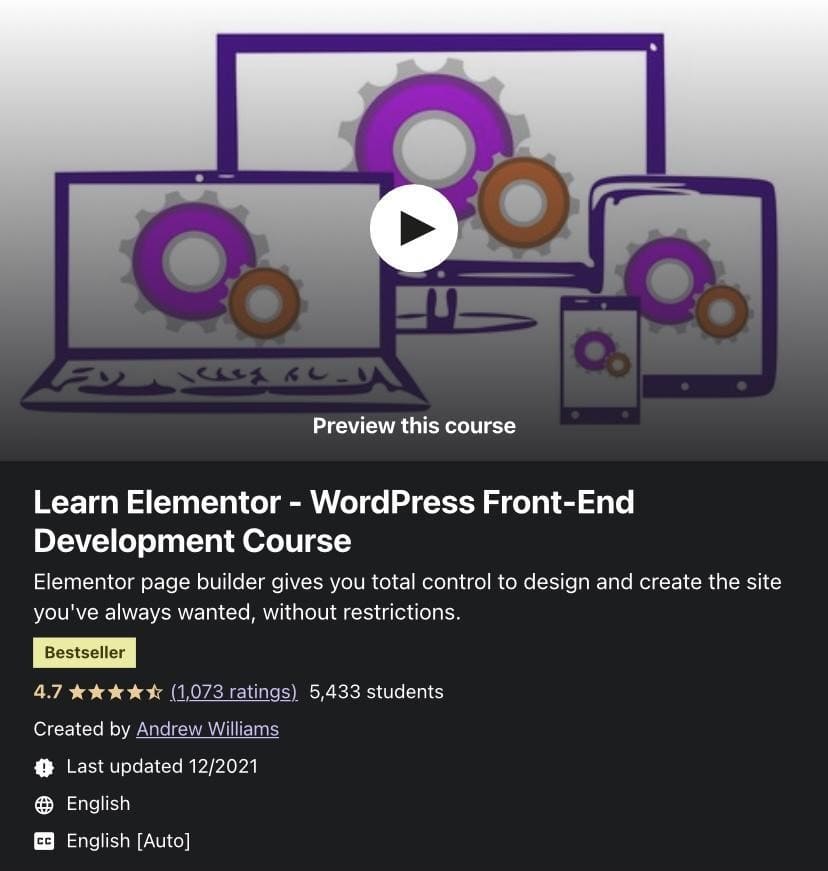 It costs $15 and has a rating of 4.7. Thankfully, the class population is about 5000, so the instructor would have enough time to answer questions personally, seeing as this is a very critical subject. You will also take an examination after the course.
Elementor is very useful in facilitating interaction between you and your clients when you create a website.
This is one of the best udemy WordPress courses, and in it, you will learn:
The importance of elementor
How to make designs, colours, and fonts
To use Elementor as a page builder
Motion effects
Create responsive sites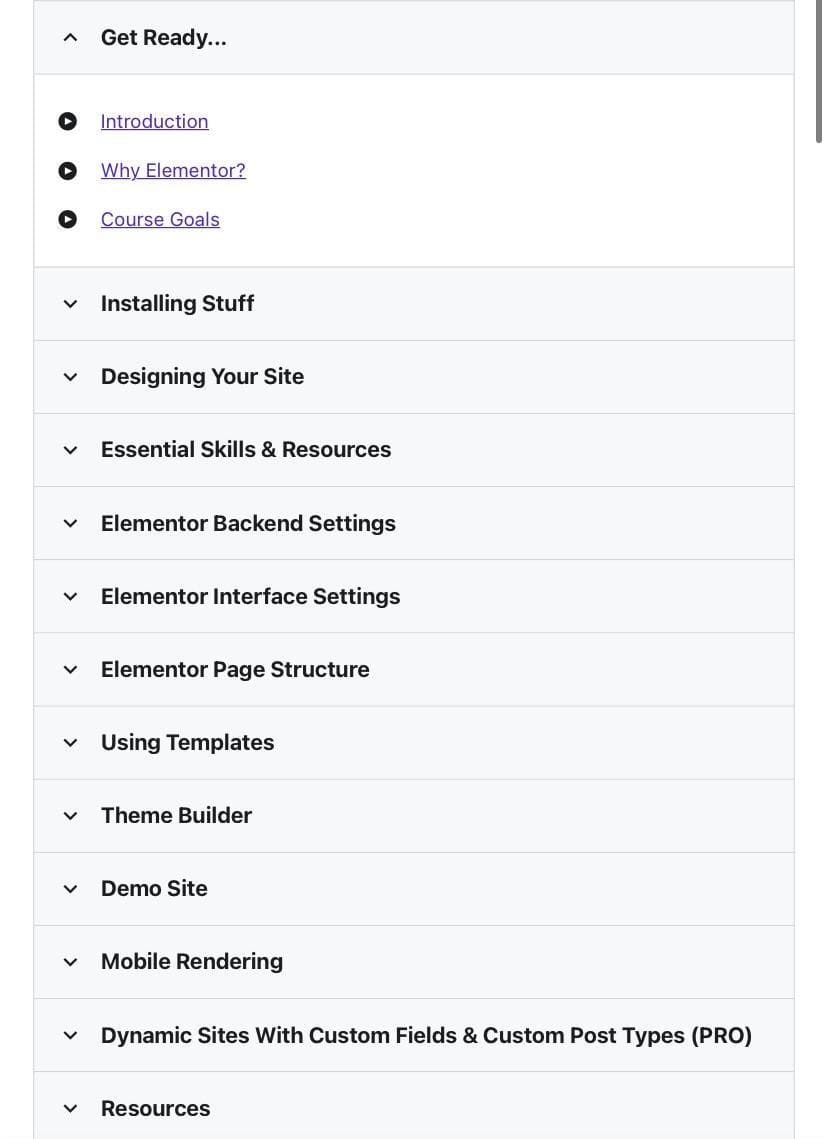 Here's what people have to say about the course: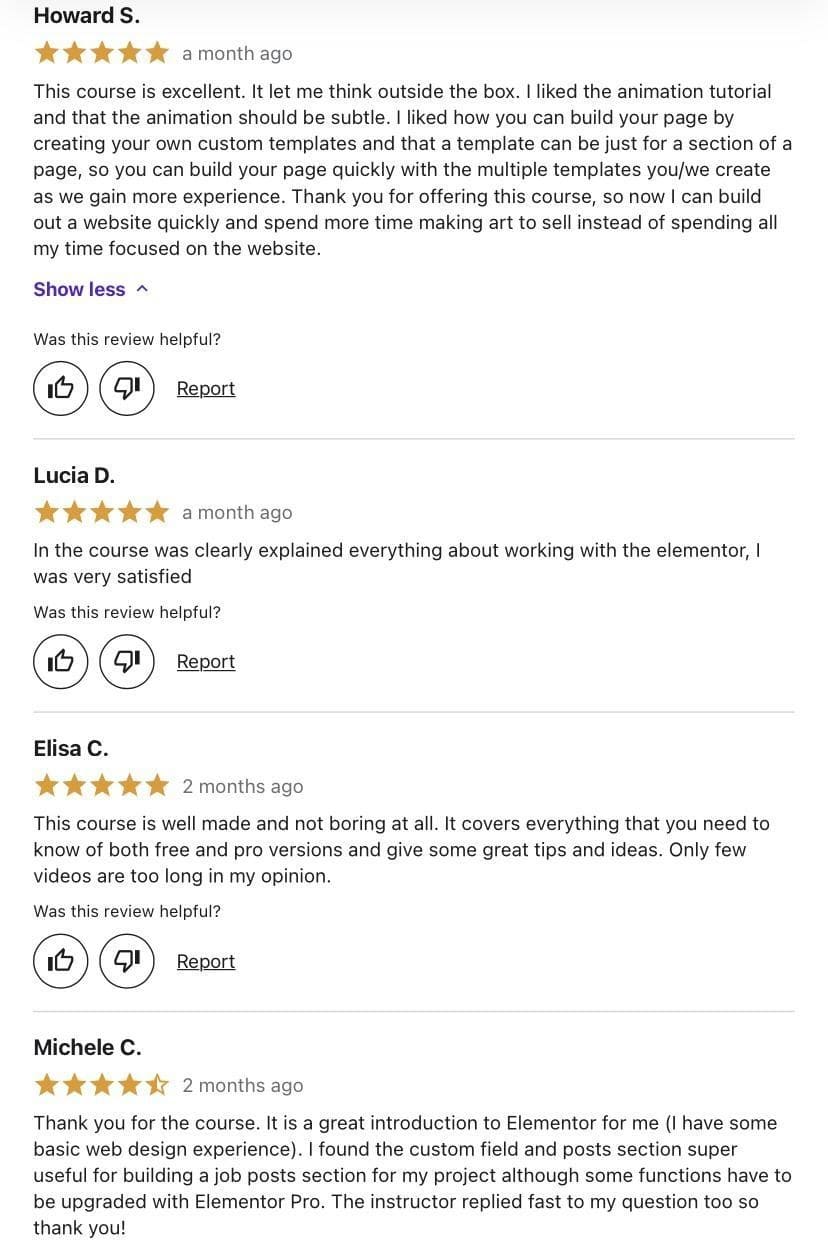 What people like: Excellent and detailed.
What people dislike: You might need to subscribe to Elementary Pro.
The Complete WordPress Website & SEO Training Masterclass
This is another one of the best Udemy WP courses online. It was created by Robin and Jesper, some of the best selling instructors on the platform.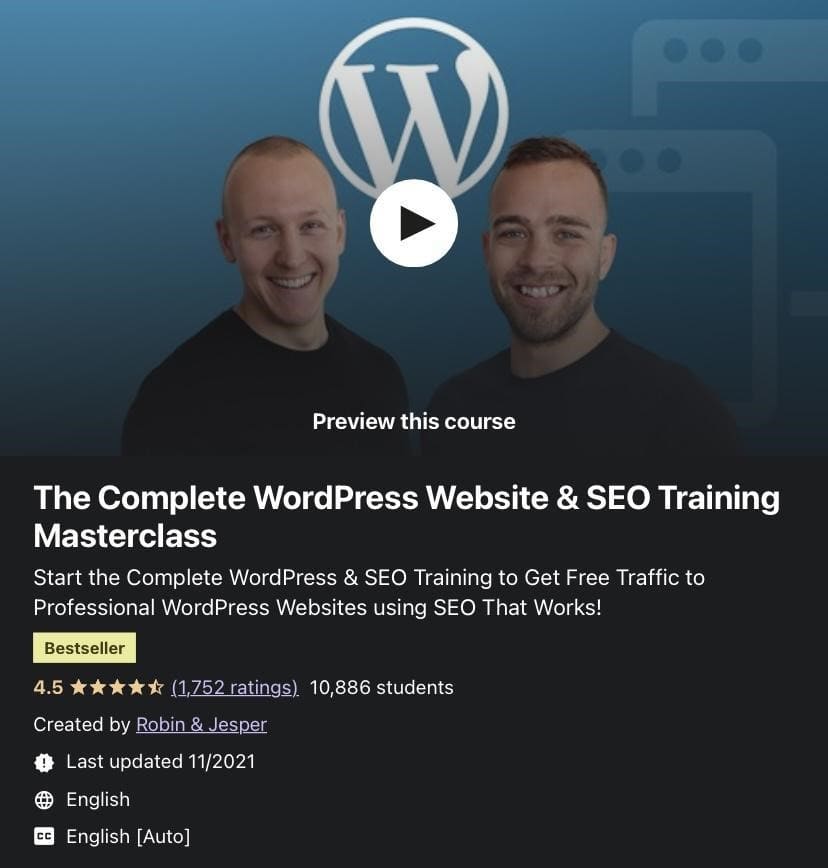 The tuition fee is $16, and you would be getting 30.5 hours of on-demand video, 24 articles, and 29 downloadable resources. It is program for absolute beginners, and you will learn:
Build and publish your website
Improve security against scams and hackers
Drive traffic to your website
Use clickable titles
On and off-page SEO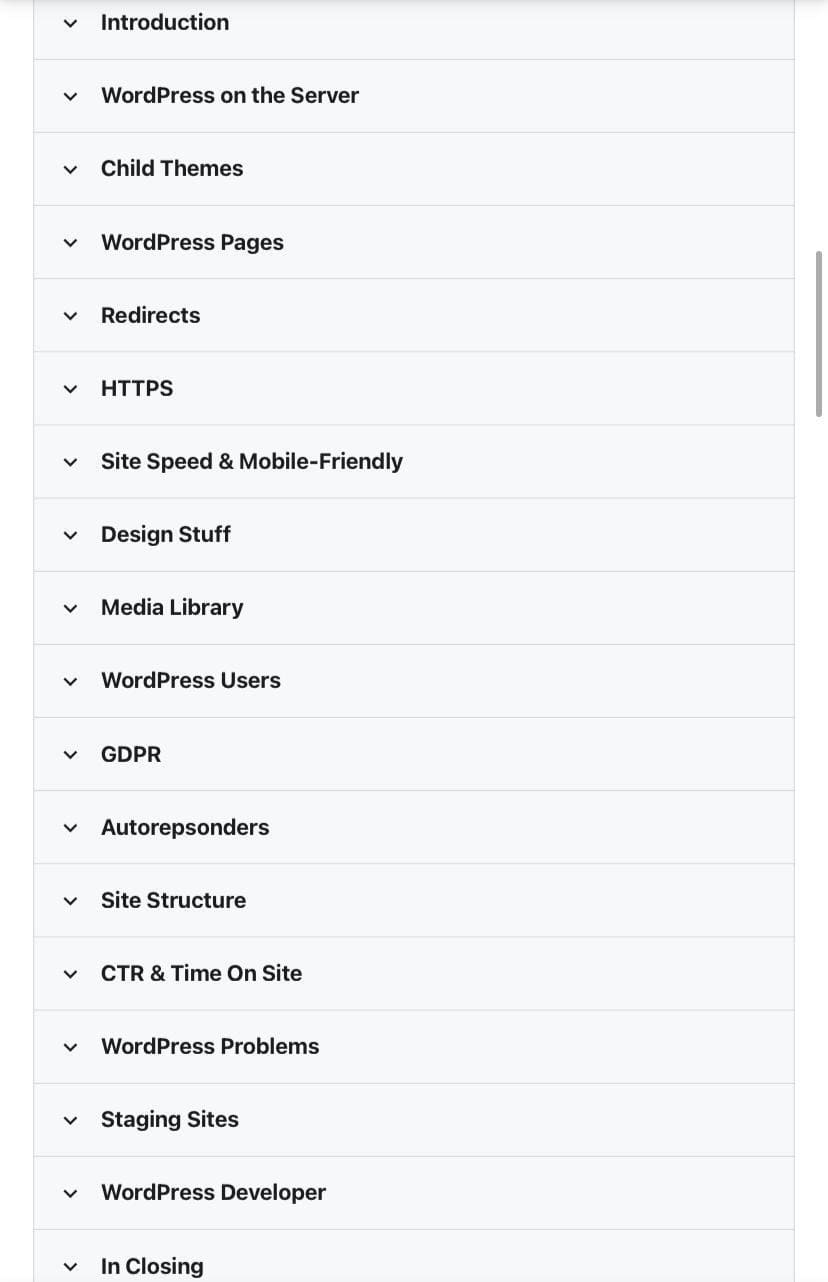 What people like: Loud and audible voice; up to date.
What people dislike: Little practical.
WordPress Intermediate Skills
This is the best WordPress course on Udemy for intermediates. Do you have experience with WordPress but still feel like there's something missing? Do you want to brush up on your skills and go beyond the basics? Then this course by Andrew Williams is for you.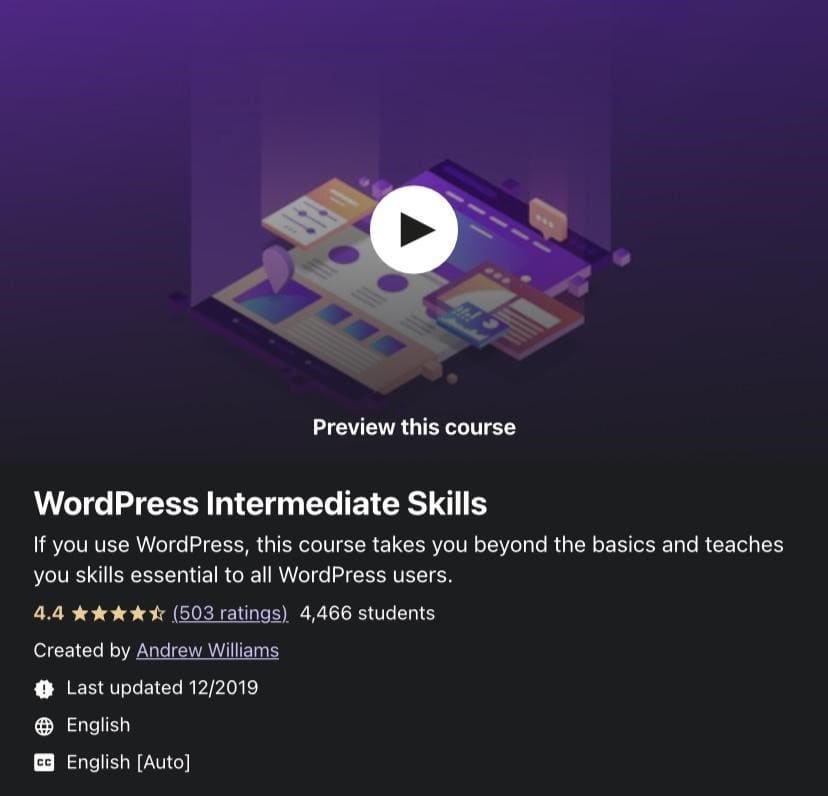 At just $13, you will get 8.5 hours of on-demand video, a free test, 1 article, and six downloadable resources. It will open so many doors of opportunities for you and take your skills to a whole new level. Here's what you'll learn:
Server installed WordPress files
Converting your sites to https://
Improve speed, design, and mobile-friendliness
How to use Google Chrome to your advantage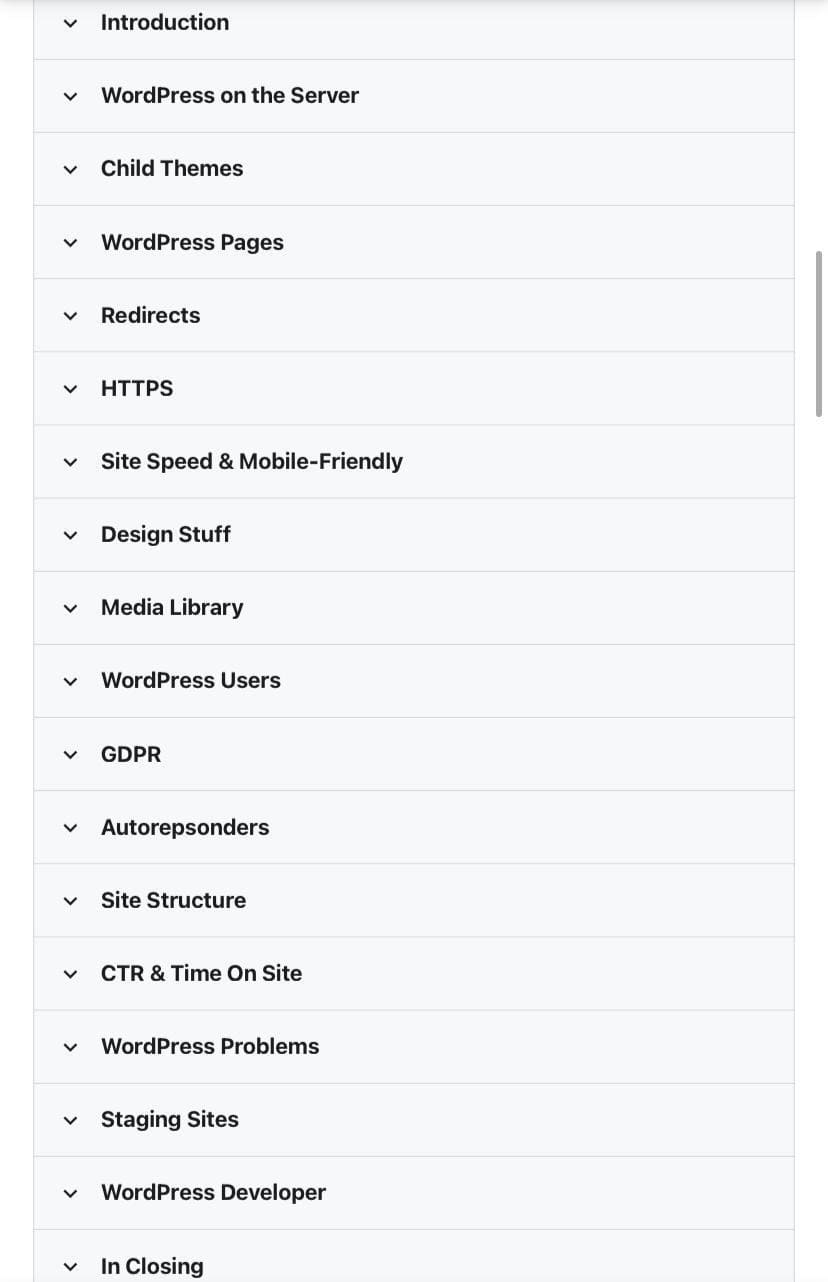 What people like: Well detailed and enjoyable.
What people dislike: Courses are too bulky.
Conclusion
Quality
I guarantee the premium quality of the above courses. The instructors are experts and are professionals in what they do. Every lesson is well detailed and educational.
Value for Money
Payment will grant you lifetime access to these qualified tutors, plus their contact addresses to keep in touch in case you have questions. You will also be given some downloadable resources and articles.
Student Feedback
The feedback on all the courses was positive and proved that it was indeed helpful. Students can always reach out to the instructor's mail and get urgent responses.