You might want to migrate to a new country with better opportunities to further your education or journey. However, if you're moving to an English-speaking country, you're required to demonstrate your understanding of the language via a standardized test.
This test/exam is known as the International English Language Testing System (IELTS exam). The IELTS test is widely accepted in many countries, including the United Kingdom, New Zealand, Canada, Australia, and 136 others.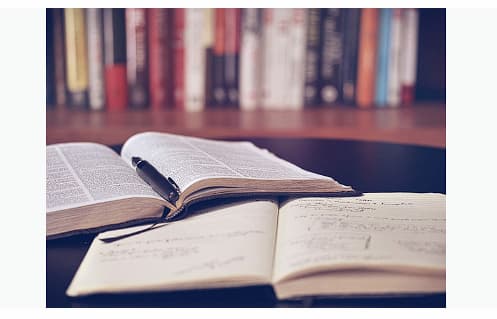 The global acceptance of the exam makes it one of the toughest to prepare for. Depending on what career field you seek to pursue in your preferred country, your IELTS score is what will determine if you can effectively communicate by reading, writing, and speaking the English language. Hence, many international students seek to get top scores that will take them directly to their dream countries and career.
However, before you can get that desired top score, you need the best IELTS academic test preparation you can get. Our team of expert reviewers at EduReview cares about making the exam as easy as possible, and they've compiled a list of the best IELTS courses you can use for preparation. The IELTS preparation courses market has a lot of options for you to pick from, but we've selected only top providers for your success.
Our selection of online IELTS preparation courses will cater to a wide range of students, from the not-so-fluent to the experience English speaker. These online prep courses have been vetted by our standards, as we did with the best online TOEFL preparation course, to ensure you get an honest and unbiased review.
Factors We Consider In Picking The Best IELTS Online Courses
Our criteria cover all the aspects that will make your IELTS preparation as easy as possible. These criteria include the price, quality of the course, mobile app, website usability, customer service support, and guarantees.
We also consider personalization levels, the number of practice tests you are given, the accessibility, and the point increase guarantee. Below, we take a look at the importance of these in making a decision. Get the best IELTS preparation courses and ace your test! Enroll now and improve your English proficiency with our expert instructors.
Pricing
Fortunately, a complete prep course for IELTS isn't so expensive when you look at the price range in the market. At EduReview, we only scout for the best online IELTS prep courses that give you good value for your money.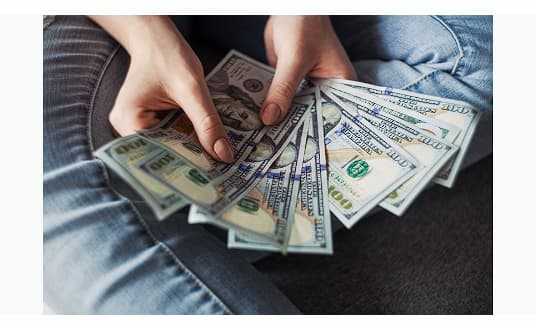 As such, our priority is to see how competitive a program's price is for the features it offers. These include its study library, the quality of its practice tests, its score guarantee, and the type of tutors it uses.
Your tutors are a major influence in the pricing of an IELTS course. If they're professionals with IELTS preparation specialization, you should not hesitate to pay an extra charge. An excellent tutor can make all the difference in your IELTS online prep courses, pushing you to get your desired results in the end.
Quality
The quality of the courses is what matters the most when making a choice. You must take into consideration how well the program you enroll in imparts knowledge to its students.
This goes beyond just having study materials to read and video lessons to watch. It involves how your interactions with tutors as a student, how far your tutors are willing to go to ensure understanding IELTS becomes easy, and what the past students of the IELTS prep course are saying. Read Magoosh TOEFL reviews and discover why our students love our online test prep courses. Start your journey to success today!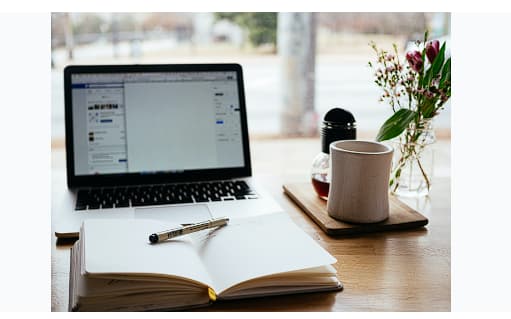 For quality assurance, the smartest thing you can do is get first-hand testimonies and reviews from previous students. Also, check for previous IELTS exam scores from past students to ascertain you're making the right choice.
Here at EduReview, we can assure you that each IELTS prep course you find on this list has been vetted in the aforementioned ways and compared in-depth to the other IELTS prep courses.
Mobile App And Website Usability
We live in a digital world where information can be easily consumed on mobile devices and laptops. If you want to make the best use of your time preparing for the IELTS test, then you should get a provider that lets you access its resources 24/7.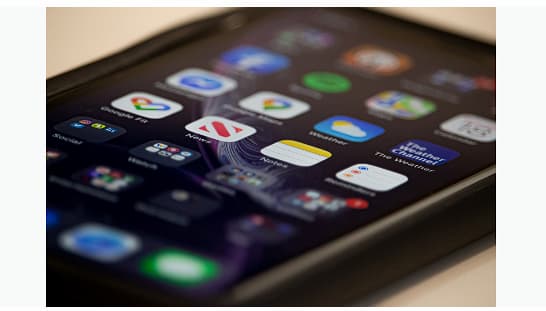 With a mobile app, you can easily download the study materials for your exam preparation. Some providers incorporate their apps with online tools that give track your progress and give feedback on how you can make studying more efficient.
Asides from the mobile app, you should also be able to assess your online IELTS preparation course on your desktop/laptop. In fact, everything should be more organized, detailed, and with easier navigation of a desktop site. You want to avoid websites that just dump study materials in clusters on their site, hence making you lose the motivation to read or practice anything.
Customer Support And Services
As a first-timer with online preparation courses for IELTS, it's normal to have inquiries, requests, and even complaints about the program. As such, it's always a smart decision to pick a program with excellent customer service.
If you want to know how efficient the customer support services are, you can take a look at reviews from previous clients of the course. You can also go the extra mile by dialing a given customer support number or writing an email to them to see how they respond.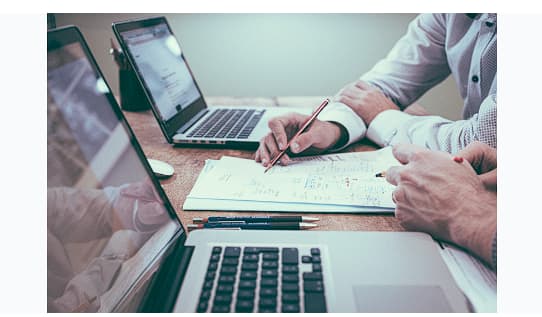 It'd be a plus if the learning platform had a live chat option and social media channels where you could keep up with updates. Be sure to test out the live chat option, too, to see how fast they respond.
Guarantees
IELTS test takers need assurance from prep courses that they'll do excellently for the price they get to pay. Besides, the goal of all online IELTS courses is to have high pass rates and be ranked among the best. As such, you should never settle for less with the offerings of guarantees from online courses.
At EduReview, we consider the type of guarantees given and how the point increase system of these top IELTS courses works. We ensure they're well broken down and addressed so that you get the best possible chance of excelling at your exam.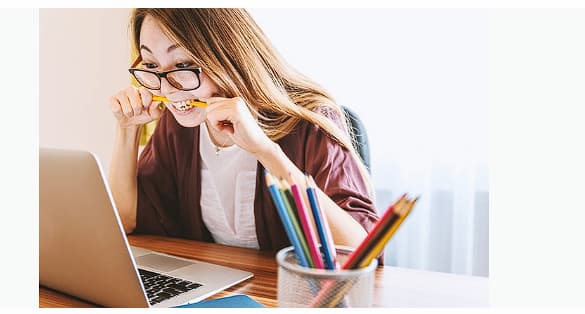 Besides the guarantee of a point increase system, your first assurance by a score should be the thorough training it will offer on each section of your IELTS exam. Your IELTS listening skills, writing skills, speaking skills, and reading skills must be well-honed during the course of preparation. Ensure these IELTS prep courses run mock tests that give you a feel of what to expect in the actual IELTS exam.
Although many of these courses offer to increase your IELTS score, you shouldn't just take their word for it. Do research to ascertain if the program holds a good reputation for keeping to its word. Know the conditions attached, and it'll be best if you could get a full refund if your desired IELTS score isn't met.
The Best IELTS Academic Test Preparation Courses Online
At EduReview, you're our priority, and we only want the best for you as you progress in your academic journey. Each of these IELTS online courses has been vetted and selected based on our above-listed criteria to ensure you ace your IELTS test with ease. These are the best IELTS prep courses, in no particular order.
Magoosh

Score improvement guarantee.
Top courses' provider.
Pretty affordable option.
Magoosh has catered to over six million students taking standardized tests, from IELTS to GRE. It's a top-ranked IELTS prep course with affordable options compared to other platforms. The website is one of the best we've seen in the IELTS market, offering simplicity, easy navigation, organized pages, and testimonials from past students.
Magoosh has students in about 185 countries, making it a top choice for international students who want to take the IELTS test. When you subscribe to Magoosh, you're given a host of resources, including practice tests, study materials, video lessons, and practice tests to prepare for the IELTS.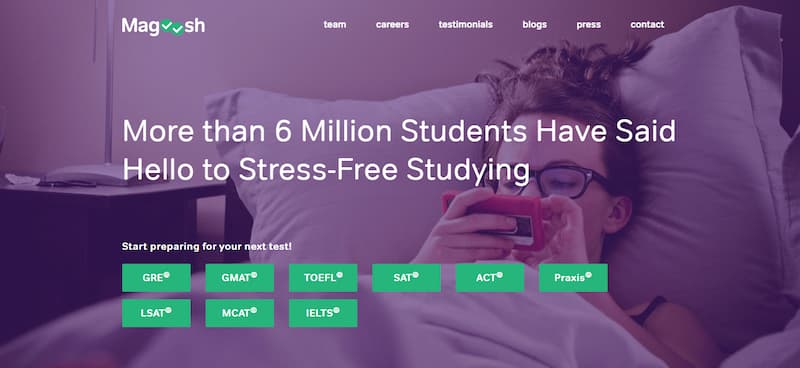 Asides from the intuitive and user-friendly website, you get a mobile app that you can access 24/7 from wherever you are. This mobile app also has a flashcard that helps you retain everything you've studied. Either on the mobile app or the Magoosh desktop site, you have access to its top-rated customer support services. Their mobile app is compatible with all devices, including iOS, Android, and Windows.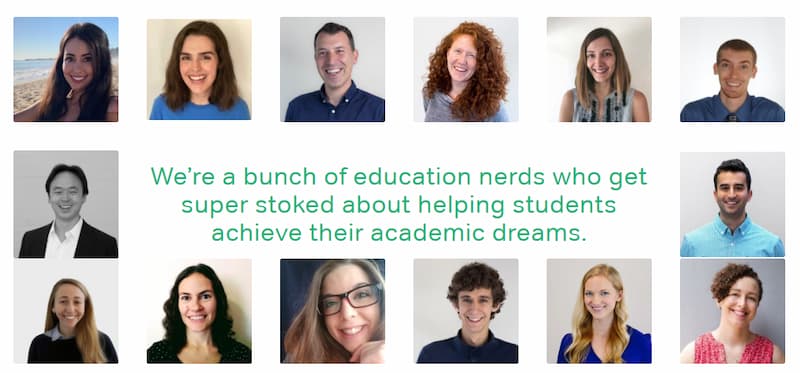 Although there are no live video lessons, you get interactive sessions with tutors to guide and empower you on your IELTS journey. Magoosh also offers a score improvement guarantee of 0.5, which is quite considerate for its affordable price.
Read the full
Magoosh review
.
BestMyTest

Affordable option for a complete prep course on IELTS.
1 - 2.5+ score guarantees.
Interactive lessons.
Instructor advice and support.
Score guarantee is provided only for those who take a Premium or custom package.
BestMyTest is an online learning platform solely focused on IELTS academic test preparation. It's one of the best online IELTS preparation courses you can take on the market, putting a wealth of resources at your disposal.
These resources include live instructions with video lessons by professionals, thousands of practice tests & questions, and assigned tutors to give feedback and progress reports.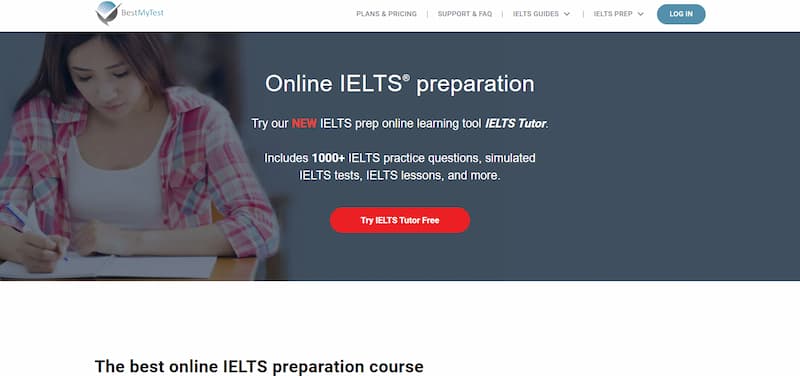 Subscribing to a plan on BestMyTest gets you unlimited access to 2000+ commonly used IELTS vocabulary words, 200 IELTS lessons organized into a study guide, and many more. The platform has a detailed plan for you to pass your IELTS exam.
The first step is to take a simulated IELTS exam to assess your strengths and weak points. Next, you're assigned a tutor to help improve your weaknesses in every section of the IELTS test.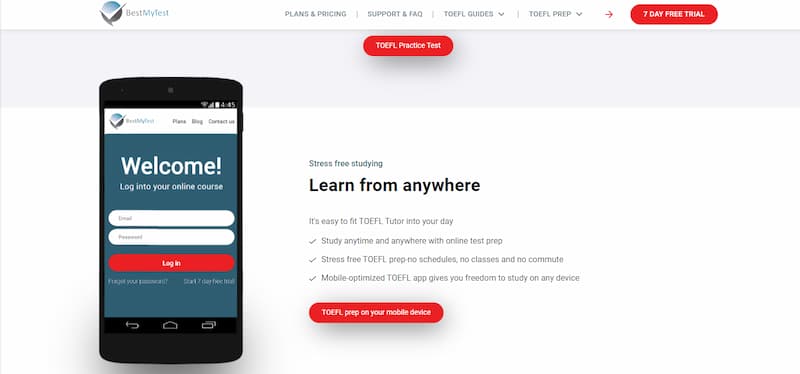 After thorough tutoring, you're required to test out your knowledge with over 1500 practice questions by BestMyTest. All of these steps will be done every week until you're fully ready to take an IELTS exam.
Their expert support guarantees a 2.5+ band score for students who take their IELTS Premium package and a 1+ score guarantee for those who take a custom package. Remember that their services are very affordable, and considering the level of expertise and score guarantees given, that is very justified.
Kaplan

Simple and user-friendly website.
Works only with professionals.
High number of IELTS preparation questions in the market.
No score improvement guarantee.
Kaplan, also known as Kaptest, is a huge test preparation platform offering prep courses for standardized tests from IELTS to MCAT. The platform provider has been in the test prep scene for over 80 years, helping millions of students get their desired scores. You could take their IELTS online courses with over 500 practice questions and a wealth of study resources available to you.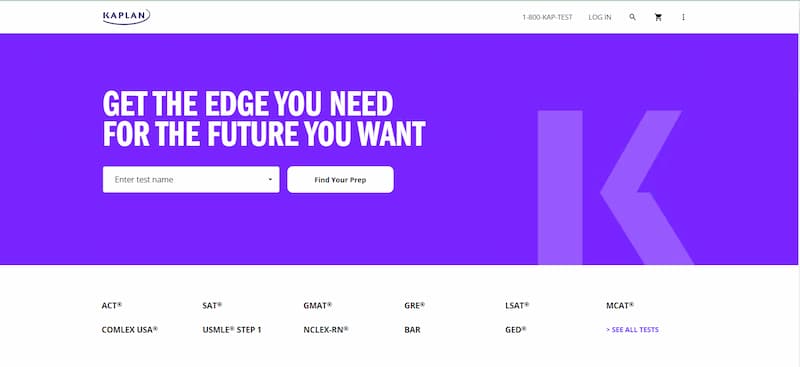 You're assigned a tutor who gives live instructions on your IELTS preparation for all the courses. In addition to these perks, the platform partners with Cambridge University Press and the Cambridge Assessment English Promise. However, a major drawback you'll encounter is the lack of a score improvement guarantee when you take your IELTS exam.
edX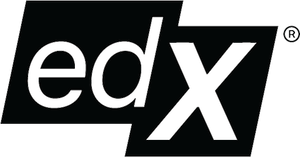 The IELTS prep course was made with the University of Queensland.
The IELTS prep course is free.
Its IELTS prep courses include speaking, listening, writing, and reading.
Instructors from a real university to guide you.
No score guarantee.
No real ratings or reviews from previous customers.
edX is a huge learning platform that partners with many universities and colleges to educate you on virtually any course. Plus, you get a certificate for completing courses on this platform. It's one of the best providers of IELTS prep courses, giving you free access to materials and professional tutors.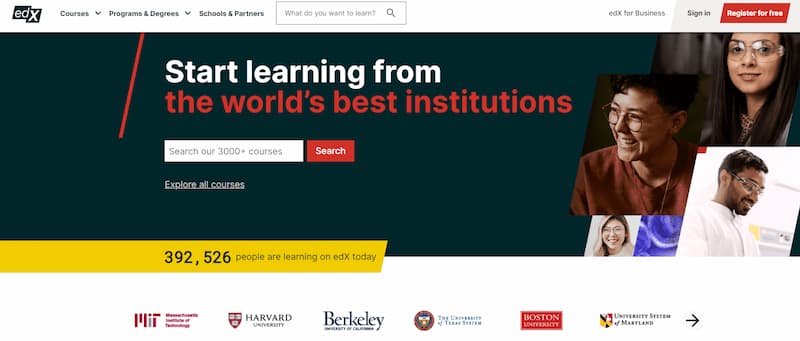 With its partnership with the University of Queensland, it can vouch for over 20 years of expertise in language training. However, a major drawback in their IELTS prep course is that they don't have a score guarantee available.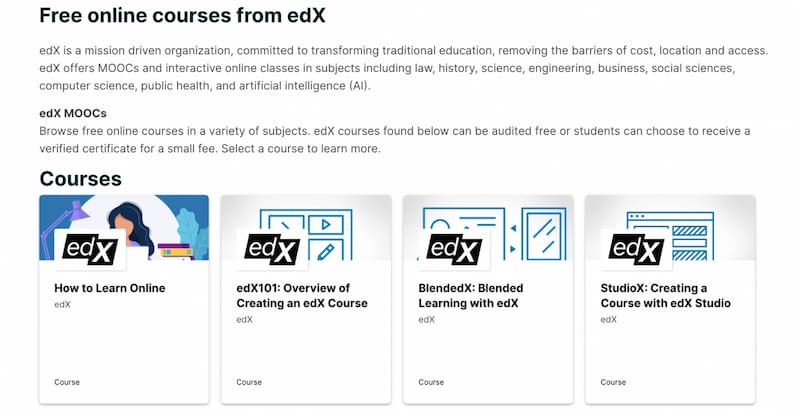 What Other IELTS Preparation Options Can You Consider?
British Council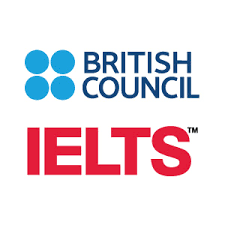 Asides from the above-listed online courses, you can choose to prepare for your IELTS exam with organizations that charge little to nothing. However, you may not get perks such as live tutoring and practiced questions. In this section, we'll take a look at the services of the British Council and Preply IELTS Tutoring.


British Council is an organization you can take your IELTS test with and also employ their services in preparation. The organization is particular about writing and speaking tests, giving you top assessments from samples you submit to them. With the help of professional tutors, you'd improve greatly on your weaknesses with comprehensive study plans and interactive sessions for each section of an IELTS test.
The British Council pays attention to details, making it one of the best IELTS online courses you can take. In addition, you get student support channels via instant messaging and email assistance, as well as around-the-clock customer service.
You can also ask your instructor for any clarifications. They also offer a band score improvement guarantee of 1 – 2,5, which is fantastic. However, they are not video-based and focus on interactive practice that is test-based.
Preply IELTS Tutoring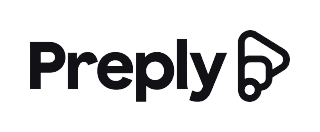 Personalized plans for you to get your desired IELTS band score.
Professional and experienced tutors with in-depth knowledge of content and exam format.
A wealth of study resources, including video lessons, practice tests, and practice questions.
Feedback and progress report from tutors.
No guarantee of score improvement.
Tutoring sessions are only available online, so students don't have the opportunity for in-person interaction.
Tutoring sessions are not always available at the most convenient times for all students.
This platform has about 2400 tutors, with descriptions, lessons, number of students, and certifications attached to each of them. As a student, you're given the option to book a trial session with these tutors before picking one that suits you.
The platform also has group classes for you to join, discover more knowledge, or share your IELTS problem with other students.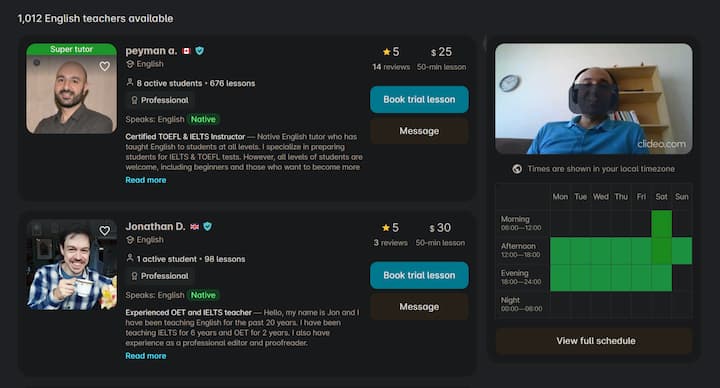 The platform only serves as the bridge to connect you with these qualified tutors who will help you with your IELTS test preparation. You have the free reign to dictate the pace of how you want to study and during what times you'd love to have lectures.
Additionally, Preply offers a variety of study materials and resources to complement the tutoring sessions, including practice questions and tests.
Best IELTS Online Courses: FAQ
As a person new to IELTS exams, many areas could confuse you, especially during preparation. That confusion is okay because you get to ask questions that will clarify your doubts and put you on the right path. In this section, we answer some of the most common questions asked by aspiring IELTS test takers.
What Problems Do Students Face in IELTS Examination?
Preparation
Many students tend to underestimate the seriousness of IELTS tests, especially since it's centered on a language they assume they know in-depth. But the English language is beyond what you hear every day from your family and friends. You must know the rules, concepts, and guides to communicate with a native English speaker effectively. All of these are what are tested in an IELTS test.
Self-Study
The problem with thinking you can study for IELTS by yourself is that you have no way of testing your progress. You might be stuck on the same thing that may not even be relevant during the actual test.
Time Management
You must learn how to manage your time during preparation and during the exam if you wish to get your desired scores. Plan your day, adhere to the study times you set for yourself, and be consistent.
Take the listening test seriously
The most challenging parts of an IELTS exam include the listening and speaking test. These are the first basis of communication, and you should pay special attention to them.
Confidence in the speaking test
Regardless of if you're an international student, you must be confident in your speech to ace the section. Examiners know English is not your first language, but once you practice with the selected IELTS online courses, you should ace the section with ease.
Why Do You Need These Courses At All?
Testimonies from thousands of people that have taken one IELTS preparation course or the other will always remain an indicator of how effective they are. IELTS is not an exam you should underestimate, as failure in the test can take you steps back in your academic journey. Hence, these courses are needed to guide you in getting familiar with the exam content and format and knowing how to manage your time during the test.
How to Choose the Best IELTS Prep Sites?
In the above sections, we've given useful tips on how you can identify a top IELTS preparation course. The first thing you should do before making a decision is to read first-hand reviews from past clients of the course you want to enroll in.
Check our reviews at EduReview also to see how credible the information you get about the course is. However, before you even pick IELTS as the best test for you, check our TOEFL and IELTS comparison to see which is easier and most likely to pass.
What is the Best IELTS Prep Course to Take?
This question is best answered by you considering what you have as a budget, the quality you're looking for, and other additional features that will suit your plans. Combined with our reviews, we advise you make extensive research to decide on the right IELTS prep course just for you. We can only rank the programs available to have the right information needed to make an informed decision. Remember that it is essential for you to think prudently when making this choice.
When is the Best Time to Take IELTS Prep Class?
The more time you can spare before the actual exam date, the better. You do not want to rush your preparation process, so you don't give in to pressure on the exam day. However, if you know you have been studying ahead, you can take these preparation courses a month or less close to your exam date. Remember, all sites have their differences, and you should only pick the one that can deliver the best services within your timeframe.
How Do You Know Which Company is the Best Test Prep For IELTS?
You'll know a good company from the features it offers. These include but are not limited to a user-friendly interface, mobile app, progress tracker, flashcards, live tutoring, and question bank. In addition to these, you should always check reviews and ratings about the company.
Would You Pay for Online IELTS Courses?
You will encounter sites offering IELTS courses for free, but they always come with limitations. But with a paid course, you're treated to a massive library of resources that arms you with everything you need for the exam. If you want quality education and tangible results, you should be willing to pay for it.
So, What is the Best IELTS Online Course?
The bottom line of this guide is that we highly recommend paid IELTS online courses for students who want to score high on their tests. But it doesn't end only with high scores; most of these courses offer you guidance on the next step to take after acing your IELTS test.
Remember, IELTS is a globally-accepted exam that could open you to new opportunities in your professional and academic journey.
With companies like Magoosh, BestMyTest, and Kaplan, we can guarantee you're in safe and capable hands for your IELTS academic test preparation. They're companies that are worth your time, effort, and money with the top services they offer.