Edureviewer is the platform that gives honest reviews of education and writing platforms. We are our readers' partners, helping them decide what platform is worth their time and money.
If you are hoping to get reviews on online platforms to learn another language or get proficient in a skill, you have reached the right place. All the platforms we review undergo thorough scrutiny, and we write based on the services they provide.
We use various ways to evaluate and choose online tutoring platforms. Some of these ways or factors include their pricing, secure payment options, and general customer service.
We understand perfectly that a high price does not equate to excellent or quality service, so we look at the platform's service and consider your budget before making a choice.
If you are wondering why you should take online courses, there are many reasons to convince you. Online courses are convenient and offer flexibility.
Finally, Let's compare ELSA review, mainly the review features they offer.
HeyTutor Overview
What is HeyTutor?
HeyTutor is a company that offers tutoring services. With a base in California, US, it serves many looking for tutors in various disciplines. Students can find tutors in their neighbourhood, and they can meet to get lessons on their preferred subject after successful negotiations with the chosen one. Tutors also have the opportunity of monetizing their knowledge by signing up as private teachers at HeyTutor.

With Hey Tutor review, students can search for local tutors near them in over 250 subjects. But is HeyTutors one of the best online tutoring services available online? You'll find this out at the end.
How does HeyTutor work?
HeyTutor is beginning to gain popularity in the tutoring world. And they have two means or packages for satisfying their customers – the standard package, called HeyTutor, and the advanced package called HeyTutor Pro.
The advanced package takes away the stress of looking for tutors. Students only need to specify what subject or discipline they are willing to get a tutor from and their location, then HeyTutor does all the pairing. In the simple package, though, there are four steps to take that are listed below.
Search: upon visiting the website, the learner or student can search for tutors in their area. Learners can search subject and their locality ZIP code to find a teacher. And of course, there is the option for requesting a particular tutor, and HeyTutor will have them contact the student.
Select: after browsing through the numerous options of tutors, here, and the student can choose their preferred one. The tutors' profiles are visible and include photos, educational qualifications, ratings, and past students' comments.
Schedule: the next step allows the student to communicate directly with their chosen teacher. They can both agree on location and time then HeyTutor handles every other part, including payment.
Study: after all arrangements have been made and payment has been made, the one-on-one studying can start between the student and their tutor.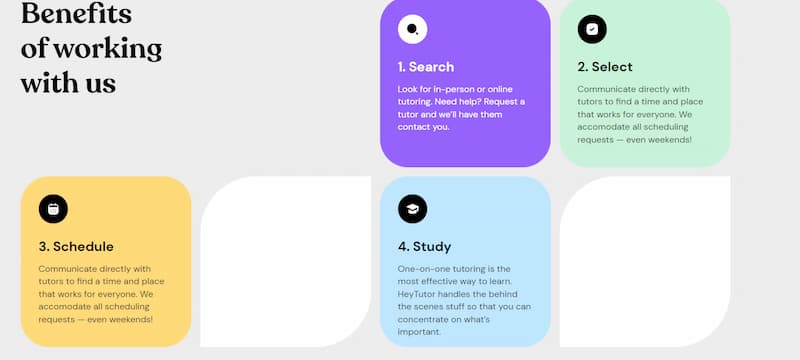 Does HeyTutor guarantee that they have good tutors? Does HeyTutor help at all?
The Hey Tutor reviews claim that their tutors' population is continually growing, and that can only mean a thing – it will get harder while trying to vet the tutors. HeyTutor operates a model that allows the students and their tutors to work independently. They both decide the location, time, and other modalities that the lessons will take. And this takes some control away from management.
While the tutors know that their success with their lessons means they can get more students on the platform, but that can rub off on HeyTutor. The management, however, has a solution to that.
The introduction of the HeyTutor Pro package ensures that the HeyTutor team handpick tutors for students, which means the tutors must have been verified and trusted to deliver the lesson.
So, while HeyTutor may not state their independent tutors' expertise correctly, they can ascertain students under their HeyTutor Pro package. In fact, for an extra fee, a background check can be made on the tutors.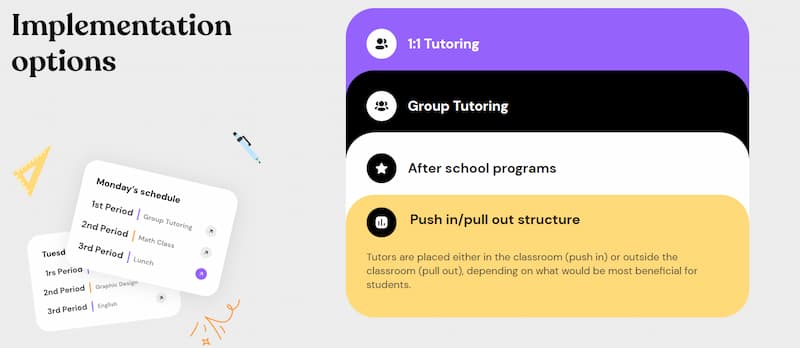 Is HeyTutor good?
The primary job of the HeyTutor is to give students access to tutors. The management does not determine the experience, expertise, and availability of the teachers. This then means that the effectiveness of online lessons is not within the capability of HeyTutor.
Some students can express satisfactory learning online through the tutors found on HeyTutor, while others may have an entirely different experience. The reason is that HeyTutor does not have an online platform where the classes are done. Teachers have to rely on platforms like Skype, Google Hangout, and Facetime to deliver online classes.
So, the effectiveness of online lessons differs from the mentor, internet connection, and other factors beyond the capability of the HeyTutor.
Is Heytutor legit? Is Heytutor a scam?
Many students ask, is HeyTutor legit and is HeyTutor good? To find out, they look for any hey tutor review online where students who have come across this service can answer whether is Hey Tutor legit or not. HeyTutor is without its fair share of criticism; however, it runs a business model that is not new – an online marketplace that brings teachers and students together. HeyTutor has no online means of taking classes, and the tutors and their students have to rely on third-party platforms like Skype and Google Hangout.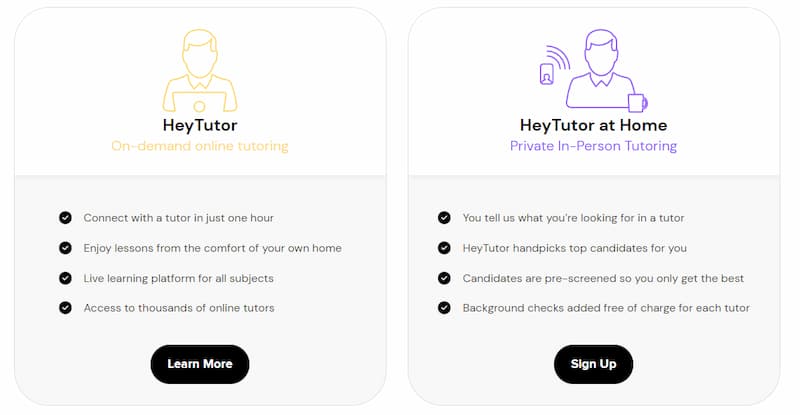 Despite all of that, it is fair to say that HeyTutor is not a scam. They are beginning to gain popularity, and their processes are quite clear even to first-time visitors to their website.
Like many other platforms, the tutors decide who can take and reject, although many times, they have to rely on HeyTutor to pair them with students who meet their requirements.
Does HeyTutor have the best online tutors out there?
HeyTutor is designed so that tutors are independent, and even though there is no means for the tutors to advertise themselves on the platform, patience is needed to get their prospective clients – the students.
Now, many users have expressed satisfaction in their tutors, and that says a lot about the calibre of tutors on the platform. If students want their chosen mentors to be verified before starting their course, they have to pay an extra fee, and HeyTutor's third party partner helps with the background check.
Story of HeyTutor
The Hey Tutor started with the founder's unhappiness with how several online tutoring services handled the process and business. It is this displeasure that led to the creation of HeyTutor. And with the present model, the major success or failure of the company rests majorly on the tutors being able to provide satisfactory service.
HeyTutor is in the business of making learning fun again for students or learners. Students on the HeyTutor Pro package only have to state the subject they need help in, the kind of tutor they need, and their availability. Then, HeyTutor does all the hard work of getting them their preferred mentor.

The platform also handles all the payments, and they made the Happiness promise to its customers. This means that students can get a total refund if they are displeased after their first lesson with a HeyTutor teacher.
However, many learners have expressed displeasure in getting refunded after expressing their mind before or immediately after the first lesson. Many learners have also complained about how it is unfair to charge before having access to the tutor.
The structure of HeyTutor is that a student has to pay in advance before having access to the tutors. So, when a suitable tutor cannot be found or is taking time to do so, getting a refund becomes a big problem.

Services of the Hey Tutor
Some of the services HeyTutor render are the following:
Exact science: Whether you are looking to increase your knowledge in math, algebra, statistics, or statistics, you can't be sure to find professional tutors in the field on HeyTutor. So, you'd better check the best online math tutoring programs listed in our article to find the top math tutors. Also, if you are on the HeyTutor Pro package, you can't even be sure to have access to only the best on the platform. If you are not on that upgraded package, you can also get the type of tutor that will help you.
Natural science lessons: It is surprising to find tutors in biology, chemistry, and physics on the platform. However, it is more surprising to find tutors with expertise teaching biochemistry, nursing, and even medicine. So whatever lesson you want to take in the natural sciences, chances are you will find a tutor in the field on HeyTutor.
International tests lessons: not only are there tutors in specific fields, but you can also find someone to teach you in any of the popular tests such as GRE, MCAT, LSAT, Praxis, ACT, and SAT.
Language lessons: Do you need help in English, reading and comprehension, grammar, public speaking, and other popular languages like French and Spanish? Then, you should check our list of the best websites to learn English online. The teachers will improve your speaking and writing skills.
Computer disciplines: If none of the mentioned above appeals to you, you can access lessons in computer disciplines such as programming languages like JAVA and data optimization. There are also other courses on Microsoft Office packages like Excel.
Hey Tutor Cost
HeyTutor pricing is not static as tutors have the liberty of choosing their prices per hour. However, the average class cost of HeyTutor is $34-$50 per hour. And it is reported that many students or learners are okay with the pricing.
For the best English tutoring and great prices, you should check Lingoda. If you are not sure about it, read more in the Lingoda reviews on our blog.

The only issue we see during this HeyTutor.com review is that you have to pay for between 10 to 30 hours with a tutor to proceed at all. That is, you don't get to pay as you learn. Even if you only take three lessons with a tutor, you will have to pay for up to 10 lessons first and then request a refund after.
Meanwhile, despite that, many students seem to be okay with the quality of the lessons and seem to be confident in the platform after taking a few classes.
Quality of the Lessons
No worries about Hey Tutor is it a legit issue. There is a lot of competition on the platform, which means that the tutors are always on their toes to provide excellent service. And many students who have used the platform attest to the high quality of this service.
Many students through HeyTutor reviews agree that can increase your understanding of a subject in a month and prepare you for a national test in two months. So, to answer the question of quality on the part of the HeyTutor mentors, many will agree that they are better than many other services.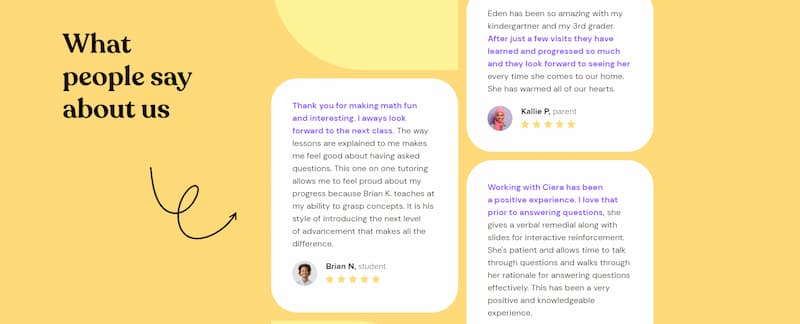 If you are looking for high-quality tutoring in all fields, there is one perfect choice for you. It is Wyzant. Why do we think so? You can read Wyzant tutoring reviews from their customers, and you'll see why.
Heytutor Customer Service
There are two ways to look at HeyTutor's customer service. The tutors' perspective and the learners.
Many users seem to be okay with the quality of the customer service; the only issue is with the frequency of getting students. Many tutors have complained that they don't get students often, and with the option of an advertisement on the platform left out, they have to rely on the students to find them.
The students, on the other hand, are not exactly pleased with customer service. The first is HeyTutor online website has no means of directly communicating with a customer service representative. So, students have to rely on email, and that can take time before getting a response.

The protocol of having to pay up to 10 lessons before accessing the mentors also displeased the students. While HeyTutor review has a happiness policy that enables students to get a 100% refund of their payment if they are not happy with the service after the first lesson, it is reported that getting a refund isn't as easy as it is claimed.
Website / Mobile App Usability
HeyTutor has a nice and modern website. With a white background with a blue font to complement the design, visitors can easily navigate the site and get all they look for. Students can search the broad list of tutors in the area right at the top of the page and go on from there.
Tutors can also sign up or log in, as the case may be, update their profile, and perform other functions.
Pros
Gives tutors freedom and flexibility.
A huge database of professionals.
Tutors are experts in their fields.
Tutors are matched with exact students that need their service.
Payment to tutors is every week.
Transparent process.
Cons
Stiff competition.
The availability of tutors is restricted to location.
Students have to pay at least 10 hours upfront.
No direct communication with customer service on the website.
Zero payment information.
Difficult to get a refund.