Analysis of the Target Test Prep SAT Courses
Over the years, the use of the internet for different purposes and in different sectors has been established. The Education sector is not left out, as they have massively taken advantage of this tool to create platforms for people to read and learn without leaving the comfort of their homes.
Thanks to this technological advancement, we now have online Prep courses that help students all over the world prepare for their SATs, GREs, GMATs, and other tests.
People learn at different rates, and the study style that works for one may not work for another. Online test prep courses allow every student to create a personalized study plan and study when it is convenient.
Although there are many test Prep courses available online, it is difficult to determine the ones that are effective in tutoring SAT learners. This is why we have put together this Target Test Prep review.
Target Test Prep SAT course is a globally recognized online Prep course with a 100-point SAT score improvement guarantee, but do they offer as much as they proclaim?
You will find out by using this Target Test Prep SAT review to evaluate the quality of this prep course based on the following criteria: features, price, user interface, value for money, guarantee, and Target Test Prep SAT course reviews from students.
Introduction

What is Target Test Prep?
In simple terms, Target Test Prep is an online platform that helps students study and prepare for exams. Established in 2008, Target Test Prep(TTP) is an advanced test prep company that is committed to helping students break the barriers to exam success.
They have a long-standing mission to make sure many students succeed in international and standardized exams. This is why TTP offers different online courses for tackling different examinations.
Target Test Prep is featured on Forbes and rated #1 on 'Beat The GMAT' and 'Poets & Quants' for showing deep expertise in GMAT. The appraisal of their GMAT Test Prep is proof of the professionalism of TTP and their experience in guiding students to exam success.
The Target Test Prep SAT Course
It is no news that SAT is a compulsory requirement for gaining admission to colleges. There's no way you can study at a US university without passing the SAT. Although some universities may require you to pass an additional examination known as the subject test. However, the SAT is the key Test for entry into all four-year universities.
This Test is particularly difficult and requires careful preparation. This is why Target Test Prep has painstakingly prepared an online study SAT course with a personalized plan of study to guide you through every step of the SAT study process.
While it helps you study at your convenience, you are not just left alone, but there are professional tutors to guide and teach you all the way.
How Does It Work?
The way Target Test Prep works is quite simple. You only have to sign up for the study course on their official website. Pay the required fees. Then you can curate your study calendar to fit your specific goals.
Main Features
There is no doubt that Target Test Prep has what it takes to prepare students for the SAT with its fully packed features. Although these features were designed to help students with only the quant section of the SAT.

A Personalized Study Plan:
The most standout feature of Target Prep is the personalized study plan. Every student gets to study at their own pace with expert guidance. With this, every little study effort of the student is maximized as they consistently learn and progress daily.
Another beautiful feature of theirs is the clarity of their teaching. The quant chapters are written clearly, and the lesson is enriched with pro-tips to take advantage of when answering tricky questions.
While other Test Prep Services give explanations on each topic, Target Prep goes further to provide you with more than 500 instructor-led HD videos where topics are broken down and illustrated step by step.
Students get to see practical solutions to example questions on every topic and how to apply the concepts taught in lessons.
Practice they say makes perfect! Target Prep gives students the chance to test themselves and practice what they've learned with their realistic quant SAT practice questions. With a library of over 2000 practice questions, students are kept busy, and while they're at it, they get to see how well they've learned and confirm their understanding of the video lessons.
You may be surprised at the quality of the questions that have been set for the students in these practice questions. These questions are well set to drill students and ensure they are faced with no surprises when they sit for the SAT exam.
Every Target Test Prep customer is allowed to reach out to the company anytime through the website chat feature. The team understands that there might be certain areas that students do not understand in the study scheme.
This is why they encourage students to ask questions and get one-on-one answers from the live chat.
Students can also get opinions on their study plans and advice on how to improve their study experience.
Smart Analytics and error trackers:
We mustn't forget to mention the detailed and intelligent analytics that Target Test Prep offers. It features an error tracker that helps students track their performance, identify their weak areas, and see the right steps to take to improve.
They also get to compare their performance in the practice questions with their peers and make necessary corrections.
Is This Platform Helpful?
Students who prefer to study alone with constant guidance can use this platform. If you find it difficult to learn in a class full of students but can grab solitary lessons quickly, then this is for you.
No matter your pace and style of learning, you can study with confidence as the Target Test Prep will surely help you to master every concept, technique, strategy, and tool needed to earn a top SAT score.
Since Target Test Prep covers the quant. The area of SAT tackles tough math problems and is ideal for students who are weak in this area. It provides comprehensive lessons to students who are already good at verbal and want to improve their math skills.
All in all, this platform is made for students who are familiar and comfortable with self-study and are willing to follow a schedule to learn.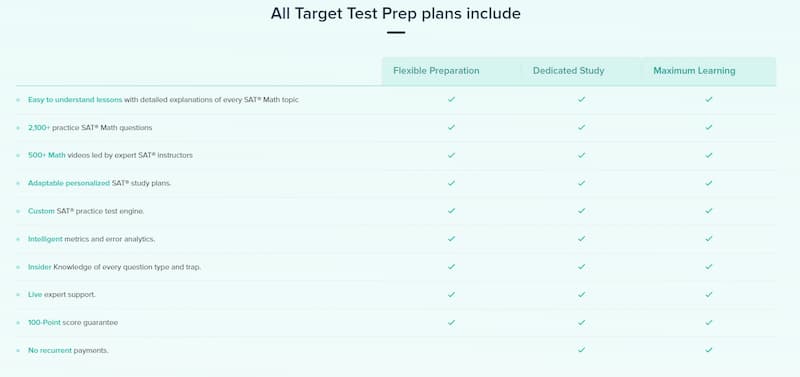 Although Target Test Prep offers three different plans to choose from based on cost and customized to suit each customer, every plan comes with the same basic features, which include:
Live and expert support.
SAT score increase guarantee.
A detailed explanation of every SAT math topic.
Adaptable study schedule.
SAT practice questions.
Detailed explanations of each topic.
Instructor-led videos.
Insights and professional knowledge for every math problem.
Intelligent metrics and error analysis.
Custom practice tests system.
The Cost of Target Test Prep SAT Courses

Every good thing comes at a cost, and, of course, the Target Prep SAT course is no exception. Their amazing services are attached to a price tag. Not to worry though, there are three different plans to suit each individual's pockets and Target Prep always provides amazing discounts at different times.
They also allow a five days trial that costs only $1. You get to enjoy and test-drive all the Target Prep features and decide if the online Prep course is the right one for you.
The following are the three plans Target Test Prep offers and how they are priced.
The Flexible Preparation; is the most popular Target Test Plan.
This plan comes with total flexibility and is paid monthly. It allows students to use the program for a limited It is also ideal for people who intend to use the platform for a long time, but cannot afford to pay at once. The plan is normally priced at $149.
Dedicated Study; is a six-month plan that grants you full access to all Target Prep Test features.
This plan is normally priced at $399, but you can get it at the rate of $299 or $129 when there are sales.
The last but not in any way the least plan is the Maximum Learning Plan.
This plan is designed for students who feel six months is not quite enough and desire a longer time frame for their course. It is a one-year plan that is currently priced at $399. The usual price is however $499. Maximized learning is the best plan for the complete optimization of the Target Prep SAT course. You'll learn everything you need to learn and in no hurry.
Kindly be aware that the above-discounted prices are courtesy of the summer sale.
Both the dedicated Study and the maximum learning is billed once. You have to pay the full amount before you begin to enjoy the services.
Also, while choosing a plan from the three available plans, it is important to note that the monthly plan is the only plan that allows you to cancel at any time. If you change your mind or happen to take the SAT early, you can't get a refund once you have bought the six-month or one-year plan.
Quality of Material Provided with SAT Courses
When you look at the features of this online Prep Course, you'll agree with me that a lot of work has been put into this, and the organizers are not leaving any stone unturned in ensuring that students are provided with all they need to clinch a good SAT score.
Target Test Prep boasts of experts who are not only professionals in their field, but are passionate about math and have decided to pass their knowledge to students.
All the tutors have valuable years of experience in training students for the SAT. Their wealth of knowledge and years of tutoring have given them an edge that enables them to think like test makers.
Scott Woodbury-Stewart is the founder and CEO of Target Test Prep. He, Jeff Miller, and Matty Murray pool their content creation background and vast understanding of standardized tests together to create a comprehensive curriculum that is guaranteed to prepare students fully for the SAT.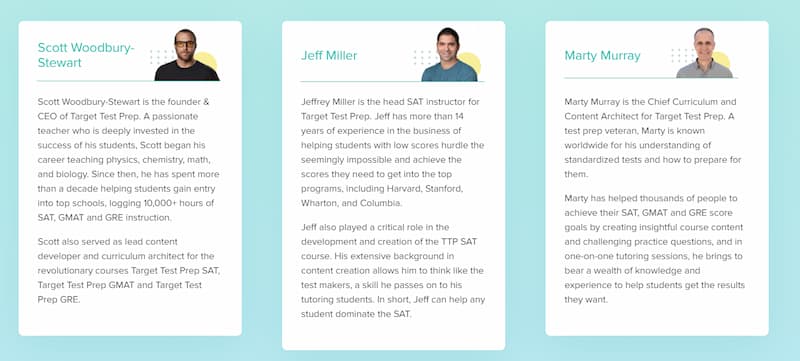 Guarantees Offered By Target Test Prep
The team at TTC is so confident in their ability that they assure you of an increase in your SAT score and offer every student an SAT score improvement guarantee.
To be eligible for this guarantee, you must have enrolled in the TTP SAT course on or after September 15, 2021.
If your score does not improve, TTP will provide a full course subscription equivalent to your previous purchase. This is only after you have fulfilled the score improvement guarantee criteria.
All you have to do to qualify for this guarantee is:
Provide TTP with your SAT score through email;
Complete 100% of the TTP SAT course;
Send them your new SAT score within 30 days of sitting for your SAT Test.
Is It Different From Other Courses?
Despite the recognition and approval of Target Prep all over the world for the Intensive preparation of students for the SAT. Target Prep only deals with the quantitative aspect of the SAT and does not offer a complete SAT preparation course.  This is one way it differs from other online course prep.
They also lack a mobile app and though they try to make up for it with their user-friendly website, it is not designed for mobile learning like other Prep courses. This discourages students who want to learn on the go.
The table below compares Target Test features with that of other online prep courses, namely The Princeton Review, Kaplat Prep and The Magoosh Prep.
Name of platform
Prices
Contents
Quality
Level
Target Test Prep
$149 to $499

$79 to $399(discounted prices)

Live support
$1 for 5 days
Quantitative sections
The Princeton Review SAT
$799 to $1599
Full-length practice exams
Free 14 days trial
All sections
Kaplan SAT
$199 to $1999+
Computer adaptive tests
Free 7 days trial
All sections
Magoosh SAT
$129 to $399
Mobile app
Free 7 days trial
All sections
Also read our comparisons of TTP with other course providers:
How Is It Better than Other Courses?
Unlike other test prep services, TTP provides vast instructional videos where students get to see and understand how each math principle is applied. They offer a large library of study materials and provide students with lessons that are easy to understand. More importantly, the lessons are taught by expert tutors determined to ensure more students ace the SAT.
TTP is also better than other online prep courses in that it has live expert support, so students can ask questions when they are confused or met with difficulties.
Value For Money of TTP SAT
With the wide range of features that Target Test Prep has to offer, I believe it is not hard to see why they demand such prices. The different price plans cater to the time frame specified for it. It is left to the students to get their money's worth by fully utilizing the study plan they subscribed for.
If you fail to do this, then it is no fault of the Target Test Prep company, as they make sure their services are available to you throughout the period of your subscribed study plan.
Seeing as they offer students a 100 points guarantee increase in their SAT scores, Target Test Prep SAT Course is worth the price.
What Do You Get?
Unlimited access to study materials
Access to a library containing over 2000 practice questions.
Clear Instructional HD videos.
A study schedule made just for you.
An expert aid to answer all your questions.
Dedicated and active tutors.
A Custom practice test engine.
Doest It Worth It?
Target Test Prep SAT course is only valuable to students who are struggling or need extra help with the quantitative section of the SAT.
Any student that needs help to prepare for other parts of the exam should opt for a different prep course, as the Target Test Prep isn't a well-grounded SAT course and won't be valuable to them.
Is It Helpful For Getting Ready For SAT?
As displayed by the Target Test Prep reviews, this online Prep course helps one get set for the quantitative aspect of the SAT.
Speaking of which, every student gets numerous tips and hints from expert tutors on how to solve tricky maths questions.
Student Feedback and Reputation
Several Target Test Prep SAT math reviews were given by students who have used the online prep at a time.
For those that are wondering whether TTP is a good choice. Here is what two people that have used this online prep course have to say about their experience.
Soft Skills Trainer and Management Consultant
"I took my first GMAT course back in June 2020 and did not achieve my target score. Although I am confident in my verbal skills, my math skills were poor, and I needed a step-by-step guide to understanding the content. TTP helped me strengthen the foundation of my math skills and also approach questions from an analytical point of view. It is also great value for money. I re-took the GMAT after 6 months with TTP and score a 720 (V 41 Q 47). Highly recommended for individuals who have the discipline to self-study and need something to guide them through the process. Plus, the TTP module on combinatorics and permutations is AMAZING. Seriously, I didn't think anyone could teach me how to tackle these questions. TTP did. I'm a fan!!"

Rish-24. Student
"TTP comes prepared with a detailed study plan, and all you need to do is trust the plan and study exactly as the course lays out it all out for you. It is a comprehensive course, and the only way to ensure you get the best out of it is to commit yourself to the prep and put in the hard work. They've got a plethora of practice questions to let you know exactly how you're doing in each concept. One of the best parts about TTP is the direct and fast support you get from the Tutors. They are just one message away at all times, and you get the feeling that they want to help you out personally."

The above phrases suggest that the support staff at Target Prep are always willing to help students. They appear to be polite as students feel comfortable with them. As stated by one of the students, you can reach out to them at any time and be sure to get an immediate reply and answers to your questions.
Quick Verdict
After considering all factors and weighing the pros and cons, we have concluded that Target Test Prep is an online study platform that we can recommend.
The Target Prep SAT reviews have given us proof beyond reasonable doubt that the TTP SAT course is good and can help students attain a top SAT score.
Although there are areas that can still be improved, Target Test Prep provides students with a seamless study experience that is worth the fee paid.
Pros
The company offers discounts at different times, which helps students save money.
Students are allowed to ask questions via live chat.
There are extensive instructional videos to help students understand lessons easily.
Students that need extra help can get private tutoring for $300 per hour.
Cons
They have no mobile app.
There are no adaptive materials, meaning students fail to get the real taste of the actual test.
TTP lacks practice exams for students to practice taking the full exam at once.
They focus on only the quant section of SAT.
TTP online study course does not have a free version.