Prepping for the GRE is one of the most stressful experiences a student can have during their academic life. Luckily,
The Princeton Review has been helping students prepare for the GRE for more than 35 years and has been achieving excellent results. Kaplan vs PrincetonReview for the GRE: сompare their educational content, platforms, and prices to see which test prep option works best for you.
With its focus on helping students practice as much as possible and offering customized lesson plans, TPR is regarded as one of the best GRE prep services available.
Add to all that the various guarantees that the Princeton Review offers, amazing books (check our detailed books comparison of Baron's and Princeton Review), and you have a prep service that surpasses most.
In this Princeton Review GRE review, we will go over the main courses offered, their pricing and quality, the standout features, and a lot more.
If you are more interested in learning about the ACT prep courses, the GMAT prep courses, or the SAT prep courses that are offered by TPR or you want to have a full review of the service, we have a dedicated one right here that you can read. In this analysis, however, we will focus only on the GRE side of things.
Introduction
For more than 35 years, students have been taking GRE practice tests via The Princeton Review to prepare for their examination and score as high as possible.
This is a service that gets an overall rating of 4.6/5.0 on Google which just goes to show how much of a positive impact it has had on learners.
To prepare students for the GRE, TPR offers a good number of options to choose from. Their most popular package guarantees a score of 162 or higher. It is such guarantees that lead to such positive Princeton Review GRE reviews online. Kaplan vs PrincetonReview for the GRE: сompare their educational content, platforms, and prices to see which test prep option works best for you.
One of the most noteworthy aspects of each TPR study program is that it adapts to each student's level. Every student, therefore, ends up learning at his or her own pace with realistic goals that can actually be met.
GRE Courses Review
The Princeton Review offers different courses for different needs. Whether you want to take part in a fully structured and customized program that guarantees a certain score on your GRE exam or you wish to study a self-paced course, TPR has what you need.
Our Princeton GRE prep course review will go over the salient features of all programs and give you an assessment of each one to help you decide which way you should go.
Self-Paced Program
The Self-Paced program is an online-only course that's great for students who want to learn anywhere, anytime.
You will not be taking a live class in this program but will have access to more than 2,570 practice questions along with more than 61 online drills that will give you the best GRE prep in a self-paced format.
This form of tuition also includes 8 full-length practice tests as well as video lessons to help you when you get stuck at something.
Before starting this program, students get to choose the intensity of this tuition as well as the schedule. The algorithms created by TPR then develop a personalized course that provides a very educational learning experience on your own time and speed.
10 Points+ Program
As the name suggests, this form of tuition gives students the guarantee of improving their points by at least 10 points as opposed to their previous score.
This is also an online-only program that will have you following a well-developed syllabus, including over 30 hours of video lessons and more than 470 drills.
Students can choose from three choices when it comes to how long this program lasts: 30 days, 60 days, or 90 days.
On top of the video lessons, this class gets a very good assessment in our Princeton Review GRE prep review because of the Live Math Support it offers. The LiveOnline Math Sessions help students learn some of the most important GRE math concepts from expert instructors.
With the guaranteed increase in their score by at least 10 points, it is no surprise that students rate this program very highly and are satisfied with both the tuition and the results they achieve.
Fundamentals Program
The Fundamentals course helps students prepare for the GRE with all the online tools that are available in other programs but also adds an expert instructor into the mix. This program is available online and in-person to suit your needs and preferences.
Other than 8 full-length practice exams, more than 470 online drills, and over 3500 practice questions, this course also includes 24 hours of live instruction about the content itself and also regarding different strategies useful for taking the exam.
Students taking the Fundamentals program give it a very high rating in each analysis. It helps them increase their score with a guarantee, as with all of its programs.
162+ Program
In our Princeton Review GRE review, the assessment of the 162+ course is excellent. It guarantees a Quant/Verbal score of at least 162 for those who take it and this particular number is very important.
The average Quant/Verbal score students get in their GRE examination is 153/150 while that of applicants who get admission in the top 10 schools is 161. That is why many students aim to achieve a score of at least 162 if they wish to be admitted into one of the top 10 schools.
In this course, The Princeton Review offers 45 hours of live instruction as well as 20 hours of Supplemental sessions that target key topics.
Check the comparison of Princeton Review and Magoosh's GRE prep courses if you are considering other cheaper alternatives.
Other than these, the tuition also includes more than 4400 drills and questions as well as 8 practice tests. This is a great way to ace a GRE and the feedback received from students adds more weight to our analysis.
Private Tutoring
For those who wish to have a guarantee that they'll score at least 165 on their GRE examination, the Private Tutoring experience might be the one to go for. This is the most personalized tuition plan offered by The Princeton Review.
Available online and in-person, this program will give you access to your own tutors who will work with you to set a plan in motion based on your goal and then make sure that you achieve it.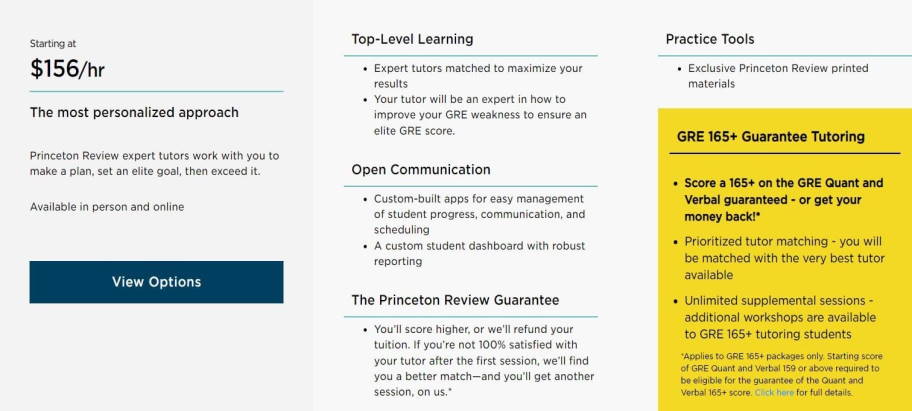 Structure of Teaching
The courses you will learn are broken down into study units. These units ensure that the information is accessible in a structured, linear fashion. Each unit is further divided into categories so that you can continue learning without wondering about the sequence of what should come next.
Not only that but this system of breaking down each unit into categories and lessons ensures that students don't get overwhelmed when they see all the practice they need to do.
The two main parts of each study unit are Learning and Practicing. The learning component will give you access to the videos and other materials to go over the most important parts of your GRE exam prep.
After completing each learning component, you will find yourself facing different practice questions. These questions are what make TPR one of the best GRE prep services because they are very similar to the ones you'll see in the actual exam.
To practice, you will have time to solve each task and find its answer. After going through each practice test, you will see how many answers you got right.
But that's not all. TPR will also tell you the reason behind each right or wrong answer to give you a more detailed understanding of how it should be solved.
Assessment of Online Lessons
The quality of the online lessons is worth mentioning in our Princeton Review GRE prep course review. The course materials provided to the learners are perhaps the best part of TPR.
We found these lessons excellent for providing highly targeted information in a very short amount of time.
Comments about the video lessons online also prove just how well-structured and helpful they are as opposed to being long lecture videos that end up boring the viewer.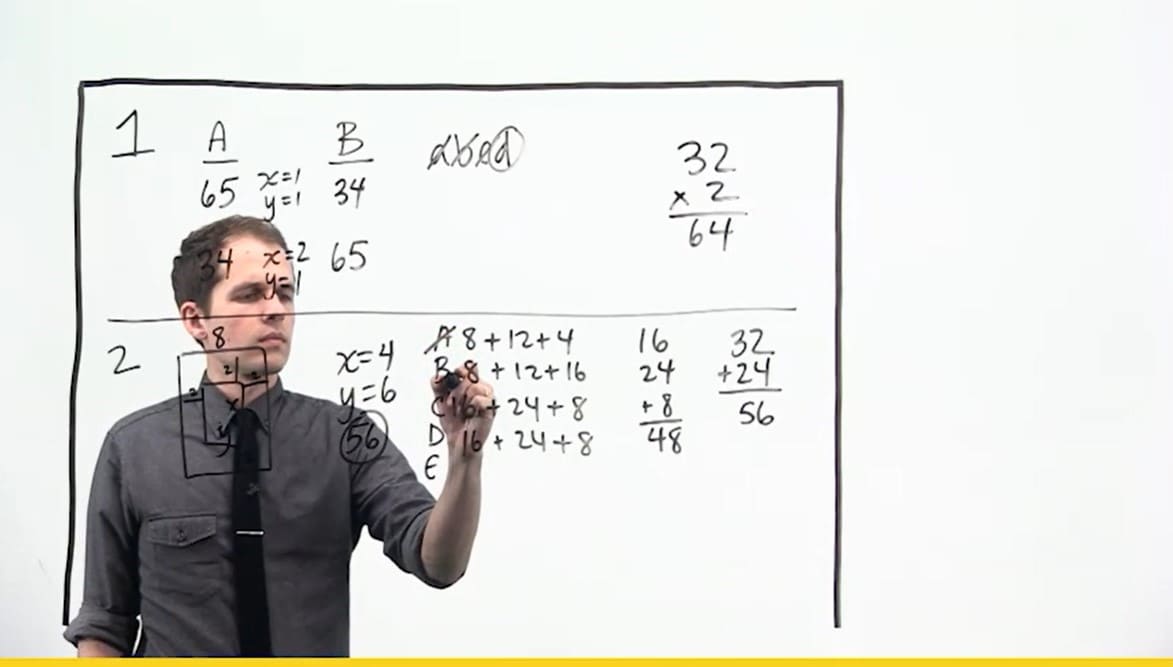 The pre-recorded video lessons are not the usual monotonous lessons either. They are recorded in a way that allows the instructors to face the viewer at all times.
All the material being discussed or taught is placed as an overlay so the teachers can explain everything while facing you.
They can also mark different parts of the screen digitally, using this technology to explain problems or mark answers. In most Princeton Review GRE reviews by learners, the video lessons are widely appreciated.
If you opt for one of the courses with the live classes, you will gain an even deeper understanding of the topics being discussed. The live lessons will cover the same topics as the video lessons, but these classes are much more interactive and you will be able to ask your questions right away.
The ability to make comments during a lecture about something you don't understand completely is what can sometimes make the difference between a good GRE score and an excellent one.
One bonus that we found in live classes is that the instructors also provide some tips and tricks to help you score higher on your exam.
Assessment of the Drill Smart Technology and Practice Tests
One of the highlights of our Princeton Review GRE Prep review has to be their Drill Smart Technology. This is a technology used by the platform to make the practice drills adaptable to your skill level. What does this mean?
Well, if you ace the first set of drills provided to you, the future drills will start to become harder and harder. This is also designed to make sure that you improve your score in areas where you can gain more points rather than those areas where you're doing well already.
On top of that, this technology works very much like the real GRE exam you'll be taking.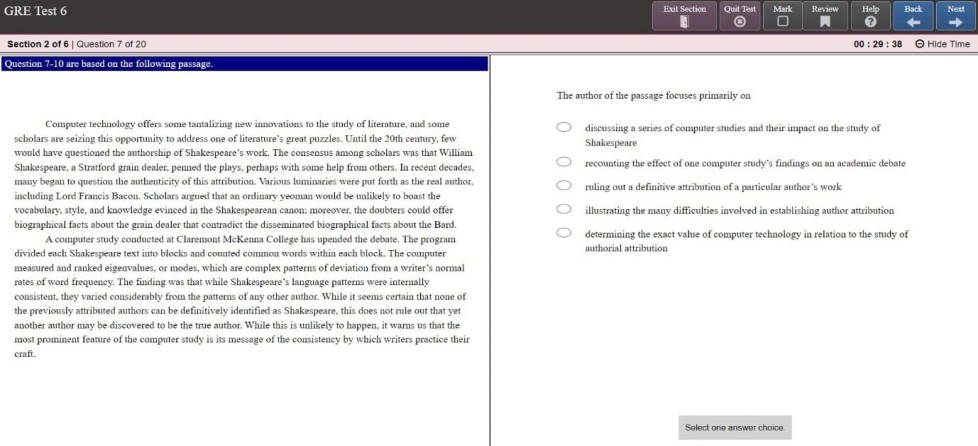 As for the practice tests, they also feel a lot like actual GRE exams which is perfect because they prepare learners for what's to come in a very natural way.
These are also adaptive in their nature and get harder if you perform well. The overall layout of the exam also looks very similar to the real deal so you won't be caught by surprise when taking the final GRE examination.
Pricing of the TPR GRE Courses
Knowing the price students will have to prepare for the GRE is always a big point of concern. It is, therefore, important to know that the prices of the courses being offered by TPR are higher than competitors.
However, if you read some student comments about the preparation they were able to do and the scores they got on their GRE, you will see that the courses at TPR are worth the price.
The Self-Paced course comes at $499 and is the cheapest you can get. We were able to find it at a price of $399 because The Princeton Review often has discounts on all the programs. This is the right course for those who want to practice on their own, no matter where they are.
The GRE 10 Points+ costs $899 regularly but can often be found for just $699. This is the right option to go for if you want to improve your GRE score by 10 or more points. It includes various practice questions, tests, video lessons, and even some live classes.
The Fundamentals course comes in at the price of $1,199 or $1,099 on a discount. This is a complete program for the best GRE prep that includes everything in the previous two courses but adds a lot more, including an expert instructor and the ability to learn in person.
And the last regular course is the GRE 162+ program. This is the high-end course that we found to be well worth the price, especially when you see some feedback from students. It offers everything you could want from a GRE tuition experience and guarantees a score of at least 162 once you actually take the test.
If you want to achieve the best score possible, then the Private Tutoring course guarantees at least 165 on your GRE and costs $156/hour for personalized, expert tutoring services.
| | | | | |
| --- | --- | --- | --- | --- |
| Features | Self-Paced | GRE 10 Points+ | Fundamentals | GRE 162+ |
| Video Lessons | Over 30 hours | Over 50 hours | Over 50 hours | Over 70 hours |
| Live Hours | 0 | 24 | 24 | 45 |
| Practice Tests | 8 | 8 | 8 | 8 |
| Physical Materials | No | No | Yes | Yes |
| Mode of Learning | Online | Online | Online/In Person | Online/In Person |
| Satisfaction/Money-Back Guarantee | Yes | Yes | Yes | Yes |
| Price | $499 | $899 | $1,199 | $2,049 |
Main Features of TPR GRE Courses and Quality
In our experience and assessment of The Princeton Review, the quality of the prep offered is excellent. This is thanks in large part to the teachers that are employed. Many student comments show how the teachers really care about each student's progress.
This, combined with the very strong Drill Smart technology, means that each student gets a very personalized training course instead of a one-size-fits-all program.
Because of this technology, students can be sure that they will get exactly the kind of training they need to improve their weak points.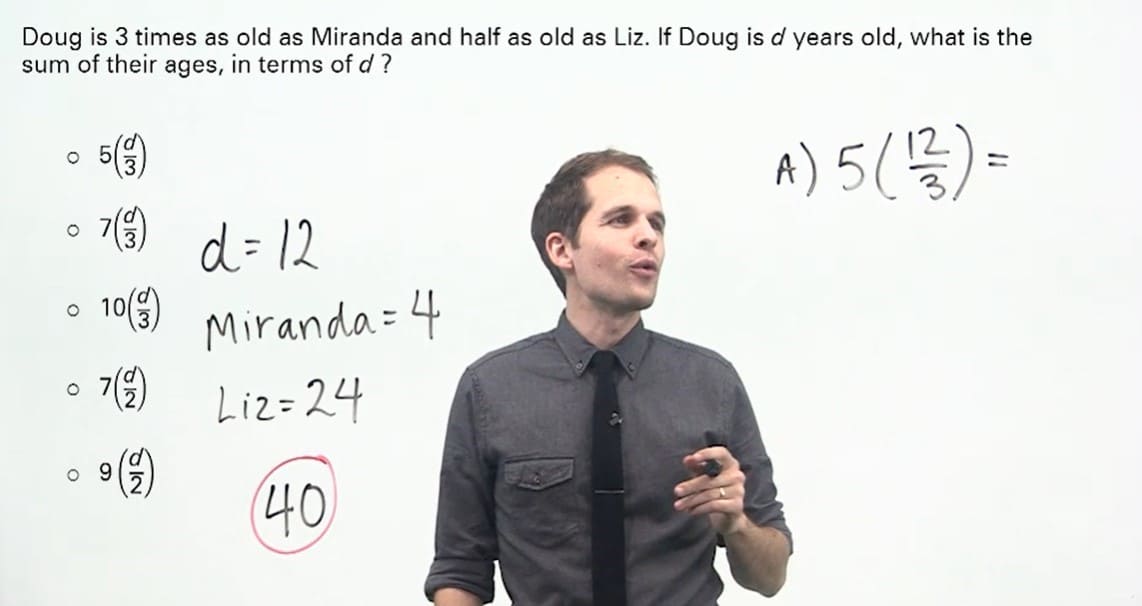 One other feature of TPR that many other competitors cannot match is their guarantee. That is great in itself but the even better part of it is that the guarantees aren't applicable only to the top-end course.
Even if you are taking the self-paced program and you are not happy with the score you get on your GRE, you can repeat the program at no extra charge.
If you do opt for one of the more premium courses, you get additional guarantees. For the programs that promise some sort of improvement in your score, you can get your money refunded if you don't hit those targets.
Having these guarantees adds so much more value and trust in any prep service and the fact there are multiple ones being offered here makes TPR one of the best GRE prep services out there.
FAQ
Are Princeton Review GRE practice tests accurate?
Yes, we found the practice tests to be very close to the real thing. They focus on similar problems and offer similar options. The interface and layout are also very similar to the actual exam.
Not only that, but the tests get progressively harder based on your performance to keep you improving.
Is Princeton Review good for GRE?
Students are very happy with prepping for the GRE at TPR. The teachers are highly educated and the curriculum is very well-organized.
TPR also provides more practice tests and drills than competitors, making it one of the best GRE prep services.
Are Princeton Review GRE tests harder or easier?
In our experience, we sometimes found the tests to be easier than the GRE.
However, the adaptive technology used by TPR ensures that the tests get harder and harder in the areas where you are performing well. This keeps raising the bar and lets you improve in key areas.
Is The Princeton Review GRE worth it?
With all the practice materials they provide and the quality of training you can get, TPR is easily worth the time and money.
Add to that the score guarantees that are offered and you have a prep service that promises a lot and delivers.
Pros
The intelligent Drill Smart Technology makes learning targeted and intuitive.
Well-structured curriculum that lets students practice in a linear way.
Excellent guarantees that make it easier to pay the higher prices.
Various learning methods and programs to choose from.
Private tuition option for those who want the best scores possible.
Cons
Lack of a mobile app for truly on-the-go learning.
Even though every teacher is highly qualified, some can be a little less experienced than others.
Even though every teacher is highly qualified, some can be a little less experienced than others.
TPR's customer service isn't always the best, as per student feedback.
Full-time students might find it overwhelming to dedicate so much time to the courses.