Also known as the Graduate Record Examination, the GRE is a standardized test taken by students looking to apply to graduate schools in the US. The Graduate Record Examination (GRE) is a pivotal standardized test for prospective students. Though it isn't a standardized tests requested by all schools, a good GRE score will boost your chances of getting into any program or grad school of your choice.
As test day nears, leveraging a mix of videos, materials, and practice tests ensures readiness. Whether relying on the Magoosh's video lessons or exploring other courses, consistent practice is the key. GRE test takers, like other test takers, often benefit from supplemental homework assignments to enhance their preparation.
However, several students have mentioned that the GRE is harder than both the ACT and SAT. The major reason for this is that it requires critical thinking and is not as straightforward as most exams. Other difficulties faced by GRE students include time management, analytical writing, tricky wording, and challenging vocabulary. Achievable is an education website that offers test preparation courses and training. Check out Achievable.me review for more info!
Fortunately, things become much easier once a student understands the tricks needed to solve the problems. This is where GRE prep courses come in.
These courses are designed by certified tutors to help students prepare and ace the GRE with ease. We've already compared Magoosh's GRE courses with other test prep companies, Manhattan Prep's and Princeton Review's. In this next Magoosh GRE course review, we will be reviewing the service to see if it's an option that you can consider.
With numerous companies offering GRE prep, assessing features like official GRE questions, videos, prep materials, and mock tests can guide you to the best fit.
You can also check out this complete Magoosh review to learn more about this company. Our comprehensive review is more honest than other Magoosh GRE reviews.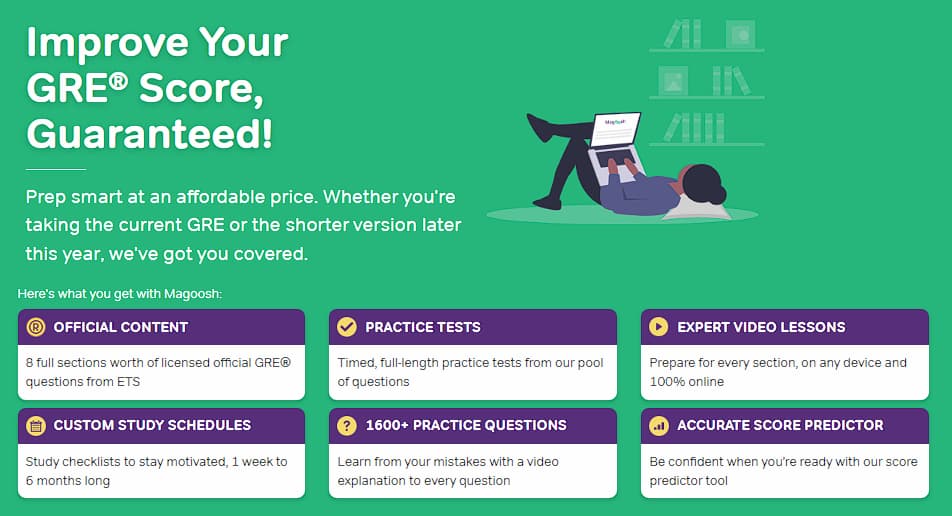 Magoosh GRE Courses Review
Despite being one of the most affordable GRE test prep services, Magoosh offers some of the best study materials around. The company doesn't offer as many resources as its competitors, but it should still be able to offer you all you need.
Unlike other GRE courses, the Magoosh GRE course isn't structured in any particular order. The platform allows you to decide the subject area you study whenever you want to. It's just like walking into a library. There are video lessons and practice questions for all things GRE-related. These IELTS prep courses are worth taking.
That said, you will find a suggested learning order on the platform, but it follows no particular logic. This shouldn't be a problem, provided that you can study without a linear course sequence.

Now, let's take a look at the contents of the lessons. After going through them, we believe that anyone looking to take the next GRE exam would find great value in them. Each lesson contains modules that represent different various GRE tests and topics. You will have to watch one or two video lessons for each module, after which you will be required to answer short practice questions.
As for the quality of the videos, it isn't the best around. However, the videos still contain useful information. You won't see a tutor explaining the topic to you. What you will get is a whiteboard on which notes will be written, and questions will be solved while a tutor speaks in the background.
So, once again, the production of the videos could have been better, but the contents are top-notch.
Additionally, the quality of the content shows just how experienced and qualified Magoosh tutors are. For every topic, they managed to select the most complex questions and broke them down to easy-to-understand bits.
Also, you may prefer the presentation of the videos to others if you are the type of student that enjoys straightforward lessons and minimal distractions.

To make your study sessions easier, Magoosh has made the full transcript of each video lesson available. You will find the transcripts below the videos, and there are highlights that progress with the lesson. The importance of highlight feature is that it will allow you to monitor the progress of the lesson and prevent you from missing out on anything.
Another feature that we love is the note function. This feature will enable you to jot down things as the lesson progresses. After the lesson, you will be able to go back to your notes at any time that you desire via the dashboard.
As we mentioned earlier in this Magoosh GRE premium review, each lesson is followed by some practice questions. These questions can be between 5 to 10 in number, and they will cover vital points from the topic that you just learned.
So, your knowledge will be tested immediately. We believe this approach is an excellent way to test prep companies ensure that you are well prepared for your examination long before the day arrives.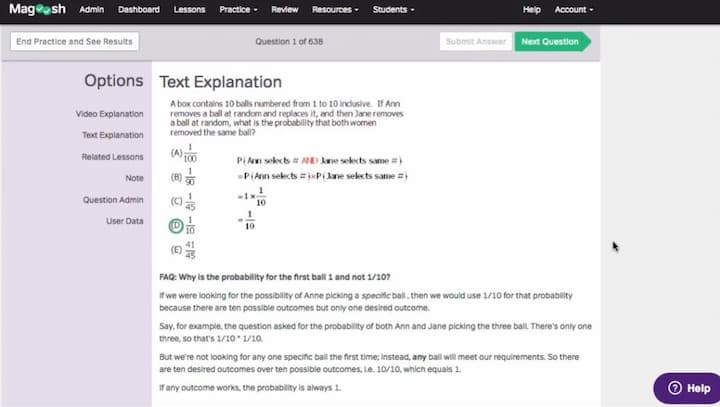 Furthermore, Magoosh has a customizable practice problem feature which is something that you won't find on all platforms. With it, you will be able to set practice questions for yourself and choose your preferred difficulty, timing, and more. There are also two ways by which you can solve the customizable practice questions.
Firstly, you can solve them in practice mode, in which you will get an explanation of each problem that you solve. The second one is the quiz mode, in which explanations of math questions are provided after all questions have been answered. You will get satisfactory explanations of the questions regardless of what option you choose.

One thing that Magoosh can improve on is the number of practice questions on offer. You will only have access to about 1,600 practice questions which is much less than what is offered by some of their competitors. But on the brighter side, Mangoosh has excellently delivered the questions.
After each question, you will get video explanations in both text and video format. You will also be directed to the lessons in which you can get a better understanding of the problem, and there is the notes feature too.

The standout feature for us has to be the video explanation of the questions, as some of the top GRE prep companies and course services don't even have this feature. Each video is about 1 to 3 minutes long and presented in the same way as the video lessons. The text explanations also offer great value, even if they may be just a transcript of the video.
The Next feature in this Magoosh online GRE course review is the review function. With this feature, you will be able to see your progress in your own GRE exam preparation. It provides vital details such as your success rate, average speed, and the average speed of other magoosh students.
Hence, you will be aware of your strengths and the areas that you need to improve on. What's more, the review function will allow you to view the questions that you got wrong in the past and go through their explanations again.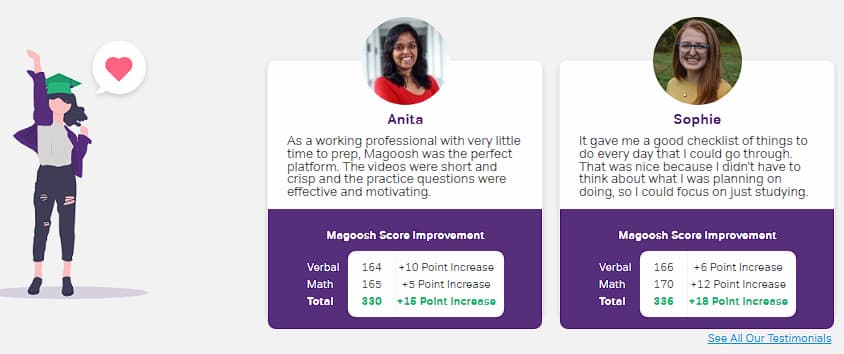 In the end, we feel that both the structure of the video lesson production quality of the curriculum and the production quality of the videos could have been better. However, you will still get something good enough for your GRE preparation. If you are looking for a detailed comparison of Magoosh's and other GRE prep courses, with a decent opponent, read our article about Magoosh and TargetTestPrep.
Not only is the content quality, but the package also includes fantastic features such as customizable practice sessions, tests and incredibly detailed problem explanations. The study materials are as good as what you will get anywhere else.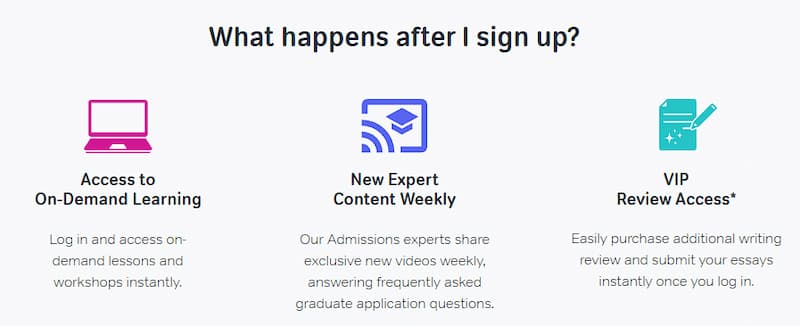 GRE Practice Tests
Students that take the Magoosh GRE prep course get access to 3 full-length practice tests. These computer-adaptive tests were specifically created to give you a feel of what the main exam is like. Also, the fonts are excellent, while the adaptive tech works smoothly.
Once again, Magoosh should be offering its users more than 3 full-length tests. Yet, it remains a decent number when you discover the low cost of the service (we will get to that later). If you feel that the 3 full length practice tests aren't enough at any point, you can check out some of the online platforms that offer free GRE practice tests.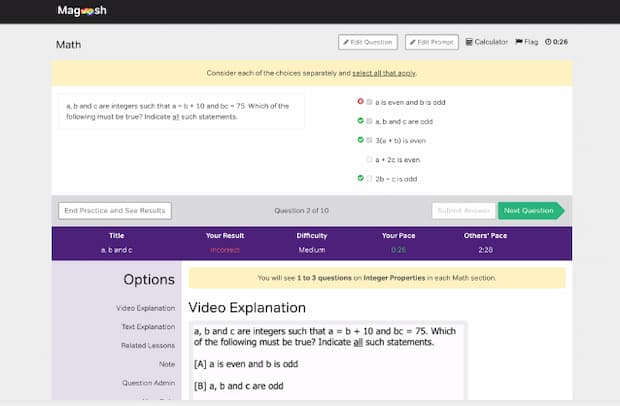 Prep Books
We found no hard copies during our Magoosh GRE study plan reviews. One of the major benefits of choosing a digital platform is that you won't have to carry your books around to study. With a few clicks, you will be able to read your magoosh GRE review materials at any time and anywhere. Hence, Magoosh is the perfect choice for modern students.
Live Classes
For a long time, Magoosh GRE students only had access to pre-recorded lessons. Several users have been asking for live online classes, though, and it's a good thing that the people at Magoosh have been listening.
Our Magoosh GRE test prep reviews show that the test prep company recently launched a new package that comprises a 6-month premium and online classes. Certified online tutors host classes five times a week for students that may need better explanations on problems or a more engaging experience more practice tests. So, feel free to join these classes whenever you need to.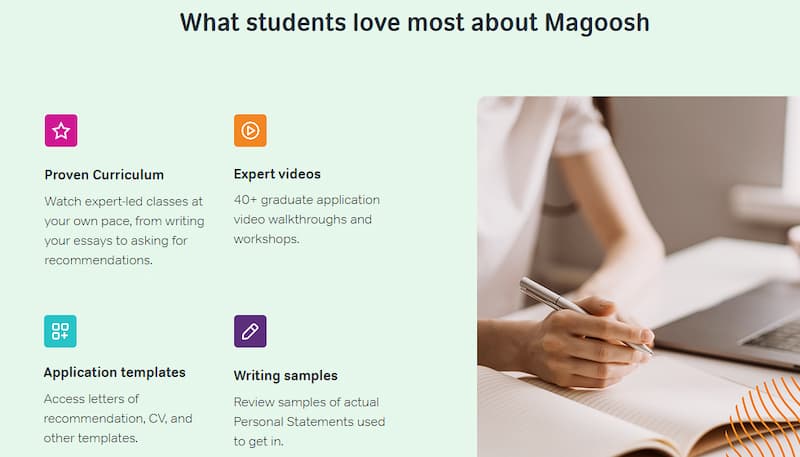 Flashcards and More Resources
Most of the cheap GRE prep services are known to offer few extra resources, but Magoosh is different. The online Magoosh GRE prep books and flashcards reviews show that the company offers various helpful resources to its users, including flashcards for math and vocabulary, a vocabulary builder, a blog, study plans, etc.
We didn't expect to find so many resources. One of the very best has to be the custom study plans. They will help you study by allowing you to create study schedules that suit your unique situation. AThe time frame can be anywhere between a week to 6 months.
Mobile App
One of the reasons why Magoosh is regarded as one of the best online learning platforms is the availability of a mobile app. Some of the features of the mobile app include quant and verbal flashcards, questions, and progress trackers. The app is compatible with both Android and iOS devices.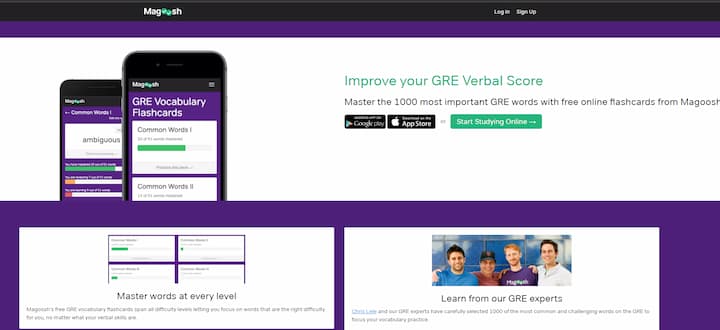 However, we would like to note that the app wasn't created to replace the online course. The app has fewer materials than the live online course platform. It is meant to be used along with the course so that you can study on the go.
As for the operation of the app, it couldn't be smoother. It also contains an impressive amount of materials, but the verbal vocabulary flashcards really stood out for us. Math problems may not be convenient to solve on smartphones, but these flashcards will make your experience much better.
Magoosh GRE Price
Magoosh should be the first name on the mind of any student looking to prepare for the next GRE exams on a budget. It offers three plans that are both affordable and straightforward. Here is a breakdown of Magoosh's gre of GRE coaching fees.
Firstly, there is the 1-month premium plan that is priced at $149. When you subscribe to this package, you will get complete access to the premium covering math, verbal, and AWA. Other contents of this package include video lessons, 1600+ practice problems, real test take, 3 practice tests, and study schedules. Magoosh recently added 8 full sections of certified GRE questions.
Additionally, Magoosh GRE costs $179 for 6 months. The package has the same contents as the 1-month plan, with the only difference being the duration of the course. Both plans come with special features such as a score guarantee, score predictor, and expert assistance. You can pause either plan at any time that you desire.
As we mentioned earlier in this Magoosh GRE prep review, the company has started offering online classes to its users. For just $179, you will get access to not just the online traditional prep classes but also all the content and features of Magoosh Premium.

Though there are several benefits of choosing Magoosh, the company's affordability is its standout benefit. You will be paying only a fraction of what other companies charge while getting access to almost the same resources. Hence, it is clear to see that the company is focused on helping students pursue their dreams. If you are still unsure of the service, you can try the 7-day trial without any obligation.
Additionally, the right plan for you will depend on your unique needs. Choose between the two basic premium plans based on the number of months that you have to prepare for your exam. For example, you shouldn't opt for the 1-month premium plan if your exam is still 4 months away. The 6-month premium plan costs only $30 extra. You should also ask yourself if you will need live online classes or pre-recorded lessons will suffice.

| | | | |
| --- | --- | --- | --- |
| Plans | 1 Month Premium | 6 Month Premium | Premium + Classes |
| Price | $149 | $179 | $479 |
| Duration | 1 Month | 6 Months | 6 Months |
| Video Lessons | Yes | Yes | Yes |
| Live Online Classes | No | No | Yes |
| Mobile App | Yes | Yes | Yes |
| Video and Text Explanations | Yes | Yes | Yes |
| Free Trial | Yes | Yes | Yes |
| Score Improvement Guarantee | +5 | +5 | +5 |
And don't forget to use our unique Magoosh GRE coupon code "EDUREVIEWER10" to get 10% off of any plan.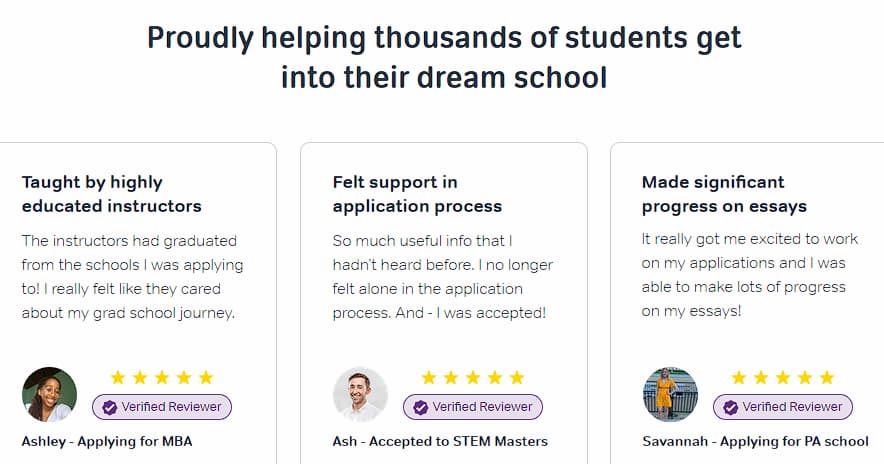 Quality of Magoosh GRE Courses
With its GRE prep course, Magoosh has proven that affordable courses can still be of impressive quality. A lot of work has been put into the contents of the magoosh course, to bring students great value. There is no doubt that the company has hired highly qualified and experienced tutors to create its lessons, questions, and explanations.

Additionally, the company has set itself apart from its competitors with its mobile app and well-detailed video explanation. The new live online classes are also a game-changer. If you follow the contents of this course during your preparation, you can be assured that you will be 100% ready on the day of your examination.
User Experience
It is not enough that an online platform offers quality content, the quality of the delivery has to be top-notch too. Since Magoosh operates as an online platform, we felt that we had to check out its usability. That said, we were pleased with what we found on the platform.
First, the dashboard is simple and easy to navigate. It will allow you to access the tools that you need with a single click. Useful lessons will also be recommended for you right on the homepage.

Another feature that contributes to the great user experience is "Quick Practice". With this feature, you will find yourself solving practice problem sets in a matter of seconds. You will see this function as soon as you log in.
Additionally, a feature has been added to the platform to allow you to monitor your progress during your GRE and other test prep courses. You will get to see the percentage of your answer that has been correct and how your performance compares with that of other students.
What's more, the overall design of the platform makes it so easy to use. You don't have to be a computer expert to be able to use it effectively. As for the quality of the video production, it isn't outstanding, but this should be expected for such a low-cost service. We were satisfied with every other thing.
Score Increase Guarantee
We discovered that Magoosh offers good incentives to students during our Magoosh for GRE reviews. One of these incentives is a 5-point score increase guarantee. If your score doesn't increase by at least 5 points after your exam, you will get your money back. However, you will have to meet some requirements to qualify for this money-back guarantee. For example, first-timers do not qualify.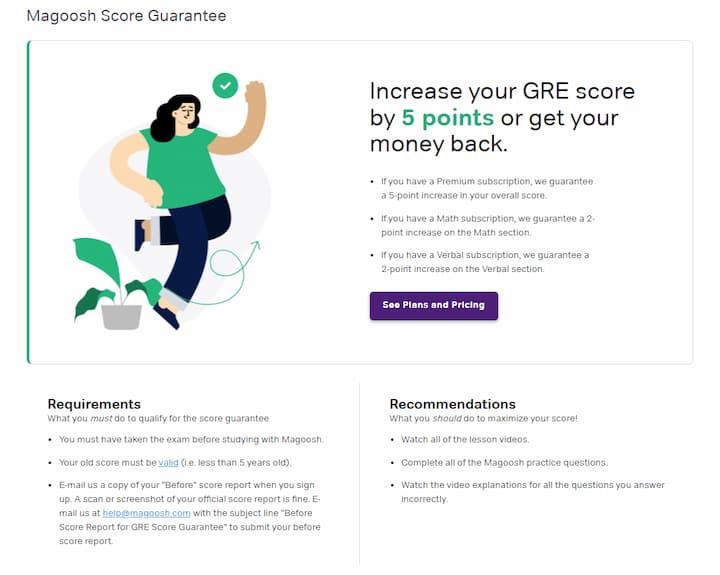 Private GRE Tutoring
Unfortunately, you won't be able to get private GRE tutoring for the Magoosh GRE prep worth the premium price. You shouldn't let that discourage you, though. We discovered that the company still offers something similar during our reviews on Magoosh GRE prep.

If you ever need assistance with a problem while studying, you can always contact the Magoosh support team. The team consists of certified GRE tutors that are available round the clock. All you have to do is send them an email.
When we tested this service during our Magoosh premium GRE review, we got a response from a tutor after a while. So even if it's not as good as private tutoring packages, you can have peace of mind knowing that you won't be hung out to dry. You just have to be patient while waiting for a response.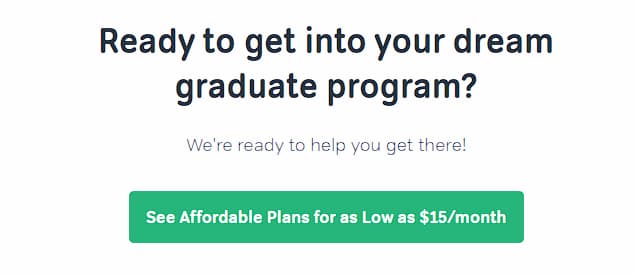 Pros
Low cost.
Flexible.
A variety of study schedule options.
Authentic resources.
Compatible with mobile devices.
Customized study option.
Live classes.
User friendly.
Cons
Minimal guidance.
Limited practice tests.
No private tutoring.
No printed materials.
FAQs
Is Magoosh harder than the actual GRE?
Magoosh prep tests are created to be harder than the actual exam, the real exam. This gives students full confidence on D-Day.
Is Magoosh GRE worth it?
Many students have been asking the question, "is Magoosh worth it for best GRE prep course?". The Magoosh is best GRE prep course that consists of all the materials that you need to ace your exam. The cost of the Magoosh GRE prep course is low too.
How accurate is the Magoosh GRE practice test?
The practice test is as good as the main test because it was created by certified GRE tutors.