There are plenty of reviews online about different preparation programs. This can be a bit of a challenge when trying to select a suitable program. EduReviewer comprises a team of dedicated professionals that seek to provide intricate reviews to guide students to select the right choice.
EduReviewer has a meticulous method that takes into account different aspects of preparation programs.
Depending on the results, we give recommendations on what is the most suitable program. Here are some of the criteria that we take into account:
The most expensive course doe not necessarily translate to the efficiency of the program. We take into account the extra features that determine the pricing of the program.
We test the efficiency of the program in testing a student. We check on the success rate of the students who have used it and the customer reviews left on the site.
Customization of the course
We prefer programs that have a customizable feature. This is more efficient than the generic tests offered by different programs. Students can work on their weak spots as they go along.
A great company is always available to its clients. We prefer companies that have a 24hr customer support system to cater to the clients efficiently.
Programs that have additional features like mobile applications, study materials, and resources are highly regarded. This indicated that the program is dedicated to giving the students the quality they deserve.
Finding the most suitable course can be a daunting task, mainly because there are many different programs. You must know what you are looking for exactly before embarking on preparation. Go through the different profiles to establish the perfect fit.
This is an excellent option for students who need personalized time when being taught. Shy students tend to excel in this aspect. The tutors take into account the personal challenges of the student and address them accordingly.
This is an excellent opportunity for students who prefer to learn in a group setup. The feature allows a student to learn from the tutor and peers as well. Ensure that you do not enroll in a big class, as this will be overwhelming and inefficient.
GMAT and GRE are some of the best courses you can find online. We have reviewed the top GMAT and best GRE prep courses online tactfully to provide you with intricate information.
Need to study for the GRE? Magoosh vs Target Test Prep GRE. Which do you choose? Magoosh provides students with personalized preparation programs. Their popularity is gained by their GRE math prep which is considered highly by the student fraternity.
They have features like score predictors, feedback reports, study materials, videos, and practice tests. Their study plans vary depending on what you need as a student.
Kaplan is a great option, given its affordability and efficiency. The program is supported by an educational company that has been in existence for 80 years.
The program offers video lessons, study materials, flashcards, practice tests, and questions. They have different payment plans for each program to best suit the capability of the student.
PrepSholar has been in existence since 2013 and has gained traction over the years. The program features video classes, pop quizzes, and practice tests. The students are first issued a diagnostic test to determine their placement. They also have a score increase guarantee.
Another great option for both GMAT and GRE prep is the Economist Test Prep. Read more in our review of the Economist GRE prep.
Manhattan Prep is one of the best programs for the GRE study. It offers video lessons, practice tests, specialized books, study materials, and professional tutors. The program is efficient and has a planned payment plan for students. Which test prep course is best for you? Compare Magoosh vs Princeton Review GRE.
The Princeton Review has average study materials for GRE. They have customized lessons to cater to the different needs of the students. Students can choose from online programs, reading materials, or group classes. The different modules are priced pretty high.
Online prep courses have proved efficient in preparing students for the main exams. They give accurate predictions that will help the students determine what areas they should work on more.
The tests allow students to deal with anxiety early enough. Students can gain tact as they practice and build their confidence along the way.
Overview of the examPAL
examPAL was created because the creators felt that students were being short-changed in prepping for exams. They created a course that is effective, fast, and customizable. It saves time, and effort, and provides real-time solutions to students.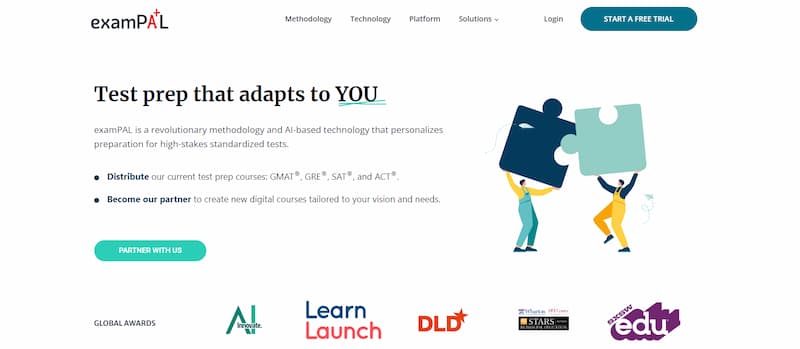 What is examPAL?
examPal is a highly efficient education tool that helps students prepare for tests. The application utilizes algorithms to determine the learning patterns of students. The information is then used to customize the learning process to suit the student.
How does examPAL work?
The application uses practice exams to know how the student thinks. Based on the results, it customizes the learning process to suit the student's needs.

Does examPAL guarantee a better score? Does examPAL help at all?
examPAL uses a system that assesses a student's brain. PAL means Precise Alternative and Logical. The system customizes the learning process in a way that allows a student to retain information the most.
The more you use the application, the better it stands to predict what suits you most. This system is efficient in determining the best possible solution for your learning experience.
Are examPAL test prep courses as effective as they say?
The application uses the data provided by students to find the most effective and fastest way of studying. The technology customizes each program for individual students based on their learning process and success rates. Exam Pal reviews show a very high success rate among the students who have utilized it for preparation.

Is examPAL safe? Is examPAL scam?
The application has been in existence for over 20 years and counting. Professionals have taken into account examPAL reviews and have come to their conclusion based on the efficiency of the app. The site provides you with a seven-day free trial and allows you to access it anywhere.
Is examPAL has the best online prep courses out there?
The full course provided by examPAL has over 24 video lessons and 1500 practice questions. The lessons have been divided into three segments. There is an introduction, practice questions, and an interactive review.
The tests are created by GMAC, which solely works with examPAL. The tests are almost similar to the GMAT score exams. The site assures a 70-point score, which is very high in the industry. Which test prep provider should you go with? Learn why you should choose Manhattan Prep vs Princeton Review GMAT.

examPAL Services
If you are looking for a great product at a subsidized price, consider the GMAT course. The examPAL GMAT review shows quality content, user-friendly, and efficient customer support. Magoosh GMAT Practice Tests and SAT Practice Tests provide crucial test prep for the GMAT. Check out Magoosh GMAT reviews!
The GMAT portal guarantees quality materials for studying, score increases, and a one-week free trial.
The course features 1500 practice questions, four practice GMAT exams, six months access, fast customer service response, three essay reviews: assorted questions, and 22 skill-based videos.
The GRE is efficient in improving the skills of a student. The standardized tests allow one the flexibility to pick which questions to answer. It features quantitative reasoning, analytical writing, verbal reasoning, and research.
According to examPAL GRE reviews, these sections ensure that you are highly prepared to take on the exams. If you are looking for an examPAL alternative, you should read our Achievable GRE review, and there you will find a great option.
Pricing of the Courses
The site offers a one-week free trial. Afterward, the student can opt to pay for a specified course at $29. There is a premium plan that is $439.
It offers 12 verbal quizzes, four GMAT practice tests, training materials, all lessons, and three essay reviews.
There is the Genius plan that costs $799, which features two additional lessons with an instructor, three personalized sessions, and two expert tests.
Quality of the Courses
examPAL creators are from different fields and professions. The site was created by more than 50 people and has been in existence for more than 20 years. The site prides itself on hiring qualified tutors with accolades.
Students who left their examPAL GRE prep course reviews and examPAL GRE prep course review mentioned that their GMAT and GRE tests recorded no significant improvement.
This is owed to the fact that it uses algorithms to optimize performance.

Don't know what is the difference between GRE and GMAT? Read the article to find out.
Customer Service
The site is proficient in delivering timely service. It features 24-hour online customer service support. But they did not manage to reply to any of our emails.
Website/Mobile App Usability
There is no mobile application for this. However, the site is compatible with any device and works pretty well.
Pros
It's comprehensive and personalized. There are many materials available for GMAT.
Restructured program to ease the learning process.
The algorithm optimizes learning and increases the chance of higher results.
It issues a seven-day free trial for students to determine their performance.
It has thorough essay reviews where students can access their scores and get personalized tips.
Highly interactive video lessons.
Cons
There is no mobile application.
The learning process is self-paced, there are no instructors on board.
There are no quiz banks available.
There is no online live course.
There are no provisions when it comes to secondary solutions.
There is only six-month access provided.