Today, PMP is one of the most sought-after certifications anywhere worldwide. However, it's quite challenging to bag this certification for yourself.
To gain your PMP successfully, you may need to work with a an exam prep course provider. The purpose of this provider is to make sure that they effectively summarize the contents of the course before sitting for another exam.
Now, the hard part is finding a suitable exam prep course that prepares you for the professional exam and keeps you engaged at the same time.
There are several review course providers out there, and it can be quite stressful to identify which offers you the best benefits.
You also have to find a trainer that connects with you seamlessly. So, how do you go about that?
Brain Sensei is one of the most reliable PMP/CAPM exam prep courss providers. It utilizes a unique approach to teaching students about complicated project management techniques.
This provider also uses personal instructors; several challenging practice exam questions and quizzes are also a part of the learning process.
Here, the interactive methods applied in teaching PMP aren't just fun to watch. You will also gain practical and real knowledge that applies to the PMP certification during the same period.
If you are fed up with traditional learning techniques, you will enjoy what Brain Sensei offers.
Are you interested in signing up for a course review with Brain Sensei? Or do you wish to learn more about the service provider, including what makes them special? You're at the right place. We've got you covered.
In this Brain Sensei review, we will evaluate everything about the course provider. This review will focus on the pricing, quality, feedback, and overall value for money.
Brain Sensei Overview
If you are looking for a new type of PMP training course review, why don't you opt for Brain Sensei? This provider knows that preparing for your PMP exam can be boring and work.
As a result, they have designed a prep course that will continuously engage with you and maintain your interest till the end of the lesson.
By following the journey of a young samurai as she goes through several challenges, you will find it easier to understand and reinforce certain key concepts about project management that will be asked on the exam day. You see, storytelling makes it easier to pass your information across and retain it.
Aside from the storytelling format, Brain Sensei is also designed to contain specially curated content, quizzes, and practice questions. The Brain Sensei PMP course review consists of a personal instructor, PMP practice questions and quizzes, and interactive story-driven lessons.
What is Brain Sensei?
Before we begin the Brain Sensei reviews, it's essential to look at what the company is all about.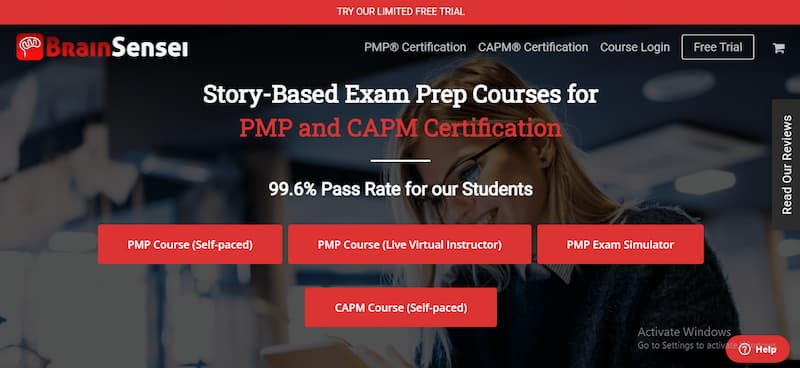 Brain Sensei is an affordable, comprehensive solution that project managers can use to pass their PMP and CAPM certification examinations.
Using a unique story-based approach, you will learn practical lessons and principles about PMP. Through this story format, students will find it easier to recall all the vital information they have learned.
This course review service will prepare you to earn your PMP certification and give you all the necessary skills to build a great career for yourself.
When you sign up with this service provider, you will access a new approach to learning, engaging and interactive lessons, affordable pricing, self-paced courses, and a responsive customer support team.
With more than 1500 practice questions, this service provider has worked with more than 15,000 students from 76 different countries.
Unlike other top educational resources on the internet, Brain Sensei offers you a unique way to prepare for the PMP professional exam.
However, its job is to provide simple and innovative techniques to help you achieve all your goals through detailed storytelling.
They stand out from other prep courses by using an animated story to reinforce the most important concepts. Reports have proven one of the most effective ways for people to assimilate and retain information.
It will be easier to recollect key and vital concepts using different elements in the story. Through this approach, Brain Sensei offers an engaging way to learn, study and practice for the upcoming exams.
Two people founded the course review provider; Dr. John A. Estrella and Chris Stafford. Dr. John is a respected entrepreneur in different parts of the world who has also written six books.
He also conducts in-house classes for aspiring professionals.
However, Chris Stafford is a project management professional with more than 20 years of experience.
How Does It Work?
If you decide to sign up with Brain Sensei, what do you stand to gain or benefit? Take note of the following;

Interactive and Engaging Story-based Lessons
It is unlikely you will find any other PMP course that offers something similar to Brain Sensei. The most beautiful thing about this course provider is that it immerses you in the lessons by using a story about an ancient Japanese Samurai.
By learning concepts this way, it will be almost impossible to forget even tough PMP concepts. Brain Sensei uses this narrative theme to reinforce the information about the course.
Practice Questions and Quizzes
A prep course company also has to give you the chance to test yourself and prove your skills. At the end of the course, you will have to take four full-length practice questions similar to what you will face on exam day.
These assessments have been designed to keep track of your progress in the course. When you are done, it will let you know the concepts or topics to read harder.
You will also have access to the UNLIMITED Exam Simulator. A different exam each time. Dynamically generated from our bank of 1,500 realistic exam questions.
They also contain answer explanations to help you know what you did right or wrong.
Personal PMP Instructor
On most PMP course reviewers or trainers, you will come across standard and boring video lessons.
However, Brain Sensei takes a different approach. It offers all the students a personalized animated Sensei. This sensei will guide you through the entire course.
The purpose of this sensei is to help students with self-studying. The personal sensei will take you through the whole system and make it less daunting for anyone.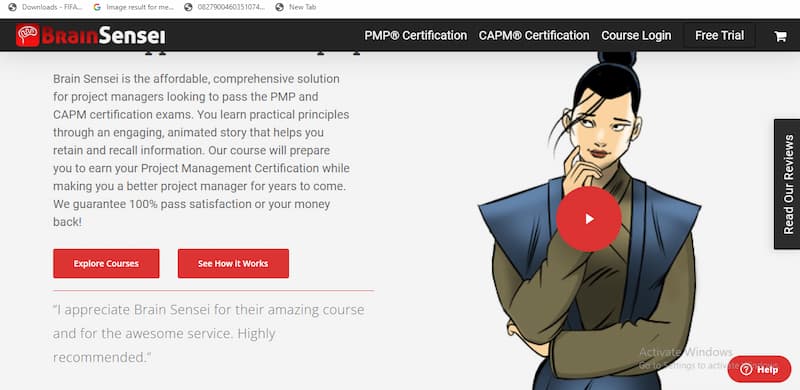 Is Brain Sensei Good?
In simple terms, Brain Sensei is a great course provider. They have identified a unique demand and have taken steps to help students pass their PMP exams. This company is renowned for using a unique approach to ensure that all students are familiar with essential concepts.
Their story-based lessons have proven interactive and effective in helping students assimilate project management seamlessly.
According to information on their website, they also boast a 99.6% pass rate among students. That's a clear sign of what to look forward to when signing up on the platform.
Short Story of BrainSensei.com
Two experts developed the Brain Sensei; Dr. John A. Estrella and Chris Stafford. John Estrella is a successful entrepreneur and author in countries in Canada, France, Sweden, Japan, India, etc. On the other hand, Chris Stafford is a PMP expert. They identified the shortcomings of students in getting through their PMP certification exams.
They understood that many students struggled to take this course because of its bulky nature. There were always too many individual details to account for and remember at any time. As a result, it became easy for students to lose track of what they were trying to study.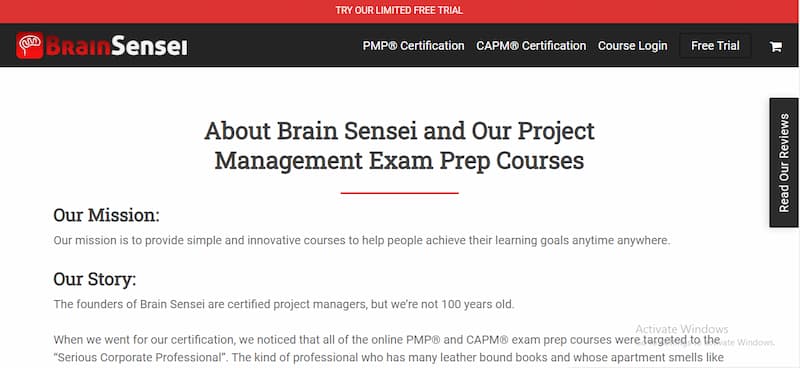 To deal with this problem, they came up with a unique way to approach PMP learning – the use of animated stories to pass a message about important project management concepts. They opted to leverage the benefits of using accounts to teach important concepts.
Today, Brain Sensei is one of the most popular service providers worldwide that help students pass their PMP exams and become certified project managers.
Courses and Certifications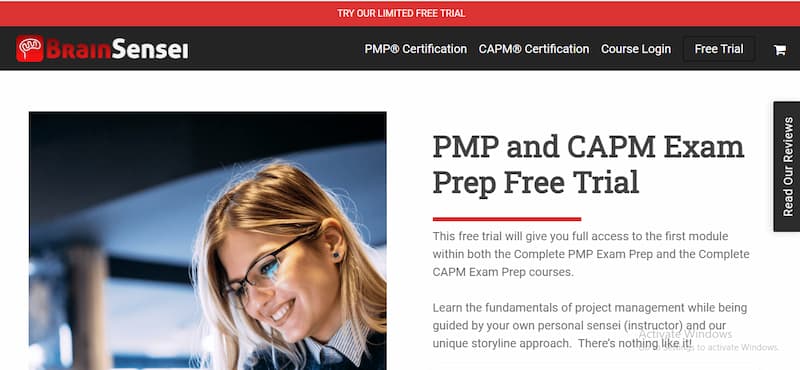 Students and young professionals can learn essential PMP concepts by signing up on this platform. There are numerous courses available on Brain Sensei.
They have been split into several modules. Each of these modules will offer project managers knowledge in different areas of their profession.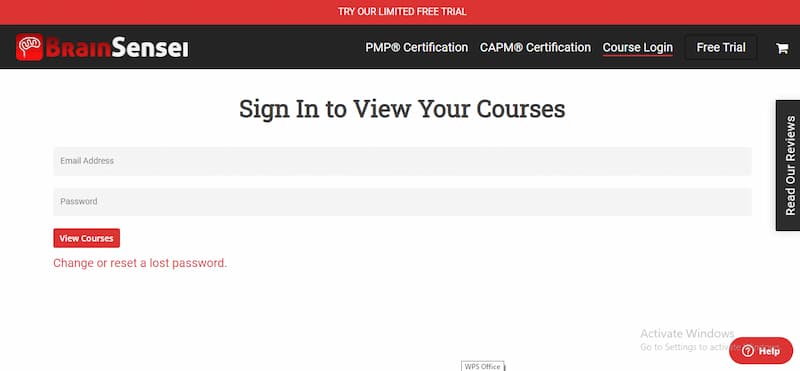 These Brain Sensei PMP Course reviews will look at what each module is about. The course outline is as follows:
Define project management concepts and terms (predictive, adaptive, and hybrid).
Distinguish the difference between waterfall, agile, and mixed project methodologies.
Use a predictive approach to initiate, plan, execute, monitor, control, and close projects.
Select or combine project life cycles: predictive, iterative, incremental, and agile.
Empower teams using servant leadership while overcoming organizational silos.
Implement common agile practices (retrospectives, backlogs, stand-ups, demos, etc.).
Master the certification exam outline and familiarize yourself with question structure.
Identify and strengthen your weak areas in order to pass the exam on the first try.

After you are done learning all the aspects of project management, the next thing to do is take four practice exams with full question sets.
All the modules on Brain Sensei are designed for young professionals who want to become project managers. What's even better? You don't need any prior experience to be able to complete this course.
You can also use a Brain Sensei promo code (if available) to earn yourself a discount.
Pricing
When using Brain Sensei, there's not a wide array of pricing plans to choose from. The platform has a single plan charged at $499 and offers one year of access.
Also, there is an exam simulator available for $119 with 6-month access. And the best option is to sign up for a complete course with live instructors, which would cost you $1199.
However, students can take advantage of discounts by inputting a Brain Sensei coupon code. Brain Sensei coupons are distributed randomly as promotional offers and to loyal students.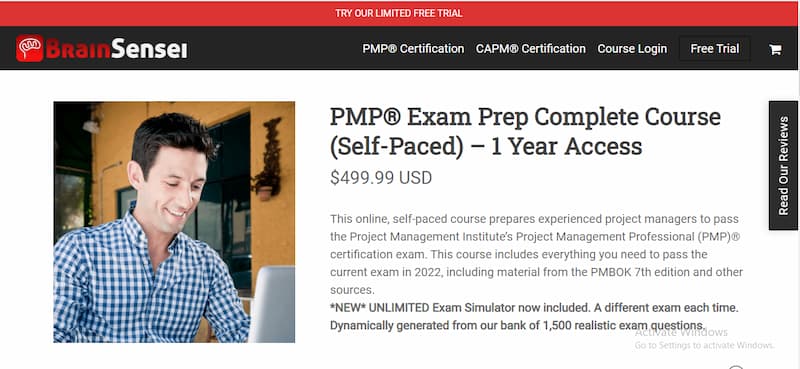 Quality of Courses
The quality of courses that you'll find on Brain Sensei is remarkable. The entire prep course will provide you with 35 contact hours certifications. As a result, you'll be eligible to register for the PMP exam.
The courses on the platform are based on all aspects of project management, including predictive and adaptive technologies.
These modules teach you how to handle projects from a traditional and innovative point of view. It allows you to prepare for your PMP exam with an in-depth understanding of different concepts.
If you are not satisfied with the quality of what you get on Brain Sensei, you can request a full refund after 30 days.
This platform has a high success rate in helping students pass their exams. It's currently one of the best online resources to help students pass their PMP exams.
After using this program for many hours, you will be fully prepared to take your exams. There's even a full-length assessment to test your skills after completing the course review.
Student Feedback and Online Reputation
Overall, Brain Sensei has a positive reputation for helping young professionals attain their project management certification.
Aside from the reviews on the service provider's website, you'll also find numerous positive online reviews about the service. Students hardly have any complaints with Brain Sensei.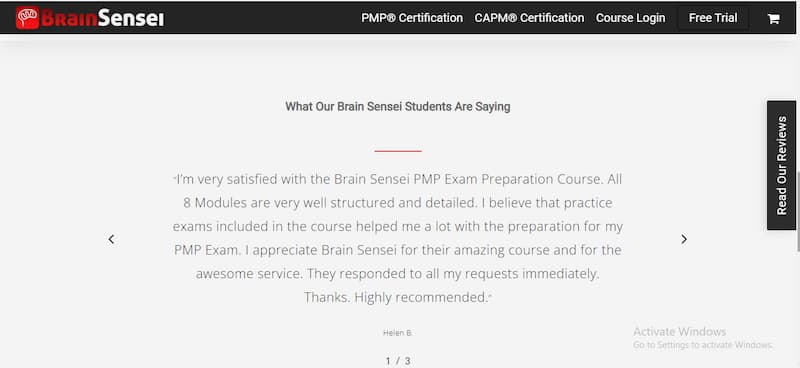 Many students are impressed by the unique storytelling approach and its effectiveness. They also made numerous positive comments on how responsive their customer service team is. They often respond to all types of inquiries quickly.
Website Usability
In compliance with innovative standards in our society, Brain Sensei has a mobile website that is mobile-friendly. As a result, users of different smartphones and tablets can easily log on and access their courses.
However, take note that they don't have a mobile app yet.
Pros
Progress tracker.
35 contact hours to prep for the test.
10% grant to active and former military personnel.
A personalized anime instructor keeps students engaged.
The classes are interactive with story-based anime content.
There are numerous practice questions, tests, and assessments.
Full-length practice questions to practice you for the final exam.
Cons
Basic website layout.
Basic analytic tools on the platform.
Conclusion
And that's all on the Brain Sensei PMP review. In this piece, we have looked at how Brain Sensei helps students gain their PMP certification. This Brain Sensei course review looks at different vital details about the course and what anyone stands to gain.
Also, check our list of top tutor websites if you want to hire a personal instructor for yourself.