Undoubtedly, the CCNA exams present a considerable challenge. The CCNA exam (Cisco Certified as Network Associate certification) test is purposefully crafted to enable professionals to evaluate their proficiency and expertise in fundamental networking concepts.
This certification is invaluable for any IT specialist with career ambitions, as it paves the way for numerous opportunities by showcasing their skills and knowledge of basic networking,.
In the contemporary digital landscape, Udemy has made significant strides in offering opportunities for both personal growth and career development through its vast range of online training courses and programs.
Countless individuals have benefitted from these training courses, successfully passing their respective exams, as evident from the numerous glowing testimonials online. For a deeper understanding of what Udemy has to offer, you can explore our page dedicated to a comprehensive review of Udemy.com.
What We Evaluate
Quality
All the courses mentioned above are some of the best ones on the platform. According to reviews, the instructors are very comprehensive with teaching and take time to break down difficult concepts. Regular assignments and mock tests to keep you mentally prepared.
Value for Money
Loads of materials and downloadable resources that you can always go back to for offline reading. Lifetime access to the tutors exam courses who are top-rated on Udemy.
Student Feedback
The testimonials on each page are truly amazing and impressive. Past and present students showed appreciation for how easily the tutors delivered the course to them. So many testimonies from students who used these online courses and aced their CCNA exams.
The world is adapting to remote learning, and having the right platform is key. Check out our compilation of the best remote learning platforms for a seamless educational experience.
CCNA 2020 200-125 Video Boot Camp
This engaging video boot camp, available at an affordable price of $11, is led by Chris Bryant. An experienced computer and a network administrator, security, administrator and tutor, Bryant has been aiding fellow network engineers and network security technicians to successfully clear their exams since 2005.
Enrolled by over 103,000 students and receiving a commendable 4.5 rating from over 24,000 individuals, this program offers a substantial 62.5 hours of on-demand video.
This is especially advantageous for those needing a complete refresher on the subject, providing ample opportunity to absorb, revise and fully understand each concept.
Nicknamed the 'Computer Certification Bulldog', Bryant's course materials are notable for their simplicity and effectiveness – particularly valuable for beginners.
Over the course of 467 lectures, he guides us meticulously from the basics of Ethernet, cabling, hubs, and even IP addresses and address selection to advanced topics such as security and network and security and network security fundamentals too, such as firewall configuration and network and security and network security and network fundamentals, too.
Here are some of the reviews I got from previous and current students of this course: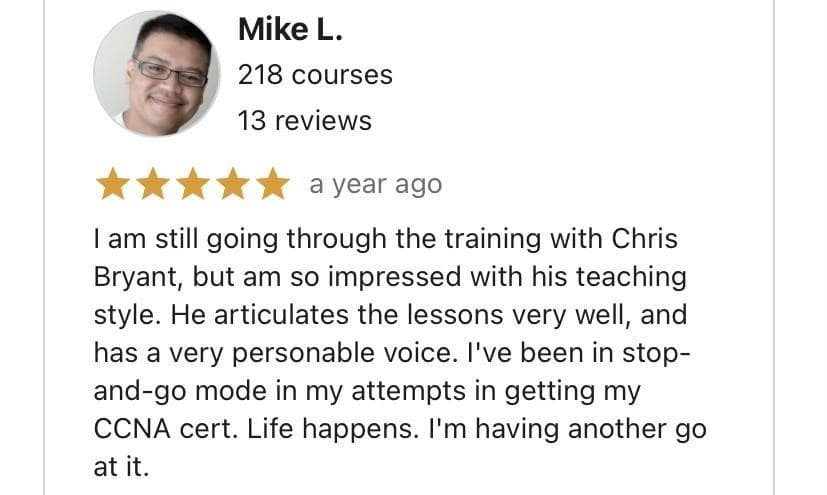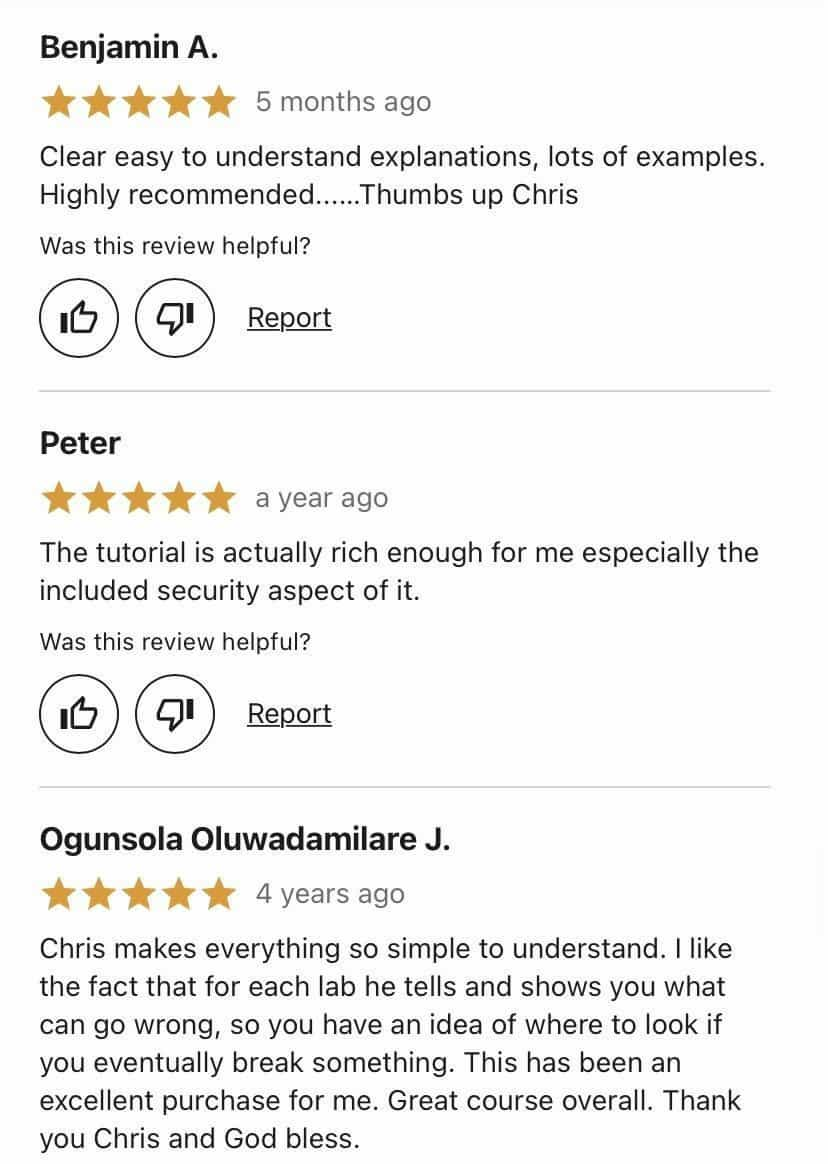 What people like: Many people commended the preciseness and meticulousness of the course; his explanations are also very extensive and easy to understand.
What people dislike: Some topics need in-depth analysis.
Discovering a new passion, hobby, or career opportunity is within reach with Coursera Plus. Read our comprehensive Coursera Plus review to understand its offerings and value.
Cisco CCNA 200-301 – The Complete Guide to Getting Certified
This is easily the best-rated cisco course on Udemy, with a 4.8 rating by over 41,000 students. I particularly loved this course because it was created by Neil Anderson, a recipient of the platform's Top Responder tag.
There are times one might have a few questions about the program and need an urgent response from the tutor. I find it very admirable to get a knowledgeable response within 24 hours, and this is exactly what Neil Anderson does.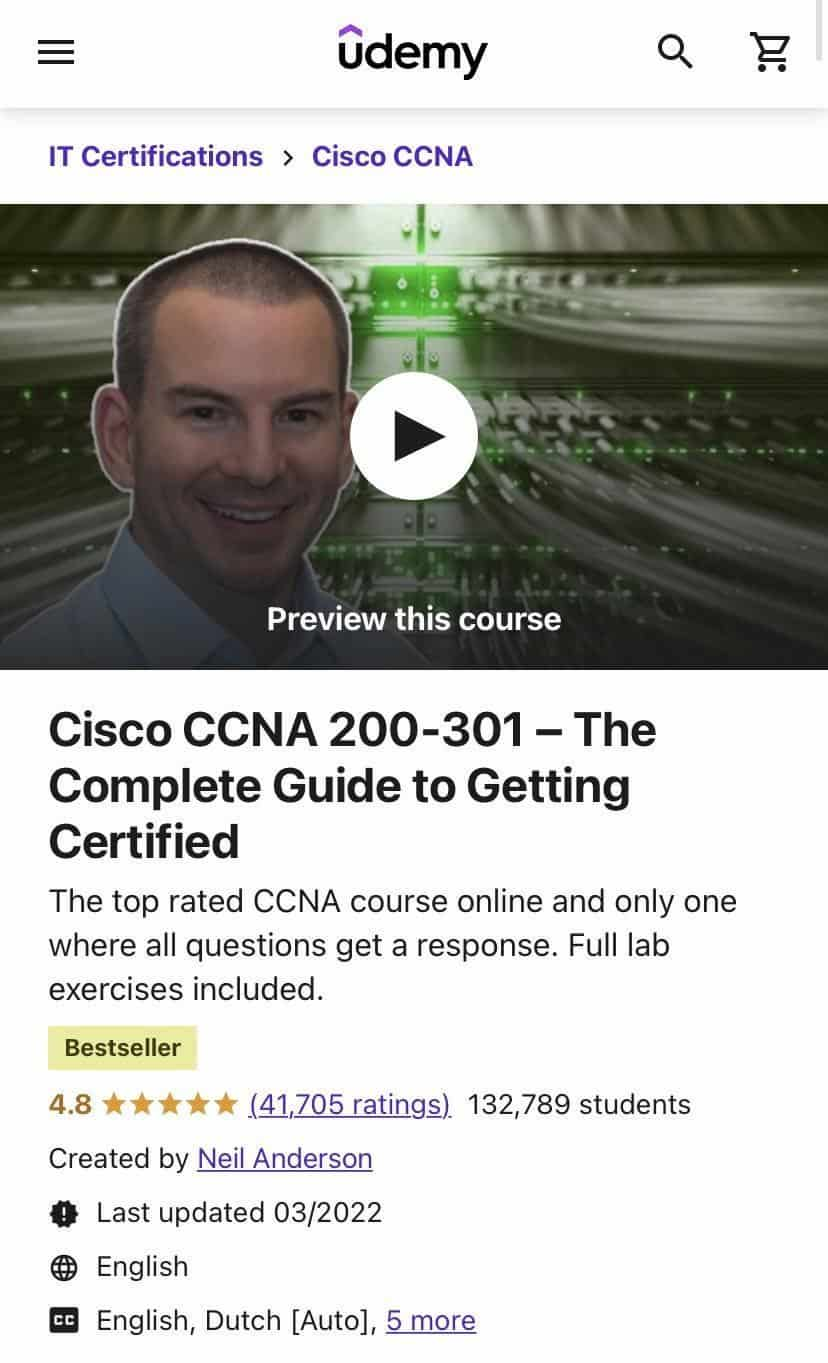 This bestseller course has more than 132,000 students and can be taken in six different languages: English, French, Dutch, German, Indonesian, Portuguese, and Spanish.
For those who want to pass the Cisco CCNA 200-301 exam, this is it. With an on-demand video of 38.5 hours, one will learn dynamic routing protocols, routing and switching, mechanics, using network resources, gain configuration and troubleshooting experience to work in the real world, and develop knowledgeable transferable skills that will open doors of opportunities in respective careers.
The feedback from this is quite nice and commendable, which is one of the reasons why I tried this out.
Check these out: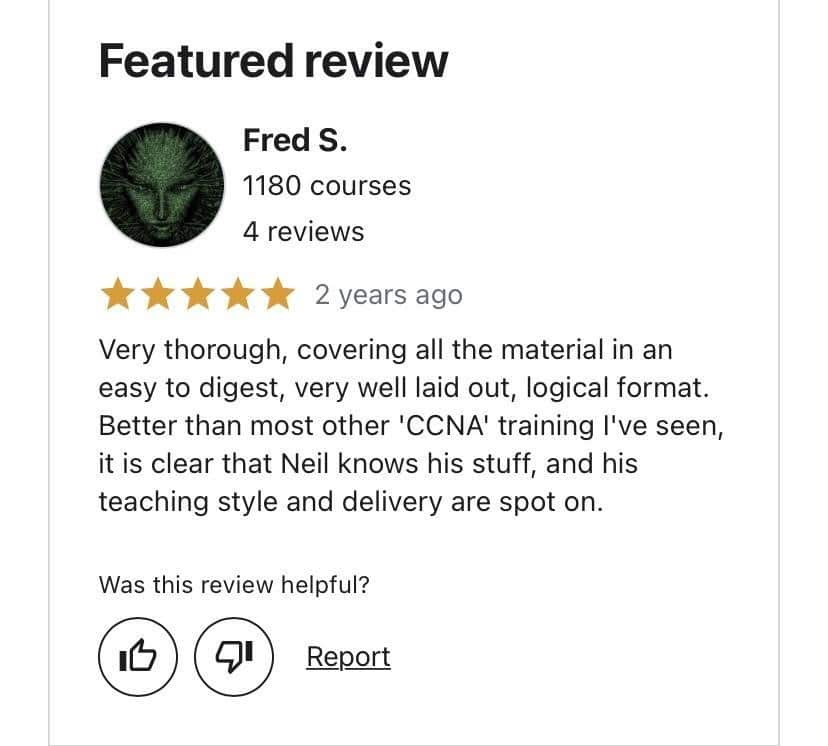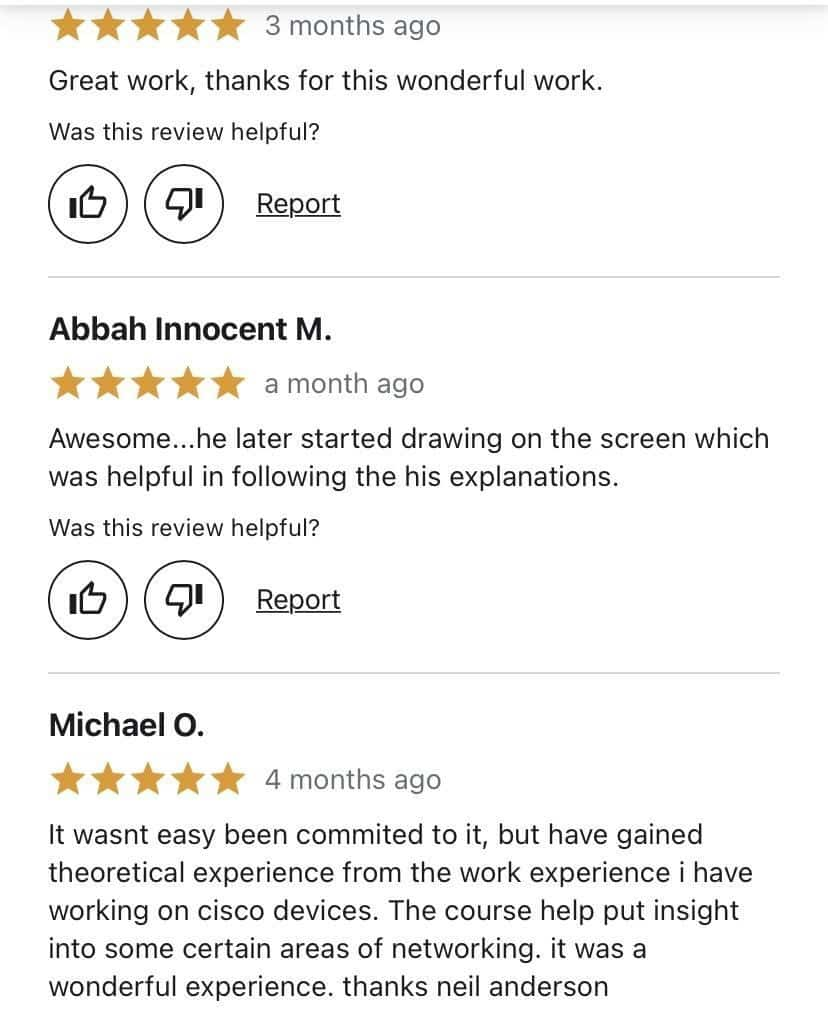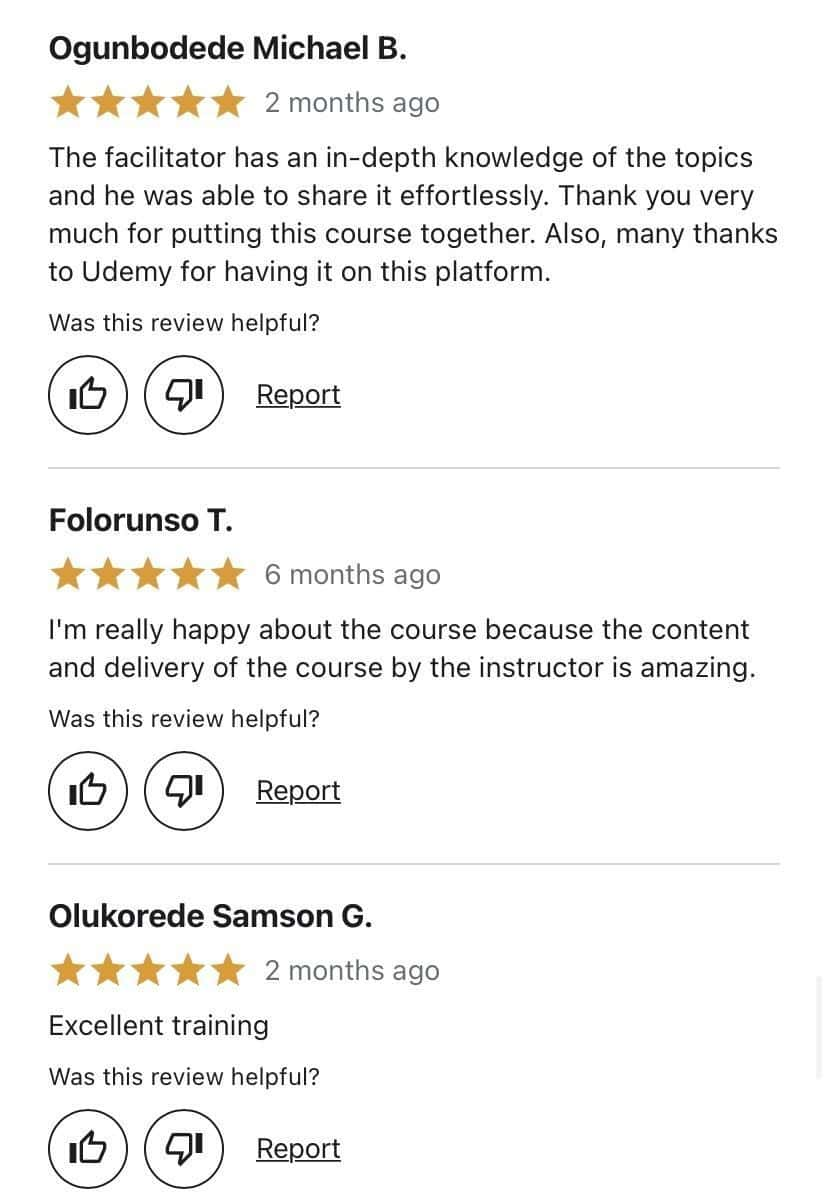 What people like: The tutor's ability to share his knowledge in a simple manner; is great for beginners.
What people dislike: Bulky lessons
LinkedIn Learning is more than just a professional networking site. Find out why with our LinkedIn Learning reviews, which explore its educational content, user interface, and more.
The Complete Networking Fundamentals Course. Your CCNA start
For those who want to learn the networking basics and jumpstart their career by getting a full CCNA certification exam, I recommend this bestseller course by David Bombal. It goes for just $11.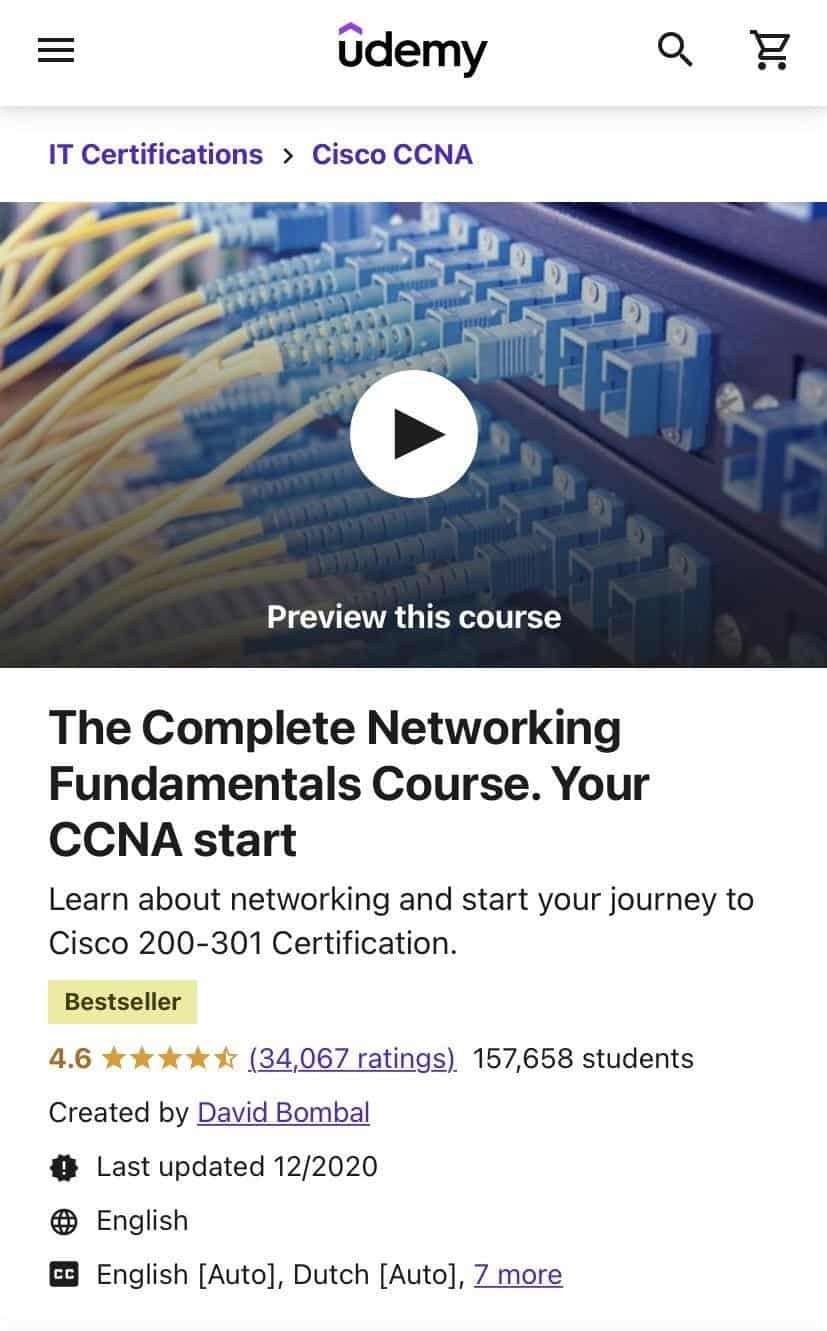 This course is a favorite among learners, with more than 157,000 enrollees, and boasts an impressive rating of 4.6 out of 5. This high score reflects both the expertise of the instructor and the quality of the lessons provided.
But there's more to it.
With this course, you'll receive 80 hours of on-demand video, 18 insightful articles, access to 124 downloadable resources, and lifetime access to the course material. Plus, upon completion, you'll receive a certificate of achievement. Given all these resources and benefits, the course offers remarkable value at just $11.
One of the key advantages of this course is the ability to interact with the instructor. During self-study sessions, you might come across challenging concepts that require a tutor's explanation.
Here's a brief look at what you can expect from the course curriculum:
What's truly appealing is that there are no specific prerequisites for enrolling in this course. According to numerous Udemy Cisco training reviews, this course is a top choice for anyone seeking to prepare for their certification exam.
Here are some people's assessments: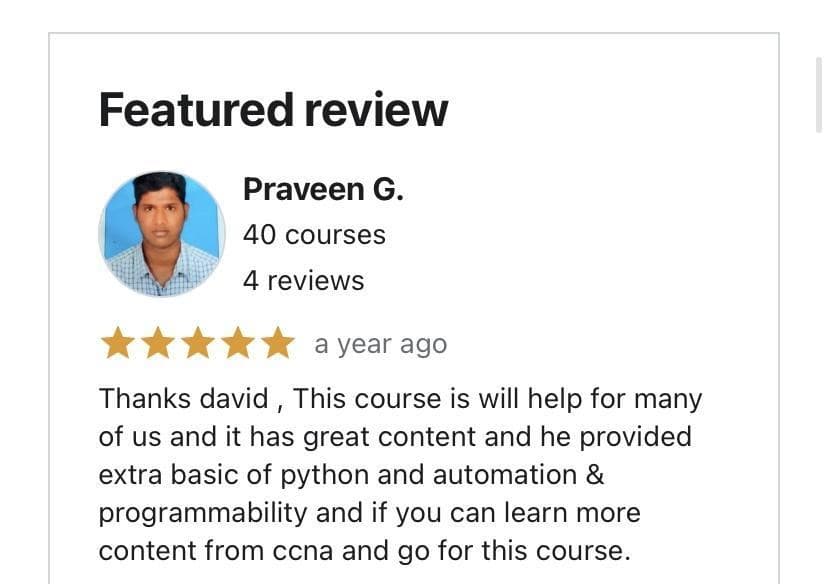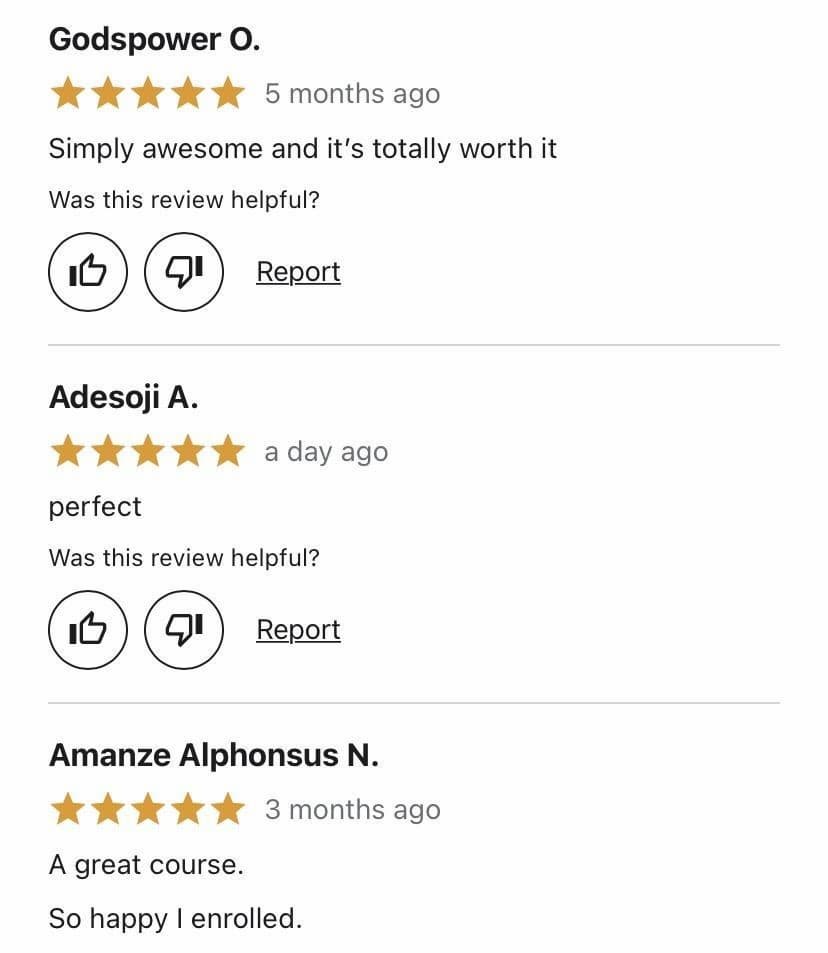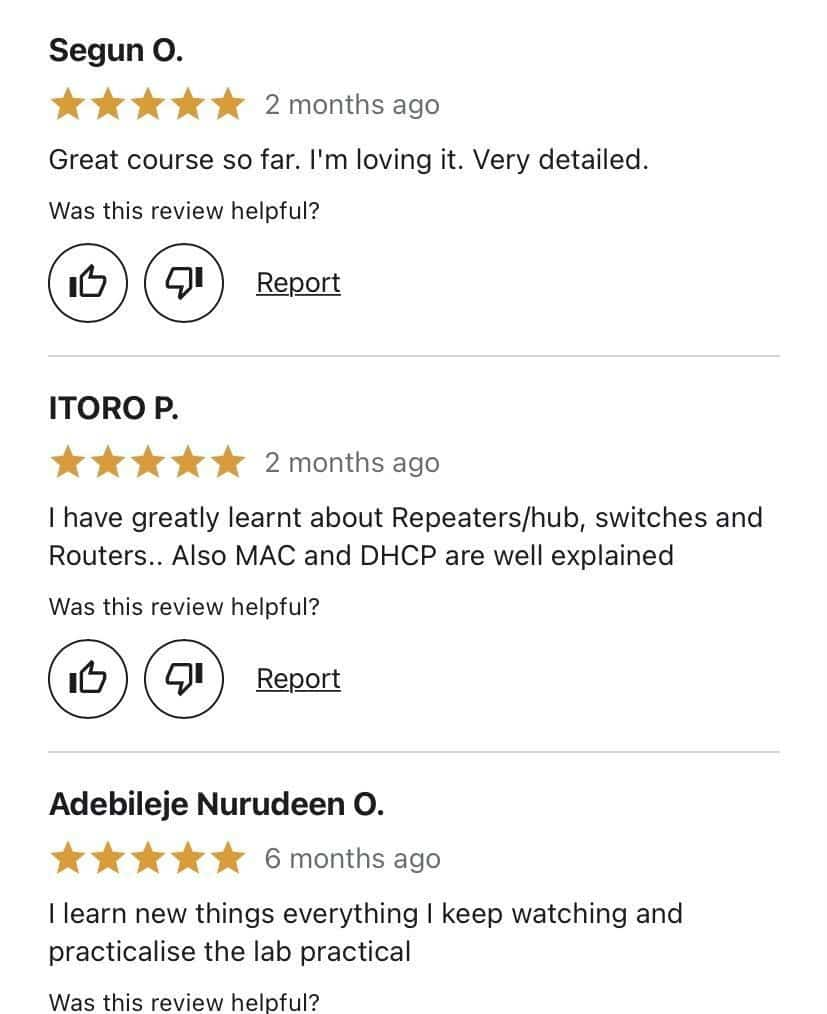 Chris Bryant's CCNA Practice Exam Pack #2 (ICND2 Topics)
This is another of best exam courses on Udemy, best online CCNA training courses for exam, best ccna course for beginners only, by Chris Bryant. It is more like a practice pack, and it contains tips, questions, and articles that would help one prepare adequately for the exam.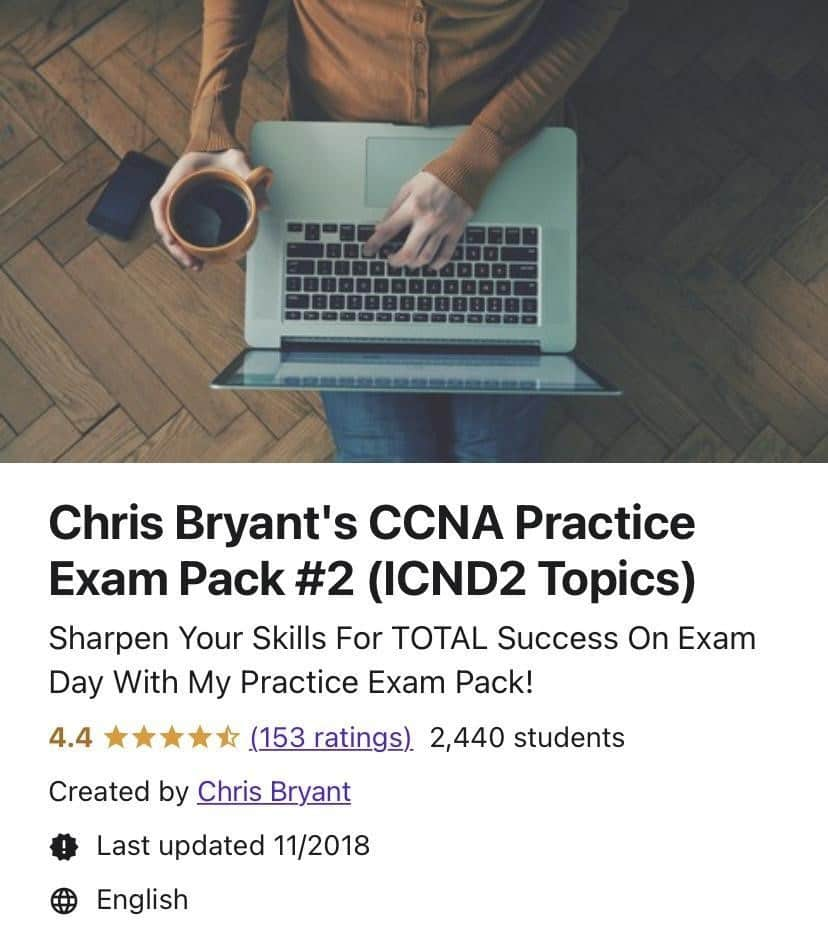 During my assessment, I found out this pack contains 4 practice tests and 241 questions, which is great for $11. Also, to support the learning process, Chris Bryant has included thorough explanations and backings for every right answer. For more clarification, I have listed some topics that the test covers:
Troubleshooting and configuration of OSPF
Selecting routes
Troubleshooting and configuration of EIGRP
Operation of the CISCO switch
CCNAX routing, etc.
Although this is not a beginner's course, it is a great resource. From these reviews, it is apparent that other users think so too.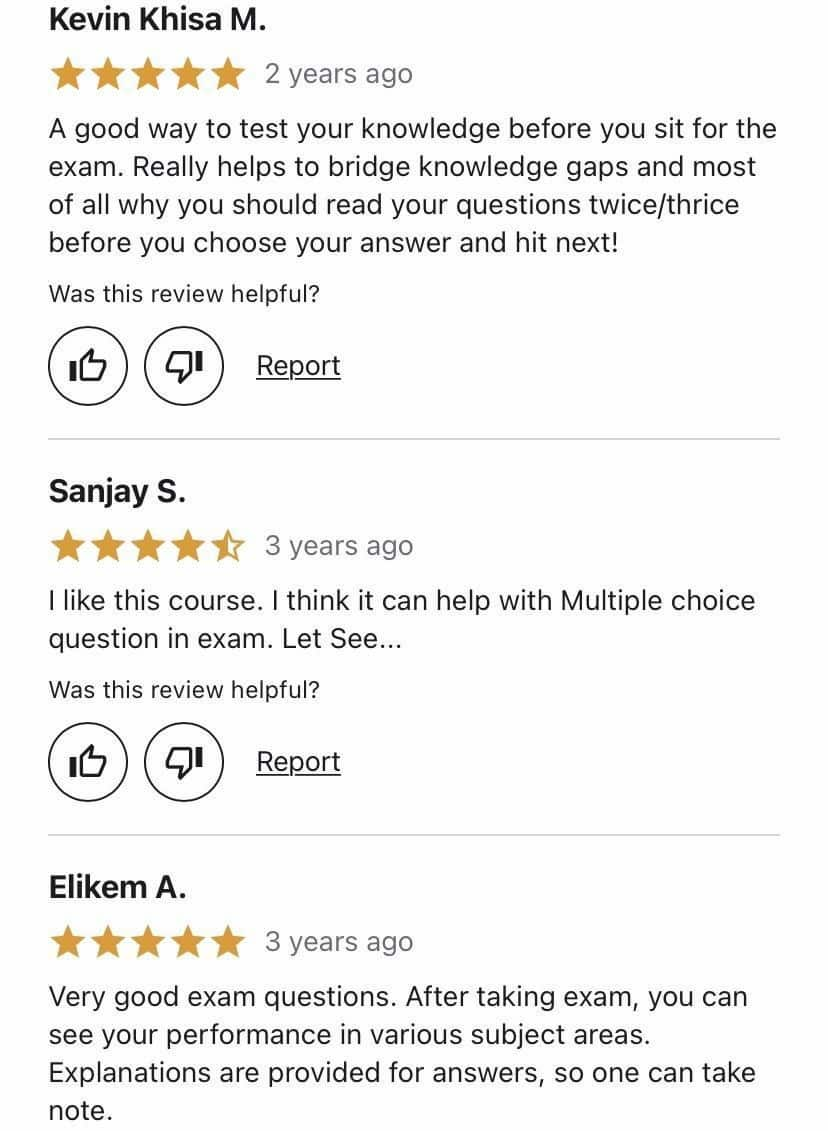 CCNA 200-301 Pre-Exam Practice Tests
At one point, when studying for exams like this, I recommend that students take mock exams to help them refocus and target problem areas right before the day comes, especially for those who get a little anxious or panicky in exam settings.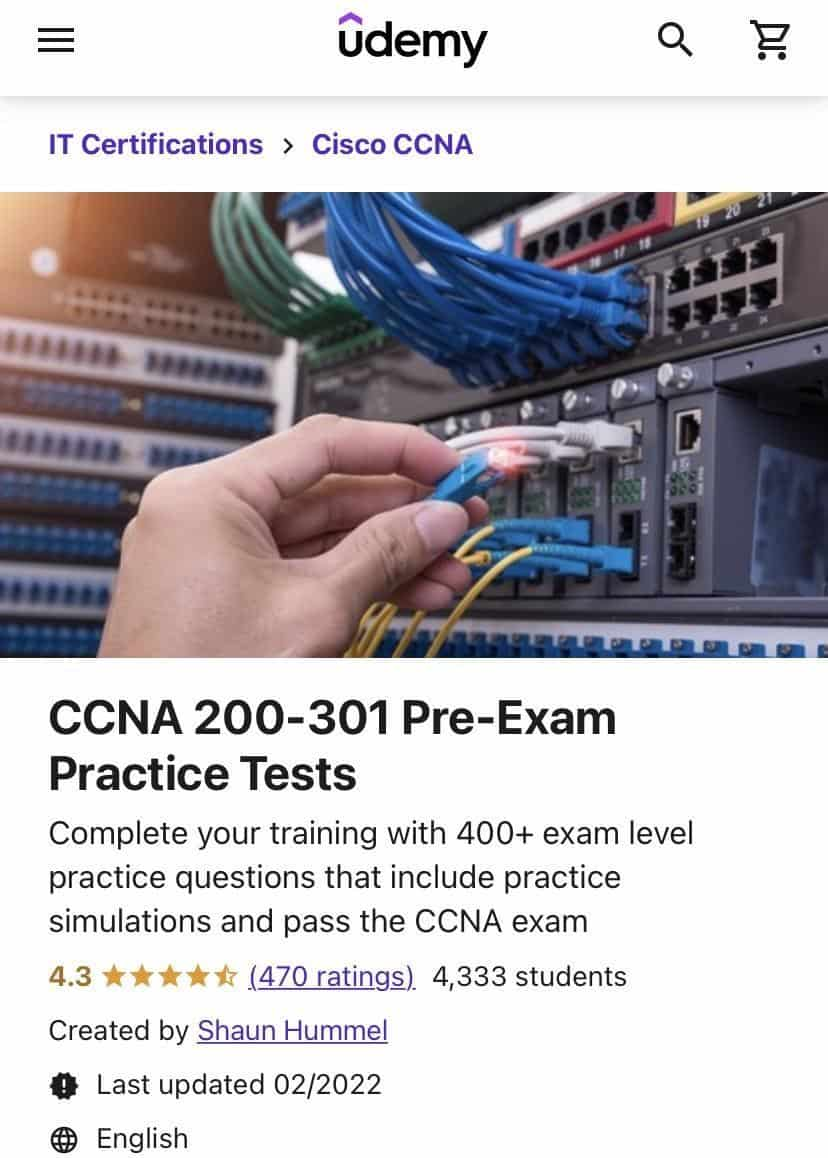 This course is taken by Shaun Hummel and has a rating of 4.3 on the platform, with over 4000+ students. The entire study pack goes for $11, and I guarantee you will get your money's worth with six practice tests and practical labs.
I liked the test review feedback that Shaun gives after every mock sitting. It is a thorough analysis that dissects every answer you choose. This would greatly help find target areas and deal with them before the due date for the real examination. Here's what you stand to learn:
Network access
IP connectivity
Automation
Subnetting
Wireless concepts, etc
Here are some comments made by students:

CCNA Cyber Ops Tools: Sec Onion, Wireshark, and Kali Linux
This is easily the best CCNA course on Udemy. Currently, 783 students are taking this course, and it has a rating of 4.9. It was created by Bassam Alkaff, a CISCO tutor of 15 years and counting. He specializes in computer networking, and information and computer network and network security,, and holds several certifications.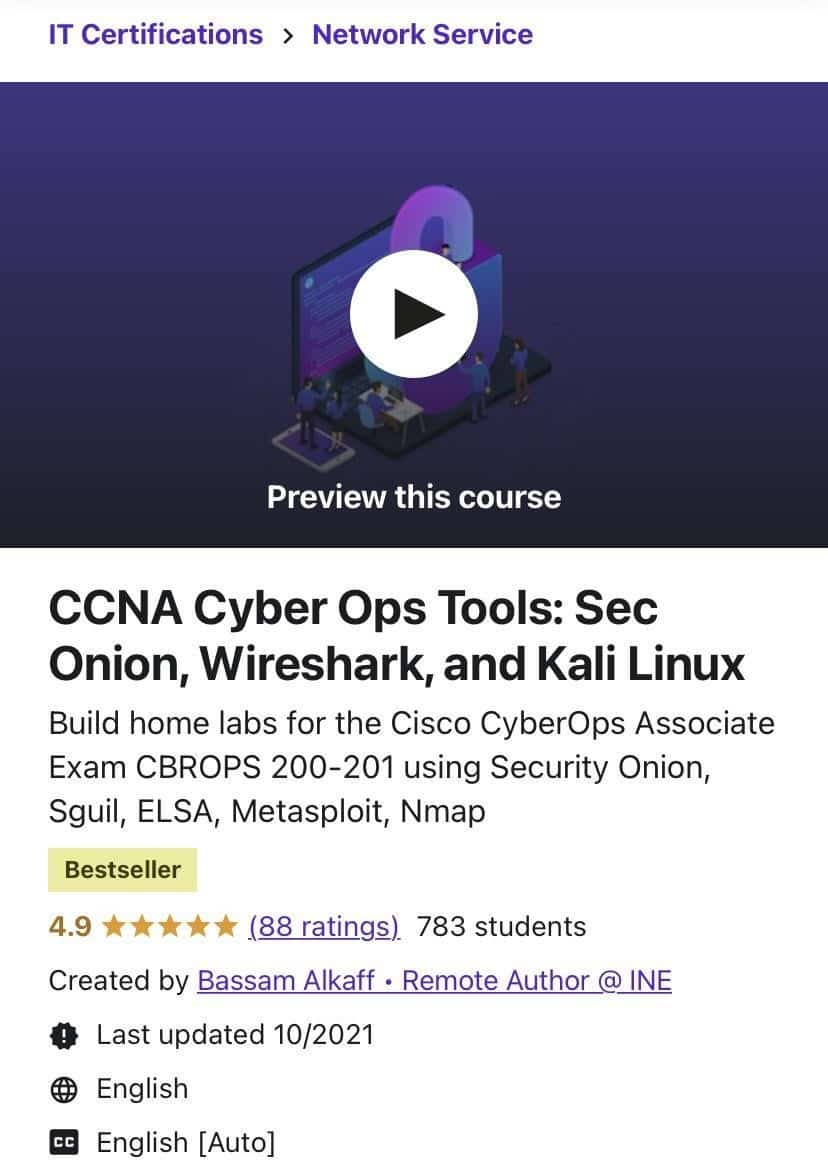 At $14, it is a little more expensive than the previous training courses we have mentioned, but I guarantee that you'll get your money's worth. With 4 hours of on-demand video, Bassam Alkaff will take you through:
Wireshark
Nmap
Virtualbox
Artificial intelligence
GNS3
Metasploit
Security onion, etc.
One would also get two articles and a practice test before the course is over. One thing I found very endearing with this class is how it touches directly on essential topics without beating around the bush.
Students should always try to do their assignments, as it would help them become more profound in whatever was taught in the classroom. The reviews have been amazing, and here's what a few students had to say about it: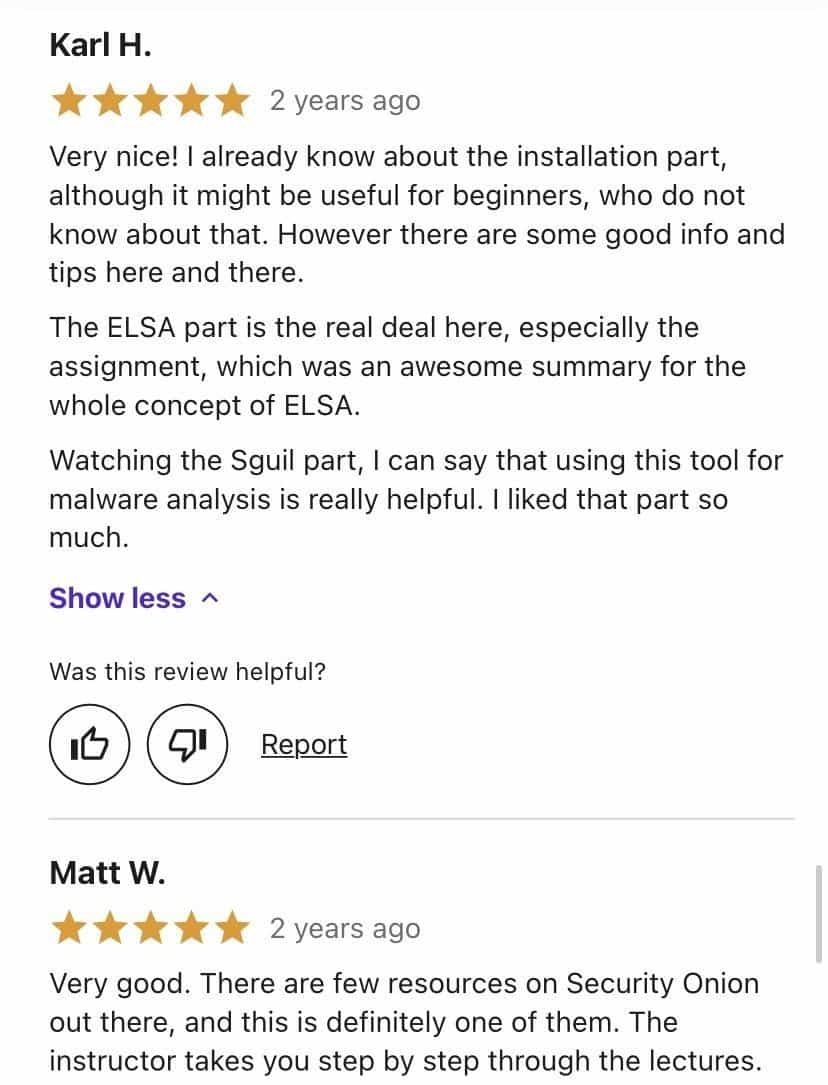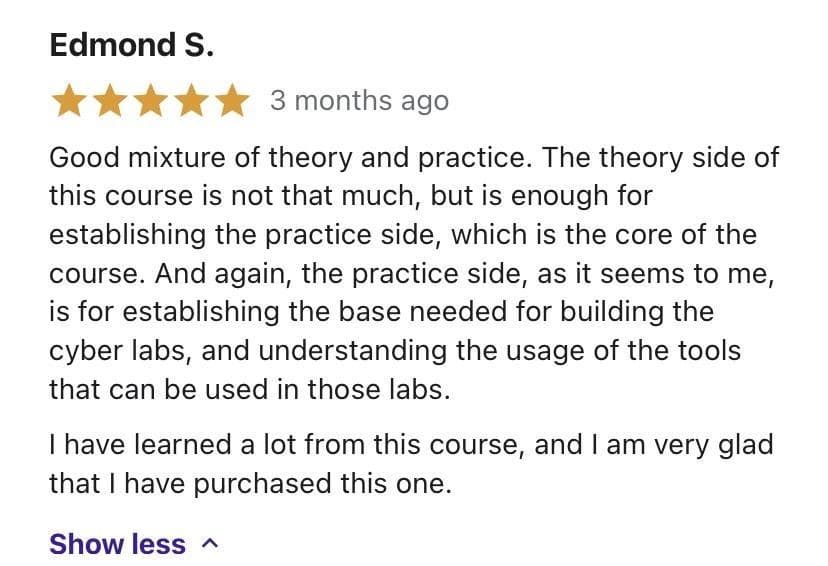 Cisco CCNA 200-301 Exam: Complete Course with practical labs
This is another course by David Bombal that combines theory and practicals so effortlessly that one would have no problem learning. Tuition costs $11, and you'd get 79 hours of on-demand video, 16 articles, and 121 downloadable resources.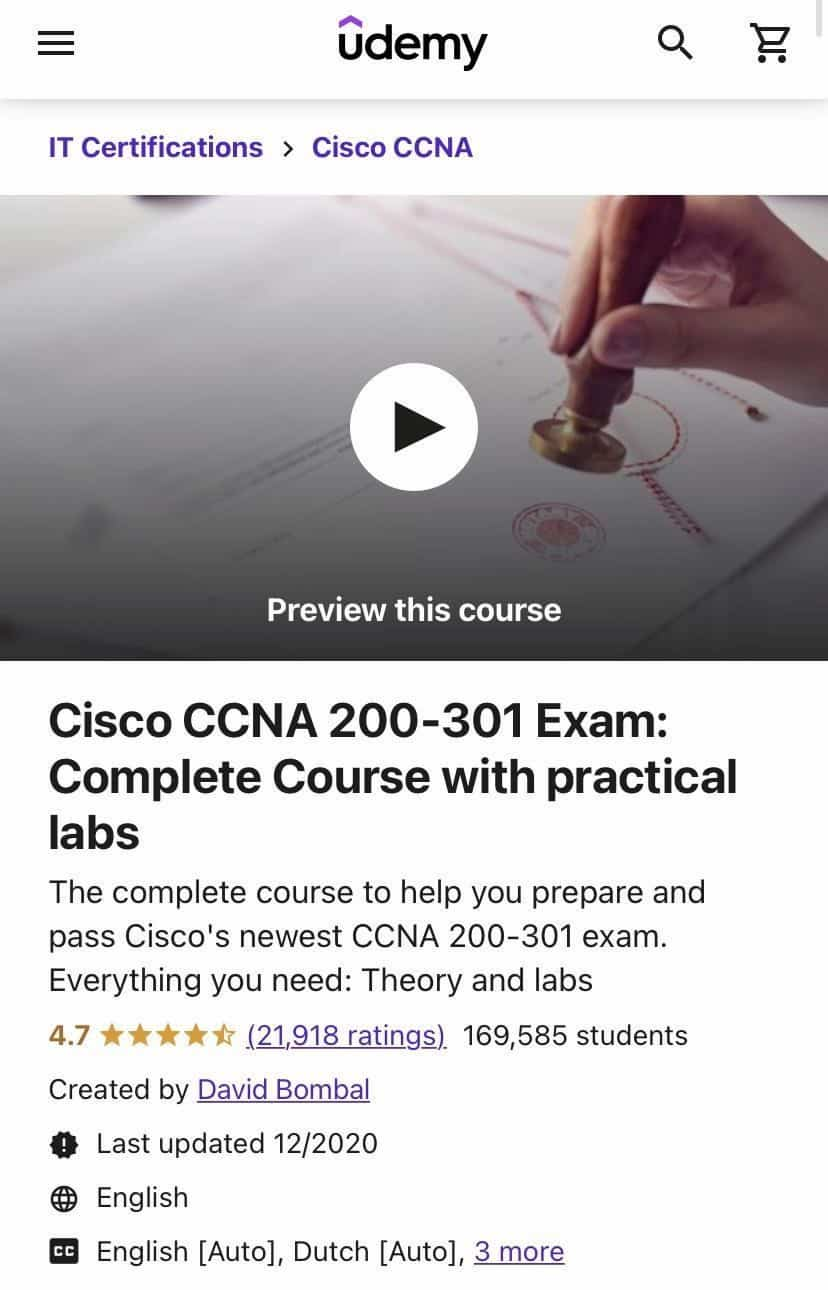 This particular course is widely popular, with over 169,000 participants and a stellar rating of 4.7 from nearly 22,000 reviews. I wholeheartedly endorse this course for anyone seeking to acquire the CISCO CCNA certification and in need of comprehensive study materials.
Based on my personal experience, I can attest to the immense value of the downloadable resources. They provide the flexibility to study anywhere, anytime, without the need for internet connectivity.
You'll learn:
Wifi technologies, network automation, and security
Cisco routers configuration
IP subnetting, etc
Here's a sneak peek of some important sections: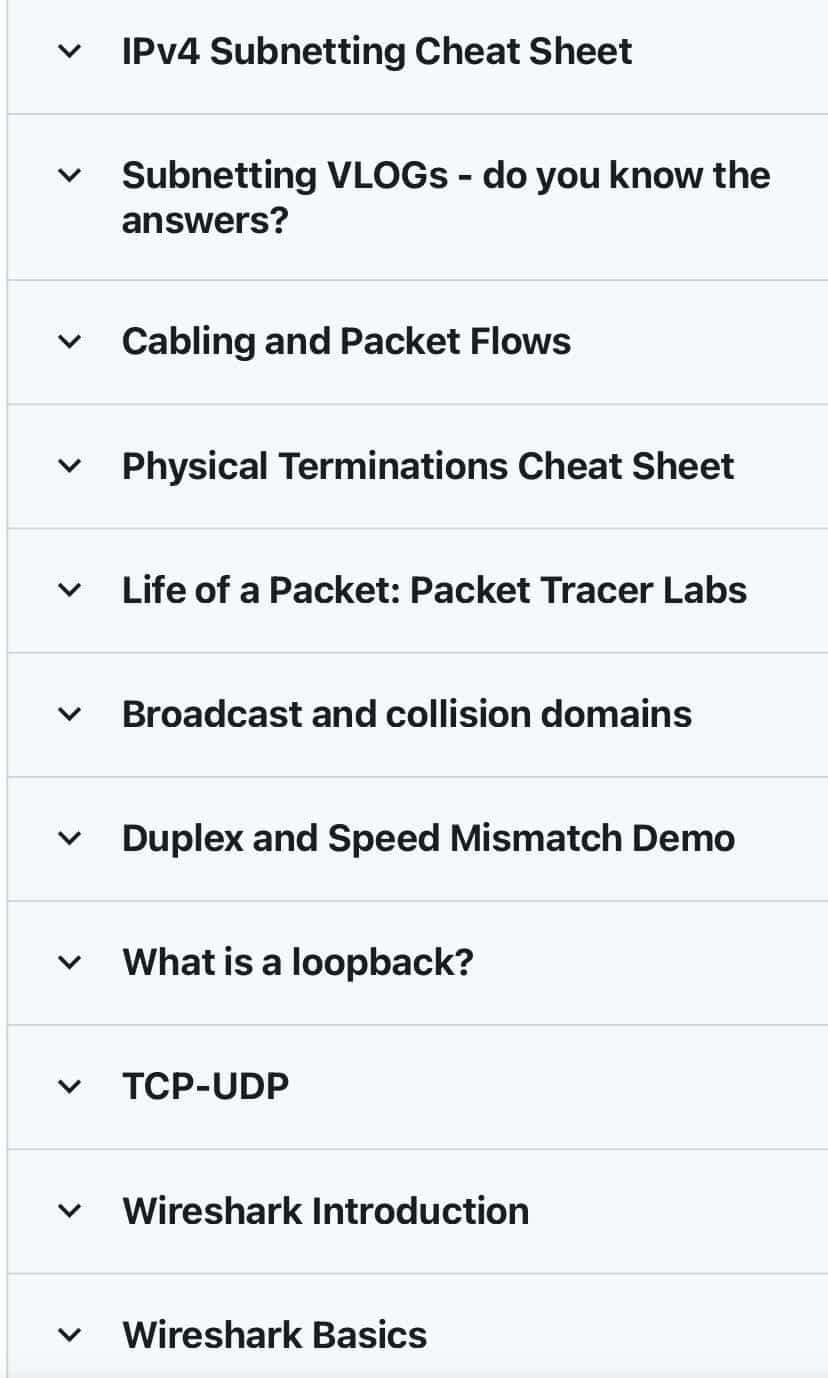 CCNA 200-301 & Network+Practice Pack: Subnetting Success!
Chris Bryant did another one with this $11 program. This is a practice guide to getting certified, and after payment, lifetime access is immediately granted. I had so much fun using this because it helps you test your knowledge and skills without pressure.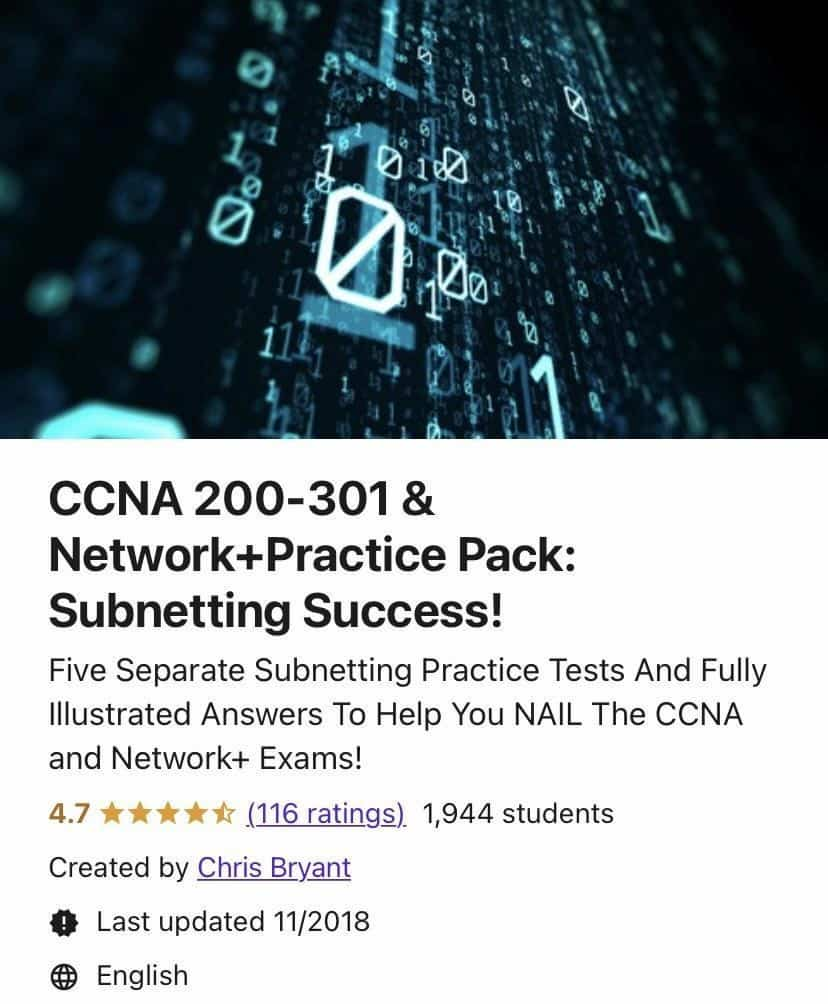 The tutor would take you through five separate subnetting tests performed under strict exam conditions. No matter how many courses students take, it is always advisable to take mock tests before the exam.
This is to help prepare you mentally for the stress that comes with the actual sitting. So many smart students fail due to this negligence. This course is one way to help you prepare mentally and academically.
You will be taught:
Fundamentals of subnetting success
Valid hosts
Binary to decimal conversions
Troubleshooting, etc.
Another impressive feature I noticed is how explanatory the answers are. Plus, anyone can use this course for exams outside the best cisco CCNA exam course for beginners, if subnetting is a part of best cisco ccna exam course for beginners exam courses the subject.
Cisco CCNA Packet Tracer Ultimate labs: CCNA 200-301 labs
One thing I always tell students is that theory is never enough. You need hands-on experience to grasp the concept of what is being taught fully. In this $11 class created by David Bombal, the technical aspect of CISCO network configuration port and network security features will be shown to you.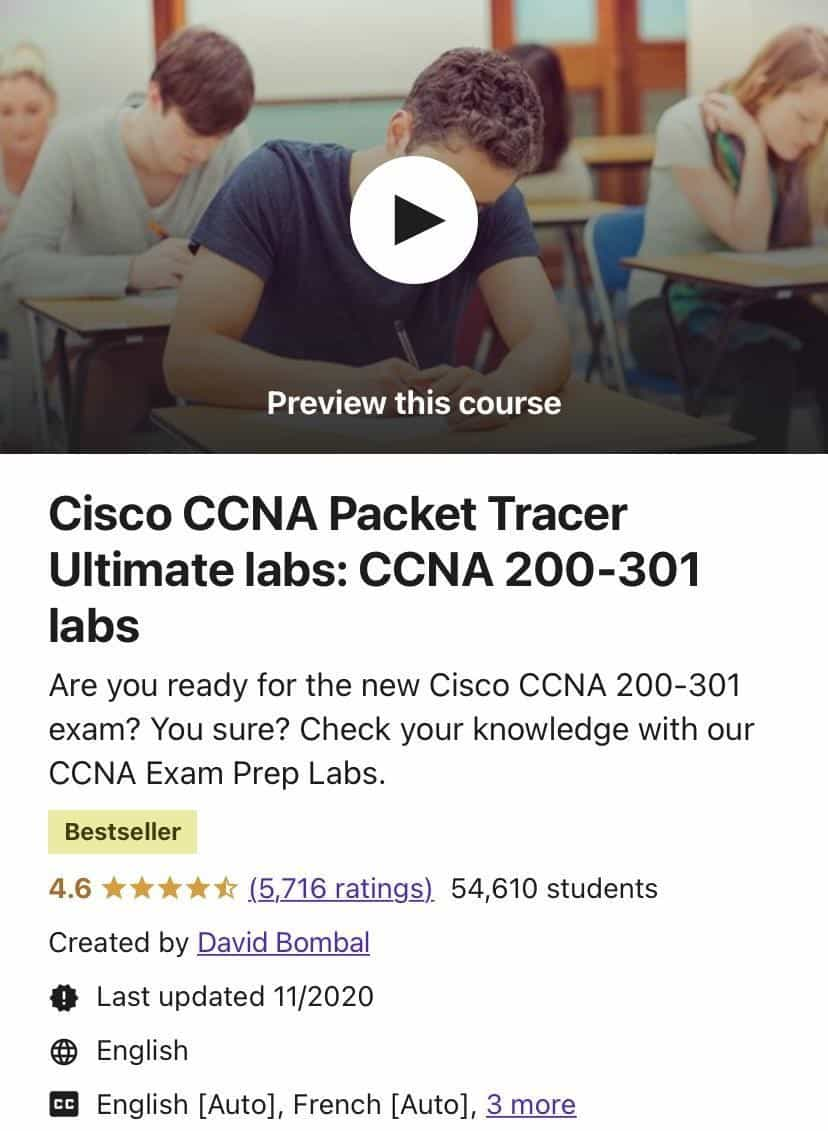 It comprises two courses preparing a 21 hour on demand video, 1 article, 137 downloadable resources, and lifetime access to one of the best tutors on the platform.
In 58 sections and 193 lectures, you will learn ethical hacking, network communication models basic Cisco configuration, collision domains, VTP troubleshooting port security, etc.
Conclusion
In conclusion, the popular CCNA courses on Udemy, particularly the CCNA 2020 200-125 Video Boot Camp, present a strong value proposition for anyone seeking to ace their CCNA exams.
They deliver high-quality content as evidenced by the impressive reviews and testimonials from past students, demonstrating a substantial student satisfaction rate.
Moreover, the competitive edge of this platform lies in its capacity to transform career trajectories in the IT sector, particularly for those aiming for Cisco certification.
It's worth noting that the CCNA exam, though challenging, becomes more manageable through these comprehensive and well-structured courses.
As such, Udemy emerges as a viable and effective learning platform for IT professionals seeking to enhance their own software development skills, and pass the CCNA exams.
FAQs
Which CCNA certification is best?
This list the best Cisco certification. CCCNA – Routing and Switching. CCNP – Routing & Switching. CCN / Sécur. CCDA – Cisco Certified architect. CCENT – Certified Entry Network Engineer.
Which CCNA certification is best for beginners?
Top Cisco CNA Online Training Course for Beginners 2023. Cisco CCNA 200-309 – Guide to Accreditation. … Network basic courses. … Introduction to Networks at Cisco CCNAS…. CCNA Lab – 7 days before exam.