If you think the CCNA exams are challenging, you might be right. The Cisco Certified Network Associate (CCNA) test was designed to help professionals gauge their skills and expertise regarding networking concepts. Every career-oriented IT specialist will find this certification worthwhile as it can help open doors of opportunities based on perceived skill and knowledge.
Since the examination is so tasking, so many people fidget and try to find tutors or courses that can help them pass in their first sitting. Without mincing words, some of the best CCNA courses can be found on Udemy, with hours of learning materials and a personalized study pace. Looking for the best online learning platform? Compare Udemy vs Edureka and discover why millions of students worldwide choose Udemy for their upskilling needs.
Udemy has carved a path for personal and professional advancements through virtual training and programs in this digital era. Millions of people have taken courses on this site and aced their prospective exams, as you will see from the glowing online testimonials. To learn more about Udemy, you can go through our page for a dedicated Udemy.com review on this.
For the main purpose of this review, however, I would be making a thorough analysis of the best CCNA courses on Udemy and how they would fit your learning needs. Let's get into it:
CCNA 2020 200-125 Video Boot Camp
This is a video boot camp that costs $11 and is spearheaded by Chris Bryant, a tutor helping network technicians pass their exams since 2005.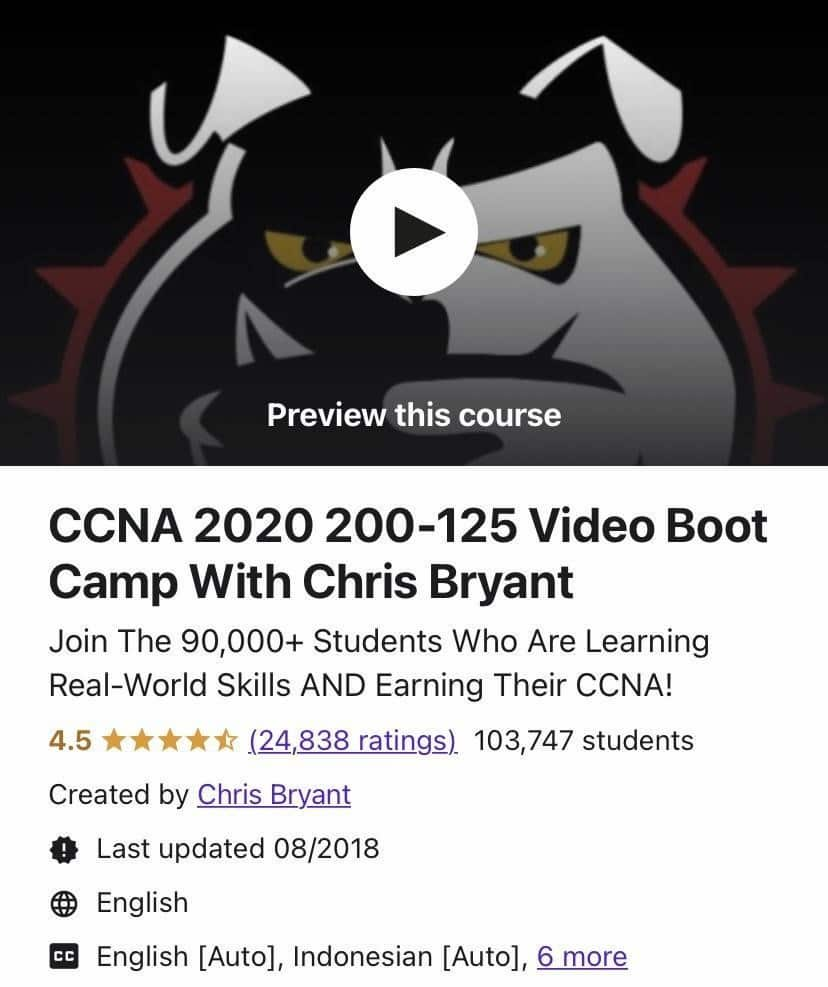 This course has over 103,000 students and over 24,000 people rated 4.5. In this program, I got 62.5 hours of on-demand video, which is great, especially for people who need total reorientation on the subject. This gives ample time to learn and relearn each concept as it comes.
Chris Bryant has also provided three downloadable resources available for offline study. With $11, lifetime access and a certificate of completion are guaranteed.
The tutor is not called the Computer Certification Bulldog for nothing. His materials include simple teaching methods that I found particularly useful, especially for someone who is just starting. In a total of 467 lectures, Chris would take us from the fundamentals of the Ethernet, cabling, hubs, and IP address to the advanced methods of firewalls and security.
Here's are a few sections we can expect from this extensive program: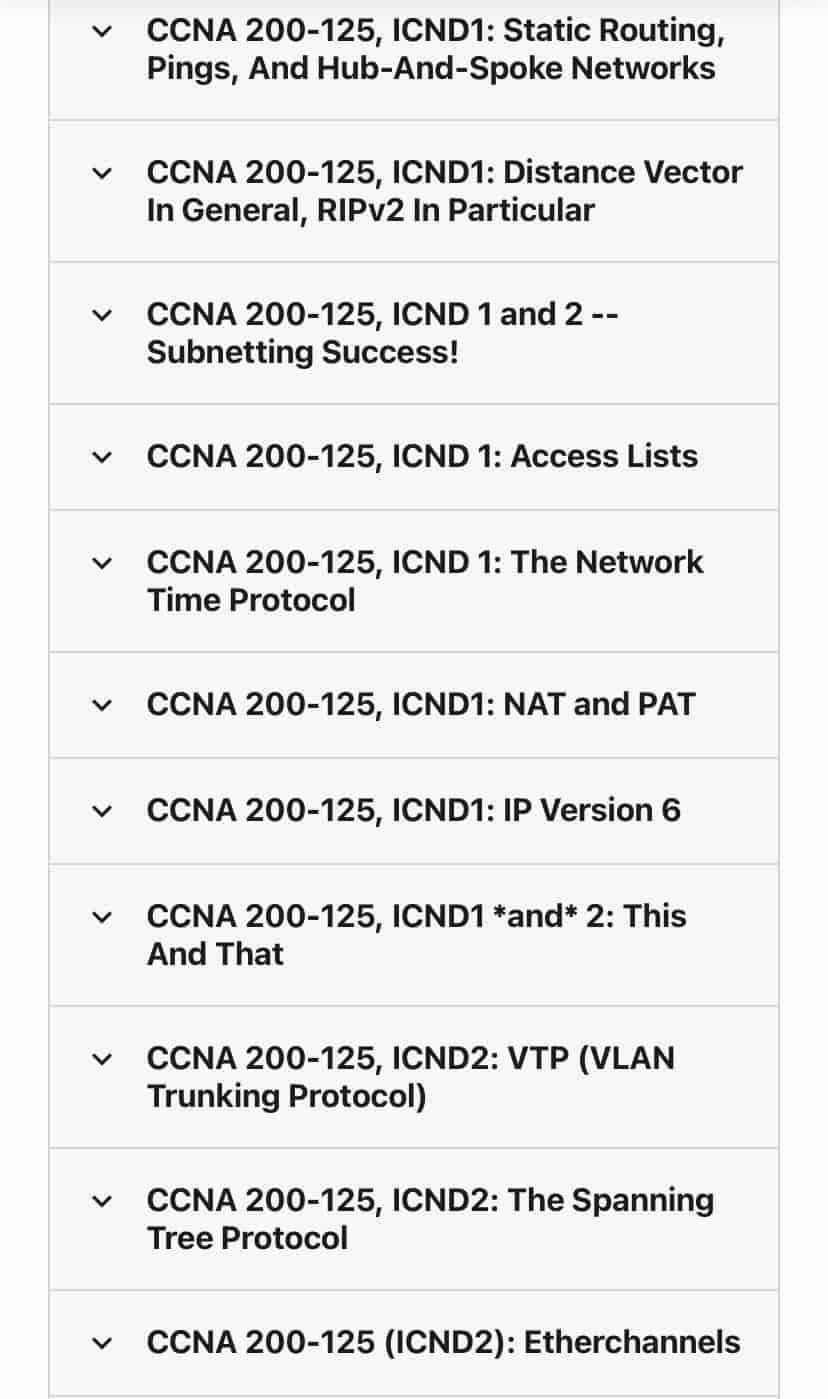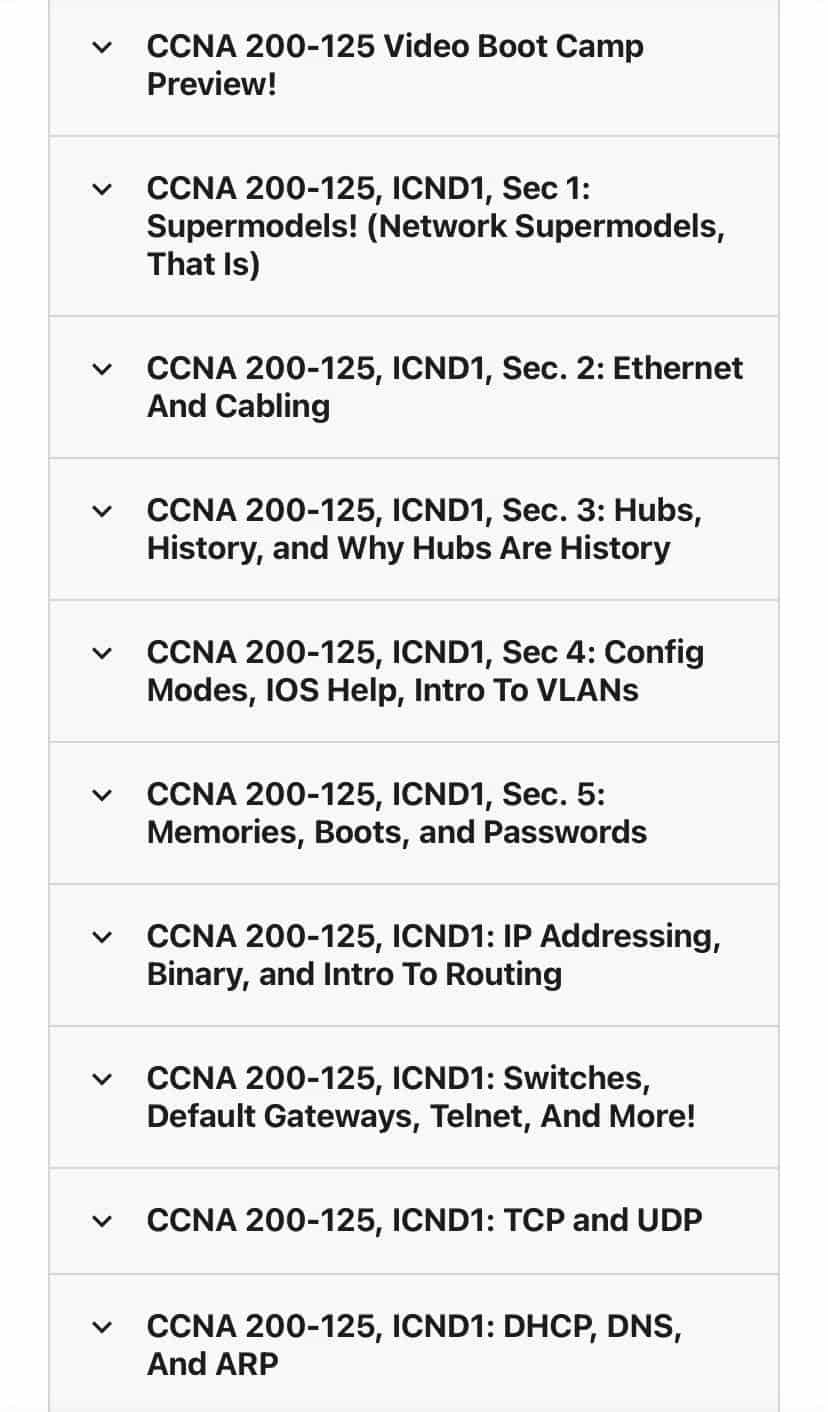 I chose this course at first because all his students had good things to say about this teaching style. For a topic as challenging as this one, you need a tutor who can dissect complex concepts into simpler, more defined meanings.
Here are some of the reviews I got from previous and current students of this course: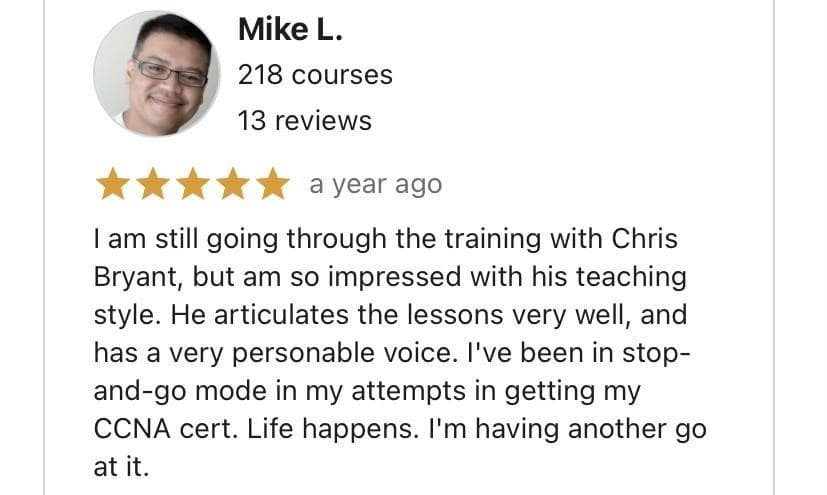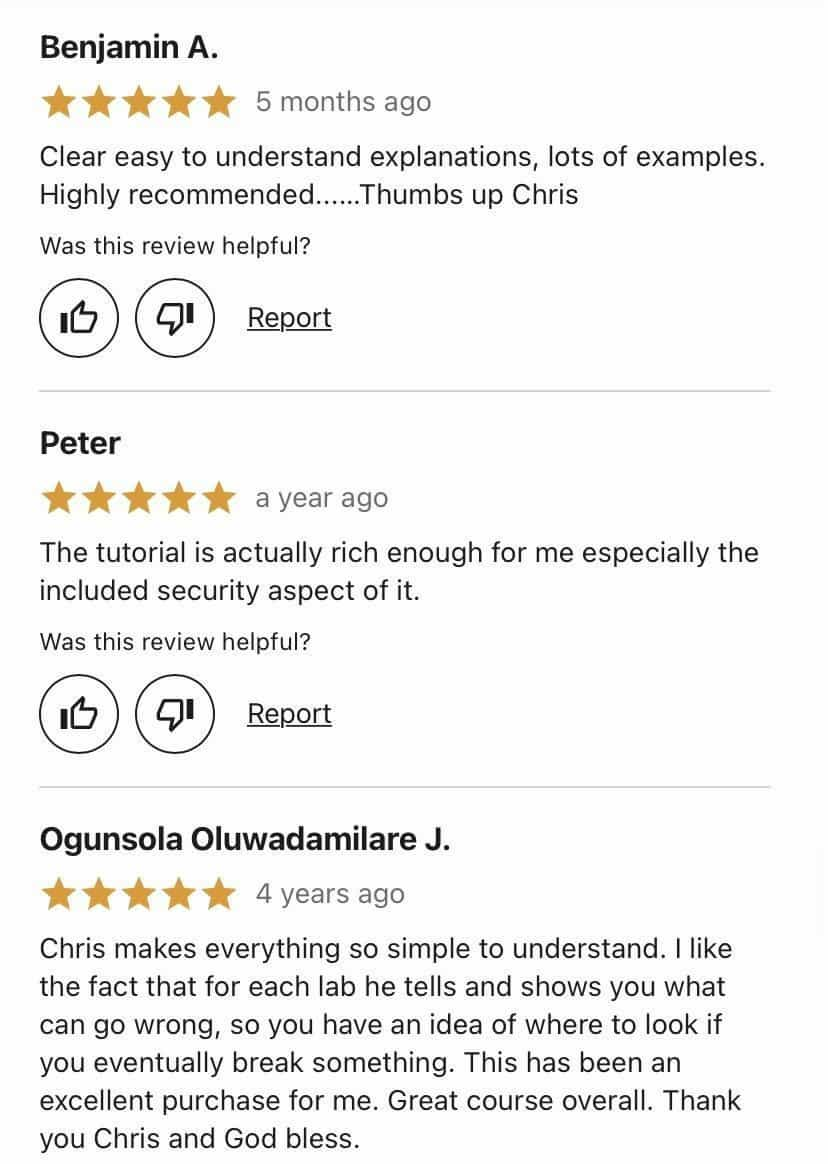 What people like: Many people commended the preciseness and meticulousness of the course; his explanations are also very extensive and easy to understand.
What people dislike: Some topics need in-depth analysis.
Cisco CCNA 200-301 – The Complete Guide to Getting Certified
This is easily the best-rated cisco course on Udemy, with a 4.8 rating by over 41,000 students. I particularly loved this course because it was created by Neil Anderson, a recipient of the platform's Top Responder tag.
There are times one might have a few questions about the program and need an urgent response from the tutor. I find it very admirable to get a knowledgeable response within 24 hours, and this is exactly what Neil Anderson does.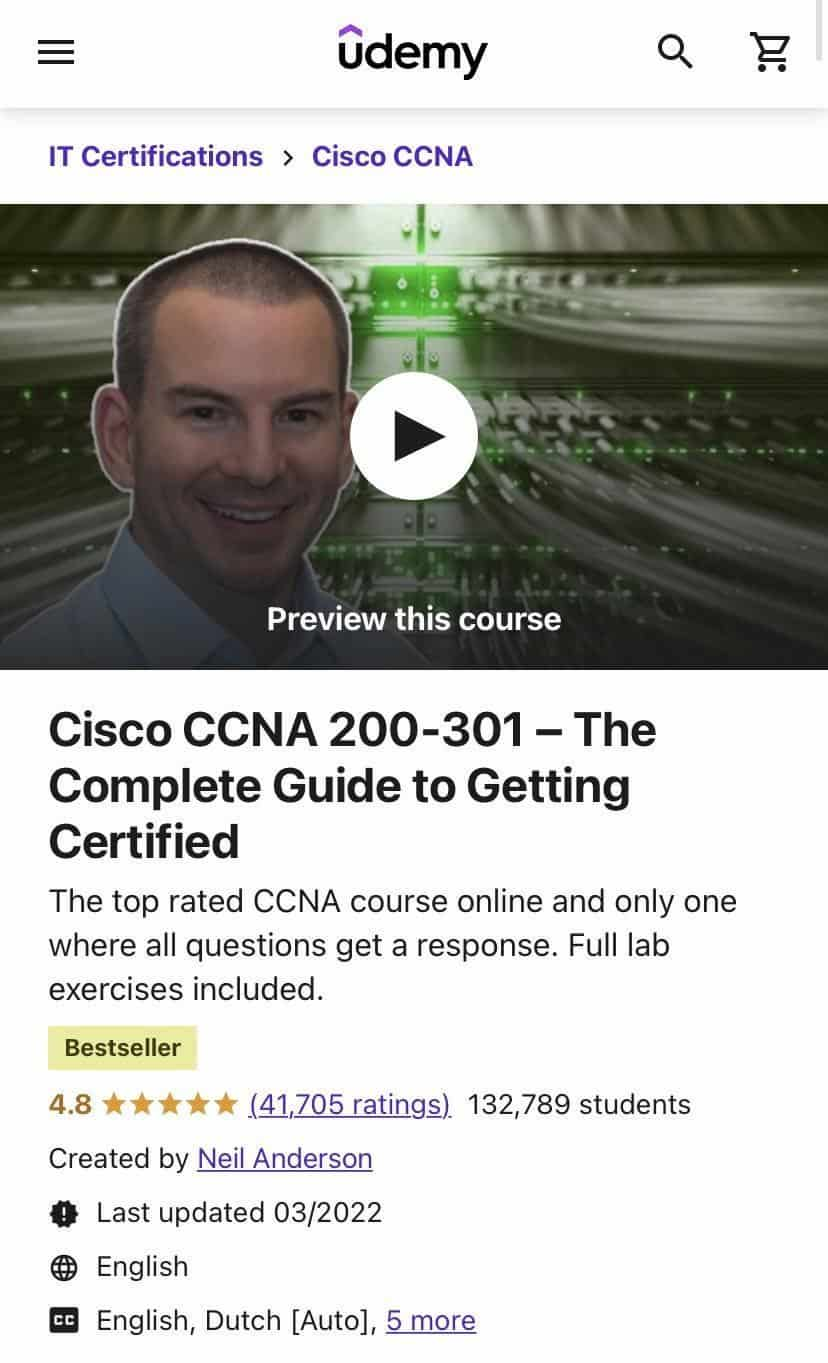 This bestseller course has more than 132,000 students and can be taken in six different languages: English, French, Dutch, German, Indonesian, Portuguese, and Spanish.
For those who want to pass the Cisco CCNA 200-301 exam, this is it. With an on-demand video of 38.5 hours, one will learn routing and switching mechanics, gain configuration and troubleshooting experience to work in the real world, and develop knowledgeable transferable skills that will open doors of opportunities in respective careers.
The net price for the entire study is $11, and I found it a favorable deal because aside from over 38 hours of lecture, I got 31 articles and 220 downloadable resources that could be read offline. Not to even mention lifetime access to one of the top-rated tutors on Udemy. I think this is more than a fair deal.
The class is great for beginners who are looking to kickstart their IT career, and in a total of 311 lectures, here's a sneak peek of what you'd learn: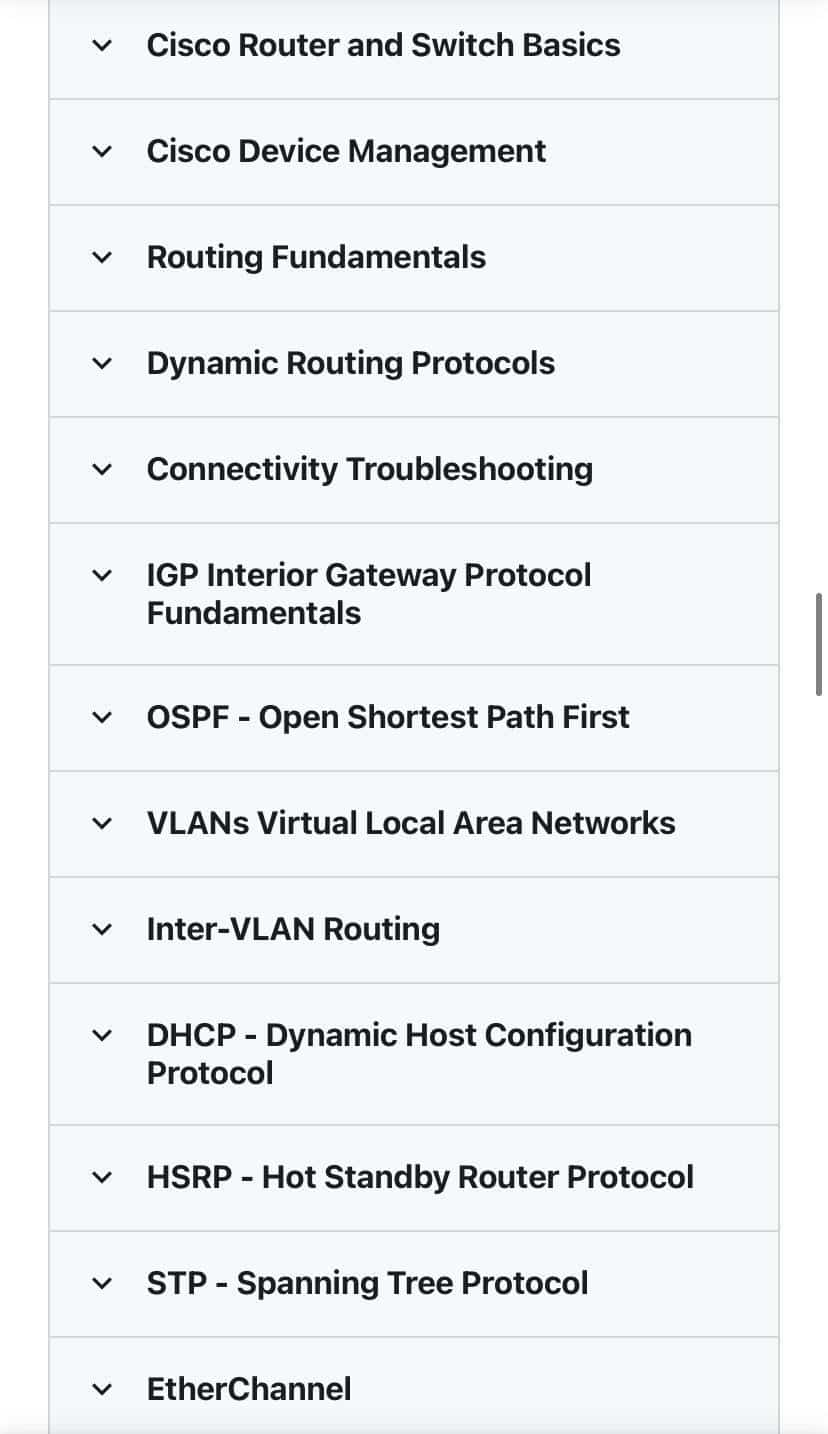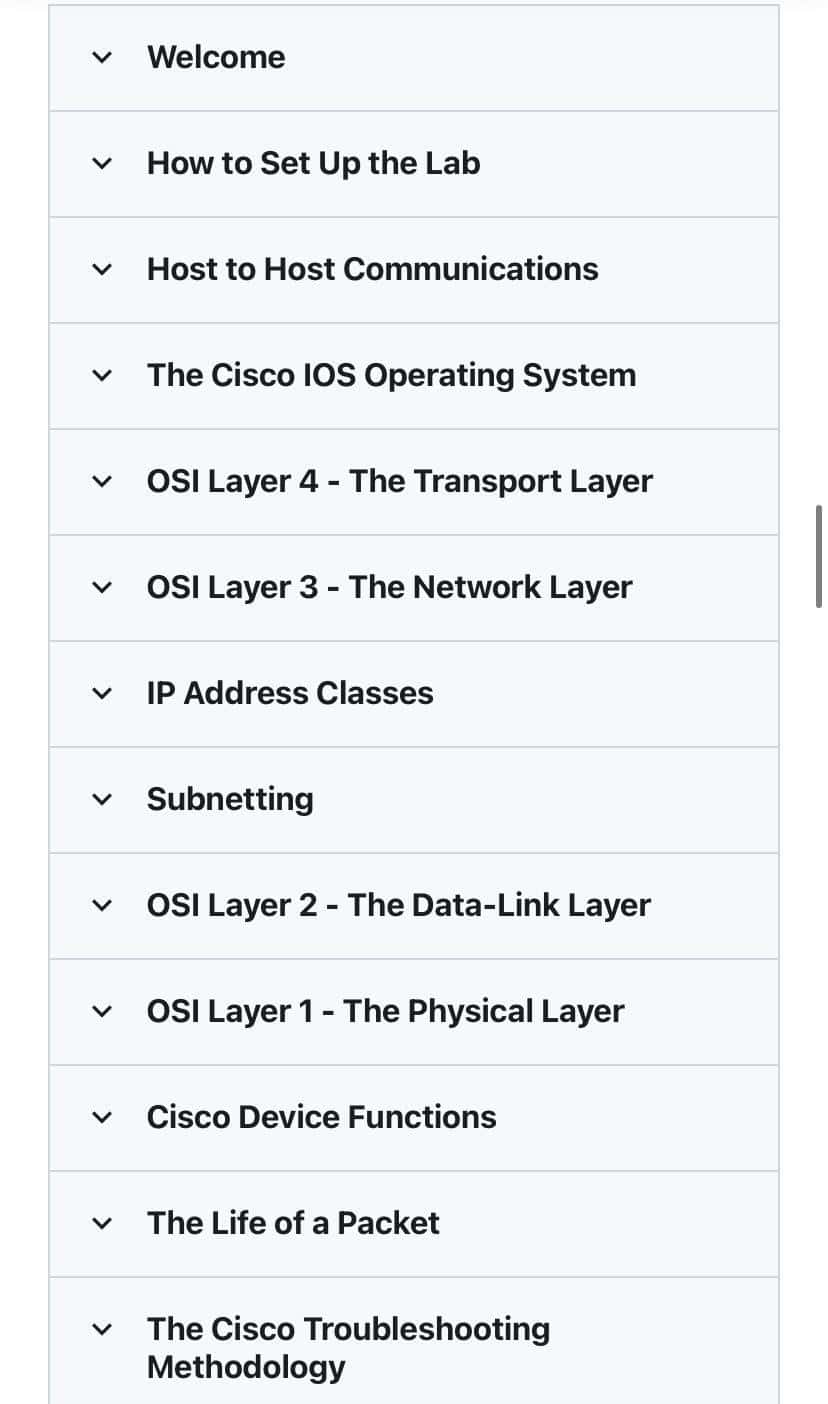 The feedback from this is quite nice and commendable, which is one of the reasons why I tried this out.
Check these out: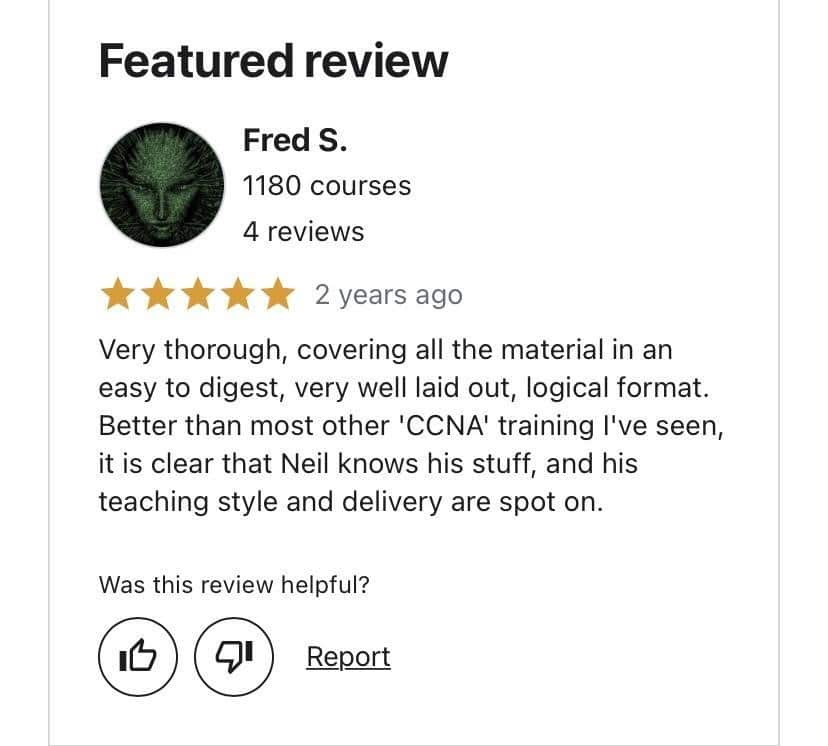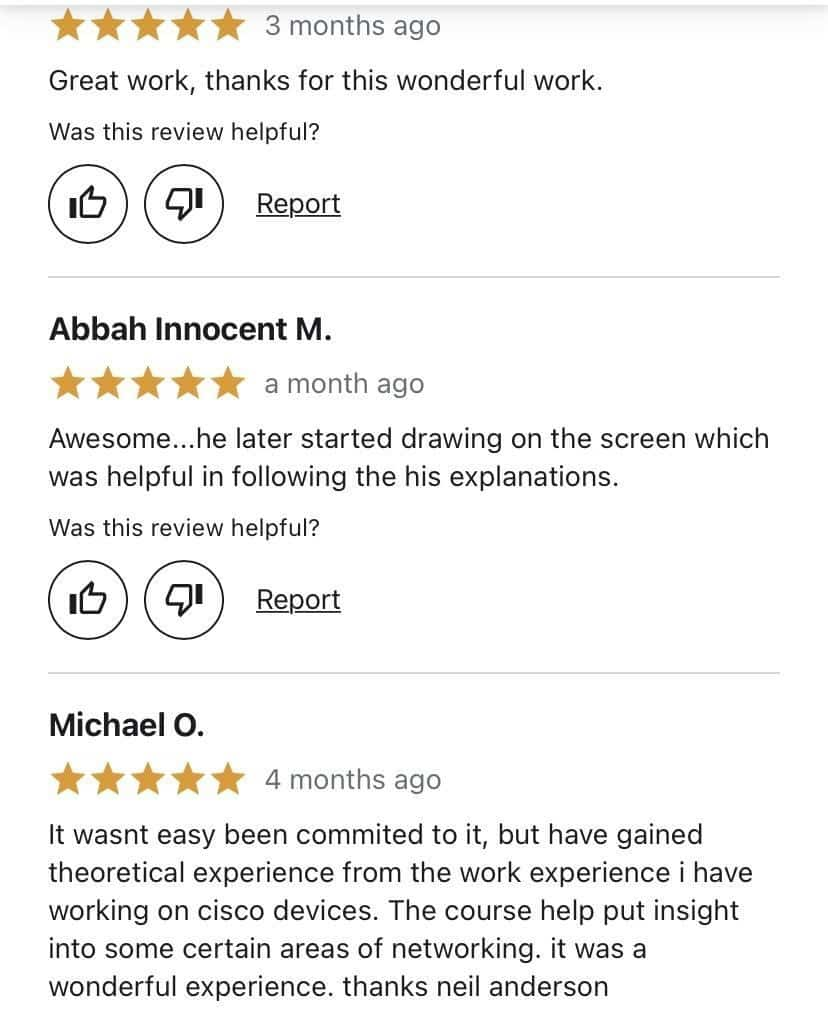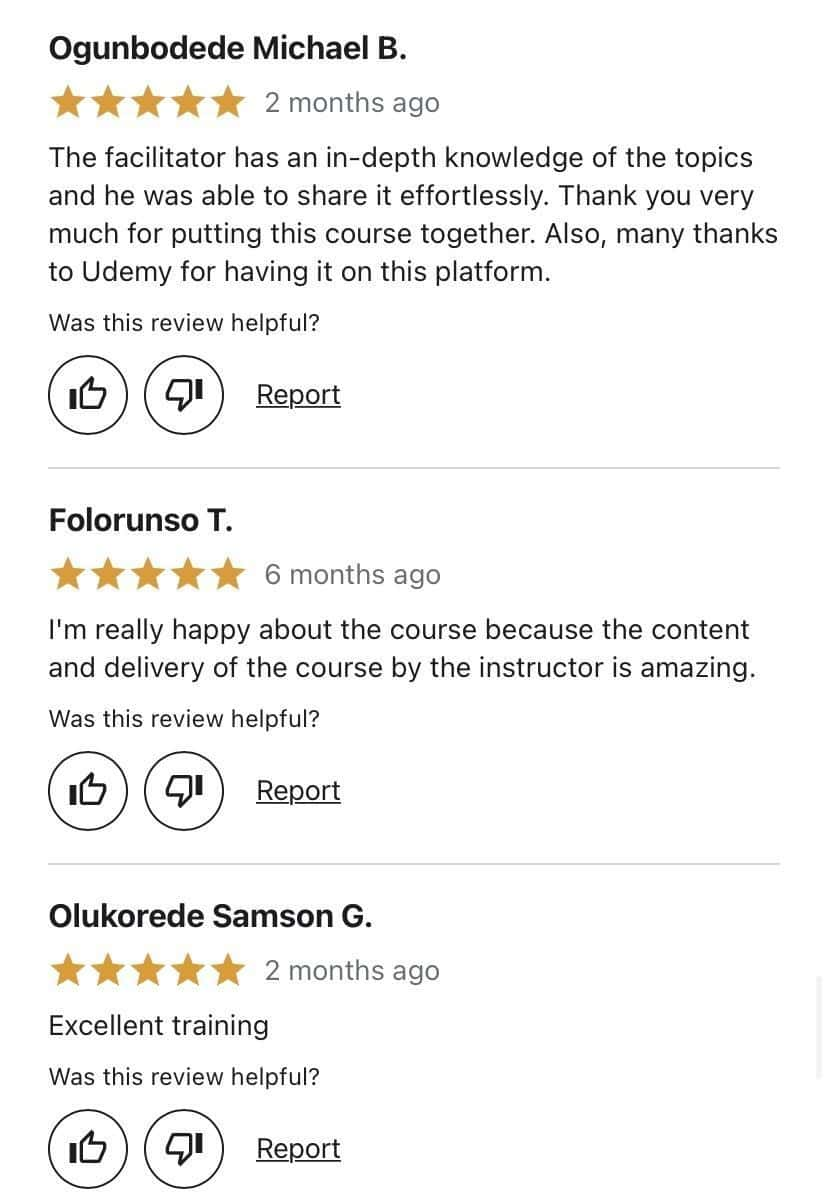 What people like: The tutor's ability to share his knowledge in a simple manner; is great for beginners.
What people dislike: Bulky lessons
The Complete Networking Fundamentals Course. Your CCNA start
For those who want to learn networking and jumpstart their career by getting a CCNA certification, I recommend this bestseller course by David Bombal. It goes for just $11.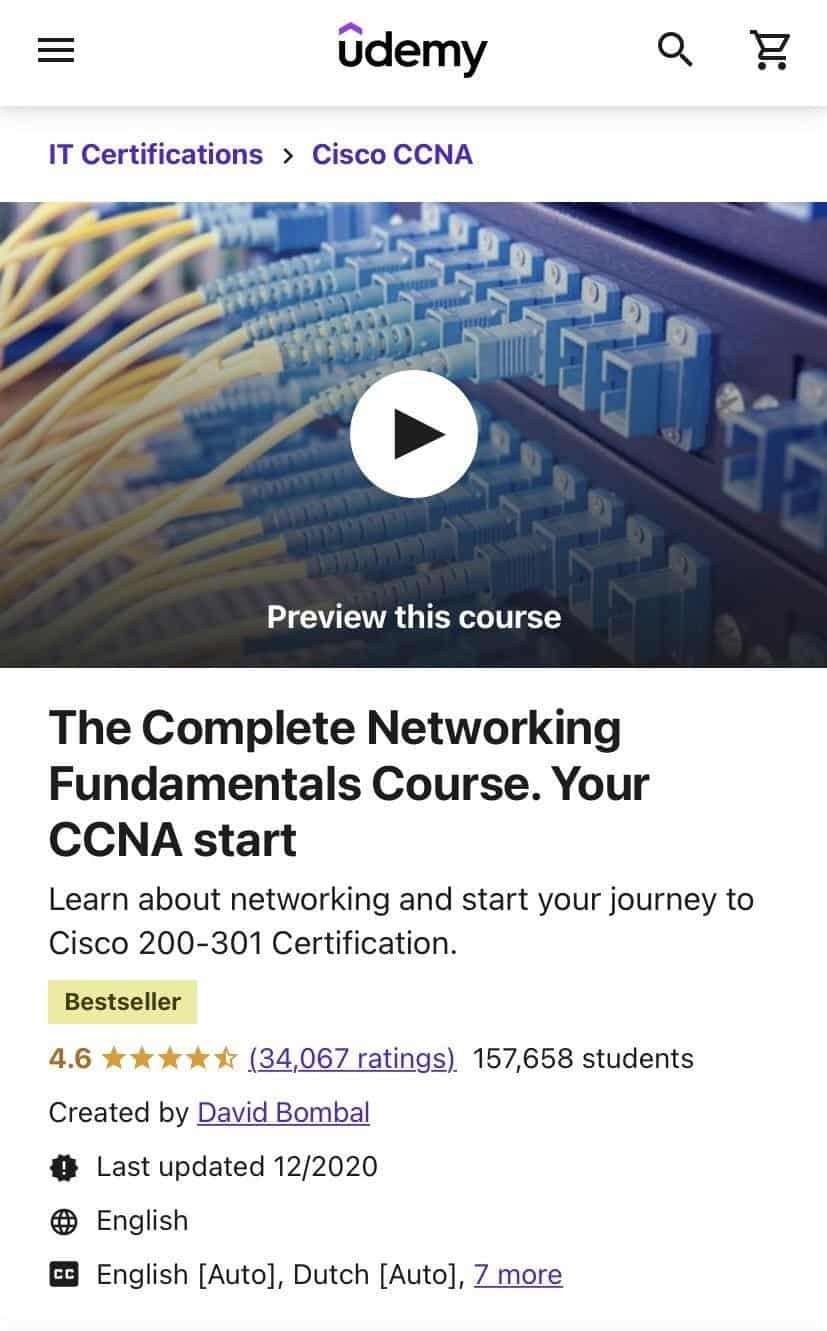 Over 157,000 students are taking this class, and it might interest you to know it has a rating of 4.6 out of 5, which is quite impressive and tells a lot about the teacher and his lessons.
That's not all.
For the duration of this lesson, you will be getting 80-hours of on-demand video, 18 articles, 124 downloadable resources, lifetime access, and a certificate of completion. In all honesty, I think this is enough value for $11.
It is always great to take advantage of access to tutors because, during self-study sessions, one can encounter problem areas that only the tutor can explain.
The content is divided into 143 sections to be taken in 685 different lectures. I should probably mention that it is not for IT beginners as one would need prior knowledge of certain software and networking terms to be able to cope with the course. To better prepare your mind, here's what to expect from the syllabus: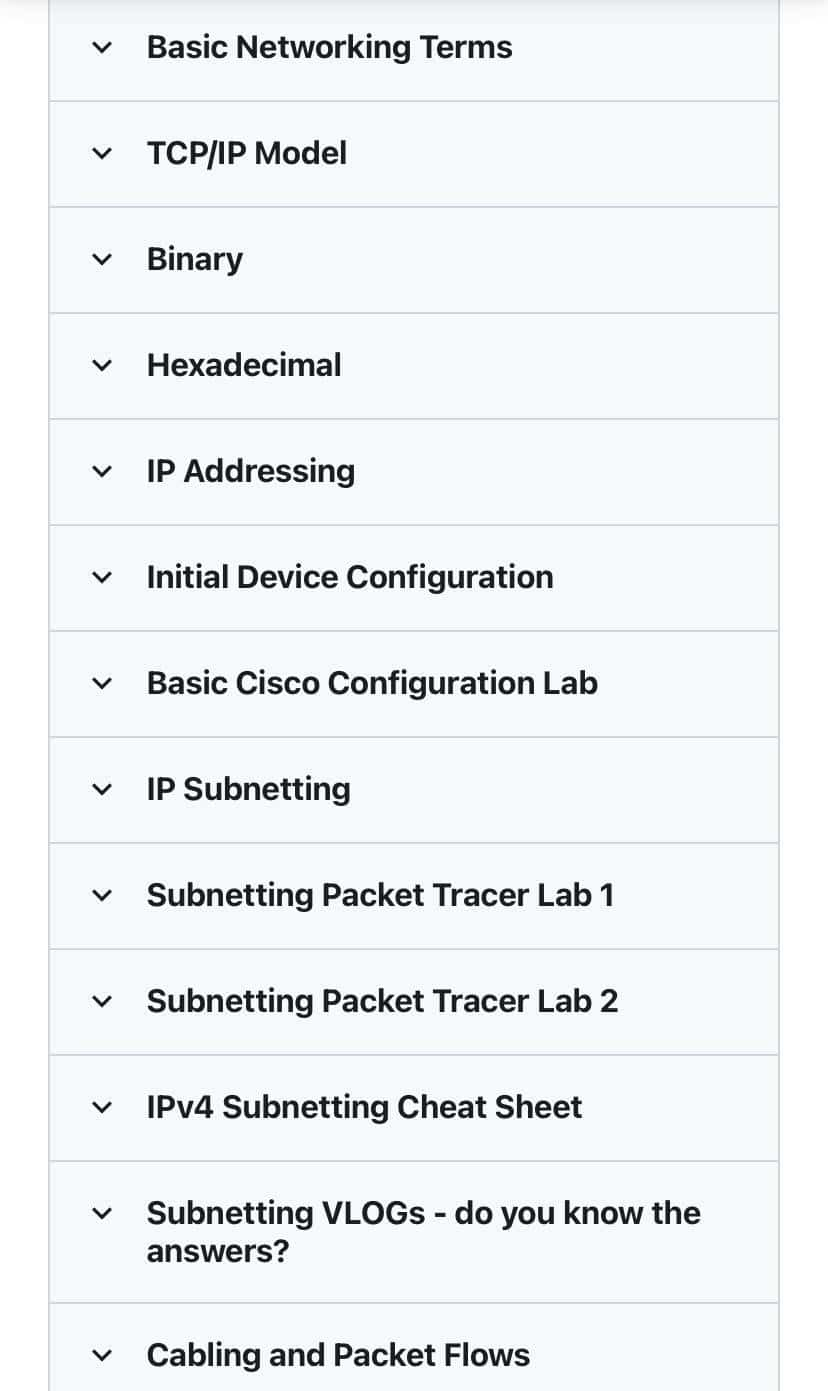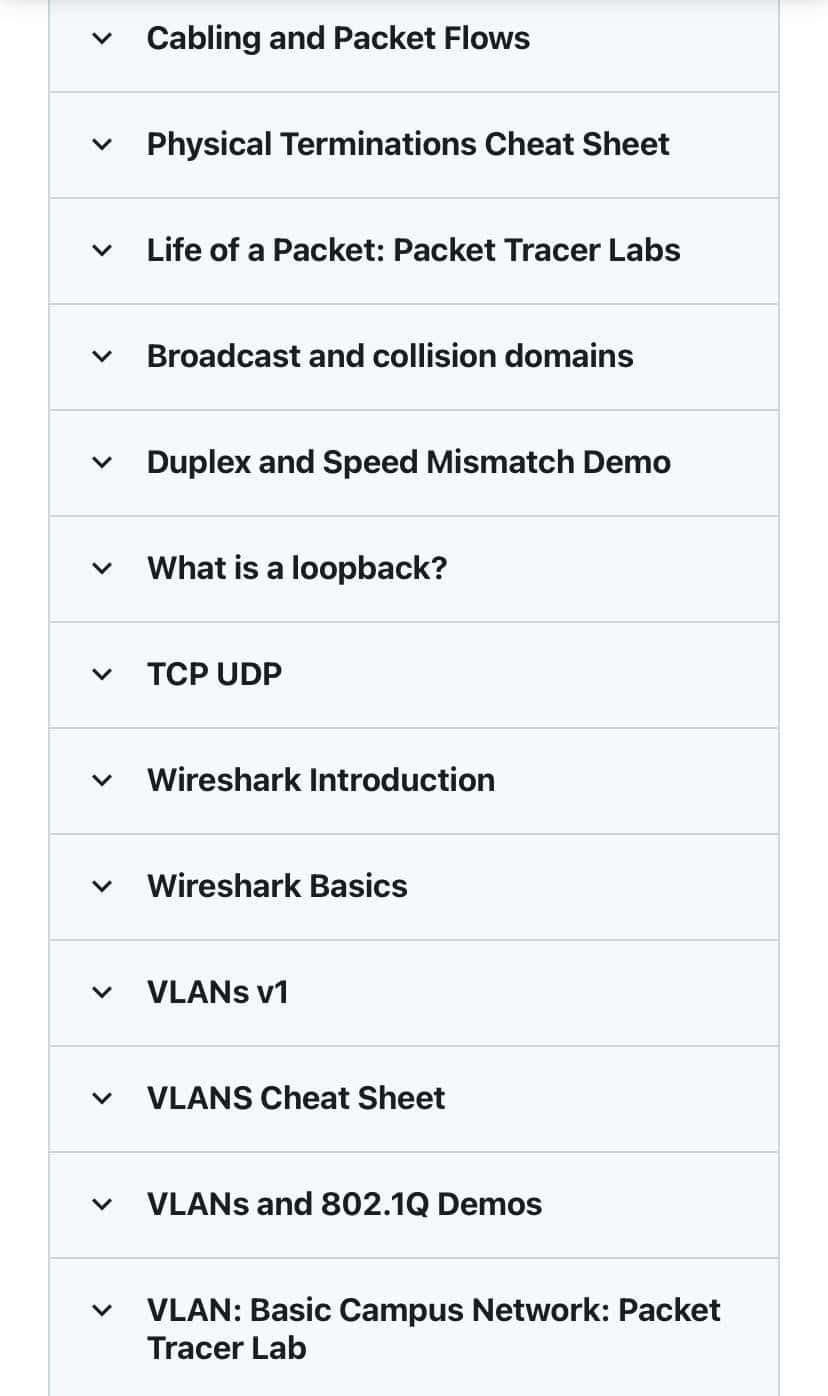 I love that there are no special requirements to join this course. In fact, from other Udemy cisco training reviews, you will realize that this is one of the best choices one can make for your certification. Here are some people's assessments: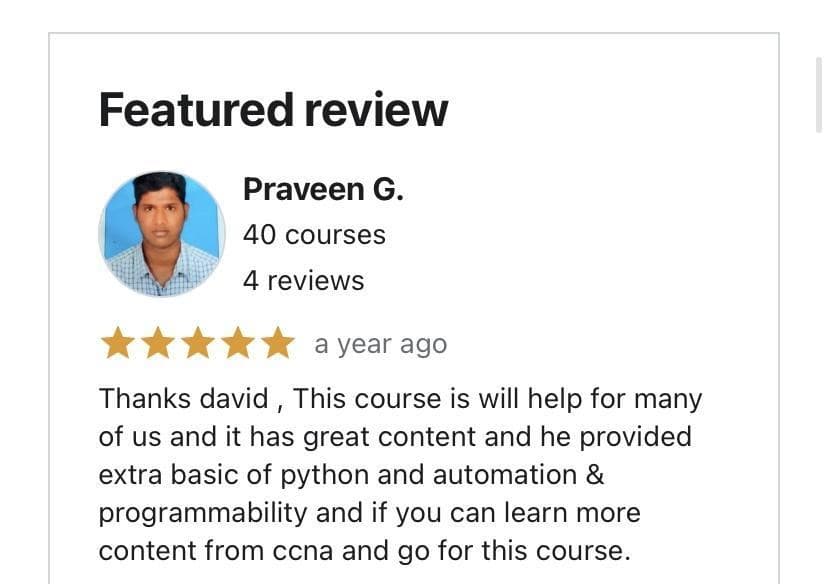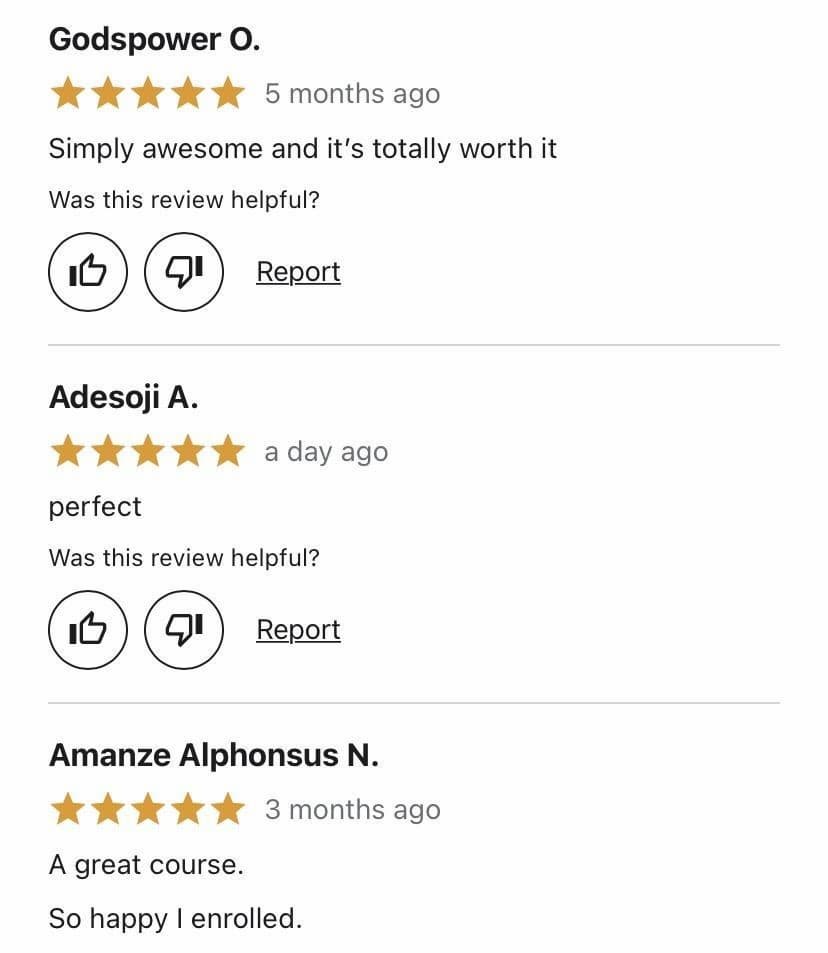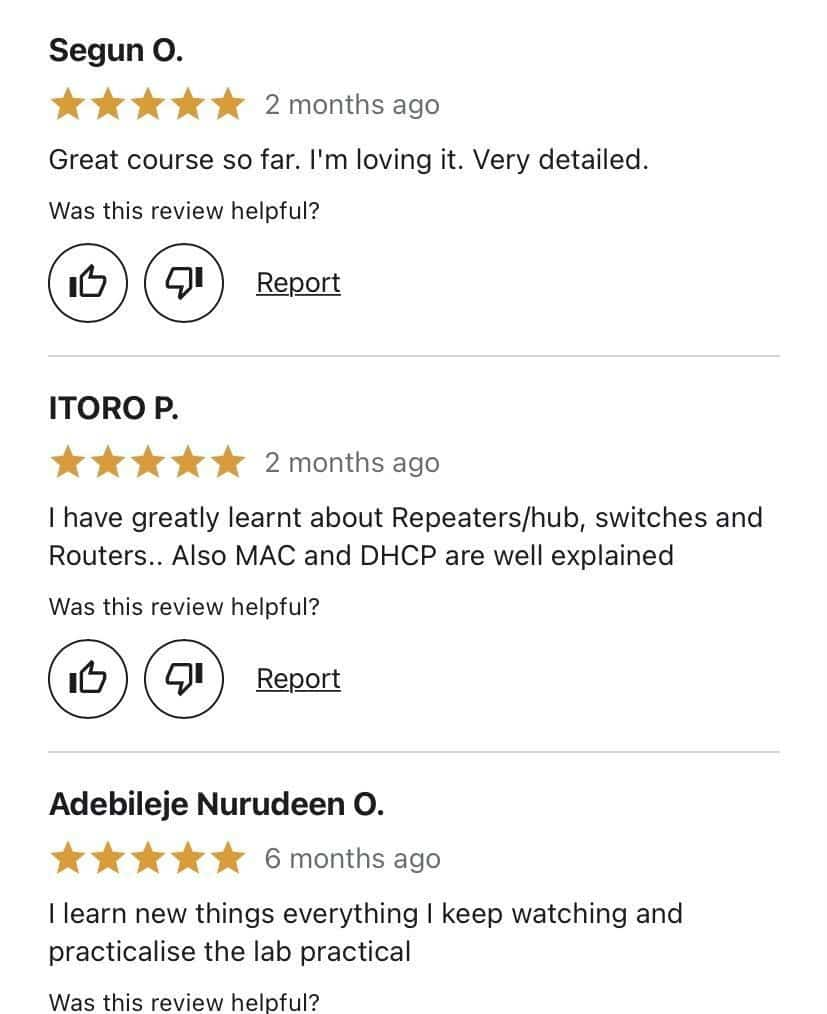 What people like: Students loved his articulation and how easily he breaks down concepts.
What people dislike: Not suitable for beginners.
Chris Bryant's CCNA Practice Exam Pack #2 (ICND2 Topics)
This is another best Udemy CCNA course by Chris Bryant. It is more like a practice pack, and it contains tips, questions, and articles that would help one prepare adequately for the exam.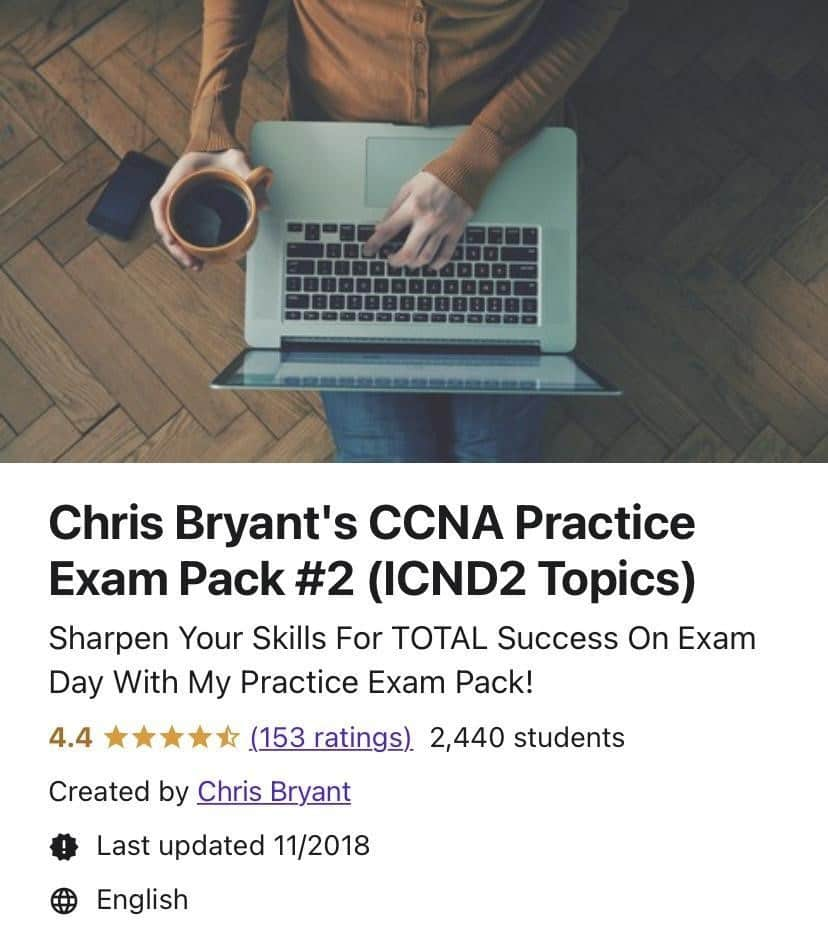 Most importantly, I included this class because it is necessary for students to take practice tests before sitting for an exam.
It would help them get a feel of what the real sitting will look like and possibly kill off any anxiety or panic ahead of time. Especially in an exam that has a time constraint.
During my assessment, I found out this pack contains 4 practice tests and 241 questions, which is great for $11. Also, to support the learning process, Chris Bryant has included thorough explanations and backings for every right answer. For more clarification, I have listed some topics that the test covers:
Troubleshooting and configuration of OSPF
Selecting routes
Troubleshooting and configuration of EIGRP
Operation of the CISCO switch
CCNAX routing, etc.
Although this is not a beginner's course, it is a great resource. From these reviews, it is apparent that other users think so too.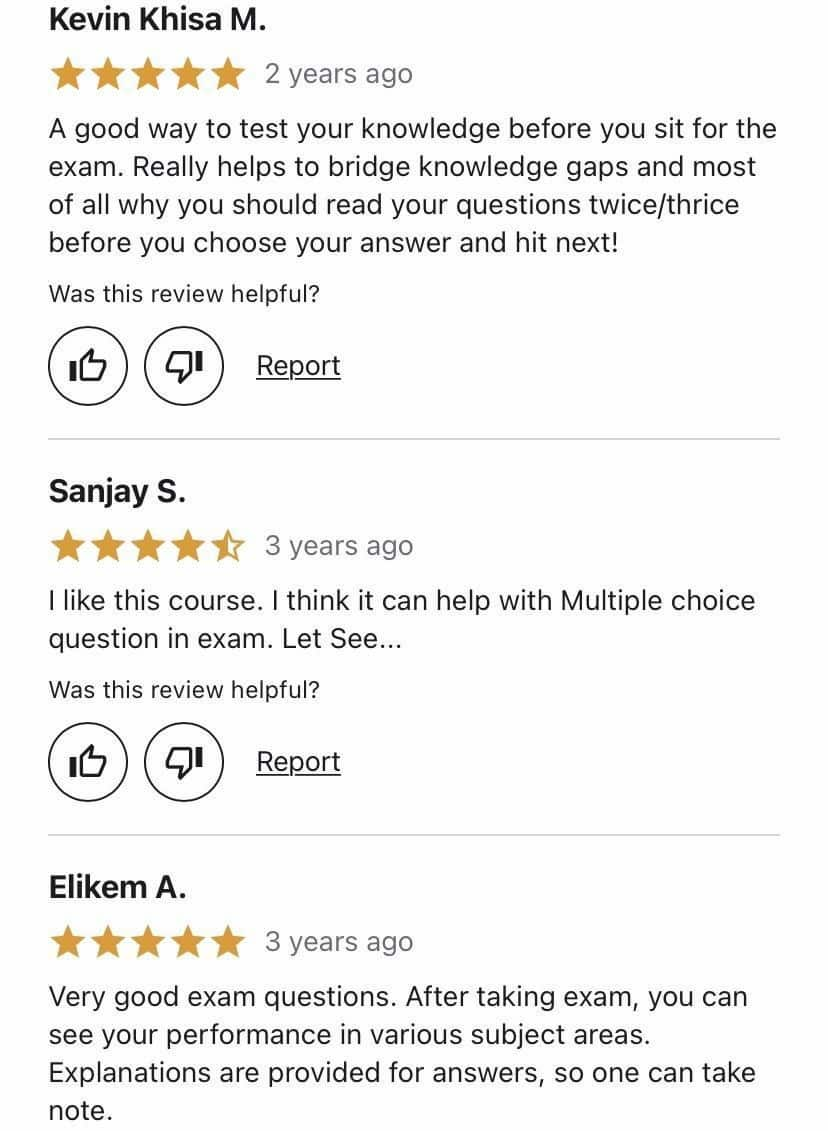 What people like: Helpful resources for exam practice.
What people dislike; It hasn't been proofread by the tutor.
CCNA 200-301 Pre-Exam Practice Tests
At one point, when studying for exams like this, I recommend that students take mock exams to help them refocus and target problem areas right before the day comes, especially for those who get a little anxious or panicky in exam settings.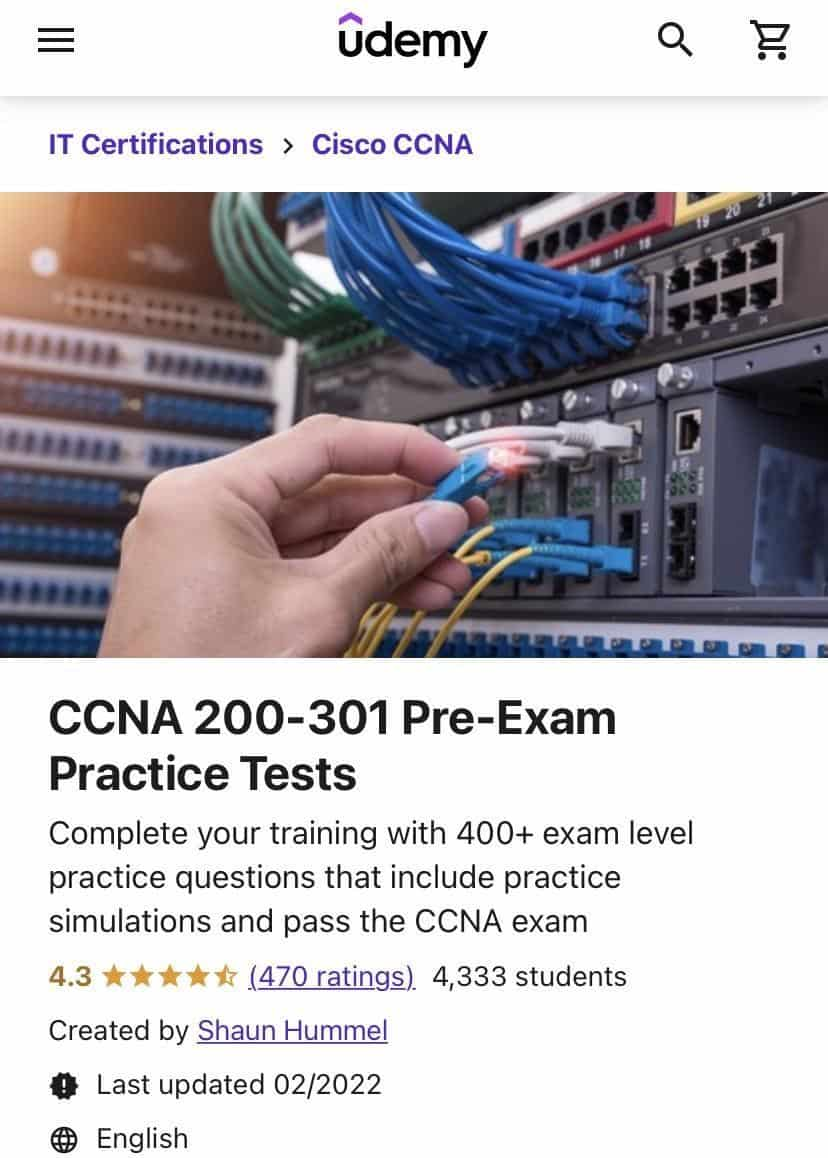 This course is taken by Shaun Hummel and has a rating of 4.3 on the platform, with over 4000+ students. The entire study pack goes for $11, and I guarantee you will get your money's worth with six practice tests and practical labs.
Shaun also included over 500 flashcards for the visual learner, which is great in helping one memorize simple definitions and even complex ones. The mock exam will also be done according to time since the real one is very time-limited.
I liked the test review feedback that Shaun gives after every mock sitting. It is a thorough analysis that dissects every answer you choose. This would greatly help find target areas and deal with them before the due date for the real examination. Here's what you stand to learn:
Network access
IP connectivity
Automation
Subnetting
Wireless concepts, etc
Here are some comments made by students of this course:

What people like: The entire resources were well constructed
What people dislike: There were typographical errors in the pack
CCNA Cyber Ops Tools: Sec Onion, Wireshark, and Kali Linux
This is easily the best CCNA course on Udemy. Currently, 783 students are taking this course, and it has a rating of 4.9. It was created by Bassam Alkaff, a CISCO tutor of 15 years and counting. He specializes in networking and information security and holds several certifications.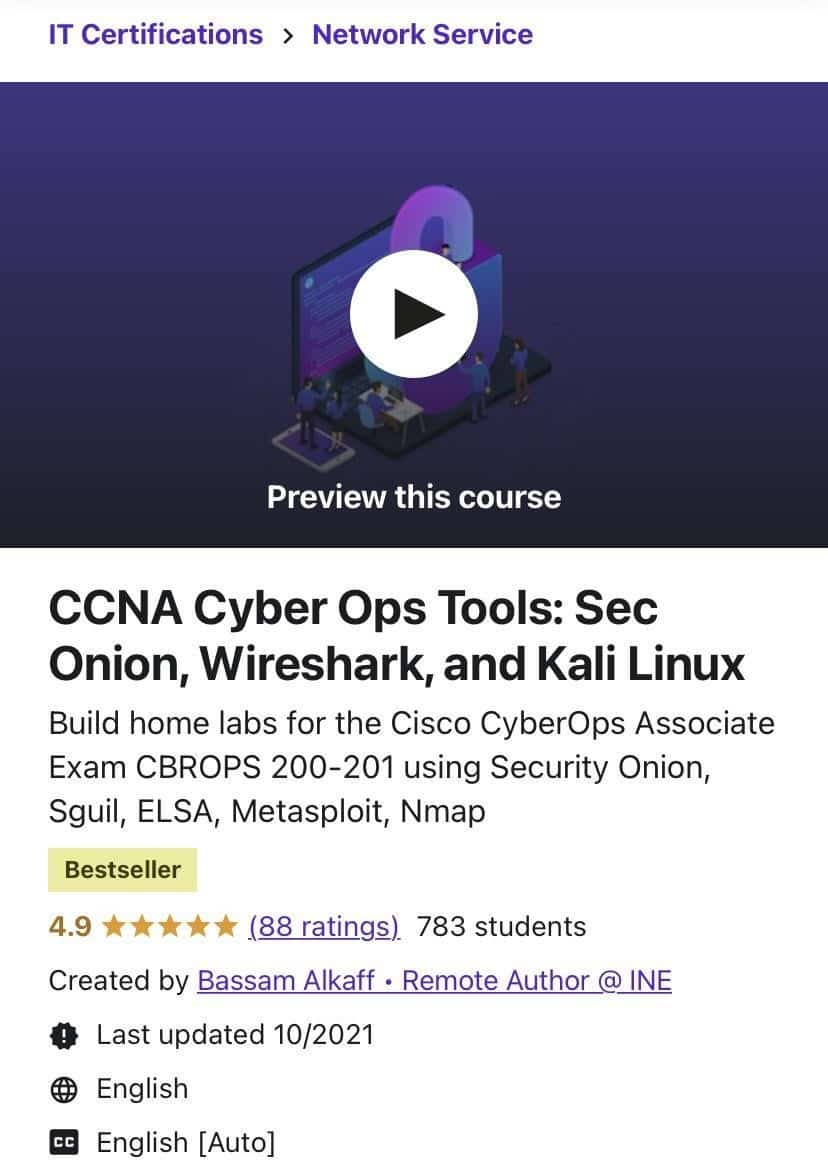 At $14, it is a little more expensive than the previous courses we have mentioned, but I guarantee that you'll get your money's worth. With 4 hours of on-demand video, Bassam Alkaff will take you through:
Wireshark
Nmap
Virtualbox
Artificial intelligence
GNS3
Metasploit
Security onion, etc.
One would also get two articles and a practice test before the course is over. One thing I found very endearing with this class is how it touches directly on essential topics without beating around the bush.
The tutor goes straight to the point and addresses the main problem areas, especially topics students tend to fail during exams. There is also a balance between theory and practice, with the tutor making sure he doesn't lose any of the students along the way.
Students should always try to do their assignments, as it would help them become more profound in whatever was taught in the classroom. The reviews have been amazing, and here's what a few students had to say about it: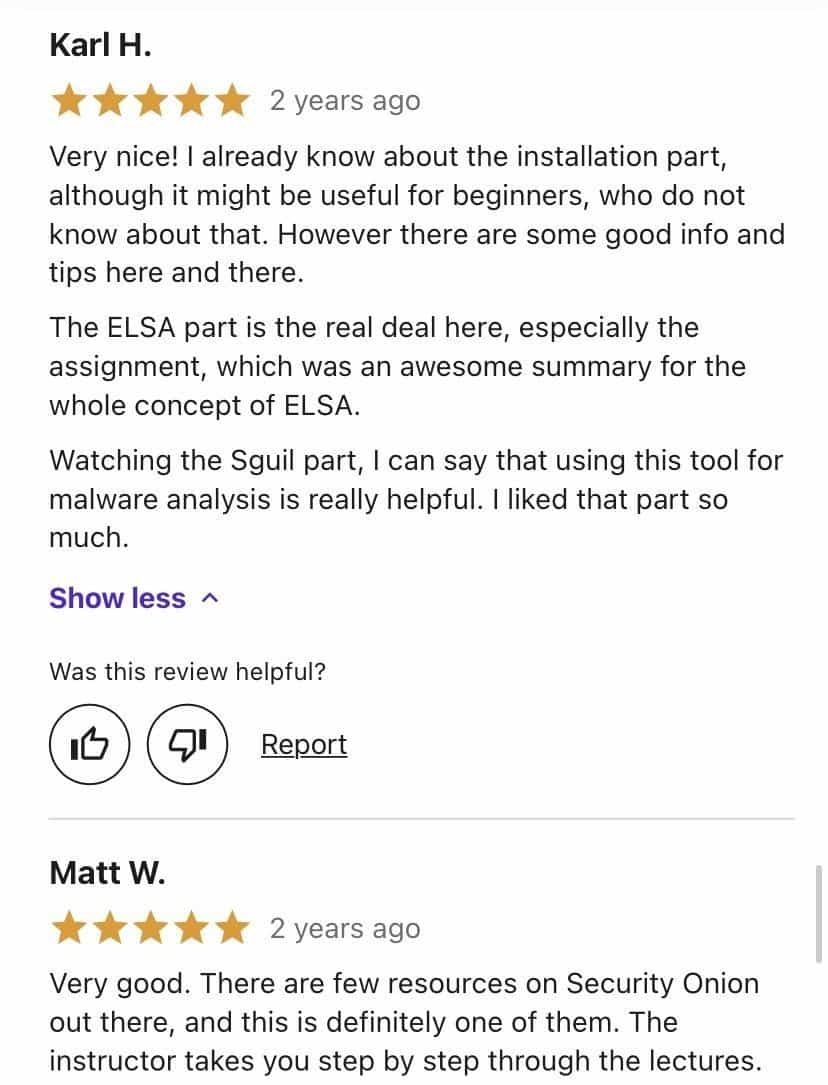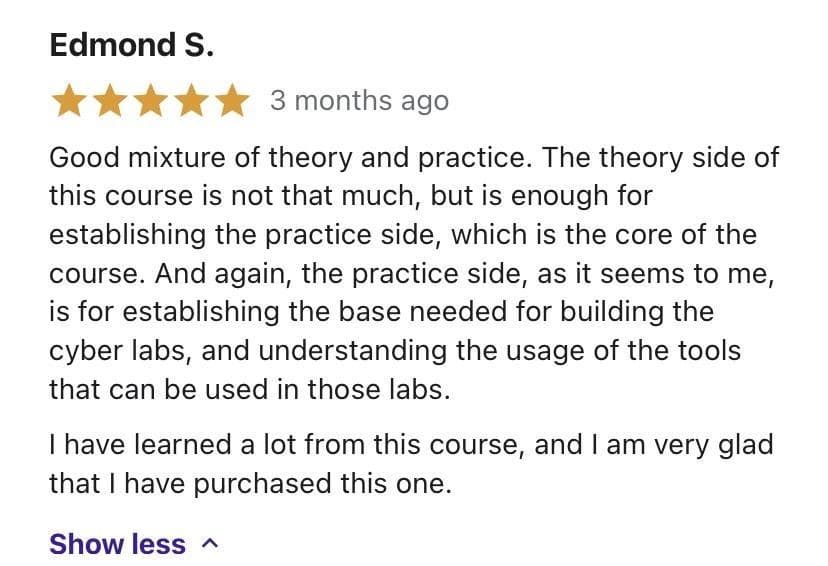 What people like: the step-by-step process by which the tutor explains difficult concepts
What people dislike: The tutor's accent might be hard to understand for some people.
Cisco CCNA 200-301 Exam: Complete Course with practical labs
This is another course by David Bombal that combines theory and practicals so effortlessly that one would have no problem learning. Tuition costs $11, and you'd get 79 hours of on-demand video, 16 articles, and 121 downloadable resources.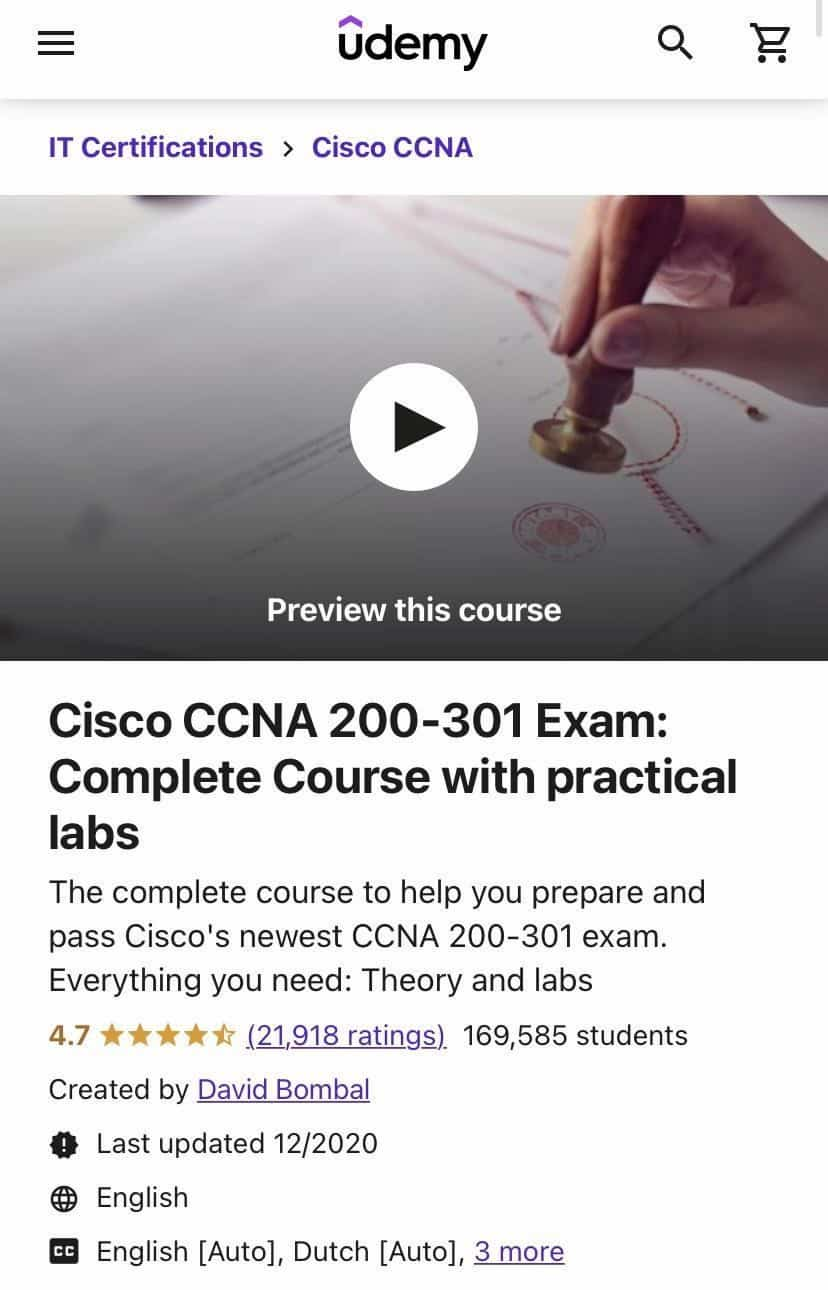 What I found most convenient was that the lessons came in 5 different languages: English, Dutch, French, Italian, Polish.
These are automatic languages, and you won't need to use a translator.
Over 169,000 people take this course, and it has a rating of 4.7 accrued by 21,918 votes. I fully recommend this course to anyone who wants to earn the CISCO CCNA and needs adequate study resources. From personal experience, I can tell that the downloadable resources are a good deal. You can always use them anywhere you find yourself, without connection to the internet.
The main study is divided into 138 sections and 687 lectures. You'll learn:
Wifi technologies, network automation, and security
Cisco routers configuration
IP subnetting, etc
Here's a sneak peek of some important sections: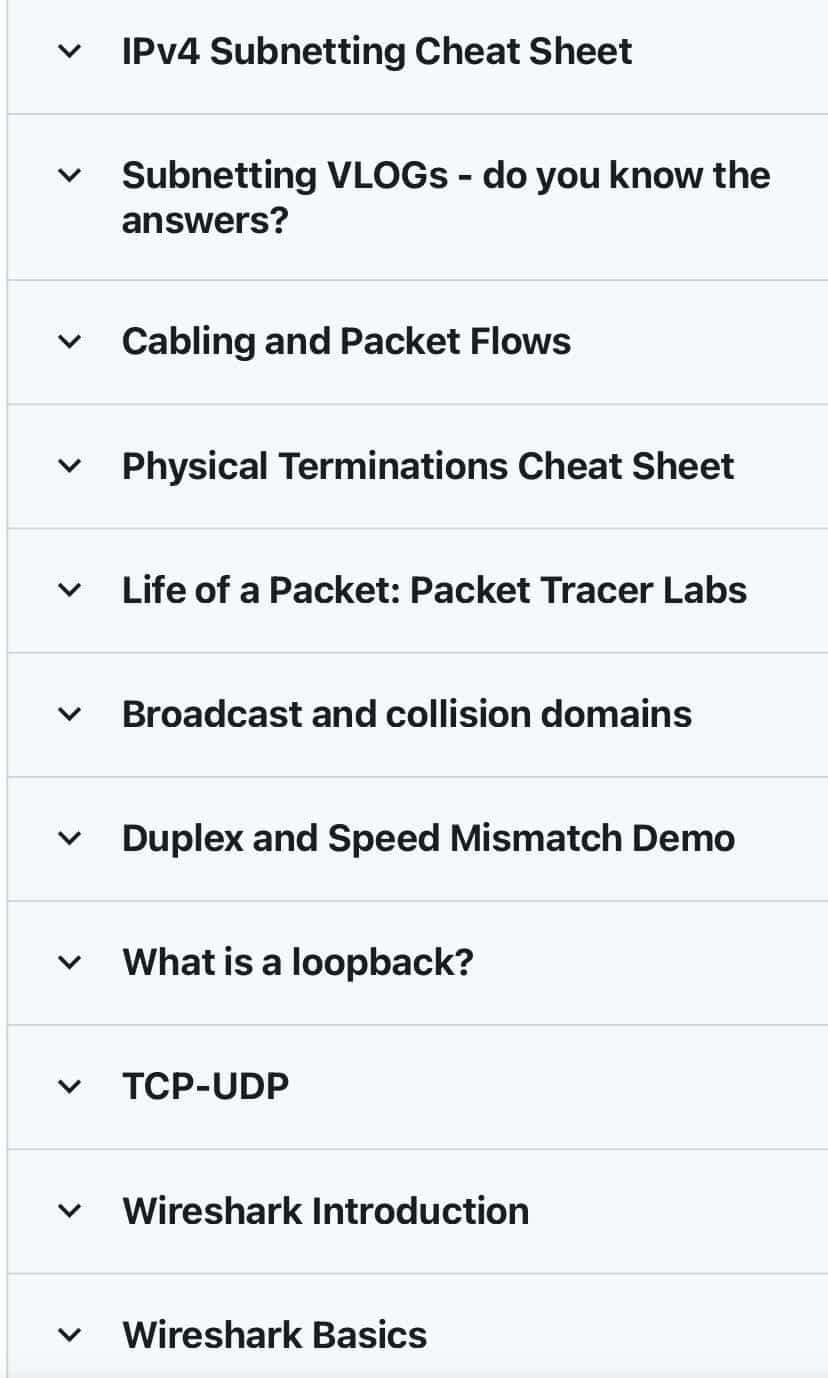 There are so many positive comments by previous and current students of the course. Here are a few: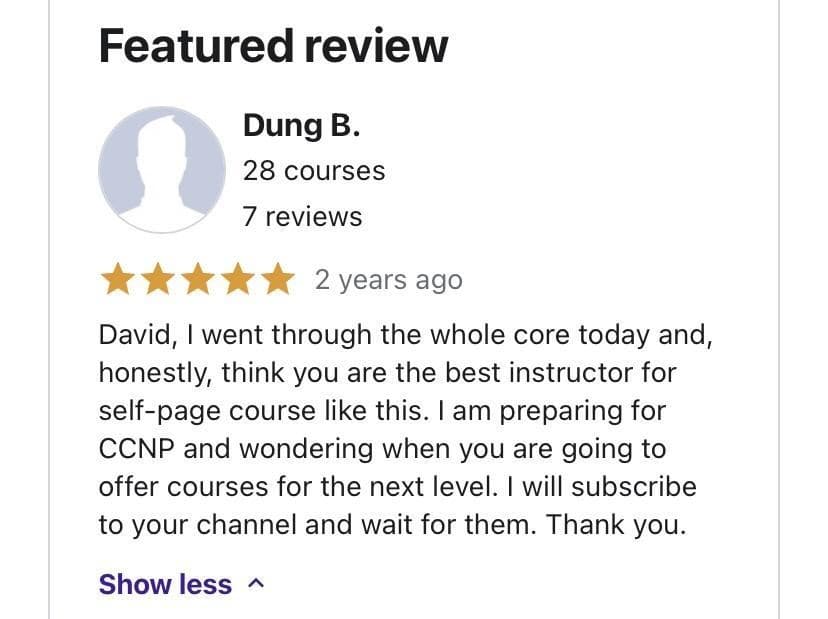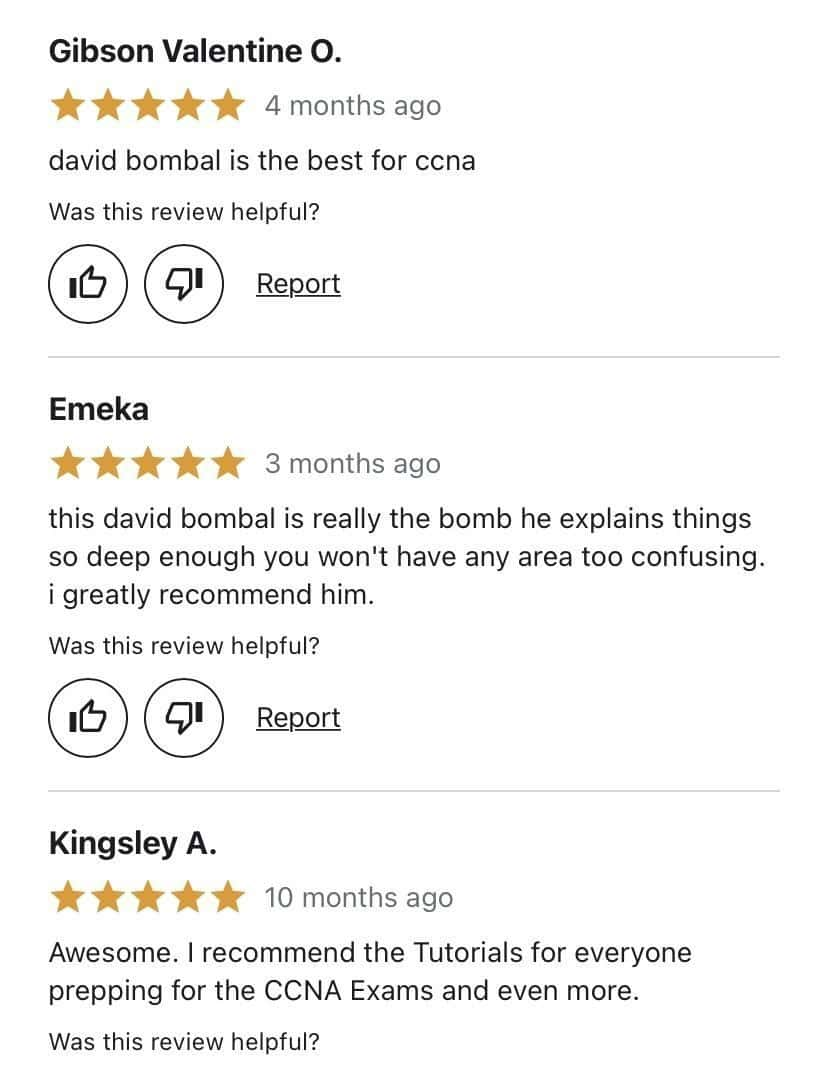 What people like: It is easy and convenient
What people dislike: Not all sessions are downloadable
CCNA 200-301 & Network+Practice Pack: Subnetting Success!
Chris Bryant did another one with this $11 program. This is a practice guide to getting certified, and after payment, lifetime access is immediately granted. I had so much fun using this because it helps you test your knowledge without pressure.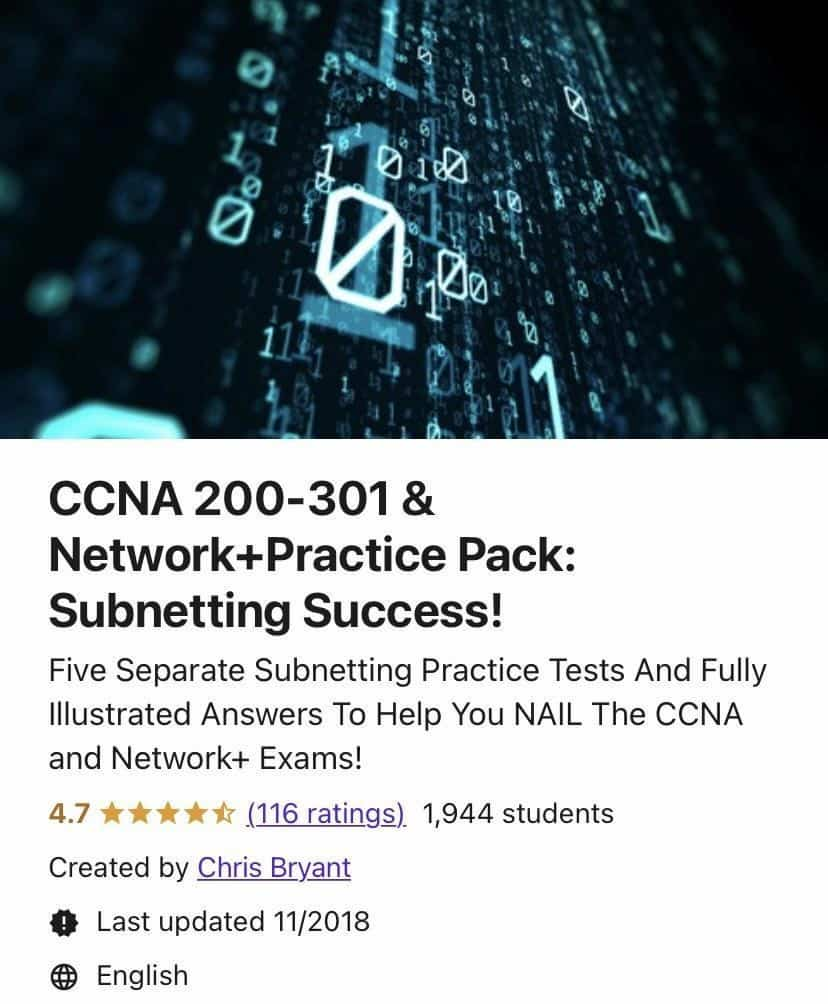 The tutor would take you through five separate subnetting tests performed under strict exam conditions. No matter how many courses students take, it is always advisable to take mock tests before the exam.
This is to help prepare you mentally for the stress that comes with the actual sitting. So many smart students fail due to this negligence. This course is one way to help you prepare mentally and academically.
You will be taught:
Fundamentals of subnetting success
Valid hosts
Binary to decimal conversions
Troubleshooting, etc.
Another impressive feature I noticed is how explanatory the answers are. Plus, anyone can use this course for exams outside CCNA, if subnetting is a part of the subject.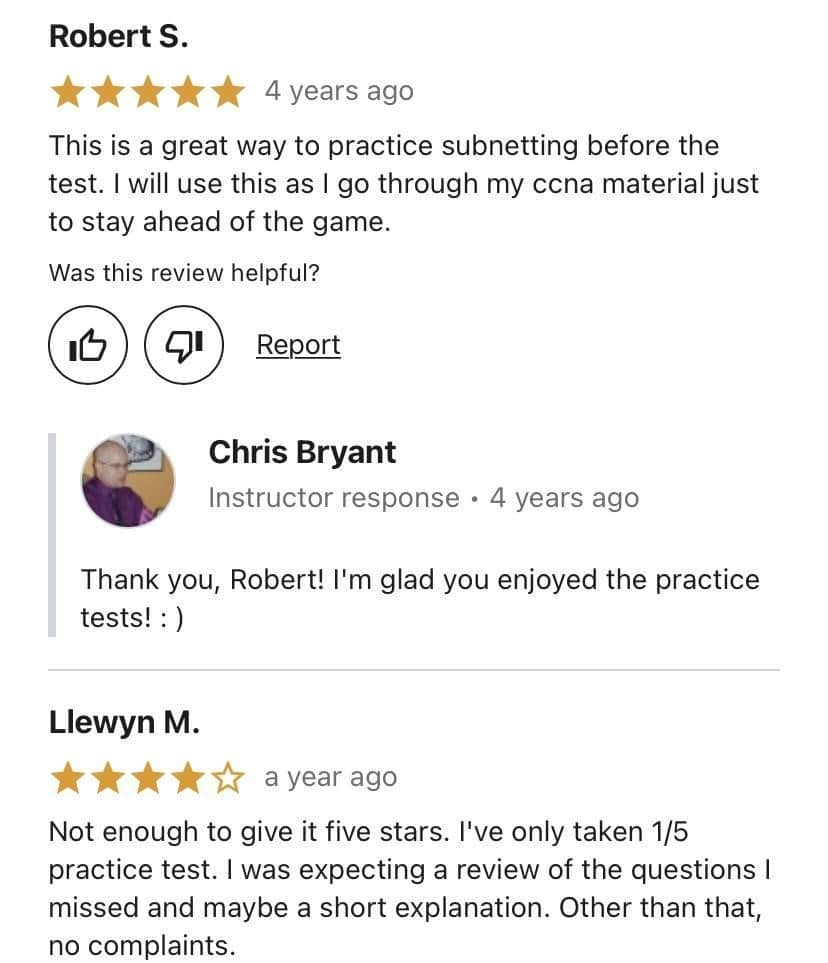 What people like: The course is engaging enough to keep students interested in hours.
What people dislike: Can only be accessed in English.
Cisco CCNA Practice Tests - 06 Exam
This is not as popular as the rest of the courses, but I find it offers just as much value for your money.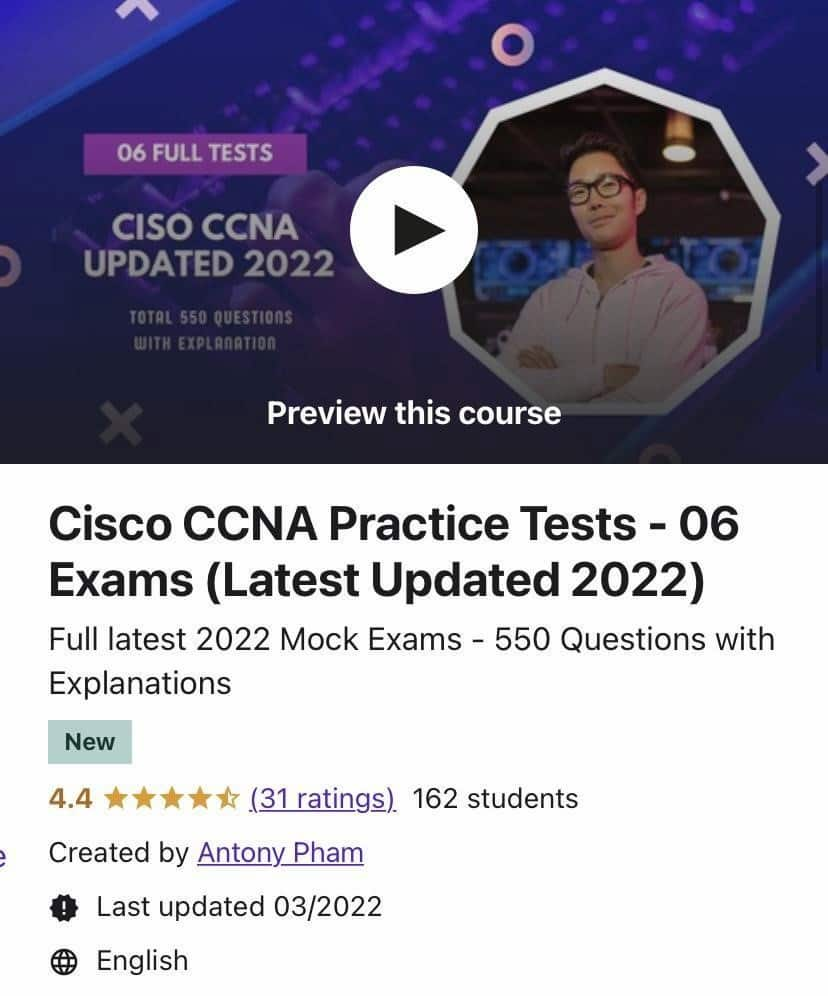 With $11, you will be getting 6 practice tests, and other materials that can be accessed via mobile. The 6 mock tests contain 540 questions that are constantly being shuffled to keep it challenging.
Due to the competition in the IT industry, the tests and exams are difficult. When you're equipped with knowledge from courses like this, it becomes possible to ace them.
The Author, Anthony Pham, went to great lengths to compile past and possible exam questions to help you prepare effectively for your exam.
What people like: the thoroughness that the Author put into crafting this course
What people dislike: No graphical diagrams
Cisco CCNA Packet Tracer Ultimate labs: CCNA 200-301 labs
One thing I always tell students is that theory is never enough. You need hands-on experience to grasp the concept of what is being taught fully. In this $11 class created by David Bombal, the technical aspect of CISCO network configuration will be shown to you.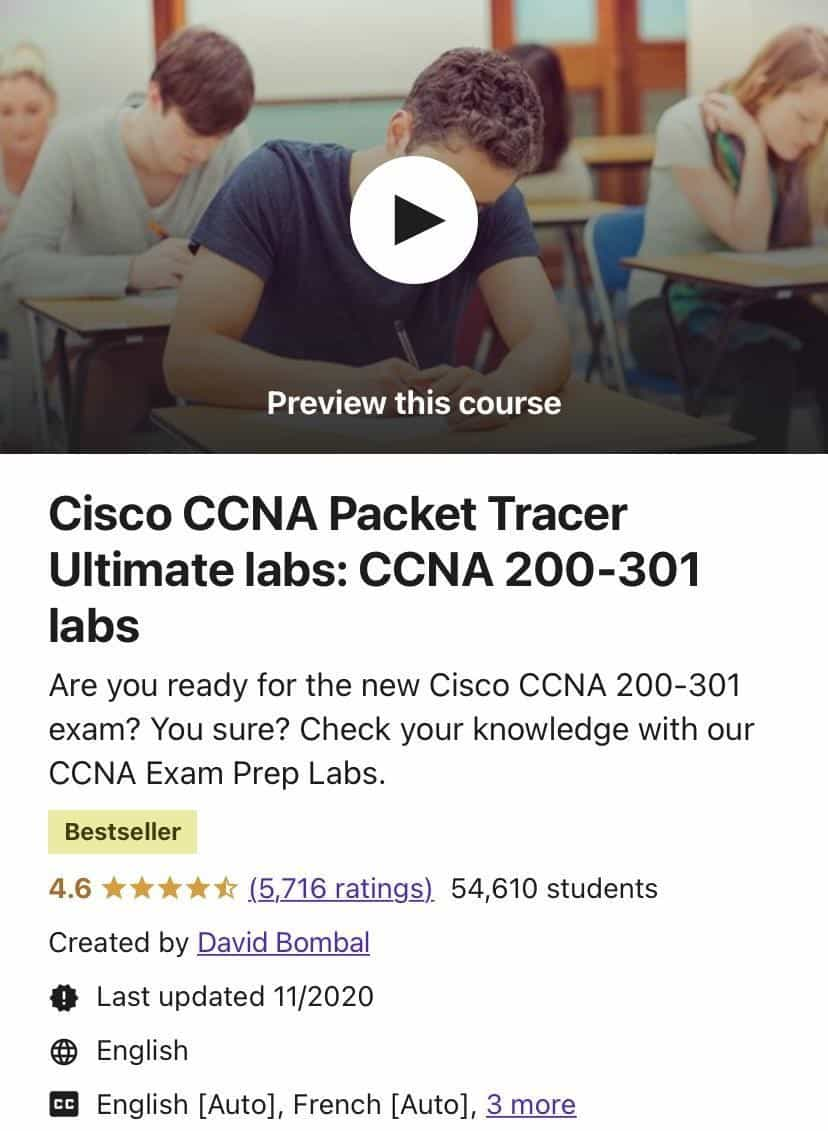 Over 54,000 students take this class, and since it has a 4.6 rating, I decided to check it out personally.
It comprises a 21 hour on demand video, 1 article, 137 downloadable resources, and lifetime access to one of the best tutors on the platform.
In 58 sections and 193 lectures, you will learn ethical hacking, basic Cisco configuration, collision domains, VTP troubleshooting, etc.
Here's a sneak peek: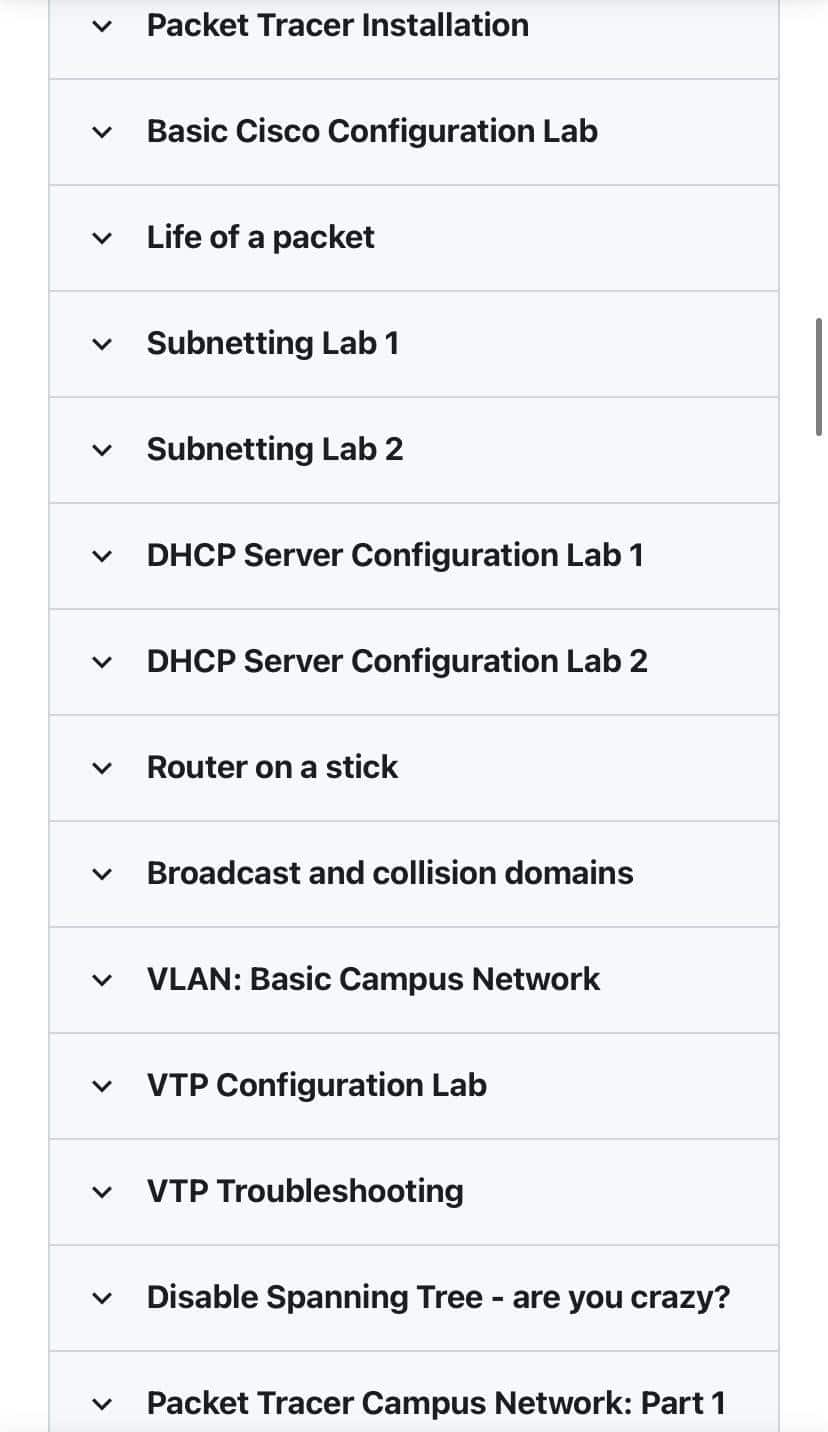 According to reviews, David Bombil is a great teacher who knows how to simplify the most difficult concepts.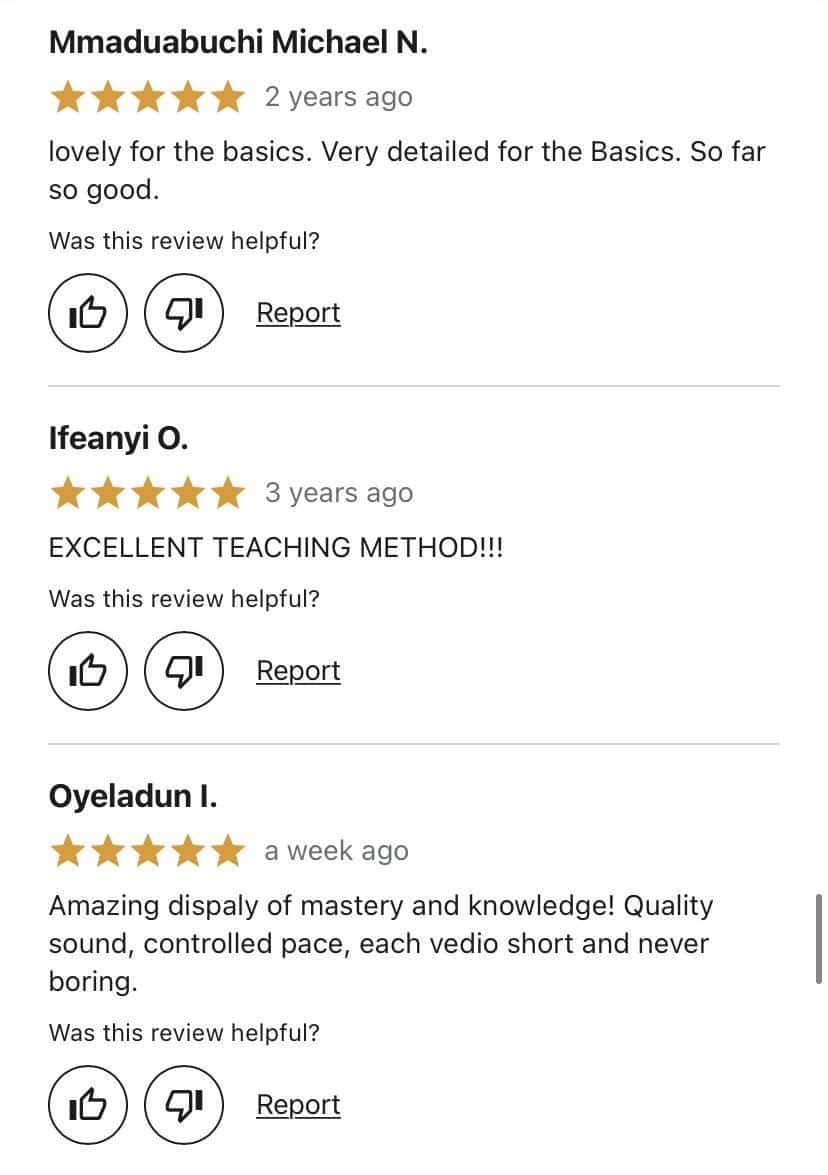 What people like: Excellent teaching method and delivery.
What people dislike: Some sections need better explanations.
Conclusion
Quality
All the courses mentioned above are some of the best ones on the platform. According to reviews, the instructors are very comprehensive with teaching and take time to break down difficult concepts. Regular assignments and mock tests to keep you mentally prepared.
Value for Money
Loads of materials and downloadable resources that you can always go back to for offline reading. Lifetime access to the tutors who are top-rated on Udemy.
Student Feedback
The testimonials on each page are truly amazing and impressive. Past and present students showed appreciation for how easily the tutors delivered the course to them. So many testimonies from students who used these courses and aced their CCNA exams.