What do you need to become a leading specialist in your field and build a brilliant career? Many aspects may influence your success, but, without a doubt, the resume is one of the key aspects that influence the effectiveness of your job search.
With one good resume, you can get tons of interviews and land the job of your dreams with ease, but with a bad one, you will only waste lots of time and not reach the desired results. What to do to succeed? Choose one of the reliable, professional resume writing companies and get yours written by pros!
If you are looking for a good team of professionals to entrust the writing of your CV to, we are here to help you out. Our team is here to help you choose the best option. EduReviewer.com is a website that collected lots of reviews on all kinds of companies. We are making honest reviews on popular writing companies to help each of you find a company that suits your needs perfectly.
How do we evaluate resume writing services?
Our team has excessive experience reviewing and evaluating all sorts of writing services, which means we know exactly what to look for in such companies. We always make objective and honest reviews. When choosing and evaluating a particular company, we look at the following criteria:
User-friendliness, website's design, intuitiveness of navigation, and convenience in use;
Quality and convenience of the customer service and responsiveness of managers;
Overall overview and feedback about the company;
Company's experience and history;
Pricing policy, discounts or special offers (if any) and available payment methods;
Quality of the delivered services approach to the customer, uniqueness;
Compliance with the given deadlines;
Guarantees;
Pros and cons, etc.
Today, there are many opportunities to find resume writing help. Each company has different pros and cons, as well as each offers different services. Some websites specialize only in consulting and coaching. Some provide editorial help, while others can write your whole CV from scratch. Which one to choose depends on your purpose and goals. Therefore, choosing a platform that suits you, it is important to pay attention to all of the above-mentioned criteria.
However, looking for a reliable service yourself can be quite difficult. That is why we are here! Our team's mission is to help you find the services you have been looking for easier and faster. We do all the hard work for you!
BluePrintResumes.com Overview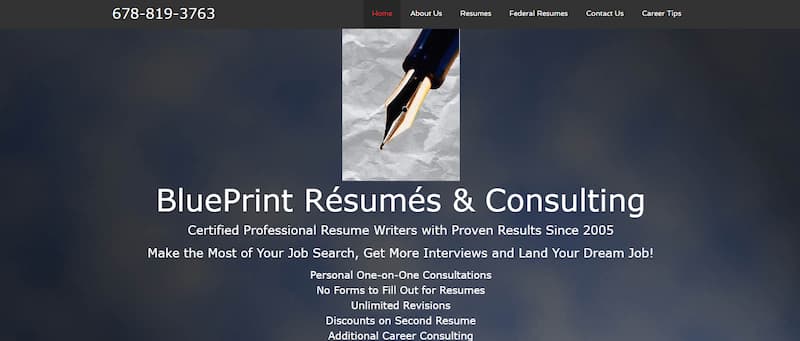 Resume Blueprint company is mostly engaged in delivering custom-tailored cover letters and resumes. However, the company also offers many additional services, including assistance in a job search, LinkedIn profiles, and interview coaching. They serve the needs of both corporate accounts and individuals.
The company also conducts resume writing workshops. Blueprint Resumes & Consulting team believes that the resume is the most powerful tool for landing a better-paying job and building a stable career. They guarantee that with the right tools and professionalism they have, creating a unique resume that stands out is easier and faster.
Some of the main characteristics of the company are:
A big team of Certified Professional Resume Writers;
BBB Accredited Business with A+ Rating;
Recommended by recruiters of Fortune 500 corporations;
Member of Professional Association of Resume Writers and Career Coaches.
BluePrint Resumes Story & Consulting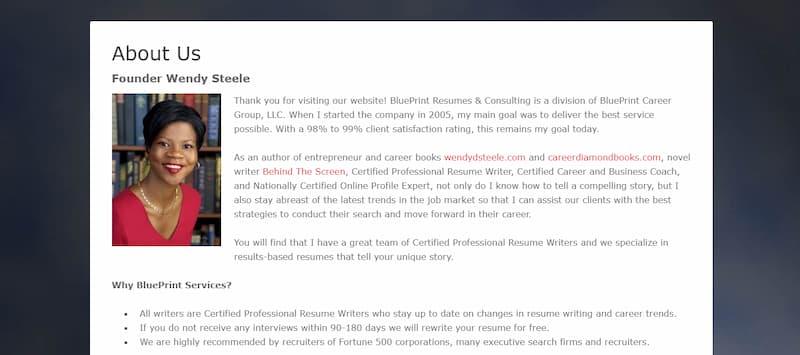 The company was started in 2005. Its founder, Wendy Steele, is a certified writer and has many years of experience creating results-based resumes, which was the main reason she decided to establish this firm.
The company's mission is to provide new specialists from the USA and all across the globe with professional and individual assistance to tell a compelling story and show the key contributions of their customers. Their motto is "We do NOT believe in basic or one-size-fits-all resumes".
BluePrintResumes.com Pricing
The pricing policy of Resume BluePrint is reasonable. This is definitely not the cheapest resume writing company out there, but the ratio of price and quality they offer is quite good.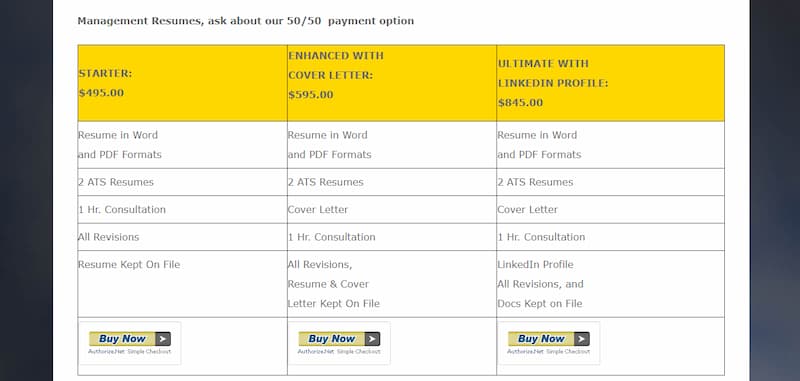 There is no one fixed price for all customers. As was mentioned earlier, the company does not believe in one-size-fits-all resumes, which is why they have tailored their pricing packages to the specific needs of all categories of customers. The offered packages are quite specific. Every customer can choose the one that suits them based on their needs and experience:
New College Graduates – from $185;
Non-Management – from $275;
Mid-Level Executives/Management – from $395;
Senior/Director-Level – from $535;
C-Level Executives – from $635.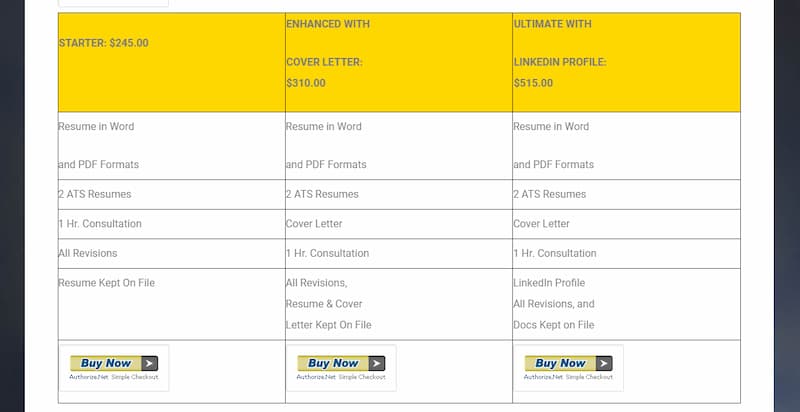 The rates seem quite unfair. In addition, BluePrint Resumes and Consulting has a great special offer for all customers. Each client can get 20% off any package for simply answering a quick survey. But even with all the discounts, it is not the best cheap resume writing service available online. Check our list and find the best affordable options.
BluePrintResumes Payment
Anyone would think that a company with so many years of experience would offer more freedom to choose payment methods, but, unfortunately, BluePrint doesn't give us many options.
The company doesn't accept PayPal. Consider Resume Writers; we found in reviews on ResumeWriters that they do not have such a problem. BluePrintResumes only accept payments made using major credit cards, including Discover, Visa, MasterCard, and American Express.

BluePrintResumes.com Quality
After reading many positive Resume BluePrint reviews, one can tell this company knows how to create a resume and other documents that help you land an interview for your dream job! Their writers are well educated and certified specialists.
Depending on your level, you can choose to use the services of advanced or regular writers. They also give their customers quality assurance – if you do not get any invitations to the interview within 60-90 days, they will rewrite your resume without extra charge.

If you are in the military to civilian transition, check our military resume writing service reviews, where we list all the best military resume writers.
They also provide timely delivery. The standard delivery time ranges between five to seven business days, and there is also a possibility to get rush services with deadlines between 24 to 48 hours.
BluePrintResumes.com Customer Service
The company is open during the standard working hours – Mondays through Fridays, from 9 am to 7 pm Eastern Standard Time. There are a few options to contact their customer support. They are active in social networks. Also, on the website, you can find local and toll-free phone numbers, live chat, and email support.
Finally, if none of the aforementioned options suits you, you can always pay a visit to Zipjob. Want to learn more about this top resume writing service? Read Zip job resume writing reviews on our website.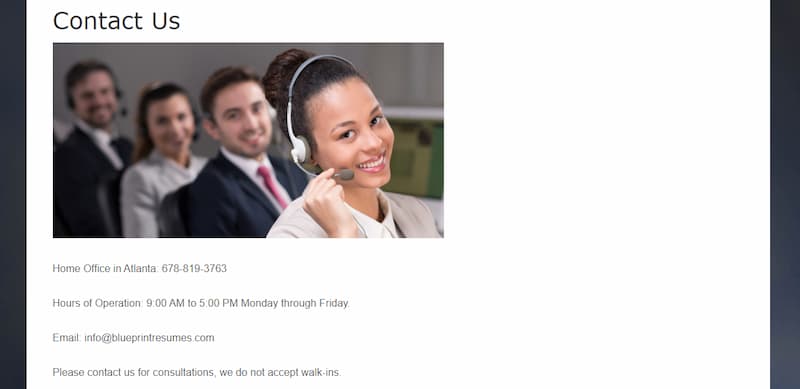 The majority of writing companies operate only online or over the phone. At the same time, BluePrint gives its clients the possibility to visit one of their locations and have a face-to-face consultation.
Although they work during specific hours, BluePrint is always ready to adjust its schedule for customers' convenience. Thus, if due to any reason you can't get in touch during working hours, you can make an appointment for a later time or even for the weekend!
In general, their customer service is okay but not excellent. It takes quite a while to receive a reply via email, and it can also be quite difficult to reach them via the phone – this is something they certainly have to improve.
We all know that promptness and convenience are highly important in communication with customers, but this company's support service can't be called convenient nor prompt.
BluePrintResumes.com Website Usability
This is one thing we didn't like about this company at all. Having seen many modern and neat websites, this one seems too outdated. Indeed, they have lots of space for improvement of their website and its usability.

We believe that BluePrint can do much better in making their website look good, and they also need to improve its user-friendliness because currently, it takes quite a while to find the information on the website.
The website can't be called intuitive. The main menu is hidden, so it takes a while to figure out where to look for information about its services or prices.
Pros
Customers can stop by the company's offices.
Timely delivery.
A possibility to make an urgent order.
The high quality of the delivered documents.
Fair rates.
Discount available for all customers.
Cons
Lacks user-friendliness.
Outdated website design.
Customer service requires improvement.
The long wait for a reply from customer support.
Lack of payment methods.
Works only during specific hours.