As a student, you must have written a lot of exams in your academic career, but no exam can prepare you for the LSATs. The Law School Admission Test is used by examiners and admission boards to test if a student possesses the crucial skills needed to succeed in Law School.
Due to how serious and essential this test is, students are always looking for educational centers that can help them study for practice tests. If you're one of such students, you must have heard of the Princeton Review. Kaplan vs Princeton Review LSAT: which is better for your test prep?

For decades, the Princeton Review has helped prepare students to prepare for all sorts of standardized examinations, ranging from GMATs to SATs to GRE. There is a full review of this center itself here, and you'll find all the services they offer.
This particular article is written specifically to address the Princeton Review LSAT prep course review and all the courses they offer in that vein. If you're looking to learn more, then let's find out:
LSAT Course
According to the Princeton Review LSAT course reviews given by long-time subscribers of this platform, the courses offered by this center are very intensive.
After my research on law schools, I can honestly say I agree. They offer three major courses for three different types of people. Law school consultants reviews – get expert advice.
Let's round up the features of The Princeton Review LSAT courses and explore their respective benefits and drawbacks.
Before choosing a program, you have to take online courses and make sure you understand each one to pick the most suitable module for you. You're probably curious about these online courses and what they consist of, so let's get right into it:
Paced Course
Not everyone has the liberty of time to devote hours every week to the strict schedule of other test prep programs. This self-paced course was made specially to cater to the needs of this particular set of people. Varsity Tutors LSAT reviews allows you to read what students who have previously taken the LSAT had to say about their classroom experience.

How does this course help? Here is a general outline of all you would get when you subscribe to this plan.
Over 150 hours of recorded video lessons and additional online content
About 70 LSAT simulation tests
Study materials of about 1800+ pages
LSAT past questions
One thing I quickly realized about this course is how flexible it is, which is one major advantage it has over every other plan. You can schedule your class according to your own convenient time, and all the course materials are always available online whenever you need to use them.
Not everyone who sits for the LSAT is a young or fresh graduate. I've seen moms who graduated college years ago, business professionals who are looking to go back to school, and even elderly citizens who are in search of a new purpose.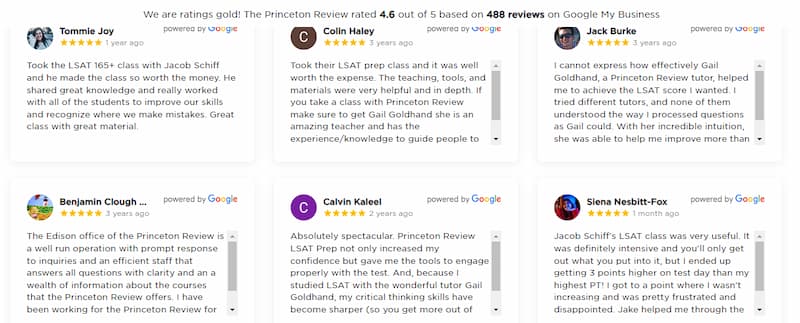 Not everyone has enough time to spare in taking hourly or weekly courses, which is why this self-paced practice test program is efficient for those who do not have the time. Review of Varsity Tutors LSAT prep helping thousands of students prepare for their exam.
Whenever you can, log in to your profile and put in a few hours, all at your convenience.
The Great Sophocles said, "Success is dependent on effort." All you have to do is take a step, make that effort today!
Fundamentals Course
This is similar to the self-paced plan, but it is more advanced in that you would be getting access to a tutor, whether you're in or out of class. Plus an extra 30+ hours of preparation.
This course is great and study-intensive. If you still have a month or two to prepare for your LSATs, then you can check this one out. They have experts who teach courses several days a week, so finding one that works for you shouldn't be a problem.

Bear in mind, though, that the classes last for about three hours and take place three times a week.
Here's what I noticed about this LSAT prep course. It starts similar to the self-paced plan, but some great benefits were added to make it even better. Here's the deal:
Access to over 70 official LSAT prep tests;
Over 150 video lessons + additional online content;
Assured access to instructors outside the classroom;
Online score sheet with detailed report and explanations;
30 hours of live instructions and targeted tutoring.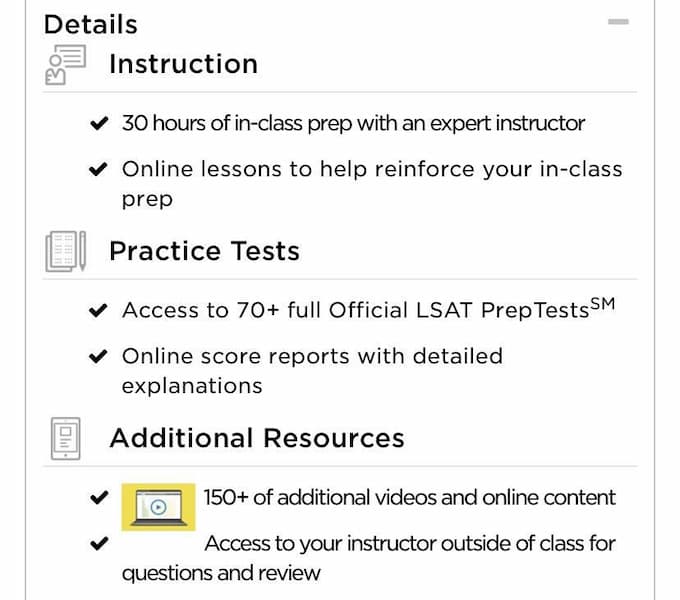 LSAT 165+
According to the Princeton reviews online from former students, this is the best LSAT prep course offered by the Princeton Review.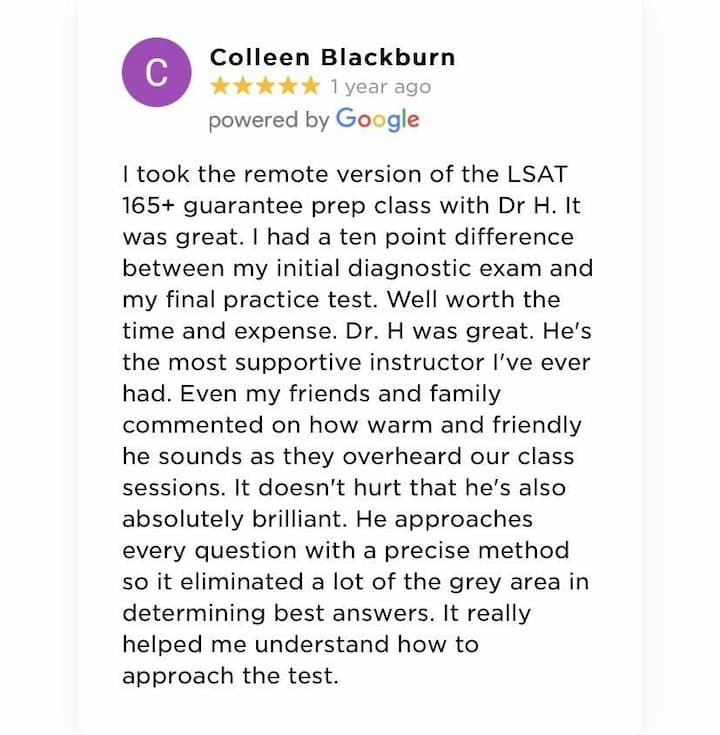 When I researched the Princeton LSAT prep review, I realized that these people were not exaggerating.
This course is the most popular because it gives you a strong score guarantee, of a top score guarantee of 165 and above.
For Law students, you already know that the highest score is 180, and 165 already falls into the top percentile. With a score of 165+, you would be spoiled for choice when it comes to the best Law schools in the US.
So what's the bottom line?
If you're an achiever, and a highly-ambitious student who is ready to put in the work and consistency, then this might be the best Princeton Review LSAT prep course for you! Here's why:
LSAT 165+ score guaranteed
84+ hours worth of instructions from an expert
Up to 150+ hours of online drills and lessons
8000+ LSAT structured questions
Targeted practice tests in Verbal reasoning
Full report sheet and detailed explanations
Of all the LSAT prep courses, this is the most detailed. There are so many benefits you stand to gain, and as long as you put in the work, you will be successful.
I had quite the experience with these amazing offers, and I will detail them in subsequent paragraphs. For now, let's see the Princeton Review LSAT review price list.
TPR LSAT Prices
There is a popular saying that goes: Penny wise, pound foolish. And all through my time in this center, this phrase kept recurring in my mind.
I saw so many online comments about the pricing on these plans, but my advice? Being frugal for an assessment as serious as the LSAT might not be the best option.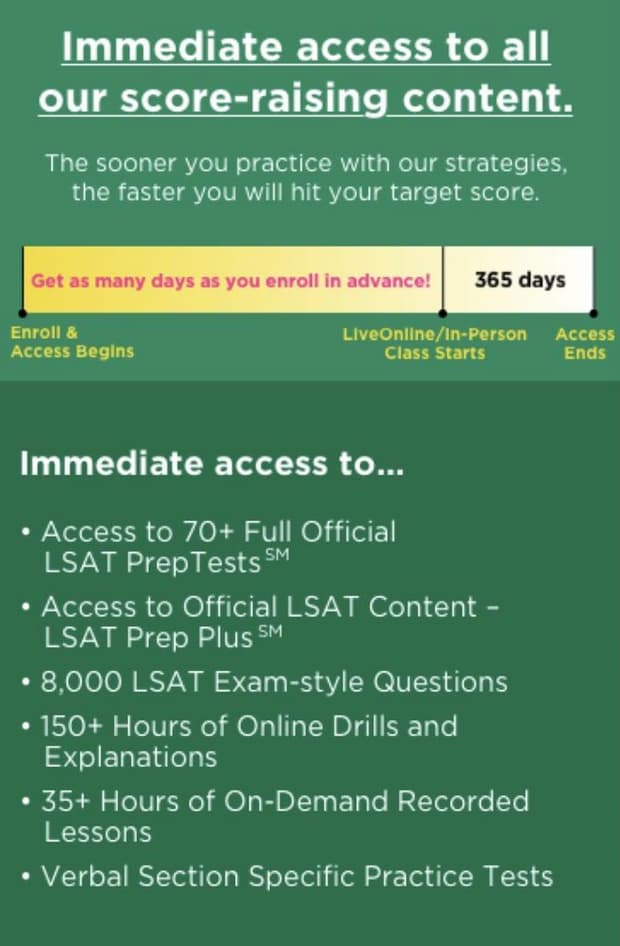 However, the prices at Princeton Review are reasonable, and compared to the several hundred materials they would be providing; it's a piece of cake. Here is a brief breakdown of the price list:
Self-Paced
This is the least expensive plan the Princeton Review will bring to you. It comes for $799, and it is an upfront payment.
As I mentioned above, just because the self-paced plan is cheaper than the rest doesn't mean it is less effective.
The entire module is detailed and broken down for those who simply do not have the liberty of following a strict schedule. Everything you need in terms of study materials and video lessons is there, and you can do them whenever convenient for you.
One thing I realized with the Princeton Review is that this particular course has limited access to an instructor. It is not impossible, but access is severely restricted.
Unlike the other courses where a meeting can be rescheduled within minutes.
That being said, this should not be a deal-breaker because you have 200+ help materials at your disposal, plus video lessons containing detailed explanations in case you get stuck on a particular challenge.

The Fundamentals
The Princeton Review LSAT Fundamentals Course offers all the elements of the self-paced course plus 30 hours of in-person learning plus unfettered access to your tutor outside of the classroom to assist when you inevitably hit a snag with your prep materials.
This offers a comprehensive learning process and more study time than the self-paced one, so of course, it's costlier.
Usually, you can get this course at the rate of $1099, but there's an ongoing promo that lets you save $50 by using the code LSAT50. With $50 off, you can pay $1049. You might want to get this course right now before this promo expires!
Fortunately, there are two options available for this course. Depending on the best one for you, you can take it online or in person. They are both the same, just different mediums of learning style teaching. The curriculum syllabus for classroom courses remains unchanged.
You may check our detailed comparison of Princeton Review and LSAT Max prep courses to see the differences and who's better in the end.
LSAT 165+
This is the most expensive plan on the list. At $1999, a lot of people might find this expensive. There's a promo going on right now where you can save a whopping $250 on your purchase.
Compared to the Kaplan LSAT prep course that comes at $1799 for a similar course, and $3999 for a four-week intensive training, I was forced to review the Princeton courses differently.
As a personal opinion, I think this LSAT 165+ is a better value for your money.
You might be wondering why. Well, let's analyze it:
The Princeton Review already named this course LSAT 165+. The name itself is self-explanatory.
It tells you in simple terms that the course syllabus and curriculum were built to help you achieve a score of 165 and above, which should be every Law student's dream, right?

The guarantee that you will score in the top percentile when you take this course is very high because every factor has been tailored to help you achieve that.
With eighty-four hours of targeted teaching time, over 8000+ required practice tests and practice questions already done, 150 hours of online drills, and several simulated tests, the entire regimen is strict and intentional.
As I said in person here, it is an opinion I have come to based on the extensive research I have done on the Princeton Review.
Private Tutoring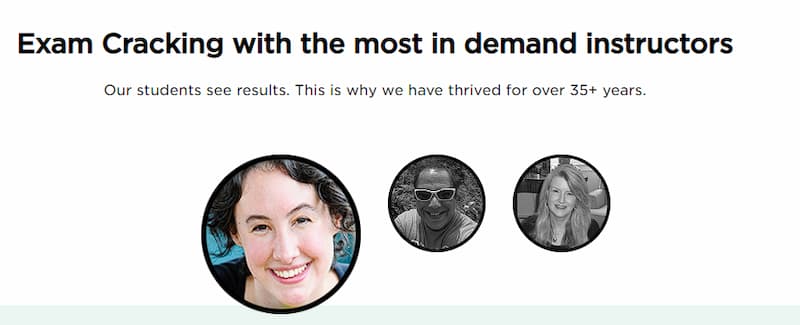 Interestingly, this is the most personalized approach you would find on the side. If you don't like to study in a group and would like one-on-one tutoring with an expert, this is the best option.
It shouldn't be mistaken for the self-paced method because it is different, although these topics would be taught to you at the most convenient pace.
After all, an expert would handle the tuition, not you alone, unlike the self-paced online course now.
This particular one is charged per hour and is not compulsory to be paid upfront. There are two types of this plan:
LSAT Comprehensive deals with a general explanation of every module of the LSAT exam. It costs $167/hr and should last for 24 hours.
LSAT-targeted only deals with specific problem areas a student is likely to face during the exam. It costs $180/hour and should last for about 10 hours.
Thankfully, you have the option of personally booking your tutors yourself.
Just select the "Book Star Tutor Now" option, and you will be redirected to a page where you can view a list of the top tutors available and pick your most suitable option.
Comparison
Courses
What to Expect
Prices
Self-Paced
●     Over 150 hours of recorded video lessons and additional online content

●     About 70 LSAT simulation tests

●     Study materials of about 1800+ pages

●     LSAT past questions

$799
Fundamentals
●     Access to over 70 official LSAT prep tests

●     Over 150 video lessons + additional online content

●     Assured access to instructors outside the classroom

$1049
LSAT 165+
●     LSAT 165+ score guaranteed

●     84+ hours worth of instructions from an expert

●     Up to 150+ hours of online drills and lessons

●     8000+ LSAT structured questions

$1799
Private Tutoring
●     Expert tutors

●     Official prep LSAT tests of over 70

●     Exclusive study materials

$167/hr — $180/hr
Quality of The Princeton Review Courses
Is the Princeton Review good for the LSAT? I have seen so many questions that curious students do not want to leave their LSAT exam success to chance.
You should know that no matter the course you pick, you are entitled to a thorough evaluation report. This report is the feedback you're given after every free practice test that you take. It tells you where you need to put more work and praises your strong points.
I also came across so many Princeton Review LSAT prep course reviews written by so many students on the internet. They praised the quality of the prep course, and gave glowing ratings on how detailed it is.
Here are some of them: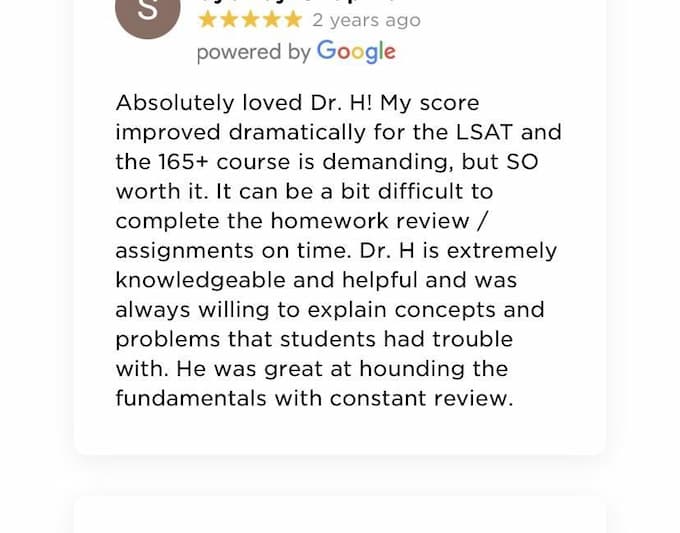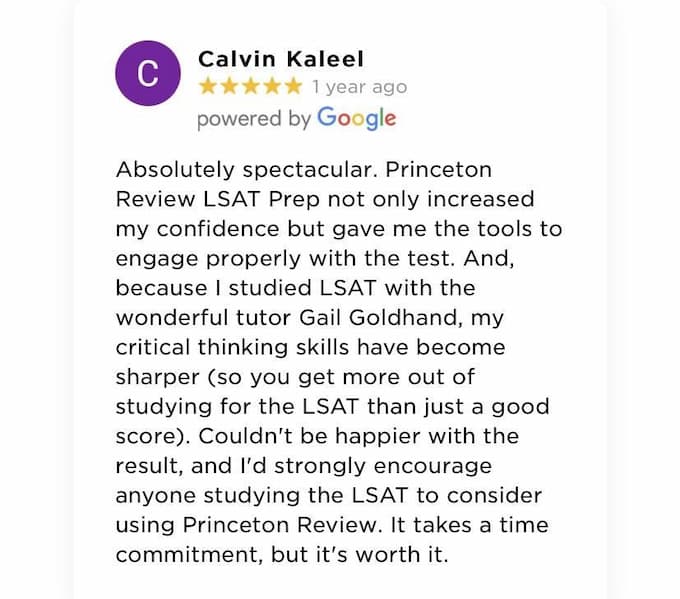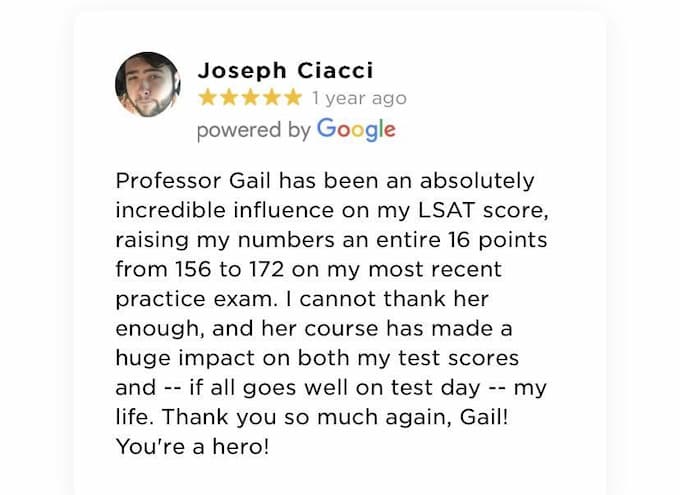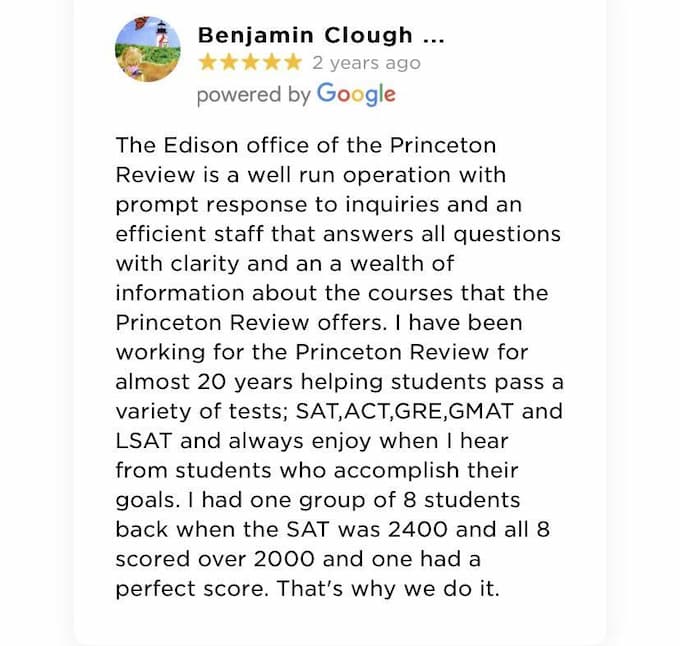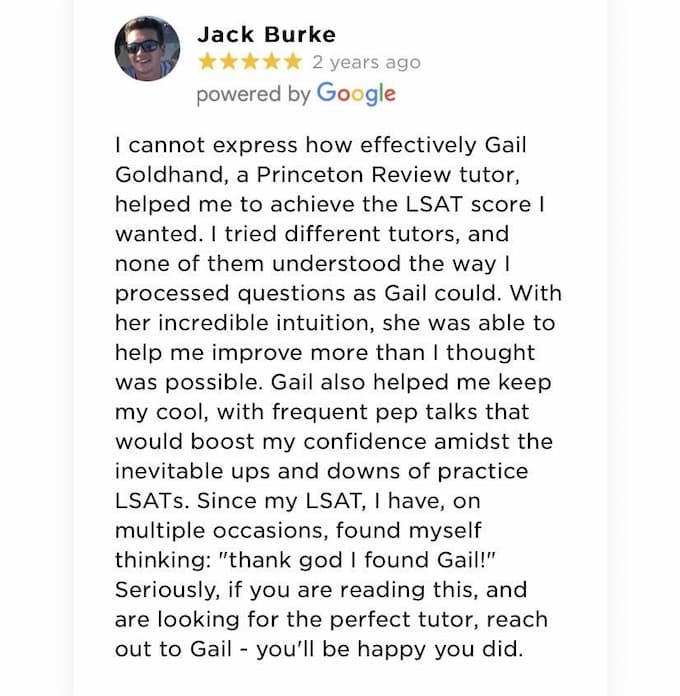 Tutors
During my analysis, I noticed that, for every important exam like the SATs, LSATs, etc., the Princeton Review would only select their best tutors.
I like the fact that they understand the importance of these exams in students' lives and would go through such a meticulous process in selecting only the most experienced teachers.
It gets even better. Here's the deal:
Every LSAT tutor must have scored 160+ in their LSATs.
They must have had experience with teaching hundreds of students in the classroom.
They must have put in thousands of hours of tutoring online.
The Princeton Review LSAT reviews above also talked about how amazing and educated their tutors were during practice exams.
Like Temple Grandin said, "I cannot emphasize enough the importance of a good teacher."
Guarantees
As soon as you visit the Princeton Review website, you will immediately be bombarded by their claims on how they can help you achieve the highest score on the LSATs. Now, there are two options to consider regarding the Princeton Review guarantee.
Their most popular course is even the first LSAT course, 165+. Due to this, they have one major guarantee.
It states that:
If you register for the LSAT 165+ course and don't score up to that, your money will be refunded to you in full.
Mind you, they already sent you some course, comprehensive study materials, and a book guide, so the cost of this would be deducted from your money before it is refunded.
Another guarantee states that if you are not happy with your session, you will be granted another session for free!
LSAT Courses
Other academic platforms in the educational sector offer assistance and tutorship to students looking to write exams.
These centers are great and have glowing ratings too. I've also checked them out and compared which would be more effective for LSAT preparations.

My concussion was still in The Princeton Review. What stood out for me in person, was how detailed their courses were compared to other centers.
It is easier to find the most benefitting course for you here at Princeton Review than anywhere else. But there are always alternatives, one of which is Blueprint, read our Princeton Review and Blueprint LSAT comparison.
LSAT Tutoring
This plan is divided into two, depending on which one is more suitable for you. Some students already have an idea of what the LSATs are all about. These students might not be willing to pay so much for a generalized course.
The targeted private tutoring is much better for these types of people, as the tutors can target only the problem areas and address them.
Not everyone can learn as a team. If you're that type of person, you should opt for a private tutor for a more personalized approach to learning.
FAQs
Is the Princeton Review LSAT worth it?
The answer is yes. Their service is worth every penny you spend, and you will have an amazing time on their site.
Is the Princeton Review Good for LSAT?
Yes, it is. They have professional tutors who have had years of experience doing this, plus a comprehensive online course, that makes everything even better.
Does Princeton Review LSAT Work?
Yes, it does. They have been in the business since 1981, so you can trust that they know exactly what they are doing.
How Much Does the Princeton Review LSAT course cost?
Depending on your chosen plan. However, it can range from $799 to $1799. Private tutoring starts at $167 per hour.
Pros
Instant access to tutors;
Comprehensive courses;
Money-back guarantee;
Personalized learning;
Real practice tests.