For anyone looking to prepare for their ACT, there may be a myriad of preparatory organizations available. However, The Princeton Review stands apart thanks to its 35+ years of experience in training students for various tests.
The Princeton Review is one of the most highly-regarded test prep services as it offers personalized courses, professional tutors, and guarantees of securing high scores, among a lot more.
In this analysis, we will go over the various ACT courses you can take with TPR, the pricing and quality you can expect, and the pros and cons of the ACT courses on offer.
If you would like to get a detailed look at The Princeton Review as a complete tutoring service, our dedicated review here will be perfect for you.
However, in this Princeton Review ACT review, we will focus only on the ACT services offered.
Introduction
Like any other standardized exam, the ACT also requires a lot of practice to get just right. That is precisely what TPR focuses on. It offers a variety of different courses for different types of users.
Whether you want to have the most complete prep solution or the flexibility of learning at your own pace, TPR has something for you.
Some students training via The Princeton Review end up getting the maximum score of 36 in their examination, which is a testament to the platform's quality. However, all of that does come at a price.
TPR is one of the more expensive services you'll find but if Princeton Review ACT prep reviews online are to be believed, what you get in return is worth the price tag. If you are looking for more affordable options, check PrepScholar. We have a one-to-one comparison of Princeton Review and PrepScholar.
ACT Courses Review
As stated before, TPR offers multiple types of tuition courses depending on what a student is looking for. We found this to be a very good way of giving options to the customer, especially since their higher-end courses can be quite expensive even if they are great at what they promise.
The main courses offered are the Self-Paced course, the Essentials course, and the ACT 31+ course. Let's go over each of these.
Self-Paced
For anyone on a tight budget who wants to get access to video lessons and practice problems, the Self-Paced course is a good place to start.
It allows students to learn at their own pace for their examination, whenever they want and wherever they want. It comes with over 280 video lessons and more than 3200 problems to practice on.
It also contains 8 tests that we found very good for practicing a full-length ACT test.
All the learning for the ACT is done online. TPR's Recommendation Engine creates a personalized lesson plan for each student which is based on their drills and practice tests, among other things.
This makes the Self-Paced program quite personal as opposed to a one-size-fits-all course that other prep services might offer. All of this provides a lot of practice at home for the all-important test.
However, we did feel the lack of live classes and tutoring that is often the key to achieving great scores.
But the good news is that you can add 10 hours of personal, on-demand tutoring to this ACT prep course at a discounted price of $200 so you can always include that and get the best of both worlds.
Essentials
The ACT Essentials program is the one that comes up most in Princeton Review ACT prep reviews by satisfied users as it is the perfect middle ground between the Self-Paced and the ACT 31+ courses.
It consists of everything you will get in the Self-Paced course but adds in a lot more to become perhaps the best ACT class a student can take.
First of all, it can be taken online or in person, depending on what you prefer. The latter option is great for students who feel the need to sit down with a tutor and learn rather than sit in front of a screen.
You also get printed textbooks which you might find easier to practice on.
The Essentials program also adds 18 hours of classroom time and gives students access to the ACT Advantage Live Online sessions. It also has 8 single-section practice tests in addition to 8 full-length ones.
On top of that, there are also 3 scheduled practice tests with the availability of an auto-proctor for the best ACT prep possible. All the assignments students receive as homework are personalized and tailored to each student's needs.
And there is a possibility to access all the videos and drills within 365 days so you can practice or revisit the materials whenever you want.
ACT 31+
The highest end of the ACT prep courses offered by TPR is their ACT 31+ class. This is quite a unique course that guarantees you a score of 31 or higher on your ACT.
For anyone looking to get into a top university that is highly competitive, this is the course you should be looking at.
Not only that, but it can also help you get a merit-based scholarship.
We found that the ACT 31+ tutors are the top-tier ones on the platform. The practice drills offered are also personalized via artificial intelligence and aim to have students practice only what is important.
These drills also help in fighting your weaknesses and overcoming them. The course can be taken both online and in person.
In both cases, there is the possibility to access an on-demand tutor whenever you're stuck on a problem. This course contains 36 hours of live lessons other than plenty of practice tests and drills.
Reading through some Princeton Review for ACT reviews that are geared towards the 31+ course, it is very easy to see that it does work with some students achieving scores of 35, while others demonstrate an improvement in their scores of up to 8 points.
Other than these main courses, The Princeton Review offers ACT 34+ Tutoring. This is perfect for those who need to get into the absolute best schools.
Other than everything you get in the top-tier programs, this one also contains a complete course manual, a Review Book with 1510+ ACT questions, and the very best private tutors that TPR has.
If you are interested in ACT prep books, you should check our comparison of the PrincetonReview against Barron's books.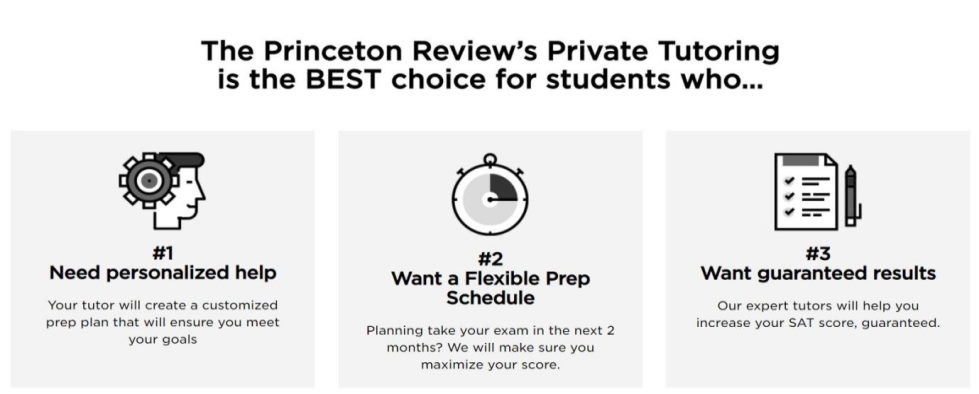 Another strong point that goes in the service's favor, in our assessment, is the Private Tutoring program that the Princeton Review has.
Having an expert tutor working with you throughout your prep journey is an excellent way to get 1-on-1 practice and score the highest that you possibly can.
Private tutoring comes with practice questions, drills, and interactive video lessons. The experience of the teachers and the high rating each one gets in student feedback shine in these courses.
Learn more about the average ACT tutoring cost in this article.
Video Lessons
The material is where The Princeton Review has a lead over many competitors. As soon as you access your account, you can see all the work you need to complete. There are around 40 study units that students need to complete.
Each of these is divided into categories that make the lessons easy to go through instead of making you feel like you're being buried under too much work right away.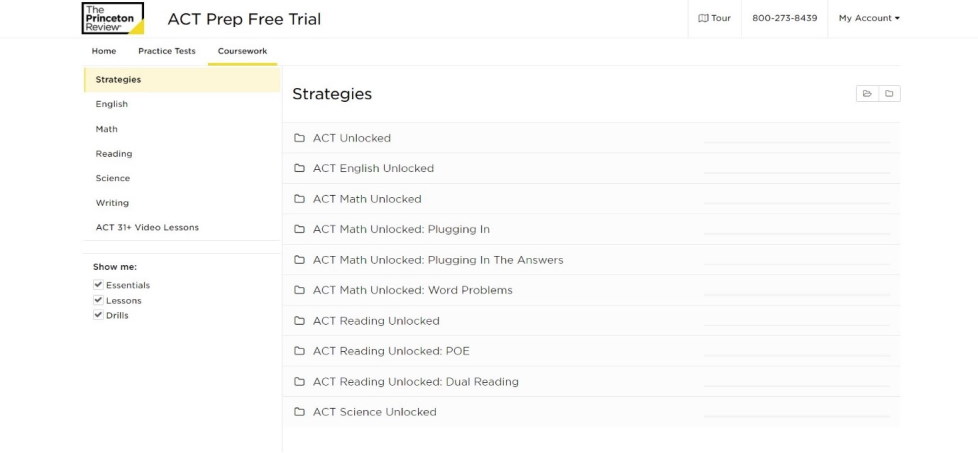 The video lessons are some of the best ACT prep study materials you will find anywhere. These are short prerecorded videos that last up to around 10 minutes at most to ensure that students don't get bored with their ACT prep courses.
In each lesson, the instructor speaks while facing the camera and various problems show up in front of them.
They then mark the problems on the screen, all the while facing the students to keep the video engaging. This is truly a great way to teach any online lesson as the teacher doesn't turn their back on the students at any time. This experience makes the tuition more interactive and personal.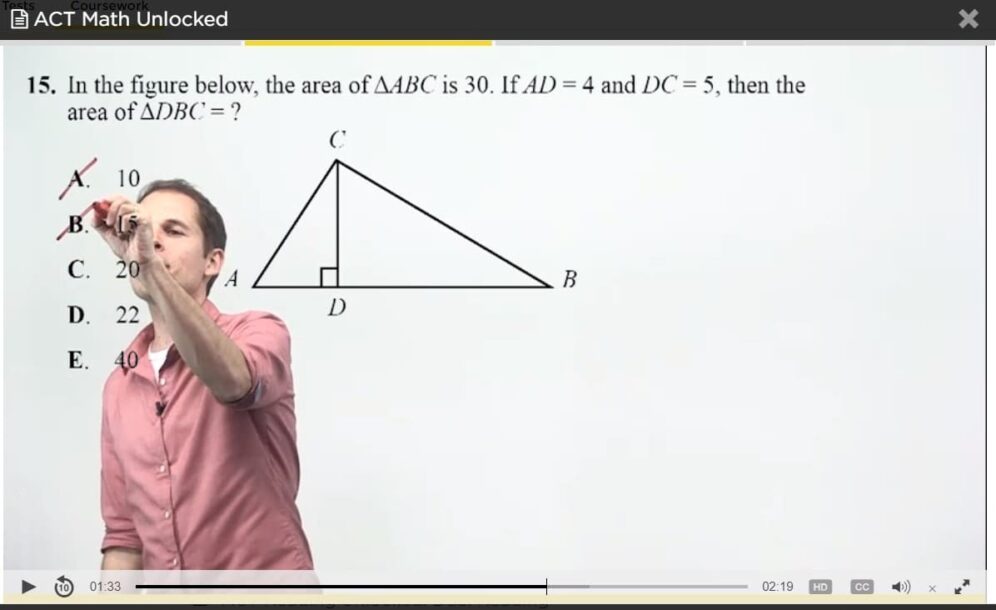 Each study unit has two parts: Learning and Practicing. After going through the learning component of each unit, students move on to the practicing component.
This is where they have to complete different tasks or solve problems. This part of the class is where you learn just what stage of your learning you're at.
After completing each task, you can review your answers and see whether you were right or wrong, and also find out the reasons behind both correct and incorrect answers. This is great because the students learn how to get the answer, rather than just the answer.
As Albert Einstein once said, "Everything should be made as simple as possible, but not simpler".
Getting only the answers to a problem would make the answers 'simpler' than they should be, which can lead to the test-takers getting tripped up by similar questions in the actual exam because they do not understand the mechanism of finding the answer.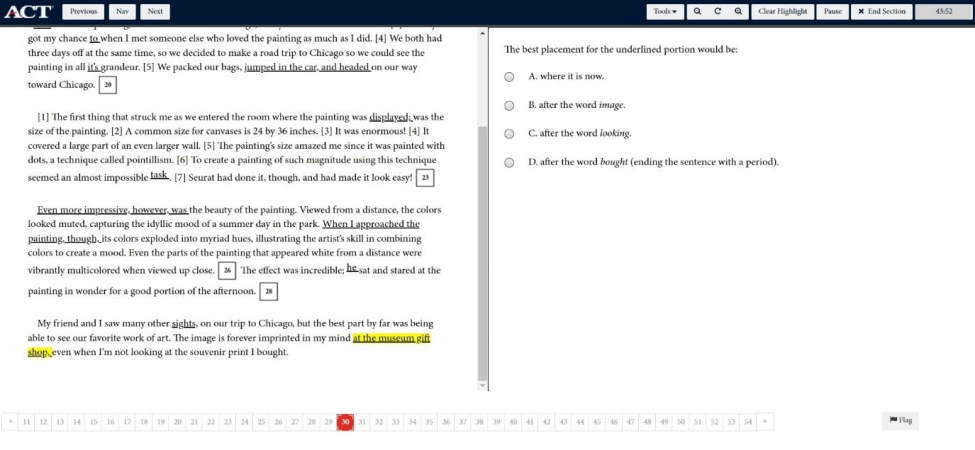 Our analysis of the live classes is even better than the online video lessons. Each class goes deeper into the topic being talked about.
Such a class is even better than videos because students can give feedback or make comments. They can also ask questions or get things clarified in real time.
On top of going through the study materials more deeply, the instructors also give various tips on how to get some score boosts on the actual exam.
All in all, the lessons that The Princeton Review has on offer are excellent at what they do. They receive a high rating from us not only because of the subjects and topics they cover but also for the intuitive nature of the classes, especially the recorded video lessons.
Practice
The practice tests for the ACT offered by TPR are great. They are very close to the actual examination. This is crucial to give students a good understanding of what you expect.
The interface also mimics the ACT interface very well so you can get a real feel of what it's like to take the real test.
All of this practice readies the students in various key ways and that is why so many students have such positive feedback for TPR as a whole.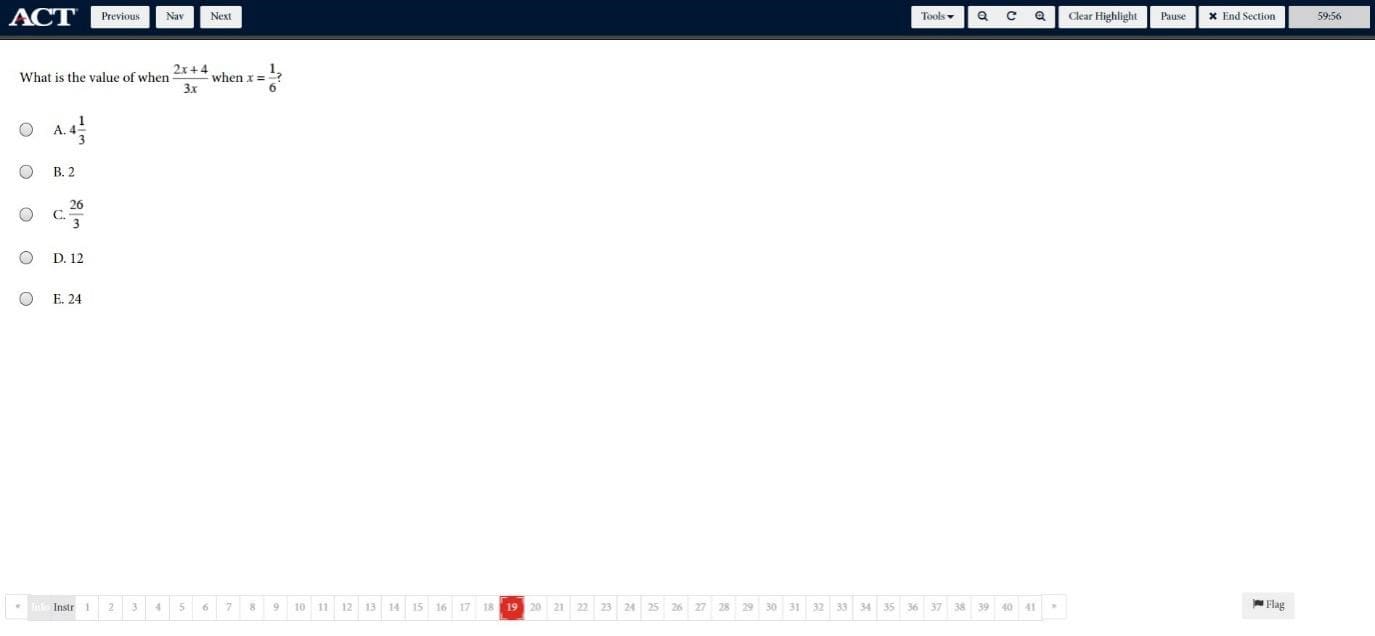 If you take part in the Essentials or the 31+ programs, you will also receive a course workbook and a book containing practice questions.
The workbook is a great way to follow along with your live classes and it also comes with excellent tips and tricks that you can learn.
These books are not provided to students enrolling in the self-paced program, so it is important to keep this in mind if you find yourself learning better with physical books.
Pricing
We have mentioned in this Princeton Review ACT review that the service is more expensive than others you might find.
However, the price seems justified when we look at the comments of the customers, everything that is offered, and how all the courses are structured to ensure success.
The cheapest course you can take is the Self-Paced one. This is an online-only program that costs $499. At that price, you get access to plenty of video lessons, practice questions, and full-length tests to improve your ACT skills.
The Essentials course is the most popular among all available courses because even though it does not contain live lessons, it has everything you need to improve your results.
The regular price for this course is $949, but TPR offers regular discounts, often bringing the price down to $799.
The high-end ACT 31+ program is the most expensive among these standard courses. It costs $1,749 and guarantees that you will achieve a score of 31+ if you come in with a previous score of 26 or more.
It's expensive when you look at it in a vacuum, but we think that what you get is worth it as per our analysis, especially considering that you may receive a merit-based scholarship based on it.
| | | | |
| --- | --- | --- | --- |
| Features | Self-Paced | Essentials | ACT 31+ |
| Video Lessons | 280+ | 280+ | 280+ |
| Live Hours | 0 | 18 | 36 |
| Tutoring | No | Add-on for $200 | Yes |
| Practice Tests | Yes | Yes | Yes |
| Physical Materials | No | Yes | Yes |
| Mode of Learning | Online | Online/In Person | Online/In Person |
| Proctored Tests | 0 | 3 | 4 |
| Money-Back Guarantee | Yes | Yes | Yes |
| Price | $499 | $949 | $1,749 |
Main Features of TPR ACT Courses and Quality
All you have to do is read some Princeton Review ACT prep class reviews to know that when it comes to quality, TPR does not disappoint. The classes are conducted at a very professional level and they work as advertised.
In our assessment, the personalization of the courses as per student needs is one of the best features here as each student can learn depending on their level.
This is essential in any prep service because a student who is scoring 20 and one who is scoring 30 will both need different kinds of practice to hit their desired targets.
The quality of the education provided is largely thanks to the quality of the teachers that are employed. Most of the Princeton Review prep reviews talk about how the teachers care about each student's progress, with students rating the teachers very highly.
Students have been able to raise their final ACT scores by a significant number of points as compared to their old test or a practice test they took.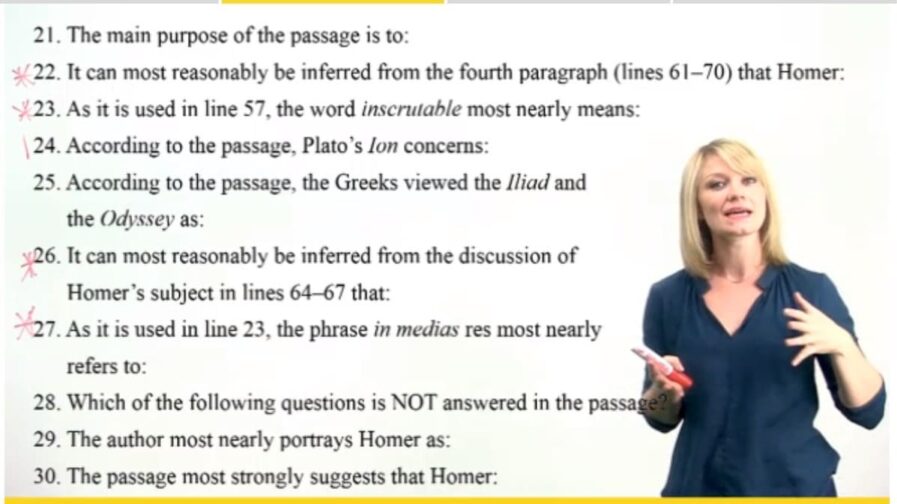 One of the best things that TPR does when it comes to ensuring quality is offering guarantees. All of the courses come with a money-back guarantee.
If you don't score higher than your practice test or an old test you took, your tuition is refunded.
And if you're not completely happy with the course you took, you can take the whole course again for free.
And if you take the 31+ or 34+ programs, you are guaranteed to score at least 31 and 34 respectively. These guarantees make TPR one of the more trustworthy services out there at the moment, and they help justify the pricing as well.
FAQ
Is The PrincetonReview harder than the ACT?
The Princeton Review is a test preparation service that trains students to score high on the ACT, which is a standardized test.
TPR helps the test-takers practice for the ACT, gives them tips and tricks to score higher, and provides them with plenty of study materials and guidance to excel at the ACT.
How accurate are Princeton Review ACT practice tests?
The practice tests are very accurate and are regularly updated as well. There are a good number of tests to take as well, so there is a big chance that you will have done at least 2 or 3 very accurate tests before sitting in the actual test.
Additionally, these practice tests will help you get familiar with the layout of the final test.
Is Princeton Review ACT prep good?
The Princeton Review is a very highly-rated prep service for ACTs. It offers different practice courses, access to qualified and experienced teachers, and plenty of practice materials to ensure that you score well on your test.
Pros
Very supportive and highly educated teachers.
Thorough curriculum to tackle the most important factors.
Money-back guarantees for added peace of mind.
Access to materials for 365 days to keep practicing.
Good selection of courses based on the preferred method of learning.
Cons
More expensive than other services.
In some customers' comments, the customer service is said to be lackluster.
Only one self-paced course is available.
Main courses require a lot of time and attention, which can be a problem for students.