One of the most important tests students often have to take in order to get accepted into their preferred schools is the GMAT. Preparing for this test is, therefore, extremely important as your score can make or break your chances of being eligible for certain schools. This is the reason many students want to know in detail which GMAT prep services online are the best for their needs.
If you have been searching for online GMAT prep services, you might have come across the very affordable courses offered by PrepScholar. The company has been around for a few years but has quickly become a popular name among students.
In this PrepScholar GMAT review, we will go over everything the company offers in terms of its GMAT courses. If you are more interested in reading a review of the service overall, we have a comprehensive PrepScholar review on our website. In this particular one, we will focus on what you can expect from the GMAT prep courses offered by the service.
Introduction
Since 2016, PrepScholar has been training students for various tests like the GMAT, SAT, ACT, GRE, and more. It has quickly found popularity because of its affordable prices and completely customized study plans. On top of that, the service also offers a vast number of real practice questions that help students really drill down and study hard for their exams. Which test prep program is best for your target score? Magoosh vs Target Test Prep GMAT. Find the right fit for you!
Is GMAT hard? Yes, it is, and students who don't want to study too hard but rather focus on areas where they can improve will be happy to know that PrepScholar focuses on studying smarter rather than harder. The customized study plans go a long way into making that happen and often come up in PrepScholar GMAT reviews by students.

But even if they are affordable, how do the courses stack up against the competition? We checked them out in detail and reviewed them so you can decide whether this is the right tuition service for you or not.
GMAT Courses Review
The company offers 3 different programs which we will cover in our PrepScholar GMAT prep review. These three program options target different types of learners. Whether you wish to simply access some practice resources, take part in a course that you can follow at your own pace, or get a completely customized experience that promises big gains in your overall score, PrepScholar has something to offer you.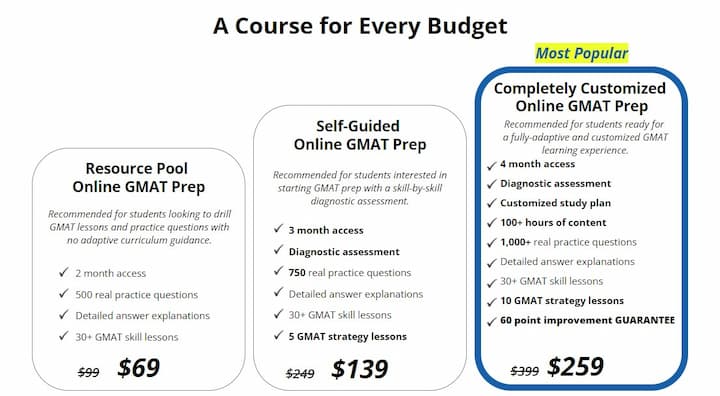 Resource Pool
Some students like to gain access to the right kind of course materials so they can then study on their own. The Resource Pool offered by PrepScholar is perfect for such learners. It comes at a very affordable price and gives students access to 500 real practice questions along with detailed explanations for the answers. This is perhaps the most crucial part of any preparatory service as solving practice tests is a very effective way to prepare for any examination.
Other than these, the Resource Pool also contains more than 30 GMAT skill lessons to carefully study and learn from. These are designed to go over all the key aspects of the exam and we found the lessons to be very well-crafted. This program can be accessed for 2 months after purchasing it which should be enough time to practice for the big day.
Self-Guided Course
The Self-Guided GMAT prep program offers more materials to study than the Resource Pool and we found the additions to be worth the increase in price. For starters, this program includes a diagnostic assessment of your skills before you start studying. This gives you an idea of where your GMAT skills currently stand and how much you need to improve in certain areas. In our analysis, we can rate this feature quite well as it offers an insight into one's own skills.
Upon starting the Self-Guided course, we were happy to see the access period increase to 3 months. Within those three months, we were able to find enough time for practicing the 750 practice questions that come as part of this tuition course. Our rating of the practice tests goes even higher when we take into account the detailed answers that are included.
Other than the 30+ skill lessons that are included in this program, we also found the 5 GMAT strategy lessons very helpful. These will teach you some tips and tricks you can use while taking the final examination in order to get higher scores quickly. Even though these strategies might be a little less robust than those offered by more expensive competitors, they were good enough to offer some additional help.
Completely Customized Course
Among the three tutoring packages, this is the most expensive and complete one from PrepScholar. The customized study plan that's part of this prep course is a highlight in most PrepScholar GMAT prep reviews from students. The detailed plan is created around more than 1000 practice questions, over 30 skill lessons, 10 GMAT strategy lessons, and over 100 hours of content. Like the self-guided program, this one also includes a diagnostic assessment that then leads to the creation of a customized study plan.
With all of that comes the guarantee that students will be able to improve their GMAT scores quite significantly. PrepScholar GMAT reviews online tell us that this is the most popular course offered by the service among students because of how complete and customized it is.
Analysis of the Coursework
The very first thing to understand before we move on to evaluating coursework in our PrepScholar GMAT review is that this is not the service for students who wish to study in a physical or virtual class.
It, unfortunately, does not offer live instruction of any kind. Instead, this is a very self-guided, online service and you need to have a certain level of personal motivation to keep going. While this may seem like a con to some, other students' feedback cites this as a good thing because they can practice on their own time.
The coursework itself is excellent, however. Whether we talk about the strategy lessons or the practice tests, there is a lot in there that can help you nail your examination.
Both the text-based lessons and the video lessons contain a ton of information that is designed to be easily understandable. The combination of these types of instruction makes for a very robust studying experience.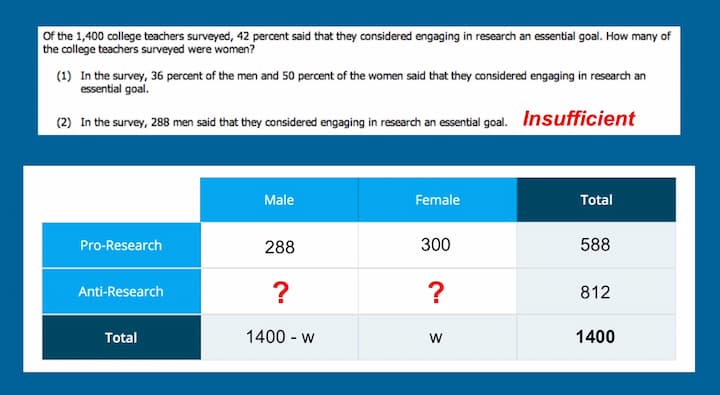 The interface of the study modules is also very good for online GMAT prep. While going through a lesson, we were able to click on yellow text boxes that contained more details about what the topic was.
We also found the light blue boxes very helpful as these contained practice problems right next to the lesson that we could see step-by-step instructions for. In many comments about GMAT prep courses, we are often faced with issues that students have with layouts that aren't very well-designed. But this service's interface is very nicely done.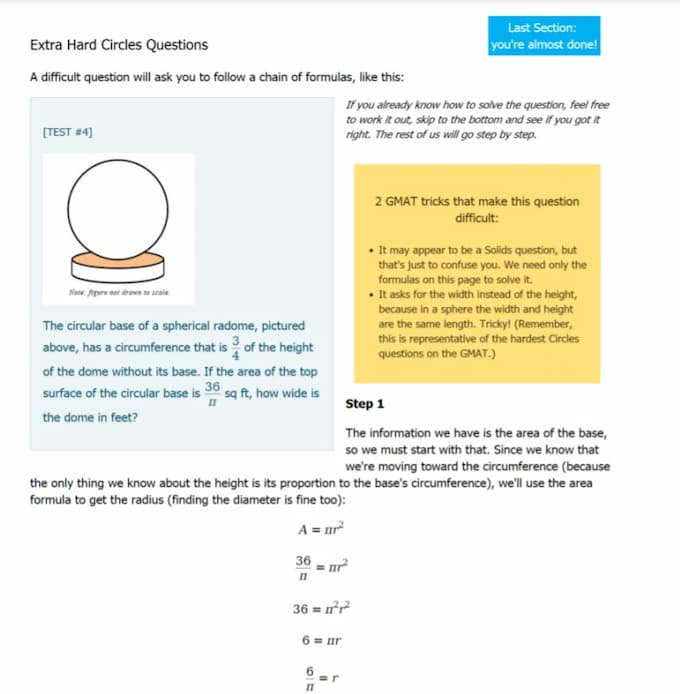 Practice Questions
The practice questions and tests that we were able to access were very good too. These were pretty much exactly like the actual GMAT exam and, therefore, get a very high rating from us. One of the best things about the questions is that they included a detailed explanation of the answers. This is incredibly helpful because we were able to actually see the reasoning and solution behind each answer and learn from our mistakes right there and then.
The quality of the practice tests gets very good comments from students in PrepScholar GMAT prep reviews online as well. However, it is a little disappointing that there are just 4 full-length exams you can take where other competitors often offer more.
Despite that though, these should provide enough training to any student who wishes to get used to the layout and types of questions they should expect to see in the real examination.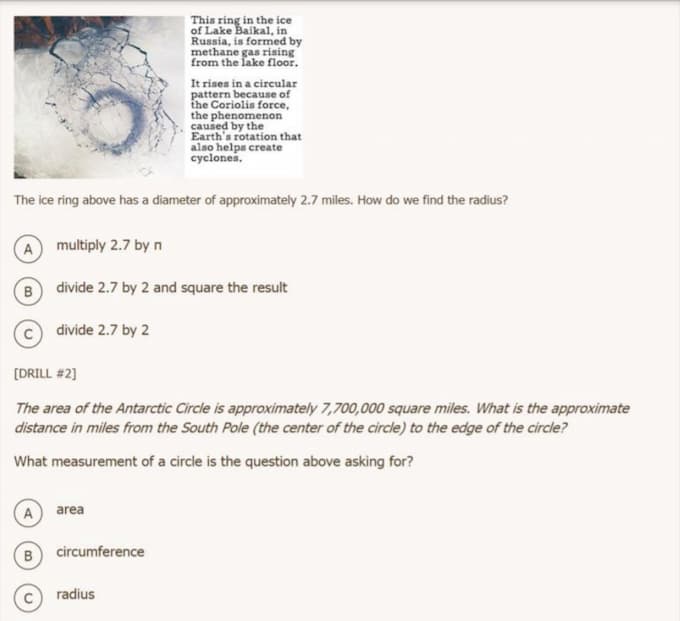 Analysis of the Customized Study Plans
This is one area where PrepScholar really shines. The completely customized study plans that are created for each student purchasing the top-end course are very good. Every student first has to go through a 60-question exam after which the service creates a customized plan based on their skills and weaknesses. This plan is designed to tackle all of their weak points and train them in a smarter way rather than having them work hard. This goes perfectly with the company's motto of "Study Smarter, Not Harder" and is something that gets a high rating in student feedback.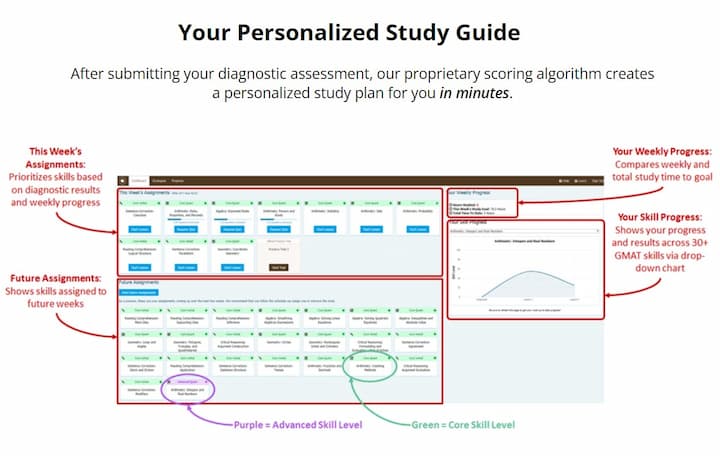 What's even better about these plans, and something that we really appreciate in our assessment, is that the plans are adaptable. As you move forward with your training, things actually change in front of your eyes to match your skill levels. The work you are assigned by the service shifts around according to what you need to study more or less. This constantly ensures that you are only focusing on areas where you need to improve more rather than doing the same work over and over again.
Pricing of the Courses and Private Tutoring
Pricing is often one of the topmost concerns for students looking for online GMAT prep courses. With PrepScholar though, it shouldn't be too much of a problem as it offers some of the most affordable tutoring packages we have seen.
Even though it may not have the same number of practice questions and tests that more expensive services offer, it is still a very good option for students who are happy to study by themselves and do not need live instruction.
The Resource Pool by PrepScholar is the cheapest way you can study for a GMAT exam. It contains hundreds of practice questions and a good number of skill lessons that you can go through. Its regular price is $99 but it often goes for just $69.
The Self-Guided prep course adds even more practice questions and comes with GMAT strategy lessons too that are missing from the Resource Pool. It can be purchased for a regular price of $249 but can be found at $139 very frequently.
The high-end course offered by PrepScholar is close to the price of basic programs offered by some competitors. It comes with a completely customized study plan, more than 1000 practice questions, and a lot more.
It also offers a score guarantee which is great for any learner who needs to achieve a certain score. All of this comes at a regular price of $399 or a discounted price of $259.
| | | | |
| --- | --- | --- | --- |
| Features | Resource Pool | Self-Guided | Complete Customized |
| Access Period | 2 months | 3 months | 4 months |
| Live Classes | 0 | 0 | 0 |
| Practice Questions | 500 | 750 | 1000+ |
| Skill Lessons | 30+ | 30+ | 30+ |
| Strategy Lessons | 0 | 5 | 10 |
| Customized Plan | No | No | Yes |
| Diagnostic Assessment | No | Yes | Yes |
| Physical Materials | No | No | No |
| Mode of Learning | Online | Online | Online |
| Risk-Free Trial | Yes | Yes | Yes |
| Score Guarantee | No | No | Yes |
| Price | $99 | $139 | $399 |
Private Tutoring Packages
Along with affordable courses, PrepScholar is also appreciated by students for some of the cheapest hourly rates when it comes to private tutoring. There are three different packages to choose from and each of them includes the Completely Customized course along with a private tutor.
The access period for each is different and so is the total amount of tutoring you get. The great thing here is that all of the packages give you access to a tutor from the 99th percentile of GMAT which means you get the best of the best.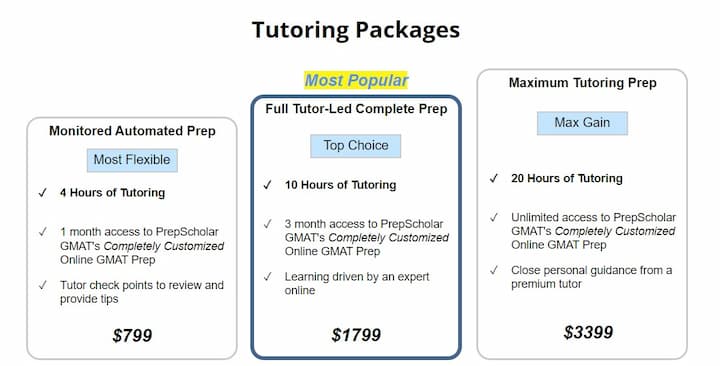 The first package is the Monitored Automated Prep course. This gives you 4 hours of tutoring along with an access period of 1 month to the Completely Customized prep course. This package can be purchased for $799, making for some of the cheapest hourly rates for personal tutoring in this category.
The second, and the most popular, package is the Full Tutor-Led Complete Prep course. In this program, your tuition will be driven by an expert who will give you 10 hours of tutoring. Alongside that, you will also be able to access the Completely Customized course for 3 months. You can purchase this package for $1799.
And the third program, aptly named the Maximum Tutoring Prep course, gives you access to 20 hours of private tutoring from a premium tutor who will closely guide your GMAT journey and make sure you score as high as possible on your exam. This package comes with unlimited access to the Completely Customized course so you can keep learning even after your tutoring hours are done. This plan costs $3399.
Main Features of PrepScholar GMAT Courses and Quality
By far one of the most attractive features of the courses in our PrepScholar GMAT prep review is their affordable pricing. This is also true in many comments from students who have gone through the experience of preparing for their GMAT examination via this service. The amount of practice questions and guidance you get for the price is definitely worth it in our assessment.
We also really appreciate the fact that there are different packages for different needs. The Resource Pool is something very underrated in our opinion. There are a lot of students out there who wish to just practice on their own without the need for tutoring or classes, and the Resource Pool is great for them.
However, for those who do need additional help, the Completely Customized study plans offered are great at what they do. The fact that the study plans are constantly updated and adjusted based on your changing skill level is excellent because it means you'll always keep learning smartly.
PrepScholar also offers two guarantees. One of these is the Risk-Free guarantee which means that anyone can sign up for an account and try the entire course for 5 days, without any risk at all. This is great for those who are unsure of whether they would like to purchase a plan or not. This trial period gives them a good look at what they can expect and makes it much easier to decide.
The second guarantee is offered with the Completely Customized course. This is the 60 Point Money Back Guarantee which ensures that students who have completed this course will get at least a 60-point improvement on their next GMAT exam or they'll get their money back. This guarantees scores of up to 760 and is a very good way to give students some peace of mind before they purchase the program.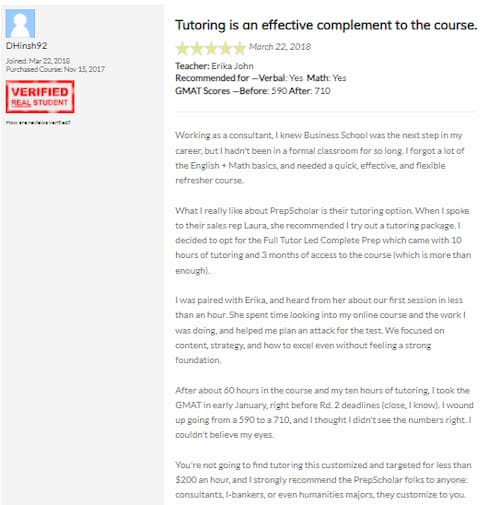 As for the quality of the lessons, it is very high. The practice tests and questions are very close to the real thing and both the Skills and Strategy lessons are top-notch in our opinion. They go over everything important in a very cohesive way and the inclusion of answer explanations is the icing on top. If you opt for private tutoring services, you get access to the very best GMAT scorers out there which makes the learning process even more efficient.
Pros
The personalization of the study plan ensures efficient learning.
The packages are very well-priced and are the most affordable among competitors.
The 60-point guarantee is impressive and ensures you'll do great on your test.
The private tutoring packages give you the best of both worlds by providing a top-scoring tutor along with the top-end course.
The user interface is very intuitive and pleasing, with color-coded progress bars and more.
Cons
The access periods are much smaller than competitors offer.
There are no in-person learning options or even virtual live classes.
The number of test and practice materials is much lower than competitors.
FAQs
Is PrepScholar good for GMAT?
PrepScholar offers very affordable online GMAT prep courses that focus on helping students study in a smarter way by creating customized plans for them and providing a number of high-quality practice materials. In our analysis, we found it to be a very good service for GMAT study.
How much does PrepScholar GMAT prep cost?
You can choose from multiple plans. The basic Resource Pool can be purchased for $99 while the self-guided course costs $249. The fully customizable course can be had for $399. However, all of these programs see frequent price cuts and discounts so you can save quite a lot on each of them.