While the ACT is a major focus for many students, it's essential to understand how it contrasts with the SAT. Your SAT score is more than just a number; it represents your aptitude in critical reading, mathematics, and writing.
However, both the SAT and ACT scores play pivotal roles in the college application process, and understanding the nuances can help you decide which test is a better fit for your strengths.Navigating the labyrinth of test prep options can be daunting for any student aiming to elevate their ACT score.
In recent years, the landscape of test preparation has undergone significant changes, with many students and parents seeking out the best resources for achieving optimal results. Among the popular options stands the PrepScholar ACT Review. This review dives deep into the features, pros, and cons of the program.
Among the myriad of ACT prep courses available, the PrepScholar ACT prep course has been making significant waves. But how does it stand up against other test prep giants? On paper, PrepScholar and many other such test prep programs and other test prep companies promise the dream of parents and students – courses and teachings that will help maximize their score gains.
However, not all of them deliver on their many promises.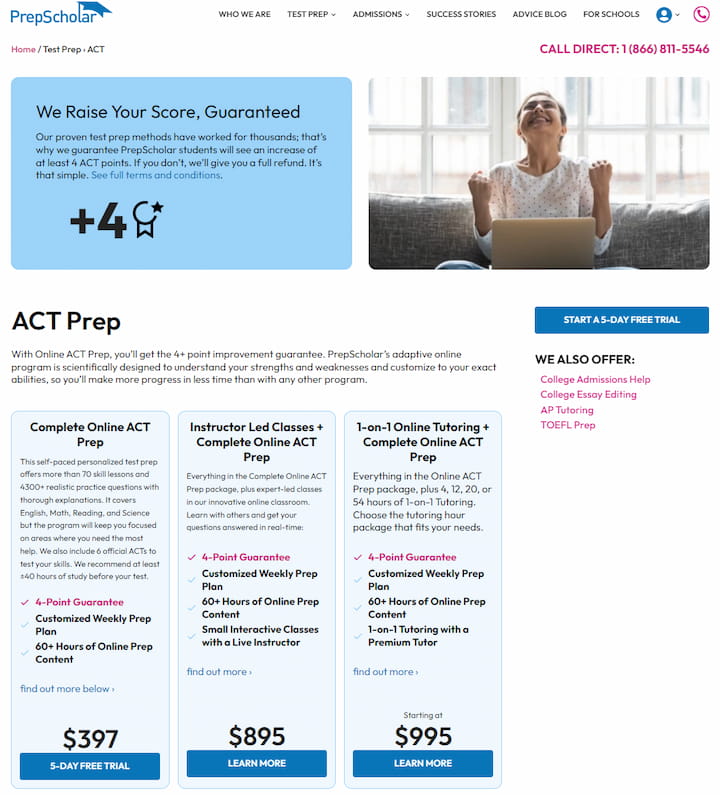 Another key player in the test prep field is the Princeton Review. Known for its comprehensive study materials and innovative teaching methods, Princeton Review offers both SAT and ACT preparation courses. Their resources have been a mainstay for students worldwide, but how does it stack up against the PrepScholar ACT program?
With the digital age in full swing, online-only services are becoming the go-to for many students. These platforms provide flexibility, allowing students to study at their own pace, anytime and anywhere. Both PrepScholar and Princeton Review have strong online components, ensuring that students have access to quality materials right at their fingertips.
As you navigate your academic journey, it's crucial to remember that the college admissions process involves more than just test scores. While a solid ACT or SAT score can boost your application, admissions officers also look at essays, extracurriculars, and letters of recommendation. PrepScholar and Princeton Review, among other services, provide guidance not only in test prep but also in crafting a compelling college application.

PrepScholar is a young company that has employed various features in test prep courses to make test prep companies help students achieve fantastic exam scores.
You can read the review on PrepScholar on our blog, as it will only be about the PrepScholar and ACT course review.
The ACT program offered by PrepScholar is more specific than SAT offerings. It includes practice tests, the possibility of customizing online courses, unlimited access to study materials, weekly progress reports, and more.
Regardless of which ACT tutor you pick, you will still need to invest your money and time. Still, you must thoroughly understand the test prep company and its services.
When it comes to ACT prep, numerous companies promise the best strategies and results. Among them, the PrepScholar ACT program stands out due to its unique approach. This article will delve into the details, comparing it with giants in the field, and assessing its effectiveness.
Our PrepScholar ACT sat prep courses review will take you through the different features of the company to help you decide whether they are the top ACT sat prep courses tutoring company for you or not.
PrepScholar ACT Prep Review
The core strength of the PrepScholar program lies in its strategy lessons. Instead of just rote memorization of concepts, the curriculum focuses on equipping students with test-taking strategies specific to the ACT. These lessons are designed to provide insights into the patterns and nuances of the exam.
Two perfect SAT scorers created PrepScholar. Thanks to this background, they offer different packages specifically designed for each student's needs.
More than setting questions and making videos, the program is customized to help students learn their strengths and weaknesses.
The company also uses the best online SAT instructors, who belong to the 99 percentile score group, to guarantee that students learn from the absolute best.
One of the standout features of PrepScholar is their score guarantee. They promise a significant score increase, setting them apart from many competitors. This is a testament to their confidence in the Prep Scholar system, often simply called Prep Scholar by its many users.
It's worth noting that while many test prep systems exist, aligning with the official ACT standards is crucial. PrepScholar ensures that their content is in line with what students will face on test day.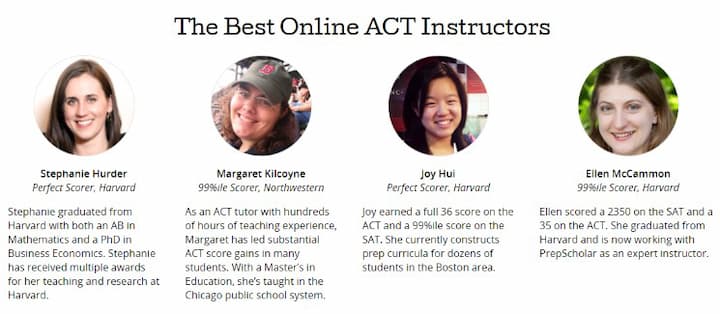 Prep Scholar is a self-paced, online sat and ACT prep program. The program is flexible, and you can complete it whenever you want. It is all-inclusive and covers English, Reading, Math, Essay Writing, and Science. The lesson program consists of Premium, Core, and Master categories and focuses on the test strategy.
Customized Coursework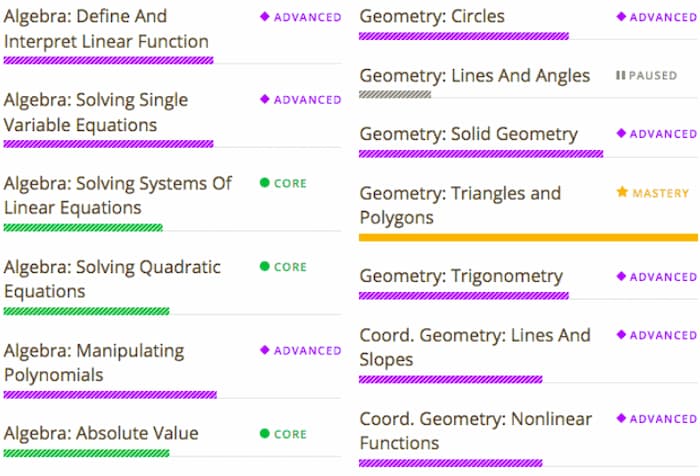 Prepscholar program uses smart diagnostic that figures a student's level to give tests that cater to their difficulty level.
For example, if you are weak in math and strong in Reading, they will start with less challenging math questions and more challenging passage function problems.
The idea is to challenge you at the tip of your ability so that you can improve very fast. The program is continuously updated, and each lesson provides an opportunity to estimate your skills.
This way, they can tailor your study plan to fit your ability. It ultimately results in more efficient studying that guarantees a higher score for every hour you put in.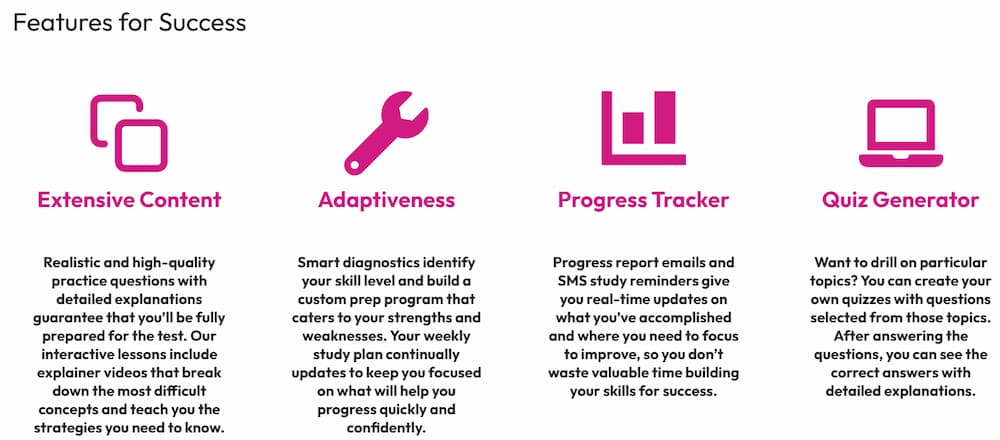 A Walk Throughout
You must commit more than 40 hours to the program to get the best from the complete ACT online prep. Although you can be flexible with the timing, the program consists of more than 60 hours of total content.
The structure looks something like this to ensure you are not stressed out:
First, 10 minutes to sign up and prepare;
60 minutes smart diagnostic test;
Hours 2-10: "skill up" with eight 1hr lessons;
Hours 11-14: full-length practice test;
Hours 15+ dedicated to helping you evolve as you improve until you finally Ace the ACT.
You only need about 10 minutes to enroll. After registration, the online course itself starts with a brief 60-minute diagnostic test taking strategies you to evaluate your strengths and weaknesses.
You have 60 minutes to answer three questions. Once one hour diagnostic test is completed, adaptive software analyzes and grades you across every major test topic.

Your performance sets the baseline for creating a custom study plan based on your current skill level. PrepScholar will consistently update and change to reflect your improvements and regressions as you progress through the online course.
Here is one of the PrepScholar reviews that the customer shared on our blog:

You will be assigned a score in each subject based on your diagnosis. The three performance levels – Core, Advanced, and achieve Mastery level, reflect your current performance and the demand for improvement.
The core is the base-level rating, meaning you need to put more effort into that area students achieve mastery there. Advanced means that you are close to advanced or mastery level, which signifies the end of the unit.
This preparation method is effective for ensuring that you build expertise on a topic. With so many units to offer, you can deliberately level up and steadily reach the score you want.
Learn, Practice, and Review
Each unit contains the learning, the sat and act prep, practice questions, and review component. Each of them requires about 20 minutes to complete, making a single unit about one hour long.
Before starting a test taking strategies topic, you will begin act course with a lesson. The lesson provides instructions on the testing strategies and content review.
Instead of length solutions, you will learn to use creative techniques and smart shortcuts for answering questions more efficiently.
Many of your ACT lessons will be in the form of high-quality videos and texts that show both the strategies and content you need to ace your exam.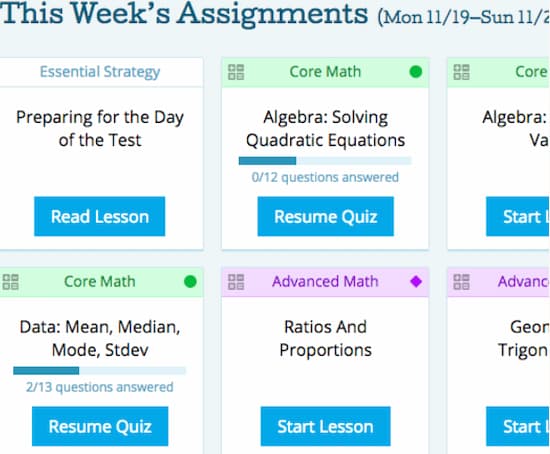 When you log into your account, your dashboard provides tasks you must complete for the week. It can include up to 15 assignments consisting of quizzes, lessons, and practice tests.
Remember, the assignments are based on your demonstrated weakness and strengths.
Video and Text Learning
PrepScholar lessons are interactive and engaging. The videos are clear, and the texts are detailed to explain concepts. Text lessons include equations, graphics, and content that help you understand.
However, although the texts are informative, they don't always help retention and comprehension.
Text lessons provide great details for explaining tough subjects but are limited for people that prefer to learn audibly and visually. PrepScholar uses video lessons to provide a visceral learning experience to complement the difference.
The videos cover the same materials as the text-based practice lessons but in visual form. Instructors read out their lessons, note crucial points, and display practice questions.
Also, instructors make real-time changes to notes directly on the screen with a red pen.

Practice and Review
After 20 minutes of lesson work, you will be directed to take a short quiz. The quizzes include 10-20 test questions covering all the skills and materials you just learned in class.
These questions change if you retake a study unit later since they are from the company's bank of the practice tests assigned to problems.
A review follows every practice. There is a text explanation that thoroughly breaks down the problem.
For example, it could be a couple of sentences explaining why the correct answer is correct or wrong and vice-versa.
How you perform in the quiz will determine whether you will master the subject at the core and move to the advanced and mastery level. Do note, though, that you will keep recycling the units until you master them.
If you complete the topic review, you can move to the next unit in your queue. After the first eight lessons, you can take a full-length practice exam conducted under exam-like conditions. The results are uploaded, and you will get an instant score report.

PrepScholar ACT Tutoring Review
Practice makes perfect, but the quality of practice matters. PrepScholar offers full-length practice tests, simulating the actual exam experience. This immersive experience provides students with invaluable insights into their preparedness, strengths, and areas needing improvement.
Apart from the videos, interactive lessons explain even the most difficult content. There is also an option to add 1-on1 tutoring to your preparation. So, we should note that PrepScholar's tutoring is an industry-leading SAT and ACT Prep service.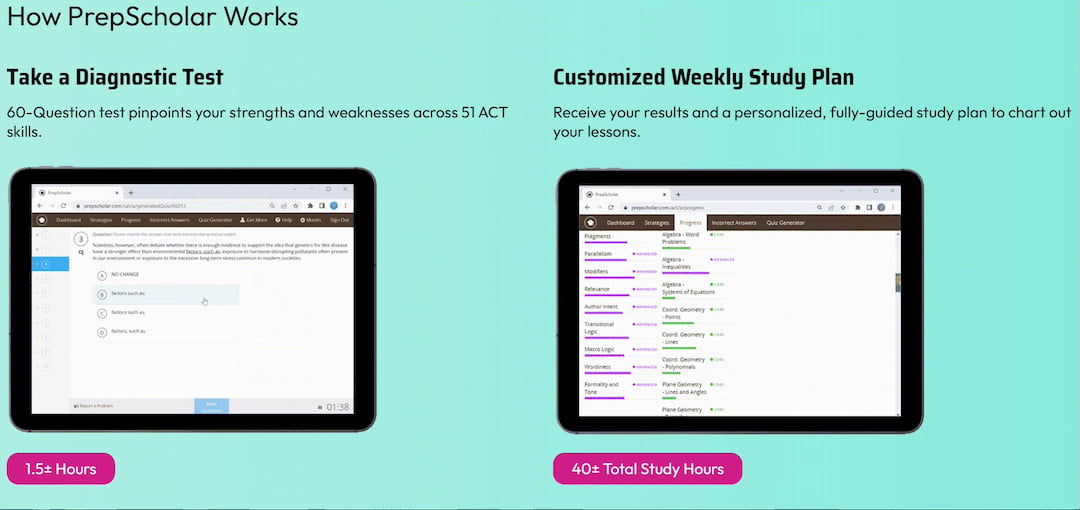 What makes them different is that you get the best of both worlds: the expertise and guidance of a 99th percentile expert tutor, and the structure of a customized and automated online instruction platform so you can learn and practice in between tutoring sessions.
Who are the tutors? PrepScholar is extremely selective when it comes to its team of tutors.
First, every tutor must have scored in the 99th percentile when they took their SAT or ACT and they must have attended and graduated from Ivy League schools or Top 20 colleges. Second, they must have proven 1-on-1 teaching skills and experience.
This is because they're not just looking for smart tutors; they want tutors who actually know how to teach and who can connect well with high school students.
PrepScholar has tutored over a thousand students and they know that their methods work.
Thus, that's why they guarantee struggling student an increase of at least 160 SAT points or 4 ACT points after working with them.
If you don't see that increase, they completely refund you the Automated Online Prep portion of your package (which has a value of $397) and again provide you all the hours of tutoring you started with, absolutely free.

Another important perk of PrepScholar Tutoring is the flexibility in tutoring hours that it provides. You can choose a small 4-hour package, a perfect-sized 12-hour package, or a larger 20 or 54-hour package.
You and your tutor discuss and decide on the time and frequency of your sessions so they can all fit around your schedule and planned test date.
PrepScholar is so confident that you'll be satisfied with your tutor that they even let you try the first session completely risk-free. This means that if you're not 100% satisfied with your tutor, either professionally or personally, you can get a full refund, including the cost of that first hour.
Tutors are rated by their students after each session, so PrepScholar can ensure that every tutor is consistently getting 5 out of 5 stars; however, if for any reason you wish to change tutors at any point, that is also an option.
Tutors are highly trained in all test sections
PrepScholar makes sure all of their tutors can teach all parts of the test: Reading, Writing/English, Math, and ACT Science and essay.
They also make sure each of their tutors knows key strategies and is fully trained in both tests, including the latest changes.
That way, you don't have to switch between tutors to learn everything you need on the test; your tutor will be able to teach you everything from parallel structure to quadratic equations and will know the best strategies for all the challenges of test day.
Confidence in one's product is showcased best by guarantees, and PrepScholar's score increase guarantee stands as a testament to its effectiveness. The company promises a significant boost in scores, a claim backed by countless testimonials.

Pricing the ACT Courses and Tutoring
There are five ways to prepare for the ACT with PrepScholar.
| | |
| --- | --- |
| Package | Price |
| Complete ACT Online Prep | $397 |
| Prep Scholar Classes | $895 |
| Complete Tutoring | $995 |
| Complete premium | $577 |
| Dual SAT+ACT | $597 |
Complete ACT Online Prep
This is the most popular option, and the tuition is $397. It guarantees one year of access to the entire program, practice questions, and tests.
Other benefits include:
One-year access, no hour limitations;
More than 60 hours of content;
More than 4300 total practice questions;
Covered sections include English, Reading, Science, Math, and writing;
More than 70 skill lessons;
51 fine-trained skills to master;
Detailed answer explanations to every question;
Customized diagnostic quiz section;
Up to 6 real practice tests.

PrepScholar Classes
Every other course is just a slight variation of the same complete prep course option. The PreScholar classes cost $895 and include everything in the complete prep package plus a few other advantages.
For example, you can meet with other students in a virtual class and engage in a live class together. It provides an opportunity to attend classes with other motivated students and classes developed, and you can work with top teachers in a small group.
Complete Tutoring Package
You can add hours of private tutoring, with one of the PrepScholar's ACT experts to your plan at $995. With this, you can double your point improvement, drill down on exact mistakes, and get personalized teaching on complicated teachings.
Also read: Average ACT Tutoring Cost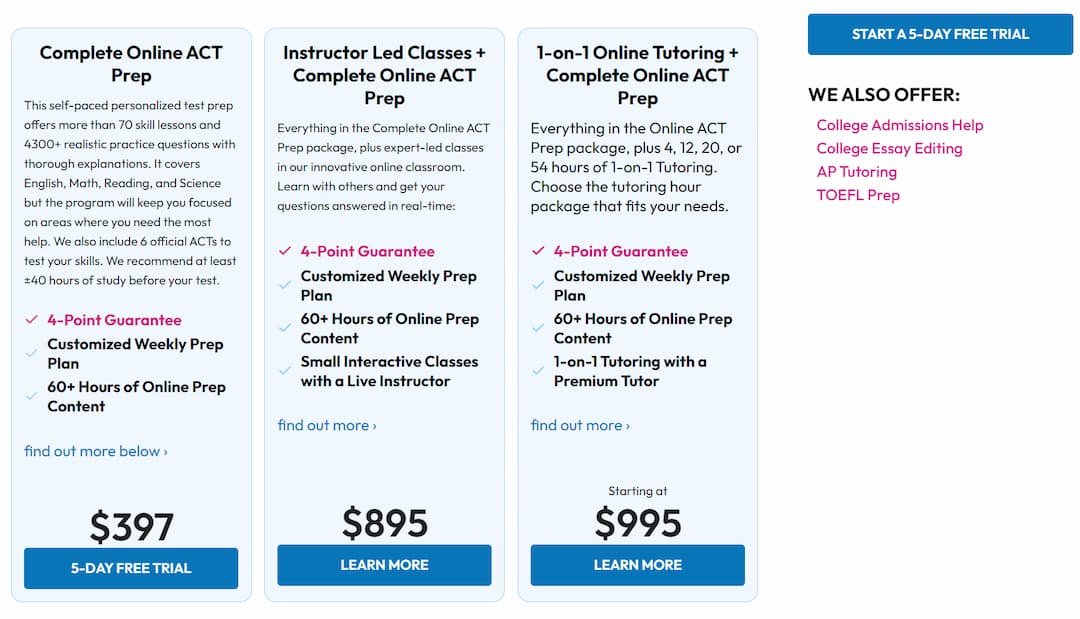 Complete Premium Course
The complete premium course is identical to the complete prep package except for two years of access to contents and expedited access.
At $577, students that need a longer period to complete the study can retain their access for two years.
Dual SAT+ACT
PrepScholar provides students complete an option that allows you to prepare for both the SAT and ACT.
The dual package costs $597 and effectively combines all the marketing materials and complete prep packages of both tests, and you can manage your activities from your online portal.

5-day Risk-free Trial
If you are not completely satisfied with the first five days of using any of the prep courses, you can ask to cancel your subscription and ask for a refund and get it with no reason needed.
However, for tutoring packages, the portion of tutoring services you paid is not refunded. You can request a refund anytime within 120 hours after submitting your complete diagnostic test.
Check our list of the top tutoring services available online.
Main Features of PrepScholar ACT Courses and Quality

Customization
As mentioned earlier, the company uses a smart diagnostic to determine your skill level. It then creates prep programs to suit your difficulty level.
Since the program is continuously updating throughout the program, you can evolve to meet new challenges.
To aid in targeted preparation, PrepScholar boasts an impressive repository of ACT practice questions. But what truly sets it apart is the quiz generator. This tool enables students to curate quizzes specific to their weak areas. With each quiz, students refine their skills, and when a child completes a series of them, they're undoubtedly better equipped for the ACT.
You can compare the features of PrepScholar's ACT prep with Princeton Review's here.
Videos and Text
The combination of video lessons and text lessons helps to clarify hard concepts. Although the high-quality videos are interactive enough, supplementing them with texts will help you understand complex concepts.

Full Guidance
You won't need to always go at it on your own. PrepScholar offers step-by-step instructions on what to study, which lesson to take, and when to do so.
Your dashboard will reflect a study plan with 10-15 assignments every week. You can use the dashboard to know what to do at a particular time.
For example, when your dashboard displays the practice test questions, you automatically know it is time to put your skills to the test.
Nonetheless, you can still be flexible with what you want to work on one on one tutoring in the short term. If you don't feel like working one on one tutoring a particular subject yet, you can leave it for another and come back to it later.
Motivation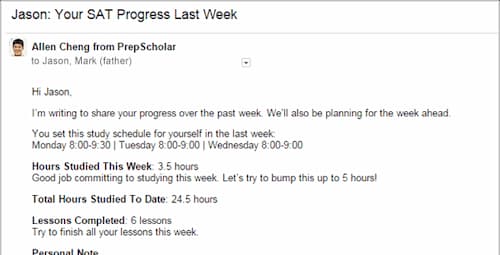 Students and parents will receive weekly email reports to ensure you stay motivated throughout your study. The report will contain the lessons you have completed and the number of hours studied.
Email feedback helps parents stay up-to-date on your progress and are handy for holding you accountable for studying.
On the flip side, you will receive a warning for slacking off and compliments for work well done.
Progress Tracker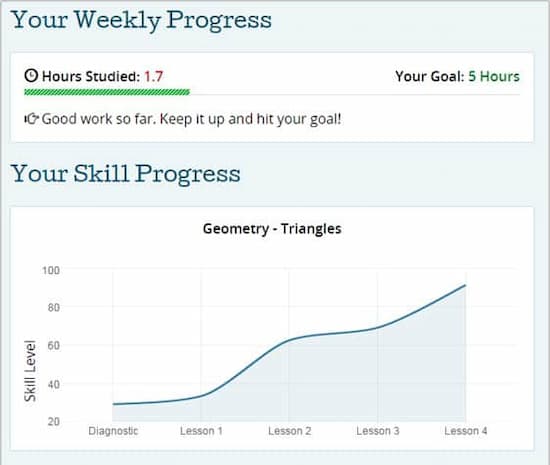 Various progress trackers let you know where and in how many hours and far you have to go. You can monitor your hard work and build confidence to be the ACT by watching your progress.
Examples of progress trackers include; a time tracker that shows the time you have studied and a skill chart that analyze your progress over a definite period.

You Can Learn from Your Mistakes
After taking a test, dedicated sections allow you to review your mistakes by topic. It displays wrong and correct answers with a detailed explanation of the answers.
This feature is crucial to ensuring you don't repeat the same mistake in your examination.
You can also create specialized quizzes to drill yourself on particular topics. After answering the questions, you can see the correct answers with detailed explanations.
Pros
Flexible access and use.
Personalized platform.
Great guarantees.
Top 1% of instructors.
Seamless communication.
Long access period.
Multiple courses and pricing options.
Cons
No mobile app.
You cannot focus on a single section.
Does not entirely simulate the test environment.
The price might be high for students with a tight budget.
FAQs
Does PrepScholar ACT work?
Yes, it does. PrepScholar has been featured in various media outlets like ABC, USA Today, Times, CBS News, FOX News, and wall street journal. This puts a note on their legitimacy.
Is PrepScholar ACT prep good?
You will experience a significant score increase if you complete the prep program. The company offers various perks to guarantee this.
How much is PrepScholar ACT prep?
The price ranges from $400 to $1,000, depending on the package you want.
Also read: Average SAT Tutoring Cost