Our Manhattan Prep review isn't just any review. It's your secret weapon for finding the perfect LSAT prep, whether you're a student or a parent. Choosing the right LSAT prep can make or break your law school journey.
That's why we dig deep, looking at all the crucial stuff that helps you make the smartest choice. So, no more second-guessing – we've got your back. Take a look at some factors we prioritize while evaluating this test prep:


Criteria We Use for Evaluation
Our review is based on a comprehensive assessment of the following criteria:
Quality: We examine the quality of study materials, practice tests, and instructional content offered by Manhattan Prep LSAT. If their offerings are subpar, we communicate such.
Features: We explore the range of features available, including interactive lessons and personalization options. We're a big fan of such helpful addenda, as you might expect.
Prices: We provide insights into the pricing structure, helping you determine whether it fits your budget. Preppers generally offer different pricing ranges. We cover all to enable you to decide which fits your needs and suits you most.
Website Usability (Interface): We assess the user-friendliness of the platform to ensure an easy and efficient learning experience. From our experience, an easy-to-use interface is just as important as an affordable program.
Value for Money: We analyze whether Manhattan Prep LSAT offers a justifiable return on investment. We tell you outright if they aren't worth your time or money.
Students' Feedback: We consider real student feedback and testimonials to gauge the effectiveness of the program. We dive into external Manhattan Prep reviews on Trustpilot, Reddit, etc., to bring you real user feedback.
Guarantees: We look into guarantees such as money-back policies and privacy measures, ensuring your peace of mind. When such isn't available, we let you know.
Experience in Using the Product
In my own experience using Manhattan Prep LSAT, which is currently Kaplan, I found the platform to be rich in resources, offering a variety of study materials. They recently moved LSAT from the Manhattan Prep website to a different domain, Kaplan.
But it remains the same company. I had no trouble navigating the course material thanks to the user-friendly interface. Additionally, the interactive exercises and expert instructors enhanced my learning journey.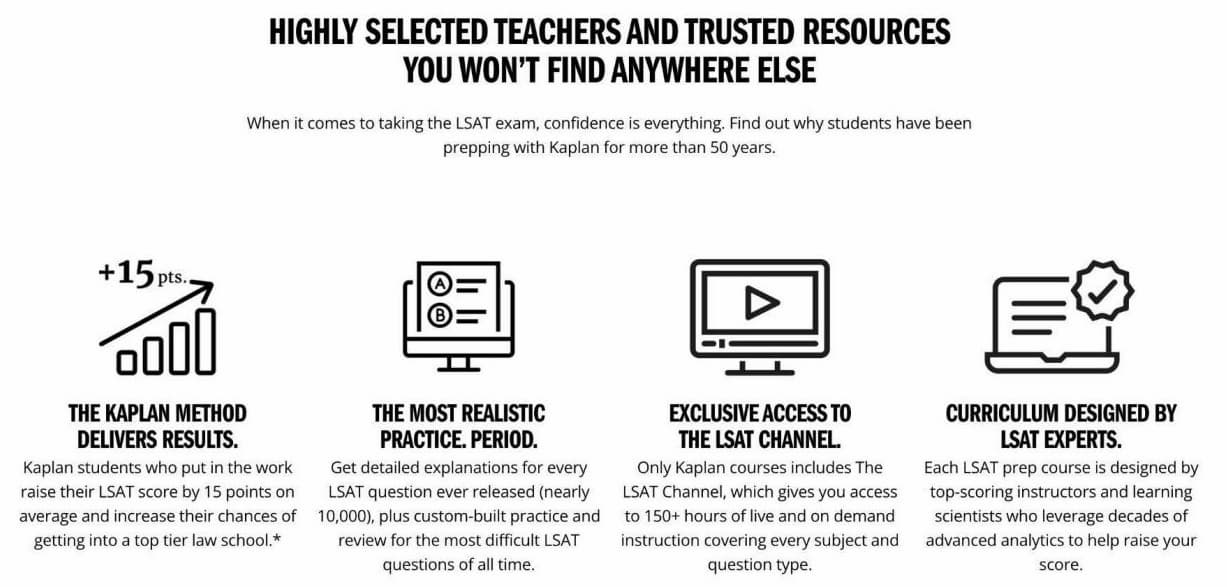 The prospect of information overload for newbies did occur to me, though. Our detailed Manhattan Prep LSAT course review will provide a comprehensive look into these aspects, helping you make a great pick for LSAT preparation.
My Thoughts on Their LSAT Courses
Before diving into my test, Manhattan Prep LSAT had me covered with a bunch of course options to suit my needs. I went with the CrunchTime workshop – it's a steal at $49 and gave my last-minute prep a serious boost. They even threw in some live online lessons a few weeks before the exam, and those were total game-changers.
Then, there was the On-Demand LSAT Course at $799. It's all about freedom here – I got to learn at my own pace and pick complete courses or just the parts I needed. It's super personalized and interactive, perfect for me.
But wait, there's more! I took the Complete Course, starting at $1499, for a deep dive into LSAT. Small classes, in-person or online, interactive videos, and Crunch Time access – it's got it all. And I can't forget Private Tutoring, starting at $245/hr, for that one-on-one goodness, plus LSAT exam access and prep materials.
Manhattan Prep LSAT's ace was its course variety, fitting every study style and schedule. Small classes, interactive stuff, and private tutoring, they nailed it. And to top it off, a sweet $100 discount made these top-notch LSAT classes even more irresistible. They set me up for LSAT success, no doubt about it.
Who will find this platform helpful?
Manhattan Prep LSAT is the go-to for all LSAT preppers. Need a quick boost before your exam? CrunchTime got your back. Self-paced and flexible? On-Demand LSAT Course is your jam.
If you're all about thorough prep, the Complete Course is where it's at. Small classes, engaging lessons – it's the real deal. And if you're after that personal touch, private tutoring gets you covered.
Manhattan Prep LSAT caters to all kinds of needs, whether you're a DIY learner, a last-minute crammer, or a planner. They've got courses, online goodies, and personalized options that'll set you up for LSAT success. It's your ticket to nailing that LSAT score.
What are the main features of their courses?
Before working on this LSAT Manhattan Prep Review, I tried virtually all their courses out. From my observations, the core features of Manhattan Prep's courses are designed to help you conquer the LSAT with ease.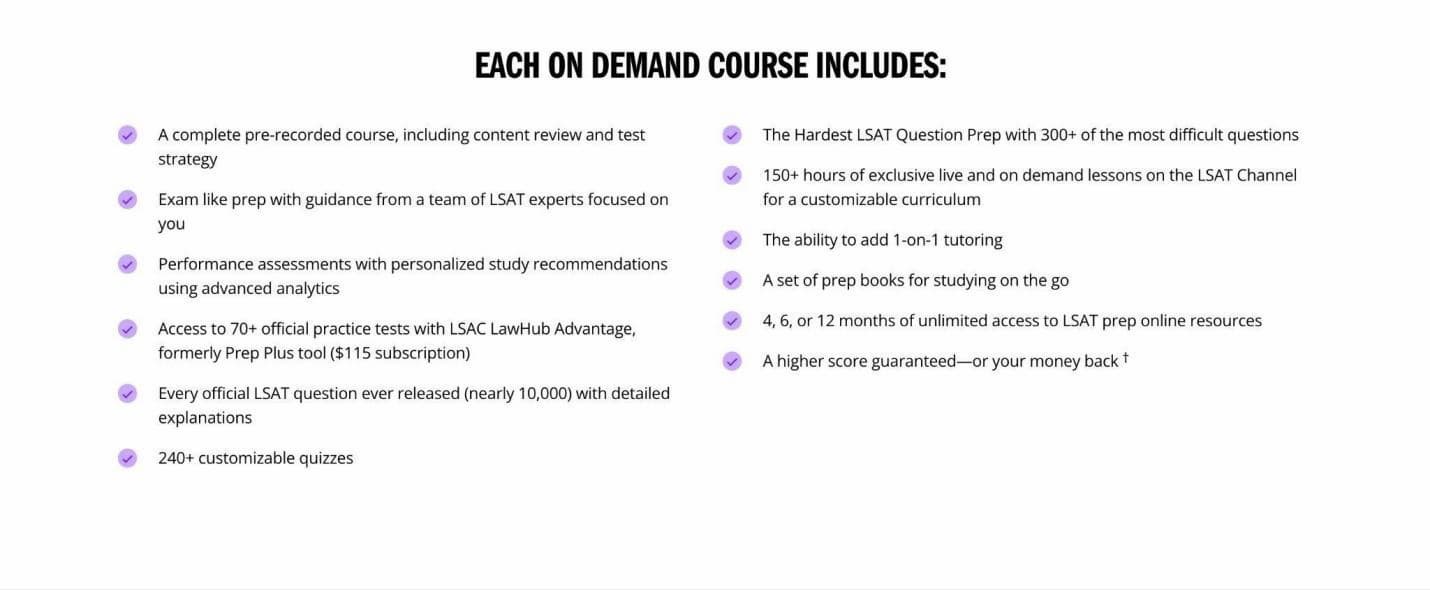 These courses offer everything from interactive lessons to practice exams, ensuring a flexible preparation experience tailored to your needs. Check out other features you're sure about coming across:
Study at your convenience with a 32-hour flexible asynchronous course.
70+ full-length LSAT practice tests and 200+ quizzes.
Engage in 32 hours of live, interactive lessons.
Utilize 10,000+ official LSAT questions with explanations.
Experience distraction-free, 32 hours of in-person instruction.
Work through 10,000+ official LSAT questions with explanations.
Access 150+ hours of supplementary LSAT lessons.
Benefit from 1-on-1 tutoring (10, 20, 30, or 40 hours).
Receive a personalized study plan from LSAT experts.
Access 10,000+ official LSAT questions with detailed explanations.
Premium tutors available for specialized guidance.
Access 150+ hours of extra lessons and resources.
Flexible Online Resource Access
Choose from 4, 6, or 12-month subscription plans.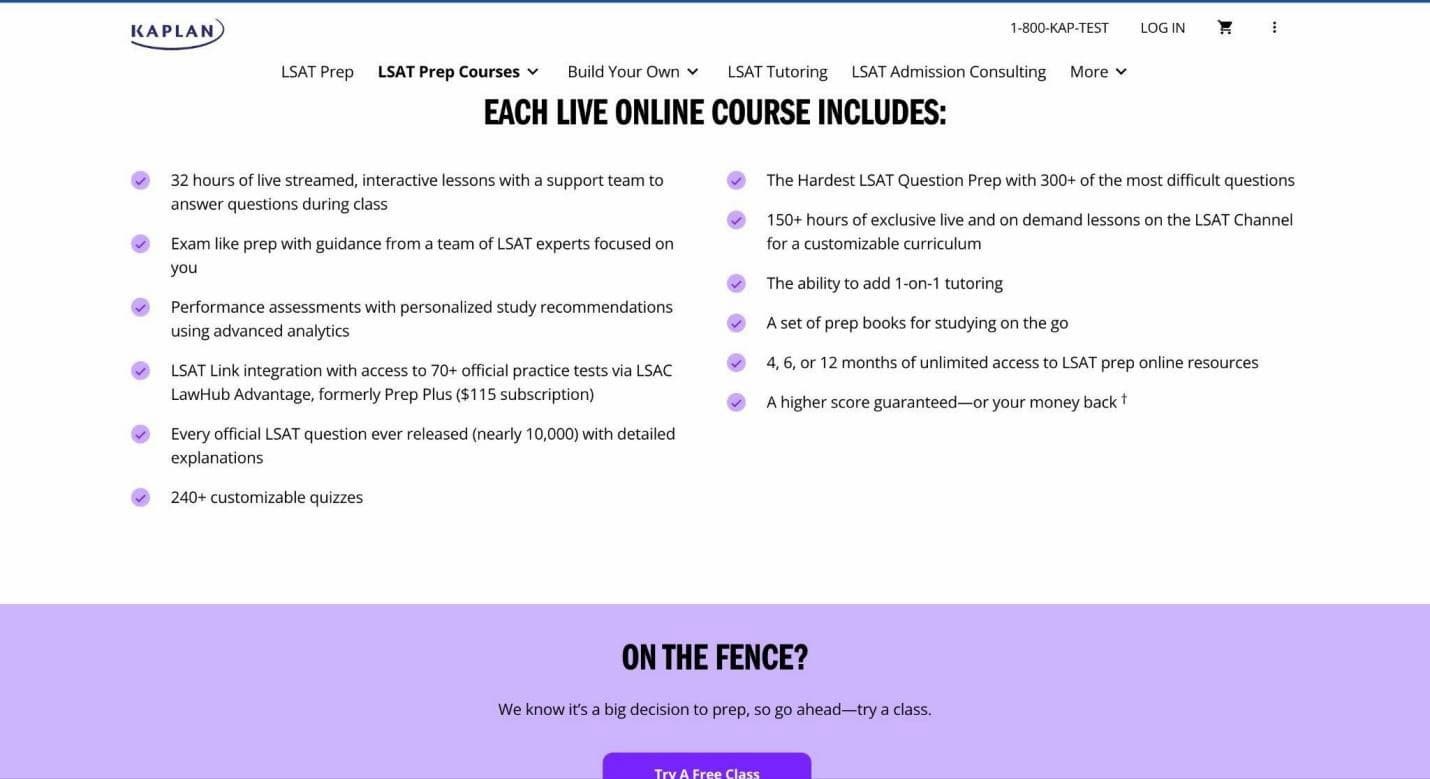 How does it work?
There is no cap, but Manhattan Prep significantly made my LSAT preparation straightforward and effective. Here's my personal experience with how it works:
Course Selection: To begin, I chose the LSAT course that best matched my preferences. That was CrunchTime. Manhattan Prep provides a variety of options, as you'd find when you create and log into your account. These include live in-person, live online, and self-paced courses.
Enrollment: I enrolled in my selected course through their user-friendly website. I created an account, logged in, and then made an immediate online payment, gaining instant access to all course materials.
Accessing Resources: As soon as I enrolled, I had access to premium LSAT study materials. This included interactive video lessons, practice questions, full-length tests, and strategy guides.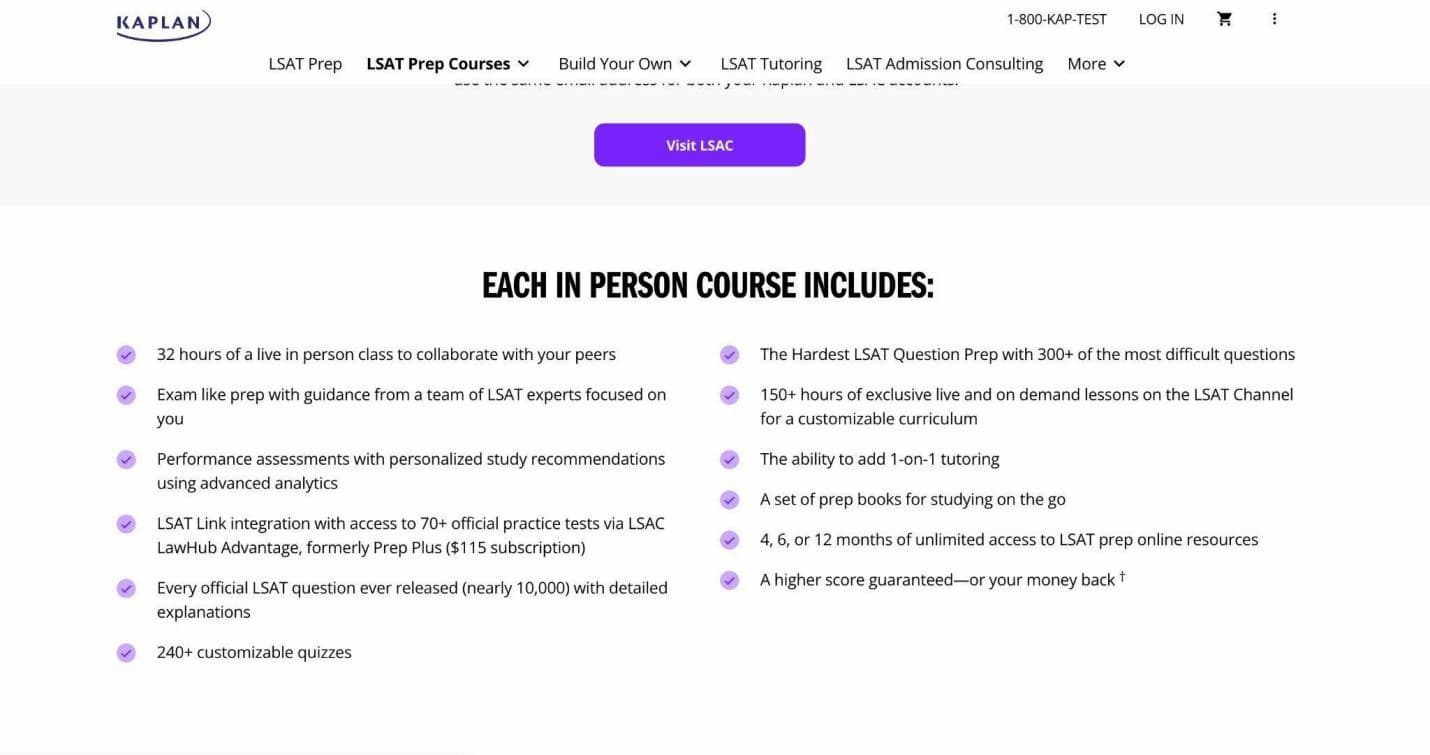 Personalized Study Plan: I tried and realized that I could customize my study plan according to my preferences. It's a good thing this option is a feature of all pricing plans. Manhattan Prep's syllabus and guidance from instructors helped me create an effective plan.
Attending Classes: For my chosen live course, I attended classes in person & online, as per my preference. Engaging with instructors and participating in sessions proved immensely beneficial.
Regular Practice: I dedicated myself to consistent Practice using the provided materials, relying on the LSAT Tracker to monitor my progress.
Seeking Support: Whenever I needed assistance, I opted for private tutoring sessions. Manhattan Prep private tutoring reviews gave them mostly great ratings! I experienced that first-hand. Super solid grips they provided!
Concept Review: The on-demand recorded lessons were a lifesaver for reviewing concepts whenever I needed a refresher. Summarized core course ideas into effective bullet points.
Community Engagement: I joined the LSAT Online Forum, allowing me to connect with fellow learners and find support.
Tracking Progress: I diligently monitored my performance to ensure I was on track for LSAT success.
Manhattan Prep has made LSAT prep accessible and empowering. Now, I'm confident in my readiness for the LSAT exam.
Personal thoughts and experiences learning with Manhattan Prep.
So, here's the scoop on my journey with Manhattan Prep LSAT.
When I started prepping, I had choices. A bunch of 'em. But what stood out to me was the CrunchTime workshop. Quick, effective, and just 49 bucks. Perfect for that last minute cramming session.
The best part? The live online lessons a few weeks before the exam. A real game-changer. Plus, I had the freedom to go at my own pace with the $799 On-Demand LSAT Course. They even let me pick full courses or just sections. Talk about tailor-made!
Then, I went big with the Complete Course, starting at $1499. Small classes, interactive videos, and CrunchTime access. It was the full package. And for those who need that one-on-one touch, I tried and realized that Private Tutoring at $245/hr was a complete steal.
The variety of courses rocked, catering to all kinds of study styles. Small classes and private tutoring? Gold. Plus, I snagged a $100 discount for some extra value. All in all, the Manhattan Prep LSAT was the real deal.
Quality of LSAT Prep Material
Is Manhattan Prep LSAT worth it? Do they offer quality returns for your investment? Well, you'll find a dedicated team of experts who are there to support your LSAT journey. From my experience with their service, my answer is a resounding yes. Their pool of professionals easily places them among the top prepping services in the US. The key players include:
Experienced Instructors: Manhattan Prep prides itself on having highly experienced LSAT instructors who are experts in their field. They bring practical insights and years of teaching experience to the table. A title card on their website reads: We engage only the top 0.00003% of LSAT top scorers of recent years – showing just how much attention to detail is paid to the selection process.
Course Creators: The creators of Manhattan Prep's LSAT courses are well-versed in LSAT content and test-taking strategies. The majority of them even scored in the top percentile themselves. From what we found out, these high scorers create study guides to guarantee efficient preparation. Top stuff you can confidently bank on!
Support Team: As you might expect, support reps are available to help with any administrative or technical questions at any time. And they're great at what they do! They ensure smooth learning by being kind and prompt in their responses.
Community: Being a member of the Manhattan Prep community gives you access to a network of professors and other students eager to impart their expertise. You'd be in good hands!
In my experience, Manhattan Prep's team of professionals is committed to helping you succeed. Their dedication makes them reliable partners in your test preparation journey.
Any guarantees? Now, here's the deal-breaker: they do not offer any refund guarantees on their website. I know, it's a bummer. But hang on, don't hit the panic button just yet. There's more to the story, and we'll uncover all the details so you can make the right pick. Let's dig deeper into what Manhattan Prep has to offer – the good and the not-so-good.
Comparison With Other Courses
Here's a concise overview of how Manhattan Prep compared with two other topmost prep LSAT courses.
| | | | |
| --- | --- | --- | --- |
|  Brand | Target Test Prep | Princeton Review | Manhattan Prep/Kaplan |
| Price | $550 – $600 | $800 – $4,000 | $799 -$1,999 |
| Subscription Length | 4 – 6 Months | 12 Months | 3 – 12 Months |
| Videos | 80+ hours | 150+ hours | 56 hours |
| Live Online Hours | 33 hours | 30 hours | 150+ |
| Practice Questions | 3000+ | 8000+ | 10,000+ |
| Practice Tests | 55+ | 70+ | 70+ |
| Books Included | No | Yes | Yes |
| Guarantee | No | Yes | Yes |
| Study Plan | Yes | No | Yes |
Pricing of the Courses and Classes
Manhattan Prep costs a range of options to suit various budgets and study preferences: For On-Demand, Live Online and In-Person LSAT courses, learners can pick from monthly options of 4 Months, 6 Months and 12 Months. Pricing differs by $200 for every 4 Months difference in duration.
Here are the types of test takers the different durations of the course pricing are tailored for:
4 Months: Optimized for learners with at least 20+ hours per week to study. Such test takers typically have moderate work commitments or a light semester at school.
6 Months: Designed for test takers balancing work or school schedules with their study time. Applies to those seeking better score improvement as well.
12 Months: Perfect for test takers with limited study time each week. Also, for those seeking the highest score improvements.
We've covered the major pricing structure of Manhattan Prep's courses, alongside the pricing for your preferred duration below:
On-Demand LSAT Course: $799 (4 Months); $999 (6 Months); $1199 (12 Months)
A complete 32 hour optimized asynchronous course, available 24/7.
Flexible Online Resource Access Choose from 4, 6 or 12 month.
Personalized study plan that updates based on advanced analytics of your performance.
70+ full length uniquely curated LSAT practice tests and over 200 quizzes.
Nearly 10,000 official LSAT exam questions with detailed answer explanations.
Study at your own speed, on your own time.
Exclusive LSAT Channel with 150+ hours of additional lessons.
Live Online LSAT Course: $1199 (4 Months); $1399 (6 Months); $1599 (12 Months)
Access nearly 10,000 official LSAT exam questions with detailed answer explanations.
Enjoy exclusive access to the LSAT Channel, featuring 150+ hours of lessons.
Benefit from flexible scheduling options designed to fit into your life.
Receive a personalized study plan that updates based on advanced analytics of your performance.
Practice effectively with 70+ full-length curated LSAT practice tests and 200+ quizzes.
Participate in 32 hours of live streamed, interactive lessons for a learning experience.
Choose from flexible online resource access options: 4, 6, or 12 months
In-Person LSAT Course: $1499 (4 Months); $1699 (6 Months); $1899 (12 Months)
Engaging, in-person structure to minimize distraction.
32 hours of live, in-person instruction near you.
Nearly 10,000 official LSAT exam questions with detailed answer explanations.
Personalized study plan that updates based on advanced analytics of your performance.
70+ full length uniquely curated LSAT practice tests and over 200 quizzes.
Exclusive LSAT Channel with 150+ hours of additional lessons.
Flexible Online Resource Access: Choose from 4, 6 or 12 months.
Standard & Premium LSAT Tutoring Packages: $1999(Standard); $3999(Premium)
For Standard Tutoring, the pricing starts from $1,999, with the following course features:
70+ full length uniquely curated LSAT practice tests and over 200 quizzes.
Nearly 10,000 official LSAT exam questions with detailed answer explanations.
Personalized study plan from an LSAT expert.
Includes a full live online course and resources.
10, 20, 30, or 40 hours of private, 1-on-1 LSAT tutoring.
Premium LSAT tutors available for specialized assistance.
For Premium Tutoring, course features remain the same as with Standard. However, Premium learners get to benefit from the following extra additions:
Law School Admissions Personal Statement Review ($399 value).
99th percentile tutors.
Tutors with 10+ years of experience.
As you can observe, one of the standout features of Manhattan Prep's price structure is its flexibility. Take it from me; after all, I've got 'hands-on' experience. Whether you need a quick study boost, a comprehensive course, or personalized LSAT tutoring, there's an option that can fit your budget.
The $100 discount, which they offer, makes these high-quality courses even more accessible, adding extra value to their already competitive pricing. With Manhattan Prep,  you not only receive top-notch study materials and support but you also retain the flexibility to choose a course that aligns with your financial resources and study preferences.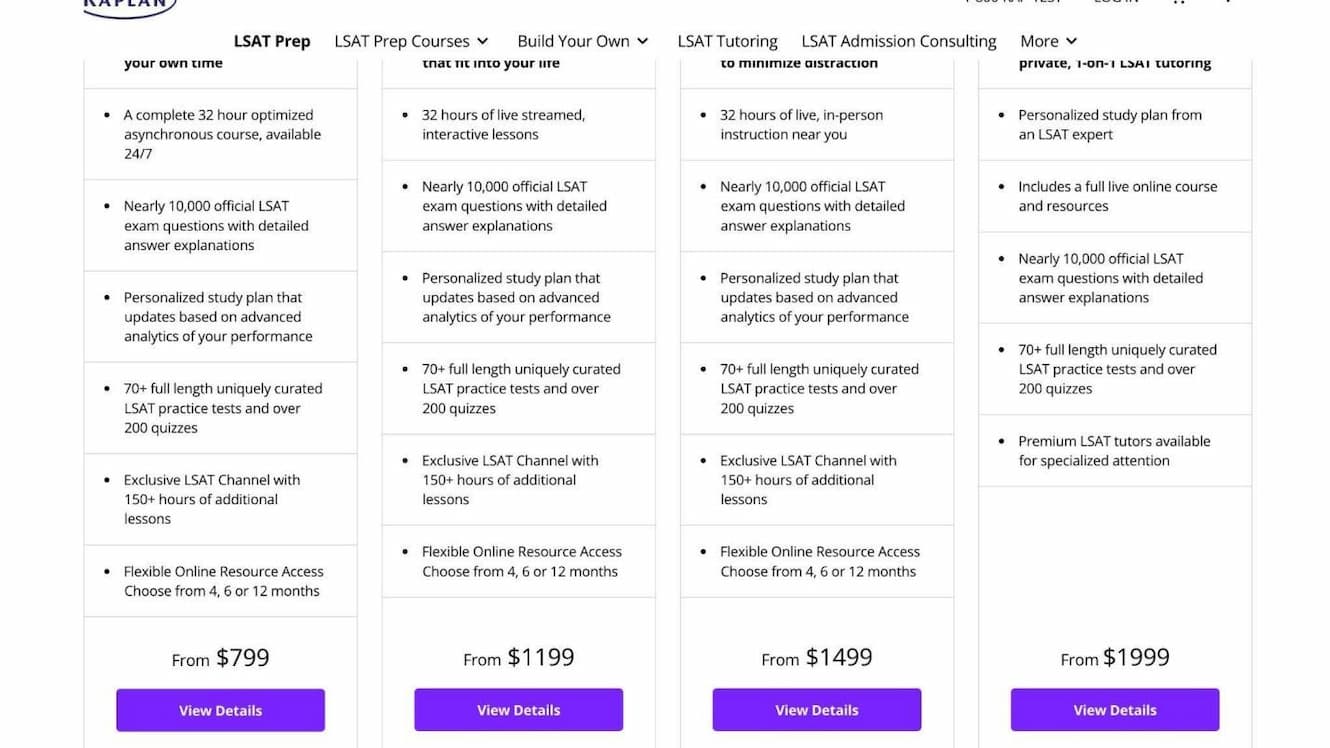 What payment options are available?
VISA/MasterCard;
American Express;
PayPal.
Value for Money
From my personal experiments, I can confidently assert that Manhattan Prep offers impressive value for your money. You need only consider the comprehensive resources and support they provide to understand this take.
While their pricing is in the mid-range, when compared with other notable prepping services, it aligns well with the substantial benefits offered.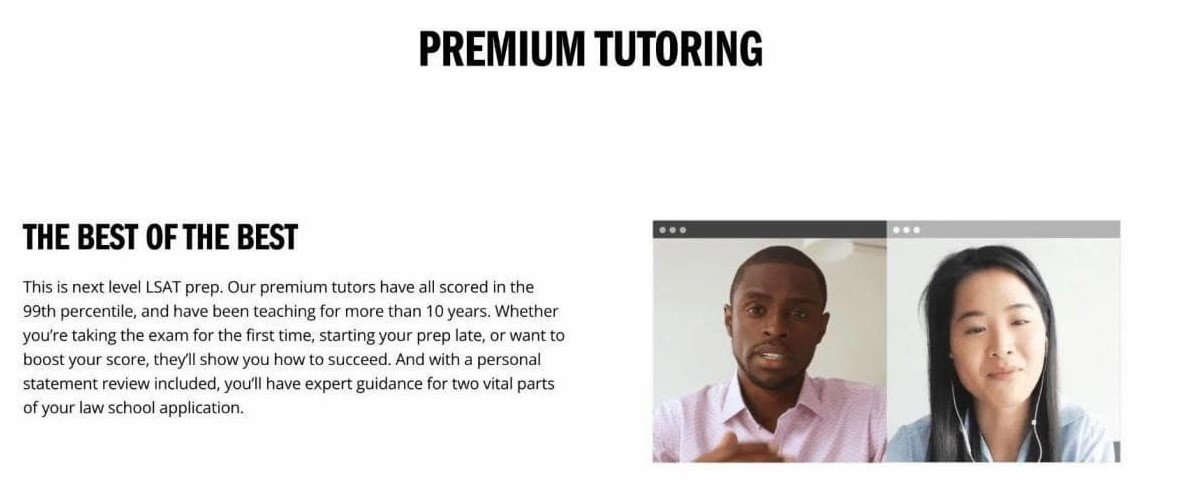 For your preferred pricing plan, you gain access to a rich array of study materials, including interactive video lessons, extensive practice questions, and full-length practice tests. The inclusion of Prep LSAT books for purchase, which are highly regarded, further boosts the value you get to obtain from the program.
Moreover, Manhattan Prep's impressive statistics, including having helped over 1.2 million students and their success stories, underscore its effectiveness. The $100 discount and money-back guarantee further enhance its value proposition.
Conclusively, Manhattan Prep offers a solid return on investment. It equips students with everything they need, be it the tools and resources needed to excel on the LSAT. If you seek to maximize your test preparation efforts, it's a worthwhile investment; take our word for it.
Student Feedback & Reputation of Manhattan
In my journey with Manhattan Prep, the student feedback and reputation of this prep service have been impressive. Here's how:
Polite & Helpful Support Staff: The support staff at Manhattan Prep proved to be consistently polite, considerate, and incredibly helpful. Whenever I had questions or concerns, they responded promptly and went the extra mile to assist me. Their live chat and email support options were super-duper. Imagine receiving aid in real-time whenever you need it! Nothing tops that!
Positive Reviews: While checking them out on Trustpilot, I noticed that many students shared positive reviews and testimonials about their experiences. It was reassuring to see so many success stories and high ratings.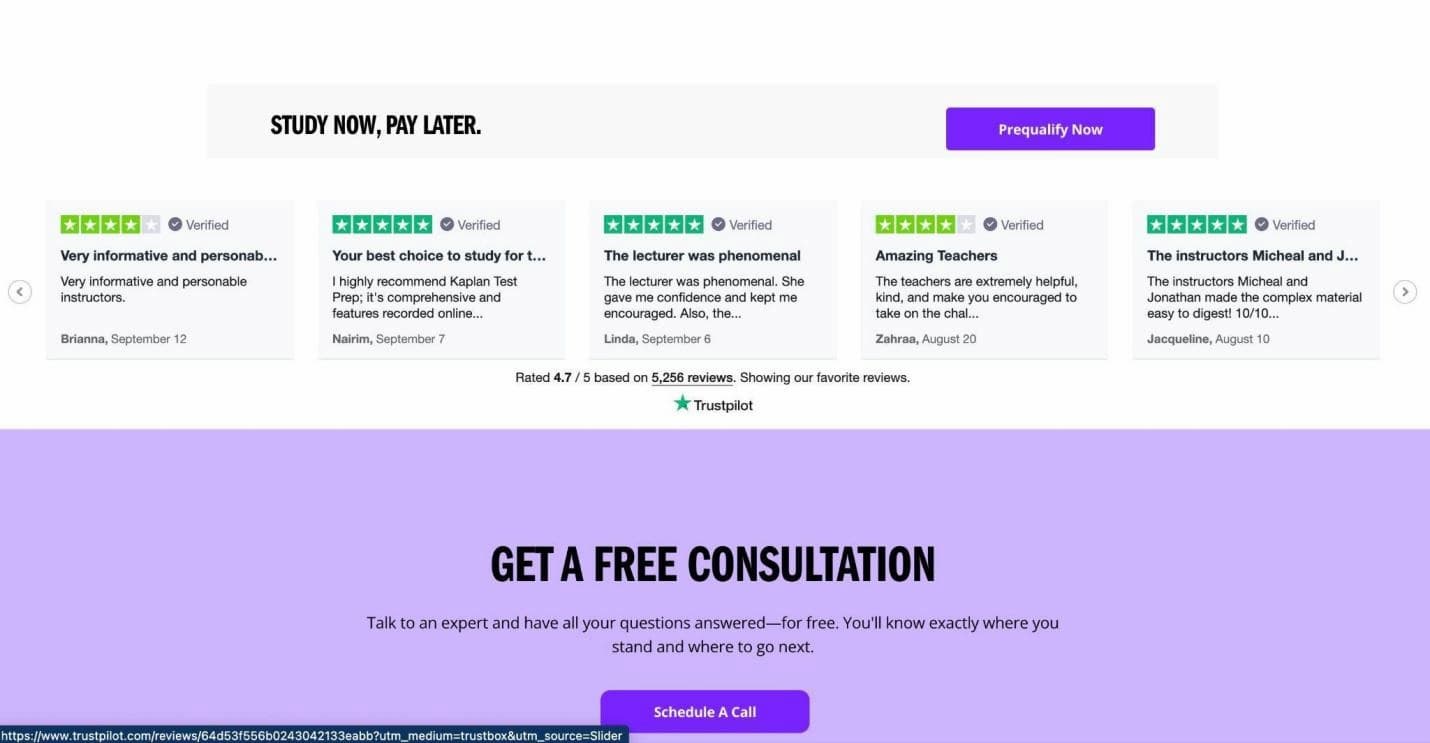 Engaging Community: Being part of the Manhattan Prep community meant access to a supportive network of fellow LSAT aspirants. Discussions and shared strategies, even the occasional familial bonding, were abundant.
Reputation for Results: Founded in 1999, Manhattan Prep has built a reputation for delivering tangible results. With students reporting significant score improvements on third-party review websites, it's quite easy to verify. We needn't tell you how much it boosts confidence in their effectiveness.
In my assessment, Manhattan Prep's strong student feedback and solid reputation are well-deserved, making it a trustworthy choice for LSAT preparation.
We've outlined the pros and cons of using Manhattan Prep so you can make the proper pick for your LSAT prep journey. From top-notch LSAT instructors in New York to structured lessons, you'll find all you need to know about their strengths and weaknesses down there.
But hey, it's not all rainbows and sunshine – there are a few downsides, too. In concise sentences, I'll spill the beans about the Manhattan Prep LSAT.
Pros
Top-notch instructors who break down tough stuff.
Structured curriculum with levels for easy learning.
Engaging in classes that make studying enjoyable.
Personalized study plans tailored to your needs.
Major score improvements, like mine—580 to 710!
Cons
It's pricey for some folks, but they've got a $100 discount.
Mixed reviews on the Interact program.
The Drill It feature? Need clearer explanations.
The Recap: Is Manhattan Prep LSAT Good?
Have you ever wondered: Is Manhattan Prep Legit, and Is it any good? Well, one fact my experiments have shown is that they've got you covered with resources that fit your needs. They're also super finicky about who they engage to tutor aspirants.
For instance, you may decide to take the CrunchTime workshop for that last-minute boost or go all-in with the Comprehensive Course. If that doesn't rank them as effective or as legitimate as top-notch preppers come, certainly nothing would. What's just as sweet about them is their pricing flexibility, and there's even a cool $100 discount for grabs.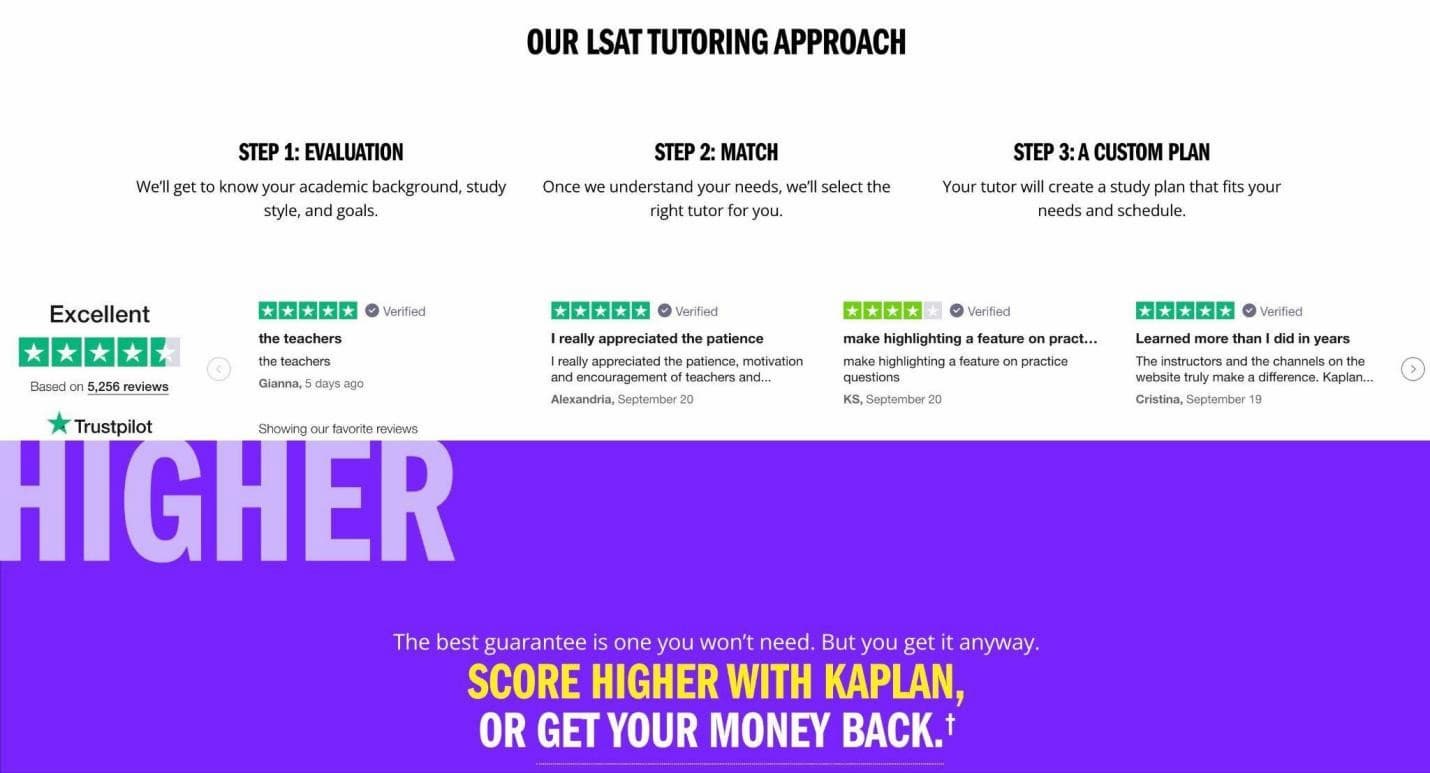 When I was prepping, their user-friendly setup and rich resources made the LSAT journey smoother. They've got everything you need, from Manhattan prep law review to inspiring success stories. The interactive lessons and personalized study plans? Yep, they've got those too. But I've heard mixed reviews about the Interact program.
Here's the scoop: top-notch instructors, a structured curriculum, interactive learning, and score improvements. But keep an eye on the pricing, some find the Interact program a bit overwhelming. Oh, and the "Drill It" feature? It could use some clearer explanations. All in all, Manhattan Prep LSAT is a solid choice for LSAT prep – good bang for your buck!
FAQs
How much does Manhattan Prep LSAT cost?
Their LSAT costs vary, but they offer options like LSAT Live In-Person for $1499, LSAT Live Online for $1199, and LSAT On-Demand for $799. They also have a $100 discount.
Is Manhattan Prep good for LSAT?
Manhattan Prep is good for the LSAT because it offers effective courses with expert instructors and interactive lessons, helping improve your scores.