Do you want to prepare for GMAT? If that's the case, then reading a Magoosh GMAT review is going to be the right decision!
Without any doubt, Magoosh online GMAT prep course is an ideal opportunity for all students that plan to improve their knowledge and skills.
Magoosh GMAT program is flexible cause it allows students to improve their knowledge without sitting in a classroom or attending live online classes. Instead of that, you will get a huge number of video lessons in one place.
Indeed, this is not an option for everyone – you have to be a self-motivated student that knows how to organize his time!
But, when you get a bunch of effective instructions as well as actionable strategies through the library of video lessons, organizing your time is going to be a lot easier! Plus, keep in mind all these options come with a pretty handsome price for students as well as their parents!
So, what can you learn from this Magoosh GMAT course review?
You can find out more information about pricing, the main features, why it deserves your attention, and which cons the program has. We have already reviewed Magoosh, highlighted some of its characteristics, and compared it with TargetTestPrep in terms of GMAT. But, if you are willing to find out more, continue reading!
Short Overview of GMAT Course

Magoosh was founded 13 years ago with only one goal – to improve the knowledge of students in a fun and entertaining way!
All the products they offer are a perfect source of education for students of different levels. The company itself guarantees knowledge improvement and success!
There are a couple of reasons why some people like to say Magoosh ensures the best GMAT prep program for students. Compare to other classes you can find online, Magoosh has a bit different requirements.
Neither of the students that plan to subscribe to this service has to follow some instructions. You, as a student, have complete freedom to choose the topics on your own!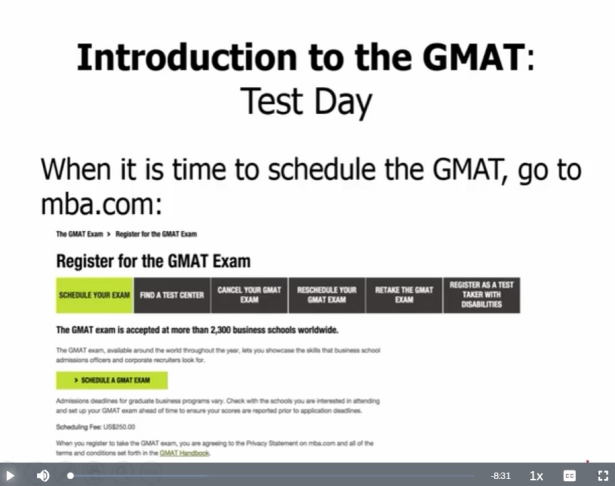 The quality of the lessons is something I consider from two different angles. The content Magoosh offers is great.
All the confusing parts for students were simplified in a pretty good way. But, lessons are visually a bit outdated. At least, that's my opinion. You will see a PowerPoint video explanation with the tutor's audio voiceover, and that's it!
I hope something like that will change as all negative Magoosh GMAT course reviews were somehow connected with this feature.
It is also worth mentioning that all students can get the chance to collaborate with between 90 and 100 tutors (33 employees and around 60 remote experts) for a pretty affordable Magoosh GMAT price.
We will pay attention to this part soon, but this only confirms that reading this Magoosh GMAT prep review is going to be interesting in the further parts!
Apart from a relatively good number of tutors, it is also good to mention that you have access as a subscriber to around 6 MILLION hours of videos and 300 MILION answered questions. The course is available to people from 185 different countries.
I recommend GMAT prep courses for many reasons, but there are certainly some things this educational platform should change in the future. Because of that, if you want to hear more details, continue reading!
Magoosh GMAT Price: Different Packages, Different Benefits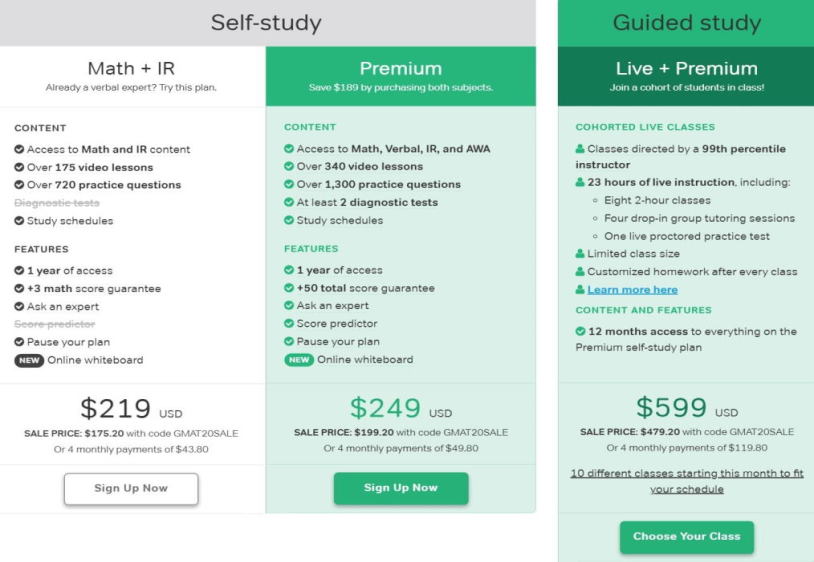 Pricing is probably the first amazing feature of this educational platform as it is affordable for all students around the globe. While I am writing this article, the price of the Math + IR package is 219 dollars.
The Premium Package, on the other hand, comes with better benefits (check out the image above). A subscription will cost you 249 dollars.
Both packages that Magoosh offers ensure 1-year-long access to all the video explanations, practice tests, and other stuff.
Best of all, the platform itself usually allows students to use promo codes. Promotional codes are not available all the time, but, according to Magoosh GMAT reviews, they are present often!
While I write this article, you can use code EDUREVIEWER10 to get a discount! The basic package will cost you $199 while the other one will cost you $225. As an expert that regularly reviews platforms of this type, I guarantee this is one of the most affordable offers I have seen so far!
However, even these affordable offers may be pricy for students and their parents. Because of that, the platforms allow people to separate the price into 4 equal monthly installments. Doesn't this option make Magoosh even better?
But, There is Also Something for Non-Self-Learners
As stated at the beginning of this Magoosh GMAT review, these courses are ideal for self-motivated students that do not struggle with self-discipline and time management.
However, that doesn't mean the tutors are not there to help students at all. More precisely, there is also a Guided Study program.
If you decide to subscribe to this tuition, you will get suggested study schedules, 23 hours of live instructions, customized homework after almost every class, etc.
Despite that, for only $599, you will get the opportunity to enjoy different educational materials for only 12 months!
Just like in the previous case, you can use the code EDUREVIEWER10 to ensure yourself a discount of 10%. That way, you will reduce the Magoosh GMAT price for this class which you can pay in 4 monthly installments. Attractive offering, isn't it?
If you need more pieces of evidence that price is one of the best you can find, then the table I saw on their main page is something you would want to see.
Check out the image below and see how much money you can exactly save! Keep in mind these are prices without any discounts!

Apart from that, I also need to highlight the private GMAT tutoring with Magoosh in case you need additional assistance.
The price is $110 per hour, but you can reduce it to 90 dollars per hour in case you buy 10 sessions or more. Compared to other platforms of this type, this is extremely cheap (most of them charge around 200 dollars per hour).
Bonus: Available Payment Methods
As stated, students from 185 different countries can enjoy the lessons of Magoosh GMAT prep courses. Because of that, I know that payment methods available on the platform are a piece of crucial information for many individuals.
The list of payment methods is not quite long, but most of them are available in all parts of the world. They are:
VISA;
Master Card;
Discover;
American Express;
PayPal;
Alipay.
Main Features of Magoosh GMAT Courses
We already mentioned at the beginning of this article that prep courses available for GMAT candidates are different from others in many ways!
However, to confirm that statement, I have to highlight some of its main features! I already mentioned some of them in a different context in the previous part of the text, but let's find out more together!
Practice Questions & Video Lessons
Believe it or not, all the students will get the answers to more than 1300 practice questions. All the answers you will get come in the form of a video explanation.
However, the answers you get are not only informational – their purpose is to show logic for all the doubts that every student could have.
The video lessons you can find on the platform cover every area of the GMAT. The tutors are providing explanations for everything – math, verbal, IR, and AWA.
The website itself is mobile-friendly, so you can enjoy the lessons from any location covered with a strong and safe internet connection. You can improve your knowledge while you are walking around, driving on a bus, etc.
The good thing I like the most about the videos is the fact that you can speed them up, get back to the previous part, etc. In other words, it is like watching a TV show or listening to a song on YouTube.
If there are certain parts unclear, you can check them again and again. That certainly makes things easier!


The Magoosh GMAT prep reviews that I found online confirm everything I just said!
You Will Get Appropriate Study Schedules
The platform is pretty flexible as its creators understand that each student that subscribes has different deadlines.
Because of that, the website provides detailed schedules as well as additional requirements necessary for the student to improve his point score and reach his goal. I especially suggest you check timing-related content present on their blog in case you get stuck!
Accomplishing GMAT Practice Tests with a Timer
There are multiple ways in which candidates can improve their point scores. Fortunately, Magoosh offers a wide range of methods to boost the level of your knowledge.
One of the intriguing options is to complete GMAT practice tests with a timer. At every moment, you will know how much time you need to accomplish all the areas of the GMAT test.
Apart from that, you will also manage to compare yourself with other students. That way, you will easily measure your performance and understand whether you need to work more on your knowledge or not.
Website Come with Some Guarantees!
The level of professionalism would be much lower if certain guarantees do not exist. Fortunately, they do exist and are pretty handsome!
The course guarantees the improvement of 50 score points to all Premium subscribers! In case you have either a Verbal or Math subscription, the platform guarantees 3-point progress.
If you don't manage to do that, you will get your money back!
Magoosh is a professional educational platform. These guarantees do not have a promotional purpose. They come with certain requirements that all individuals have to respect. Check out the image below as it says the full story!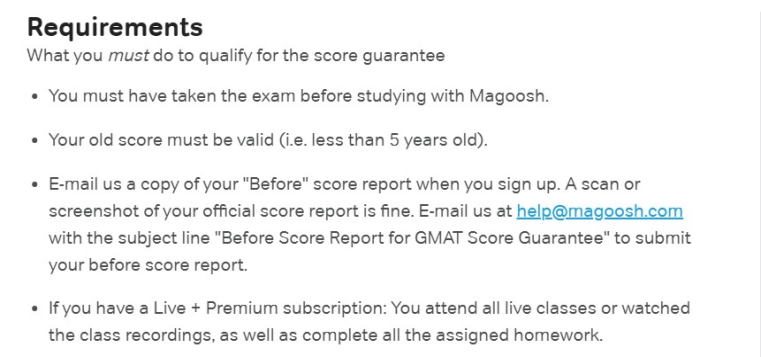 There Is Also a Score Predictor!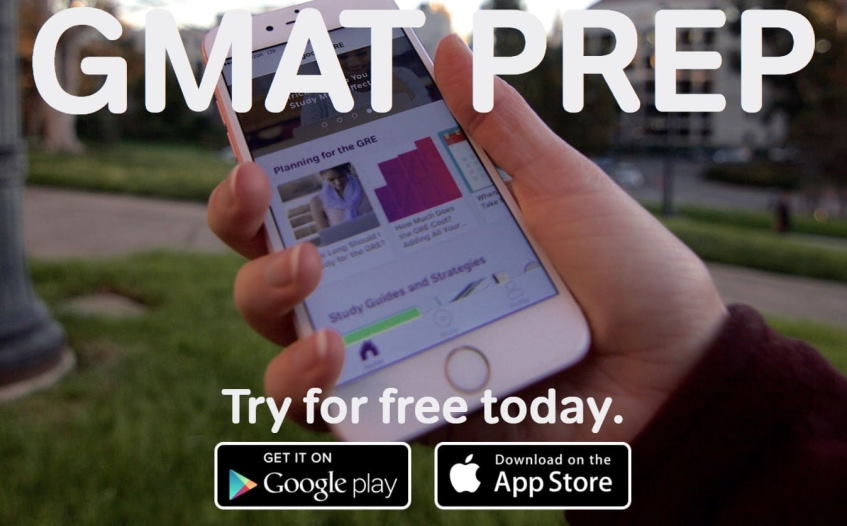 I like the algorithm present on the website known as Score Predictor a lot. Thanks to the algorithm, the program can easily predict your performances and results in the future.
Of course, don't expect the robot will be 100% accurate. However, the difference is, according to some Magoosh GMAT prep reviews I saw between 3 and 5 percent. I can say that is pretty accurate!
To use this tool, you will have to download the app on the platform! Fortunately, it is available for both iOS and Android devices.
Pros and Cons of Magoosh GMAT Prep Courses
This Magoosh GMAT review isn't completed yet! I did highlight some of the most important factors, but things will be much easier if you find all the pros and cons in one place, wouldn't they?
Because of that, I recommend you continue reading and become aware of all the benefits you can get as well as the obstacles you may meet.
I need to say in advance that the disadvantages are not that big, and they should not ruin the reputation of this educational platform. Let's find them out together!
Pros of Magoosh GMAT Prep Courses
I often like to repeat Benjamin Franklin's quote about investing. He said once – "Investing in knowledge pays the best interests". Robert G. Allen, on the other hand, said once – "Becoming a millionaire is impossible if you invest only in your saving account".
Both quotes are correct, but I have to say that price sometimes is a boundary for all the youngsters that want to improve their knowledge. It seems that Magoosh GMAT course tutors and administrators understand that.
As stated above, the basic package will cost you only $219. If you get a promo code, the price will be much lower. Because of that, there is nothing that could stop you from gaining some effective lessons!
While private tutoring is a bit more expensive, you can complete the job alone with a high dose of motivation.
Accessibility of the Courses
Magoosh is completely online! No, you will not have to purchase books, visit tutors in person or do anything else. All the practice problems, practice tests, instructions, and books are in a digital format.
As stated, you can access the website either via a web browser or an app. But, my recommendation is to choose apps as they are somehow more practical!
The website Is Pretty User Friendly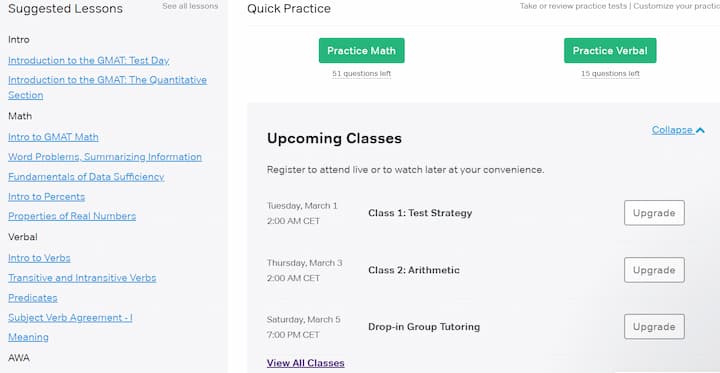 I need to provide some additional explanations. Indeed, I like the app a bit more as you can connect your account with a payment provider or do anything else with a couple of clicks.
However, I also need to put into consideration the web platform and make only one conclusion – the website is pretty user-friendly!
The navigation is extremely easy and you won't have to bother to find everything you want. All the tests, including math, verbal, AWA, and other parts of the test are divided into different categories.
You will immediately see upcoming classes after accessing the dashboard or simply see all the classes, check out the questions and video instructions, etc.
Video Explanations Are Top-Notch
There are many positive Magoosh GMAT reviews, but I need to highlight one that I agree with 100%. Check out the image below!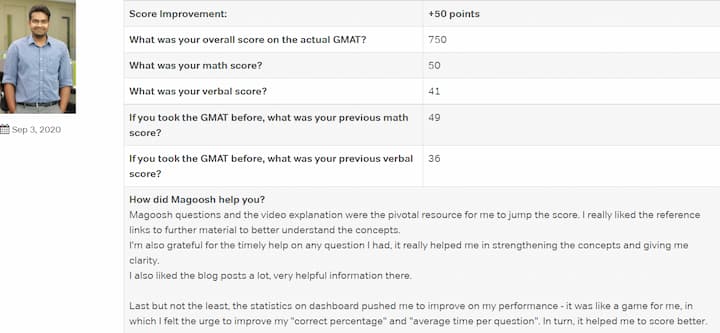 This student managed to improve his score by 50 points thanks to video lessons and explanations presented on the website! Most of them are not more than 5 minutes long.
However, for that period, you will get some pretty cool explanations with a logical background that will help you understand each answer properly (not just remember it).
Flexibility at the Highest Level!
This is probably clear after everything I said in the previous part. Generally, thanks to advanced technology, the app you can download, or simply a mobile-friendly and user-friendly website, you can access a big number of resources from any place and at any time.
I know that some students have full-time jobs, and going to classes would be the worst-case scenario for them. They would attend classes with a lack of energy and concentration after a tough day at work.
That is the reason why I strongly recommend you make your schedule and invest time in checking video explanations whenever you feel mentally strong!
Get Access to a Big Number of Resources!
Last but not least benefit for all the subscribers is the accessibility to a big number of resources. Despite video explanations (which are the most useful ones), you will get the chance to see FAQs for different types of eBooks that offer a complete guide to the GMAT, vocabulary builder, etc.
All you have to do is to visit the resources section after creating an account, and you will see all the educational material in one place.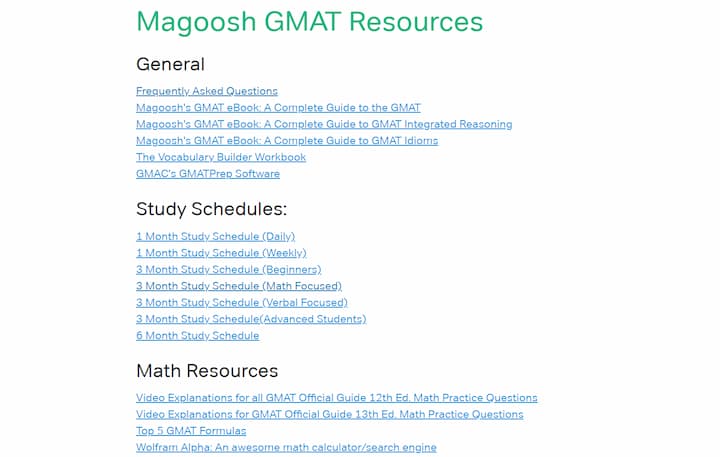 Cons of Magoosh GMAT Classes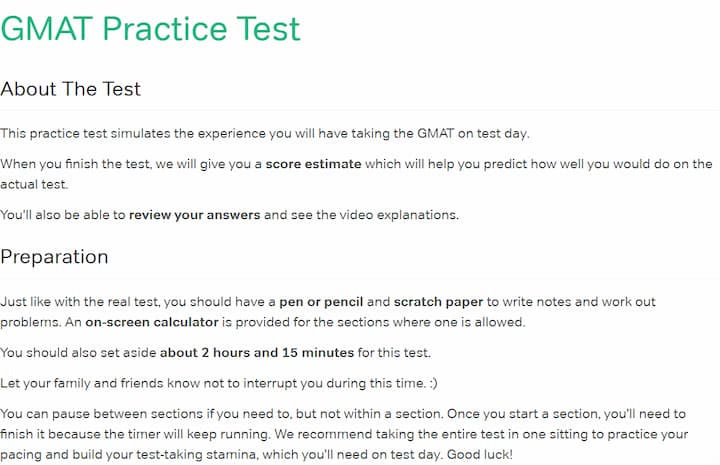 This may seem like a surprise, as I mentioned a couple of times in this Magoosh GMAT prep review that practice tests exist.
Indeed, they are present on the website and come in the form of a simulation where students get a pool of questions that need to be answered.
Their quality is pretty good; in this case, the quantity is the problem as there are only three of them while I am writing this article. There are not many of them, and I hope the operators of the platform will change that in the future!
Premium Package Isn't Appropriate for All the Students
Using educational material is not appropriate for students that are not self-learners. You need to come with a strong desire and self-motivation to pass all the lessons and truly learn something new.
The GMAT test is not easy, and you need to schedule your time in the best possible way to understand all the parts of the test.
If you have a problem with that, I strongly recommend the Guided Study section. It may be a bit more expensive, but you will certainly improve your knowledge to another level!
FAQs
Are Magoosh GMAT questions harder?
They may be harder, but the answers you get are pretty precise and easy to understand. With an appropriate schedule, guided study, or personal tutoring, you can easily find answers to all the questions and reach your goal!
Is Magoosh Good for GMAT?
Yes! For an affordable price, you will get many resources and video explanations in one place. They are all recorded by experienced tutors that know how to help students achieve their goals.
How is Magoosh for GMAT verbal?
Our Magoosh GMAT verbal review confirms that GMAT verbal lessons are amazing. You have access to different areas including predicates, transitive and intransitive verbs, subject-verb agreements, etc.
Pros
Magoosh GMAT price.
Accessibility of the courses.
User-friendly platform.
Top-notch video explanations.
High-level flexibility.
A great number of resources.
Cons
Lack of GMAT practice tests.
The premium package isn't for everyone.
Conlcusion
The cons will always exist! Don't expect perfection from any educational platform. Besides, who says that things won't change in the future? I can only conclude that Magoosh is a good test rep company and I recommend their services and product to all self-motivated students. For those that lack discipline, I suggest the Guided Study package!