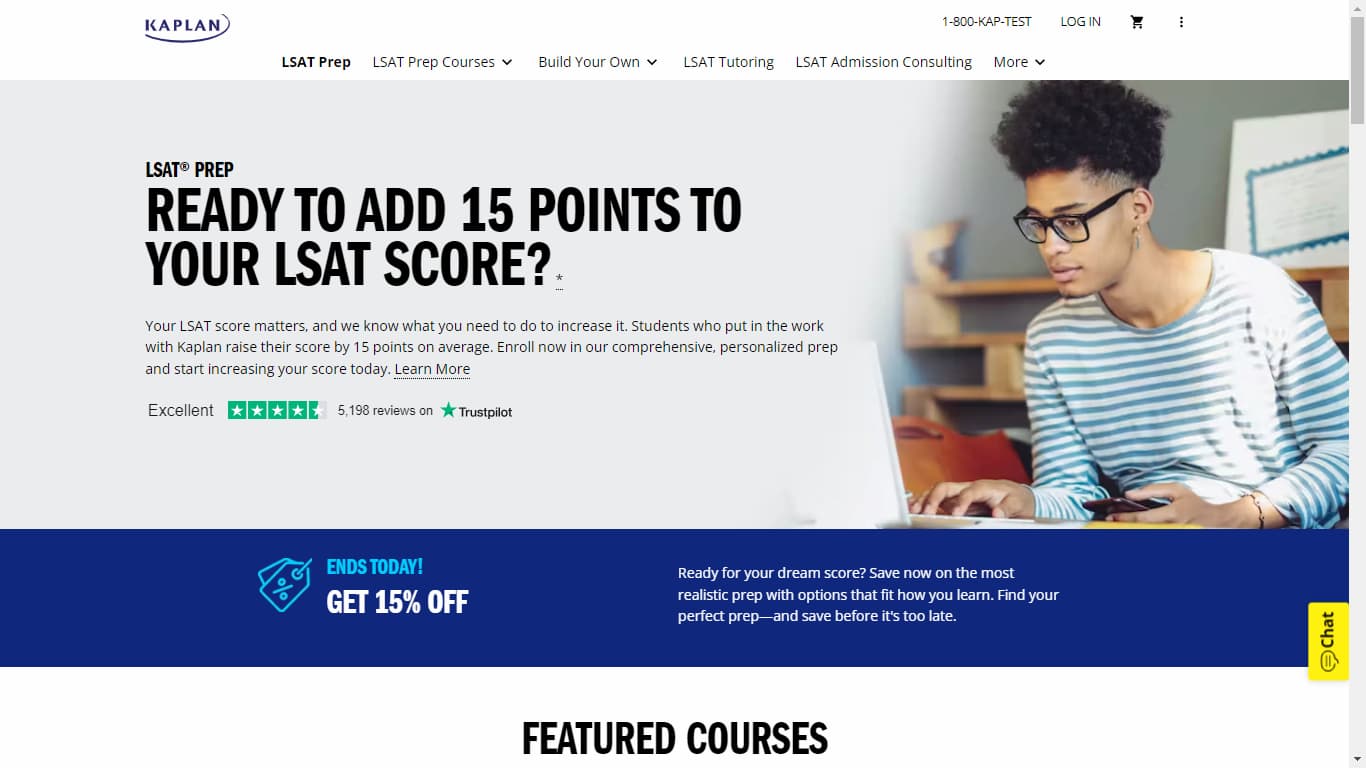 Are you wondering if Kaplan LSAT prep is the real deal? Let's dive in and discover why both students and parents should have their radar tuned to this Kaptest LSAT review.
Imagine a crucial stepping stone toward law school success. That's what the LSAT is, and nailing it is no child's play. That's why I put my detective hat on and ventured into the world of Kaplan LSAT prep. What did I find? Hold tight.
First off, I scoped out features like practice tests, study materials, and interactive tools – everything needed for an epic LSAT conquest. Then, I assessed the quality of the prep. Price tags got a thorough scan, too – after all, value for money is king.
I also tapped into the collective wisdom of the student community. Their feedback was like gold – honest insights into the real deal with Kaplan LSAT prep. And guess what? Guarantees mattered, be it money-back assurance or privacy protection.
Now, why should you care? Because this Kaplan LSAT prep review is your roadmap. It's a GPS for acing LSAT, steering through the jungle of options. So, gear up, the world of Kaplan prep awaits your touch.
Kaplan LSAT Features That Stand Out: My Thoughts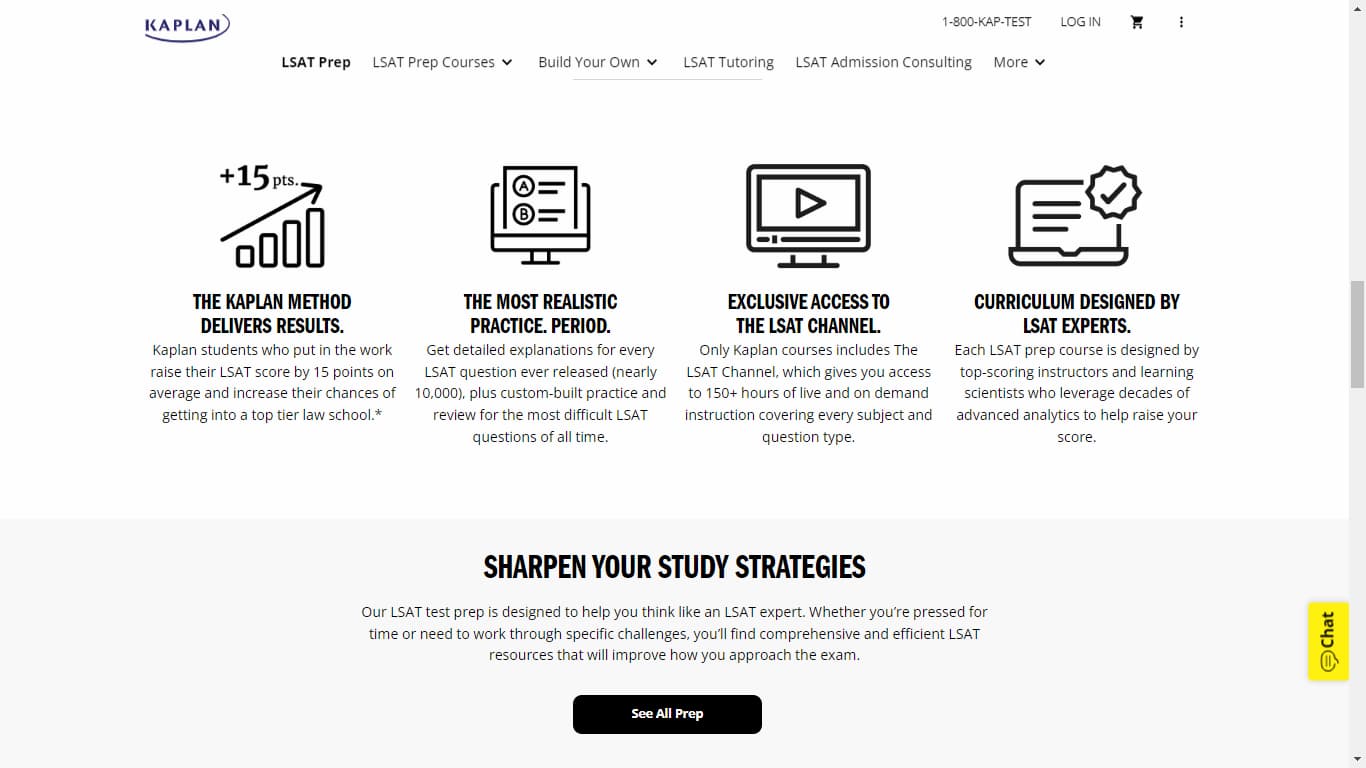 Discovering the ins and outs of Kaplan LSAT features opened my eyes. In my opinion, It's not just a course, it's a toolkit for success. The way it breaks down complex concepts amazed me. Is Kaplan LSAT prep good? Let's quickly discuss some of the key features of the platform below:
The Kaplan LSAT course offers standout features that can truly aid students in their LSAT prep journey. The interactive in-person or live online classes bring experienced instructors right into your learning space. They share their insights through classroom-style sessions, making studying engaging. My chance to have three hours of personal time with instructors was a gem. It's like having a guide by my side, ready to clarify doubts in real-time, boosting understanding.
A wealth of on-demand digital materials in Kaplan's library is a goldmine. For me, it felt like having a personal study hub that was available whenever I needed it. The live workshops provide a glimpse of Kaplan's approach, helping me decide if it suits me. In-class practice LSATs and access to 70+ more online is a treasure trove. The realistic test environment gave me a taste of what was to come.
The custom quizzes are nifty. They turn a daunting test bank into manageable bits, letting me focus on what's key. Smart Reports™ take personalization up a notch. They analyze my practice tests, pinpointing areas that need attention. Additional tutoring is a lifeline. When you're stuck, having expert support can be a game-changer.
The higher score guarantee sets Kaplan apart. It's like a promise that the course has your back. It's worth knowing these features because they offer a comprehensive and personalized approach to LSAT prep, making the process smoother and increasing the likelihood of success.
Who Will Find This Platform Helpful?
Students and their parents that look for the best option to prepare for the LSAT should definitely consider Kaplan. Based on my findings, the Kaplan LSAT prep materials cater to various student types. If you're looking for in-person classes you physically attend, desire one-on-one tutoring, and need a structured class with assignments, Kaplan could be your fit.
Those craving numerous real practice tests will also benefit. My experiments show that it's a choice for those valuing accountability, hands-on classes, and ample practice. In my experience, Kaplan's offerings align with the needs of individuals preparing for the LSAT exam.
Main Features:
Kaplan's LSAT courses offer a standout Higher Score Guarantee (HSG), ensuring score improvement. It's more than just money back, I can use my initial score or a diagnostic test as a baseline.
It provides 10,000 official practice questions with detailed explanations.
Students have access to 70+ full-length LSAT practice tests and 200+ quizzes. Practice exams are lifelines, reflecting real test conditions. Personally, my progress skyrocketed.
They provide one-on-one tutoring with law-experienced tutors, both in-person and online.
Live classes and flexible study materials, including textbooks, videos, and LSAT Channel, enhance learning.
Personalized study plans and analytics aid progress tracking for effective prep.
Keep reading, the good stuff is coming up next. Next up, let's talk about the top-notch quality of their prep material. Keep reading to unveil the secret sauce for your LSAT success.
Quality of LSAT Prep Material
In my experience, after checking out numerous Kaplan LSAT prep course reviews, I've found that the quality of prep material truly matters. When kids and parents are hunting for the best LSAT prep option, they must consider the quality of the study material. It's what shapes solid understanding and boosts exam performance.
Video Lessons aqnd Study Plan
Kaplan provides a trio of scored sections with multiple-choice questions and throws in an unscored experimental part, plus a writing sample submission. It's interesting how they cater to both live and self-paced learners with an extensive video library covering a variety of topics. The LSAT Channel offers deep dives into specific question types, which is great for those needing extra clarity.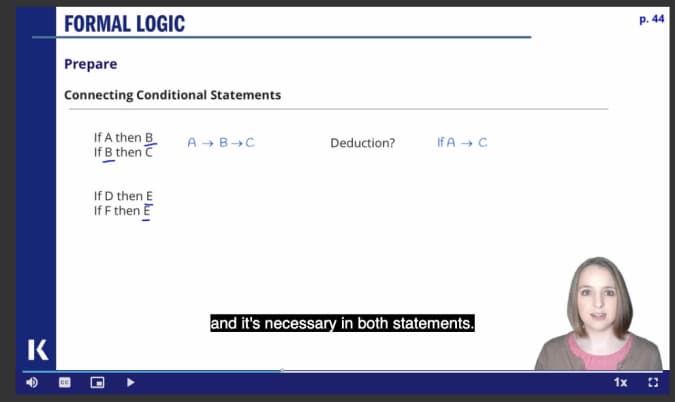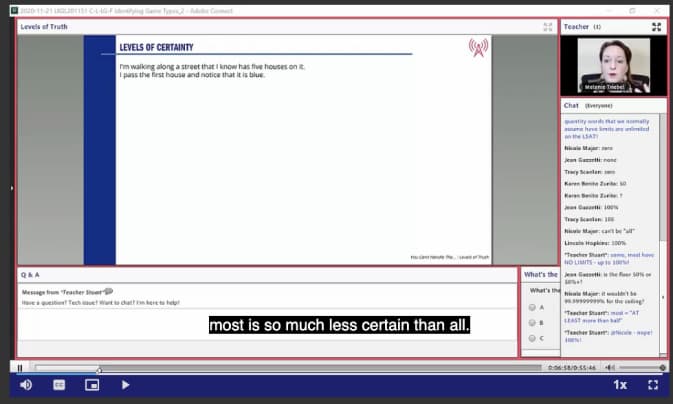 The lessons are engaging and interactive. In live online classes, instructors use digital whiteboards and live chat for active student participation. Their study plan is structured, moving through core sessions that break down into focused units. Although the presentation might not be super flashy, the depth of content makes up for it.
Kaplan shines with over 60 practice tests and integration with LSAC LawHub. Smart Reports after practice tests offer targeted feedback, making sure you're on the right track. The instructors are impressive, being top LSAT scorers themselves. It's reassuring to know that they bring solid teaching and individual support to the table.
Kaplan LSAT Books
When it came to the Kaplan LSAT book review, I discovered they'd got a lineup that caters to different needs.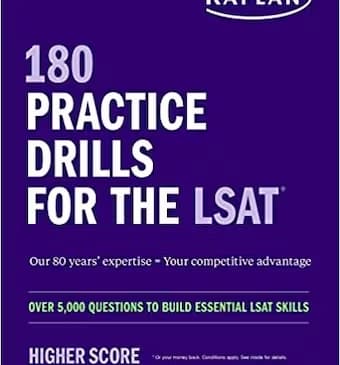 "180 Practice Drills for the LSAT" caught my eye with its whopping 5,000 questions, perfect for honing skills.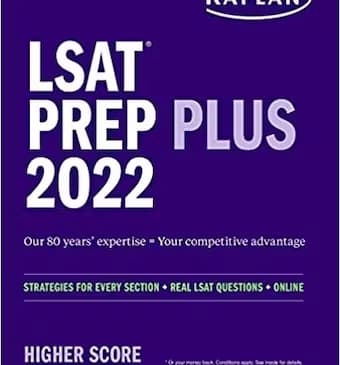 "LSAT Prep Plus 2022-2023" is digital-savvy, packed with official LSAT questions and clever strategies.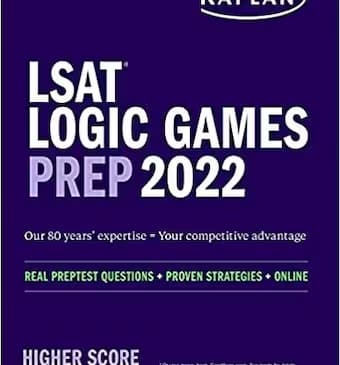 And if you're all about Logic Games, "LSAT Logic Games Prep 2022" is like your guru, providing insights into the latest LSAT trends.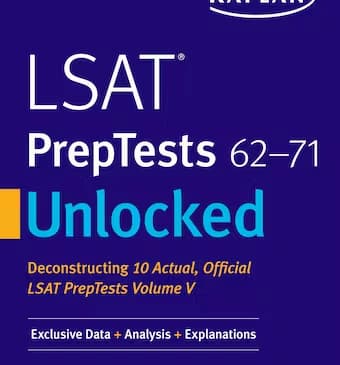 "LSAT PrepTests 62-71 Unlocked" breaks down 10 real tests, helping you learn from your mistakes.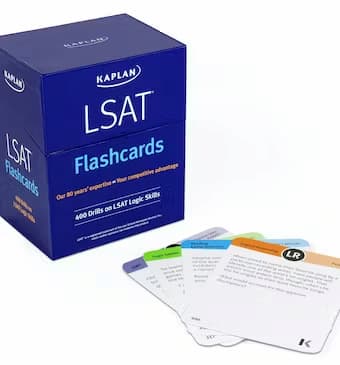 And let's not forget "LSAT Prep Flashcards," a pocket-sized tool to stay sharp on the go.
Kaplan LSAT Experts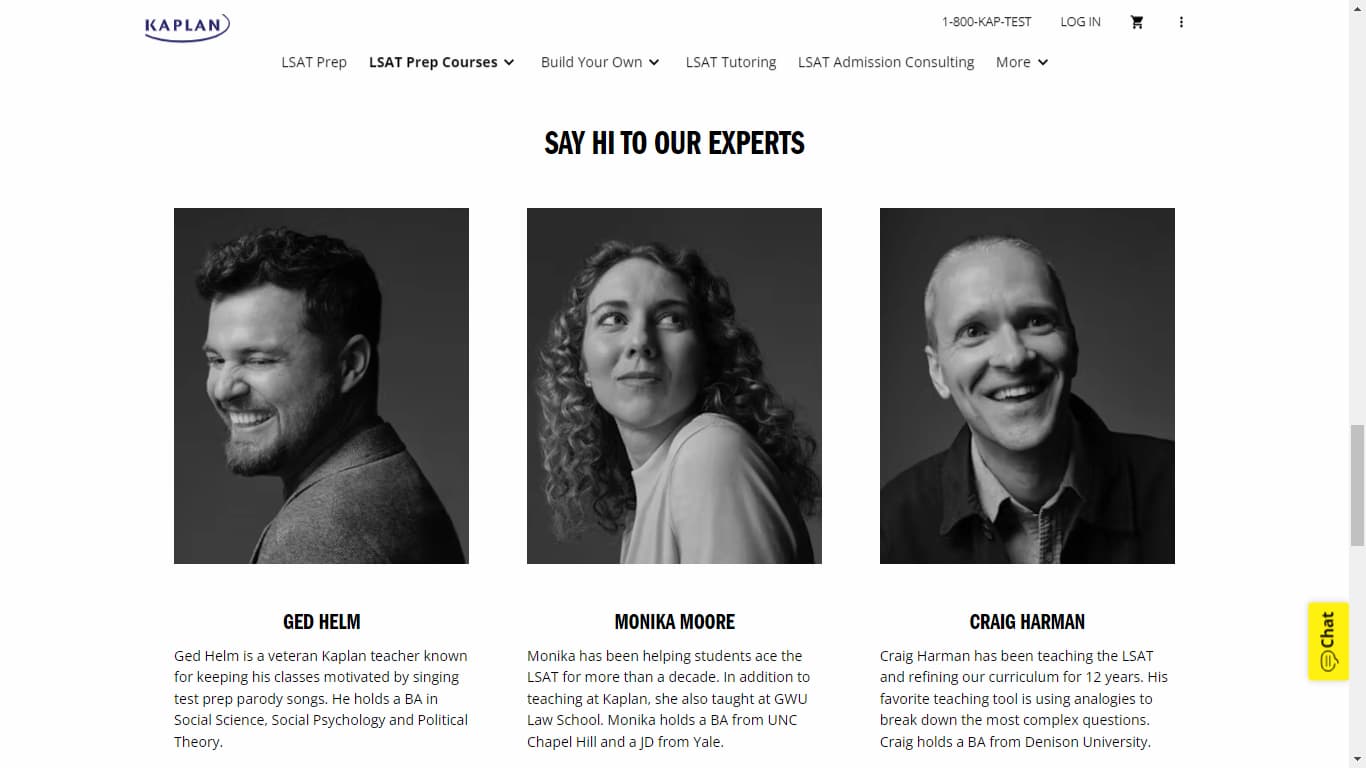 The experts behind the scenes are impressive too. Scott Reed, with his 16 years of tutoring experience and JD from the University of Virginia, is a standout. Beth Geberloff, who practiced commercial litigation in NYC after earning her JD from NYU School of Law, adapts her teaching style to each student. And then there's Nick Bascom, a top LSAT scorer with a background in biology, English, and Spanish, who shares strategies and targeted practice to boost scores.
Any Guarantees?
Kaplan's Higher Score Guarantee, or HSG for short, is quite well-known. While many test prep companies promise this if a student fails the test and doesn't pass with their new program, Kaplan takes it further. Students can start with a Kaplan proctored diagnostic test or their previous official test score as a baseline. Once they finish the program, if their score isn't higher than the initial one, they can get their money back. This is something unique about Kaplan's approach.
Is It Any Different from Alternatives?
Looking at the options, Kaplan LSAT stands out. It offers a wide range of practice tests, nearly 10,000 official LSAT questions, and a huge video collection.
Unlike Blueprint Prep and Princeton Review, Kaplan provides an exclusive LSAT Channel with over 150 hours of extra lessons. This diverse package, combined with its competitive pricing, makes Kaplan LSAT a top choice for effective and comprehensive LSAT preparation.
| | | | |
| --- | --- | --- | --- |
| | Kaplan LSAT | Blueprint Prep | Princeton Review |
| Prices Range | From $799 – $3999 | From $299 – $5,999 | From $299 – $5,000 |
| Practice Test | 70+ full-length uniquely curated LSAT practice tests and over 200 quizzes | Over 85 digital exams | 75+ full Official LSAT PrepTests |
| Official LSAT Questions | Nearly 10,000 official LSAT exam questions | 9,000+ questions and explanations | Over 8,000+ practice questions |
| Quality | Huge video collection on many subjects. | The use of animations to teach complex ideas sets it apart. | Their courses are great and very effective. |
| Personalized Study Plan | Yes | Yes | Yes |
| Additional Lessons | Exclusive LSAT Channel with 150+ hours of additional lessons | – | 150+ hours of recorded videos lessons and additional online content |
| Higher Score Guarantee | Yes | Yes | Yes |
How Much Does Kaplan LSAT Cost?
Kaplan offers a variety of options to fit different study preferences and approaches.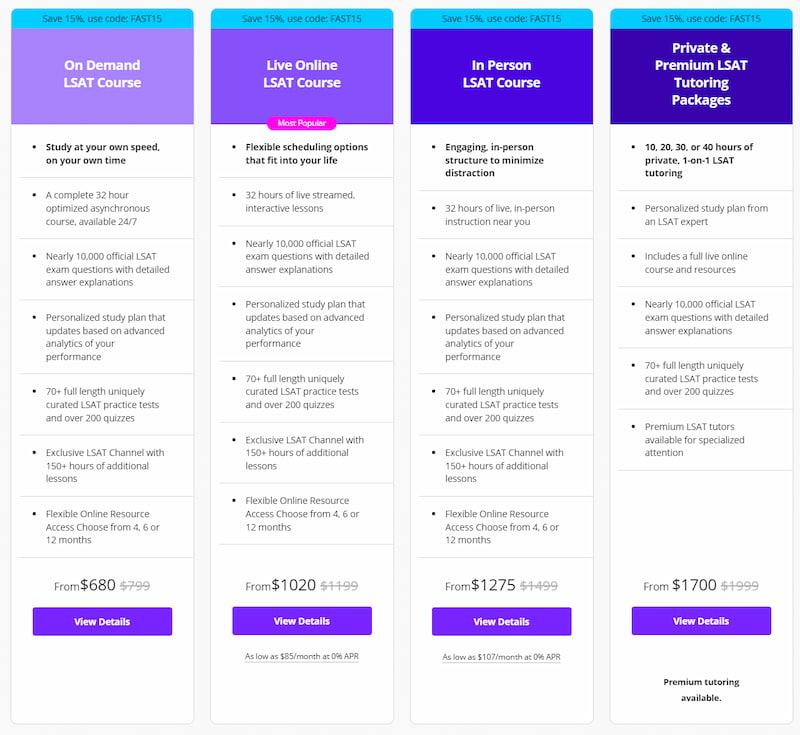 If you prefer flexibility, the On Demand LSAT Course comes in three flavors: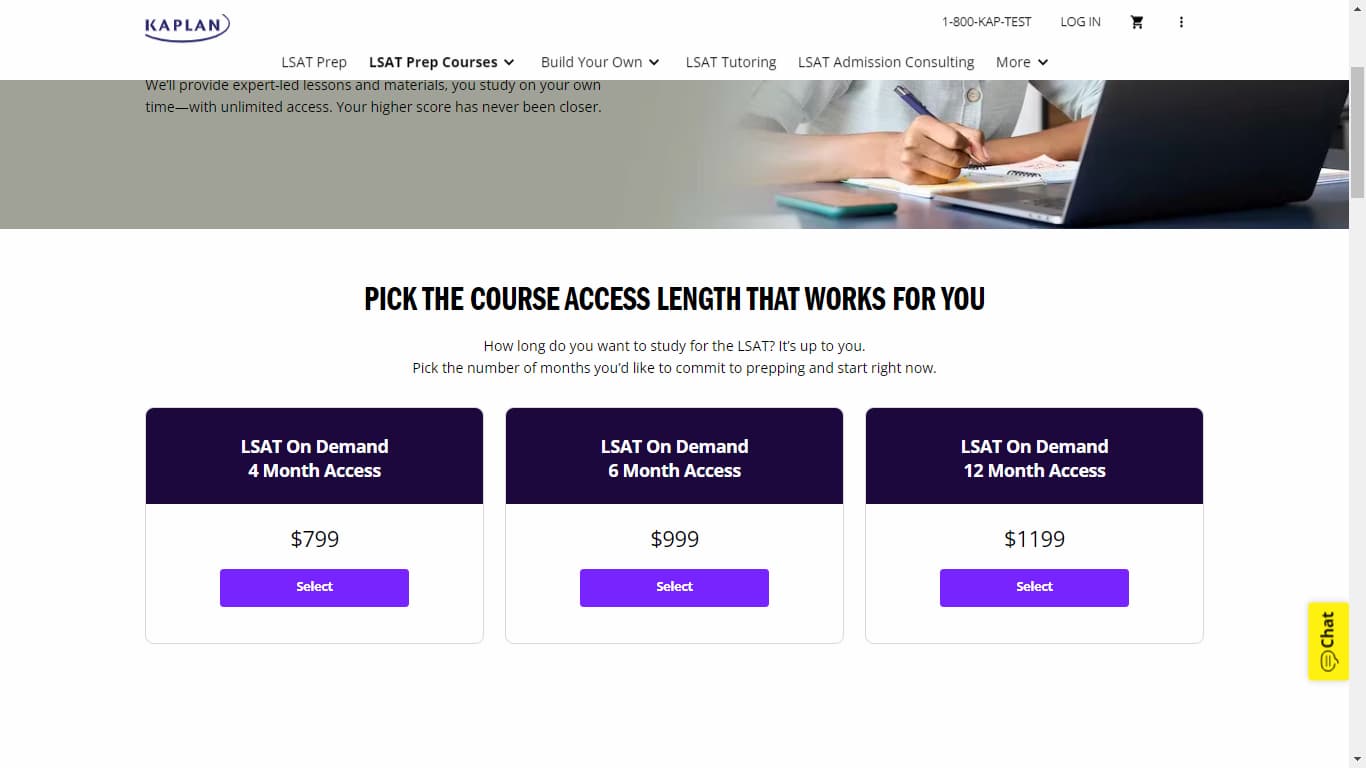 The 4-month access for $799, 6-month access for $999, and 12-month access for $1199. This course is perfect for those who like to set their own pace. It includes a thorough 32-hour course, loads of LSAT questions, and a personalized study plan.
For a more interactive experience, there's the Live Online LSAT Course.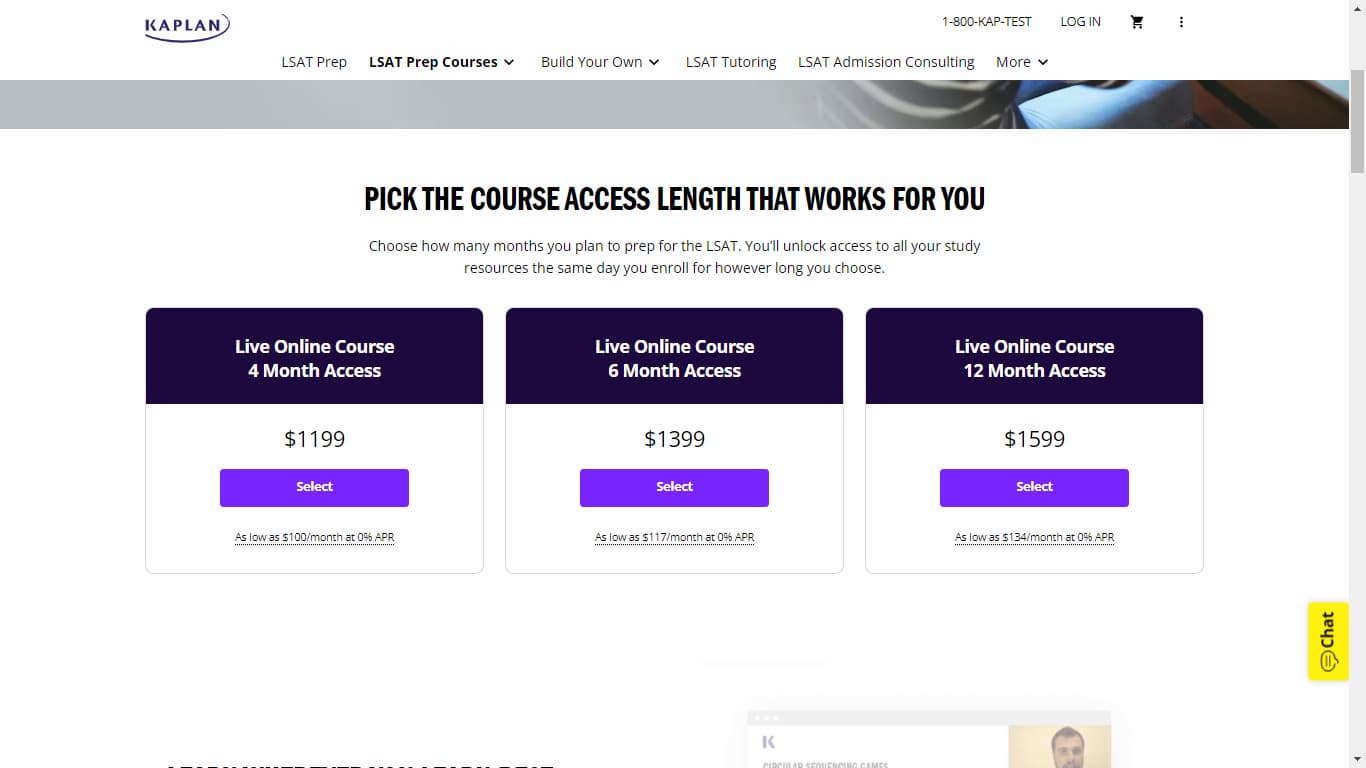 The 4-month access option starts at $1199, with monthly payment choices. If you're looking for a longer commitment, the 6-month access is priced at $1399, and the 12-month access costs $1599. This course lets you attend live lectures, ask questions privately, and access resources like the LSAT Channel and practice tests.
Prefer face-to-face interaction? The In-Person LSAT Course might be your thing.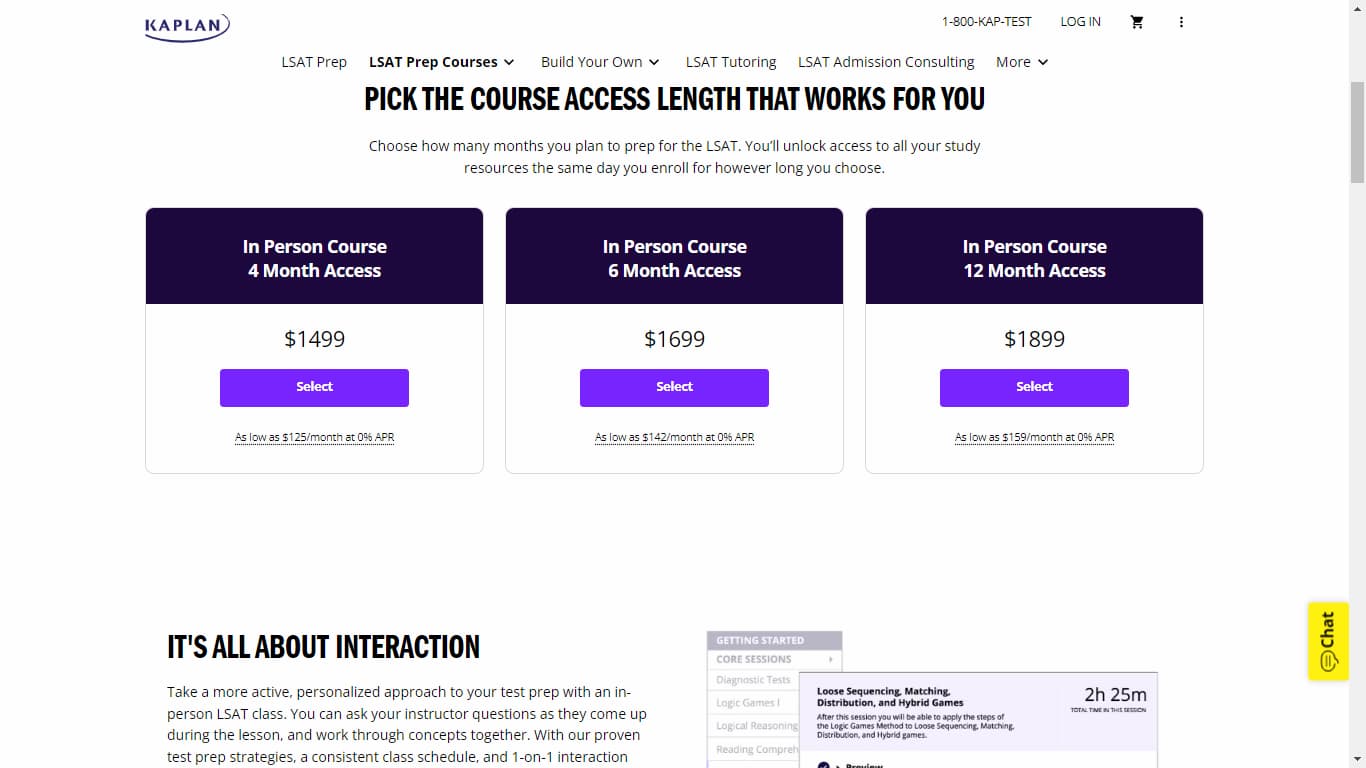 The Kaplan in-person LSAT prep price starts at $1499 for 4-month access or as low as $107 per month. It provides the option of a 6-month access at $1699 and a 12-month access at $1899. If you're after a more personalized touch, check out the Private & Premium LSAT Tutoring Packages. These start at $1999 and offer experienced tutors, online resources, and personal statement reviews to help you excel.
Payment options are designed to suit your convenience. From lump sums to monthly plans, Kaplan LSAT class cost is adaptable to various budgets. With different durations and teaching styles, there's something here for every type of learner. So, whether you're the go-your-own-way type, thrive on live interaction, or prefer in-person guidance, Kaplan's pricing options ensure you find the LSAT prep experience that works best for you.
Kaptest LSAT Value for Money
Wondering if the price tag matches the worth? Is Kaplan LSAT prep truly a bang for your buck? In this Kaplan LSAT practice tests review, let's slice this question open and dissect the value you're getting in return for your hard-earned money.
Is It Worth The Price?
Considering the cash you're shelling out, it's only natural to wonder if Kaplan's LSAT prep justifies the expense. Well, let me share my findings.
The range of options offered, from On Demand to Live Online and even In-Person courses, accommodates diverse learning styles. This flexibility alone can make your investment feel more tailored to your needs.
What Do You Get For The Money Paid?
So, what's packed into that price package? Kaplan doesn't hold back. You're not merely buying a prep course, you're purchasing an arsenal of tools for your LSAT conquest. Think interactive in-person or live online classes led by experienced instructors – like having a knowledgeable guide by your side.
Access to over 10,000 official practice questions with explanations? Check. A treasure trove of 70+ full-length practice tests mimicking the real deal? Absolutely. Personalized study plans, detailed analytics, and one-on-one tutoring with law-experienced tutors? Yes, yes, and yes.
Now, here's the real deal: does it truly prep you for the test? My experiments have shown that Kaplan's resources align with their promises. The plethora of practice tests and in-depth study materials, including videos and the LSAT Channel, create an immersive learning environment.
Their unique Higher Score Guarantee seals the deal – a safety net ensuring your score improvement. This isn't just about your money, it's about your LSAT success.
Is It Really Helpful For Getting Ready For A Test?
In my experience, Kaplan's LSAT prep offers a comprehensive package that stretches beyond mere lessons. It equips you with the knowledge, confidence, and strategies needed to tackle the LSAT head-on. Yes, it's an investment, but it's not just about the dollars, it's about the results. The array of courses, resources, and personalized support molds the cost into true value.
So, if you're gearing up for the LSAT, Kaplan might just be the compass you need to navigate through the prep jungle and emerge victorious.
Student Feedback and Reputation of Kaplan
When it comes to choosing a test preparation provider, student feedback and reputation play a vital role in the decision-making process. Kaplan, a prominent educational company founded in 1938 by Stanley Kaplan,
The company has been in the business of helping students with LSAT prep courses that promise to elevate students' scores in various sections of the LSAT exam. The experiences of past users can provide valuable insights into the effectiveness of these courses.
From what I've read about Kaplan's customer service, I gather that its support staff are kind and eager to assist. Many users have commented on their positive experiences communicating with the support staff on sites like Trustpilot and Reddit.
Others praise the friendly instructors and interesting materials, while other consumers complain about the bad services and inattentive customer support. These contrasting assessments raise the possibility that service quality varies and has an effect on customers' overall impressions.
The comprehensive nature of Kaplan's LSAT training is best shown by reading authentic Kaplan LSAT reviews written by past users/students.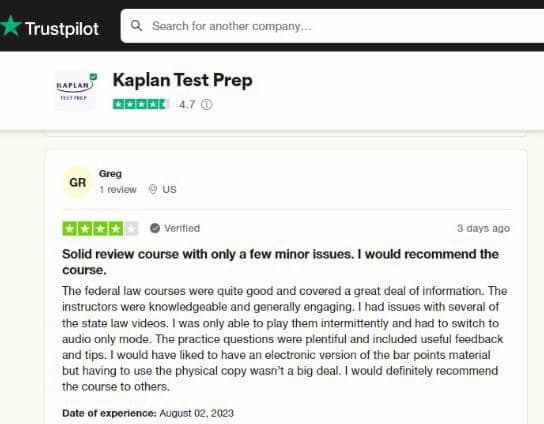 Trustpilot users have varying opinions, ranging from disappointment in unuseful test prep packs to praises for thorough federal law courses.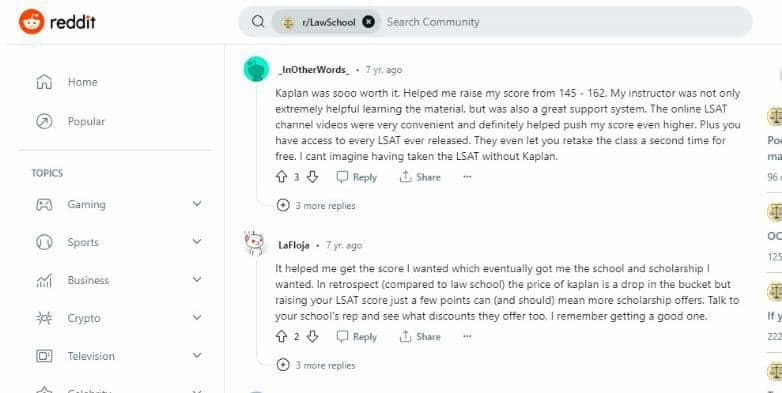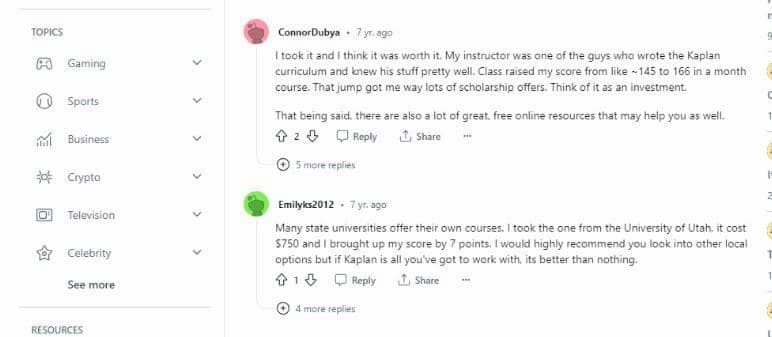 There is a wide range of testimonials on Reddit, with some users crediting their high scores to Kaplan and others highlighting the availability of free online materials. The variety of responses shows how crucial it is to know one's own learning style and requirements before enrolling in a course.
Kaplan has earned a notable status in the field of LSAT tutoring. The company's reputation has been bolstered by its lengthy history in the education industry and its dedication to ensuring students' success in higher education and beyond. The contradictory feedback suggests that results might differ depending on factors, including students' efforts, the expertise of their teachers, and the quality of their course materials.
Student feedback and reputation are crucial factors to consider when evaluating Kaplan's LSAT prep courses. Some users are pleased with the improvements in their grades and scholarship prospects that these courses have afforded them, while others are unhappy with the services and support they receive.
Finding the right LSAT prep course, in my opinion, is about finding one that fits the learner's specific needs and goals. Prospective students should consider their own preferences and needs as they weigh the pros and cons of various educational programs.
Pros
Effective Score Boost: After working with Kaplan, my LSAT score was much higher, allowing me to enroll at my top university and receive many scholarship offers.
Experienced Instructors: Kaplan's instructors are knowledgeable and engaging, contributing to a comprehensive learning experience.
Abundant Practice Resources: Kaplan provides ample practice materials like tests, drills, and videos, enhancing preparation for all LSAT sections.
Guarantees for Improvement: Kaplan offers score improvement guarantees, like the 10-point boost in their self-paced online course.
Access to LSAT Archives: Kaplan's access to past LSATs helps refine test-taking skills and strategies using real test examples.
Repeat Course Option: The opportunity to retake the course for free is valuable, allowing reinforcement of skills and strategies.
Cons
Pricey Investment: Kaplan's LSAT courses can be expensive, which might deter some students from enrolling.
Customer Service Issues: Some users on Trustpilot complained about poor customer service experiences and difficulty with refunds.
Mixed State Law Videos: A user mentioned issues with state law video playback, which could affect the learning experience.
Learning Preferences: The structured classroom-style approach might not suit everyone's learning style, making it important to assess if it aligns with your preferences.
The Recap: Is Kaplan LSAT Good?
My experiments revealed its effectiveness. The platform offers a solid approach, bolstering my confidence for the LSAT. In my experience, Kaplan's resources and practice tests proved invaluable. They keep things straightforward, avoiding any confusing clutter. I tried various platforms and realized that Kaplan's active teaching style resonated best with me.
It's like having a personal tutor right at your fingertips. My scores improved steadily, a testament to Kaplan's well-structured program. Based on my journey, I wholeheartedly recommend Kaplan LSAT for those aiming to conquer the LSAT challenge.
FAQs
How much does Kaplan LSAT cost?
Kaplan offers LSAT prep for various preferences.
On Demand: 4 months, $799; 6 months, $999; 12 months, $1199.
Live Online: 4 months, from $1199; 6 months, $1399; 12 months, $1599.
In-Person: 4 months, $1499; 6 months, $1699; 12 months, $1899.
Private Tutoring: From $1999. Flexible payment options are available.
Is Kaplan LSAT prep worth it?
Yes. Various options, flexible learning. Loaded package: classes, 10K+ questions, 70+ tests, tutors. Delivers on promise. Boosts LSAT success with immersive learning, Higher Score Guarantee.
Is Kaplan better than Princeton Review for LSAT?
Tried both Kaplan and Princeton Review for LSAT. But preferences matter a lot, and each suits different studying styles. No clear winner. Choose based on how you learn best.
Does Kaplan help with LSAT?
Kaplan offers LSAT assistance. Its strategies and practice materials are top-notch, leading to improved scores. From my experience, individual learning preferences play a crucial role. Find what suits you best.