Preparing for the LSAT, which stands for Law School Admission Test, can be a complicated experience. Law students across the United States do their best to show the best possible logical and verbal reasoning results to get the highest possible score.
Some students take specialized LSAT preparation courses to get the best test outcome. Finding just the right preparation course could be life-changing if you're about to pass the LSAT shortly.
Therefore, our EduReviewer team thoroughly reviews and analyzes all preparation classes available.
Regarding our methodology, we at EduReviewer take all our reviews seriously. In particular, our team reviews the quality of all industry-standard preparation courses.
Besides closely examining the provided data's content, structure, and informativeness, we also analyze how consistent and complete preparation courses are.
Our team also considers such features as pricing, mobile app, free materials, website usability, customer service, and guarantees. This way, you can confirm whether LSAT and/or MCAT preparation programs deserve your attention.
Because prospective students might be bamboozled with such a vast selection of prep tuition facilities, our team is happy to help make a well-rounded choice!
Introduction to Blueprint LSAT Review
Blueprint Prep is a company that aims to help students make their LSAT and MCAT preparations fun and engaging. We have a separate review of Blueprint's MCAT courses; check it out if you are interested.
This website focuses exclusively on these two tests and thus focuses on preparing various preparation formats for students.
Speaking of the Blueprint LSAT review, one can be confident that this page will reveal all the necessary information on this specific preparation course.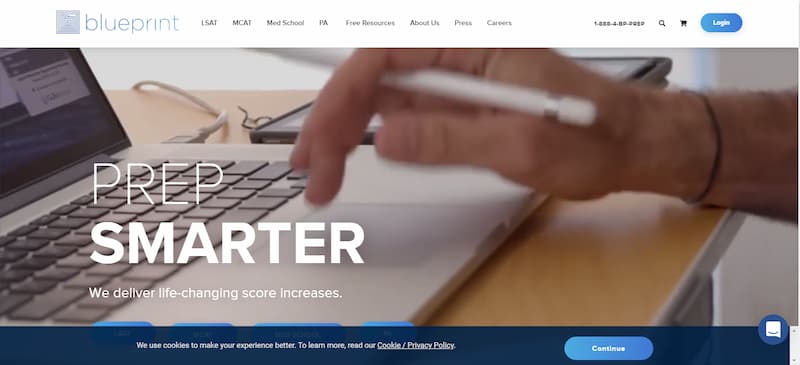 What is the Blueprint LSAT Course?
It is natural for prospective law students to read a few Blueprint LSAT reviews to know who leads this well-known prep platform.
This website was founded in 2005 by a crew of creative instructors who wanted to reinvent and reshape conventional preparation facilities. It was a means of relief for students studying for the LSAT and MCAT exams.
Instead of focusing on mere recollection of data modules and preparation recommendations, Blueprint Prep decided to provide the most fun learning experience in students' lives.
Initially started as an MCAT and LSAT course network, Blueprint LSAT quickly developed its online software to deliver a top-notch online preparation schedule.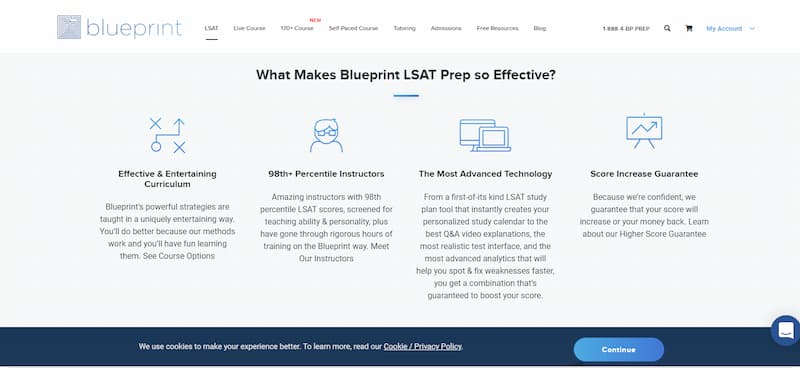 Blueprint Prep Services
For the most part, prospective law students will be initially interested in a comprehensive LSAT course. You should know that Blueprint LSAT has focused on delivering preparation materials for the LSAT and MCAT.
The medical college admission was previously called Blueprint Next Step, as highlighted in Next Step Test Prep reviews. Coming back to the LSAT course, Blueprint Prep offers a wide range of options for law school students.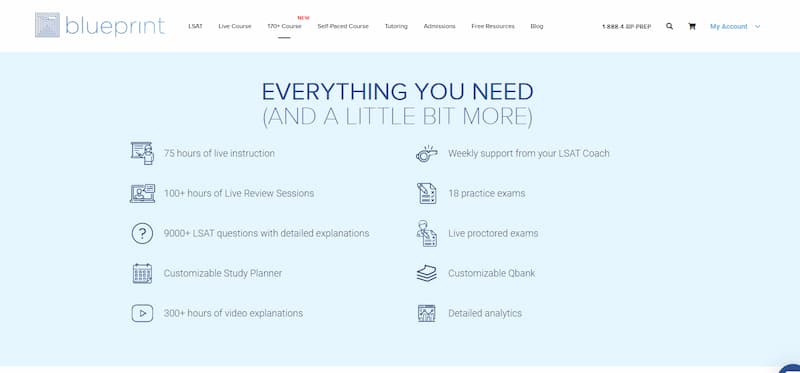 Because this company aims to deliver the most variability possible, mind that two distinctive education formats exist. Blueprint offers two types of preparation courses, which are presented in Self-Paced and Live formats.
Due to the COVID-19 pandemic and the lockdown environment, the Live courses were handled online. The Self-Paced course, according to Blueprint LSAT Prep reviews, is a great chance to get ready for the actual LSAT test on your schedule.
On the side of Blueprint offers, all students get access to the following perks:
Entertaining and engaging videos with quizzes for fun and engaging learning;
More than 68 interactive modules are split into thematic chunks;
More than 9,000 LSAT questions with accurate answers and explanations;
LSAT Prep study plan and a personalized calendar;
Extra support from proctored practice exams and free live analysis sessions.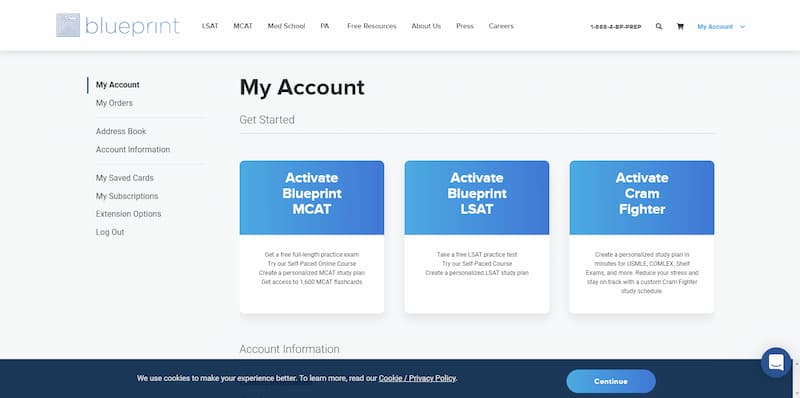 In our LSAT Blueprint review, we think that learning at your own pace can be crucial. Some prospective law students can't find time to attend regular preparation classes.
This way, Blueprint Self-Paced LSAT courses are perfect for finding your weak knowledge areas and working on them to get closer to the anticipated 180 LSAT score.
As for the Live Course, veteran Blueprint instructors are in one place to deliver top-notch personalized preparation.
Because of the COVID-19 restrictions, the Live Course is handled online and led by one of the competent instructors. What makes this format different from a Self-Paced course are the following:
37+ hours of all the classes led by professional instructors;
100+ hours of Live Review sessions;
All LSAT preparation materials include;
More than 300 hours of video lessons;
1 Comprehensive LSAT Strategy Guidebook;
Score Increase Guarantee.
Any credible Blueprint online LSAT review will confirm that the Blueprint LSAT Live Course was designed in the most comprehensive format. Creating an intuitive learning space for law students. Students can access LSAT experts at live office hours six days per week so that they can study almost every day.
Preparing for the LSAT can be daunting. Our review answers the question, is Princeton Review LSAT worth it?
While some individuals will benefit from learning at their pace, LSAT Blueprint reviews suggest looking up to the Live Course for other students looking for the most comprehensive preparation.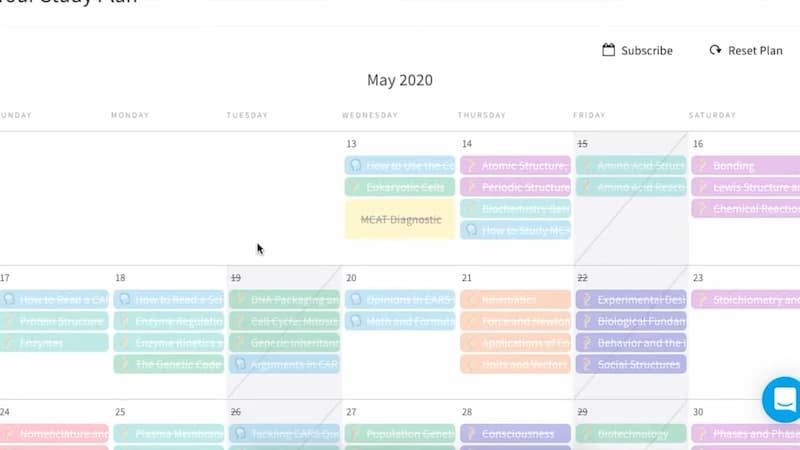 For individuals looking for a more personalized and individual approach, Blueprint features a Tutoring section. This format is a 1-on-1 with a highly professional tutor, helping to cover your weak areas extensively.
A Tutoring preparation course can be a great chance to boost your confidence and work closely with 99th-percentile-scoring tutors.
Please note that tutoring at Blueprint comes in various formats, making it a flexible way to better prepare for the actual LSAT. There are logic games as well to boost retentive memory and make learning more fun.
If you look for an alternative, you can check our detailed article where we compare both Blueprint and Princeton Review in terms of LSAT test prep.
Blueprint LSAT Prep Course Cost
One of the most exciting points in our Blueprint LSAT online review is the pricing of what this company offers.
Because this company offers Self-Paced Online Course in Live, Video Lessons, and Tutoring formats, prices differ depending on your learning path. Let's look at how these preparation ways differ in pricing schemes.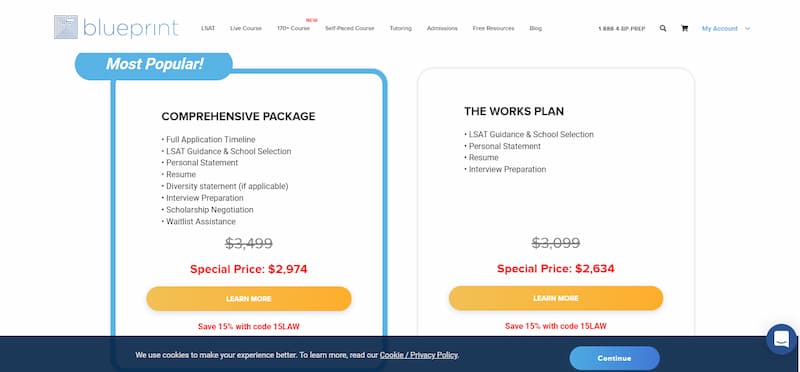 Self Paced Pricing
For the Self-Paced course, our Blueprint LSAT Prep review team found the following pricing schemes for course access:
$299 monthly;
$799 for a 3-month plan;
$1,199 for a 6-month plan;
$1,599 for a 12-month plan.
As you can see, you can get the most benefit when sticking to a 6-month or 12-month plan.
LSAT Live Course
Regarding the Blueprint LSAT Live Course, the pricing scheme is consistent and is currently $1,499 for a 4-month plan.
Blueprint Prep always works hard to give solid promotions to prospective students. This price is not final and can be lower than the mentioned threshold.
Quite an exciting pricing scheme can be found in the Tutoring section. Thanks to many tutors, prospective students can find various learning style options.
Tutoring options are Blueprint LSAT Course differ depending on the qualification of tutors.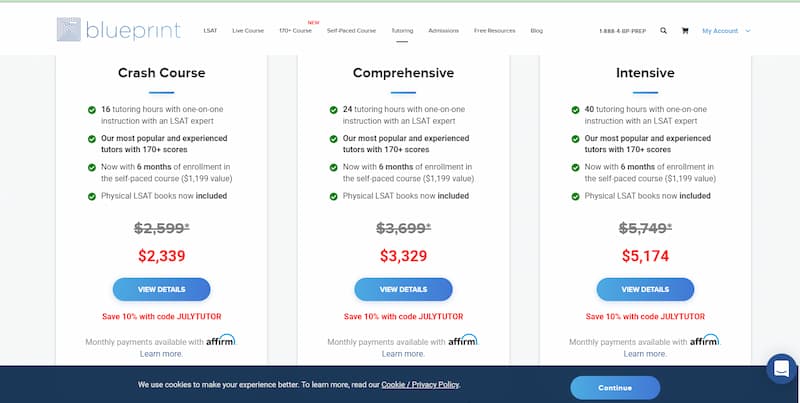 Core Package:
Crash Course – $2,599;
Comprehensive – $3,699;
Intensive – $5,749.
Premium Package:
Crash Course – $3,999;
Comprehensive – $5,999;
Intensive – $9,999.
Supplemental Tutoring
In this LSAT Prep Blueprint review, one can also find information from customers about Supplemental Tutoring, which comes in a different pricing scheme:
Single Section – $2,199;
Examination Overview – $3,799;
In-Depth Review – $5,249.
In plenty of Blueprint Prep reviews, prices are often called too high. This company knows how to create a top-notch price/value deal.
Thanks to the sheer amount of content and preparation materials for the LSAT, prospective law students know that they're paying for a superb preparation course.
Blueprint LSAT Prep Course Quality
Regarding material quality, both learning formats are tightly packed with dozens of materials for superb LSAT question prep.
It's generally positive that Blueprint Prep complements its vision of transforming test preparation into an engaging and fun experience.
Taking a few learning modules in a row is not daunting in how the content is grouped and delivered. Instead, detailed breakdowns and explanations allow diving deeper into specific areas.
Moreover, when you choose Blueprint, even the most challenging and dry topics are more fun and approachable than you could imagine.
Besides general descriptions, the Blueprint LSAT course has a unique approach to sharing all the required material. Since all materials are on a single dashboard, you can quickly return to where you finished your online course.
The platform is intuitive, fast, and highly responsive, which most online courses must for students to secure a high LSAT score.
Besides usability, Blueprint courses have a decent comparative advantage and unlimited live help from competent tutors. You'll probably agree that reviewing LSAT cases and practicing questions via proctored exams with qualified instructors is better.
As for the video lessons, they're well-designed and omit any unnecessary information. Blueprint Prep seems to know how to deliver an interactive and engaging format for preparing for the LSAT exam.
Besides videos, this service has dozens of interactive modules with stringent practice tests and assessments, which adapt to your current skill level.
The prep courses also offer a personalized study plan, allowing students to organize their preparation more efficiently.
Intelligent analytics is the last beneficial feature, which helps detect and work on weak areas. This way, learners can better understand their progress and reach the anticipated 180 scores on LSAT practice tests.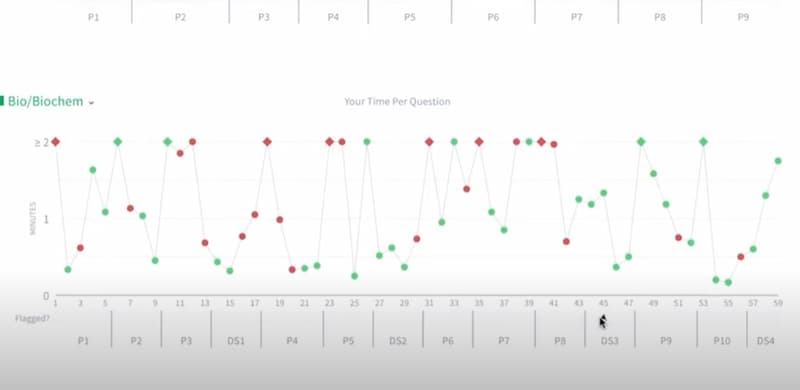 Last but not least is the significant feature often omitted in most LSAT and Next Step Tutoring reviews. This is the Blueprint LSAT Prep's Score Increase Guarantee.
This means Blueprint staff can guarantee that all students who choose the Blueprint Live Course and who take the LSAT within 30 days of completing the Prep course are guaranteed to have a score increase.
Students can claim money back or get additional access to preparation materials for three months or more if it doesn't happen.

Blueprint LSAT Prep Course Live Online Classes
The Blueprint Course offers its LSAT Prep fun as a comprehensive and engaging way for students to prepare for the LSAT exam. The live online course is led by experienced instructors who have scored in the top percentile on the exam themselves, these classes provide students with a structured, interactive learning experience that can help them maximize their potential on any practice test.
One of the standout features of Blueprint's Live Online Course is its versatile online platform. Using a combination of video lessons, conferencing software, and an online classroom portal, students can participate in live online lectures and discussions with their instructors and classmates from anywhere with an internet connection. The platform also allows students to access recorded versions of the classes if they need to review materials later.
The instructors themselves are also a significant asset of Blueprint's Live Classes. They are engaging, knowledgeable, and skilled at breaking down complex concepts into understandable terms. They also provide personalized feedback on practice tests and homework assignments, which can help students identify areas of strength and weakness and tailor their study plans accordingly.
Another benefit of Blueprint's Live Classes is their emphasis on adaptive learning. The instructors use data and analytics to track each student's progress and adjust their teaching approach accordingly. This can be particularly helpful for students who struggle with certain types of questions or who need extra help with specific concepts.
In terms of the curriculum, Blueprint's live online course covers all the major topics tested on the online LSAT course, including logical reasoning, analytical reasoning, and reading comprehension. They also give students test-taking strategies and time-management techniques to help them tackle the questions more efficiently on their test day.
Customer Service
In some sense, competent customer service is integral to any preparation service. Our team has tested how Blueprint Prep handles this and whether the staff is polite, skilled, and professional.
First, don't forget you can contact a customer service team via email or phone toll.
The good news is that this website has two separate customer support teams for the LSAT and MCAT examinations.
From our testing experience, email inquiries can take longer than expected. More precisely, we waited a few hours to get a detailed response to a question about what differentiates various tutoring plans.
As for the phone toll, the response is instant, and the customer support agents are highly willing to help. Based on our inquiries, we can confidently say that the customer service at Blueprint Prep is decent.
While this service could have delivered faster response times via email, the phone toll option certainly helps.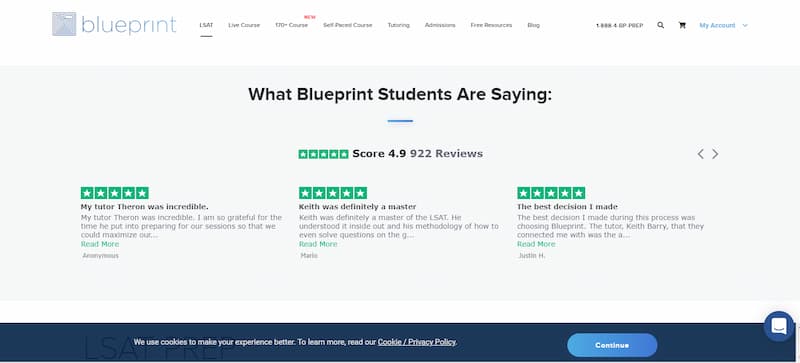 Website Usability
Blueprint Prep Course delivers its services via a dashboard located on the main website. In other words, all students can access the learning environment via their desktop or mobile devices.
Regarding the usability of this dashboard, we can assure you that the Blueprint Prep team worked hard on optimizing it. All videos and learning materials are responsive and open extremely fast.
Our team has spotted no lags or buggy scenarios when testing the complete functionality of the Blueprint LSAT course. It applies to all courses tested, including Self-Paced, Live Online, and Private Tutoring.
Unfortunately, Blueprint hasn't been working enough to release a standalone mobile application. That's why we had to test the platform's mobile compatibility, and our team was satisfied with how responsive the website was.
Based on these multiple LSAT tests, we can confidently say that the Blueprint LSAT online course reviews are correct. They accurately highlight the usability of the learning environment.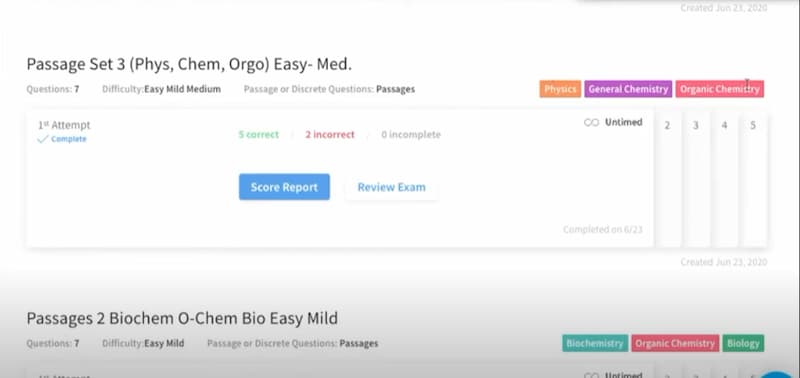 Pros
A wide range of learning features – get the most of intelligent analytics, personalized study plan, interactive video lessons, visual learner dashboard, practice sets, LSAT questions and quizzes, books, and more!
Excellent website usability – enjoy learning from your desktop or mobile device with no barriers or lags.
Flexibility in preparation types – choose from the Self-Paced and multiple Tutoring options.
Proficient LSAT instructors and tutors – as students learn their course options with the best experts in this niche.
Interactive and challenging live online course curriculum, practice tests, and practice exams for Blueprint students.
Cons
No mobile application – while the website usability is decent, the Blueprint LSAT prep course should add standalone mobile support.
Price – prepare to pay extra money since Blueprint Prep course options are more expensive than regular alternatives.