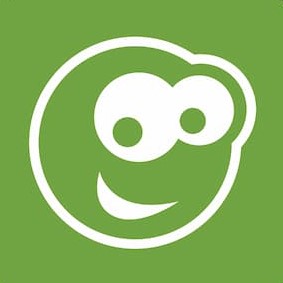 Today, the FRM or Financial Risk Manager certification is considered the best and most recognized qualification for risk managers. As a result, it can be quite elusive for some professionals to attain.
However, you don't need to panic. With the help of companies like Bionic Turtle, risk managers have been able to bag their FRM. Provided you are ready to take its courses and study diligently, success is guaranteed.
Many experts have referred to the Bionic Turtle as the best FRM course provider anywhere globally. But how true is that claim? That's what we're here to find out.
Also, check our comparison of Bionic Turtle and Schweser in terms of FRM prep. In this Bionic Turtle review, we'll look at what makes this course provider stand out. We'll closely review the features, mobile website compatibility, value for money, feedback, etc.
Let's begin!
Bionic Turtle Overview
The initial aspect of the bionic turtle from the review is to take a detailed look at the company, including important details.
What is Bionic Turtle?
Bionic Turtle is renowned as one of the first FRM course providers to create instructional videos and tools for risk managers. Bionic Turtle was founded in 2004 as a company that would help risk managers focus on passing their FRM exam. This means that the company has over 18 years of experience assisting students to write their FRM.
The owner of this company consistently comes up with practice questions to help risk managers test their knowledge and abilities while preparing for the next big test.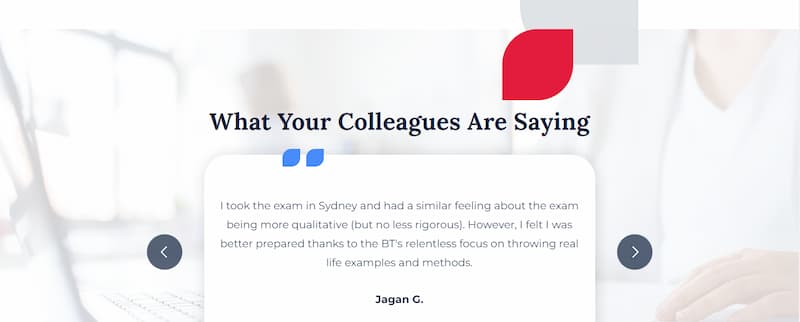 Since its inception, Bionic Turtle's goal has been to provide high-quality study materials for financial risk managers. All of its resources are offered at a reasonable price. The resources provided by this company include the study planner, study notes, video lessons, practice questions, and student forums. Overall, it gives you everything you need to get through your exams.
The top features that you'll get access to on Bionic Turtle include;
1. The Study Planner
This is perhaps the best feature on the website. It gives an outline of everything to expect during the course. It's also one of the best study planners on the internet today. The study planner is easy to follow and doesn't muddle up details. You will gain access to it immediately if you subscribe to the platform.
2. Interactive Quizzes
Another important feature of the Bionic Turtle is Interactive Quizzes. These quizzes are a great idea because they help you practice your risk management knowledge and keep track of your progress. The examinations offer questions that are of greater difficulty than the real exam. So, you'll have a real test of what is to come.
3. Instructional videos
Most of the content that is on Bionic Turtle is in video format. Through instructional videos, you get to watch a simplified version of the complex concepts you are studying. They will feature illustrations, images, and video examples.
4. Practice Questions
Practice questions are designed to help students test their ability. Bionic Turtle won't be complete without these questions. They are compiled personally by David Harper. He writes and adds new questions to the set regularly.
Therefore, there is an ever-increasing database of questions to practice with. These practice questions are many and quite easy to understand. Paid users get access to these questions in PDF bundles.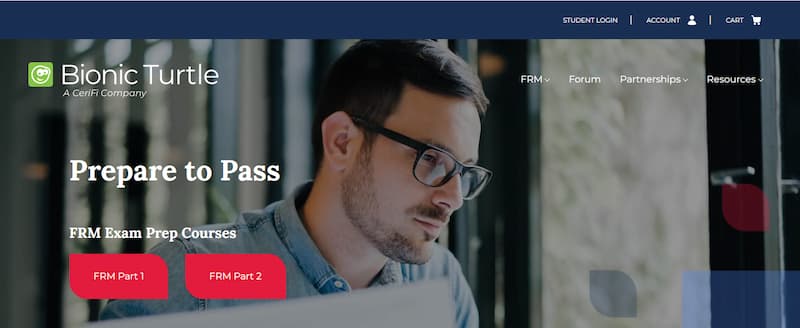 5. Focus Reviews
The review videos on this platform will focus on Part 1 and Part 2 of the exam. The video will be based on different concepts and will be simpler to understand.
6. Learning Spreadsheets
Bionic Turtle offers learning spreadsheets in excel and online formats. They are custom-built for each student and offer the chance to learn quickly about risk management. It will also contain quotative concepts and formulas that will be useful for the exam.
7. Study Notes
Study notes are the last feature of the Bionic Turtle. They contain summarized versions of the lessons in the course. They are sent to students in a PDF document too.
How Does It Work?
In a similar fashion to other top educational platforms out there, Bionic Turtle is designed to help those worldwide who intend to sit for their FRM exams.
For some time now, this online platform has provided additional study materials for risk managers and allows them to pass their exams. You have to sign up with them and take their courses. Then, you're on your way to becoming an expert Financial Risk Manager.
If you have upcoming FRM exams and plan to use the Bionic Turtle to prepare for them, you will be required to register with the platform. When you become a member of this platform, you will discover the syllabus, lessons, and assessments that have been pre-planned for you.
The study planner will provide a detailed outline of all the concepts treated during this course. From the study planner, it's clear that the lessons on the platform are structured. First, you will learn about all the tools and theories related to risk management.
Is Bionic Turtle Good?
So, is Bionic Turtle good for FRM? Yes, the platform is a good avenue to prepare for the FRM exam. There are many good things about this platform and the type of resources.
The video lessons at Bionic Turtle are based on the important concepts of risk management, and they aim to simplify the tasks that professionals have to learn.
Being a good financial risk manager requires a lot of quantitative skill and reasoning. Without these visual aids, it may be difficult to understand the core concepts of the topic. Their well-designed video lessons simplify everything.
These high-quality videos are usually detailed, colorful, and straight to the point. They aim to point your attention towards something.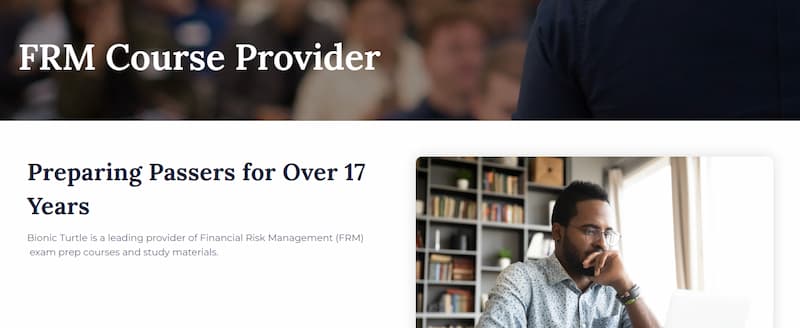 Furthermore, Bionic Turtle offers risk managers impressive study materials. These study materials include; learning spreadsheets, daily questions, study videos, quizzes, focus review notes, and practice questions.
Using the study planner, students can create a personalized strategy on how they plan to tackle the entire course. It would even give you a chance to bookmark resources you may need later.
The study planner also contains a search feature that lets users quickly find any information they are interested in. What's better? There are even free samples of materials on the company's website.
And if that was not enough, you'll also find a large question bank on Bionic Turtle. These questions are regularly updated by the founder of the platform, David Harper.
You can find thousands of questions on the student forum or choose a package of questions with paid courses. Question sets are sent in PDF bundles.
Another reason why Bionic Turtle is good for risk managers is its active community. There is a vibrant community of more than 40,000 members.
This forum is broken into three major parts; The Office, Financial Risk Manager, and FRM Practice questions. These first two sections can be accessed freely by everyone, but the practice section is for paid subscribers.
Short Story of The BionicTurtle.com
If you are a financial risk manager, the FRM designation is the highest qualification that you can get. However, the FRM exams are tough to complete successfully, and many professionals struggle with them.
David Harper launched the Bionic Turtle as a solution to help many risk managers get through this difficult phase. He went ahead to design this online platform as a form of support for risk managers.
Today, this online platform is one of the largest and most popular worldwide. You will find video lessons and practice questions on the website to guide you through the complex concepts you will tackle in your exam.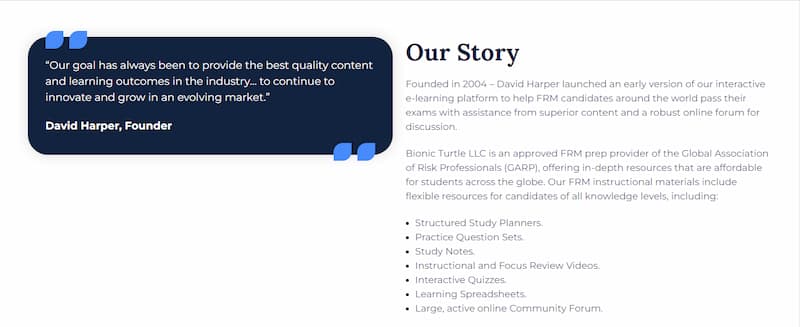 Gradually, Bionic Turtle had grown into a renowned platform with students in different parts of the world. If you take your upcoming FRM exams seriously and would like to do well, it's a great idea to sign up on this website.
Courses & Certifications
The course program on Bionic Turtle is comprehensive and designed to help risk managers understand advanced forms of risks and now tackle them.
If you already have some field risk management experience, these courses would do you good and enforce what you know. Your experience is all you need to go through all the materials on the online platform.
To gain access to any course on the Bionic Turtle platform, you must create an account. The systems on the forum are broken into different parts and outlined in the study planner. They include;
Part 1 – Tools and theory
Foundations of Risk Management
Quantitative Analysis
Financial Market & Products
Valuations and risk models
Review of Part 1
Part 2 – Applications
Market Risk Measurement and Management
Credit Risk Measurement and Management
Operational and Integrated Risk Management
Risk Management and Investment Management
Current Issues in Financial Management
Review of Part 2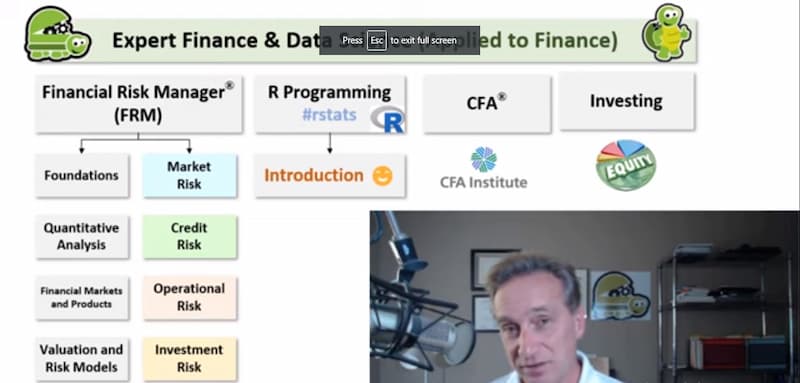 If you are a beginner without any prior experience or familiarity with risk management concepts, you will enjoy your time on Bionic Turtle.
The Bionic Turtle Study Planner is an effective resource to prepare for the FRM exam. It functions as an organized planner that offers a diverse selection of FRM study materials, including spreadsheets, instructional videos, practice questions, etc.
This service provider has been helping students pass their FRM exam for many years, but they also constantly update the latest materials about popular risk management concepts.
When you look at the BionicTurtle FRM review courses on the website, it's clear that the platform's business model has been constructed to ensure that all its customers receive value for their money.
The Bionic Turtle FRM course is an effective self-learning tool to learn about professional risk management. GARP provides information on the basic concepts of FRM.
For a beginner, these concepts can be quite complex. This is because most of the GARP materials are about 100 pages long. Therefore, it cannot be easy to learn.
However, Bionic Turtle has short study notes that will include the most important points of the GARP concepts. These concepts have been shortened and simplified to offer students the best learning experience.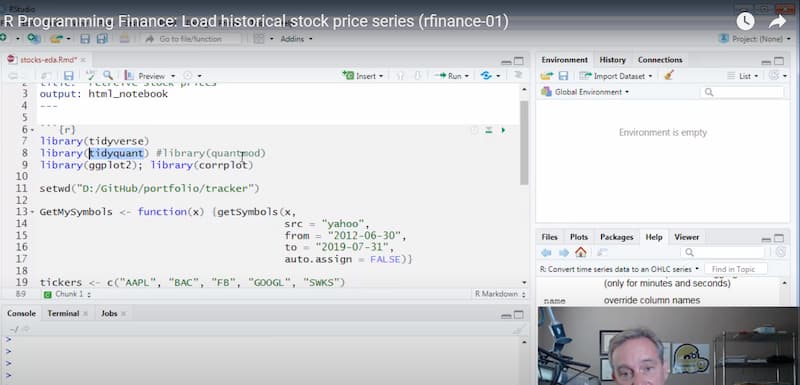 By going through FRM Bionic Turtle review courses, you don't have to go through the entire GARP materials. It will only show you the most important concepts you need to master before your final exam.
What's more? You will find other materials asides from those based on GARP. This will give you a broader view of being a professional risk manager.
You'll also find several practice questions that have been prepared to test your knowledge. They will be uploaded twice a week on the platform.
The practice questions are set differently from each other, focusing on GARP concepts. They are the perfect way for you to prepare for the exam and have a full scope of the course before exam day.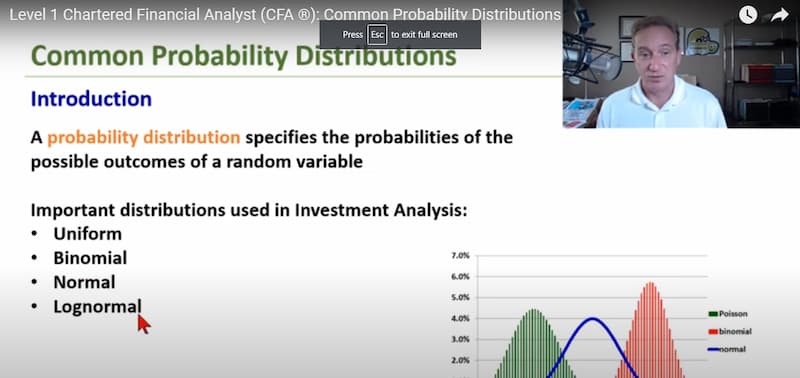 Pricing
So, what is the cost of a capital Bionic Turtle? You see, the pricing of Bionic Turtle is affordable to all types of students. Yes, their courses are divided into three basic plans; basic, advanced, and professional.
Basic
The basic plan is the least expensive plan you will find on the platform. For Part 1 and Part 2 of this plan, you will pay $299/year, and a $399/year payment will grant you access to;
Practice question sets
Study notes
Full Forum Access
Mock exams
Advanced
The advanced plan costs $349/year for Part 1 and $559/year for Part 2. When payment is completed for this plan, you will receive;
Full Forum Access
Study Notes
Mock Exams
Instructional videos
Practice question sets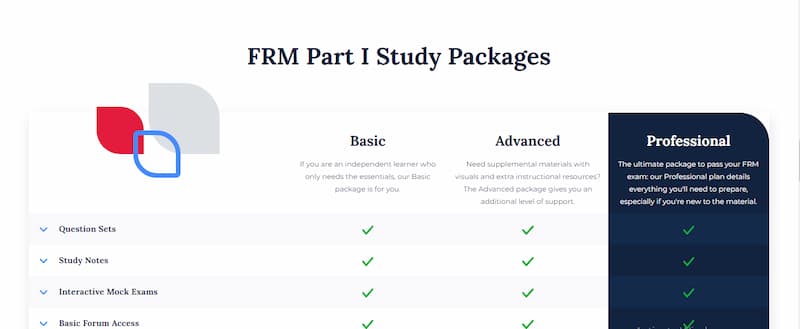 Professional
The professional plan is Bionic Turtle's most expensive plan. It costs $449/year for Part 1 and $449/year for Part 2. However, you can pay $799/year for Part 1 and Part 2. When you pay for this plan, you get;
Full Forum Access
Study Notes
Mock Exams
Instructional videos
Practice question sets
Quizzes
Focus Review Videos
Learning spreadsheets
There are also discounts for students in low-income countries. These discounts are accessible through a Bionic Turtle coupon.
Quality of Courses
The courses on Bionic Turtle are reasonably priced. They also offer enough value for the amount that is paid for them. One of the things that makes this course quite attractive is the amount of time it will save you in preparing for your FRM exam.
If you are like most people taking the FRM exam, you'll have limited time on your hands to go about your daily activities and prepare for the exams too.
As a result, you'll need help to save as much time as possible. If you are preparing for the FRM exam and don't have much time, signing up for this course could save you a lot of work.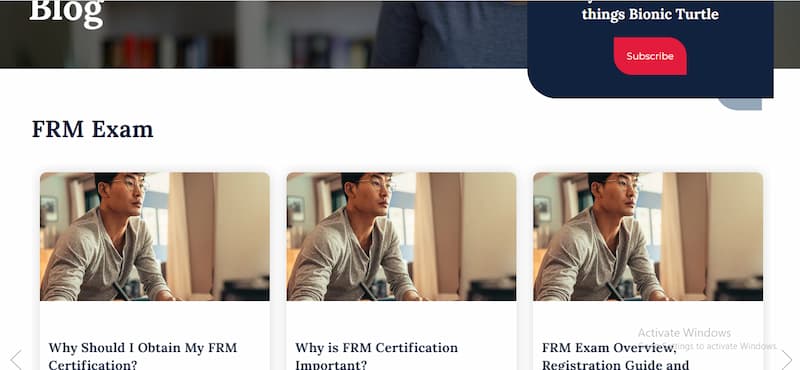 When you have to write this exam this year and appear the following year, it could take a heavy toll on your career and finances. So, failure is not excusable. Therefore, you need to do your best to get the best results for yourself.
What's more? This website supports the development of financial risk managers by offering discounts to students in low-income countries. To access these discounts, students will have to input their bionic turtle coupon code. Make sure to check if you belong to an eligible country.
Bionic Turtle is a website with many success stories. According to their website, an average of 60% of students that use the platform bag their FRM qualifications.
However, 100% of Bionic Turtle students recommend someone to use the platform.
Student Feedback and Reputation
The next stage of the Bionic Turtle FRM review is to take a look at the reviews of students. When you scroll through the internet, you will find numerous positive reviews about the usage of Bionic Turtle.
According to the Bionic Turtle reviews on the website, the courses on the platform are quite efficient. Many students improved after signing up with them.
You may also ask yourself – are bionic turtle notes well? Well, the answer is relatively simple – yes, they are. All the study notes on Bionic turtles are compiled and written by experts familiar with different tricks on professional risk management.
Many students appreciated the level of customer support offered by the platform. The customer service team was always on hand to attend to inquiries about anything, including study materials from teachers. There's even an FAQ section on the website that solves most of your queries.
And if you do not have something urgent to request, the best thing to do would be to email them. You should receive a response to your email inquiry within a few hours.
They also have a blog where you'll find different posts about the FRM exam. These posts answer questions and doubts about the exam.
Website Usability
Today, many of our activities are done from the convenience of our mobile phones. As a result, most students will try to access the contents of their FRM course from their mobile phones.
To meet the innovative demand of students, Bionic Turtle has developed its website and ensured that all the features are mobile compatible.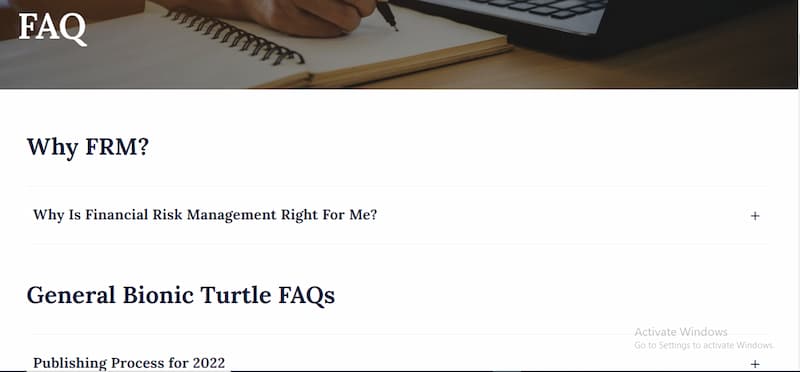 Pros
Detailed study materials.
More than 4,000 practice questions.
Shortened and simplified GARP concepts.
Explanatory instructional videos to tackle the most difficult concepts.
Huge forum of more than 40,000 students where you get to connect with others like yourself.
Cons
There are no offline materials.
It doesn't contain the entire GARP curriculum.