Preparing for a big exam is always a nerve-wracking process, irrespective of whether it's an elementary-level exam or one that's meant for college and higher education.
As you continue looking for support services that help you prepare appropriately for your test, you might get a little confused about which ones to rely on. Wondering what Test Prep-Online courses review is all about? This page will tell you all you need to know!
Why Take Our Review Seriously?
Our peer review covers all the frequently asked questions and the key/common concerns anyone would have about a particular online test prep service.
We may rightly state that, with our detailed review, you will spare yourself loads of time and trouble doing research and inquiries on the given service.
Thus, if you are looking for a GRE by ArgoPrep review or a SHSAT by ArgoPrep review, we have all of it covered entirely, right here.
We try our best to dig deep and bring every relevant detail to the surface so that, upon reading our ArgoPrep review once, you will be able to decide with complete clarity of mind and without having a second thought!
The foremost thing we focus on in our ArgoPrep reviews is how great it is as an online test prep platform.
We give viewers an insight into the following:
How to test prepping works with ArgoPrep;
Services offered;
Quality of service;
Prices;
Customer focus;
Website usability.
Whether it's an ArgoPrep GRE or a SHSAT, or just an overall insight you are looking for, our review here is certainly the only thing you need! We've got the key things covered for you so that you won't have further doubts about a thing.
Exam preps can be tougher for students than you know. A pass on some of these exams, particularly entry exams, can be life-changing. Students today often struggle with their entrance exams, particularly when it comes to prepping effectively.
Today, there are many entry exams, each designed for specific levels of education/student ages, and are generally considered quite challenging.
The following are some of these examinations that students commonly have difficulty passing and require proper preparation:
SHSAT
The SHSAT is an entrance examination meant for eighth and ninth-grade students residing in New York City. The examination is quite a major one because it only determines admission to high schools in New York but one of the city's Specialized High Schools.
An exceptional Pass at the SHSAT is all that you will need to gain admission to one of the nine Specialized High Schools in New York City. Thus, as you can see, the exam certainly becomes a big deal.
The examination is composed of a well-balanced choice of test questions based on the English Language and Maths.
GRE
The General Record Examination (GRE) is administered to adult students seeking entrance/admission to graduate school or business school. The GRE is an integral part of the application process, which means taking the test and obtaining a pass are mandatory to proceed with your application.
The test is a multiple-choice, computer-based one. Your performance on the test, along with your educational records, will help admission committees determine your preparedness for Graduate Level studies.
Instead of spending time researching each test prep service you come across and ending up yet in doubt, why not look at a detailed review instead or at the best GRE prep courses list?
SAT
This a standardized test that focuses on 4 critical areas: critical reading, writing, and Math.
SAT is mostly an essential component to obtaining admission at certain colleges and universities to pursue higher education. The examination is, therefore, relevant to students of 11th and 12th Grade or higher.
For the top options to prep for this test, you should check the best SAT prep course reviews on our website made by an expert team.
IELTS
IELTS is an English Language test that focuses on four core areas of the English Language: listening, reading, writing, and speaking.
The test becomes a requirement in various contexts, such as in college or university applications. In most cases, it's also a crucial component in foreign employment. Test takers need to obtain the required pass mark to proceed with their respective applications.
The required pass mark may vary in each context. That's why you should consider taking test prep courses for IETLS as well.
ArgoPrep Overview
What is ArgoPrep?
ArgoPrep is an EdTech-based online platform that offers test prep support, services, and facilities for various exams.
ArgoPrep is also one of the sources of supplemental educational products that might be useful in test preparation and enhanced learning.
How Does it Work?
You need to keep in mind that ArgoPrep is a subscription-based service, which means that it requires a subscription if you want to use the platform, have access to valuable resources, and enjoy a complete and improved learning experience. Your subscription choice will obviously, depend on your need.
Firstly, you'd need to choose the relevant subject/examination you need help with and then pick a suitable subscription plan. It's completely up to you to decide which plan will suit you best. Just make sure you choose one that will help you prep for exams according to your requirement.
Once you've subscribed, you can access amazing resources and content that help you prep for the examination.
However, how much access and content you have will depend on the subscription plan you pick. Whatever your choice, you still have complete assurance of prepping yourself without compromising for the relevant examination.
Is ArgoPrep Effective and Guarantee Better Scores?
The thing about Argo Prep is that it's based on the key principle of test prep: practice! Therefore, you find loads of material, various types, that help you practice more and more, at every level, so that you not only familiarize yourself with the content and the subject but become great at it.
Additionally, you have access to clear and useful video explanations, lectures, and other material forms that will enhance your preparation process altogether.
Therefore, when it comes to the question, 'Does Argoprep.com help students?', the obvious answer would be 'Yes.'
The platform not only ensures that students have plenty of practice on a certain subject, but that they do so most practically and effectively.
On the other hand, video explanations and lectures will help learners have their doubts cleared, and problems solved and provided them with the thorough knowledge required in preparation for the exam.
Is ArgoPrep Good and Safe? Could it be a Scam?
The biggest and most reliable information we have is the stories by customers, in other words, parents and students themselves.
Looking at all the reviews, ratings, and claims of those who have used ArgoPrep and experienced learning through it, we see that ArgoPrep offers a comprehensive, effective, and completely satisfactory service to parents and students who rely on them for test preparation.
How Does it Stand Out?
As mentioned previously, ArgoPrep ensures that students receive plenty of practice, training, and exposure that will be key to obtaining better scores on the examination.
Whether it's an ArgoPrep GRE prep that students opt for or a SHSAT, they are sure to experience equally amazing and effective learning and improvement.
In other words, they take practice seriously and make sure students are familiar with the subject and the likely challenges that come along with an examination.
One of the key things you will notice as soon as you get on the website is that ArgoPrep is a multiple award winner and is thereby popularly recognized for being legit, reliable, and of course, highly beneficial to students from around the globe.
Thus, if there's one thing we could be certain about, it is the fact that ArgoPrep is one of the most trusted and successful platforms for exam preps, and of course, attaining amazing examination results.

If you check out the store at Argoprep, you will see that firstly, there is ample content available for students who require preparation for exams.
Not all education websites will have a load of content that covers every area of a subject entirely.
However, with Argo Prep GRE, SHSAT, and K-8 prep, you get to enjoy an 'abundance' of material for practice and improvement.
You also must specifically note that it isn't a whole load of material that you have access to, but a bunch of carefully designed and picked subject material, such as worksheets, video lectures, and so on.
This means you get to do plenty of practice using effective material until you have reached the level of confidence required to sit an examination.
Self-paced learning is another exclusive feature or facility offered by ArgoPrep. This certainly makes learning convenient and less burdensome for children, particularly for the younger ones. The feature might be just another reason why many would prefer ArgoPrep to other test prep systems.
This only reassures all students of how effective, useful, and exceptional ArgoPrep proves to be as an online test prep platform. It also becomes quite clear to anyone that there's no chance for the platform to be a scam, unreliable, or a waste of time in any way.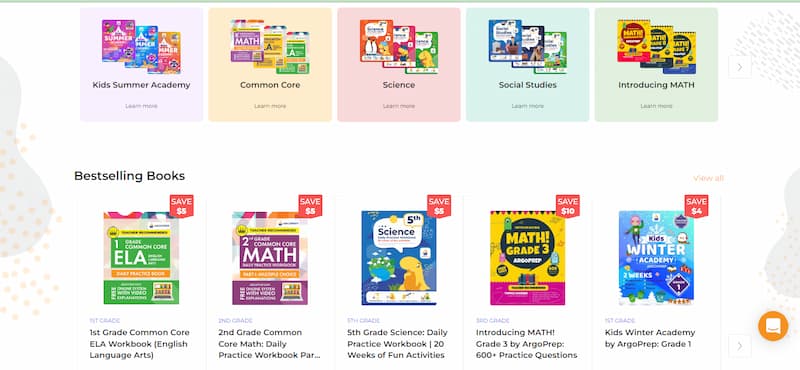 Services of ArgoPrep
ArgoPrep offers quality test prep support and services for K8, GRE, and SHSAT. The ArgoPrep company also provides flexible subscription options that cater to and suit the varying needs of learners.
If you look at SHSAT prep courses, ArgoPrep offers students 3 types of premium subscription plans: a 3-month plan, a 6-month, and a 12-month premium.
Each plan varies slightly regarding the volume of content students have access to and specific facilities, benefits, and offers. Nevertheless, ArgoPrep ensures that every student experiences effective prepping irrespective of the plan they choose.
The 6 and 12-month plan, for instance, allows students to live chat, a feature that isn't included in the 3-month plan. Similarly, the former plans include a Personalized study plan for students, while the latter doesn't come with this benefit.
The way these subscriptions work is pretty much similar when it comes to GRE prep, too. There are 3 types of plans offered, and the costs vary according to what's offered. The 6 and 12 months allow students to access printed and video study material, while the limited subscription plan is much more 'limited' compared to the other two.
As for K-8, students are offered a single option: a 12-month subscription plan that includes a host of beneficial material such as workbooks and video explanations.
They also offer 2 free workbooks to those who subscribe to the 12-month plan. In ArgoPrep K8 reviews, we found that the majority of parents are happy about this service.
Self-paced learning is one of the highlighted facilities offered at ArgoPrep. Convenience is important in learning in today's fast-paced world and is one of the things that's made it extremely possible for learners at ArgoPrep.

Additionally, the platform offers amazing services such as free shipping and free cancellations or withdrawals, which are also mentioned in some Argo Prep reviews online.
Prices at Argo Prep
One of the key things we could certainly agree upon is that ArgoPrep offers affordable prep and training.
People's opinions regarding prices may certainly differ when considered from a personal point of view.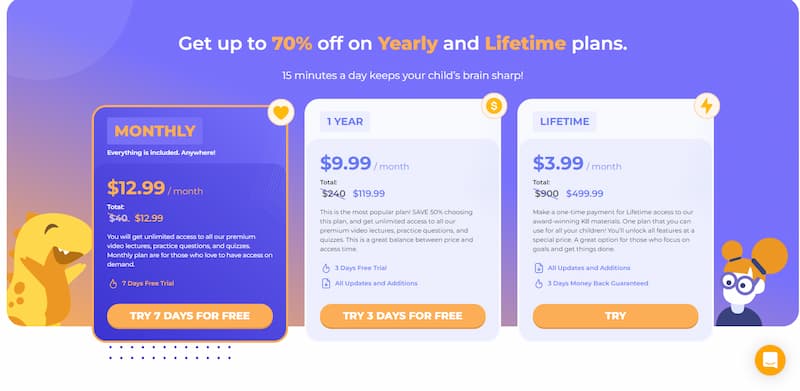 However, the key thing that involves our analysis of pricing is quality. In other words, if you enjoy value for money, you certainly will call it "worth the while and the money."
As far as ArgoPrep is concerned, we see that they not only will guarantee users value for money but are also quite reasonable and affordable where rates and fees are concerned.
For K-8 Math & ELA Program, you'll have to pay $120 for 12-months subscriptions and get 2 workbooks for free.
SHSAT 3 months subscription will cost you $96, 6 months – $144 and 12 months is $190.
The GRE prep costs $100 for 1 month of subscription, $130 for 3 months, and $170 for 6 months.
Be aware that these prices do not include taxes.
If you want to consider another alternative option, read the TestingMom review, where you can find multiple test choices to prep for.
For example, for SHSAT, you can get 100 practice questions for free just by signing up.
Quality of ArgoPrep.com Services
Our ArgoPrep GRE review, as well as those on SHSAT and K-8, should be just enough for anyone to subscribe for test preps without a doubt.
There is more than just one piece of evidence of the quality of service at Argo Prep.com when preparing for these specialized examinations.
The most significant proof would be what the past users/students say about their overall/complete experiences and outcomes, using ArgoPrep for test preparation.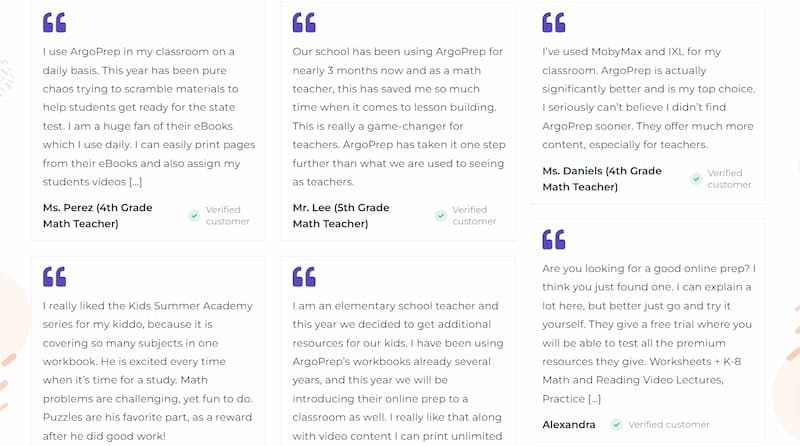 The website is full of testimonials and loads of positive feedback and recommendations from students and parents worldwide.
These folks vouch for the quality repeatedly, which is one of the things you can always count on.
Another proof of quality service and material is that they are winners of prominent awards for online education. Most of these awards aren't easy to win unless you've got superior levels of service.
ArgoPrep holds a couple of the most popular and significant recognition as an example of the quality and standard they possess.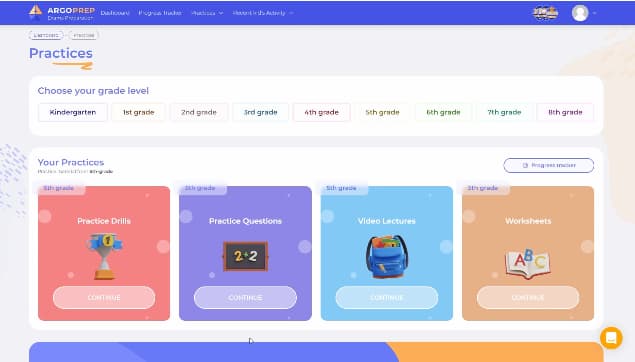 All of these crucial points pretty much sum up our Argo Prep GRE review, SCHAT, and K-8 review specifically, in terms of quality of material and service in prepping students for their respective exams.
As for GRE, you can consider other websites to prep your kid at. For example, check our Magoosh vs Manhattan Prep GRE comparison; these two companies are unique alternatives to opt for.
Customer Service at ArgoPrep
Looking at the website, we may not have complete clarity about how great their customer service is.
However, one thing we could count on, as viewers, is the testimonials by past users. Looking at these testimonials, we realize that every client/student's experience has been amazing and completely satisfying.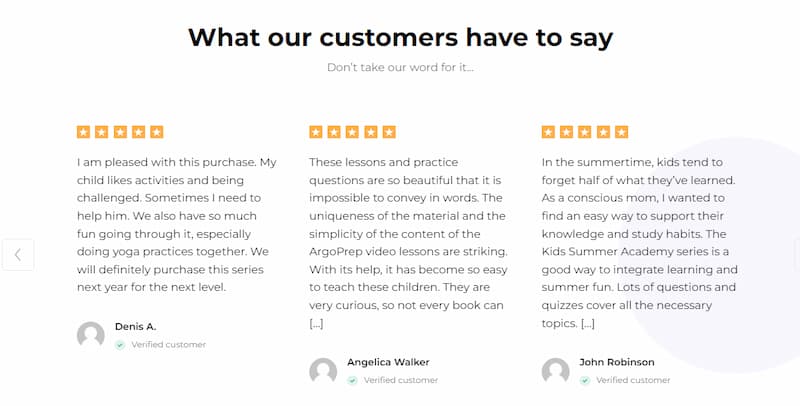 As reviewers, we know that customer service plays a vital role in having such positive experiences.
Thus, as far as ArgoPrep is concerned, we see that they've got many experienced learners/parents who vouch for them wholeheartedly, in every aspect, and not just for quality/effective learning.
Website & Mobile App
The website is quite attractive and appealing. It's also user-friendly. Information is clear, and it's quite easy to understand how the platform and test prep works.
However, one might feel the need for a few more additional sections/pages that contain some key information, so they won't have to place too many queries, which can be a hassle.

Just as we found in our Magoosh review that it has a great and handy app; ArgoPrep is also available on both iOS and Android and is a smooth and effective working application that couldn't make learning more convenient and possible.
Pros
Ample Material - Once subscribed, students have access to plenty of practice material, as well as explanations and lectures.
Quality - Many vouch for ArgoPrep's quality of material, support, and overall service.
Clear Videos - Video lectures are clear and meet learning/education standards.
Self-Paced Learning - Self-paced learning is a privilege given by ArgoPrep that isn't enjoyed everywhere.
Awards & Recognition - ArgoPrep is an award-winning platform that is recognized for quality and highly satisfying service.
Value for Money - Students are highly benefited and made to achieve their goals, making their money and time worth it.
Cons
Website structure - The website lacks detail, both in terms of information and structure.
Costs - Despite affordable rates, some customers in ArgoPrep reviews believe they could lower their prices a little more.
FAQs - The FAQ could have more information and concerns addressed.
Payment - You cannot really find out details on payment methods/facilities unless you place an inquiry.