Many college applicants know that the CASPer isn't a common test — it's not a pass-or-fail type.
However, the results of the examination determine the success of your application before the interview.
The test defines your behavioral tendencies and provides an assessment of your potential skills by giving the circumstances of tough situations, asking you to provide answers and explain your actions.
Only those who receive an average or above-average score will be invited to the personal interview.
So, there is little room for error during the exam test if you want to get into a specific college. We know how important admission may be.
Therefore, we've prepared the best resources for CASPer test prep to make your dreams come true.
We have revised dozens of courses and come up with the most professional and quality options. To get you more acquainted, we will talk about each tuition's pros and cons, prizes, studying materials, etc.
You will be able to see the structure and look over participants' feedback to make your final decision and start preparing for the CASPer examination.
While searching for the best Casper prep courses, it might be beneficial to read about other available resources. The Mometrix reviews could give you another perspective on your preparation for the Casper exam.
The BeMo Course
Very informative;
Well-stocked;
Gives unlimited access to study materials.
Might be too pricey and hard to afford for low-income students.
Looking for the best CASPer prep course, we found the BeMo website. After some research and quality analysis, we were assured that it would be number one in helping students prepare for the examination. The course average rating is 4.9, which is close to perfect.
It suits those who apply for CASPer the first time or applied before and were rejected. The BeMo expert team built a perfect full-length course that includes 23 types of different questions with specific examples, 15 practice tests, and one-to-one expert sessions.
The package guarantees successful admission as 93,5% of the tuition participants get through the test.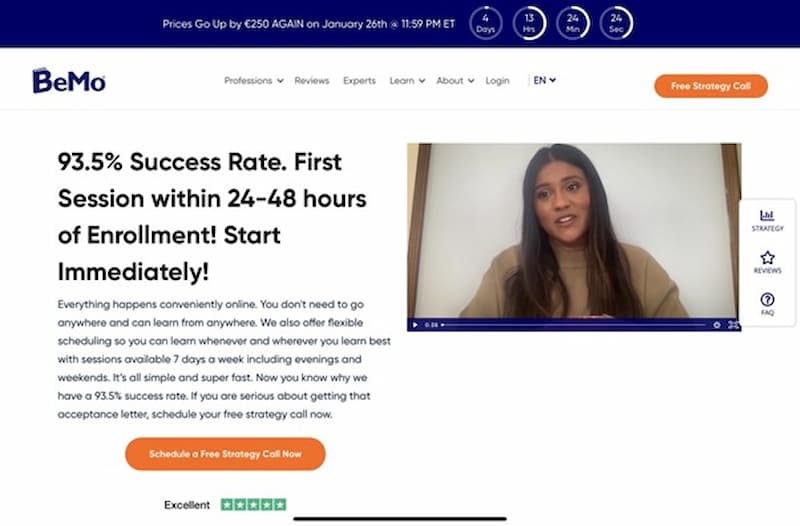 The company has a unique feature which is a free strategy call. Before an application, students schedule an online meeting with one of the experts to discuss the learning plan and discuss further steps. In addition, you can visit one session for free to see whether you like it or not.
In case you don't feel like it's your community, the BeMo team will get you a refund. We found this policy clear and fair, which builds a solid trust base with the course providers and gives excellent experience in terms of educational colloquy.
Overall, students leave 5- or 4-star comments and are satisfied with the tutors' professionalism.
Once you're acquainted and decide to prepare with BeMo, you can choose one of the three study plans — Gold, Platinum, and Titanium.
The last two give you access to an unlimited number of expert sessions and the best CASPer prep simulations.
The guarantee packages are also included. Yet, the first plan wouldn't be so broad. By applying for Gold, you'll receive 3 simulations and 3 sessions.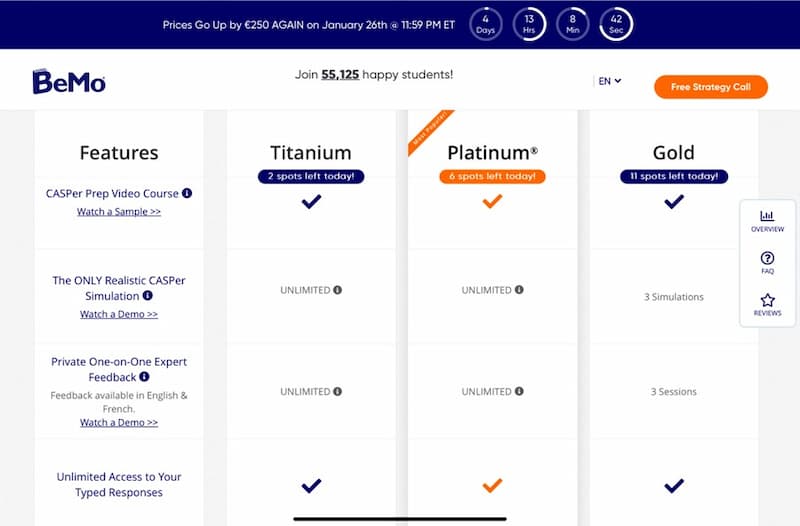 After our revision, we concluded that the rates are fair and the course content is worth every cent. The prices are below:


Gold – $1,199;


Platinum – $3,499;


Titanium – $5,699.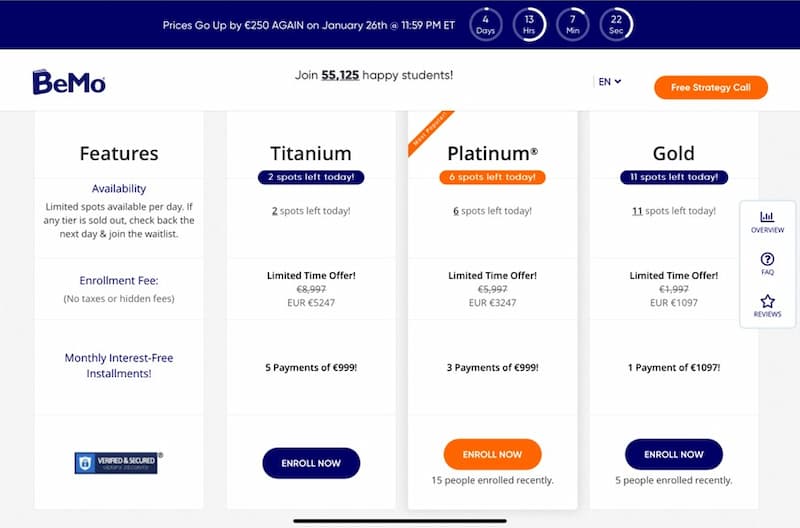 Although we would recommend applying to Platinum as it is fully stocked with essential materials and has an appropriate price, you need to evaluate your skills and pick a course that will suit your abilities the most.
The Astroff Course
Advantages:
Consistent;
User-friendly interface;
Low prices.
Disadvantages:
Too brief and has short duration.
The Astroff classes cough our attention with their approach to the task. The course is designed for short-term preparation. The developers of the strategies are medical experts and former members of the CASPer committee who know the main aspects of evaluation.
Therefore, the tuition is brief but most informative. If you decide to purchase the Basic plan, you'll receive access to full-length 4 CASPer simulations and 2 levels of the best CASPer prep courses.
Based on lots of positive comments and our own examination, we decided to share this prep class. The average rating of the prep is 4.5, which represents the quality of materials and experts' work.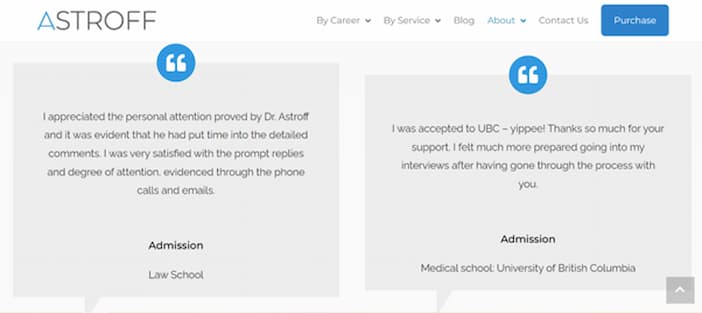 The Standard and Intensive are broader — the first one allows to have just one expert session during the Second Level of the Simulated Test to fix the mistakes and improve the fast-track skill.
The other offers 4 feedback sessions within Levels 1-4 to evaluate the progress you made on all 60 scenarios.
Additionally, the participant gets a 1-hour meeting that fine-tunes their performance by solving challenging drills.
The pricing left us satisfied. Such an informative and efficient course has relatively low rates:
Basic program costs just $197;
Standard CASPer prep — is $347;
Intensive all-inclusive plan is $997.
In our opinion, most students will find these prices reasonable and possible to cover. So, you'll get the best prep for the CASPer test package for fair rates.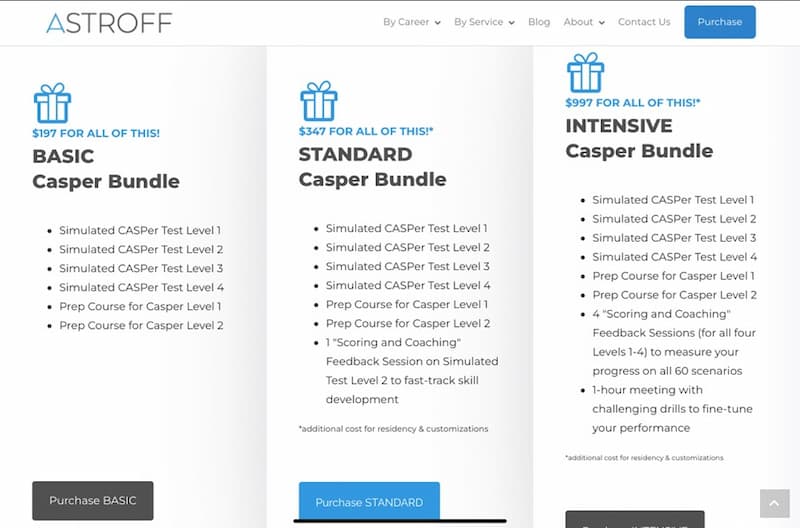 Overall, the study has 180 practice questions within 60 scenarios. Students can go through both the Typed and Video Response Sections.
Each simulation will sharpen your professional skills and improve your knowledge in the fields of communication, collaboration, problem-solving, and self-awareness.
Only after 12 hours of in-depth learning you'll increase your score by 15%.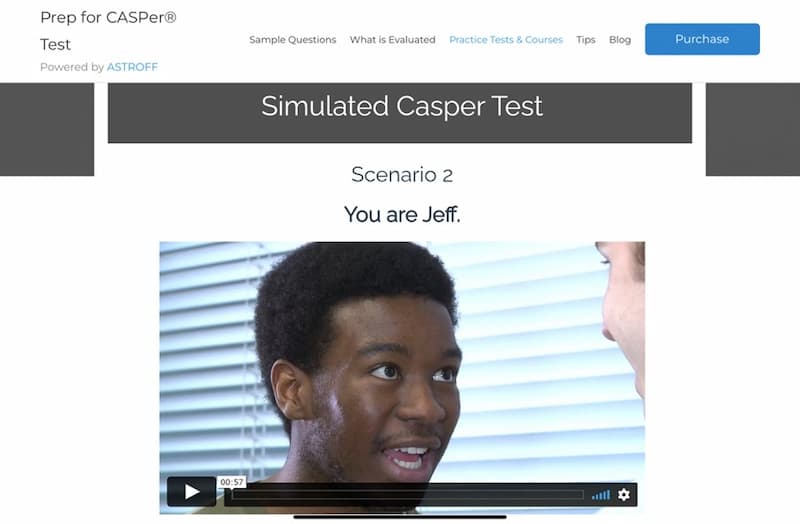 We found the Astroff platform very convenient and efficient. The screen looks clear, helping to concentrate on the important details.
Students can see their progress and manage the materials on the left side of the learning area, where the course sequence is located.
Moreover, any participant can upgrade and receive coaching right on the platform as well. At this rate, your test will be scored the experts will make a report of your mistakes, giving you advice on how to improve.
One session takes up to 45 minutes and covers one simulation.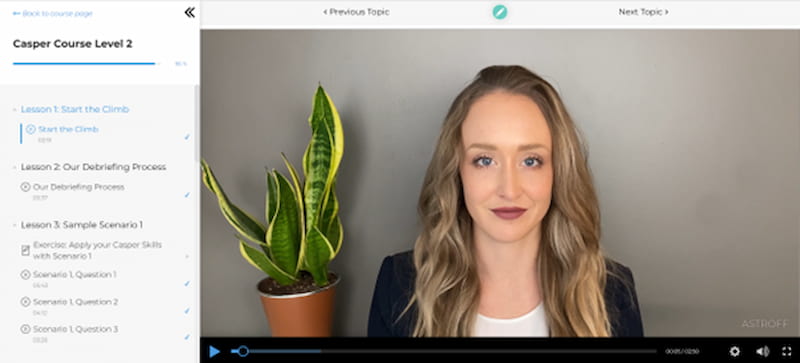 As you are exploring the best Casper prep courses, you might also find our TestHQ reviews helpful. These reviews can provide additional insights on available resources for your preparation.
The BluePrint Course

Extensive programs;
Excellent value for money;
Offers over 40 Live Hours.
Online course quality is better than the BluePrint study book.
After applying for the BluePrint course and testing it, we immediately understood that it is one of the best CASPer prep classes we've ever seen.
The amount of given information was the first thing that caught our eyes. The blueprint includes over 160 modules that efficiently enforce memorization and assimilation of the material.
You also have an opportunity to focus on soft skills such as strategy and reasoning within additional 30 practical modules.
Moreover, students may participate in several live classes totaling up to 40 hours with expert feedback. Usually, there are 16 sessions, 2,5 each.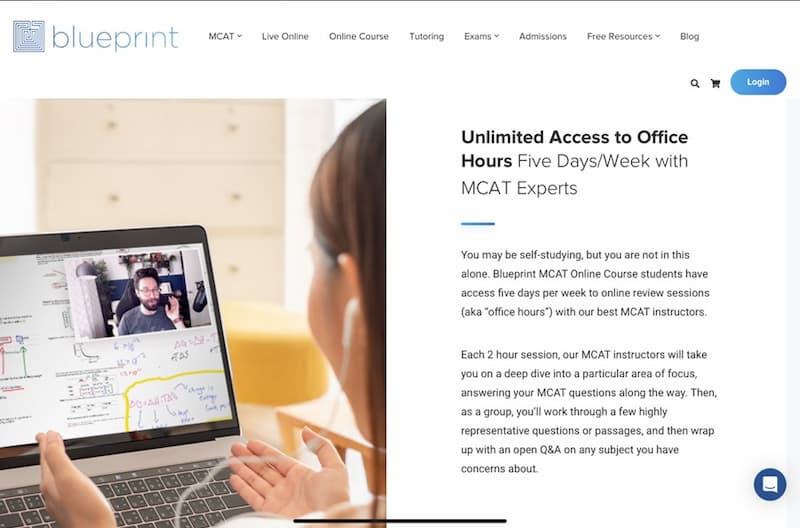 Moving forward, we've examined the practice section, and we were pleasantly shocked by the large number of QBanks. Preparing with the BluePrint, you'll have access to 4,000+ questions and 15 full-size practice examinations.
Although it's hard to predict the specific tasks you may get on the CASPer, the Blueprint course covers all the possible situations and allows you to practice as many times as you wish.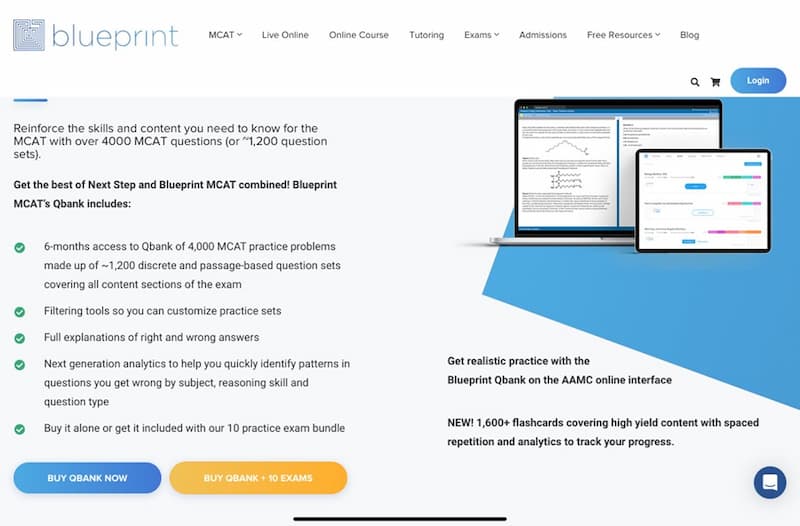 We especially emphasized the modern interface and super-engaging video lessons that are easy and interesting to watch.
These are great ways to memorize information visually and get into details, as every lesson contains pictures and expert explanations with proper definitions.
If you missed something or didn't understand, you can rewatch the video or turn to an expert to clarify the topic.
So, if you're still thinking, "should I prep for CASPer and purchase an online course", our answer is yes.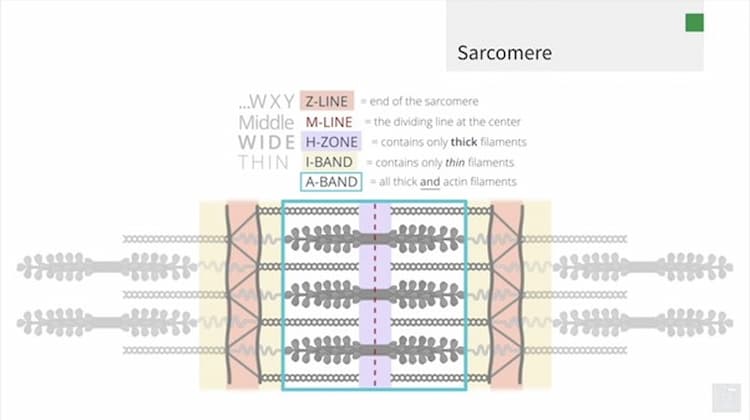 Last but not least, pricing and value for money. The tuition has two plans — online course and live online.
Both are nearly the same but the first one doesn't have live classes, so students won't be able to communicate and get frequent feedback on their work.
The cost of CASPer test prep varies:


6 Month Access – $2,099;


9 Month Access – $2,549;


12 Month Access – $2,849.


Both plans are decent and fully packed with useful learning and practice tasks. We would recommend applying for the live online because expert sessions may decently increase the chances of successful admission.
However, if you're sure you can handle the exam without guidance, then an online course will be perfect for you.
To support our opinion, we've decided to look for comments from those students who have already learned the course and passed the test.
The results were fascinating, as most participants were satisfied and strongly recommended the BluePrint prep, giving it a solid 4.7 rating.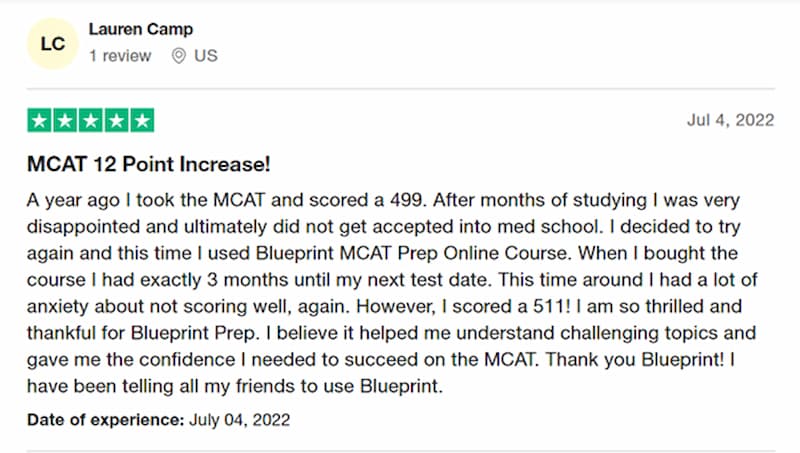 How Do These Courses Differ?
Now that you're acquainted with the best test prep courses for CASPer, you can decide which one suits you better. Here's a brief chart that includes all the important aspects that may affect your choice.
| | | | |
| --- | --- | --- | --- |
| | BeMo | Astroff | BluePrint |
| Price | $3,499 | $997 | $2,549 |
| Video Instructions | Unlimited One-to-One Expert Feedback | 4 "Scoring and Coaching" Feedback Sessions | 160 Modules |
| Practice Questions | 23 different types | 60 scenarios – 180 questions | over 10,000 |
| Practice Tests | 15 | 4 | 15 |
| Access Term | Unlimited | Until the end of CASPer season | 6 months |
| Books | Hardcopy | Online course only | Hardcopy |
| Money Back Guarantee | available | not stated | available |
Conclusion
Applying for college and preparing for the admission exams may be challenging. Still, you don't have to do it on your own!
There are a large variety of online classes that can improve your soft skills and experts who could give you valuable comments.
We revised dozens of platforms and selected the best that we presented in this article. Each of them has reasonable rates and fully stacked courses.
You can either turn to more expensive tuition and get a personalized plan with frequent one-on-one feedback sessions or a cheaper option that still offers a wide range of useful video lessons, practice questions, and tests.
Most programs even provide a money-back guarantee to reassure you of their quality and reliability.
So, if you're still deciding whether you need to purchase a course, we advise you to apply to the one that suits you the most. You won't regret this decision after making it to the university of your dreams.