With a plethora of learning services out there, determining best practices to achieve your education goals can be tricky. Factors such as adaptability to student learning styles, customer support, prices and quality of service are all key features that contribute to the attractiveness of learning services.
On EduReviewer you can find various reviews on prep companies. What is the best LSAT prep course? Find out on our blog.
Wize Overview

Wize is one of the online tutor sites and learning platforms that offers on-demand tutoring resources for students in high school and university, as well as those studying for the MCAT and LSAT.
High School and University students can get support through Wize's $14.95/month subscription: the All-Access Pass. Through this, students can locate specific course(es) or subjects they need extra help with on the website, then go through video lessons, interactive practice questions, and ask expert tutors their specific questions via in-platform Q&A.
This subscription gives students access to every subject on the platform at once, allowing them to personalize their experience by leveraging resources in areas where they specifically struggle most, utilizing those resources when they decide they need them most. Subjects covered include: Math, English / Essay Writing, Biology, Physics, Chemistry, Financial Accounting, Economics, and Statistics.
The way Wize develops and organizes its material makes them unique. Each of the courses offered is specifically tailored to the regional high school curriculum or university course guidelines. This means that students are seeing the exact material they see in the classroom for a more cohesive learning experience.
According to their website, 98% of Wize users have said that Wize has raised their grades by a full letter grade. While they do not guarantee that the service will boost your grade, they do offer full refunds for their MCAT and LSAT prep courses if you are unsatisfied with the lessons offered. What are the best MCAT prep courses? Learn more from our reviews by our experts.
During my Wize research, it appeared as though downloading files off the website for note-taking purposes were purely optional.
Therefore, the service can be used solely on your browser in a safe manner. Testing the downloading option for work booklets, I did not face any issues of malware on my computer afterwards, insinuating the service's safety.
Story of Wize
Wize was founded in 2017 after their co-founders had the idea to use technology to provide a personalized and at-your-own-pace tutoring experience for a fraction of the cost of a typical tutor.
However, the original idea for Wize started much earlier in 2012, when two of Wize's executives founded another education company, Beat Your Course, which provides in-classroom crash courses for university courses. RoshReview is a website that offers unbiased and honest reviews to the best fitness equipment, muscle building products and fat burners on the market. Take a look at RoshReview review.
Despite being a successful business, the co-founders of Beat Your Course knew that in-person learning has an inherent limitation: one instructor cannot meet the needs of hundreds of students, each of which has their own personal areas where they are looking for the most help. With overcoming this challenge in mind, Wize was conceived of in 2017.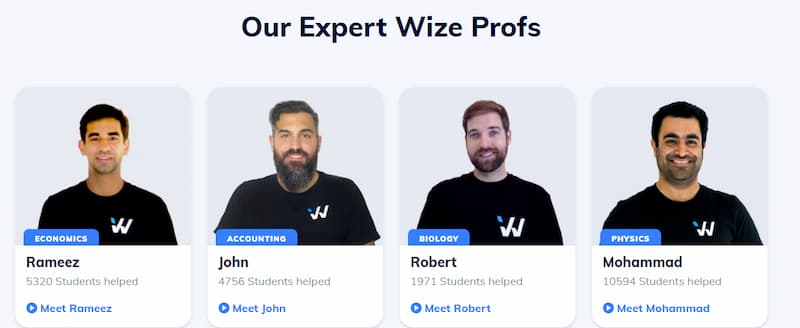 Since then, Wize has expanded from supporting students at a handful of universities into an organization that can help any high school or college student across North America, as well as any students studying for the LSAT or MCAT.
Wize Product Offerings
Wize's product offerings can be broken down into three (3) broad categories: MCAT Prep Course, LSAT Prep Course, and All-Access Pass (subscription for High School and University students).
We have conducted research into the mechanics of these courses, and to give you an inclusive overview of Wize's services, we have included a variety of reviews for your analysis.
Wize MCAT Prep Review
Despite the Wize MCAT prep course being rather new to their platform, the program looks well organized and includes a plethora of learning opportunities within its scope. The course includes:
(1) pre-recorded lessons and practice that allow students to progress at their own pace through the material,
(2) live review sessions with instructors
(3) 24/7 accessible forums to ask questions to instructors and/or other students.
The on-demand prep section of the course includes practice questions with immediate feedback available and printable worksheets which allow students to follow along with the video tutorials. These video lessons also incorporate the collaborative forums feature under each lesson so students have the ability to ask questions as they encounter issues in real-time.
All-in-all, the course seems to offer a variety of learning opportunities that appeal to a variety of students. Another helpful initiative the courses utilize is time-stamping each module right off the bat, allowing students to plan their time spent on each lesson accordingly. All together, there are 65.3 hours of video walkthrough materials provided with just over 1,400 activities across the lessons.
Wize LSAT Prep Review
Wize also offers an LSAT prep course led by a top educator. John Agozzino, who scored in the 99th percentile on the LSAT himself. The course offers a lot of the same features as the MCAT prep course but does not currently have any live review sessions scheduled within the next couple of weeks. The live review sessions, however, do offer a notification feature where students are notified when the live review sessions are scheduled to plan accordingly.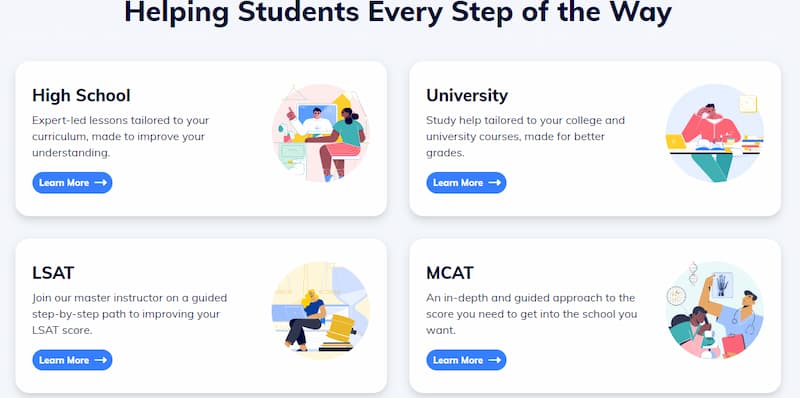 As an alternative, you can check LSATMax prep courses. These guys provide high-quality preparation courses online. Check our LSAT Max review and see why it is so good.
Each lesson is broken down into bite-sized, easy to manage chunks, rather than several hours straight of just one lesson. The entire library of on-demand prep lessons includes 16.7 hours of video walkthroughs with close to 500 activities spread throughout, including practice questions in a variety of formats such as short answer and multiple choice.
Wize All-Access Pass (University)
To get a feel for Wize's subscription offering for university students, I decided to take a look at on-demand tutoring for one of their popular courses: Math 1228 offered at Western University. The format of the lessons follows similarly with that of the MCAT and LSAT prep courses, including on-demand video lessons, practice questions and live review sessions as well as the ability to ask questions as you go.
The reviews for this course were strong at 4.4/5 stars and the course seems to offer everything you could need to pass the examinations and grasp understanding of the material. Again, the course is taught by an expert professor in the field, allowing students to feel more confident in signing up for the course.

Wize All-Access Pass (High School)
Similar to the above, in order to test Wize's subscription for High School students, I decided to choose Grade 12 Advanced Functions as a good place to start.
Once again, the course offers the same features that allow for a well-rounded student experience and incorporates several sub-lessons under the different units to create a concise learning opportunity that can be personalized by students potentially choosing to focus on specific mini lessons that tend to their needs.
Wize Courses Prices
The pricing structure of Wize's high school and university courses is rather unique. At $14.95/month, students are able to sign up for a subscription that grants access to tutoring resources for all the subjects and courses they need in one. When it comes to Wize's MCAT and LSAT preparation courses, they offer incredibly competitive pricing as compared to their competitors.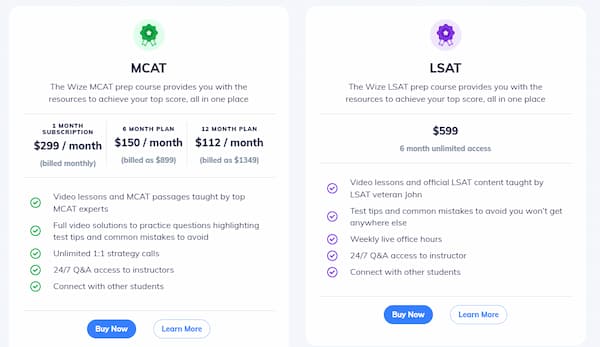 Wize Prices:
Wize MCAT Prep: $999 or $84/month;
Wize LSAT Prep: $599 or $50/month;
Wize All-Access Pass: $14.95/month.
Wize also offers a free 7-day trial for their courses as well as monthly payment plans for each of their services, allowing for more of a flexible introduction to their offerings.
Additionally, the MCAT and LSAT preparation courses offer a 100% satisfaction guarantee that allows students to get their money back if they are not satisfied with the course within the first 48 hours.
Quality of Wize Courses
Choosing the right service can be difficult, so it is important to conduct an analysis of the product and decide whether it is the best option out there for your needs as a student. When looking into Wize a bit further, it was comforting to see that all of their educators are highly qualified in their respective fields of teaching.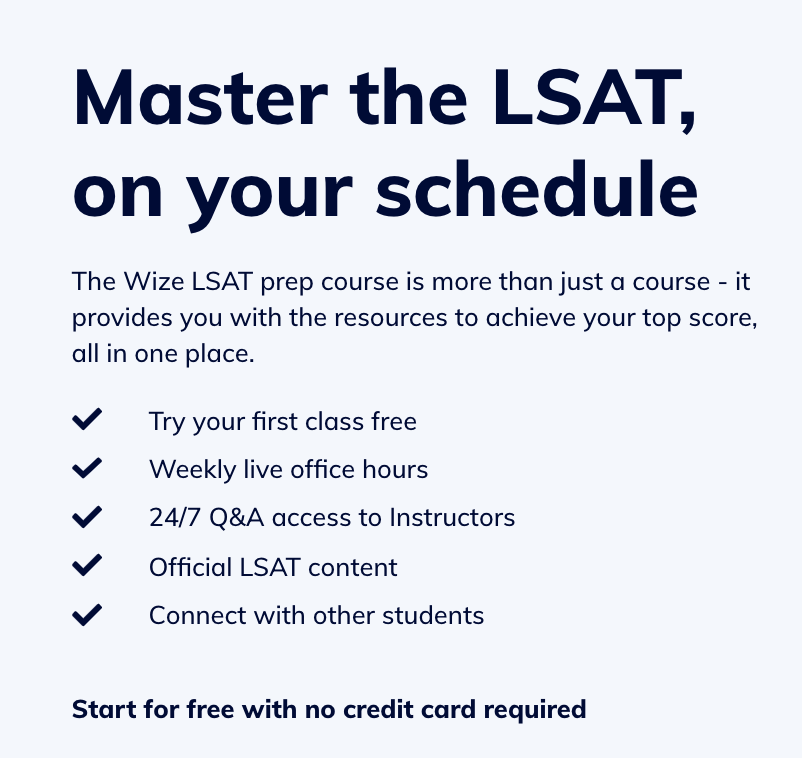 Particularly for the MCAT and LSAT prep offerings, both lead instructors have scored in the 99th percentile for the examinations they teach and have extensive experience leading prep in these subjects.
The Wize MCAT prep additionally consists of a larger team of instructors, all of which hold a Master's Degree at the very least in the subjects they cover throughout the course.
Both the MCAT and LSAT prep courses also provide an opportunity to book a free one on one chat with the instructors to determine your best course of action for studying and for any open questions you may have.
Where Wize may differ from other prep companies lies in the formatting of their courses. Each course is designed to be concise and to the point, limiting confusion that can often come with an overwhelming amount of information that can occur in just a couple of longer prep sessions.
For example, you can compare them with ManhattanPrep, by reading the Manhattan Prep LSAT reviews from their former clients.
The shorter format of their sessions also encourages an increase in retention and the ability to practice problem solving immediately after learning the concepts, preventing frustrations students may feel if they return to answer questions they have not seen in a while.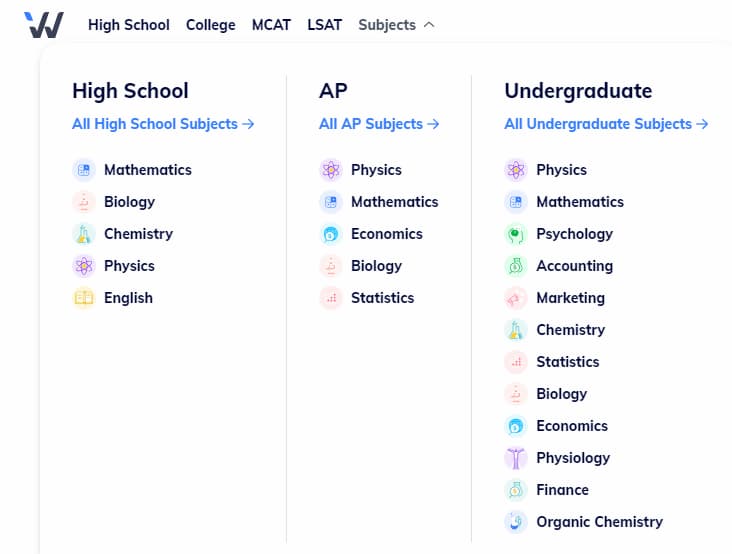 Customer Service at Wize
From our research, it was quite clear that Wize has several services in place to assure quality customer service experiences to their students. The first thing I noticed when diving into specific courses was the question and answer forums on the side of every page of each course.
Here, students are invited to ask any questions and gain clarification on topics that they may be struggling with in real time.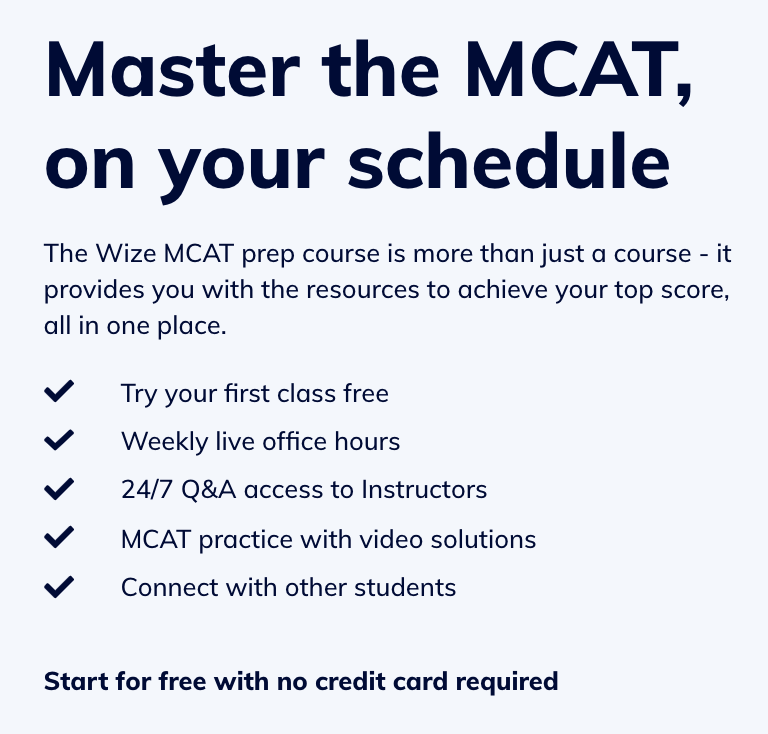 Both Wize instructors and other students are able to respond to questions and comments written in these forums, which also offer an anonymous feature for students who would like to ask questions without identification.
Secondly, when it comes to the MCAT and LSAT prep courses, there is a community tab built right into the course page where the same question and answer features are available. There are live review sessions scheduled in advance for students to attend optionally where they may ask questions and speak directly with the instructor as the practice questions and lessons progress live.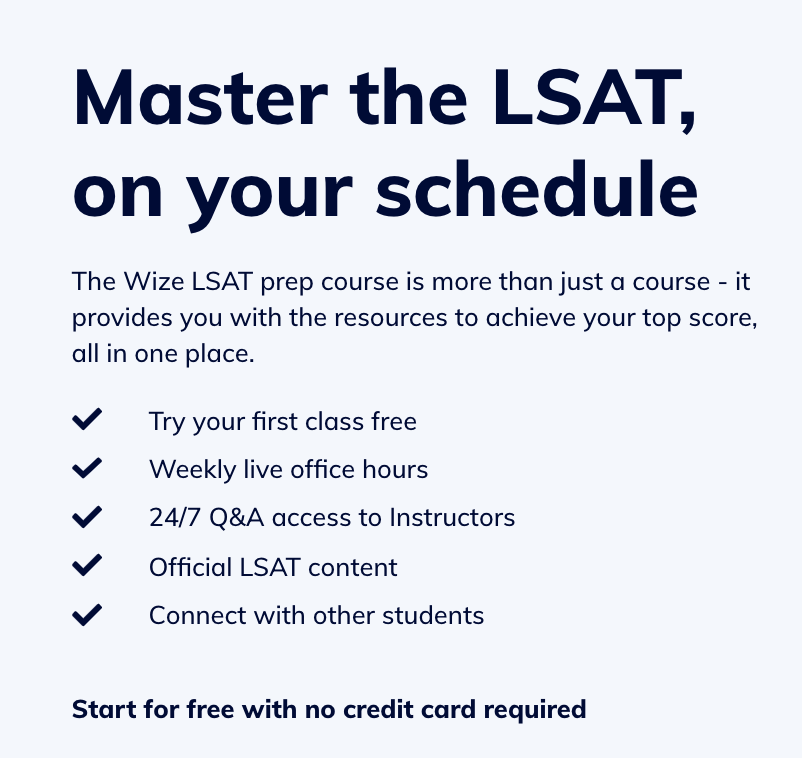 At a higher level, there is also a chat icon constantly available in the bottom right corner of the screen for questions to do with website support or any comments/concerns that users may have. Clicking on the "Contact Us" link will also direct users to this chat box by opening it up immediately. This chat box displays that Wize's usual response time for customer queries is "a day."
Wize's Website and Mobile Usability
As I explored the Wize website, it was definitely noticeable how easy to use and straightforward the format of the website and its courses are. Due to the nature of the courses being broken down into easy to manage sections, following through a course in its entirety is very seamless to do.
On each course's main page, you are able to select the module of your choice, but you are not required to return to the main page as you progress through the material once you are in the lesson modules.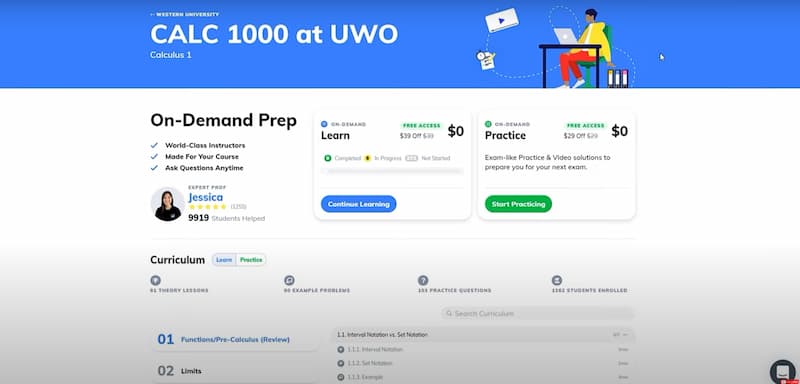 This may allow for students to continue through the course without feeling as though they have been working for an extensive amount of time as once you are in the lesson page itself, it is very easy to keep moving through modules without really noticing just how much you have accomplished.
There were no noticeable bugs or issues that I encountered with the website as a whole and the site itself is engaging and fun to look at with bright colours, moving images, icons and lots of photos of the instructors.
Wize does not currently offer a mobile app, but the website is mobile-friendly. As a mobile user, you are still able to access all of the same content with a mobile-optimized experience.
Pros
The subscription format means that you are able to pay a flat rate for access to any and all subjects / courses that you may need help with (with the exception of the MCAT and LSAT prep).
Instructors are well educated and experts in their fields.
Materials and website information are easy to find and engaging to go through.
They offer a large variety of practice questions and space them throughout the lessons to keep the students' attention.
Many students feel that the courses are made for them due to the curriculum aligned content.
Students tend to express their appreciation for how concise the lessons are.
There are a plethora of opportunities available for students who learn in different ways and lessons can be completed at your own pace.
Cons
When using the live chat and forum features, Wize instructors are currently only responsive during business hours.
Students sometimes ask for more test-like modules than offered.
If you are only interested in one course, you pay the same price as those who use multiple courses.
Some high school and university courses have a smaller bank of practice questions.
Some recommend more problem-based learning questions.
Despite being curriculum-aligned, some students have mentioned they would like to hear more references to their textbook.
Currently a strong focus on math and science courses only.