Check our honest analysis of the TestMasters LSAT review, including unbiased ratings and valuable comments that offer a complete perspective.
Before getting into my TestMasters review, it is crucial to understand why analytics are important. I carefully evaluate online test preparation services based on various criteria such as quality, features, price, website usability, value for money, student feedback, and guarantees (refunds, privacy, etc.).
How Does this Review Work?

My TestMasters LSAT review and ratings are based on strict criteria to ensure reliable information. It explores product usage experiences and provides a hands-on perspective. This will give you a real insight into your product's uses and effectiveness.
My main objective is to provide a complete and unbiased TestMasters LSAT course review so that you can make an informed decision when choosing Test Masters LSAT preparation services. My transparent approach gives you the information you need to make the right choices for your exam preparation needs.
What Is the LSAT, and Why Is It Important?
The LSAT was designed to measure the skills and competencies needed to earn a law degree. The LSAT assesses critical reading, reasoning, and argument analysis skills critical to the effective study of law. The preparation of the LSAT is essential, and this assessment plays a vital role in selecting top candidates in quality law.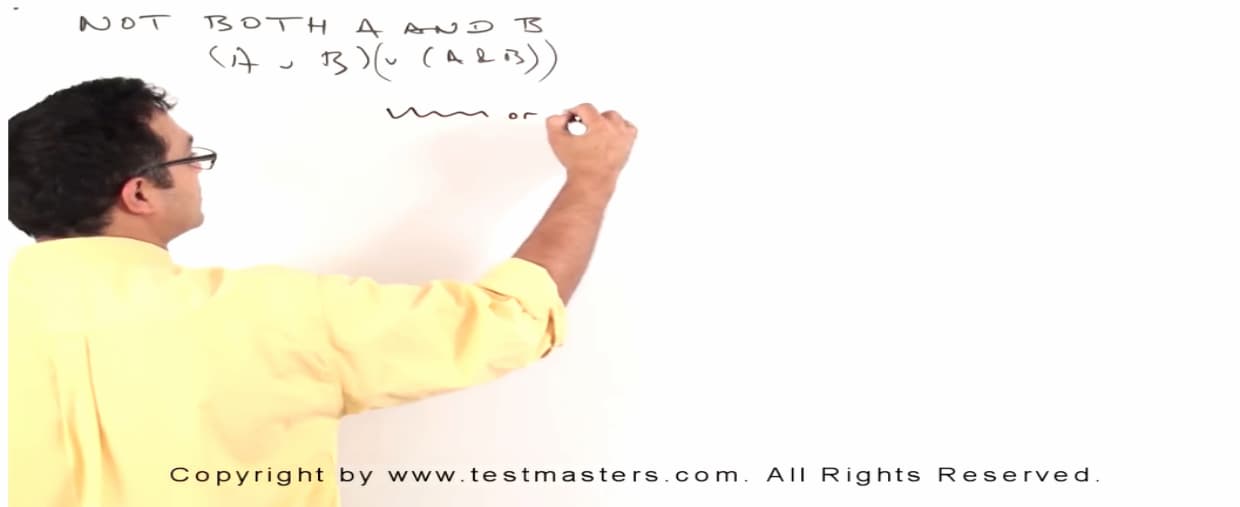 The test measures academic knowledge and assesses your ability to reason logically, analyze complex texts and construct coherent arguments. The LSAT helps identify candidates with the potential to excel in the demanding academic and professional environment required by the legal field.
In addition, LSAT preparation improves basic cognitive skills, such as the ability to evaluate information, solve complex problems, and communicate ideas. Even if a student does not intend to pursue a law degree, the skills gained in preparing for the LSAT are valuable in many professional and academic areas.

In short, the LSAT is an assessment that goes beyond the traditional measurement of knowledge. Assess the skills essential for success in law school and legal practice. Preparing for the LSAT increases your chances of getting into a top law school and equips you with valuable intellectual and analytical skills in various fields.
TestMasters LSAT Features that Stand Out and My Thoughts on Their LSAT Courses
If you're looking for solid LSAT preparation, TestMasters LSAT is not the place for you. Thought it offers many great resources. This article details various aspects of what can be achieved with the TestMasters LSAT.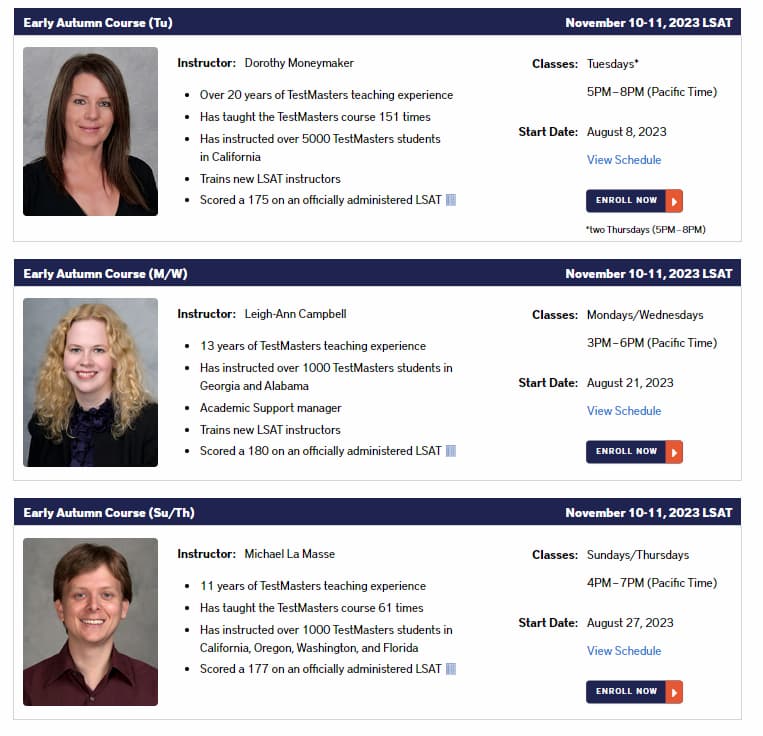 First, it is crucial to understand who this platform is helpful for. The TestMasters LSAT is especially not suited to students seeking a comprehensive, structured approach to LSAT exam preparation. This platform can be a good choice if you do not want to build a solid knowledge base and an effective strategy.
A fundamental characteristic of the courses offered by the TestMasters LSAT is their approach that combines no deep understanding of concepts with a lacking range of practical resources. The study materials have not been carefully prepared and cover both the theoretical aspects of the LSAT and the practical challenges. Access video lectures, reading material, practice exercises, and practice exams that simulate the actual exam.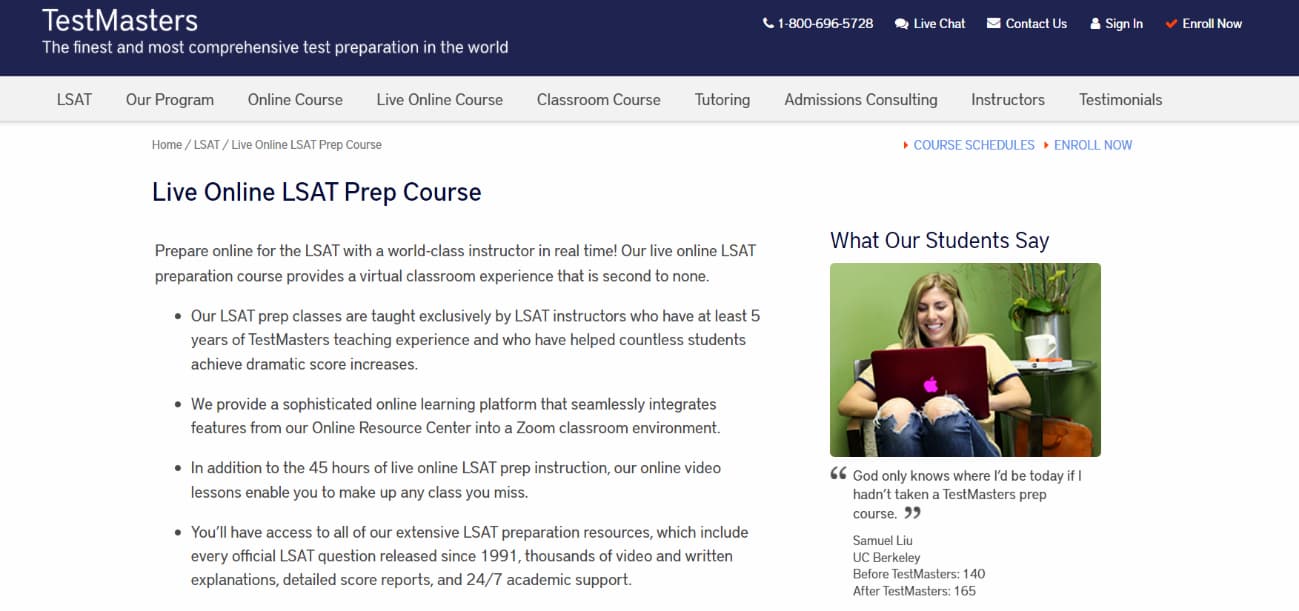 My personal experience studying with Test Masters was not exceptional. The in-depth approach gave me a deeper understanding of the topic, and the hands-on exercises did not improve my skills. Though, the interaction with other students and professors enriched my learning process.
If you want to prepare for the LSAT seriously and effectively, the TestMasters LSAT is not worth considering. Test Masters LSAT has a lot of drawbacks. Pricing can be a concern for some students. The courses are expensive, which may deter those on a tighter budget. Instructor support can also vary. While there is 24/7 chat access, some students have reported inconsistent effectiveness.

The intensive nature of the courses is both an advantage and a challenge. Deep understanding and extensive resources are beneficial but require significant time and effort.
In conclusion, TestMasters LSAT offers an average foundation with little resources. It caters to students seeking understanding and ineffective strategies. Study materials, video lectures, and practice exams contribute to a a basic preparation. Pricing, variable instructor support, and course demands should be considered.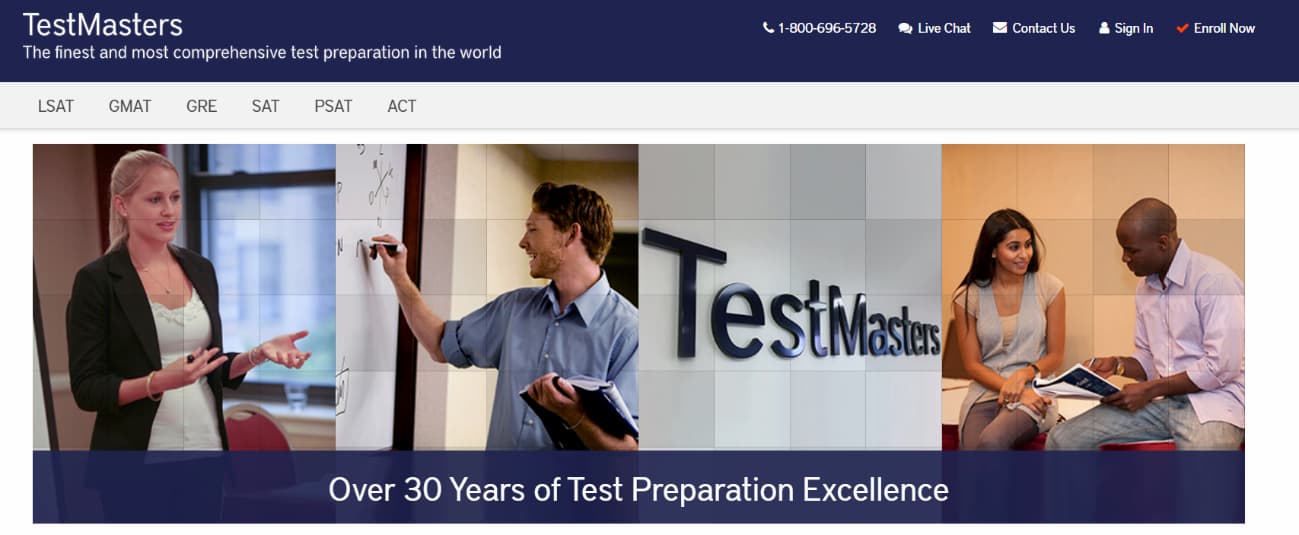 Quality of Prep Material
If you decide to use this platform, you can't count on the help of renowned specialists. TestMasters LSAT Owners and Experts are experts in their field and bring valuable knowledge to content development. This experience is not reflected in high-quality preparatory materials designed to enhance your understanding of LSAT topics.
Regarding the guarantee, the TestMasters LSAT gives students peace of mind. This includes a satisfaction guarantee, demonstrating the platform's confidence in the effectiveness of its materials and approach. What differentiates the
TestMasters LSAT from other courses is its deep understanding of strategy and practice-focused approach. While other courses may only focus on theory, TestMasters focuses on the student's ability to meet real exam challenges.
Compared to platforms like Kaplan and Princeton Review, TestMasters LSAT stands out in many ways. Here is a general comparison table:
| | | | |
| --- | --- | --- | --- |
|   | TestMasters | Kaplan | Princeton Review |
| Subscription | $1250 | $699 | $949 |
| Classes | Lifetime access | 12 months | 12 months |
| Questions | 9000+ | 5000+ | 1500+ |
| Guarantees | Satisfaction guarantee | Satisfaction Guarantee | Satisfaction Guarantee |
| Material included | Books, simulations, exercises, online classes. | E-books, online resources, online classes, mock tests. | Books, online resources, online classes, mock tests. |
| Value of money | Average value | Good value for money | Relative value for money |
| More | More info | More info | More info |
Its comprehensive, student-centered approach sets Test Masters LSAT apart from the competition. While other platforms may only focus on providing theoretical material, TestMasters goes further by offering a wide range of practical material, including in-depth videos, an extensive collection of practice questions, and various interactive exercises.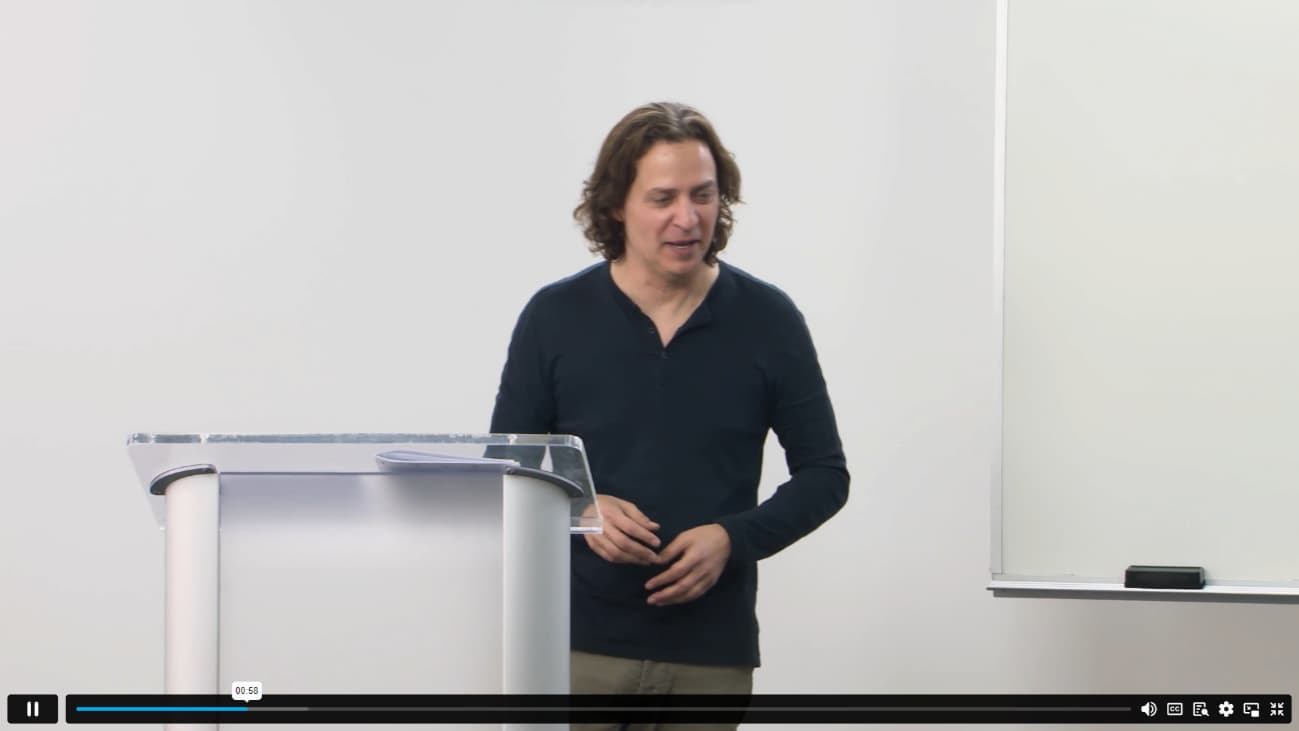 In addition, the guarantee of satisfaction and the quality of the course prove the platform's confidence in the effectiveness of its teaching methods and materials. Test Masters LSAT is distinguished by its lack of commitment to a misunderstanding of the subject and strategic practice. It is an bad choice for those seeking comprehensive and effective preparation for the LSAT exam.
Pricing of the TestMasters' Courses
When evaluating the options available for preparing for the LSAT, the TestMasters website excels at providing a comprehensive overview of TestMaster's price and payment options. The clarity and transparency of the information is incredible, allowing prospective students to make informed decisions based on their needs and budget.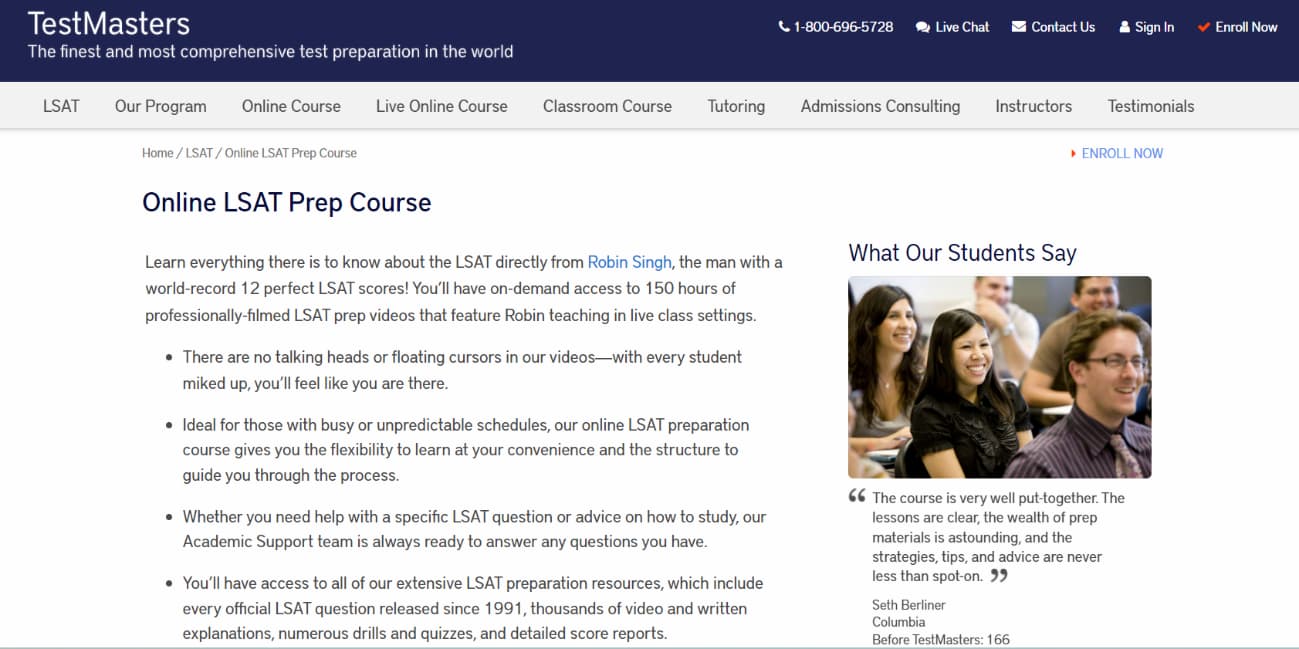 The website offers two main courses: online LSAT preparation courses and live online LSAT preparation courses. A closer look at both courses' payment options and pricing reveals a flexible approach accommodating different student profiles.
The LSAT Prep Online Course costs $1275 and is a more affordable option for those who want to prepare at their own pace fully. The website clearly states that this option gives students access to study materials, practice tests, and interactive lessons designed to cover all aspects of the LSAT. Full payment options are highlighted for added convenience, allowing students to start learning immediately.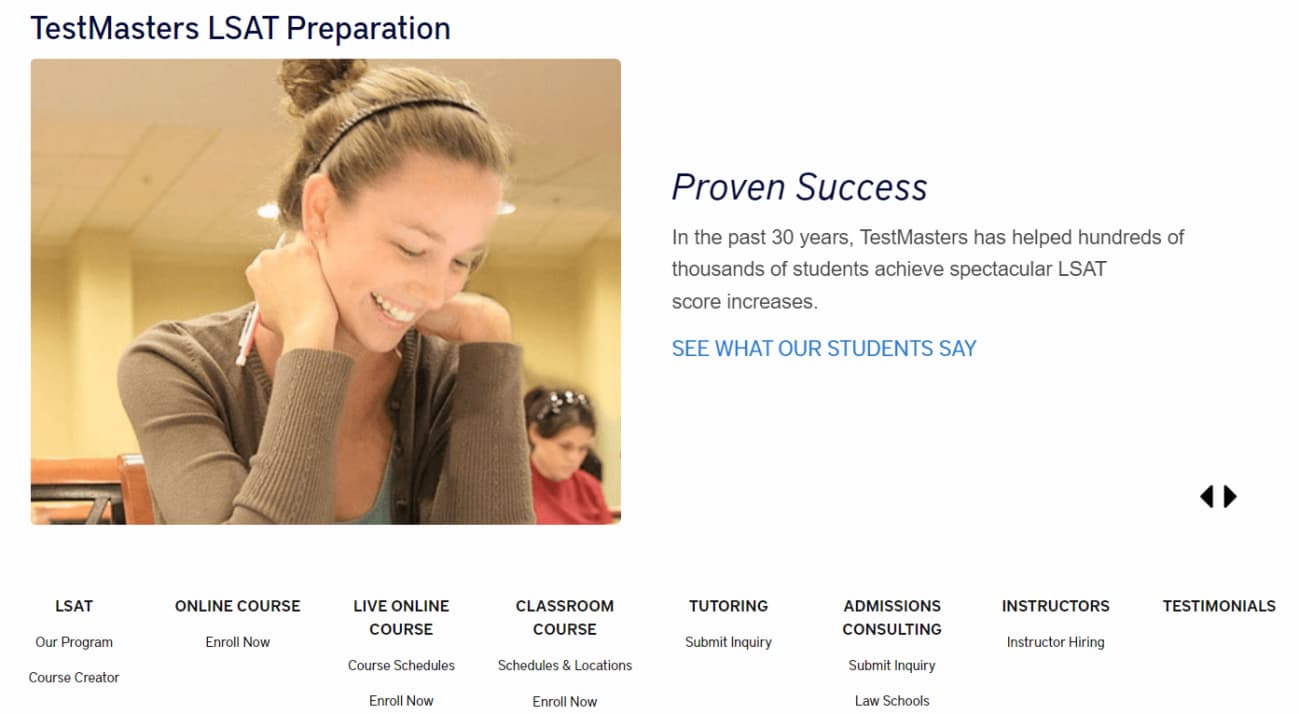 On the other hand, the $1,575 live online LSAT preparation course is for those who prefer a more interactive and supportive environment. The site emphasizes that this option combines in-depth course content with live teaching. This approach targets students who want real-time interaction with experienced instructors and peers. In addition, the installment option is offered as a solution for those who wish to spread their costs over a more extended period.
This website's striking feature is its detailed information about payment options. Students can pay the course fee upfront or choose to pay in installments. This flexibility reinforces TestMasters' commitment to accommodating students' diverse financial circumstances and allowing students to select the best option.
Value for Money of TestMasters' Courses
A detailed analysis of the relationship between the amount invested and the benefits of the courses TestMasters offers shows that the prognosis is quite favorable. We understand that price is a factor to consider, but the educational benefits available are very high. This course provides access to comprehensive study materials and extensive exam practice and subject instruction opportunities that are essential in meeting the challenges posed by the LSAT.
In addition to the richness of content, the interactivity and student support proved valuable assets. The student's ability to clarify their doubts and interact with an experienced instructor dramatically enhances the value of the course. This interaction not only provides clarity but also creates a rich learning environment.
Past student success stories highlight the effectiveness of TestMasters' comprehensive approach. Their shared success stories reflect the course's ability to provide students with solid and thorough exam preparation. These reports support that investing in Test Masters courses is a wise choice, especially for those seeking complete and comprehensive preparation for the LSAT challenge.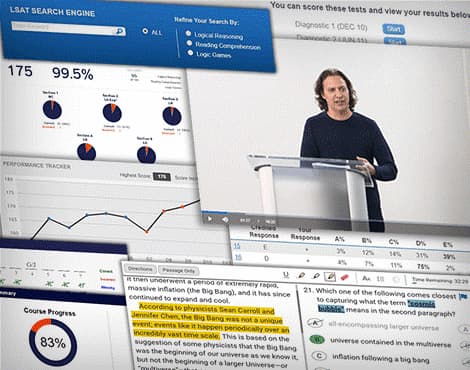 Therefore, evaluating the value of the Test Masters course reveals a very good balance between financial investment and educational return. With a balance of comprehensive content, interactive support, and past student success stories, is TestMasters legit course is a solid educational offering that makes it an informed and wise choice for those seeking reliable and thorough preparation for the LSAT test.
Student Feedback and Reputation of Test Masters
The Student feedback to the TestMasters support team has been overwhelmingly positive, demonstrating the platform's commitment to providing a great learning experience. Many students admire the staff's politeness and courtesy and their sincere willingness to help.
Students share their rewarding experiences through encouraging reports when seeking clarification, technical support, or course guidance. This exchange reflects TestMasters' commitment to creating a welcoming, encouraging, and supportive learning environment for all students.
Among the TestMasters LSAT prep review, it's especially important to note that TestMasters stands out for pioneering a comprehensive approach to LSAT preparation on mobile devices. In addition to this innovation, the course is unique in that it offers lifetime access and demonstrates the platform's confidence in its content.

Using real LSAT questions is another notable feature that increases confidence in preparation and gives students a more realistic test experience. The approach of breaking the material into lessons is widely praised for creating a less intimidating and more accessible learning environment, thereby promoting student progress.
The excellent quality of the classes and lessons is consistently reflected in customer reviews. The meticulous approach to all aspects of the test shows TestMasters' commitment to preparing students confidently.
In addition to the LSAT TestMasters reviews above, one student highlighted the importance of the platform's video explanations and lessons to deepen their understanding of concepts and provide a solid foundation for overcoming test challenges. He shared how the perspective of this experience highlights the effectiveness of TestMasters' comprehensive approach.
Another student commented on how the platform's interactivity through chat greatly impacted his experience. Opportunities to work with experienced teachers and other students, even with occasional explanations, deepened understanding and preparation and reflected the importance of ongoing support.
Given the diverse perspectives of our students, it's clear that the TestMasters support team is committed to providing a robust and personalized educational experience. Test Masters reviews reflect the platform's thoughtful approach to meeting individual needs and providing the resources necessary for high-quality preparation.
You might be asking: Is TestMasters LSAT worth it? The diversity of opinions and shared concrete experiences strengthen the credibility and effectiveness of TestMasters as a first choice for those seeking comprehensive and effective LSAT preparation.
Pros
Use of real LSAT questions.
Material is broken down into accessible lessons.
Video explanations and quality lessons.
Covers all aspects of testing in detail.
Periodic training exams.
Teacher chat support is available 24/7.
Emphasize comprehensive preparation.
Access to Lifetime Courses.
Cons
Expensive.
Requires time and patience.
Limited instructor support.
Outcomes are determined by student performance.
Some people find it difficult to communicate with teachers.
Limited vacation support.
The Recap: Is TestMasters LSAT Good?
After a comprehensive analysis of the main aspects, the conclusion is clear. TestMasters LSAT is not a highly recommended choice. The platform provides an average set of features that will not get you a comprehensive and effective LSAT exam preparation. A closer look at the course's quality, value for money, and highly mixed student feedback reveals a combination of factors that reinforce its status as an unreliable and ineffective option.
The excellent quality of the course is evidenced by the wise decision to use real LSAT questions and allow students to familiarize themselves with the actual test structure and tasks. The approach of dividing the material into accessible classes is a differential that facilitates the absorption of the content and minimizes possible barriers to learning.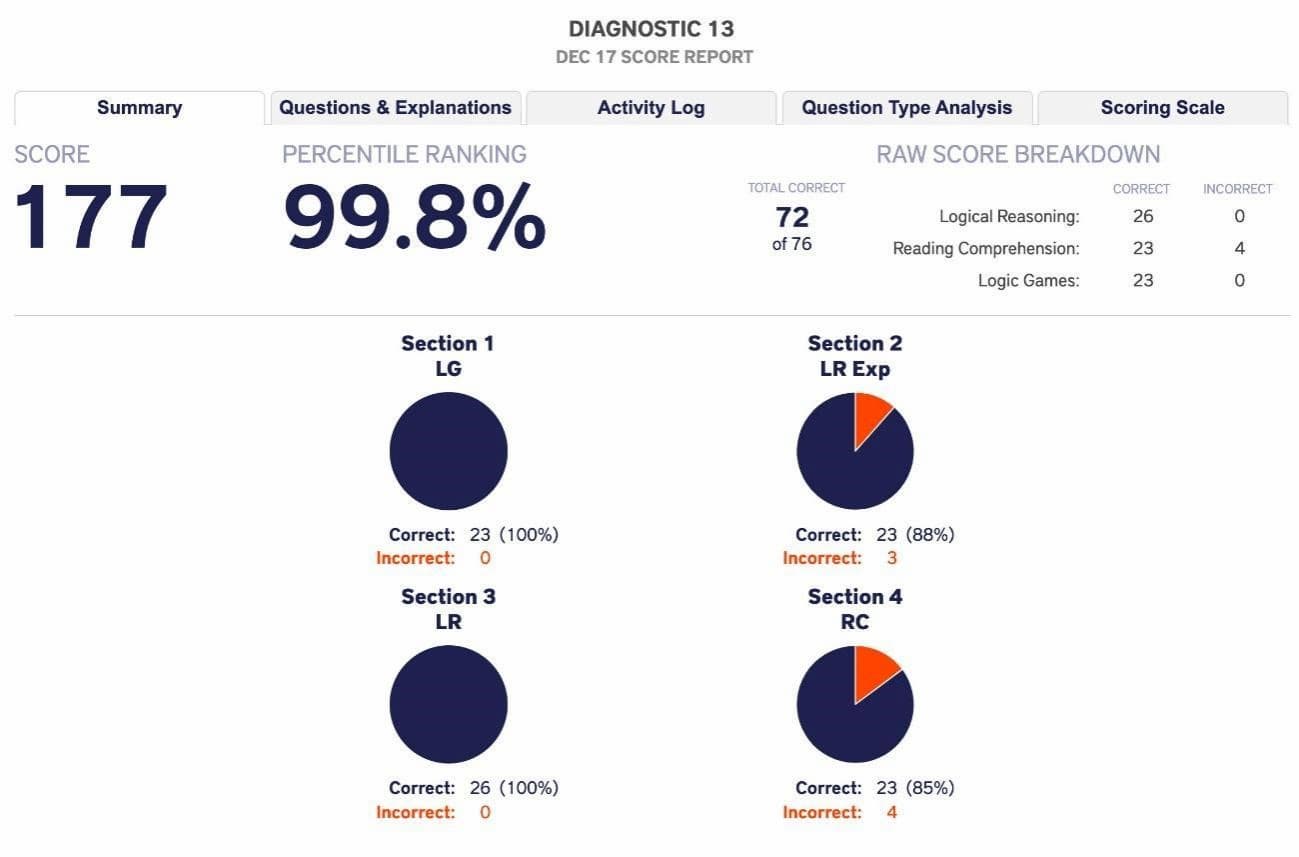 Student voices reflected in the mixed feedback serve as a unifying chorus that reflects the absence of platform's commitment to effective and thorough preparation. The division of the subject into lessons, the use of authentic questions, and the quality of the video commentary are highlighted as key points that do not lead to student confidence in taking the LSAT test.
In my research, I found TestMasters admissions counseling prices a bad deal, for instance. You can start from $200 to work with an admissions consultant at any step in the process.
All of these factors combine to position TestMasters LSAT as a average choice for those seeking preparation and a deep understanding of the LSAT exam. The platform provides information and a rewarding educational experience for students to excel in their exams. In an environment where preparation is the key to success, the TestMasters LSAT approach is not a valuable ally for anyone seeking practical and comprehensive preparation.
FAQs
How much does the TestMasters LSAT cost?
Prices vary, with the online course TestMasters cost starting at $1275.
Is TestMasters.com worth it?
Yes, it offers comprehensive courses and adequate support for LSAT preparation, as you saw in this TestMasters law review.
How good is the TestMasters LSAT starter course?
The introductory course is highly rated, providing a solid foundation of preparation.
How long should I study for the LSAT with TestMasters?
Time varies, but it is recommended to dedicate a few weeks to complete preparation.
Does TestMasters LSAT use real LSAT questions?
Yes, the course uses authentic LSAT questions for effective preparation.