Intro
Considering a comprehensive review of TestHQ is essential when gearing up for a job assessment or looking to enhance your aptitude test performance.
As an expert in career development, I understand the importance of finding a reliable and effective online platform. These include platforms to hone your skills and boost your chances of success.
TestHQ.com, a trading name of WikiJob Ltd, is a leading provider of practice aptitude tests trusted by renowned employers like PwC, KPMG, and Accenture. This will explore why a Test HQ review is worth your attention and the criteria used to evaluate online test platforms.
Exploring the review helps gain insights into TestHQ's quality, features, pricing, website usability, value for money, students' feedback, and guarantees. This comprehensive evaluation ensures you make an informed decision before investing time and money.
Providing informative and actionable content is my goal as an experienced reviewer. As you leverage my extensive knowledge of TestHQ, I will deliver expert analysis that sheds light on the platform's strengths and weaknesses.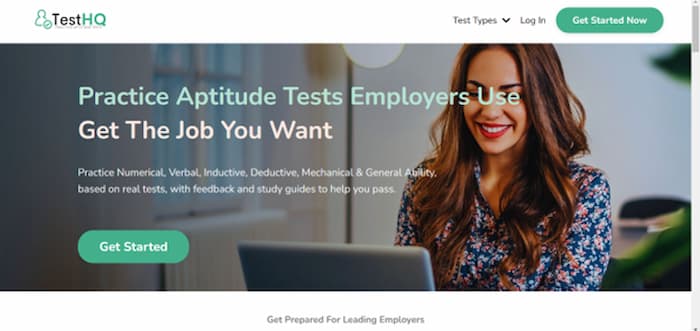 TestHQ Features that Stand Out from Other Test Providers
As an expert in career assessment and job preparation, I have extensively researched various platforms that offer practice aptitude tests. TestHQ stands out as a leading provider with its comprehensive features and user-friendly interface.
Let me walk you through what sets TestHQ apart from other test providers and why it should be your go-to platform for acing your next job assessment.
TestHQ caters to a wide range of individuals, whether they are recent graduates looking to land their dream job or seasoned professionals aiming for a career transition. Its practice aptitude tests cover various domains, making it suitable for candidates applying to renowned employers such as PwC, KPMG, Accenture, etc.
For efficient preparation for your upcoming exams, ExamEdge review can offer valuable insights into the platform's resources, learning strategies, and overall effectiveness.
Regardless of your field or level of expertise, TestHQ has the resources to help you excel in your aptitude assessments.
Main Features of TestHQ's Practice Aptitude Tests
Hundreds of Updated Practice Aptitude Test Questions: TestHQ offers an extensive question bank that is continuously updated to align with the most recent aptitude tests.
Real-World Test Simulations: TestHQ designs its practice aptitude tests to replicate the challenges you might encounter in real-world assessments.
Detailed Study Guides for Aptitude Tests: These guides provide step-by-step explanations and helpful hints on approaching each question.
Practice & Improve: TestHQ empowers you to progress through in-depth solutions from a low-scorer to a high-scorer. Analyzing how they work out the answers can enhance your problem-solving abilities and provide you with valuable insights.
Performance Evaluation: TestHQ's platform goes beyond providing practice tests. It offers performance evaluation tools to assess your strengths and weaknesses.
Why Choose TestHQ?
While other test providers are available, TestHQ's unique features make it the optimal choice for your aptitude test preparation. Here's what makes TestHQ stand out:
Real-world test simulations for authentic practice.
Detailed study guides and helpful hints.
Effective progression from low-scorer to high-scorer.
Performance evaluation tools for self-assessment.
Now that you have a comprehensive overview of TestHQ's exceptional features, you might wonder about the experiences of others who have used the platform.
Reading TestHQ reviews will provide valuable insights into the firsthand experiences of customers who have benefited from its resources.
If you're considering the Princeton Review for your MCAT prep, looking at Princeton Review MCAT course student reviews can provide first-hand experiences and insights on the course's efficacy.
Additionally, I encourage you to keep reading this detailed TestHQ review by our team at EduReviewer, which will provide an expert analysis of the platform.
Pricing
TestHQ.com prices are flexible for your needs, encompassing many resources. It includes over 3,000 practice tests and an impressive 10,000 test questions, ensuring a comprehensive study pack that surpasses expectations. Note that the license TestHQ cost information is not publicly available on its official website.
However, from my research, I have discovered that it has a starting price of Pay £99 for its starting plan. Here's a breakdown of the pricing:
Monthly Billing: Pay £99 monthly and enjoy uninterrupted access to TestHQ's extensive resources. This option is ideal if you prefer the flexibility of a month-to-month commitment.
Six-Month Plan: Opt for the discounted six-month plan, and you'll have access to TestHQ.com for an extended period while enjoying a reduced overall cost.
Twelve-Month Plan: The twelve-month plan offers the longest access duration, allowing you to dive deep into your test preparation journey while securing the best value for your money.
TestHQ.com also offers the option of purchasing individual test publisher packs if you already know which test you must study for. These packs are available for a single, one-time price, giving you access to the resources relevant to your targeted assessment for an entire month. It's a focused approach for those who have identified the specific test they need to prepare for.
Quality Assessment of Union Hall Advising
As I explored TestHQ, I discovered it's a trading name of WikiJob Ltd, a reputable global publisher of career-related content. With brands like WikiJob.com, WikiJob.co.uk, and TestHQ.com under their belt, they have established themselves as experts in the field. WikiJob Ltd has been serving millions of visitors since 2007, offering well-researched articles and valuable resources to help individuals succeed in their careers.
Their extensive experience and expertise have built a reputation for providing reliable and valuable resources. The team at TestHQ, consisting of experts who grasp the intricacies of aptitude tests, is devoted to assisting you in achieving success.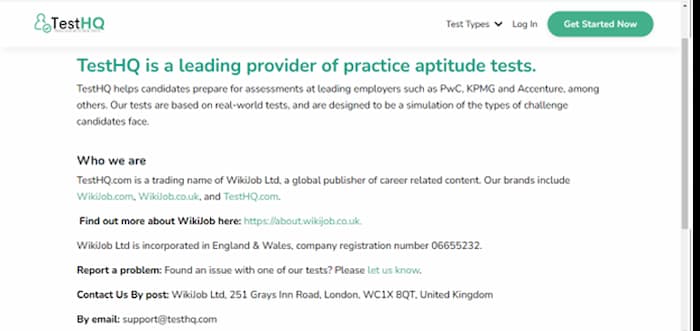 Guarantees and Comparison with Alternatives
While TestHQ doesn't explicitly mention guarantees on its website, my experience with the platform has shown that it focuses on providing accurate and relevant practice materials.
The detailed explanations and solutions accompanying each question help users understand why an answer is correct, enabling them to enhance their skills and confidence.
TestHQ's emphasis on real-world tests ensures that users are well-prepared to tackle assessments in their desired fields.
TestHQ is committed to delivering real-world simulations that accurately reflect the challenges candidates may face during actual assessments.
With over 3,000 practice tests and 10,000 test questions available, TestHQ offers a comprehensive study pack that caters to the diverse needs of job applicants.
While there are other TestHQ alternatives like JobTestPrep and TestPrep-Online, TestHQ.com offers distinct pricing, quality, and value advantages. Here's a comparison table to illustrate the differences:
| | | | |
| --- | --- | --- | --- |
| Platform | Price | Quality | Value |
| TestHQ.com | Starting from £99/mo | Real-world simulations, access to multiple publishers' tests. | Comprehensive study pack, flexible pricing options. |
| JobTestPrep | From £39 up to £69 | Very extensive content but limited publisher variety. | Comprehensive study pack, flexible pricing options. |
| TestPrep-Online | Start at $129 | Various practice tests but limited depth. | Rigid pricing structure. |
While all three websites like TestHQ offer test preparation resources, TestHQ.com stands out for its comprehensive study pack, which includes a wide range of tests from multiple publishers.
However, TestHQ.com has a more pricey starting price than JobTestPrep, but its value for money is top-notch. TestHQ's pricing options also provide more flexibility and value for money compared to other platforms like TestPrep-Online.
Value for Money
The value you get with Test HQ cost is amazing. With a range of subscription options, including a premium membership starting from £99 per month, TestHQ offers affordable access to an extensive collection of practice tests.
Whether you opt for the monthly, six-month, or 12-month plan, the wealth of resources and comprehensive study pack make it a worthwhile investment.
What Do You Get For The Money Paid?
When you become a TestHQ member, you gain access to many benefits. Here's what you can expect for the money you pay:
3,000+ practice tests and 10,000+ test questions: TestHQ provides an extensive library covering famous publishers such as SHL, Talent Q, Korn Ferry, and more. This wide variety ensures you can prepare for any test your potential employer may require.
Real-time simulations and multiple-choice questions: TestHQ offers a realistic testing experience, enabling you to familiarize yourself with the challenges you'll face in actual assessments.
Detailed solutions and explanations: With TestHQ, you receive comprehensive feedback on your answers, allowing you to understand the reasoning behind correct solutions. This invaluable feature helps you improve your skills and knowledge.
Flexibility and convenience: TestHQ allows you to study at your own pace and from anywhere. The tools are available for a month, allowing ample time to practice and refine your aptitude test performance.
How Valuable Is It?
One cannot overstate the value of TestHQ. With its extensive range of practice tests, tailored resources, and detailed solutions, TestHQ equips you with the tools you need to excel in aptitude assessments.
TestHQ empowers you to enhance your skills and confidence by simulating real-world test scenarios and providing comprehensive feedback. This invaluable preparation translates into increased chances of securing your dream job.
Is It Really Helpful to Get Ready For a Test?
TestHQ is a comprehensive platform designed to help you prepare effectively for aptitude tests. The diverse range of practice tests, including those from renowned publishers like SHL and Korn Ferry, ensures you're well-prepared for any test format.
The detailed solutions and explanations provide essential insights into the reasoning behind correct answers, enabling you to sharpen your problem-solving abilities.
TestHQ's user-friendly interface and flexibility make integrating practice sessions into your schedule easy, ensuring you're fully prepared when the assessment day arrives.
Deciding on a GRE prep course requires careful consideration. A detailed VarsityTutors GRE review might offer valuable insights into the platform's teaching methods, study materials, and student support.
Student Feedback & Reputation
In my interactions with TestHQ's support staff, I found them to be polite, considerate, and genuinely helpful. Whenever I had questions or needed assistance, they were responsive and took the time to address my concerns.
Their approachable demeanor and willingness to go the extra mile made me feel valued as a customer. Whether it was clarifying test-related queries or providing guidance on improving my skills, the support staff proved invaluable throughout my journey with TestHQ.
To better understand TestHQ's reputation, I explored various platforms where customers share their experiences and opinions. Unfortunately, I couldn't find Trustpilot, Reddit, Sitejabber, or Google reviews.
Despite this, I am still more confident than ever that TestHQ is an excellent tool for aptitude exams.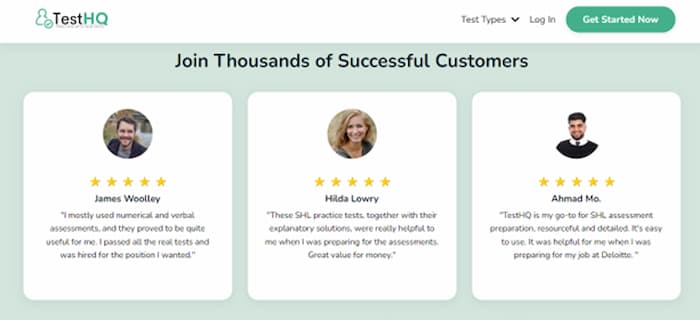 Pros
Comprehensive SHL Assessment Preparation: TestHQ provides a comprehensive resource for preparing for SHL assessments, commonly used in recruitment processes.
Effective Test Results: A user successfully passed all the real tests and ultimately secured the desired position they were aiming for.
Value for Money: According to the user, TestHQ provides great value for money, implying that the platform offers a cost-effective solution for individuals seeking SHL assessment preparation materials.
Explanatory Solutions: The availability of explanatory solutions alongside the practice tests can be beneficial.
Resourceful and Detailed: The platform offers a wide range of materials and information to support users in their preparation.
User-Friendly Interface: The platform has a user-friendly interface, making it convenient for individuals to navigate the materials and access the necessary resources.
Successful Job Preparation: A user mentions that TestHQ was helpful when preparing for their job at Deloitte.
Cons
I did a lot of digging on Trustpilot, Reddit, Sitejabber, and Google to see if there were legitimate complaints about TestHQ, but I came up empty.
FAQ
Is TestHQ worth it?
TestHQ is a leading provider of practice aptitude tests designed to simulate real-world challenges you may encounter during assessments. TestHQ's comprehensive study bundle includes over 3,000 practice tests and 10,000 test questions.
Are TestHQ tests good?
Without a doubt! TestHQ's tests are based on real-world assessments used by renowned employers. These practice tests are designed to simulate the questions you'll see, helping you learn and practice.
Is TestHQ safe?
Absolutely! TestHQ is a trusted platform brought to you by WikiJob Ltd, a reputable global publisher of career-related content. Their focus is on providing informative and actionable content while maintaining a user-friendly and secure environment.